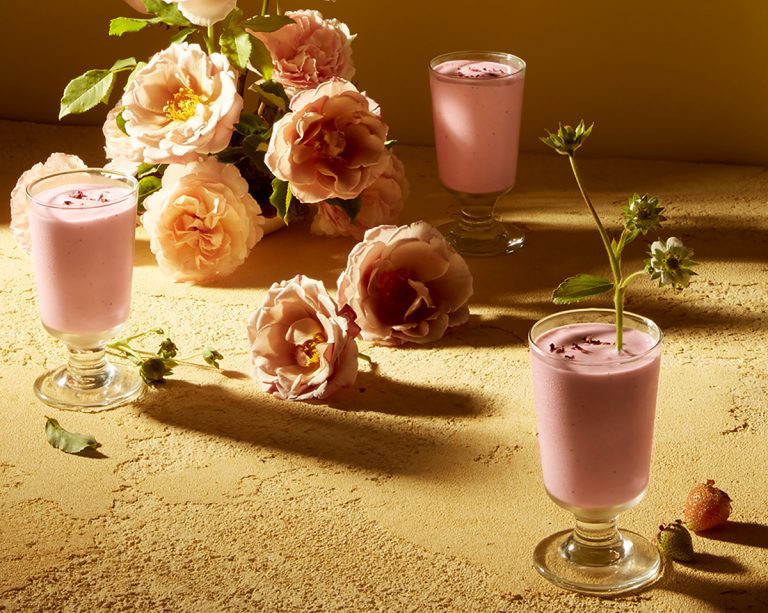 My mom and I have a shared passion for milkshakes. While we both follow a largely plant-based lifestyle, there's something about the cool, creamy sip of a milkshake that just… hits. And this Strawberry Rose Geranium Milkshake hits on all levels. As recipe creator, Cassie Winslow writes, "It takes the classic strawberry milkshake to a whole new level."
While you're welcome to enjoy it any way you'd like (there's ample appreciation and enjoyment to be found in drinking it on its own), I have to say, Cassie's recommendation sounds like a true delight. As she writes in her cookbook, Floral Provisions: 45+ Sweet and Savory Recipes: "One of my ideal treats is sipping on this delectable milkshake with a homemade cheeseburger or veggie burger and rose-salted French fries. (Yes, taste it! It's the best.) It's over-the-top and totally delicious. I highly recommend the indulgence."
Because Cassie's a genius when it comes to all things floral sweets, treats, and pantry staples, I'll have to take her word on it. Mix up your milkshake following the recipe below, and get ready to be truly addicted—all summer long.
Scroll on for Cassie's Strawberry Rose Geranium Milkshake
Reprinted from Floral Provisions: 45+ Sweet and Savory Recipes by Cassie Winslow with permission from Chronicle Books, 2022. Photographs © Naomi McColloch.