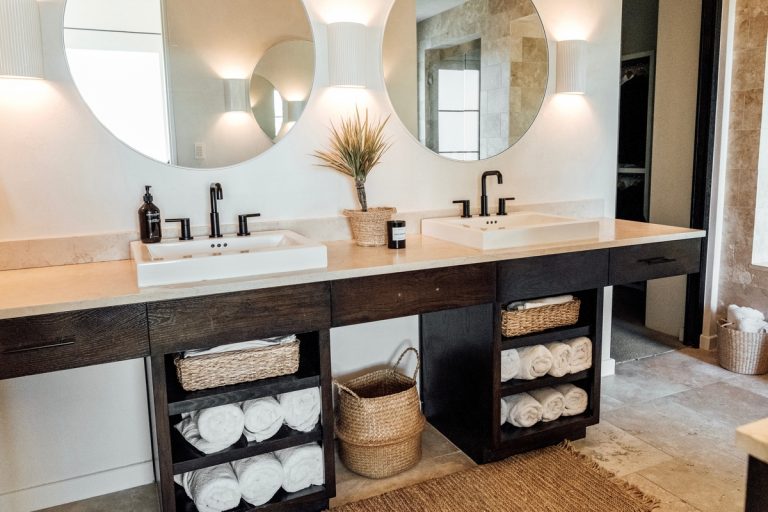 Things that tend to quickly turn into clutter in my bathroom are expired makeup, almost-empty bottles of moisturizer, and cosmetic samples. If you're like me, you know that the first step in creating a well-organized bathroom is getting rid of all that. Then, you can really have fun by outfitting your cabinets and drawers with organization solutions that are just right for your space, and perfect for the items you'll be storing. If you're serious about it, you can enjoy tidy toiletries for years to come. Want to get the inside scoop on how to organize bathroom drawers and cabinets without going crazy? I thought so.
Whether you're a makeup junkie or haircare obsessed, a big part of looking your best is keeping all your tools and products organized where you can see 'em. So if you plan to use your time at home to purge and perfect your bathroom cabinets, look no further than these tips for making sure you make the most of every square inch.
Feature image by Michelle Nash.
Use cups for vertical storage
Pencil cups, juice glasses, even emptied candles work to keep everything upright and organized. Things like makeup brushes, toothpaste tubes, and tweezers are all easier to find when stored this way, and it helps to make use of any tall and narrow shelves, like the ones you might find behind a medicine cabinet mirror.
Put it in a pouch
Thought that cute zip pouch was only meant for travel? Think again! There's actually nothing easier than keeping your makeup and beauty supplies compartmentalized in different toiletry bags. When you need one, simply grab it, use it, and put it back. And when you're headed out for a weekend getaway, all your must-haves are pre-packed and ready to go.
Divide your drawers
Using drawer dividers certainly isn't a new concept, but we're here to remind you that it's one you should definitely look into doing. Inset bamboo or marble trays to help keep all your bathroom basics in place, or do like Marie Kondo and simply repurpose gift boxes or plastic containers that you already own to configure a divided-out arrangement that's perfect for your drawers. Or you can invest in her newly launched Marie Kondo x Container Store collection—it's an organization lovers' dream!
Bust out the baskets
For a larger space, like a linen closet or case of shelves, using baskets is a perfect way to keep "like" things together. And if you opt for wire or acrylic ones, everything you own will be visible at first glance. Stash everything from soap bottles to rolled-up washcloths this way for a space that's streamlined and clutter-free.
Out in the open
Open shelving is a popular interiors trend that has made its way from the kitchen to our bathroom vanities. We get it, it looks amazing, but this can present a real storage conundrum. Wondering where to stash all those little makeup tubes and unsightly skincare packaging? Line up beautiful lidded woven baskets on your open shelving for a make-your-own storage solution. Not only will it work to keep your products in order, but the right trunks will look super pretty too.
Those who can't, decant
If you're working with a bathroom that has little-to-no storage at all, may we recommend emptying your favorite products into matching refillable glass bottles? Sure, all your soaps will be out in the open, but when decanted into beautiful vessels, like these pump bottles, suddenly those less-than-cute bottles are the exact opposite displayed atop your counter or in your shower.
How do you organize your bathroom drawers and cabinets? Share your tips and tricks with us below.
This post was originally published on March 25, 2020, and has since been updated.