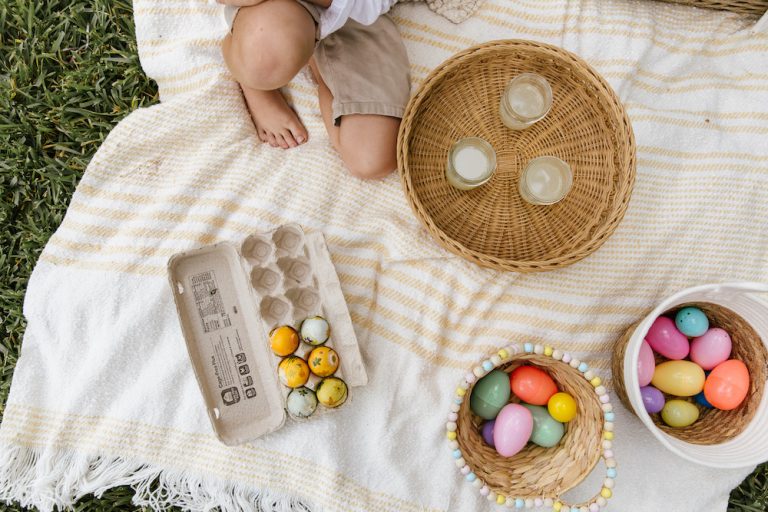 It's impossible for me to think of spring and not immediately conjure up visions of brightly-dyed eggs. My mind drifts to images of our kids darting about my parents' backyard in search of haphazardly hidden eggs or that early morning, dew-on-freshly-cut-grass feeling. And of course, there's the first bite of perfectly made carrot cake, (always with cream cheese frosting!). I love having plans to look forward to, and as winter slowly begins to make way for spring, Easter is at the top of that list. So of course, I had to put together my guide to the best gifts for the holiday. The roundup below is filled with intentional gifts that'll inspire your kids' creativity, engage their imagination, and lead to plenty of play. Trust me: This Easter gift guide is the only one you'll need in 2022.
Here's a little peek into my mindset when it comes to giving my kids gifts around holidays. I try to adopt a 'fewer, better' mentality. This means I'm putting on blinders to the more kitschy things that I know will end up in a donation bin in a matter of months. For me, it's not just about quality (although that's a big part of my gift-giving process!), it's about the intentionality behind the products I buy and recommend. In an effort to cultivate a thoughtful approach to the material goods I bring into my family's life, I always do a little research into the brands behind my purchases.
Since adopting this way of gifting, I've found that my kids consistently come back to the toys I gifted even longer after the holiday. They become favorites fast, and they stay that way for years. So whether you're shopping for your littles, for friends, or treating yourself to a small springtime gift, these picks are sure to surprise and delight.
Keep scrolling for the best, brightest, and most beautiful gifts for Easter!
What gifts are you excited to fill your kiddos baskets with this Easter?