What a strange year. On one hand, it feels like it's impossible that 2022 is just a few days away, while on the other, it feels like this was one of the longest years yet.
I literally had to search "2021" in my photos on my phone to remember all that we got up to, and where we were.
I've been doing these reflection posts for 10 years now. Ten years!
Each year, I do a round-up on this blog and reflect on our lives over the past 12 months. As with my previous posts, this year has a word (well, a few words actually) that can sum up how it felt to us.
For Nick and I, 2021 was a mixed year filled with uncertainty, indecisiveness, and overwhelm surrounding the current state of the world and some things in our personal lives. But, it was also a year of travel, love, and wine… a lot of wine.
The main theme that sticks out from the year, however, is connection. This year we wanted to be surrounded by friends, family, and strangers, and I think we succeeded in doing so.
Apart from connecting with people, two of our goals going into 2021 that I wrote about last year were to: "Live off the fruits of our labor and move around as much as possible — while working as little as possible." And to "Do things that we enjoy".
As you'll read below, I think it's safe to say we accomplished the above goals this year. Read on to see how our year progressed in terms of business, life, and travel. And, what's in store for 2022!
See the previous reflections posts here:
Thoughts on Travel in 2021
At the end of 2020, I think we had all thought (hoped) that life would return to "normal". Yet, here we are two years later, still dealing with the life-altering aftermath of COVID.
Rather than a 3D, physical connection with people, 2020 was filled with virtual get-togethers. Instead of going to restaurants, people ordered in. Rather than joining a tour with other humans, online experiences were the norm.
That may have been fine for 2020, but I prefer to be with others, shake hands, hug, and stand closer than 6 feet apart!
Of course, everyone is entitled to their own opinions as to whether or not they feel it's safe or appropriate for them to travel right now. Personally, we went for it and jumped in with both feet this year, and have zero regrets about that.
We couldn't wait to explore, interact and connect with people, try new foods and experience unique things. In 2020, we were mostly just in Portugal and Mexico. The world was waiting!
By choosing to travel, we helped the local economies, small businesses, and the travel industry as a whole — not to mention, our mental health and overall wellbeing.
We're aware that not everyone is able to travel right now, which is another reason why we didn't want to take our ability to explore for granted.
Considering we were still in our apartment in Playa del Carmen until May, I think we did pretty well this year in terms of living a "normal" travel life.
Living in Playa del Carmen, Mexico
The year started with a bang, literally.
As we counted down to midnight, Nick and our good friend Tom almost lost their eyebrows, and singed their leg hair while lighting fireworks on the beach in Playa…what a way to ring in the new year!
At this point, we had been living in Playa del Carmen, Mexico for almost 4 months. We were next-door neighbours with Tom and Anna, and had other good friends and fellow bloggers like Nathan, Sarah, Jen, and Sean living nearby as well.
We even met up for coffee with one of our long-time readers! That was so great.
The year started off surrounded by friends, which was perfect.
Life in Playa del Carmen
The city really is one of the best digital nomad destinations in Mexico.
With super fast wifi, loads of accommodation options to choose from, endless restaurants and bars, and lots of coworking spaces, it's no surprise that many people put down some temporary roots here.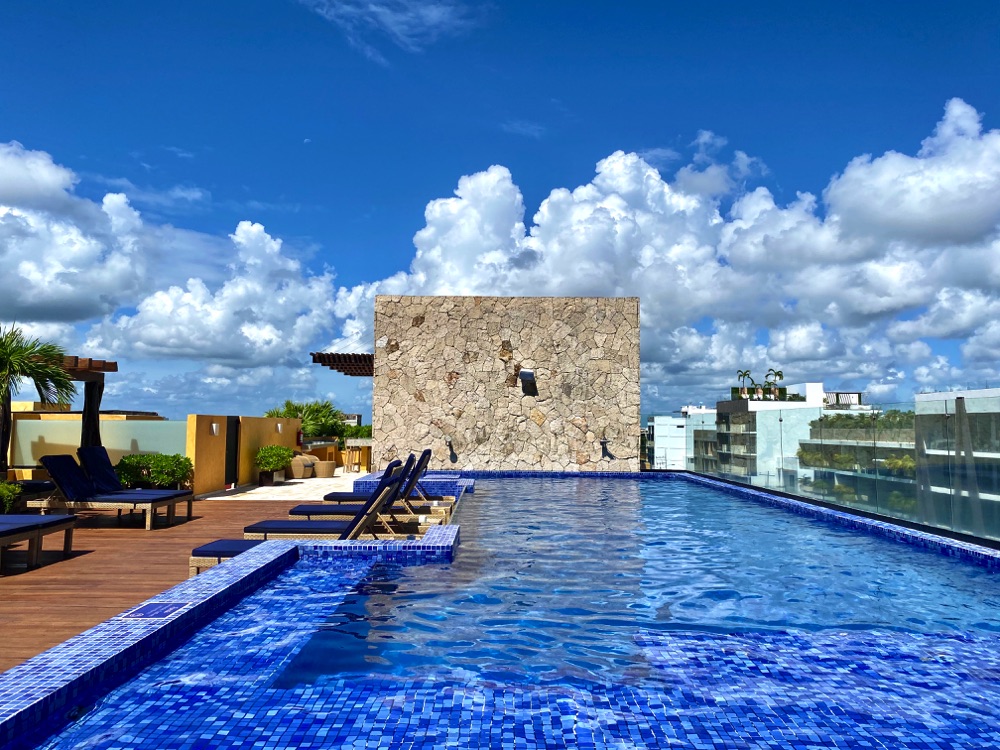 It had everything we were looking for at the time and then some.
When we weren't working on our laptops, swimming in the sea, or going for walks, we volunteered walking dogs at the GSPCA, ate at some fabulous restaurants, and hungout with friends.
For the most part, however, we simply enjoyed living and having a bit of a routine at the start of the year.
As it felt when we were living in Grenada, it was great to have a "home" again, to be surrounded by a community of like-minded people, and to be in the sunshine.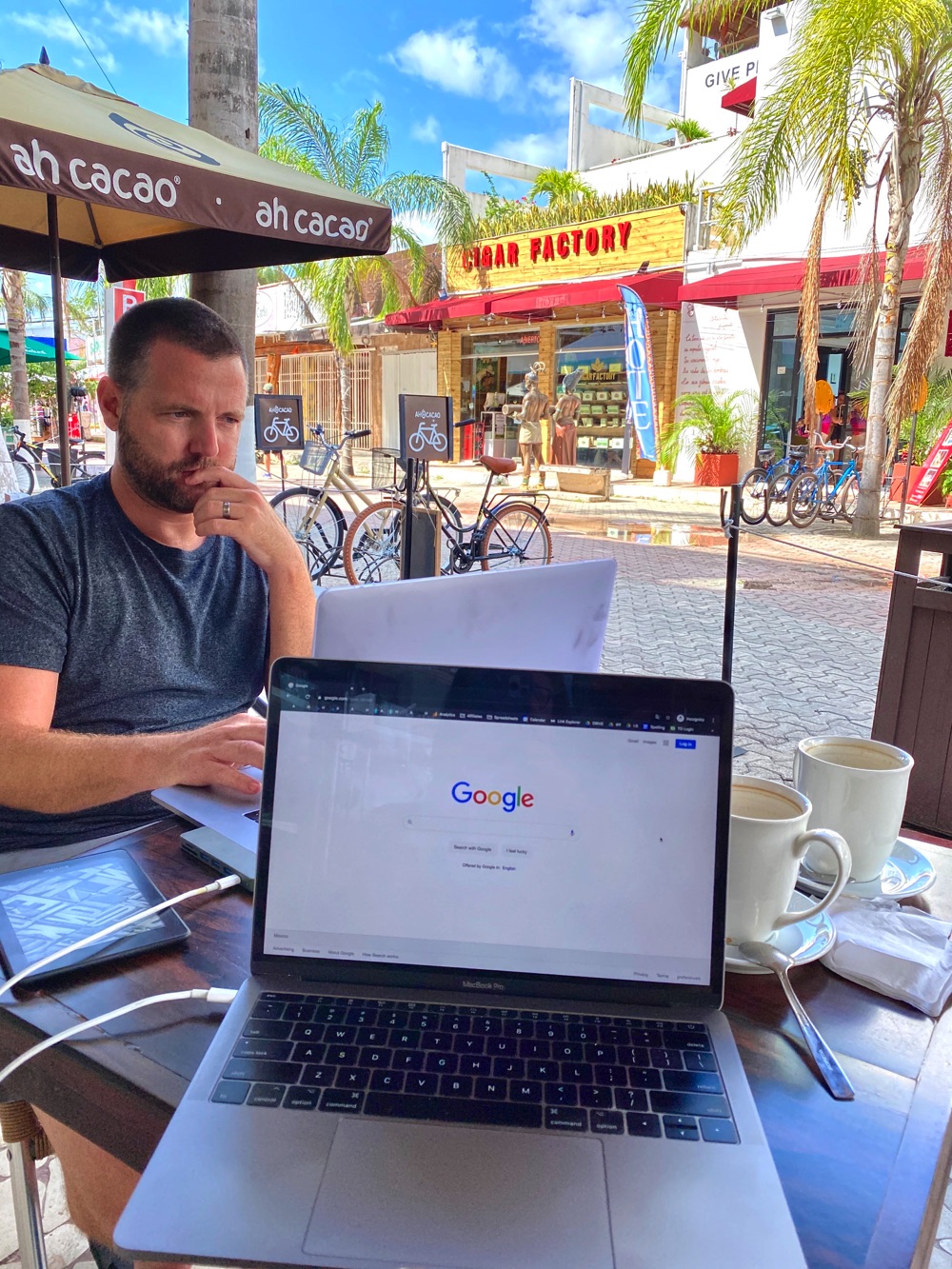 In the end, we spent a little over 8 months living in Playa between 2020 and 2021. Funny enough, I didn't actually write about our time spent there! But I did write a complete guide to living in Playa del Carmen as a digital nomad if you want to read that.
Border Run to Costa Rica
As Canadians, we receive a 180-day stay in Mexico when we arrive at the border. But, we stayed for 8 months. We were able to do that by going on a border run to a nearby country.
Our country of choice was Costa Rica!
All it took was one text message to Tom and Anna, and we had our 12 day Costa Rica road trip adventure on the books. Other good friends of ours, Dan and Casey, live in CR so our first stop was to visit them for a few days in the beachside town of Uvita.
The rest of the road trip brought us to the pristine Osa Peninsula in the southern part of the country which is filled with interesting wildlife, and to the northern area of La Fortuna with the Arenal Volcano towering over the town.
Here, we finally met up with fellow travel bloggers and friends Sam and Yeison. They live in Costa Rica and run the popular website, My Tan Feet. It was so great to finally meet in person.
Our Costa Rica trip was incredible, and as we stamped our way back into Mexico, we started planning our next moves for a few months later.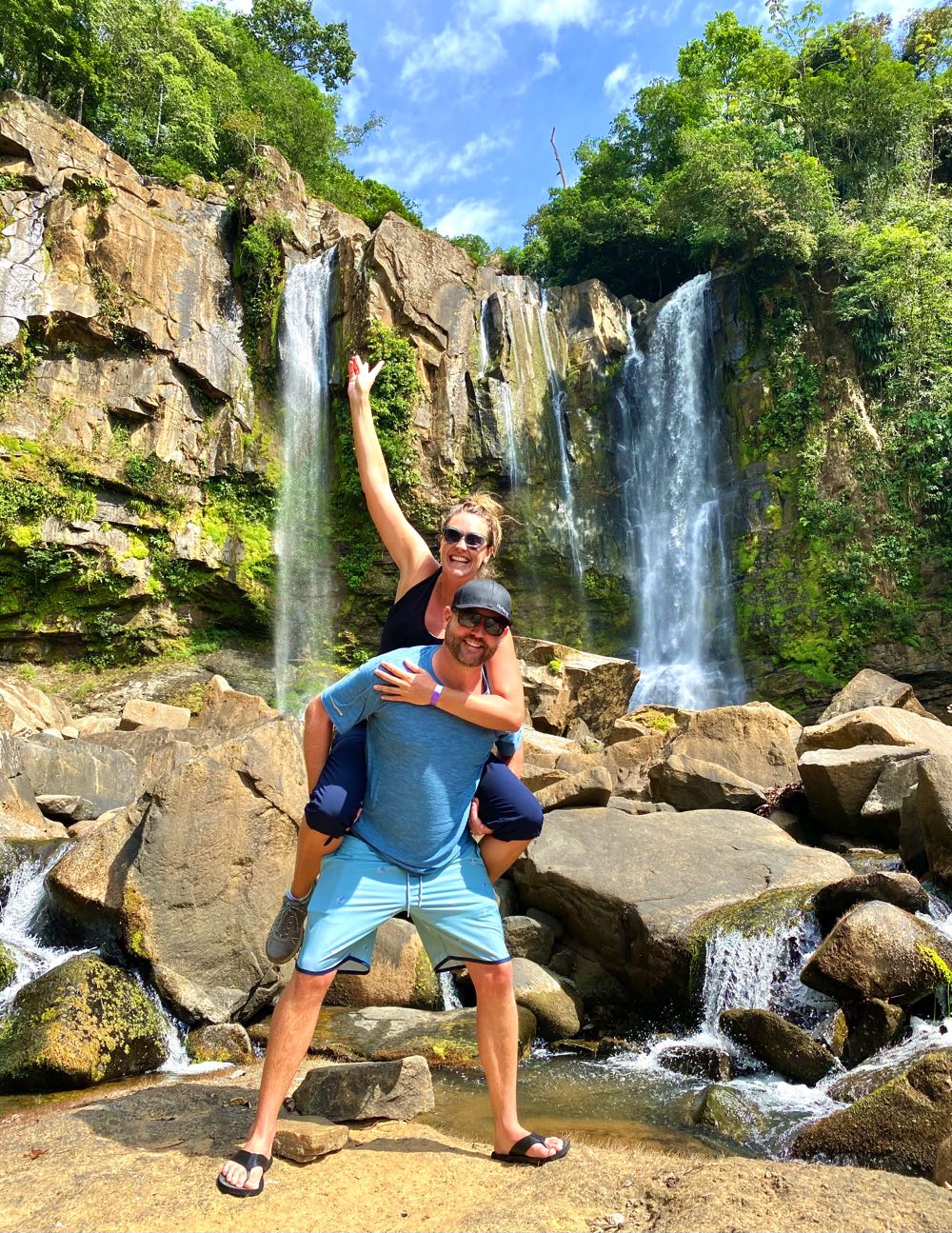 The holiday was better than we imagined, and again, we enjoyed more time spent in person with great friends.
Exploring More of Mexico
Over the years, we've been pretty lucky to see numerous destinations in Mexico. It's one of our favourite countries in the world.
After a total of 8 months in Playa del Carmen, we decided that rather than go on any more weekends away, or border runs to nearby countries, it was time to pack up and move on.
We spent a month and a half travelling to Manzanillo, the Valle de Guadalupe, Ensenada, Puerto Vallarta, Guanajuato and San Miguel de Allende.
Manzanillo
It had been 3 years since we'd seen family, so our first stop was Manzanillo to visit with Nick's dad and stepmom. It was so nice to see them and we enjoyed numerous fun outings, tasty meals, and catching up.
Three years is a long time and it was so great to get in that quality time together.
From Manzanillo, we flew north to Tijuana on the Baja peninsula. Here, we picked up our rental car and headed for the Valle de Guadalupe — the wine region of Mexico.
Valle de Guadalupe
Prior to this recent stint in Mexico, we didn't realize that the country is known for its big, bold, juicy red wines! The Valle de Guadalupe is an extension of the Napa Valley to the north, but with more reasonable prices.
We spent 10 days here, including our 14th anniversary, while sipping on fantastic wine, enjoying the acclaimed cuisine, and sleeping in some beautiful accommodations. You can read more about our trip to the Valle de Guadalupe, here.
Puerto Vallarta
We returned to Tijuana and flew to Puerto Vallarta — a city we'd been to numerous times.
On this trip, since we'd already seen most of the highlights of Puerto Vallarta, we were able to just chill out and spend time at the beach, wander around town, and hang out with friends Juri and Nathan who live in PV.
It was the perfect week-long stay, filled with beach time, sunsets, and laughter.
Guanajuato
We hit the skies again and flew to Guanajuato — our favourite city in Mexico!
This time around, we spent 10 days hiking in the surrounding mountains and seeing corners of the city we otherwise wouldn't have thanks to our expat friend, Donna.
We walked everywhere, ate tasty food, and enjoyed the bands that play all over this musical, cultural city.
San Miguel de Allende
This would be our first time in San Miguel, a destination that is very popular with retirees and expats. We'd heard it's a very picturesque place, similar to Guanajuato City, but more "polished".
After 2 weeks here, I'd say that's a pretty fair assessment.
We weren't here to experience just the colonial city, we were also on a mission to visit the surrounding towns and the wineries of Guanajuato state.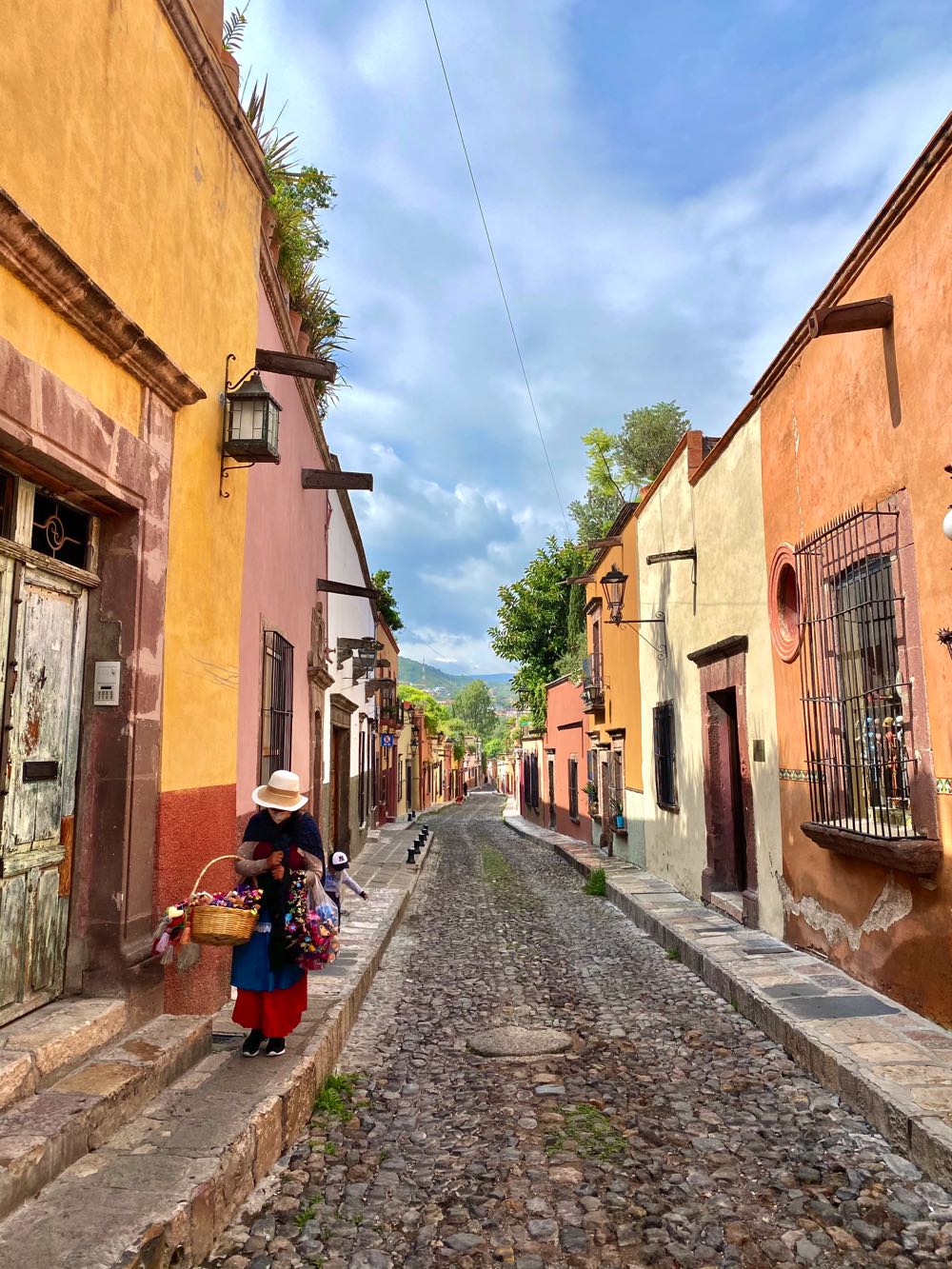 And while we preferred the varietals on the Baja, we were blown away by the unique wineries and fantastic food in the area. Again, I can't believe we didn't know Mexico produced such fantastic wines!
Yet another item to add to the list of reasons why we love Mexico.
Now What?
When I mentioned at the start of this article that we felt a lot of uncertainty, overwhelm and indecisiveness this year, it mostly started when we weren't sure where to go from San Miguel.
It was the beginning of July at this point, and we were totally unsure of what to do.
We wanted to return to Canada to visit the rest of our families. It had been three years and we were overdue for a visit for sure. With rules, regulations, and restrictions literally changing daily, it made (makes) planning almost impossible.
We were constantly checking the internet to see what the Canadian government was choosing to do.
With a 2 week quarantine on arrival (3-5 days of which were spent in a hotel at our own cost), and 3 PCR tests — restrictions on entering the country were really strict, even for citizens at this point.
We didn't want to deal with any of that, so we decided to wait it out.
Where should we go in the meantime?
We had 2 months left on our Mexico visa, should we just stay here? No. It was time to move on. Go to Europe? No, that was too far away from Canada.
Central America? Maybe, but we weren't really "feeling it". Back to Grenada? We wanted to, but again, lots of restrictions for entering.
We really felt like we were in limbo, until…
The Perfect Plan Forms
One evening while we were in San Miguel de Allende I had a thought.
Me: "Hey, who is taking care of your bother's house in Montana? He hasn't been able to cross the land border from Canada for more than a year now…"
Nick: "I don't know, why?"
Me: "Weren't you saying you wanted to live in a cabin in the woods, by a lake, and go fishing every day? Maybe we could go there."
Nick immediately picked up the phone. The idea was brilliant and in fact, Nick's brother wished we had thought of it sooner as he really wanted a house sitter.
Within a couple of days, we were on a flight bound for the USA.
A Peaceful Time in Montana
It had been a year and a half since we'd been in a country with English as the first language.
It's something we don't often think about when travelling the world, but being able to communicate exactly what we needed while in the USA made our stay much more streamlined.
Even though Nick's brother had owned the house for more than 2 years, this was the first time we'd seen the summer home we'd be staying at.
As soon as we pulled into the driveway, we knew it was exactly what we wanted (needed) at that point. Surrounded by forest and just a short stroll from the lake, we were looking forward to the next 2 months!
Many Canadians own summer properties in the neighbourhood we were in, but due to the land border between Canada and the USA being closed, no one could drive across…
This was very unfortunate for the Canadians with empty homes in Montana, but for us, it meant we had the whole place pretty much to ourselves.
Our only neighbours were deer, and the only sounds we heard were the wind and birds. It was the most peaceful place.
For two months, we enjoyed the Big Sky state — a place where it felt like life was completely normal.
Our days were filled with nothing but fly fishing, hiking, swimming, and exploring small towns. And, every weekend, we rocked out at an outdoor concert with hundreds of people at a nearby venue!
Life was good.
Returning Home After 3 Years Away
As we had hoped, during our stay in Montana the Canadian government changed the rules for citizens returning home! So, we made a move north and easily drove across the land border from Montana into the province of Alberta.
There was no quarantine, but we did have to fill out some online documents, do a PCR test before going, and an at-home test when we arrived.
We didn't care though, we were looking forward to seeing our families! Over the course of 5 weeks, we travelled by land from Alberta into the province of British Columbia.
We spent quality time with our nieces, siblings, parents, grandparents, aunts and uncles and friends. Lots of memories were made and lots of overdue hugs and chats were had. We even managed to do some fishing and hiking!
It was a wonderful trip back home connecting with the important people in our lives. But, after 5 weeks, we were ready to move on again.
Again, we made a last-minute decision (literally 4 days before flying) to head to Europe!
European Travels
Europe is our favourite continent. Even though each country is quite small (especially when compared to Canada), they all offer unique cultures, cuisines and topography.
Fun Times in Amsterdam
It seems impossible given how popular this city is, but it was our first time visiting Amsterdam — and it did not disappoint!
The mindset and openness of the people and their progressive ways of thinking and doing things are fascinating. Plus, the city is incredibly picturesque with canals and gorgeous architecture.
We joined a walking tour, took a boat down the canals, checked out street markets, saw live music, went to numerous bars and restaurants, visited the Rijksmuseum …and walked everywhere.
One day we popped into a wine shop (as we often do!) and the owner asked us if we'd been in there before as we looked familiar.
We said no and proceeded to taste some wine with them. After a while, it clicked and AJ says: "Wait, you're Goats On The Road!" His wife, Malory, on the other hand, had no clue who we were!
Right then, we all started talking a mile a minute about travel and living abroad.
Then, they invited us out the next night to one of their favourite "brown cafes" (a local neighbourhood pub). Good times were had and again, it was so great to connect with like-minded people.
On top of that, we enjoyed day trips by train to Haarlem and Zaandam and then biked around those areas. We jampacked our 5 days in and around Amsterdam before taking a train to Belgium.
Beers in Bruges and Brussels
Next up, a week in Belgium — another new country for us.
The Middle Age, Gothic-style architecture in Bruges is absolutely gorgeous. And it's not just a few buildings here and there — all the buildings, homes (and pubs!) are charming.
Many people do a day trip to Bruges, but we decided to spend 3 nights and are so glad we did.
Of course, we did many of the typical things (canal ride and trying waffles, fries, and chocolate) but since we had more time in the city, we were able to see and do a bit more.
We sat and had dinners with locals and chatted with them about life in Belgium. Plus, we explored the parks and windmills and sampled many Belgium beers and meals (at many places).
From there we moved on to the capital of Brussels. And while we thought the Grand Place with its UNESCO-listed architecture was incredibly stunning, Brussels just didn't WOW us like Bruges.
For us, there was just something missing — it lacked the vibe of Amsterdam and the beauty of Bruges. Luckily, our next destination didn't lack anything…
In Love with S
love

nia!

Slovenia was part of former Yugoslavia, gaining independence in 1991. These days, Slovenia is a member of the EU and is bordered by Croatia, Austria, Hungary, and Italy.

For years now, we've always wanted to visit Ljubljana, the capital city of Slovenia.

We joined a walking tour (as we always do when we first get somewhere) to learn as much as we could about the history and culture of Slovenia.
Plus, we wandered around the old town and new town, did hikes in Tivoli Park, went on day trips for fly fishing, visited the castle, and so much more!
The city has it all: a pedestrian-only center, a huge park, a canal running through the city, beautiful architecture, great restaurants and wine bars, and it's a great base to explore surrounding areas.
As we would learn during our 3-week stay, there's so much more to the small country than just the beautiful capital.
We rented a car for the rest of our stay and explored the pristine Soča Valley with its towering alps and crystal-clear rivers, while fly fishing with a guide for Marble Trout.
We spent some time hiking and fishing in and around Lake Bled — which has to be one of the most picturesque places on the planet.
We were blown away by the sheer size of the Postojna Cave, while the Predjama Castle built into the side of the mountain was something out of a fairytale.
But, there was more to come.
Slovenia is known for its wine production, but it's not all that well-known outside of the country as they don't do a lot of exporting.
Our next stop was the beautiful Brda region — the Tuscany of Slovenia.
Our small apartment had gorgeous views of the vines and while it was pretty much the off-season, we enjoyed the fall colours of the vineyards with fewer crowds.
We spent 3 days in the region, driving all around to scenic lookout points and small towns. We even hired a driver for a full day of winery visits…and lots of drinking.
It was the perfect place to round off our 3-week stay in Slovenia. There's so much more we want to see and do in this underrated country, and I'm sure we'll return.
Road Tripping Through Croatia
From Slovenia, we drove south down the coast of Croatia. The ultimate goal was to meet up with Tom and Anna for a rendezvous in Montenegro!
But, rather than just beeline it through the country, we decided to stop in at Zadar, a city we hadn't been to in the past, and return to Dubrovnik.
As it turned out, Zadar is an incredible town. With Roman and Venetian ruins, beautiful sunsets, and its location right on the coast, we could've spent longer than 3 days here.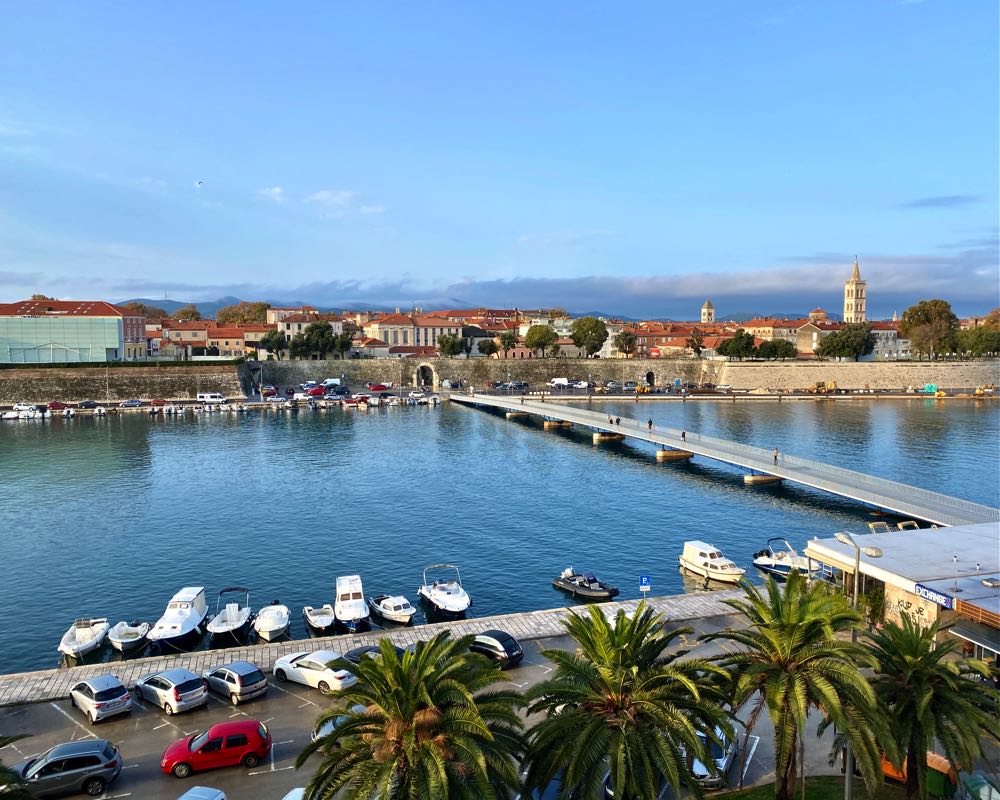 We joined a walking tour and learned a lot about the history of Zadar, ate some delicious meals and enjoyed the perfect location of our Airbnb.
What a great surprise!
From Zadar, we continued on and spent a night in the beautiful, popular city of Dubrovnik, before continuing on.
Meeting Friends in Montenegro
Tom and Anna had been living in Albania and we were in Slovenia. So we looked at the map and came to an agreement on where to meet up. Montenegro was the country of choice!
This would be our second time in the country, but we went to completely new places this time around.
Together with our friends, we road-tripped around the small, diverse country for two weeks while staying together in an olive grove home in Ulcinj, a 3-story lake house in Skadar, and in a modern lakefront apartment near the town of Perast.
To end the trip, we each got a room at an adults-only luxury hotel in the Bay of Kotor.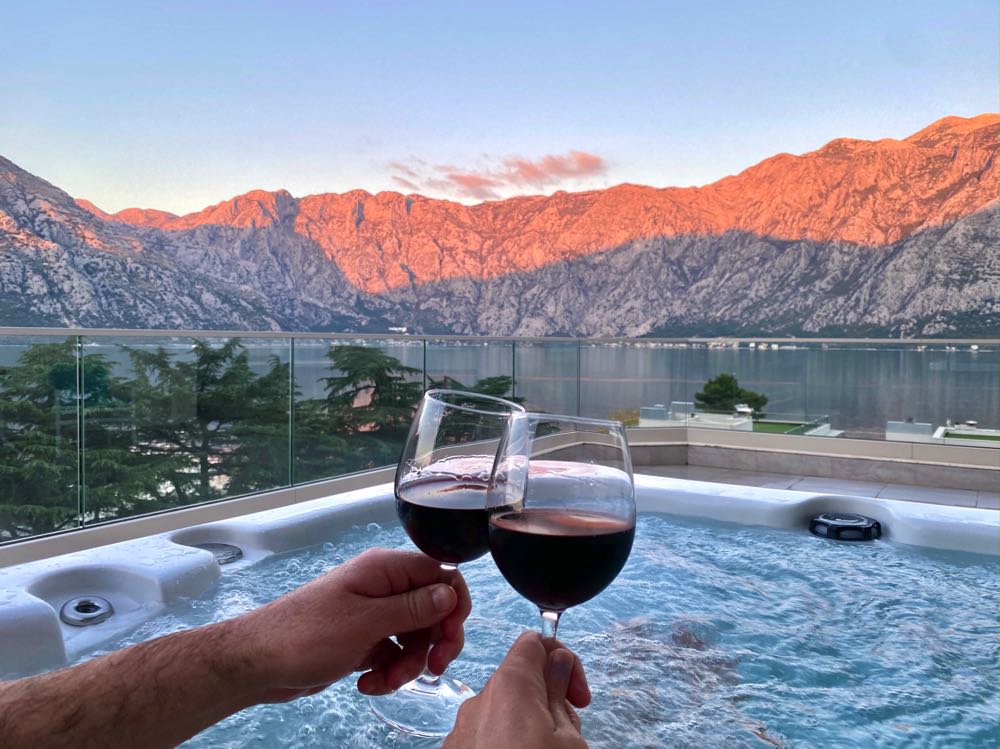 What was so great about this road trip together was we really got to see a lot of the country. Each travel day, we would stop in at different sights on our way to the next accommodation.
Highlights of the trip include visiting the old town of Bar, taking a boat around the Bay of Kotor for Nick's birthday, the wineries of Skadar, the unexpected coastal and beach walks in Ulcinj, and the gorgeous drive from Kotor up to Lovcen National Park.
The views from the 30 or so hairpin turns on the drive to Lovcen were stunning. But, the most incredible view was found in the National Park at the Mausoleum of Petar II Petrovic-Njegos — a must-see!
After many laughs and memories made during the two weeks together, it was time to part ways with our friends.
We drove back through Croatia, this time stopping in Split for a week to enjoy some downtime, lots of coastal and forest walks, and fantastic food. And, to plan our next moves.
Christmas Market in Frankfurt
Everyone should visit a European Christmas market at some point in their lives. This would be our first time experiencing one, and while things definitely weren't "normal", it was still pretty magical.
The pedestrian-only area was filled with wooden huts serving up traditional sausages, fries, hot wine (and beer!), yummy desserts and other greasy snacks.
We enjoyed ourselves surrounded by fellow travellers and locals enjoying numerous cups of mulled wine. The area was filled with bright lights, a massive Christmas tree, and holiday music.
And, apart from announcements concerning COVID blasting from the loudspeaker from time to time, police making sure everyone was wearing masks (except when you're drinking, you don't have to), and the reduced opening hours, it felt very festive.
We're just grateful the market in Frankfurt wasn't cancelled, as so many in Europe were.
South America Bound
With more and more measurements and restrictions coming into place in Germany and its neighbours (and with the winter season approaching), we knew it was time to leave Europe.
We'd heard about a month prior that Argentina had reopened to the world. After more than a year and a half of total lockdown, this was exciting news!
It was time for us to move from the northern hemisphere to the south, and to the western side of the world.
Our very long (26 hour) journey took us from Frankfurt (Germany) -> Houston (USA) -> Buenos Aires (Argentina).
Buenos Aires
The last time we visited Argentina was back in 2017, and to be honest, we weren't overly in love with Buenos Aires — something was missing. This time around, however, we really enjoyed our stay!
Our apartment in the Palermo Soho neighbourhood was surrounded by cute parks, street art filled alleyways, bars and cafes, and lots of boutique shops.
The locals were so warm and welcoming and we had some great experiences with strangers at wine bars, cafes and parks. Plus, we ate at some fabulous restaurants, including the 13th best restaurant in the world, Don Julio.
I think where we stayed in the city was the main reason we preferred our visit this time.
South to Patagonia
After 5 days in bustling Buenos Aires, we took a flight south to the city of Bariloche in the Lake District of Patagonia.
Here is where we've been basing ourselves for the past couple of weeks and it's where we've celebrated Christmas and will ring in the New Year.
We'll be staying in 4 different places over the course of a month, which is kind of annoying, but since we booked so last minute (with so much uncertainty, you have to these days…) and it's the holiday season, we're lucky to have found anywhere to stay!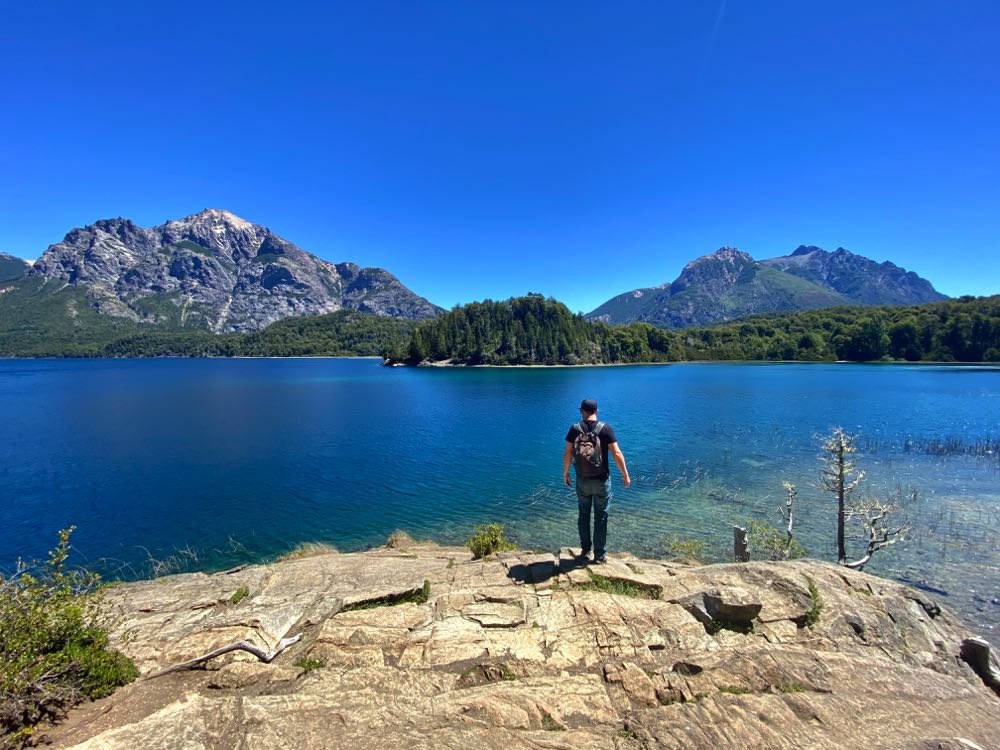 The first apartment was for 2 weeks and it was perfect. With a gorgeous view of Lake Nahuel Huapi and the surrounding mountains, it was a great place to base ourselves and enjoy nearby hikes, beaches, rivers and restaurants.
Unfortunately, Nick has been sick with strep throat for much of our time here in Bariloche. Maybe it was due to the long travel days? Changing climates? A new environment? Stress? Whatever it was, it was pretty rough for him, but thankfully he's on the mend and we can get back to enjoying ourselves.
Being surrounded by nature here in the Lake District is the perfect place to focus on our goals and dreams for 2022 and to really think about what we want for the new year.
Is Travel Worth it Right Now?
Admittedly, travelling these days isn't easy. It can be stressful, more expensive due to testing requirements, and quite frankly, airports simply aren't a fun place to be right now.
There are numerous logistics to think about when it comes to what documents you need, what the entrance requirements are, and what restrictions are in place when you arrive.
These are a couple of things learned this past year of travelling around the globe.
We need to be organized — more so than usual
There's so much to figure out these days, so Googling and joining travel/expat groups has really helped us out to know exactly what we need to bring, prepare, or do in order to travel to the country.
We did our research, and then continued to research up until the day we left — things changed daily in some cases.
Minimizing flights
The goal this year was to go by land and minimize flights when possible, which we did.
The airports are crazy these days with loads of extra hassles and security/health measures. But, if you travel by train, bus, car, or campervan, the land borders are typically much more lenient and less overwhelming.
For us, taking the train in Europe, and driving our rental car across borders was simple and enjoyable. It was a stamp-and-go situation in most cases, or in the case of the EU, there's no stamping and essentially no borders.
When we went to airports, we had to arrive hours in advance to make sure we had our documents in order. It felt like all we were doing was constantly showing our documents to different people at the airport.
Plus, there was nothing but ominous announcements about COVID and health over the loudspeakers, seat separators in the boarding areas, and in Germany, police coming by to make sure your mask was on perfectly.
Not to mention, wearing a mask for many hours on a plane isn't the easiest or most comfortable thing to do! Of course, flying is a must in many cases, but we tried to limit our flights and when we did, it was a more relaxed trip for sure.
Booking with free cancellation
Most airlines have removed their flight change fees, but not all of them. When it came to booking flights, we checked their policies and if they didn't offer free flight changes, we'd pay extra for "flexible fares".
We moved our flight to Argentina a couple of times, and it didn't cost us anything in change/cancellation fees. We simply had to pay the difference in the fare (which, as it turned out, was less than we booked so we got a credit!)
The same goes for booking rental cars and hotels and Airbnbs. We've been making sure there are good cancellation policies in place (just in case) before reserving and paying.
Just go for it!
Our goal for the year was to connect with people and to travel. Just go was the motto. If you feel safe now, travel while you can (if you can) as tomorrow isn't promised.
The government websites make it seem like it's impossible to visit their country, while home countries may make it difficult for you to come back.
Not to mention, entrance requirements are always written in a very confusing way.
But, many people are travelling right now. It's doable.
And once you're on the road, you'll realize that it's not really that challenging and half the time the documents that were so annoying to prepare won't even be checked by anyone…
Travel is absolutely possible and if you give yourself enough time to plan and research, you'll have a fabulous trip! Exploring our beautiful world is most definitely worth all of the current headaches and roadblocks.
Not only does the travel industry need our help, but once you arrive at your destination, the planning overwhelm just melts away and all that's left to do is enjoy your trip.
We're incredibly grateful and thankful for the travels we were able to do this year!
Goals and Thoughts for 2022
As we round out 2021 and look forward to 2022, there are lots of things we want to accomplish — most of which are related to business and our personal lives.
You'll notice that this article isn't related to business at all. This year, we mostly managed our teams and didn't spend all that many hours on our laptops. We were more focused on our personal lives and travelling.
While it's great that we've built our businesses in a way that they produce passive income, we want to be more involved with our websites again.
This year of "connections" has reminded us how important our personal connections with people really are, and that includes you… our readers.
We really want to be more personal on this blog again and have fun connecting with the people who read this blog from time to time.
Press Trips and Campaigns
We're actually starting the year off with two really exciting press trips. One has been offered here in Argentina through our niche website, while the other is for Goats On The Road somewhere in the Caribbean. We'll announce that soon, so stay tuned for updates on those!
We're really happy to see partnerships in the travel sphere continuing even amid all of the chaos, and we look forward to working together with more brands as the year progresses.
Being Creative Again
We'll be focusing on being more creative. This year I hardly wrote an article here on GOTR, I barely posted on Instagram and we didn't create a single video for our Youtube channel!
While I don't regret it, as we were busy enjoying being in the moment and travelling the world, we both really enjoy the creative side of our businesses.
2021 was spent mostly managing our team of content creators, but for 2022 we're both feeling the pull to get back into it. We're looking forward to connecting with you more through our articles, our newsletter and social media channels.
If you haven't done so yet, make sure to subscribe to our newsletter here.
Have a Proper Base
Our next major goal is to have a home.
Somewhere that we can call "home" year-round and use as a base to explore from.
We'll be spending the year searching for that perfect spot.
Ideally, that destination would have forests, mountains, beaches, and rivers. A place with lots of amenities, a community of like-minded people, and beautiful accommodations for rent (oh, and Nick says he needs there to be fly fishing).
Our perfect place would have a variety of restaurants, fantastic wine, and numerous fun things to see and do. I'd like it to be affordable, comfortable, and have a good vibe. It also needs to be well-connected to other parts of the world.
That's not asking for too much, right?!
This "pull" for a place to call home has become stronger over the past year. We both really enjoyed living in Playa del Carmen for 8 months and in the past, we've loved having a home in Grenada. But, those were all temporary.
We're ready to have an address to put on forms.
We're ready to have a place to leave our personal possessions when we're away travelling instead of constantly selling or donating and then rebuying.
We're ready to fully unpack our stuff for longer than a couple of months.
We're ready to have full-time friends and community.
Thank YOU!
Nick and I want to thank you for following our journey this past year and all the years prior. Many of you have stuck with us through so many different iterations of this blog and of our blogging journey.
We're happy to say that for those of you who enjoy our personal travel stories and day-to-day lives, that content will be returning in a big way in 2022. We want to re-connect with this incredible online community of like-minded "goats".
2021 was all about wanting to connect and interact with people, and while we might not have met up with you in person, we really do appreciate all of the emails you send us, and the comments you leave on our articles, videos, and social posts.
Our Tribe is what keeps this website going and without you, there would be no Goats.
Wishing you an abundant, healthy, joyful new year.
Dariece and Nick
Like This Article? Pin it!
The post Looking Back on 2021: A Year of Connections appeared first on Goats On The Road.