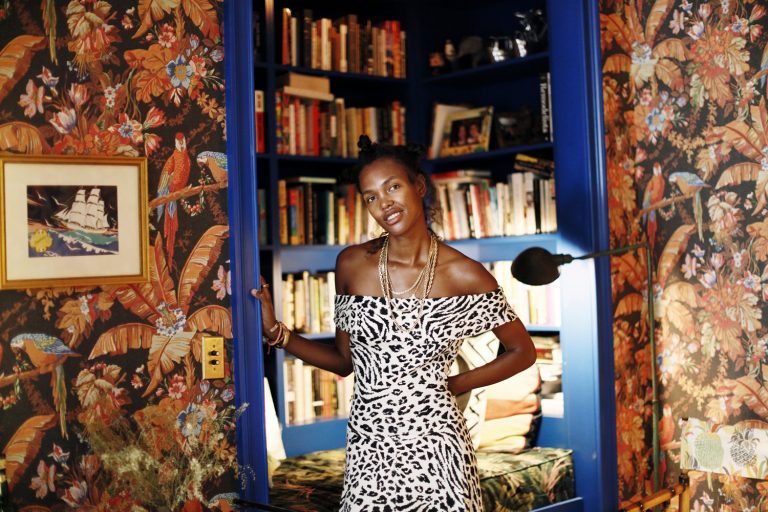 The sense of ease you feel in the presence of Megan O'Neill is almost remarkable, given her level of natural coolness. I liken the vibe of goop's longtime senior beauty editor to a 75-degree day in late October: unexpected in a way that makes you so happy, you're not about to question it. And with the knowledge, experience, and credentials her career boasts, it's no wonder I'd be anxious to get the scoop on Megan O'Neill's morning routine.
Though her inner radiance (matched with that glowing skin!) could feel too good to be true, O'Neill is the real deal. As her colleague at goop for several years, I experienced her authenticity firsthand. The born-and-bred New Yorker first made a name for herself as an editor at beloved magazines Lucky (RIP) and ELLE before bringing her deep knowledge of beauty and wellness to goop. Within her first month at the lifestyle site, O'Neill had legions of fans thanks to her natural ability to spin the oft-intimating topics of clean skincare and makeup into accessible conversation, both in her witty columns and as the co-host of goop's "The Beauty Closet" podcast. 
Of course, we were curious to learn exactly how this multi-talent tackles life—including how she starts her mornings and her daily beauty routine. One of our favorite takeaways? By just being herself, O'Neill proves that kindness is the best currency, and having a sense of wonder and humility for one's career is paramount.
"Don't be entitled," she tells us. "Don't do it when you're starting out and don't do it after you've climbed the ladder a bit. You miss out on a lot when you think you know everything."
First, let's dive into your career…
You've had an amazing trajectory from Lucky to ELLE and now goop. Was beauty journalism always on your vision board? Take us behind the scenes of your journey.
I never cared about beauty! I was always obsessed with writing for a magazine and popular culture—models and "it" girls and cool hair and fashion and the cast of the show everyone was watching. I snagged an informational interview with Jean Godfrey-June, who was the beauty director at Lucky and an integral part of the magazine's success (Jean is one of those legendary editors who is constantly evolving to be even cooler). At the time, she had no openings on her team, but I followed up with her—I kid you not—once a year for the next five years. Eventually, she had an opening, and I came in, interviewed, and landed my dream job: Lucky magazine's associate beauty editor. It was an incredible time. I learned so much and got fully into being a beauty editor.
The magic of beauty is that everyone is sort of secretly or unbeknownst to themself involved with beauty. Even if you're super minimalist or have never worn makeup in your life, like my mom, chances are there's some lip balm or face cream or shampoo you like that makes you feel a bit more comfortable in your skin. I was at Lucky for three and a half years—made some real lifelong friends there—and then I went to ELLE, which was amazing in a totally different way. ELLE taught me to appreciate the scientific component of beauty. Gorgeous, high-tech, fast-acting skin care is fabulous and luxurious—but it's also a scientific wonder. I stayed for two years at ELLE, then I got goop'd.
What is the biggest lesson you learned along the way?
And what advice would you give to people hoping to work in the beauty industry?
You learn the most by intently soaking in what the people who are more experienced and higher up than you are doing. How do they handle conflict? What questions do they ask? Google names and people they mention. See if what they think is cool or interesting is what you think is cool or interesting. Be a total sponge.
You have a very holistic approach to beauty in which you imbue a lot of wellness. Take us through that philosophy.
Health and feeling comfortable and strong and fluid in your mind and body is everything. It's being rich. Beauty is having the sure-footedness to feel and be your pure self. It's a vibe and an energy—it's not perfect skin or a perfect makeup application.
Makeup is amazing, don't get me wrong, and there's some beautiful clean makeup now, but there is just nothing more breathtaking and intoxicating to be around than someone who is utterly herself.
I feel my most beautiful when I've been eating healthfully (that means lots of vegetables and raw juices and curry bowls and roast chicken, as well as some wine and margaritas and pizza and scones and brownies in the mix, but way less of that stuff), moving my body (I love a mashup of yoga, Pilates, and a steady three-mile jog throughout the week), and am smoothed down in clean, nourishing skincare.
You recently became a mom—congrats! How has your beauty/wellness regimen changed? 
It really hasn't at all. I started working for goop three years ago now, and that woke me up to clean, nontoxic beauty. You can't really forget the fact that there are hormone-disrupting chemicals in conventional skin and hair care—so that did it for me, it was clean beauty forevermore. And clean beauty is better. It's taking over, thank goodness. It makes your skin look and feel better, and it's beautiful and thoughtful. So my routine has remained the same.
Now, let's chat about your morning routine… 
What does a typical day look like for you?
I try to wake up at 6am two or three times a week to do yoga (loving Humming Puppy's on-demand classes) or Pilates (Amy Nelms is a body genius) for an hour. My baby wakes up at 7 am, so I breastfeed him in bed—it's the best! I can't wait to burst into his room and envelope him. My husband and I take turns getting him ready for daycare, and somehow I manage to make my daily raw vegetable juice (kale, celery, green apple, lemon, and beets if I have any), shower, smooth on all my potions, get dressed, and race out the door by 8:45 am to bring Lagos to daycare. It's a bracing walk that kick-starts the day.
Describe your morning routine from start to finish… What beauty products do you use, and how?
I started doing way more Gua Sha, which is an ancient Chinese therapy using a sculpted jade tool to soothe skin. It's basically a face massage but you get this subtle skin-chiseling effect (especially if you wake up puffy). I love the Gua Sha kit from Wilding—it comes with a detoxifying face oil. The whole thing is just gorgeous. 
My routine: Instead of washing my face with a cleanser, I get it wet in the shower and trace the mihakka (a gently exfoliating Moroccan face tool) from Dehiya over my face. It leaves my skin impossibly smooth, and the ritual feels so calming. Out of the shower, on damp skin (which is more absorbent) I massage in either the cooling aloe vera from Dr. Barbara Sturm or the Active Treatment Essence from Vintner's Daughter, which I'm obsessed with. It's balancing and swirled with probiotics and microalgae and apple cider vinegar. My skin drinks it right up. I go put on deodorant—I can't get enough of the hot-pink packaged, super clean Smoothie Deodorant from Megababe—and Dehiya body oil (it has rose and oud and leaves my dry lizard skin plumped and radiant). Then I massage on a dropper of GOOPGLOW Vitamin C Serum. Use it consistently and your skin looks a thousand times brighter and feels so silky, it's a miracle. Then I smooth on GOOPGENES All-in-One Nourishing Face Cream. It's a beautiful, whipped texture and gives my skin an instant glow. I get dressed to give the GOOPGENES a second to sink in. The last step is Unsun Mineral Tinted Face Sunscreen. It's made by Frank Ocean's mom, which I love, and it's super moisturizing and deposits the most radiant sheen.
What do you eat for breakfast?
After my raw vegetable juice, I go get or make myself an oat milk latte. I eat dinner pretty late—sometimes 9 pm or 10 pm (ugh I know, but old habits die hard), so I'm never starving first thing. I'll sometimes make myself a plate of delights—grapes, Honeycrisp apple slices, raw almonds, Hunza raisins, these granola bars from goop, and— if I've gotten it together enough the night before—hard boiled eggs sprinkled with smoked paprika. On weekends, I make waffles or pancakes and douse them in maple syrup—that's heaven. 
What are your morning media rituals? 
I'd be lying if I said I didn't scroll Insta on the toilet (TMI). I'd like to shift to checking my NY Times app as voraciously. 
What are your favorite books?
Americanah and Half of a Yellow Sun by Chimamanda Ngozi Adichie. I'm jealous and enamored by the way she writes and crafts a whole world.
What do you always have on your nightstand to ensure a smooth, successful morning?
When Things Fall Apart by Pema Chödrön. It makes the workday feel less running-on-a-hamster-wheel and more finding moments of joy wherever you can.
"Beauty is having the sure-footedness to feel and be your pure self."
What's your favorite getting-ready soundtrack?
I just love the 90s. Terrence Trent D'arby, Red Hot Chili Peppers, Gin Blossoms, Sheryl Crow, but then also Post Malone and Just Bieber.
What's your daily uniform these days?
I love having to get dressed again. I make a point of it for daycare drop-off. I want them to think I'm one of those put-together moms. I was pregnant for the pandemic and really lived it up in my sweatpants and Re/Done tanks. Now it's Re/Done tank, Acne sweater (it's all of a sudden fall), Jesse Kamm or Rudy Jude high-waisted cropped pants, Tevas or Stan Smiths, and a zany-patterned sock. I always wear my hair twisted up into 4 bantu knots.
If you had one extra hour every morning, how would you use it?
I'd do my yoga and Pilates in a more leisurely fashion. And I'd take a walk outside. I love being outside in the open air getting some sun.
What are one or two things you do every day to live a more present/mindful/joyful life?
Rushing is my default mode. Even when I'm not late, I find myself rushing to get places or to eat. Maybe it's a New York City thing. In any case, slowing down, like in the literal physical sense, and sauntering versus racing, makes the day better. And I feel on top of the world when I start the day with a workout. 
If you could pin your success down to one thing or one moment, what would that be?
Landing my position at Lucky with Jean. It changed my entire course!
What does beauty mean to you?
Feeling strong and fluid and easy and joyful in your own skin.
Sentence Finishers…
I never leave the house without… goop lip balm, Megababe hand sanitizer, and Balmyard lip + cheek tint in Black Roses. (It's somehow flattering on everyone!).
If there were more hours in the day, I would… become one of those incredible flexible chiseled yogis.
The biggest sacrifice I've made for my career is… giving up my dream of being a dancer. I'm joking but also not.
Healthiest morning habit… Pilates and yoga and green juice.
Worst morning habit… Scrolling God-forsaken Instagram before I even swing my legs out of bed.
One thing I want to be known for is… my voice and helping to minimize racial inequity. I'm still figuring out how.
The one thing I fear the most is… not having enough time. In the day, in life, at night in the hours after work and before bed.
When I feel that fear, I… remember tomorrow is a new day.
The book I always recommend is… Americanah by Chimamanda Ngozi Adichie.
The three traits you need to succeed in life are… confidence, compassion, resilience.
Bath or shower? Shower!!
My favorite shower/bath product is… Bathing Culture shower wash.
When I'm creatively blocked, I… stare into space or go for a walk and the thing I can't quite grasp usually comes to me.