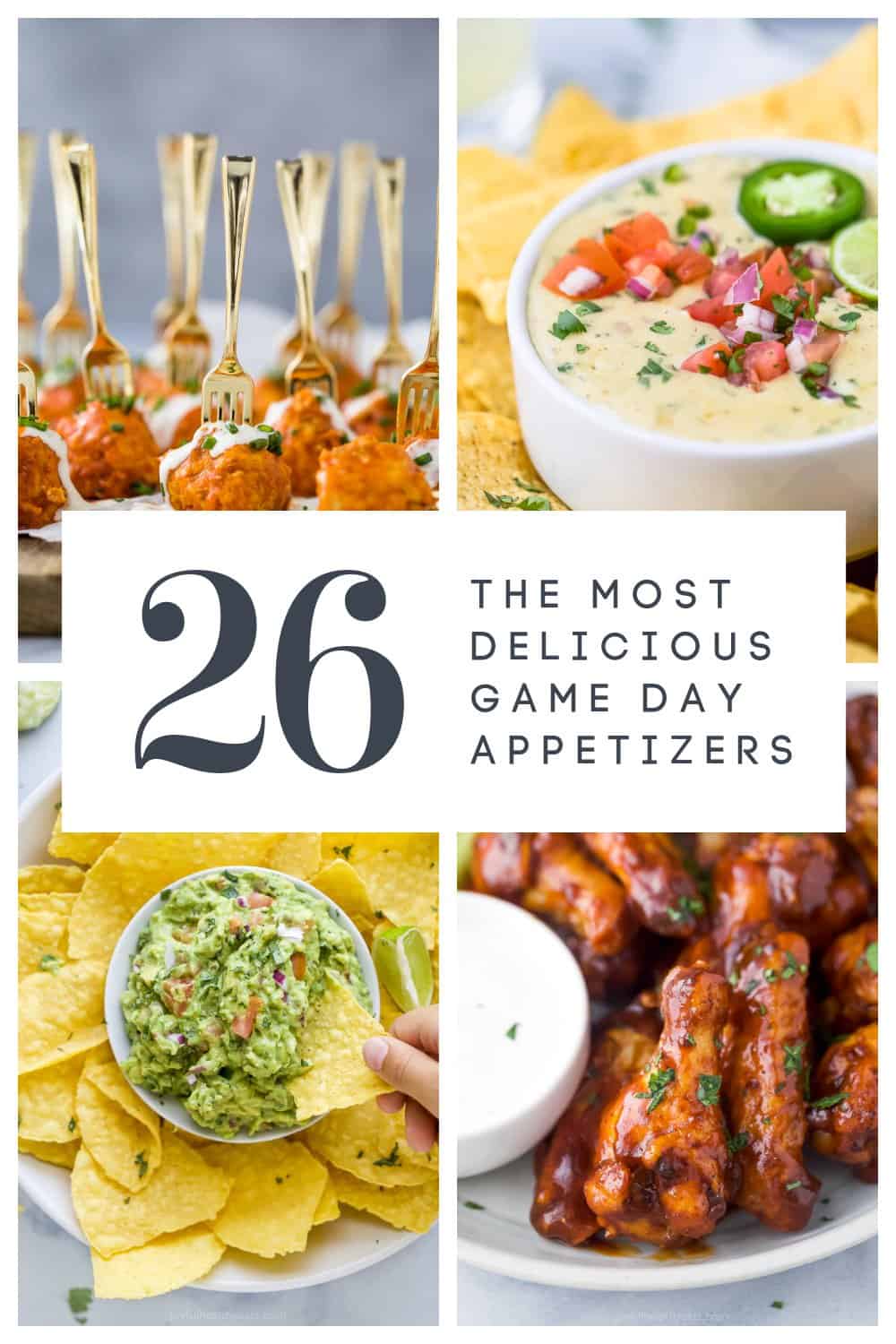 When it comes to Game Day Food I don't run short on flavor! 26 of the Best Most Delicious Game Day Appetizers around – everything from Wings, Dips, Snacks and Bites. Perfect for the Superbowl!
Game Day Food you Need for the Big Game
The Superbowl is next week and y'all I could not be more excited. We throw a big party every year and of course, I make sure that every snack, wing and dip on my menu is 100% swoon-worthy. I want people to go home talking about every bite they indulged on at my house.
Crispy Saucy Chicken Wings
It ain't game day without chicken wings. And I've mastered the crispy chicken wing both in the oven and air fryer. Oh and don't worry, I've got the back of all those vegans out there. We've got cauliflower wings on the menu too!
Air Fryer Honey BBQ Chicken Wings
Baked Garlic Parmesan Chicken Wings
Air Fryer Buffalo Cauliflower Wings
Sticky Honey Sriracha Baked Chicken Wings
Baked Chicken Wings with Thai Peanut Sauce
Asian Chicken Wings with Raspberry Hoisin Sauce
Sweet & Spicy BBQ Chicken Wings
Air Fryer Honey BBQ Cauliflower Wings
Crispy Korean BBQ Chicken Wings
Must Have Dip Recipes
When I dip you dip we dip. The second most requested items on game day are FOR sure dips. I mean, just pass me a chip covered in creamy queso and call it a day. Here are our favorites.
Homemade Creamy White Queso Dip
Spinach Artichoke Dip Wonton Bites
Epic Game Day Bites
Alright, now that we got all the bases covered lets fill in the field with a little more goodness. For these game day bites we have everything from fresh ceviche, to loaded sweet potatoes fries, meatballs and sliders. Trust me, there will be no shortage of food at your party!
Crockpot Buffalo Chicken Meatballs
Quick & Easy Fresh Shrimp Ceviche
Fresh Summer Rolls with Peanut Sauce
Baked Loaded Sweet Potato Wedges
Beer Braised Slow Cooker Brisket Sliders
DON'T MISS A RECIPE ->