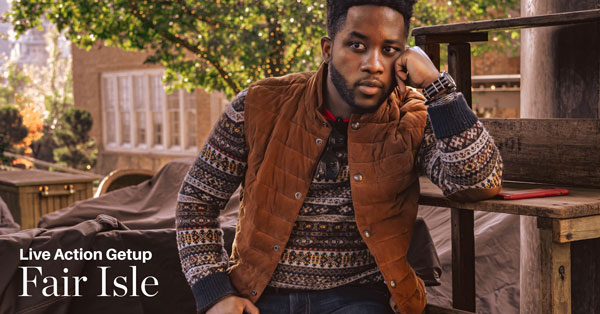 Cold but still colorful.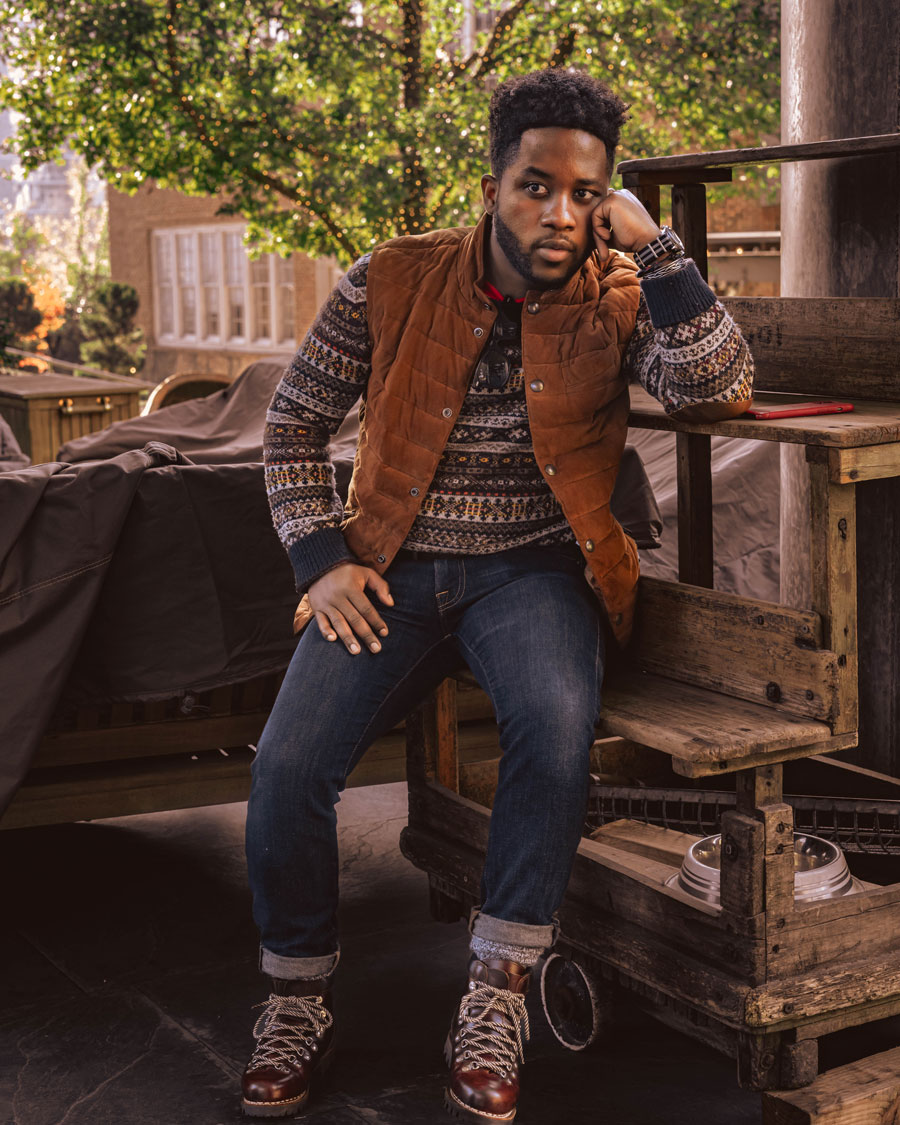 There's something about a sweater and a pair of warm boots that keep a man looking intentional but feeling relaxed. The challenge is creating a sweater-and-boot outfit that doesn't make you blend into the crowd. To proactively remedy this challenge, we're leaning into the classic Fair Isle sweater. 
We asked style contributor Daniel Baraka to walk us through an outfit he put together featuring the Fair Isle sweater, paying homage to its heritage and timelessness but with a refreshing modernity. A svelte suede vest, dark denim, Alpine boots, and the right accessories came together to create what he calls an "Alpine aesthetic mixed with English country style." 
Let's break it down:
The Fair Isle Sweater is the Anchor Piece
"Fair Isle sweaters for me represent home – from looking at the pattern, it feels like the countryside – feels like community, feels like a melting pot almost."
Named after a Shetland Island in Scottish territory, this pattern gained popularity in the early twentieth century and has been a men's sartorial staple ever since. There's nothing special about the knit itself; the magic is in the pattern and the palette. 
"When it came to creating this outfit, I started organically from the Fair Isle sweater. The pattern is just very interesting to look at," Daniel elaborates about his previous season find from Abercrombie & Fitch. "So you have these nice fall colors in there, and the homey feeling, and seeing the whole thing just comes together beautifully. When I'm going out to a friend's home, maybe for a game night or something like that, a Fair Isle sweater would be nice."
The Vest Brings it Up to Date
Because a wide-ribbed down puffer vest would have steered this outfit more towards the ski slopes, Daniel opted for a suede vest with a "very tech-y, very modern" aesthetic. The utility brown shade breaks up the pattern of the sweater a bit, and the tight ribbing of the vest keeps the outfit looking contemporary. 
Daniel's vest is from Ralph Lauren but no longer available. This alternative vest from The North Face packs 550 fill goose down and a sherpa lining for added warmth. Check out the burnt olive and the arrowhead yellow (If you like a little extra panache) colors as well.
Dark Denim is An Easy Go-To
While the Fair Isle brings the English countryside, the dark denim roots the outfit in modern casual.  While lighter denim could still work with this outfit, especially if you're looking to go more casual, the dark wash brings out the colors of the sweater, fixing it as the focal point.
Alpine Boots Aren't Just for Climbing Mountains
Alpine boots bring a flair to this outfit that combines rugged functionality with a smooth, geometric design. 
As Daniel explains, "For the past few years, we've seen designers coming more and more to alpine boots and combining them with modern outfits, which make for very fun looks that I think are both practical, stylish and just elegant overall." 
Daniel is wearing a pair of Avoriaz boots from famed French brand Paraboot. They're perhaps the French equivalent of Red Wings and you'll pay a similar pricetag for them. Norwegian-welted, for which the brand is famous for, with beautiful and thick rope-like laces.
An alternative would be this handmade pair from Danner. They're handmade in Oregon and have Gore-Tex liners for total waterproofness.
If the Gore-Tex is overkill for your needs, try the Commander from Thursday Boot Co. Goodyear construction, a full leather lining, and kevlar blended laces (yes, you read that right), make these one hell of a deal.
Your First Accessory: The Diver's Watch
If you're not sure where to start with accessories, start with a watch. And if you're not sure where to start with watches, then start with a diver's watch. The diver's watch is sporty but refined, fun but serious, and the strap you choose helps set the tone for the rest of your outfit. 
Daniel's watch is made by Baltic, a company based in France, who uses Swiss Automatic movements in their diver's watches.
If the Baltic is out of your reach (Anyone else have three kids and a mortgage? Asking for a friend), then the Orient Mako II is an outstanding diver's watch for the guy on a budget. 
Fitted with an automatic Japanese movement, the Orient Mako II winds with the motion of your wrist, and at 41.5mm across, it's the perfect size for any body type. While the Orient is water resistant (most watchmakers won't use the term "waterproof" anymore), the Orient isn't built to take on serious water pressure, so if you're actually going diving, leave it at home. 
→ Read more: The Best Men's Dive Watches You Won't Believe They're Under $500
Brace Yourself 
After getting your first watch, Daniel suggests, "The second thing would probably be a bracelet because it's less on the nose than a ring, and it feels a bit more personal, feels more like a gift and feels easy." Men's bracelets typically fall into one of three categories: leather, fabric, or metal. 
For this outfit, Daniel went with a brass cuff from Studebaker Metals. Based out of Pittsburgh, PA, Studebaker Metals makes each piece of jewelry by hand; this cuff has a classic rope design, and the brass will develop a rich patina over time with wear. 
If you're going for the fabric bracelet, throw in some color. Not only will the look complement the Fair Isle sweater, it'll add a fun pop to the outfit overall.