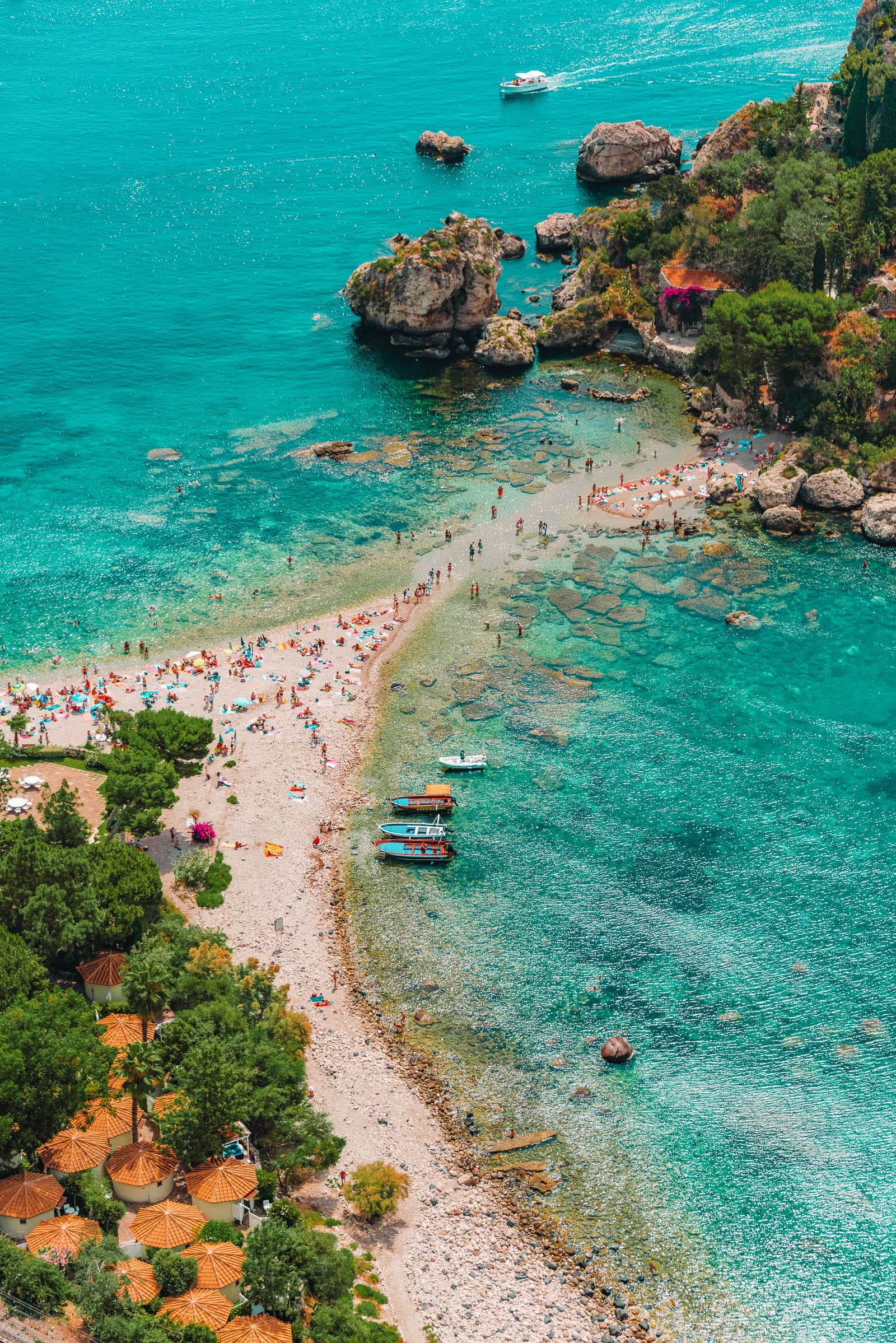 One of the best things about Italy is how diverse the country is. I mean, you've got gorgeous lakes like Como in the north, the best Italian Islands to visit, and picturesque cities like Rome, Bologna and Matera, too.
Plus, that's before we even broach the subject of gelato.
I know I harp on about Italy all the time, but with good reason. It's gorgeous!
Now, although the mainland is stunning, so are the prettiest and best Italian islands that are just too good to miss.
From some of the biggest islands in the Mediterranean to some of the most charming Italian places to visit, there are some of the best Italian islands Italian island that I'm almost certain you'll love.
Take a look at some of the best Italian islands you should visit on your next trip.
1.) Ischia
Perched within the Gulf of Naples, Ischia is a gorgeous volcanic island that's so charming to visit. You can get to the island directly from Naples by boat and explore this gorgeous place.
Make sure to visit the hydrothermal  Negombo Park, see Aragonese Castle and swim to the Roman ruins that are underwater at Cartaromana Beach.
2.) Procida
Between Ischia and Naples, Procida is a tiny little island that's lovely to visit for a day trip.
Once there, head around the island on one of the walking trails that follow the coastline, explore the stunning Abbazia San Michele Arcangelo and head into Il Galeone for the best Napoli pizza on the island.
3.) Elba
Situated in the Mediterranean between Corsica and Tuscany, Elba is a gorgeous little spot to visit if you're looking for a little rest and relaxation. Grab the boat from Piombino on the mainland, don't forget your beach towel and enjoy the beautiful waters.
Some of the best beaches are; Sansone, Laconella and the largest beach in Biodola Bay. You'll love it.
Read more: Best places in Tuscany to visit
4.) Stromboli
Part of the  Aeolian Islands chain, Stromboli is a volcanic island that's stunning to see. The volcano itself is still active and can be seen best by boat around to the Sciara del Fuoco which is incredible to see at night.
If you're feeling extra brave, you can even climb the volcano too – though, you should only do this with a local guide and always listen to expert advice on when and how to climb. It really is one of the best Italian islands for natural wonders.
5.) Lipari
I'm pretty sure that Lipari is the largest of the Aeolian Islands (just off Sicily) and one that you should definitely explore. You'll be able to get to Lipari quite easily (by boat) from Milazzo.
Once you arrive, head to Coral Beach for a little dip, see the vista over the island at Belvedere Quattrocchi and visit  Lipari Castle.
The island also has a few hiking trails which are gorgeous on a sunny day. Just pack lots of water and plenty of sunblock.
6.) Caprera
Just shy of Sardinia and relatively close to Corsica, Caprera is a stunning spot to visit.
When exploring the island, make sure you see the Fortification of Poggio Rasu, visit Spiaggia di Cala Brigantina (a gorgeous beach on the island) and Spiaggia I due Mari (another coastal haunt that's just too good to miss).
You can get to Caprera by car (via a bridge) from Madelena Island or on a privately chartered sailing day. You'll love it.
7.) Sardinia
Sardinia is one of the largest islands in the Mediterranean and a place that'll take a little longer than a few days to explore.
To be honest, even a week won't be enough; the island is pretty big!
Now, it's hard to cram in all the spots you should see but there are some that are definitely a must-see.
Make sure to explore Neptune's Grotto, and see the gorgeous beach of Cala Goloritze and the huge cliffs of Capo Caccia. If you're looking for a little city life, pop over to Cagliari or Alghero in the northwest.
Read more: Best things to do in Sardinia
8.) Ponza
Situated about 50 km off the coast of mainland Italy (between Rome and Naples), Pona is one of the large islands in this chain to visit.
Make sure to visit Grotte di Pilato and explore the Punta Incenso Park that's great early in the morning before the midday sun strikes.
For some of the freshest seafood, pop into the Eea Restaurant that's just so amazing. You'll get some lovely views of the island too.
9.) Budelli
A tiny island just off a much larger island, Budelli is perched by Sardinia and close by Caprera.
One of the most famous features of Budelli has to be its coloured sandy beaches. I mean, where else in Italy can you get sand like this? 
Make sure to visit Spiaggia Rosa (it's as dreamy as you can imagine) and explore some of the paths that criss-cross this little island.
Now, one of the easiest ways to get here is by boat. If you're feeling extra fly, you can rent a skipper and vessel for a few hours to explore this gorgeous island and its beaches.
Read more: Best things to do in Sardinia
10.) Sicily
Officially the largest island in the Med, Sicily is a pretty diverse Italian gem to explore.
Just like Sardinia, you'll need more than a few days to head around the whole island – but don't let that put you off.
Make sure to pop into Palermo and visit the (rather macabre) catacombs. They are so eerie to see!
Afterwards, pop over to Ragusa which is just gorgeous at sunset.
If towns and cities aren't your things, you'll also love hiking Mt. Etna.
Just be prepared for a change in the itinerary as weather conditions can change fast (which happened to us).
Read more: Best places to visit in Sicily
11.) Giglio 
About 15 km from the coast of Tuscany is Giglio Island that's easily reached by boat from Porto Santo Stefano.
Once you arrive on the island, pop over to Torre del Lazzaretto, gorge at Sopravvento (I swear they have the best pasta on the island) and ramble across its unspoilt coastline.
12.) Venice
Now, some Venice isn't actually one island but multiple little islands that now form the base of what this water city is today. Now, Venice can be considered the most famous island city in the world and most certainly in Italy.
It's gorgeous!
Once there, wander around all the narrow streets, head off the main tourist trail and find some of the smaller little eateries that line the street. You'll not only find them to be much cheaper, but also much more local.
For some incredible sites, make sure you see; the Piazza San Marco, grab a gondola under the Bridge of Sighs and Rialto Bridge. It really is a gem of a city and one of the unique and best Italian islands to visit.
Read more: Best things to do in Venice
And last, but not least…Capri!
You can't go exploring the Italian islands without thinking about Capri. Head over from Naples or Sorrento and spend a few days exploring the island.
Make sure to visit all the different colour Grottos, see the rocks of I Faraglioni and gorge on all the limoncello you can find!
---
---