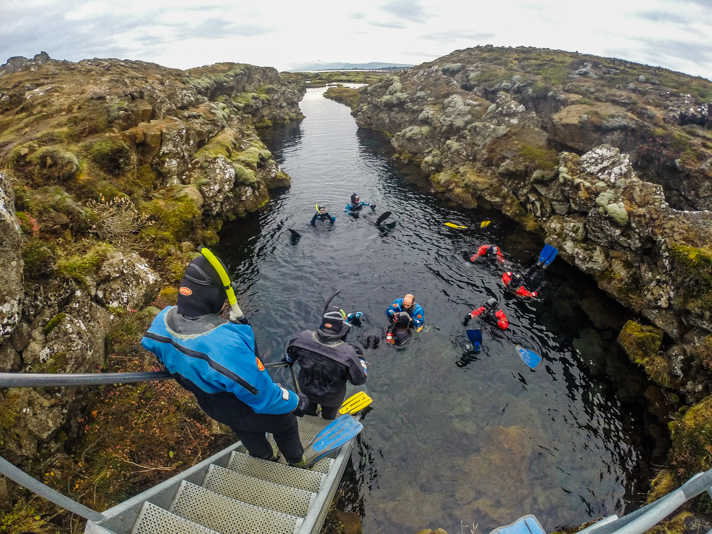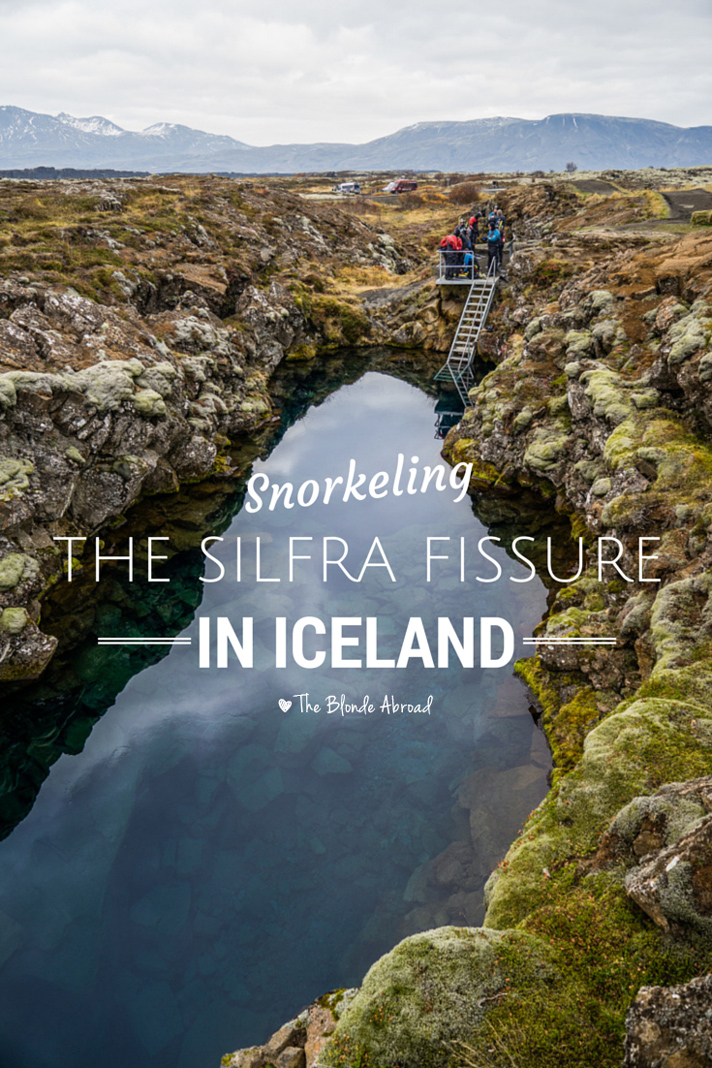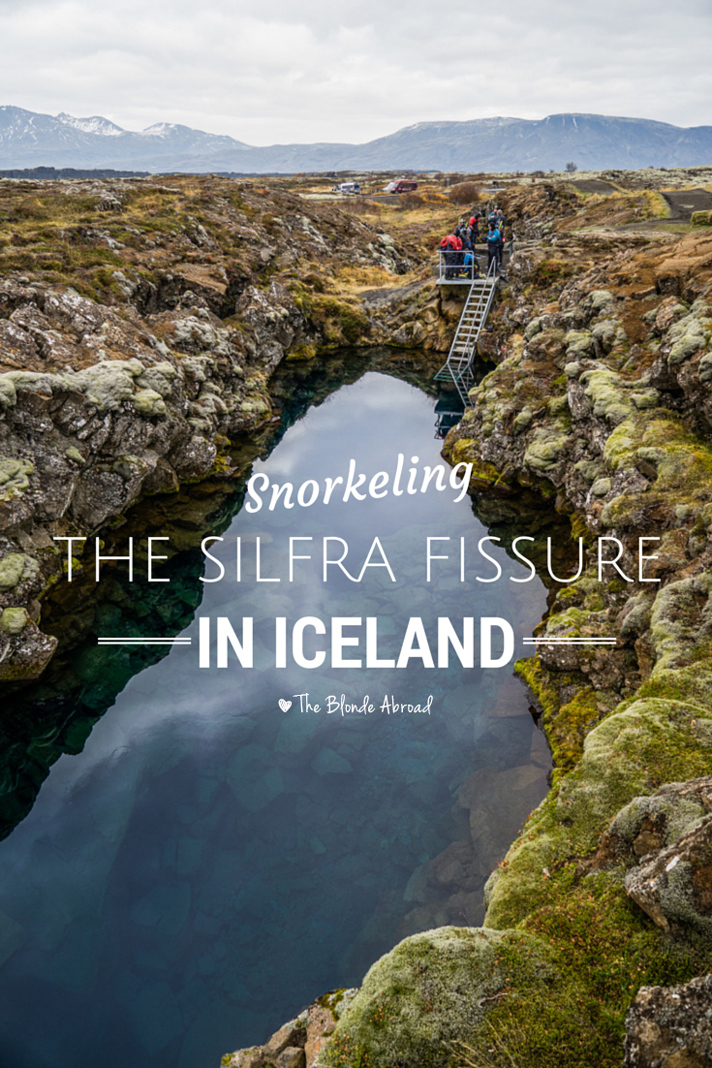 Since getting my PADI Open Water Diver certification in Bocas del Toro, I've been on the lookout for epic dive sites and underwater adventures around the world.
The Silfra Fissure is one of the most incredible dive destinations on earth, so it was an absolute MUST when I went to Iceland.

Interesting Facts about the Silfra Fissure
The Silfra fissure is a crack between the North American and Eurasian continental plates.
It's the only place in the world where you can dive or snorkel directly between two continental plates.
The underwater visibility in the Silfra fissure is over 100 meters, making it some of the clearest water on the planet.
The water is filtered through porous underground lava for 30-100 years until it reaches the north end of Thingvellir lake, seeping out from underground wells and through the fissure. The filtration process is what makes the water super clear as well as drinkable!
The water is nearly freezing (2°C / 35°F – 4°C / 39°F year round ) as it is glacial water from the Langjökull ice cap.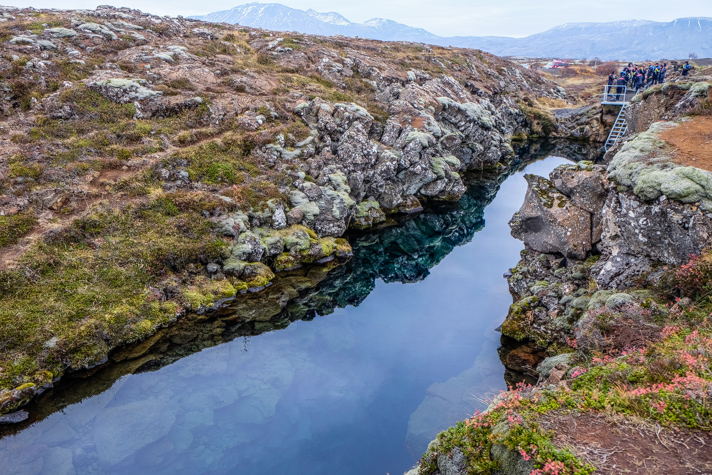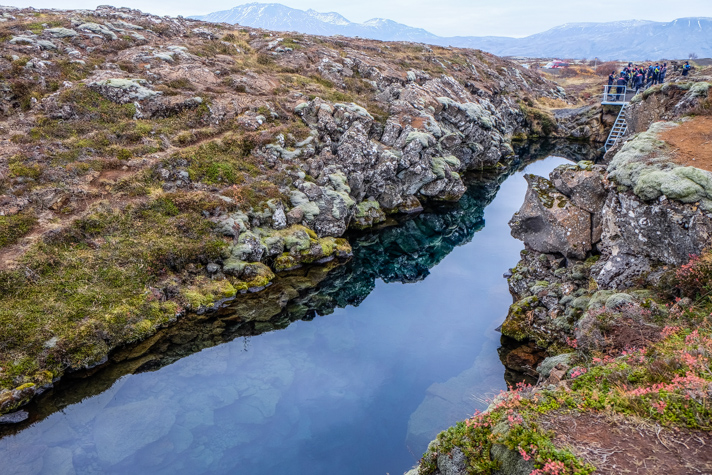 While traveling through Iceland with my friend and fellow travel blogger Matt, of Expert Vagabond, we partnered up with Arctic Adventures to see and do some of the best things in Iceland.
Less than 24 hours after arriving in Iceland, I was hitting the road with Arctic Adventures for their Black and Blue Caving and Snorkel tour to go snorkeling in the Silfra Fissure and caving in a lava tube!
The Silfra Fissure is located in Þingvellir National Park which is a short drive from Reykjavik. (Side note: Þingvellir is also one of the first stops along Iceland's famous Golden Circle Road Trip!)
Since the water is just a few degrees above freezing, we suited up in dry suits. First, we put on fuzzy warm body suits, not dissimilar to one piece pajamas. We put on the actual dry suit and made sure our wrists were sealed tight.
The dry suits would make everything other than our hands and heads completely water-proof.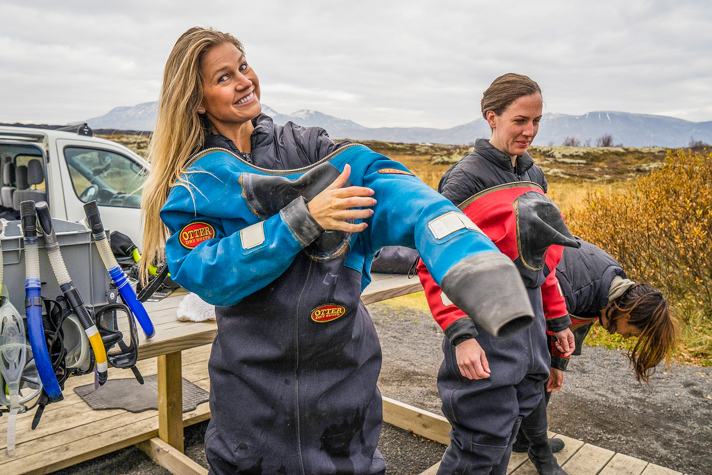 Our hands were outfitted with thick neoprene gloves and we slipped thick hoodies over our heads. While our hands and heads would get wet, the neoprene would trap the water and our own body heat would warm the water, keeping us from getting too cold.
The last essentials were flippers and a snorkel mask and then it was into the fissure!
I felt like an astronaut entering a new planet as I slowly dipped into the water. The suit ensured I would float right on the surface and the current gently drifted me down the fissure.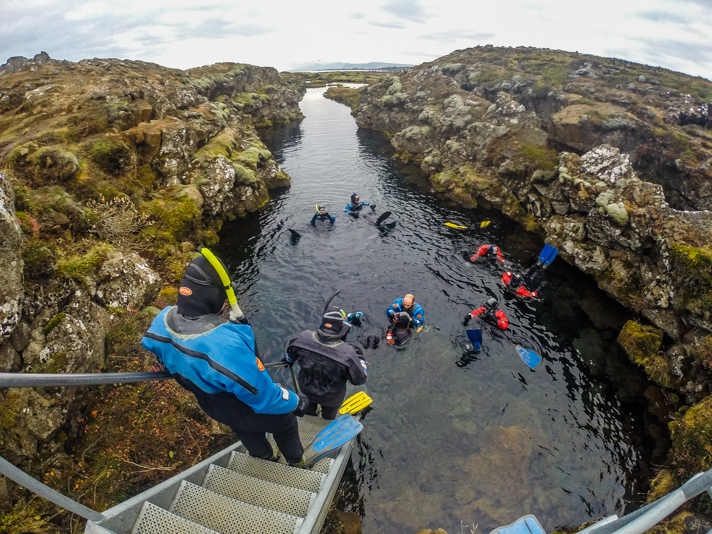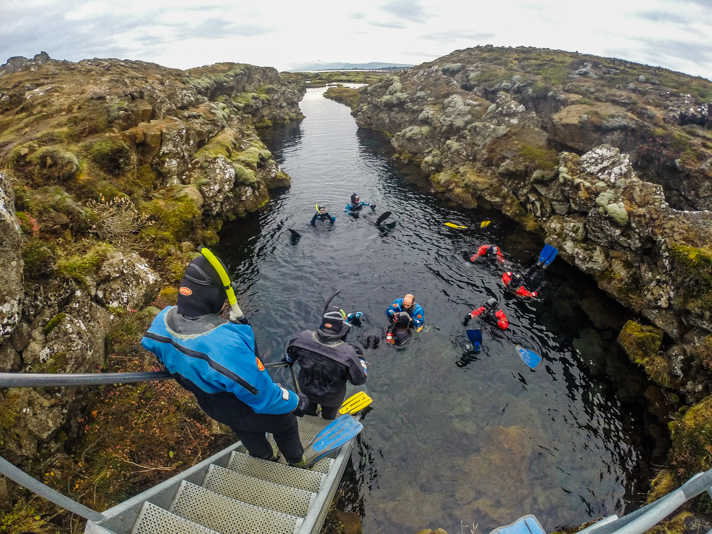 I put my face into the water and was instantly shocked by the incredible cold! Though, just as I was told, I couldn't feel a thing after a few minutes.
Matt and I were able to snap lots of photos thanks to our water-proof and freeze-proof LifeProof iPhone cases but, my hands did get unbearably cold halfway through the dive, so I have to thank him for most of the Silfra photos! "Thanks Matt!"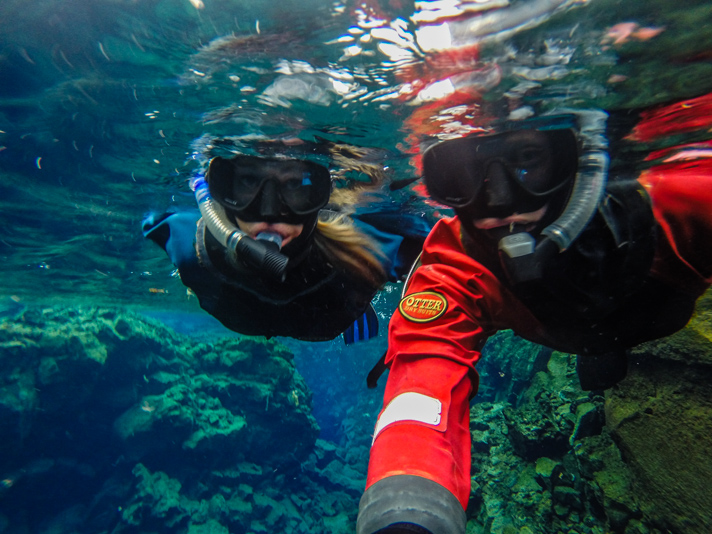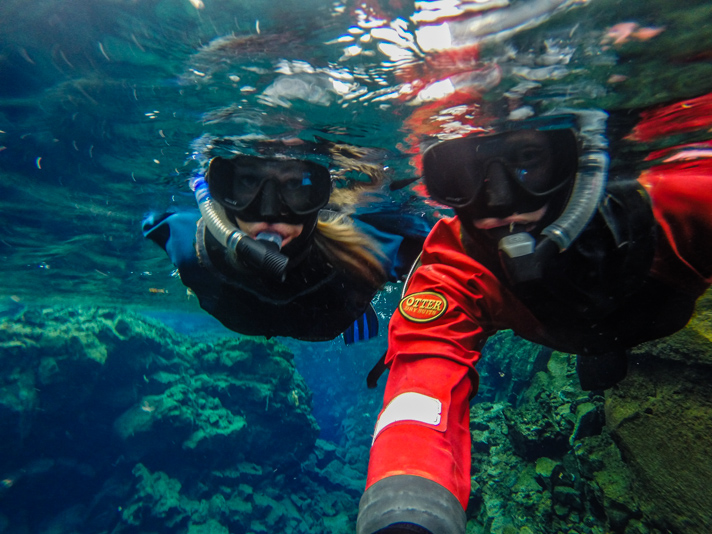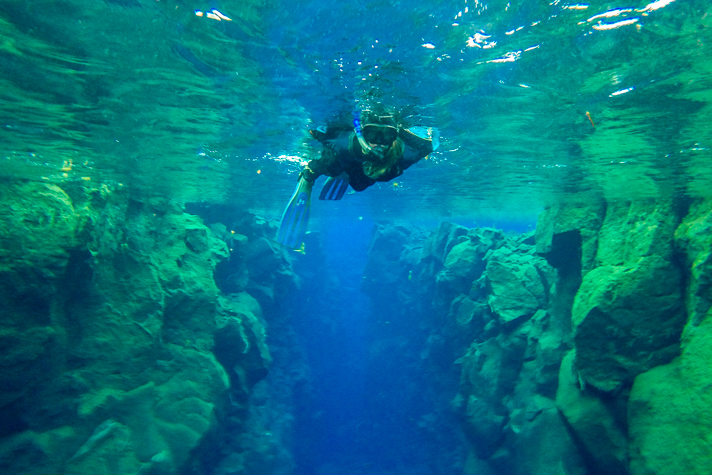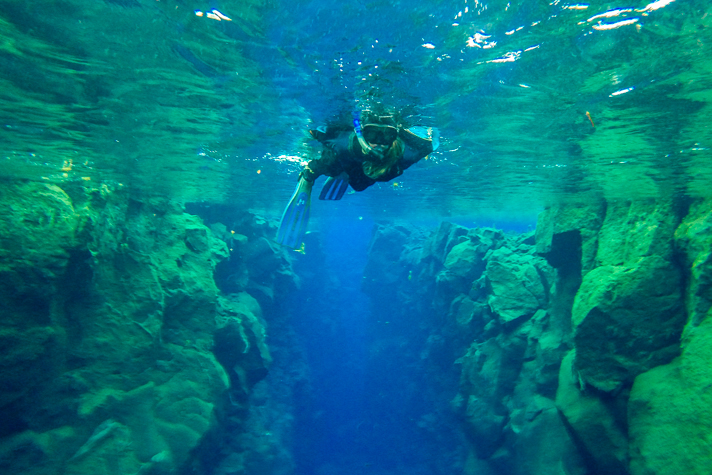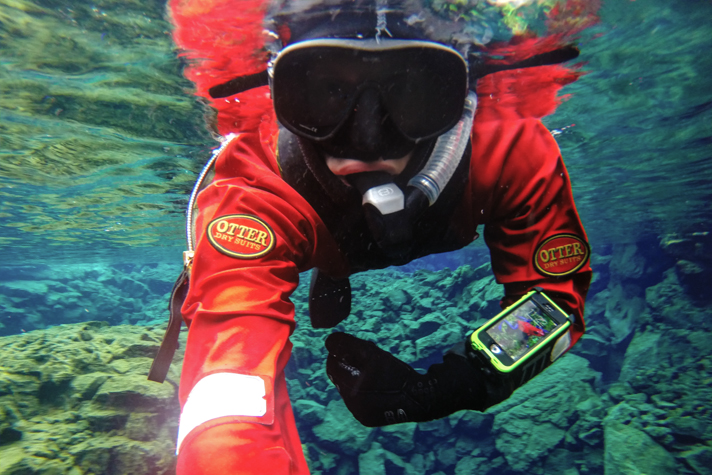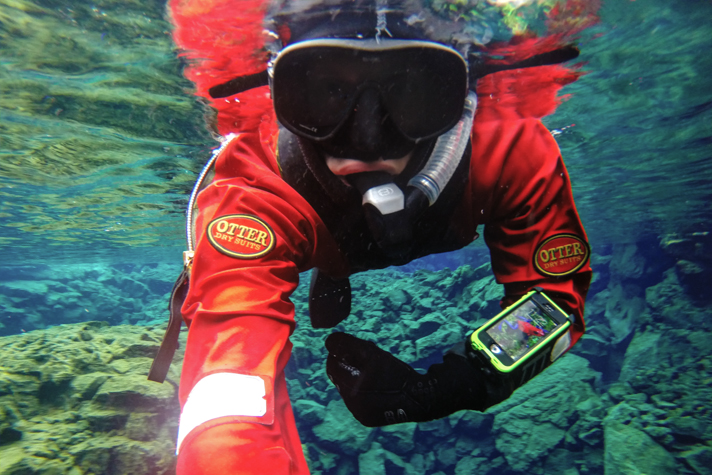 When we got out of the freezing cold water I realized my body stayed (mostly) dry but, my cold wet hair left me shivering. Luckily, we were greeted with a big cup of hot cocoa.
It was the perfect pick me up!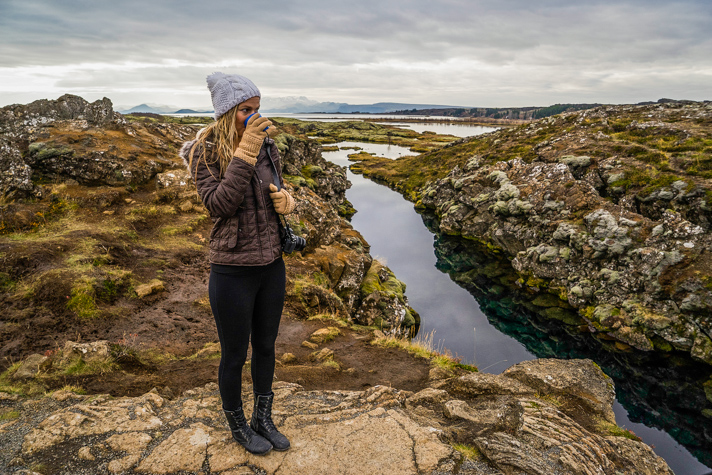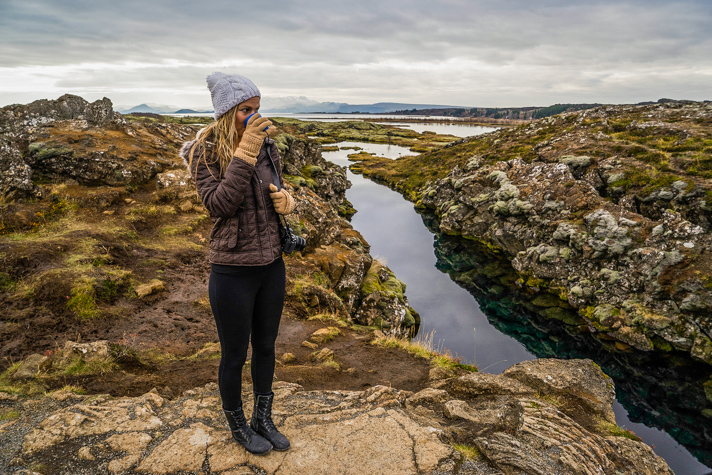 Next, we boarded the Arctic Adventures van for our next adventure: the "black" part of our tour. I'd been caving before but never in an underground lava tube, so I had no idea what to expect.
The Þingvellir National Park is scattered with interesting lava caves and we would be going inside one. It was a short drive from Silfra to the caves but, when we stopped, it felt like we were in the middle of nowhere.
We put on helmets and headlamps and followed our guide to the opening of a very inconspicuous lava tube entrance.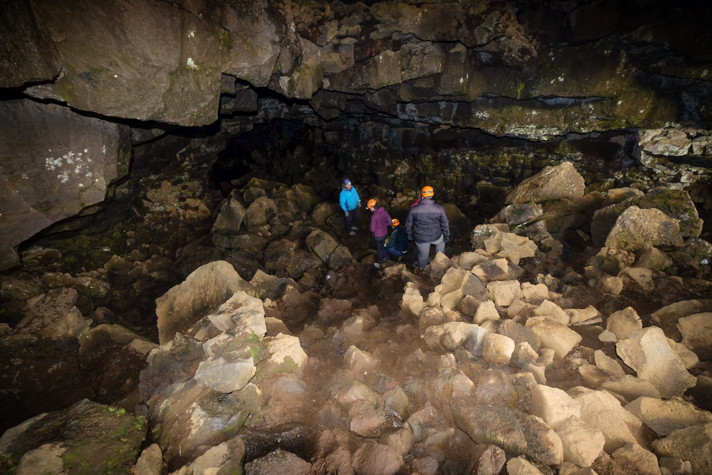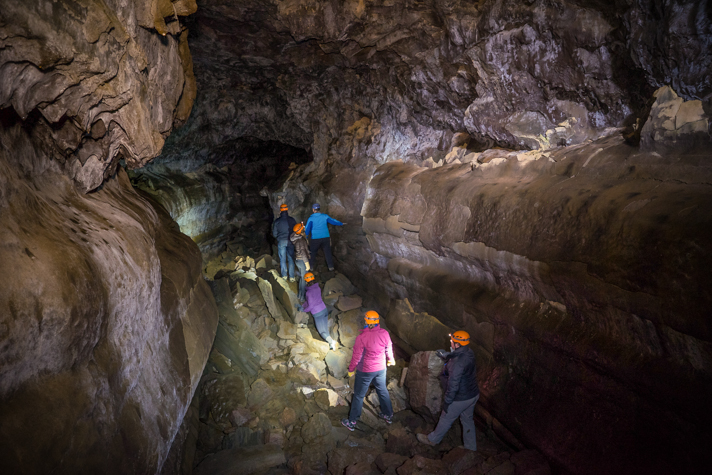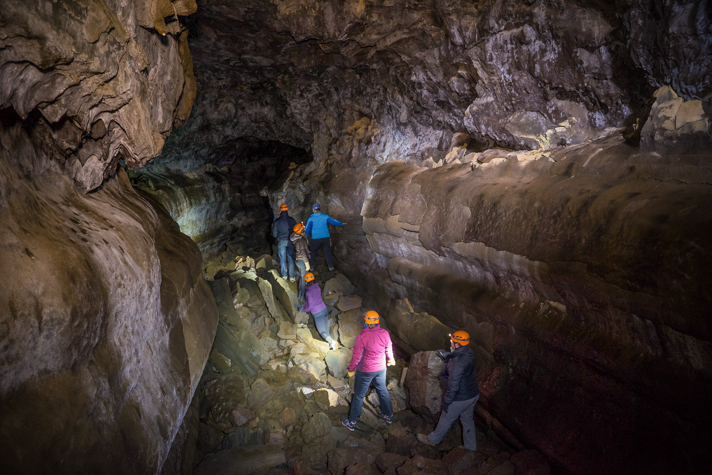 The entrance to cave was created by a lava tube collapsing. And the tube was created by flowing lava that hardened and turned into a sort of underground tunnel.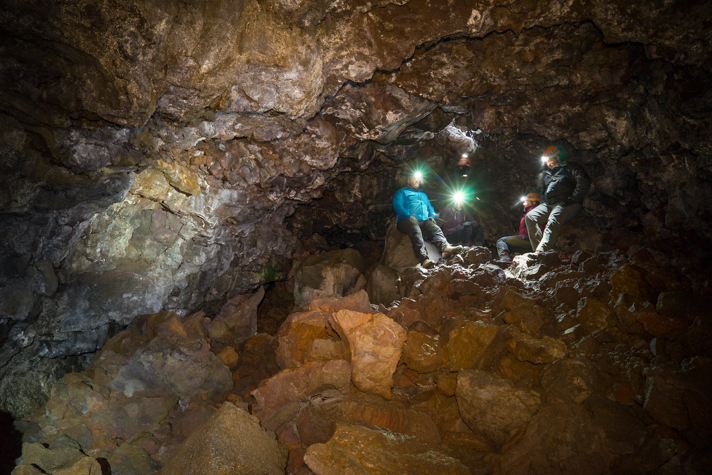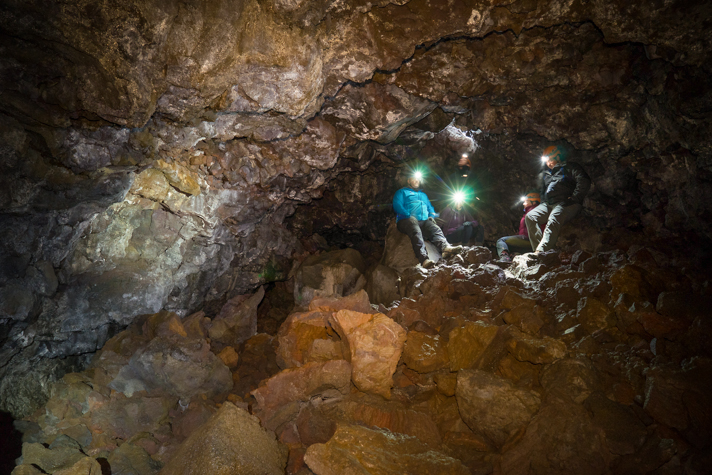 We walked in one end and over volcanic rock in complete darkness (only lit by our headlamps) until we reached the other end. Different colors in the rock lit up from our headlamps.
It was like entering another world!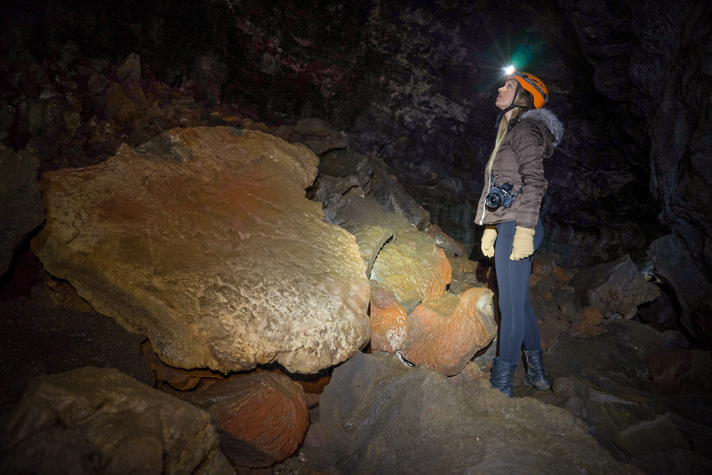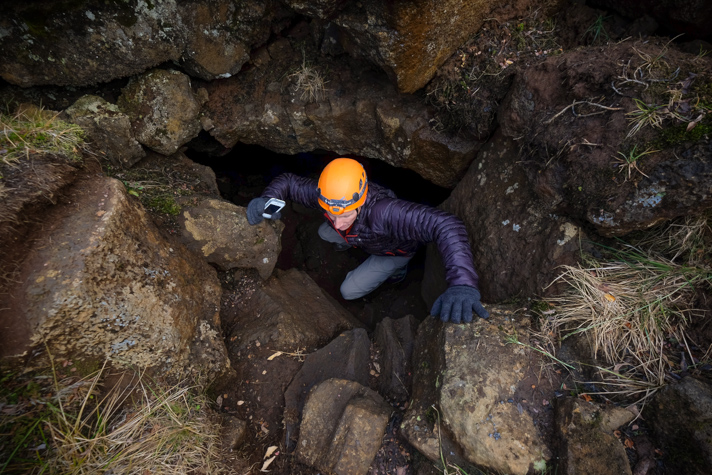 I had such an amazing day with Arctic Adventures and highly recommend their Black and Blue tour. It was very cool to experience two elements of Iceland, Earth & Water, in a single day!

Helpful Tips
Though the website says you'll do black before blue, we went snorkeling first.
You may get wet. My dry suit had a small leak in the foot, but I didn't even notice I was wet until I took the dry suit off after my dive.
My hands got REALLY cold while under water. Before diving, the guides informed us that it's best to keep your hands on your head out of the water or to not swim around with them. The movement pushes the warm water out of your neoprene gloves. If you're planning on snapping photos, mentally prepare yourself!
Bring an extra change of clothes, just in case. Extra warm socks are good idea. Hand warmers aren't a bad idea either!
I returned to Iceland 2 years later and chose to scuba dive in the Silfra Fissure. If you're a certified diver, check out my Silfra diving experience here—I'd highly recommend it!
Special thanks to Arctic Adventures for having me as a guest. As always, the content & opinions expressed here are entirely my own.