In this digital nomad guide to Montenegro, I'll cover the ins and outs of digital nomad life in this beautiful country. From safety and where to live, to the best coworking spaces and things to do, you'll find out all you need to know within this article.
About Montenegro
Montenegro (translated literally as 'Black Mountain'), is a relatively small country, sandwiched between Croatia and Albania on the Adriatic Sea. It also shares borders with Serbia, Kosovo, and Bosnia and Herzegovina.
It has a population of just over 600,000, but don't let its small size fool you. Montenegro offers some of the most spectacular scenery I've ever seen. It's home to mountains and ancient caves, top-class ski resorts, glacial lakes, and beautiful beaches.
The country is so compact that you can ski and spend time on the beach on the same day. Its cities, including the capital, Podgorica, offer cool bars and restaurants and the country has a great cafe culture.
Its friendly people and cheap food, drink, and accommodation options (compared to other destinations in Europe), make it a great hidden gem for digital nomads.
After living in Montenegro as a digital nomad for just over 2 months, I'm going to share everything I learned during my time in this captivating country.
Living as a Digital Nomad in Montenegro
Being a digital nomad in Montenegro is easier than you might think. You just need to carefully consider where to base yourself, as high-speed WiFi and coworking spaces are more often found in the towns and cities.
The more rural you get – and Montenegro gets very rural in places – the less likely you are to find these things. The good thing about being a digital nomad in Montenegro though, is that SIMs are incredibly cheap; meaning you can use these as hot spots if you find yourself out in the middle of nowhere for a few days.
Despite cafes being plentiful, they are often on the small side, and so aren't able to house a dozen freelancers drinking coffee all day. However, coworking spaces are available in major towns all along the coast and within the capital city. Encouragingly, the number of all-in-one coworking and coliving spaces, such as Playworking, is on the rise.
I'd describe Montenegro as having an up-and-coming digital nomad scene. Travelers and ex-pats are now realizing what a fantastic option Montenegro is for those who love the outdoors, show-stopping scenery, and year-round mild temperatures at affordable prices.
Is Montenegro Safe?
I always felt safe and found the people incredibly friendly and welcoming. In fact, hitchhiking is still considered a much-accepted way to get around. My husband and I hitchhiked a couple of times in the more rural areas of the country and even managed a couple of friendly conversations about English Premier League football.
The crime rate is very low, especially in terms of violent crime. Although, in tourist hotspots, particularly during the summer season, you should keep your wits about you. Use common sense; don't leave your bag unattended, and be mindful of pickpockets, etc. As a woman, I also felt very safe, even when walking alone both in larger cities and in more remote areas.
Having said this, organized crime and corruption are concerns within the country. However, these are fairly high-level problems and are unlikely to affect those working remotely in Montenegro.
Best Places to Live in Montenegro
Here are a few suggestions of where to base yourself as a digital nomad in Montenegro:
1. Tivat
Tivat has its own airport and is also a good option as a longer-term base. It's a short drive from Kotor and Budva and has many bars, restaurants, and cafes to enjoy. You can spend time ogling the huge yachts and boats that pull into the port here too.
Best Areas to Live in Tivat
Porto Montenegro is the main port area and most luxurious neighborhood, but it isn't ideal for digital nomads on a budget. Many ex-pats have holiday apartments here that they usually only visit in the summer months. So, if you're in Tivat at other times of the year, you may be able to pick up a rental deal.
Donja Lastva has beautiful beaches, crystal clear water, restaurants, cafes, and attractions. You can walk to Porto Montenegro in about 20 minutes and this quiet neighborhood has a high-speed internet structure.
Mazina is located in the upper part of Tivat but is still close to attractions. Accommodation costs may be slightly cheaper in this area as it's set back from the main Porto Montenegro area. Keep in mind, however, that some areas of Mazina could require a car to get into the center of town.
Coworking Spaces in Tivat
Sedam Petaka has around 15 available workstations, offers out-of-hours events, and a drink and snack station. It also has fast, stable WiFi. It's just a 5-minute walk from Porto Montenegro and you can rent a desk by the hour for €3.
Innovation Center offers digital nomads high-speed internet, printer/scanner facilities, and comfortable workstations. It also has outdoor seating, so you can look out over the beautiful Montenegrin scenery while you work.
Playworking is a little different in that it offers simple, modern, and affordable accommodation with private en-suite bathrooms, as well as a long-term coworking space, shared communal areas, and lots of outside spots to enjoy. It also offers loads of other perks, such as free yoga lessons, and the use of SUPs (stand-up paddle boards) and bikes.
Things To Do in Tivat
2. Podgorica
Podgorica gets a bad rap sometimes, with other bloggers describing it as boring. However, I didn't find this to be the case and enjoyed spending time there. As a base for digital nomads, it has all you could want – a city vibe, plenty of coworking options, and many bars and restaurants.
It's definitely not as pretty as the coastal towns, but it doesn't see as many foreign tourists, the prices don't hike as much in the summer months, and it's a central transport hub meaning it's easy to get to most places in the country from there.
Best Areas to Live in Podgorica
If you prefer a more suburban vibe and are likely to only want to pop into the city a few times a week, Zelenika (along the main highway between Podgorica and Skadar Lake National Park) is the best area for you. The city center is just two kilometers away, while Skadar Lake National Park is just 20 kilometers from here, and the beach towns of the coast are less than 35 kilometers away.
Across the river from the Old Town is Novi Grad (or 'New Town'). This area has lots of parks and outside spaces and the city center is still easily accessible on foot.
Alternatively, you could opt for Podgorica city center for the most central location from which to explore the sights. You'll find some hostels in the center itself, as well as apartments to suit a range of budgets. The center is surrounded by public parks and is within easy walking distance of all major attractions and historic monuments. 
Coworking Spaces in Podgorica
Nest coworking space in Podgorica offers visitors meeting rooms, desks, parking, a lounge area for networking, and 24/7 access, making it especially useful for digital nomads in Montenegro.
Upbeat Hub caters to freelancers, startups, and established businesses specifically in creative and cultural industries, tourism, and sustainable economy, and describes itself as a hub for collaboration, innovation, and social impact. It also features a roof terrace for spectacular views of the city.
WorkHub is found in the heart of the city and provides private offices, private desks, coworking desks, meeting rooms, and virtual offices, all equipped with high-speed internet, printing and scanning facilities, and office supplies. It offers tea and coffee, happy hours and communal events, a lounge area, and an outside terrace. It's also pet friendly.
Things To Do in Podgorica
Take a walk along the river – Podgorica actually has 6 rivers running through it, but the most impressive is the Moraca. Pick a perfect-looking large rock to stop and sip a beer or eat a picnic on, whilst admiring the turquoise water rush past you. You could combine a walk out of the city with a visit to the ruins of Duklja, an old Roman town on the banks of the river.
Wander around Stara Varoš – This is one of the oldest parts of the city and dates back to Ottoman times, but the area was mostly destroyed during WW2. There are a few buildings that still remain, such as the Clock Tower on the edge of the district and a couple of mosques. It's a small but nice area to stroll around and get a feel for the old Podgorica.
Visit the Cathedral of the Resurrection of Christ – Despite it only being a few decades old, the Cathedral of the Resurrection of Christ is one of the most beautiful and impressive buildings in Podgorica. There's a cafe next door where you take in the view, and if you're lucky, possibly even catch a wedding party arriving.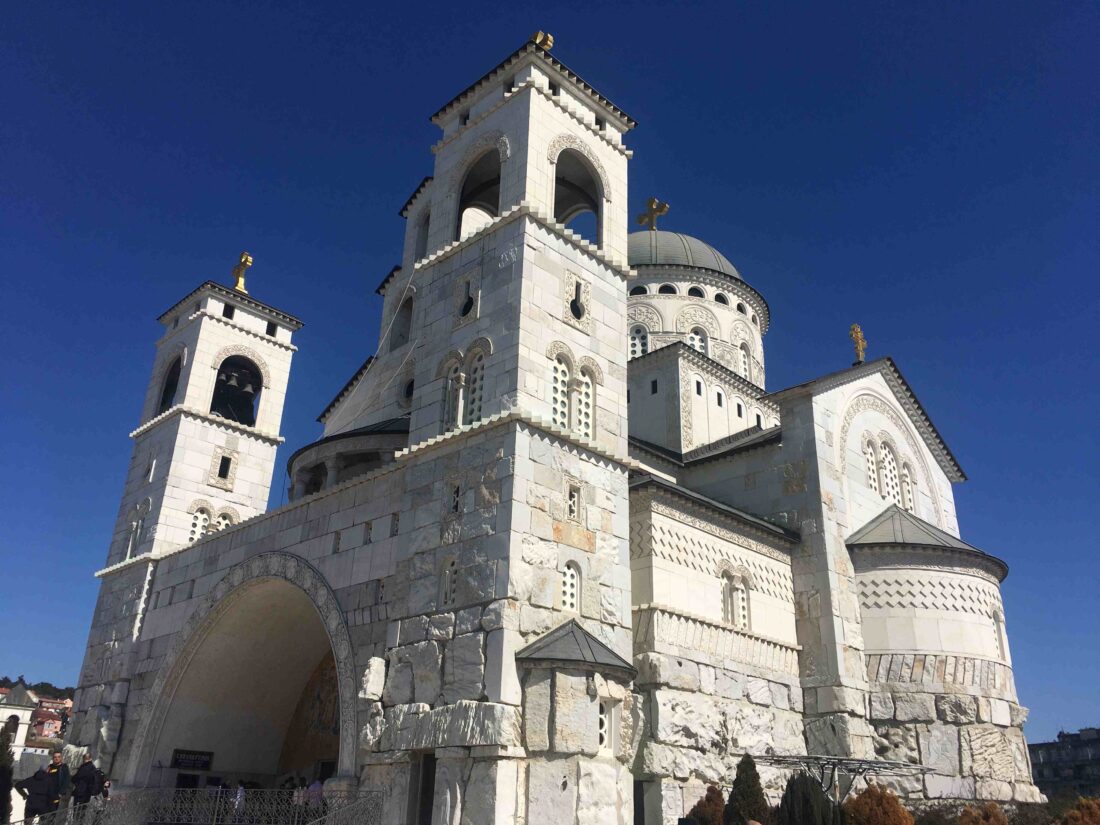 Bar Hop along Njegoseva – This street, and a few offshoots, located right in the center of the capital is lined with bars, cafes, and restaurants where we often spent afternoons and evenings eating and drinking for very reasonable prices. Konoba Avlija was one of our favorite bars, and it often has live music too.
Take a Day Trip – Podgorica is incredibly well-connected so it's great to choose as a base to explore the rest of the country. You can go for a boat tour on Skadar Lake, or head inland and visit Cetinje and wander the streets admiring the old government buildings. The coastal towns are very accessible from here too. This 4-hour tour will take you out of the city to Montenegro's Niagara Waterfalls and Ostrog Monastery.
3. Budva
Budva is considered the party capital of Montenegro. It has an Old Town, with a similar feel to that of Kotor, but is home to huge hotels and high-rise holiday apartments that dominate the skyline and beachfront.
If you're a digital nomad that loves to work hard and play hard, Budva should be high on your list of possible locations. It has plenty of nightlife, including clubs, bars, festivals, and restaurants, as well as lovely beaches.
Many of the clubs have open-air rooftops offering amazing views of the ocean. It's also very well connected via bus to the other major cities along the coast and the capital.
Best Areas to Live in Budva
As a digital nomad in Montenegro, stay out of Budva's Old Town as accommodation options are limited and the area gets particularly crowded in the summer. Podmaine is just north of the town center and offers some decent budget accommodation. There are lots of opportunities to get into the great outdoors and the beautiful countryside that surrounds Budva in this location too.
Becici Beach is just up the coast from Budva and offers a slightly slower pace of life. It's not quite as busy as Budva, but is close enough to easily reach by foot or bike, and has its share of bars and cafes – as well as a beautiful shoreline.
Jaz is the next cove along from Budva's Old Town and has sandy beaches where you can catch some wonderful sunsets. Nearby Mogren Beach is a little quieter than the busy beaches of Budva itself and rather offers a quiet retreat, whilst still being close enough to the entertainment and buzz of Budva.
Coworking Spaces in Budva
Itbranch.house has an onsite bar and outside terrace area so you can relax with a beer or a snack and network with others after a few hours of work. It's a dynamic workspace located right in the center of Budva and has high-speed internet, modern workstations, and lots of natural light. You can book a desk for 2 hours, for prices from €5.
Hubrela describes itself as 'the ultimate' coworking experience in Montenegro. This coworking center offers a variety of social meetups, workshops, and free educational days for its members. It's just a 10-minute walk from the beach and embraces an ethos of building a truly collaborative community of freelancers, remote workers, and entrepreneurs.
Things To Do in Budva
See the Ballerina Statue – This statue is one of Budva's most iconic symbols. It's located along a boardwalk that hugs the cliffs; taking you from one small beach to another. Legend says it commemorates a dancer who was in love with a sailor sent off to sea. She waited by the water every day hoping he would return, but he never did.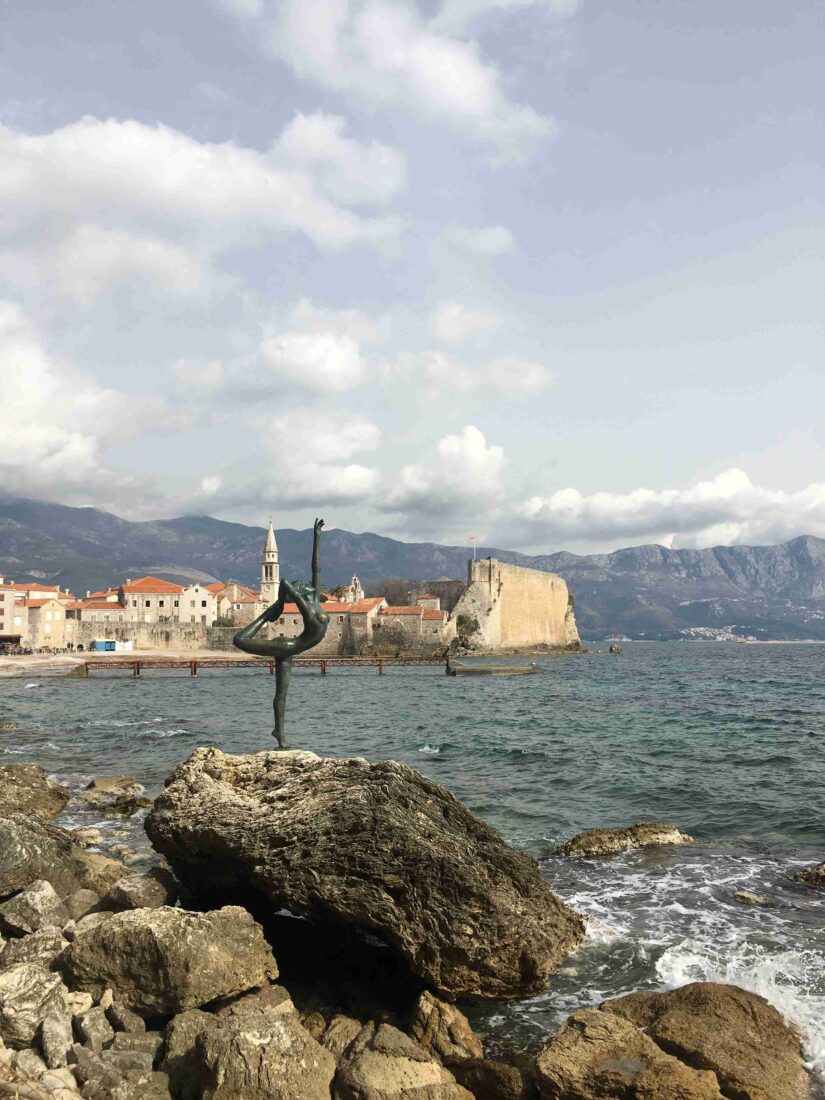 Walk The 7 Bay Trail – This 9km walk will take you from Budva Old Town to Sveti Stefan, a super-high-class resort where many celebrities own holiday homes. Along the way, you'll pass through the side of a cliff in a pedestrian tunnel and enjoy seven beautiful beaches. There are plenty of bars and cafes along the route, so be sure to stop at a few along the way.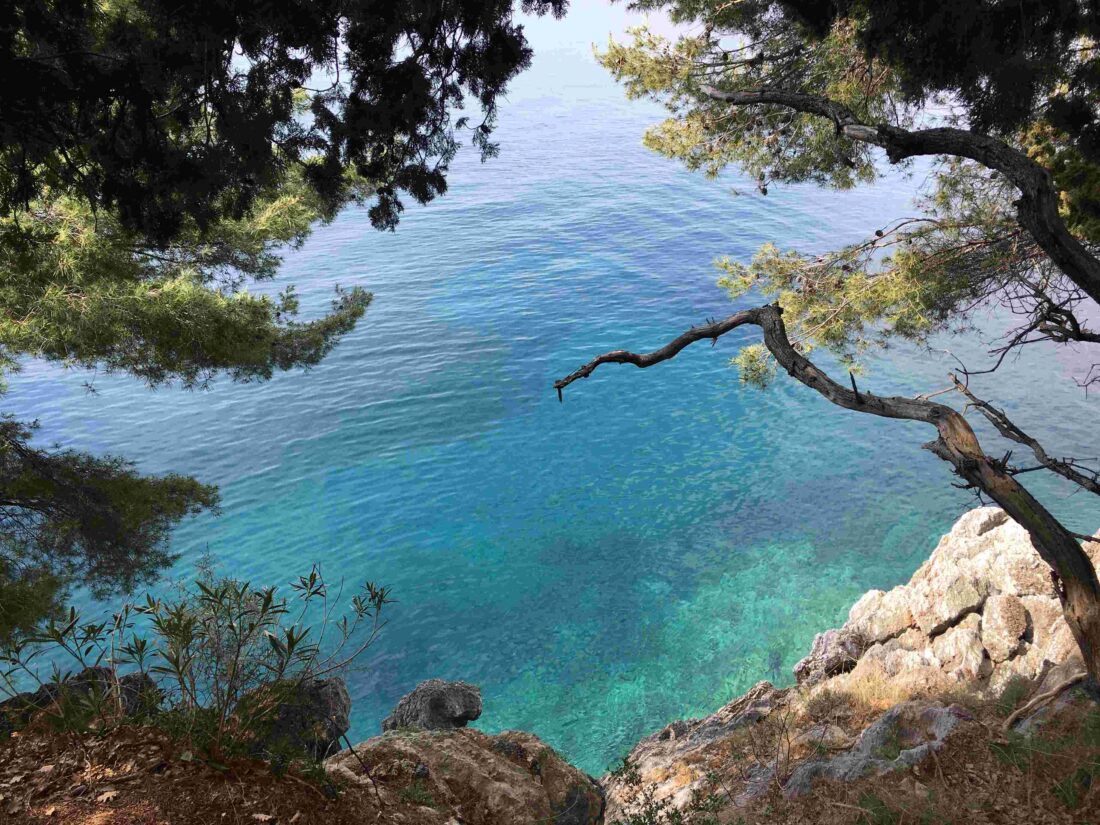 Visit Hawaii – Just one kilometer off the coast is St Nikola Island, (or Hawaii as it's otherwise known, thanks to its crystal clear blue waters and sandy beaches). We got the ferry there for €3 and you can explore for an hour or spend the whole day wandering around at your leisure.
Dance Until the Sun Comes Up – Budva sure knows how to party, especially during the summer months. There are loads of cool clubs along the shore, including Top Hill, located above the town with a huge 5,000-person capacity and an open-air dance floor. Budva also hosts Sea Dance Festival in August each year, which pulls in clubbers from all over Europe.
Enjoy the Old Town – Budva's Old Town is a little smaller than Kotor's but it's just as pretty. You can spend some time walking through the alleys and cobblestone plazas whilst picking up a bit of shopping. It also houses the beautiful Budva Citadel.
4. Kotor
You could be mistaken for thinking you're in Venice as you're wandering through the cobbled streets of Kotor's Old Town. Its beautiful stone walls, winding streets and little cafes nestled in the shade of an alcove make it a truly charming place to explore.
Outside the Old Town walls is a great promenade with bars and restaurants and a man-made beach. You can walk right along the bay (or cycle or hop on a boat) for a scenic journey to neighboring Perast from here.
Kotor is one of the most popular cities for tourists, not in small part due to the fact that its port accommodates huge cruise liners. Be prepared to be met by large crowds filling the streets during the summer months.
Best Areas to Live in Kotor
Kotor itself is fairly small, so living within the Old Town city walls longer term, especially during the summer months with all the tourists, could be a little overwhelming. The surrounding area, however, might just strike the right balance.
To the north, there's Dobrota, and to the south, Škaljari. Both are very walkable from Kotor, but you'll have the benefit of the peace and quiet available from June to August.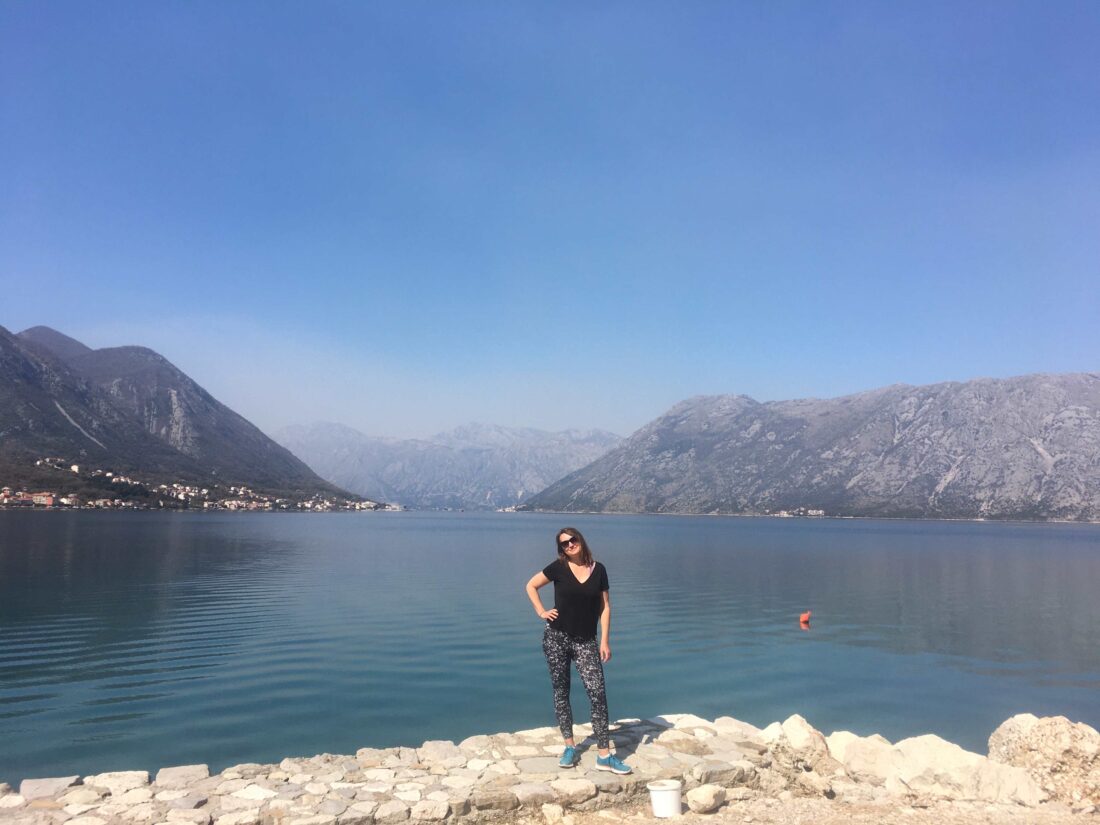 I found that the Old Town was filled with higher-end hotels, so you'll find more value for money by staying just outside. My partner and I stayed just outside the Old Town walls in an Airbnb apartment for a little over €40 a night in April.
Coworking Spaces in Kotor
Kotor Nest is a great spot for digital nomads and is located right in the center of the town. The space offers cozy living spaces, fast WiFi, and common areas for brainstorming, meeting new people, and connecting over coffee.
It's a stone's throw from the water, so a lunchtime swim is a great way to get away from your laptop, and it's just a couple of minutes away from some of the best bars in Kotor. It's conveniently open 24/7.
Playworking is located about 15 minutes away from Kotor but is worth mentioning again here. It offers ample coworking space and private en suite bedrooms.
Things To Do in Kotor
How to Find Accommodation in Montenegro
Accommodation is relatively inexpensive in Montenegro. My husband and I stayed in Podgorica (the capital), Kolašin (a northern mountain town known for its ski resort), and several bustling beach towns during our time there and we were always impressed by what we could find for our budget.
As with most countries though, prices do increase during the summer tourist season. The shoulder seasons on either side of the popular summer months are the best times to go if you're sticking to a budget.
1. Airbnb – From private rooms to entire homes, Airbnb offers options in almost every corner of Montenegro. You'll be surprised at how cheap you can secure a great spot – especially with the monthly discounts often offered.
2. Booking.com – From hostels and 'guest houses' (which are Montenegrin family homes converted to host a traveler or two) to all-inclusive five-star beach hotels and retreats, there's something for every budget. The free cancellation option is also a reassuring feature.
3. 2home – This is a great little website that covers a variety of locations within Montenegro and offers everything from large villas with pools to apartments within Montenegrin family homes.
4. Realitica – It's not the prettiest of websites but is useful nonetheless. You can search by location and it offers a variety of types and sizes of accommodation.
5. Montenegro Digital Nomad – This is an awesome website that helps people relocate as well as rent in Montenegro. Prices are also broken down so you can compare off-season and summer-season costs.
There are additionally several Facebook groups that advertise longer-term rentals, so it's worth logging in and checking those out too. Here are just a few to get you started: UK Expats in Montenegro, Montenegro Digital Nomads and Remote Workers, and Montenegro Move Property Sales, Rentals & Life in Montenegro.
Cost of Living in Montenegro
The cost of living in Montenegro is generally pretty low, making it a great location for a variety of digital nomads to consider basing themselves in for a length of time.
Restaurants and Groceries
You'll never be far from a fast food style takeout, serving kebabs in pittas or burgers for under €5 or €6. A two-course meal for two in a restaurant and a bottle of wine will cost around €35.
Popular favorites like cevapcici (grilled kebabs), sarma (cabbage leaves stuffed with meat), and goulash is found on most menus. Great seafood is readily available on the coast and is often caught and served fresh. Bureks are Turkish pastries filled with meat or cheese and typically cost only a couple of Euros. You'll find them in bakeries throughout the day. For an inexpensive meal in a traditional restaurant, expect to pay around €8 for a main dish.
Montenegrin wine is some of the best I've ever had and it starts at a pleasing €5 for a decent bottle at a supermarket in Podgorica. There are national beers on offer such as Niksicko (a lager-type beer) in every cafe and bar for around €2. You'll be able to grab a decent coffee for a Euro or two.
A popular strong alcoholic drink – rakija (brandy with an alcohol content of 50-60%) is also very popular. You can buy a 750ml bottle of grape brandy in any supermarket for around €15, and the cost of a shot in bars varies, but it's not expensive. You might also see families selling their homemade rakija in old Coca-Cola bottles outside their homes or at local markets.
We found shopping for groceries cheaper than in other European countries, especially fresh veg and meat. You can expect a weekly shop for two people to cost €50 tops. Chains like Voli and Aroma are common, but there are also plenty of smaller independent grocery stores to pick from. Supermarkets are closed every Sunday – so stock up in advance.
Accommodation Costs
A typical bunk bed in a hostel dorm will cost about €9-€10. This will increase to up to €20 if you want a private room. Hostels will most likely be found within coastal towns or larger cities and sometimes also offer guided tours or day trips. This is a great way to meet people and see the country through the eyes of a local.
A guest house (usually an annexed part of an existing Montenegrin family home), will start at around €15-€20 per night on Booking.com. Apartments with great views and plentiful amenities – especially on the coast – will start at €50 and could stretch to €100 per night like this one just outside Kotor. If you prefer to have your own living and cooking space, an apartment might be the best option for you. Most come with a full kitchen, washing machine, and other amenities.
A room in a mid-range hotel is likely to start at around €50, like this one in Kotor's Old Town. This will increase depending on location and time of year. Fancy coastal hotels will be more expensive with prices starting at around €100 per night. You'll find these larger hotels like the Dukely, in coastal towns such as Budva.
Transportation Costs in Montenegro
Within Podgorica, you can download TelsaApp – a ride-share business with Telsa vehicles bookable in the same way as Uber. Within larger cities, you'll find an abundance of metered taxis that can help you get around.
There's a good bus network to get from city to city. The buses aren't modern or large – so don't expect air conditioning as a standard – but they are reliable and frequent. They're also cheap, with tickets from Budva to Podgorica for example starting from €5. You'll need to pay a Euro or two if you're traveling with a large bag, and there may be a small fee to print your ticket at the station.
The major routes are Budvar-Kotor-Podgorica and Bar-Podgorica. If you feel like venturing further afield, you can also get the bus to neighboring countries like Croatia and Albania very easily.
The roads are pretty good in Montenegro and car hire starts from around €50 a day. Main roads connect the main cities along the coast and the capital and these are well maintained. The more rural and off the beaten track you get though, the dicier the roads become – I speak from experience!
Rail travel is a good idea if you're looking to head into the mountains. The journey from Podgorica to Kolašin is stunning and costs less than €10 per person each way. The views from the train of the valleys as you ride over immense bridges are well worth the trip.
SIM Cards and Data
You can find SIMs at news and tobacco kiosks dotted around towns and cities, at airports, or in the stores of network companies. I found a T-Mobile store in Podgorica where I brought a SIM for €15. This gave me all the data I needed (and more) for 30 days.
The main local networks are One Montenegro, MTEL, and Telekom CG. This article from Montenegro Digital Nomad has a breakdown of what each provider offers. One Montenegro is often the most popular choice. It offers a prepaid tourist pack of 1000GB of data for 30 days at just €10.
Money Saving Tips for Montenegro
Explore on Foot – You can walk through most of the towns and cities, so there's no need for public transport. Walking is a great way to see and experience local life. There are many free walking tours to take that give you the chance to find out more about the city.
Cook at Least one Meal a Day – Groceries are cheap in Montenegro if you stick to local or traditional foods. Consider challenging yourself to cook and eat at least one meal within your accommodation each day, (providing you have the cooking facilities).
Look out for Tourist Deals – The influx of tourists during the summer months means that restaurants offer specific tourist menus. These usually offer 2-3 courses for around €10. Portions are a good size in Montenegro, so these deals will offer a good meal at a reasonable price.
Free Spaces and Hikes – There are free parks and spaces within the major cities and Montenegro is home to some of the most spectacular hiking trails. The Ladder of Kotor is an immense trail behind Kotor that offers amazing views, and it's completely free.
Visit in the Off-Season – Coastal cities get busier in the summer, and pricier, so consider visiting in the shoulder seasons. You'll miss the crowds and get better value for money.
Go Inland – Head inland to somewhere like Cetinje or Podgorica, or even to the mountains in the hotter months. It will be cooler there and prices won't see such a hike, especially compared to the coastal towns.
Coworking Spaces in Montenegro and WiFi Speed
Here is a selection of some of the best coworking spaces in Montenegro for digital nomads. Coworker can help you find your nearest coworking location:
Activities and Things To Do in Montenegro
There are so many things to do in Montenegro, you'll never be short of ideas. Here are just a few things digital nomads in Montenegro can do during downtime:
1. White Water Rafting in Tara Canyon
White water rafting down the Tara River is a really popular activity in Montenegro.
The Tara River Canyon is the second deepest canyon in the world and is within Durmitor National Park, a UNESCO Heritage site. In this part of the country, you can tick off the Tara Bridge, and hike around the Black Lake too.
Rafting companies offer loads of options for thrill seekers, from day trips and overnight camps to week-long stays. Most rafting tours depart from Sćepan Polje, which is around 2 ½ hours' drive from the coast of Montenegro.
As well as a thrilling white water rafting experience, this tour will pick you up from a coastal town, and provide breakfast and lunch.
2. Visit a Vineyard and Enjoy a Wine Tasting
Montenegro boasts more than 120 wineries so there are plenty of options to choose from. In fact, many families in Montenegro make their own wine and brandy.
Most tastings are accompanied by platters of local cheese, cured meats, and handmade bread. A tasting is a great way to experience the best wine and authentic cuisine of Montenegro. When you book a tasting tour, you can sometimes opt for the winery to take care of all the logistics for you. This includes transportation, so you don't have to worry about finding a taxi home.
The Crmnica region around Lake Skadar and Podgorica is Montenegro's most famous wine-making region. Masnovic Winery near Skada Lake caters for tours of just two people to large parties.
On this tour to a family-run boutique winery near Lake Skadar, the hosts will take you through their vineyards and teach you about the history and production of their wines. You'll then sit down to sample six organic wines and a selection of artisan liqueurs.
3. Explore Beaches and Nightlife in Budva
Aside from Podgorica, Budva is arguably the best nightlife spot in Montenegro. Many of its clubs have rooftop areas so you can enjoy a sunset (or sunrise) with a reasonably priced drink.
If clubbing isn't your scene, there are plenty of great restaurants in Budva, especially in the Old Town. My partner and I loved walking the 7 Bay Trail that takes you from Budva Old Town to Sveti Stefan. The trail is around 9km, but the beautiful beaches are worth it, especially if you stop for a coffee or a beer to take in the views.
4. Spend Time in the Mountains
During my stay, I caught the train from Podgorica to Kolašin and spent a few nights in the mountains.
The train ride is spectacular and I soon filled up my camera roll with photos along the way. The journey takes around an hour and 20 minutes and costs less than €10 per person.
I enjoyed a few days hiking around the crystal clear lakes and countryside. If you're interested in skiing, equipment rental seemed very cheap here, and many hotels will rent to you by the day.
5. Get Lost in Kotor's Old Town
As you arrive in Kotor, one of the first things you'll see is the old fortress walls. They appear to climb at a seemingly impossible angle up a steep hillside. These old walls still encase the Old Town which is brimming with bars, restaurants, and small shops.
You can spend an afternoon wandering the cobbled streets, window shopping, and sipping a glass of wine or two. The lighting on the old stone walls at night is just beautiful. This walking tour will explain the history behind the old town and take you to all of the most interesting sites.
Be sure to take a wander along the water's edge too. There are some vibrant bars here with views across the bay of the setting sun hitting the steep hills that surround the water.
For the best views over the Bay of Kotor, consider hiking the Ladder of Kotor. The trail starts directly behind the town, just outside its walls, and includes over 70 switchbacks. It's a steep 8-mile hike, but the views are incredible. You can always cut it short if you don't fancy going the whole way.
There's an abandoned village about a third of the way up with many resident goats, and a cafe just before this where you can grab a drink with the owner. He shared his local cheese and rakija with my husband and me as we admired the views below.
Weather in Montenegro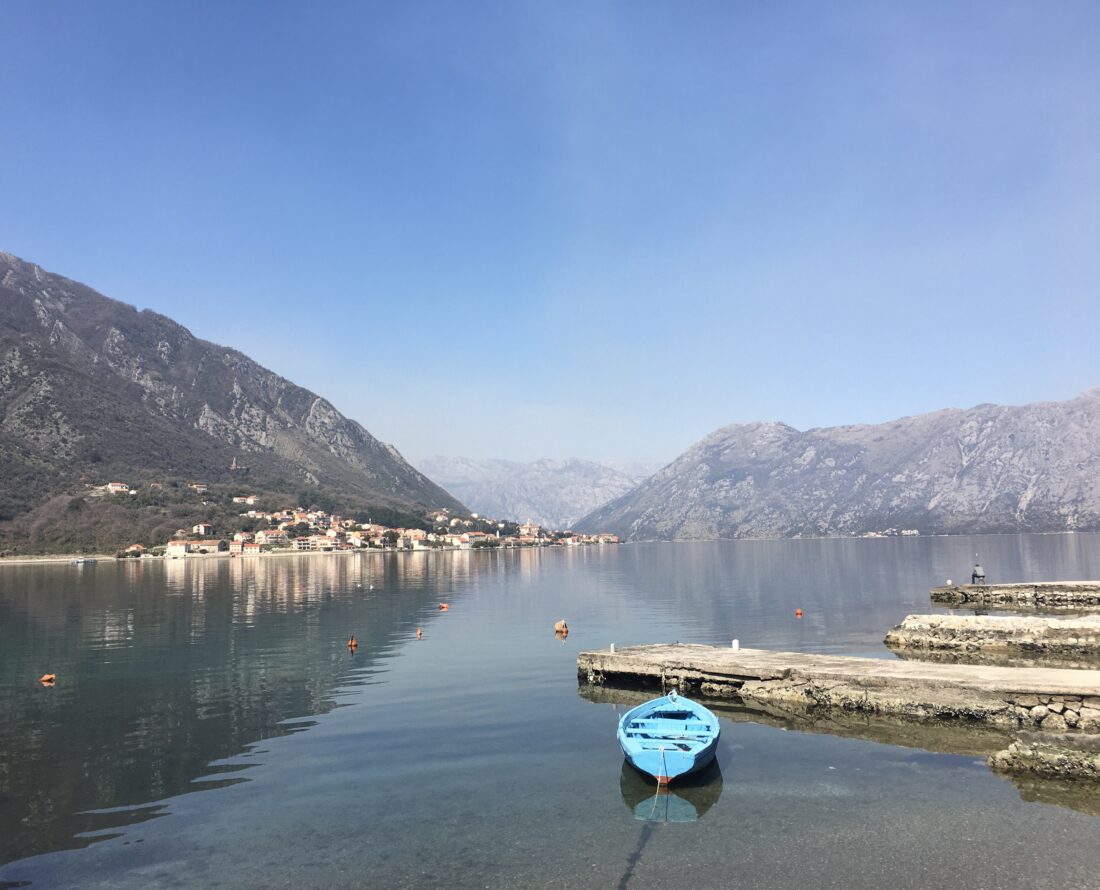 The weather in Montenegro can vary depending on where you are in the country as it has mountainous areas with alpine weather conditions which are great for skiing, as well as plenty of beaches with more of a Mediterranean climate. Its variety of geography offers the best of both worlds. In the hotter months, you can escape to the cooler mountains or the beach if you don't fancy sweating it out in the hotter inland areas.
With long summers and short mild winters, there's not really any time to 'avoid' Montenegro, but the key tourist season is April-September. If you like the warm sun on your face, then that's the time to visit. The average summer (Jul-Aug) coastal temperature is 27°C or 81°F but can reach as high as 40-42°C (104-108°F) in more inland areas that don't benefit from a coastal breeze. Montenegro's highlands have a much more moderate temperature in the summer and rarely reach above 25°C (77°F), which is a perfect temperature for hiking, although it can get chilly at night in these areas, sometimes even dropping below 0°C (32°F).
As a general rule of thumb, Spring (March to May) can be a little rainy but is a great time to be in Montenegro, especially on the coast where it's likely to be between 15 and 20 °C (59-68°F) but not too crowded.
Autumn is still very pleasant and the sea is still warm enough for a dip. During autumn and winter (end of October to February) it can get rainy along the coast but still doesn't get too cold outside of the ski resorts in the mountains.
Average winter temperatures on the Montenegro coast are around 10 °C (50 °F), but these will drop as you head inland and the further and higher you go into the mountains at this time of year the colder and snowier it will get. Keen skiers love winter in Montenegro and migrate to Kolašin and Žabljak to make the most of the snow.
The weather makes being a digital nomad in Montenegro an appealing option all year round.
Pros and Cons of Living in Montenegro
As with anywhere, there are both pros and cons of being a digital nomad in Montenegro. After living there, here are my thoughts:
Pros of Living in Montenegro
Good weather all year round. Yes, it gets pretty hot in the summer, but the winters are mild. If you stay in Montenegro during the shoulder seasons, you'll enjoy warm temperatures, without the crowds.
Cheap SIM cards. You can get a huge amount of SIM card data for only €10-€15. A bargain!
It's very safe. I never felt in danger, even walking about at night, and the people are very chatty and friendly.  
It has a little bit of everything. Hiking, skiing, beaches, old towns, cafes, museums, and spectacular scenery at every turn. Montenegro certainly has variety.
Cheap to live. At the moment, I still think Montenegro is one of Europe's best-kept secrets. It's a very budget-friendly country to live in as a digital nomad and it's possible to do a lot, without a lot, in Montenegro.
Montenegro is in a fantastic location. You can jump on a bus to Croatia or Albania, or get a train to Bosnia. It is one of the best places to base yourself if you are looking to explore multiple Balkan countries.
Cons of Living in Montenegro
Small digital nomad community. The digital nomad community here is smaller than in other destinations in Europe, as it's in its early stages. You won't find large coffee shops at every turn where you can sit among other freelancers, however, if you base yourself in one of the larger cities, they'll be at least one coworking space to meet similar-minded people.
Summer can be hot and expensive. The summer season, from May to September can be sweltering and some of the coastal towns will be crammed with tourists.
Not many shopping opportunities. Podgorica has a couple, but there are no major shopping malls or shopping areas outside of the capital. Shops tend to be independent and grouped in small clusters.
Digital Nomad Visa for Montenegro
In December 2021, the Montenegrin government announced the Program for Attracting Digital Nomads to Montenegro which was set to run until 2025. The aim was that it would attract the growing worldwide population of digital nomads to Montenegro. The bad news is that there hasn't been much progress on this since, so there's currently (at the time of writing), no Digital Nomad Visa available.
Whilst the Montenegro Digital Nomad Visa is being finalized, citizens of the UK, USA, and Canada can enter the country on a Short Stay Visa (C Visa), or 'Tourist Visa'. Short Stay Visas are issued to those visiting for up to 90 days within a 180-day period. You don't need to apply in advance for this visa; it's granted when your passport is stamped at passport control.
As Montenegro isn't part of the Schengen Zone, time spent in the country does not count towards any visa time limits imposed by Schengen Zone countries such as Italy or Spain. This makes Montenegro an excellent city for digital nomads in Europe.
Hopefully, a specific digital nomad visa will be finalized soon. If you're willing to be flexible and have a desire to see more of the Balkans or Schengen Zone countries, Montenegro is still an appealing location for digital nomads.
More details on Montenegro visas can be found here.
In Conclusion
Montenegro really is worth considering as a destination if you're a digital nomad. Its stunning scenery, mild climate, and reasonable cost of living make it a great option for those able to work remotely.
For British, US, and Canadian citizens, the 90-day visa limit is slightly restrictive. With careful planning though, you can use Montenegro as your Balkan base to explore neighboring countries whilst enjoying the wonderful variety the country has to offer.
I hope this guide to living in Montenegro has at least inspired you to visit, and maybe one day you'll find yourself working from a balcony overlooking the Bay of Kotor!
Like This Article? Pin it!