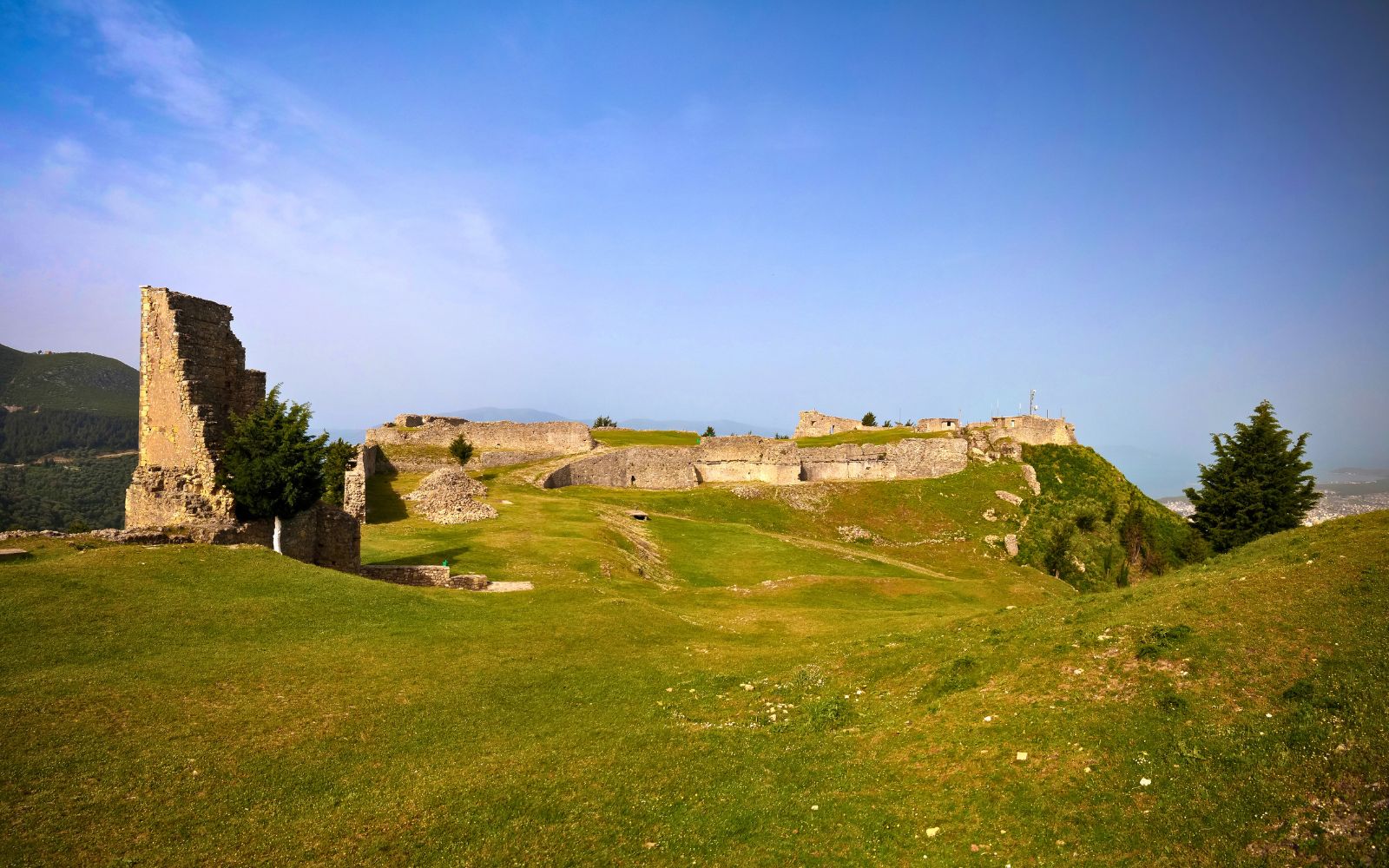 There are plenty of great things to do in Vlore, and it's a great place to base yourself to explore not only the attractions in Vlore but those in the lovely neighboring towns along the coast too.
Vlore is considered to be the oldest city in Albania, and so the history here is long and rich. If you've spent any time in the museums of Tirana, it's likely that you'll have heard of Vlore.
As well as being home to a fascinating history, it's also the start of the wonderful stretch of coastline known as the Albanian Riviera; home to some of the most spectacular shorelines.
I spent almost two months exploring the coastline of Albania, including Vlore, and loved exploring the region. If you're planning ways to spend your time in Vlore, here are my top 15 recommendations:
Best Things To Do in Vlore
Considered the starting point of the Albanian Riviera, there are some amazing places to visit in Vlore. It's perfect for history buffs as well as those that are looking for boat trips and beaches.
Here are some of my top things to do in Vlore:
1. Take a Walking Tour of the Old Town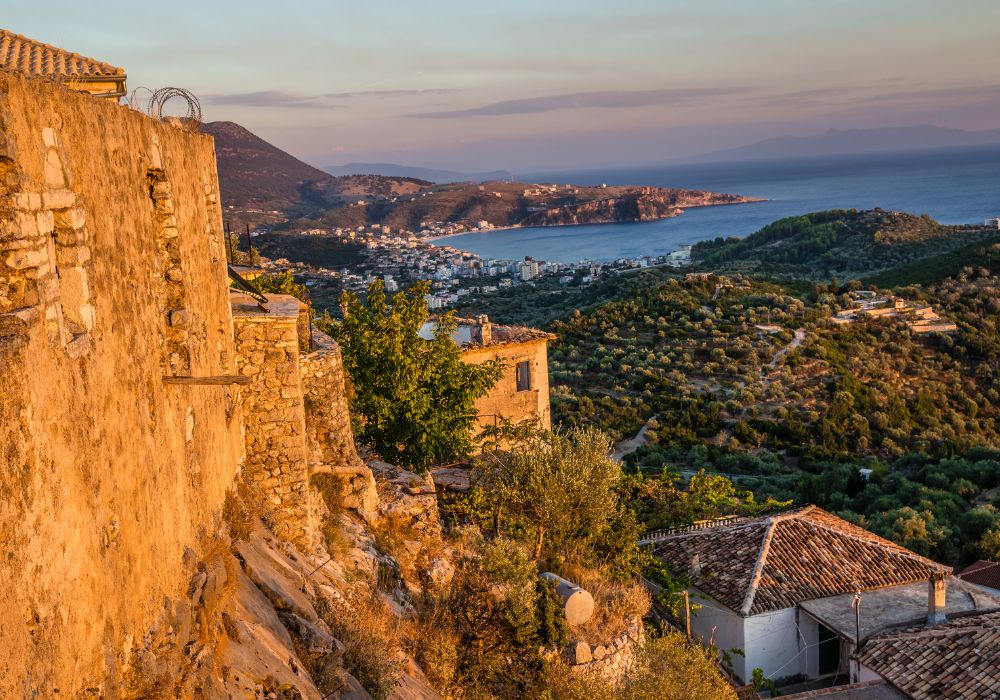 Get your bearings on this excellent walking tour in Vlore. You'll be paired with a local guide who will guide you seamlessly through the most important areas of Vlore and help you gain a real appreciation for this city.
One of the most popular tourist attractions in Vlore is its beautiful Old Town. It's recently been totally renovated and offers a picture-perfect setting with some amazing bars and restaurants to explore. You'll stroll the cobbled streets and learn all about its fascinating history.
As well as the Old Town, you'll also visit the Independence Monument and Muradie Mosque, both of which feature separately on this list.
Click here to learn more about this perfect introduction to the most popular Vlore attractions.
Address: The Old Town, Vlore
2. Take a Boat Trip to Sazan Marine National Park
This superb full-day boat tour is the perfect way to visit the only marine national park in Albania.
The park covers an area of over 125 square kilometers and includes both Sazan Island and the Karaburan Peninsula. It's been designated as a Specially Protected Area of Mediterranean Importance due to the immense number of bird and plant species it supports.
Explore the park by speedboat with a small group. You'll explore Sazan Island and learn about its inhabited Old Town before cooling off in the incredibly clear waters that surround the island.
The boat will next take you speeding off to Haxhi Ali Cave, one of the most beautiful places to visit near Vlore, where you can swim and snorkel in the cave. Finally, you'll arrive at a stunning beach on the Karanburan Peninsula where you can have lunch, some drinks, and explore the local beaches.
The marine national park is one of the most scenic places to visit in Vlore. Click here to learn more about this great day trip.
Address: Sazan Island, Vlore
3. Visit Zvernec Monastery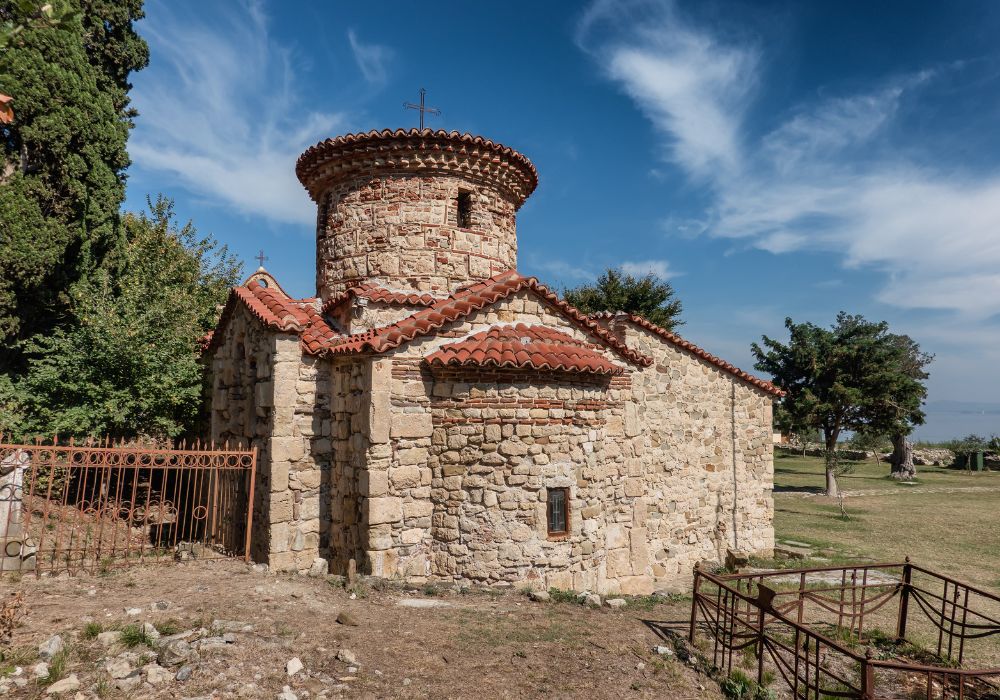 Zvernec Monastery is one of my favorite places to visit in Vlore. It's a 13th-century monastery that's located on a small island in the middle of a lagoon, to the north of Vlore.
The monastery and St Mary's Church are located on a tiny island surrounded by hundreds of pine trees. You can reach the island from the mainland over a rickety wooden bridge and can head inside the Church to marvel at the beautiful paintings inside.
It's an excellent trip from Vlore. I hired a push-bike from Vlore and reached the monastery in around an hour before (I'd suggest hiring a scooter instead, depending on the heat…). Click here to hire a scooter and keep your eye out for Narta Beach on this list, which can be visited on the way back.
It's one of the best free things to do in Vlore, although I would recommend leaving a few Albanian Lek in the donation box at the Church if you can.
Address: St Mary's Monastery, Zvernec, Vlore
4. Stroll the Vlore Promenade at Sunset
Vlore has been modernized over the recent years and nowhere is this more obvious than at the promenade.
The promenade stretches up to 5 kilometers along the Ionian Coast in Vlore. It has cycle paths and a wide pedestrian path and is lined with lots of bars, restaurants, and hotels.
The Vlore promenade really comes to alive at night when the bars play a variety of music to suit all tastes. Head out for a meal early evening at one of the excellent restaurants along its length.
One of the best things to do in Vlore at night is to simply stroll along the promenade with the rest of the crowd. Stop for some food, or a drink, or just enjoy the party atmosphere. There's something here for everyone.
Address: Lungomare, Vlore
5. Dive into the Incredible Blue Eye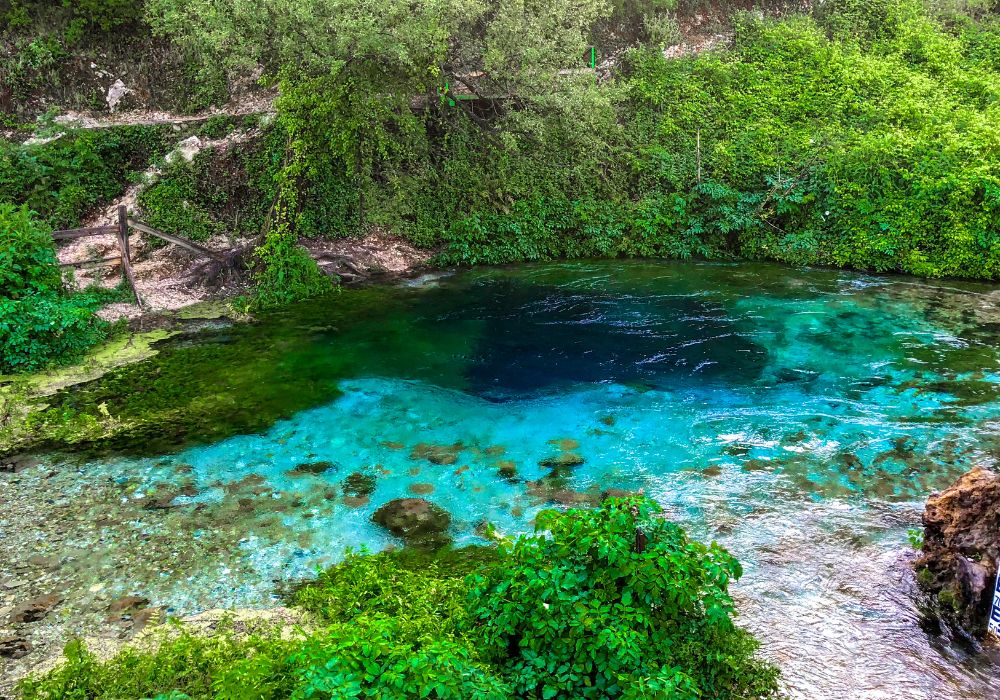 Vlore is seen as the gateway to the Albanian Riviera, and as a result, it's an amazing place to explore the rest of Southern Albania. One of my absolute highlights is the Blue Eye. It's one of the most incredible things to do near Vlore.
This stunning, natural spring rises from at least 50 meters below ground and flows into the Blue Eye National Park. It's located in a jungle-like setting and is one of the most beautiful spots in Albania. Join this amazing day tour of Southern Albania and tick off some of the best things to do around Vlore.
Dive into the crystal clear waters of the Blue Eye, explore the stunning stone city of Gjirokaster, and explore Porto Palermo Castle on the way back. This comprehensive day trip is one of the best ways to explore this part of the country and is one of the best ways to see the most beautiful sights.
Address: The Blue Eye, Sarande. Click here for directions to the Blue Eye.
6. Visit the Independence Monument
If you're looking to do a little sightseeing in Vlore, you should definitely visit the Independence Monument.
This huge monument depicts the first Prime Minister of Albania and one of the leaders of the Independence movement, Ismail Qemali, and represents Albania's declaration of independence from the Ottomans in 1912. It's one of the most important historical things to see in Vlore.
The monument is located in Flag Square, which is lined with palm and pine trees and has seats to watch the world go by. Grab a coffee and sit in the sunshine for a while, observing the city. There's a coffee shop called Top Caffé just five minutes away that I'd definitely recommend.
Address: Independence Monument, Sheshi i Flamurit, Vlore
7. Go Tandem Paragliding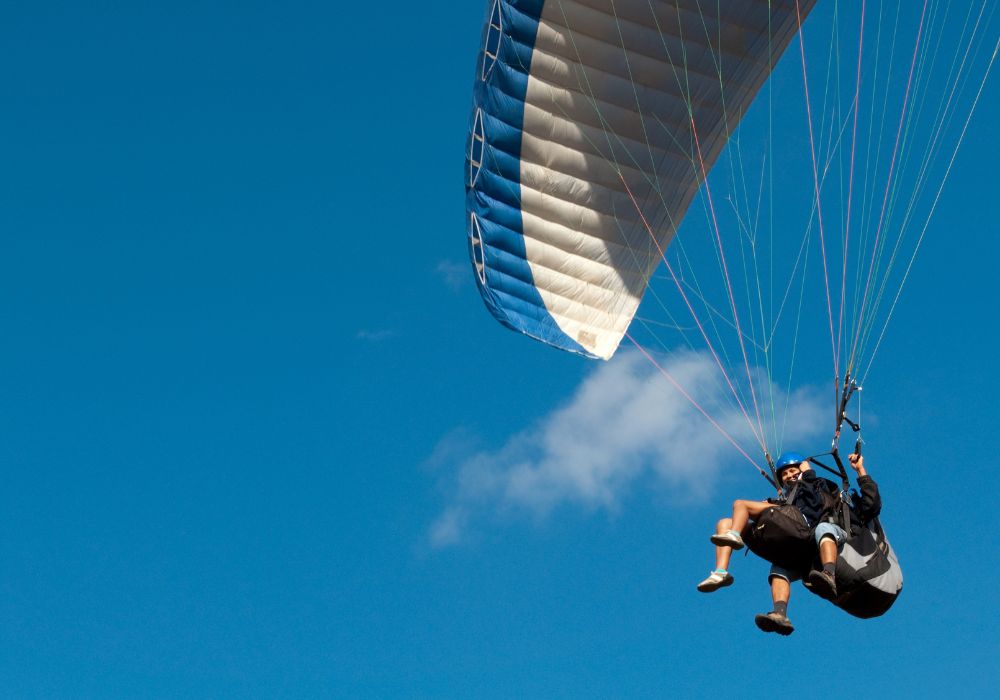 If you're an adventure traveler and are looking for fun things to do in Vlore, you should definitely check out this paragliding experience in Vlore.
The team is super knowledgeable; making you feel completely safe throughout the experience. The views of the coast are absolutely incredible, and you can see the spectacularly blue water and white beaches for miles, as well as the rugged, mountainous terrain.
If you're feeling daring, the pilots can also perform some in-flight acrobatics for you which are recorded on a go-pro for you to take home with you. It's definitely one of the most exhilarating things to do in Vlore. Click here to book your flight.
Address: Vlore, Albania. Click here to view the meeting point for the tour.
8. Catch Some Rays at Narta Beach
Narta Beach is, without a doubt, the best beach in Vlore. It's located to the north of the city and is accessible by car or bicycle (if you're feeling active!).
When I visited Narta Beach, I rented a bicycle and rode up the cycle path to the shore. It's around 9 kilometers, so it's not a short distance, but it's predominantly flat, and you follow the coastline up so it's a pleasant journey.
The beach itself is beautifully calm, and the sand is soft and golden, which is hard to find along the Albanian coast. There's also a lovely restaurant there, Karafili Resort, which I'd recommend you try. Overall, Narta Beach is one of my favorite places to visit in Vlore.
Address: Plazhi i Nartes, Vlore. Click here for directions to Narta Beach.
9. Admire Muradie Mosque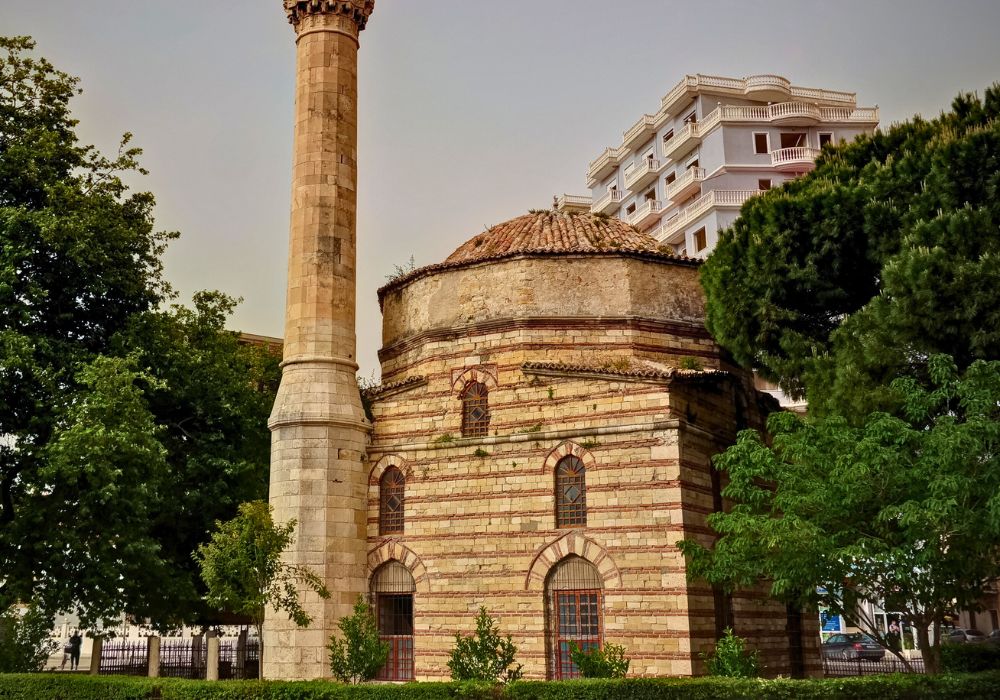 Muradie Mosque is a very cute stone mosque that was built in 1537 by the Ottomans. Although it's small, it's stunning and was actually built by the same architect who built the impressive Suleymaniye Mosque in Istanbul.
While the mosque is used as a meeting point for tourists, it is, of course, a historical place of worship, but if you take your shoes off and are dressed suitably, you can enter the mosque to respectfully view from the inside.
It's located right by Flag Square, and Independence Monument, so I'd recommend seeing them all in one go during a morning or afternoon of sightseeing in Vlore.
Address: Rruga Justin Godar, Vlore. Click here to get directions to the mosque.
10. Hire a Private Speedboat to Karaburan Peninsula
As Vlore is located next to the Sazan National Park, it's one of the most popular things to see during your visit, and for good reason. As well as the option of a boat trip to Sazan Island, you could explore the Karabarun Peninsula on this private speedboat tour.
It's a private tour that gives you control of where you want to go and how long you want to stay there before moving on. You'll go to the beautiful Sazan Island, as well as Haxha Ali Cave, and have the chance to take a trip to the stunning Grama Bay.
On the speedboat, you'll be able to sip fresh drinks or beers while you enjoy the amazing views of the caves and bays of the coast. It's a really special thing to do in Vlore as a couple. Click here to book.
Address: Karaburun Peninsula, Vlore. Click here to view the location.
11. Hike Llogara National Park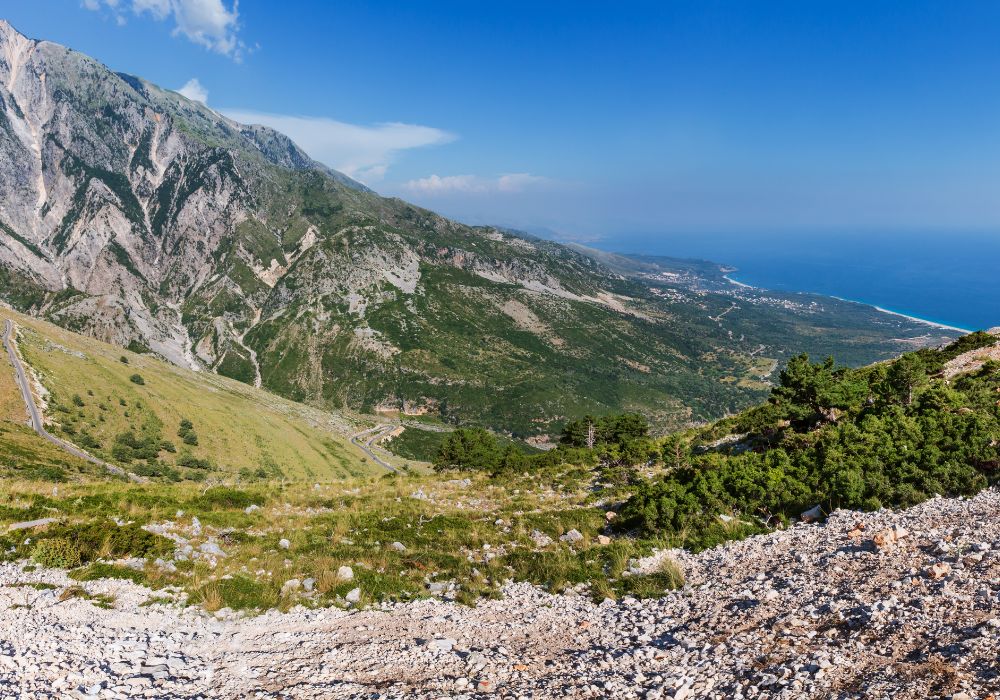 The Llogara National Park is to the south of Vlore, and just before you get to the town of Dhermi. It's one of the best places to visit in Vlore if you love hiking, with lots of scenic, and well-marked trails on offer.
It's open almost all year round and sees very little rain, so you're likely to have a dry hike. People go hiking here for the views of the coast, and the contrast between the sea and the forest is really a sight to behold.
The Llogara Pass, which runs through the National Park, is an incredible (if not, slightly terrifying) road that winds down the side of the mountain to reveal beautiful views of the coast. It's definitely worth going to the viewpoint.
Address: Llogara National Park, Vlore. Click here for directions to the park.
12. Visit the Museum of National Independence
This small museum is considered to be the first one in Albania before the 90s and the fall of communism.
It's filled to the brim with history and if you want to learn about Albania's fight for independence, then you'll love this place. It's also a great place to learn all about the meaning behind the Independence Monument, which also features on this list.
I'd recommend taking a guide around the museum to really understand the importance of the events of 1912 and the exhibits on display. The museum is open Tuesday – Sunday and there's a small entrance fee.
Address: Museum of Independence, Vlore 9401. Click here for directions.
13. Explore Kanine Castle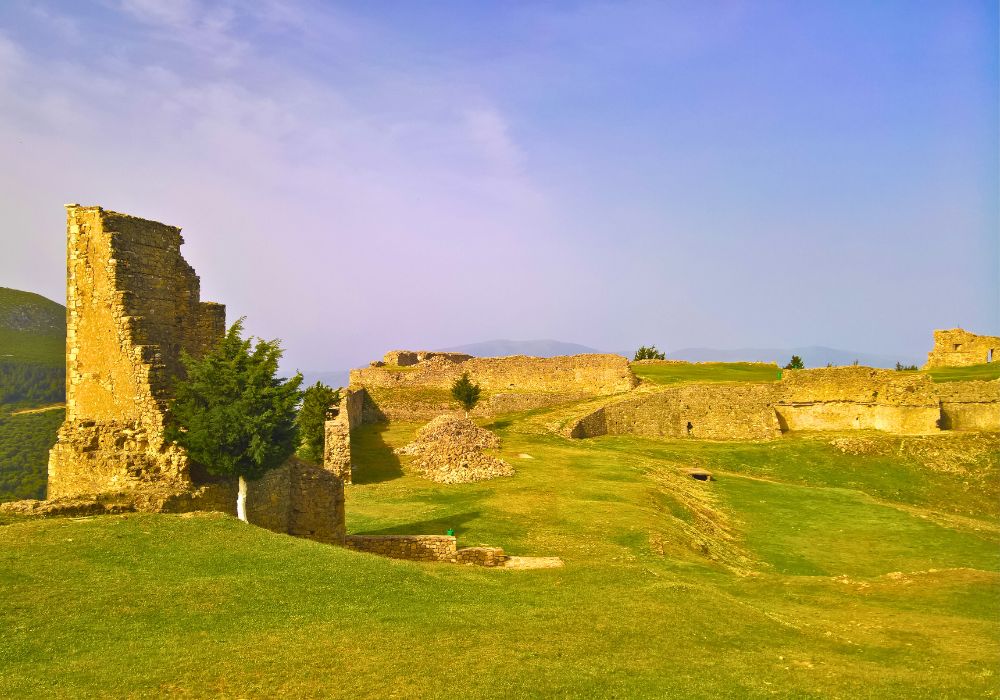 Kanine Castle is in the village of Kanine, just 6 kilometers from Vlore, and has amazing views of the Vlore coast. Like the rest of Albania, the castle has seen many different rulers, from Byzantine to Serbian to Ottoman.
The castle isn't anything spectacular and has seen its fair share of destruction over the years, more recently being bombed during WWII. However, the grounds and the incredible views more than make up for it.
If you take a picnic with you, it's one of the best things to do in Vlore.
Address: Kanine Castle, Vlore. Click here for directions to the castle.
14. Take a Boat to Grama Bay
Grama Bay is so beautiful, it deserves an entry all to itself. This boat tour explores the beautiful bay of Grama, along with other hidden bays and caves along the coast, all of which are untouched with perfect water for snorkeling.
You'll spend three hours exploring the bright white, pebbly beach of Grama Bay, a very small bay that's surrounded by hills covered in greenery, which is the final stop on the tour. Here, you'll be able to soak up the sun and swim in the clearest bright blue and green water.
The Karaburun Peninsula and Grama Bay are really special places because, unlike many other bays and beaches in the south of Albania, they largely remain untouched. Grama Bay is a must-see and is one of the best things to do in Vlore.
Address: Grama Bay, Vlore. Click here to find the location on the map.
15. Take a Boat Trip at Sunset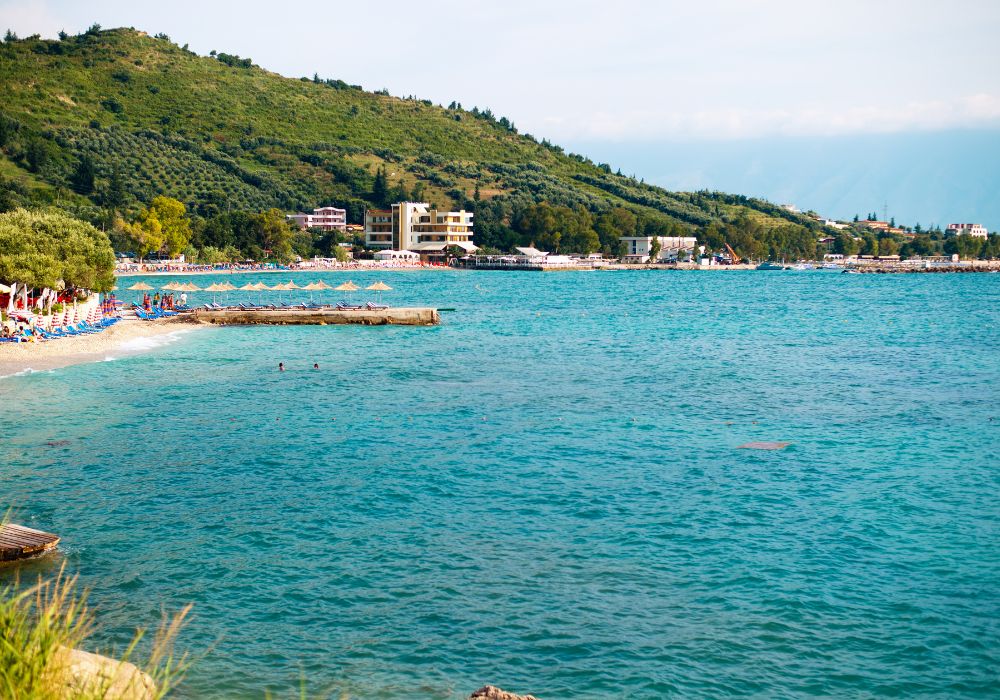 One of the best things to do in Vlore for couples is to take this incredible boat trip along the Vlore coast at sunset.
While you sip away on your drink of choice, you'll get to see the coast of Vlore drenched in orange sunlight, and the ocean light up as the sun goes down on this brilliant trip.
One word of warning, trips may be canceled if the sea is too choppy, so don't save this for your last day in Vlore to avoid disappointment. You can book your boat trip here.
Address: Vlore, Albania. Click here to view the meeting point for the tour.
Quick Travel Itineraries For Vlore
Here are a couple of suggested itineraries for you to follow or adapt depending on how much time you have to spend in Vlore. These include some of the best places to visit in Vlore that are featured on this list to help you plan an epic trip!
1 Day in Vlore Itinerary
If you only have one day and want to do some sightseeing in Vlore, I'd recommend that you do the walking tour of Vlore in the morning to learn a bit about the history and culture of the city. This will also tick off a few of the other items on this list.
In the afternoon, go and relax on the beach or take a sunset tour to see the beauty of the coastline.
2-3 Days in Vlore Itinerary
If you have a couple of extra days, I would still do the walking tour on day one to help you understand the city and find your way around.
For the remaining two days, head out on a boat trip to Sazan Island and the Karaburun Peninsula. This is where you'll find the most beautiful water in Vlore and there are some great snorkeling opportunities. In the evening, be sure to check out the Old Town and go for a drink at Komiteti.
On the third day, you could either do a beach day at Narte Beach or head out on another boat trip to Grama Bay. Either will be a perfect end to your trip to Vlore.
1 Week in Vlore Itinerary
If you have an entire week in Vlore, you'll be able to check out all the best things to do in Vlore that feature on this list. I recommend that you follow the itinerary for 2-3 days, but maybe spread the boat trips out a little bit if you want to.
With your extra few days, I would definitely recommend spending a day in the Llogara National Park, particularly if you love to be in nature and hike. I'd also recommend paragliding tandem flights because the views are unrivaled. Finally, the Blue Eye is a must-visit and is easy to get to from Vlore, particularly on this one day tour.
Where to Stay in Vlore
These are a few of the best neighborhoods in Vlore for tourists: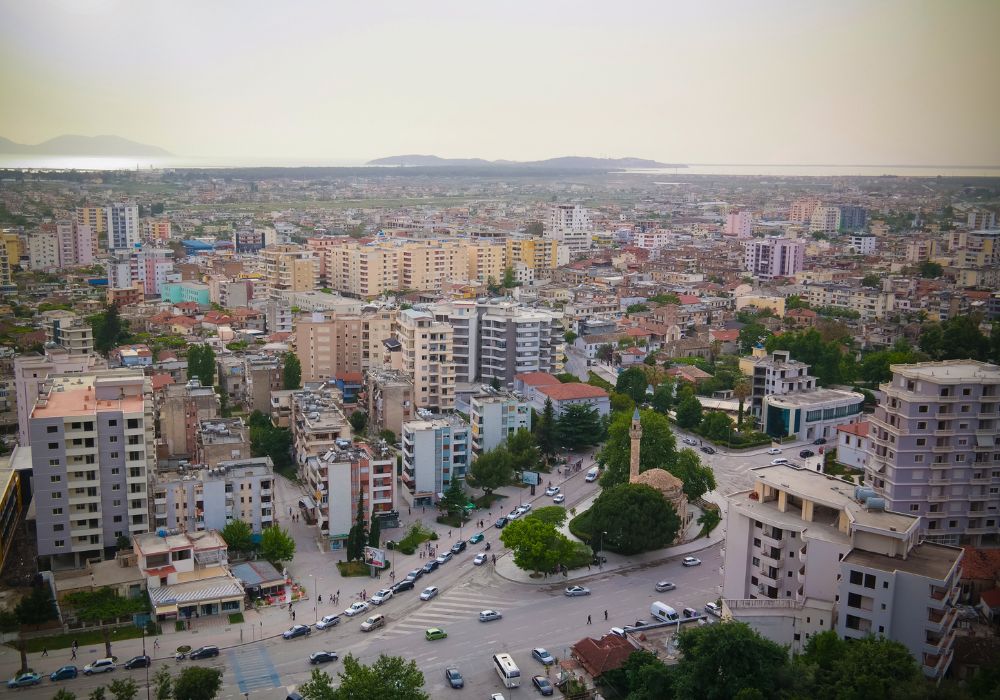 Old Town – Best for History and Culture
The Old Town is one of the best places to visit in Vlore, and it's gorgeous. It's also close to many of the main historical and cultural monuments in the City, including the Muradie Mosque and Independence Monument.
In the evening, the Old Town is home to lots of bars, cafes, and restaurants that come alive and it's probably my favorite place to be at night in Vlore. It's also the more local area of town, so it feels much more authentic than at the beach, where it's more touristy.
I recommend Bohemian Boutique Suites as the rooms are gorgeous, and it's right in the heart of Old Town.
Plazhi i Ri- Best For Nightlife
If you're going to Vlore to enjoy the beach and explore the coast, I recommend you stay by the beach, Plazhi i Ri, or Central Beach. There's lots going on here, and you'll find many bars, clubs, and restaurants along the main embankment.
I recommend Lungomare Hotel as it's very close to the beach while being off the main street, away from the noise late at night.
City Centre – Best For First-Time Visitors
The City Centre is a great choice if you're visiting Vlore for the first time as it's right between the Old Town and the beach; just a short walk to both. There are a lot of bars, cafes, restaurants, and shops dotted along the main road which joins the old town to the beach.
This comfy one-bed apartment is within walking distance of the Old Town and the beach and has great city views.
Best Restaurants in Vlore
There are so many restaurants in Vlore to choose from, here are some of my favorites:
Anchor Pizzeria
If you want pizza, the Anchor Pizzeria is the place to go. I've visited a few times and have never been disappointed. It's right on the beach road and the service is generally fantastic. It does get really busy after around 9 pm, but if you go before, you'll be able to get a table easily.
Novus Traditional Restaurant
Novus is a great place to visit to sample Albanian cuisine. I recommend ordering lots of small dishes to make sure you don't miss out on any of the different flavors Albanian cuisine has to offer. If you're ordering a main dish, the moussaka here is spectacular.
Pasticeri Likaj
This is actually a bakery rather than a restaurant, but I had to include Pasticeri Likaj because if you're after a sweet treat, you have to go here. The croissants are absolutely delicious and maybe the best I've ever had. Also, the ice cream is number one in town.
Tre Forchette
Tre Forchette is one of the best restaurants in Vlore, and if you want to eat somewhere a little more upmarket, this restaurant is the place to visit. It's a more expensive option than the other restaurants on this list, but the food and service are excellent.
The seafood is absolutely incredible, I shared the seafood platter with a friend and it was amazing.
Gaia
Gaia is my favorite restaurant in the Old Town, with a relaxing outdoor area and a cozy interior. You have to try the pasta if you're eating here – it's homemade and so tasty. The cheese ravioli is delicious.
I would say it's pretty cheap (by UK standards) but a mid-range restaurant in Albania. Definitely worth a visit.
Getting To Vlore
If you're traveling to Vlore, it's likely that you'll be traveling from Tirana as this is where the main airport is. It's super easy to get to Vlore from Tirana. The easiest way is by bus, which will take around 3 hours, and cost you around $6.
The buses depart from Tirana Airport or the Bus Station approximately every 30 minutes. You can check the timetable here.
You can of course grab a taxi to Vlore, but this will be more expensive, and I found the bus to be easy and comfortable.
When you arrive in Vlore, it's good to know that the areas are quite spaced out. For example, it'll take you around 50 minutes to walk from the Old Town to the main beach and vice versa.
I recommend that you rent a bike, or take taxis, which are very affordable in Vlore. You can rent from Moto Rent Vlore. It's €5 a day for a bicycle or €20 a day for a scooter.
Things To Do in Vlore: FAQs
Here are some answers to commonly asked questions about visiting Vlore:
What is Vlore known for?
Vlore is known for being the first town on the Albanian Riviera. It's also an important city in Albanian culture and history, as the place where Albanian independence was declared.
When is the best time to visit Vlore?
I recommend visiting Vlore in April-June or September-October. The weather will be good and there will be fewer people on the beach.
Is Vlore worth visiting?
Yes, Vlore is worth visiting. It's a great base for exploring some of the best things to do on the coast.
How many days should I spend in Vlore?
I think that 2 to 3 days in Vlore is a good amount of time to experience the best things to do in Vlore before heading further south.
Is Vlore safe?
Yes, along with the rest of Albania, Vlore is very safe. I felt completely at ease wandering the city at all times of the day.
What is the most popular thing to do in Vlore?
Paragliding is a popular activity in Vlore because the views are spectacular here. People also visit Vlore as a base for exploring the south coast of Albania.
What is the best beach in Vlore?
The best beach in Vlore is Narta Beach. You should definitely spend a day here, it's one of the best places to visit in Vlore.
What foods should I try in Vlore?
You should definitely visit a bakery in Vlore, they really know how to bake! In terms of savory foods, the seafood is amazing.
In Closing
Vlore is often a place that's overlooked by tourists, who opt to stay in Saranda or Ksamil. However, there are some fantastic things to do in Vlore, and it's a great base to explore the coast. The beaches, coves, and bays are relatively untouched too, which is hard to find as you travel further south.
I hope this blog post helps you plan your trip to Vlore and that you have a brilliant time!
Like This Article? Pin it!