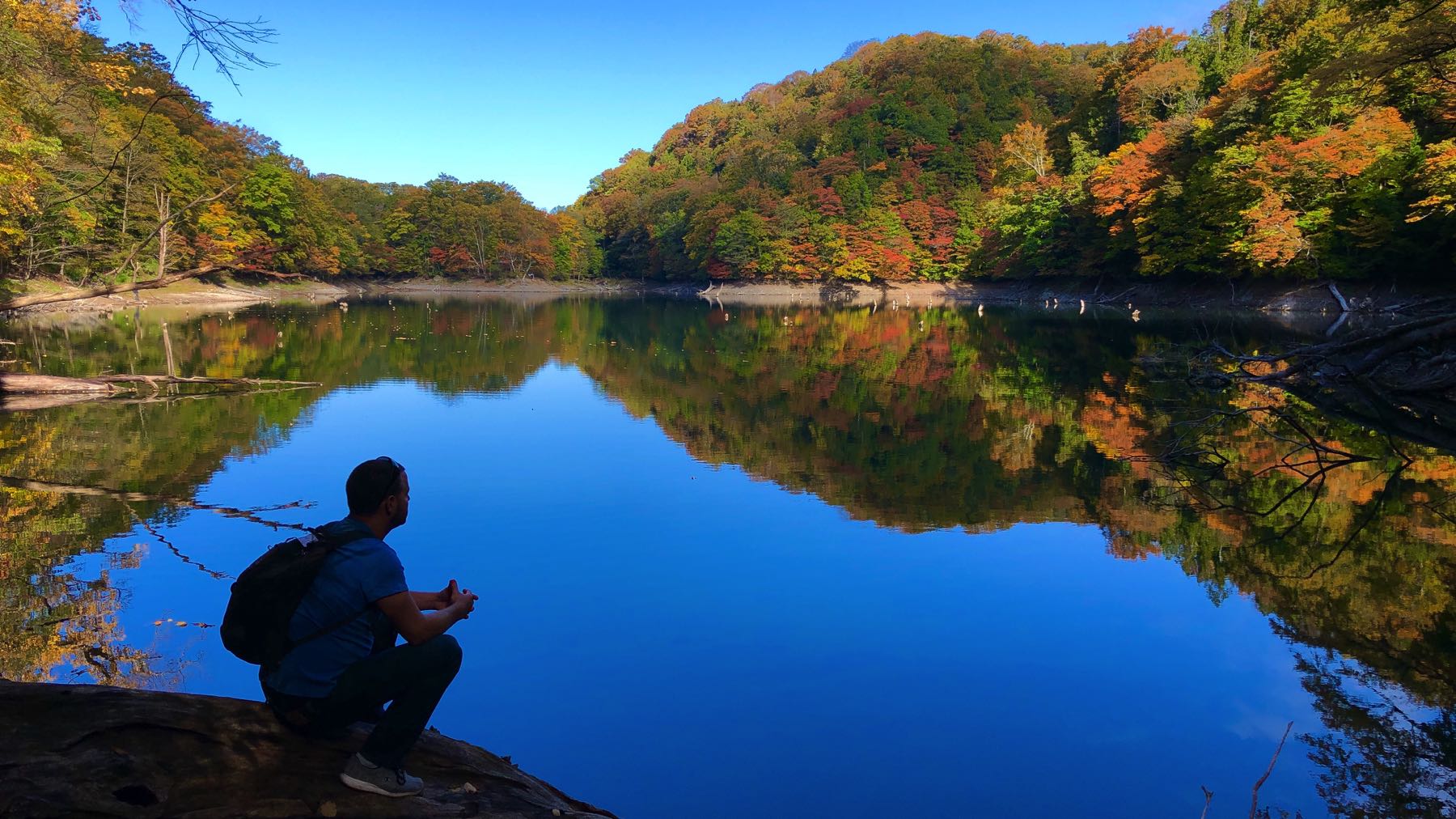 Beaming with natural beauty, tasty food, welcoming locals, and historical sites, Aomori has a little something for everyone — there are numerous things to do in Aomori to keep you busy.
Located at the northern tip of the main Honshu Island in Japan, the Aomori prefecture surprised and delighted us at every turn, and left us wanting more.
With easy transport options from the capital city of Tokyo and relatively untouched nature, it's easy to see why Lonely Planet listed the Tohoku region as one of their "Best In Travel" destinations.
The Tohoku region is comprised of 6 prefectures (which are similar to states or provinces): Aomori, Akita, Iwate, Miyagi, Fukushima, and Yamagata. But, the capital city of the Aomori prefecture is also called Aomori. It's a little bit confusing!
In this post, I'll list the top things to do in Aomori, plus details on getting around the prefecture, what to expect, where to stay and more.
An Introduction to Aomori
During our recent trip to Japan, we visited the Tohoku region and enjoyed the prefectures of Aomori and Akita. It was just a teaser of what this beautiful part of the country has to offer.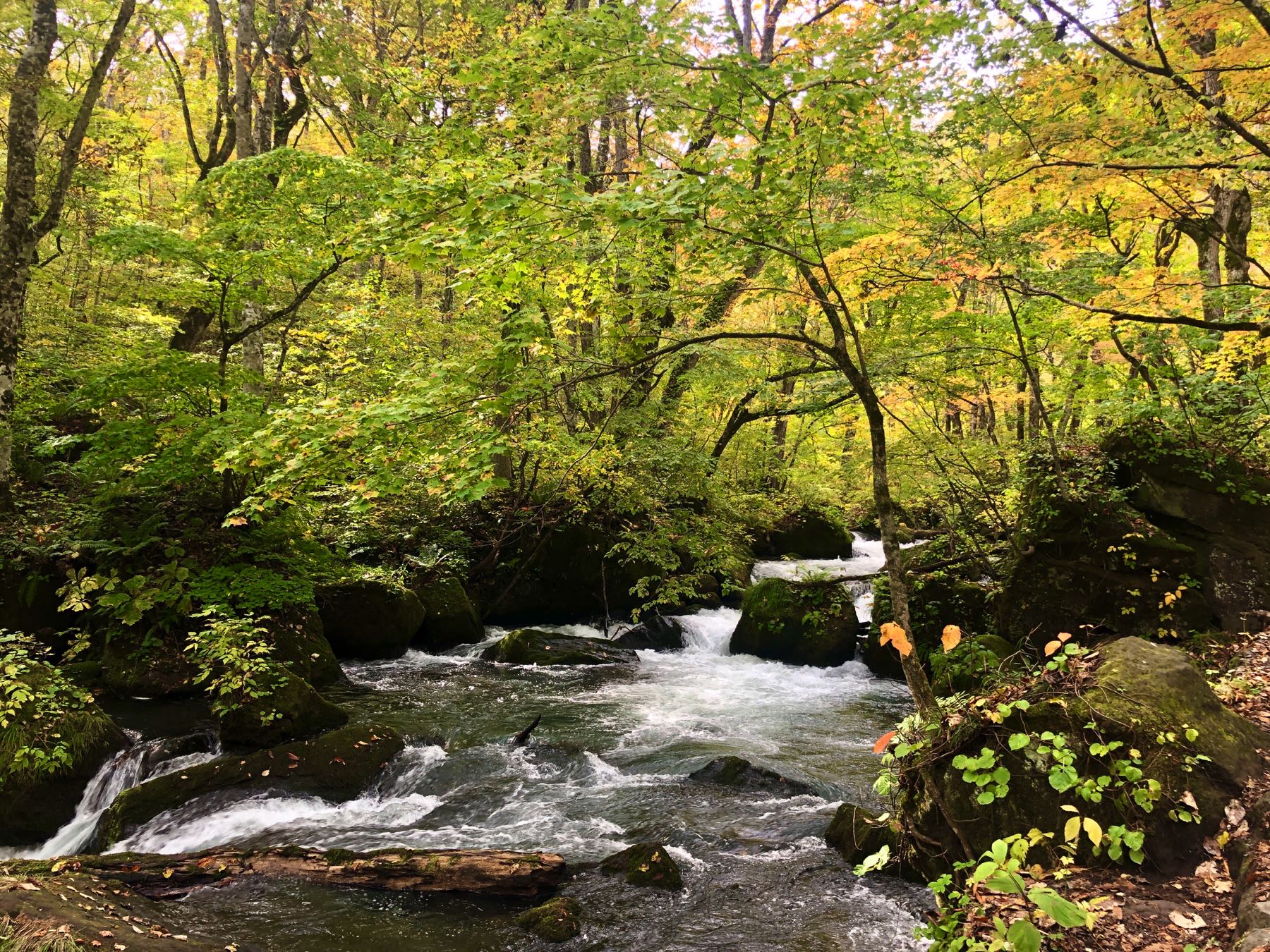 Tohoku is known for its incredible natural beauty and welcoming locals, but on top of those things, Aomori, in particular, is also famous for its tasty food.
It's the largest producer of apples in the nation (you've probably heard of Fuji apples?), has an abundance of seafood on offer (scallops and affordable sushi), and due to the chilly winters, some hearty, comfort foods are served here as well (try the beef bara-yaki, and the vegetable soup kenoshiru).
With volcanoes, mountains, lakes, hot springs, historical sites, parks, and food…Aomori really is a hidden gem in Japan.
Our First Impressions of Aomori
From Tokyo Station, we hopped on the Shinkansen bullet train bound for Shin-Aomori station. The trains in Japan are reliable, efficient, clean…and silent.
Talking loudly on a train is a big no-no in Japan, so we sat quietly shifting our gaze between our laptops and the stunning views outside.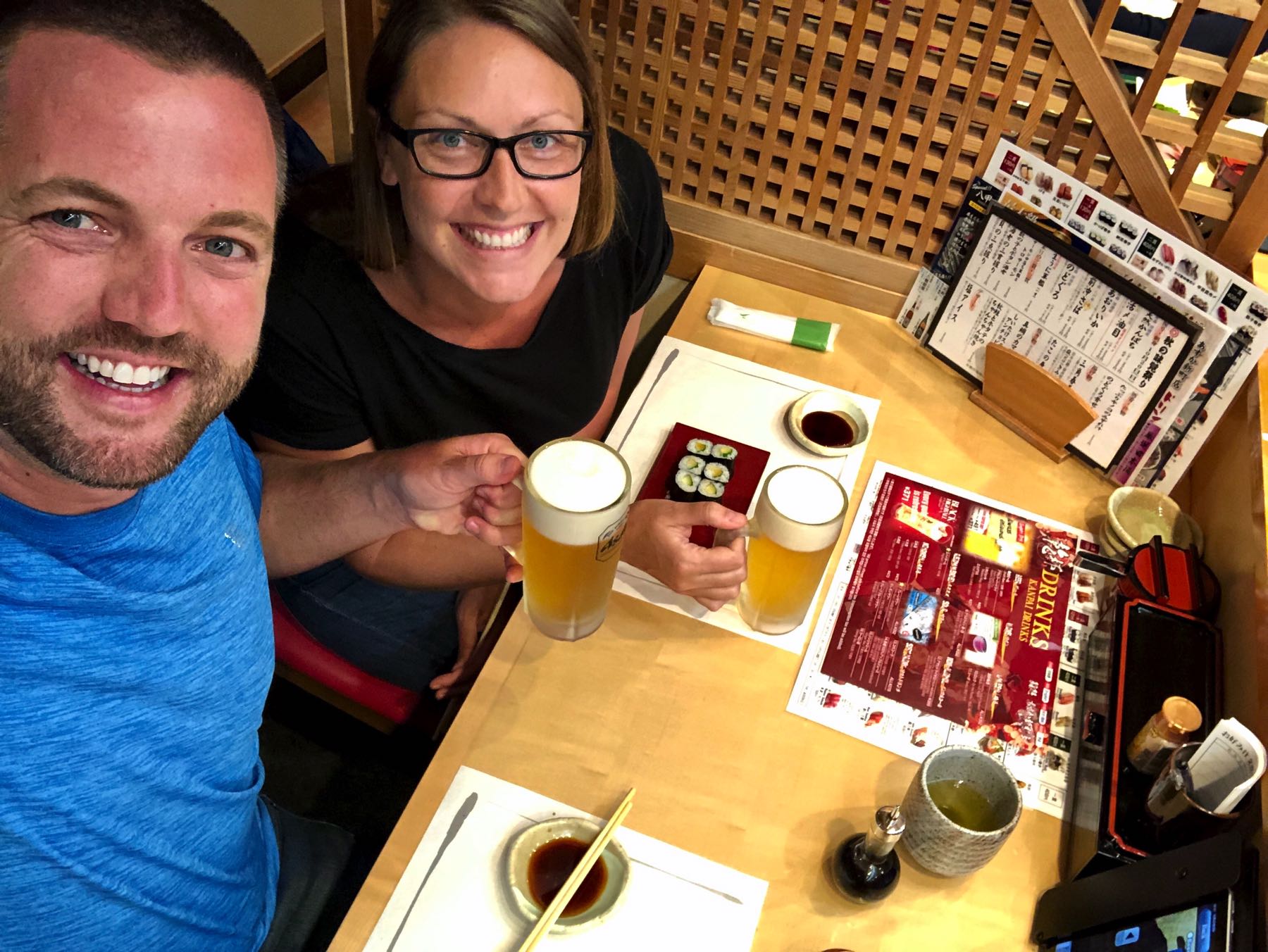 With a 3-hour and 10-minute journey ahead of us, we knew we could get a little work done, but it was hard with the stunning Japanese countryside zipping past our peripheral outside.
Not only are the trains comfortable, but they have plug-ins, free wifi, bathrooms and an attendant that comes around offering drinks and snacks.
We arrived at our hotel around 4:00 pm, and between that time and when we went to bed, we had so many wonderful encounters with the people of Aomori City.
One man invited us to watch a rugby match on TV with him and his friends, another stopped us in the street to chat about what we were doing in Aomori (and to practice his English), and another just wished us a nice trip.
After meeting some kind people, and devouring some of the freshest, most delicious and most affordable sushi we've had in Japan (at Asuka Sushi Bar), it was time to call it a night. Our first impressions of this region of Japan were very positive and we couldn't wait to explore more.
12 Best Things To Do in Aomori Prefecture
During our previous visits to Japan, we spent time in Kyoto, Tokyo and Takayama. But, there are so many more things to see and do in Japan and this time around, we were looking forward to exploring the natural beauty of the country — which Tohoku has in spades.
There are a few main areas that are of interest to tourists in this prefecture — Hirosaki, Aomori City, Towada Hachimantai National Park, and Fukaura.
Many of the things to do in Aomori are focused around the stunning Towada Hachimantai National Park, which spans 862 sq. km (333 sq. miles). If you're wondering what to do in Aomori, have a look at my list of the top things to do in the Aomori prefecture, based on my firsthand experience.
1. Canoeing on Lake Towada
A highlight of our entire trip to the region was the hours spent canoeing on the crystal-clear Towada Lake. This crater lake spans between the prefectures of Akita and Aomori, and has a surprisingly undeveloped coastline.
After a quick safety briefing and demonstration from the canoe guide (Ota-san) at Towadako Guidehouse, we were ready to hit the lake. We've done lots of kayaking in the past, but surprisingly, neither of us had properly canoed before!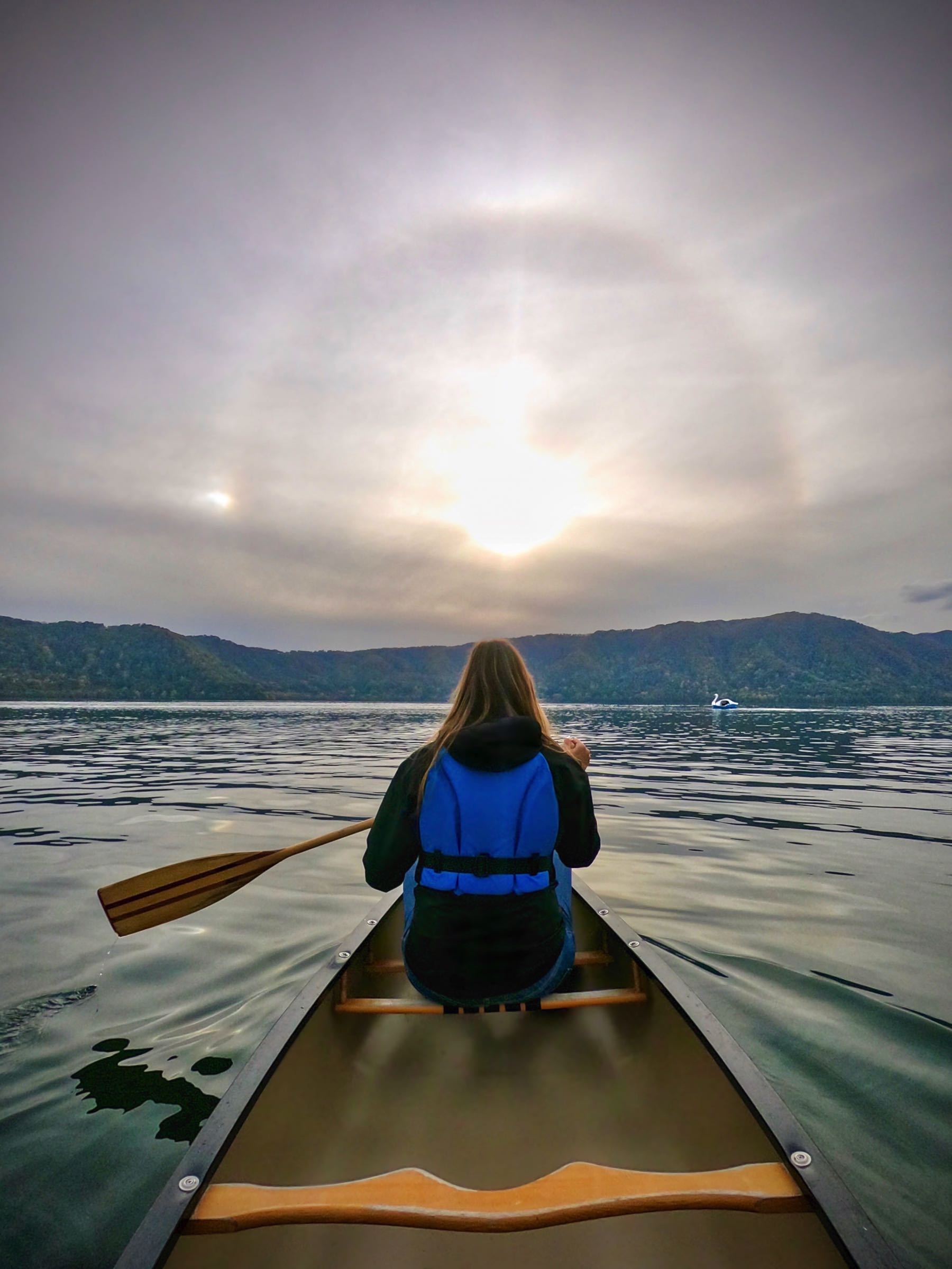 Finding our balance on the boat was easy and before we knew it we were gliding across the calm, crystal-clear water. This was such a peaceful experience and we enjoyed paddling alongside the colourful autumn leaves and rocky shoreline.
Lake Towada can be enjoyed year-round, but public transport only operates from April – November. To get here from Aomori City, take a bus to Yasumiya, which is the main transport hub of Lake Towada.
If you have a JR Rail Pass, the bus is included with that pass. To learn more about canoeing on the lake with the company we paddled with, click here, and for more information on how to get from Aomori to Lake Towada, click here.
2. Explore the Oirase Gorge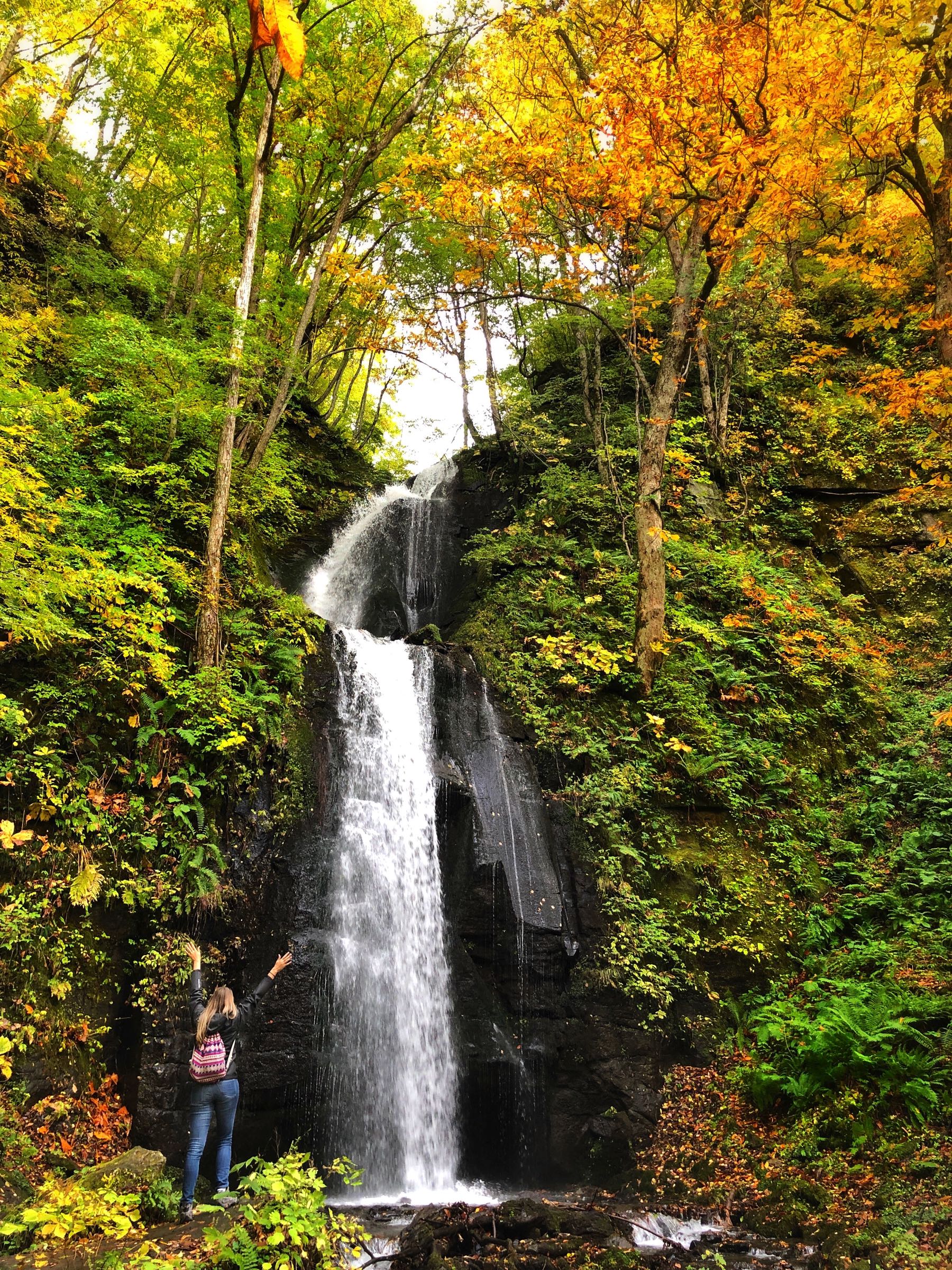 Flowing from Lake Towada is the Oirase Stream. Running alongside this stream is a 14-kilometer nature trail. This has been listed in many articles as one of the best things to do in Aomori, but for us, even though it was pretty, it wasn't a major highlight.
Here's the reason: it runs along a road.
On one side, you have a beautiful stream, some small waterfalls, and a lush forest. But, on the other side of the trail, just steps away, is the road.
I'm sure that it's not always this busy, but when we visited, it was a long weekend and many locals were here enjoying their day off — which meant lots of foot traffic, and vehicles passing by.
Regardless of how busy it was, we seemed to be the only ones who minded! And, we still enjoyed the fresh, humid air, the Kumoinotaki waterfall, and watching the local artists painting and photographing their beautiful backyard.
To get here, take the same bus that you would take to Lake Towada. Starting in Aomori, it passes through the Oirase Stream before terminating at the lake. Click here for details on the bus route — again, this bus is included with your JR Rail Pass.
3. Visit the Jogakura Bridge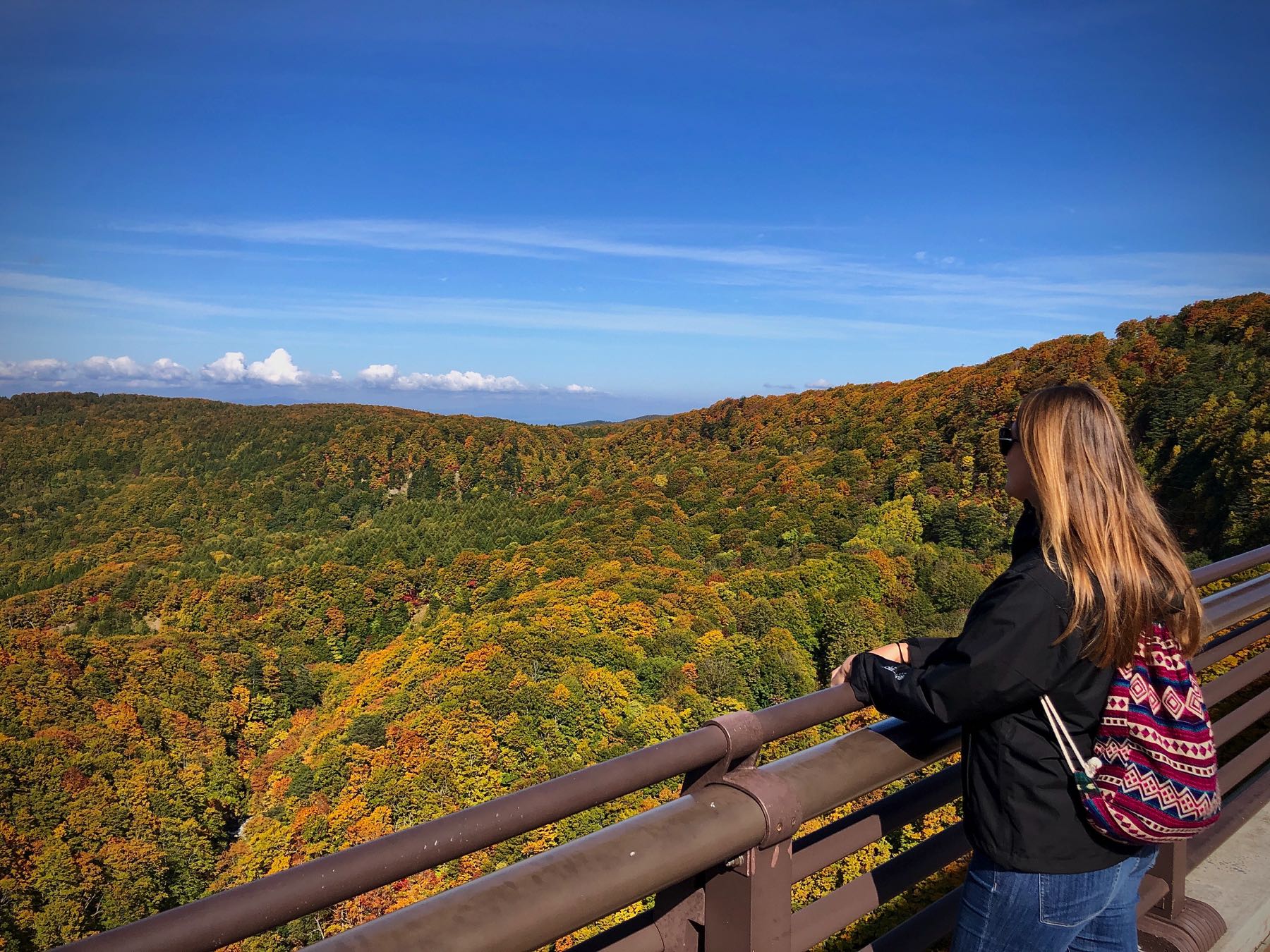 The 122m high Jogakura Bridge is a beautiful viewpoint! This bridge connects two areas of the Aomori prefecture (Tsugaru and Nambu) and was built in 1995 to make crossing the Jogakura River easier.
When we visited, people were parking at either end of the bridge and walking the length to take photos from different angles. While it's not somewhere you'd likely go and see just for photos, it's a great stop in between destinations.
The Jogakura Bridge offers an amazing view of the autumn colours in the fall and snowy trees in winter.
4. Eat All The Apples (Everywhere)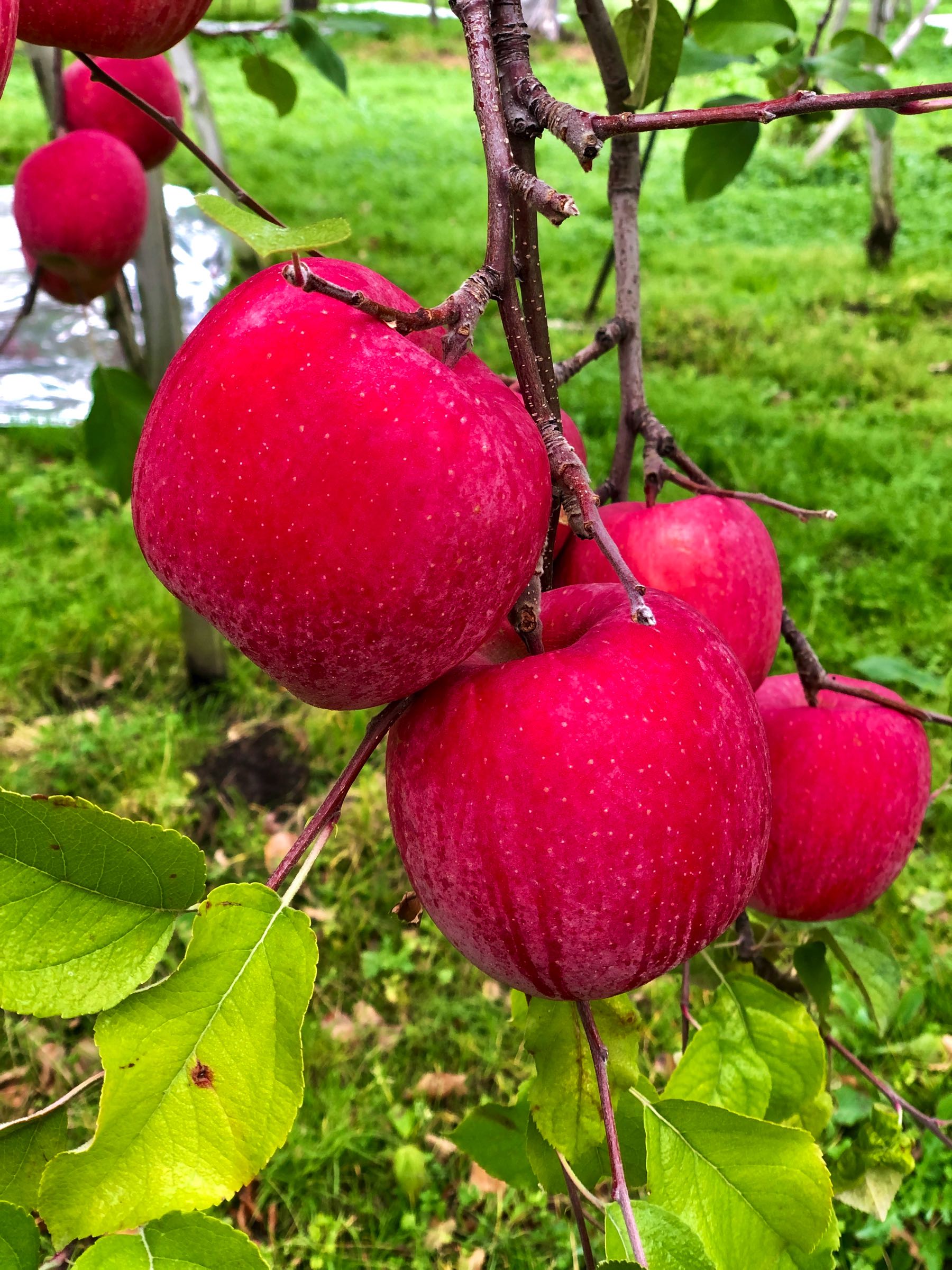 Since Aomori is known for its apple production, it's no surprise that eating anything and everything to do with apples is a must. At pretty much every restaurant, you'll find some sort of apple-inspired dish.
We stayed at the aptly named Apple Land Hotel, which had a beautiful ryokan-style room and apples floating in the onsite onsen. There was an apple orchard in the backyard and a massive restaurant with fantastic food featuring (you guessed it) apples!
Apple desserts, apple curry, apple sauces, apple sake and apple beer were just some of the items on offer and it was all very tasty.
Another great place to sample some apple delights is at the French restaurant in Hirosaki, Chez Moi. Here, we dined on a 5-course lunch of cod, beef cheek, soup, and dessert — with apples infused into every dish. If you're a foodie, you won't want to miss this spot.
Want more apple action? You can actually pick apples at one of the many orchards in Aomori. Click here to learn more about that.
5. Explore Shirakami-Sanchi Forest (Fukaura)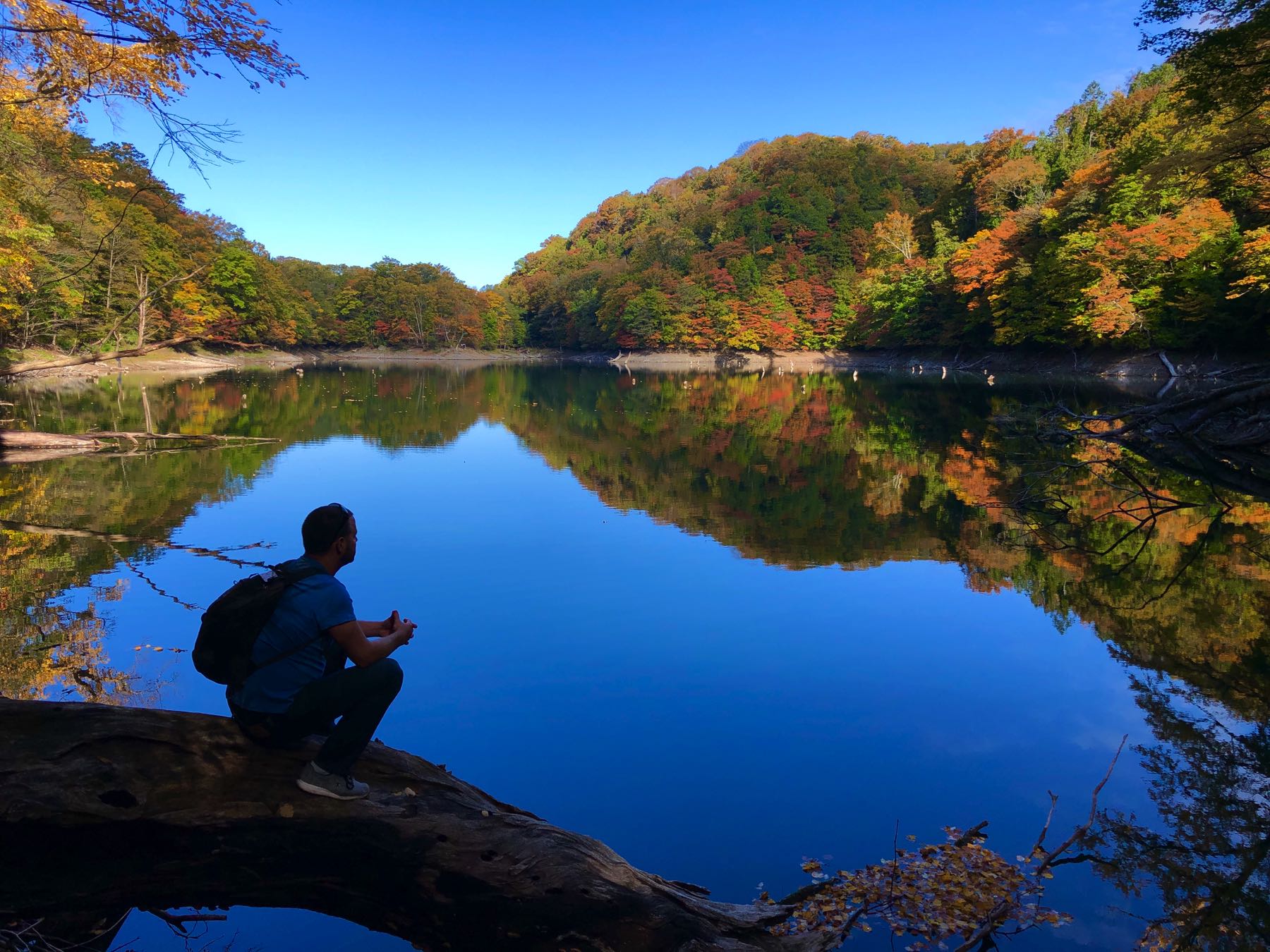 The pristine Shirakami-Sanchi forest area is actually a World Heritage Site.
Spanning 130,000 hectares (321,000 acres) across the southwestern part of the Aomori prefecture and the northwestern part of the Akita prefecture, this beautiful place is a great spot to do some hiking around lakes while enjoying East Asia's largest virgin beech forest.
There are numerous trails to explore here, plus 33 lakes. "Juniko" translates to "twelve", so it's strange that an area with 33 lakes and ponds is actually called Juniko, but who's counting?
We spent a couple of hours hiking around here and enjoyed the red, orange, and yellow leaves reflecting off of the many lakes. This is somewhere you could spend a whole day soaking up the natural beauty. Click here for a great (English) map of the area. From Fukaura, it's a 35-minute direct train ride to Juniko Station.
6. Hirosaki Park (Hirosaki City)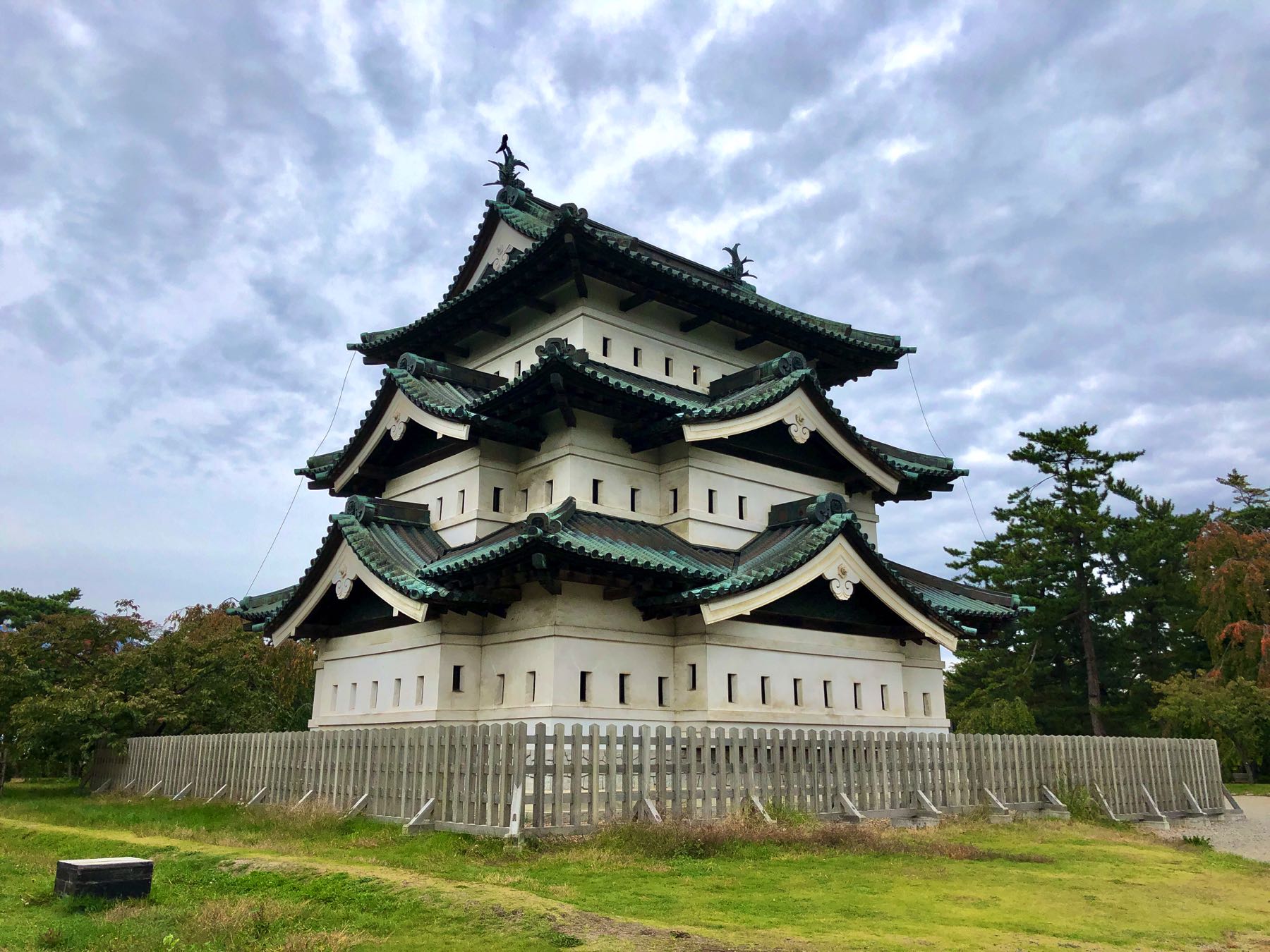 Located in the city with the same name, this large park is a nice spot to wander around.
This is considered one of the top spots to view the cherry blossoms in the springtime (there are 2,600 trees planted here), and in the fall, you can enjoy the autumn leaves.
Not only are the trees a highlight here, but the entire park is surrounded by a moat with small red bridges crossing the water, and historical gates.
The real highlight of Hirosaki Park is the 400-year-old castle — which is the last remaining one from the Edo Period in the Tohoku region.
When we visited, the castle had moved. That's right, the entire castle itself was picked up in one piece, and moved 70m!
Apparently, the base was becoming weak, and in order to preserve it, the castle was slowly moved to the side for the structure to be repaired. It'll take around 10 years to completely restore the base and it's expected to be moved back to its original place in 2026.
Also, don't miss the view of the Iwake Volcano from the park.
Hirosaki Park is open from 9:00am to 5:00pm, and while it doesn't cost anything to enter the main area of the park, if you want to see the castle, you'll need to pay 320 yen ($2.95).
You can also purchase a ticket that grants you entrance to the castle, botanical garden and memorial garden for 520 yen ($4.75). From Aomori City station, it's around a 1-hour train ride to Hirosaki Station. From there, it's a 25-minute walk to the park, or you can take a taxi.
7. Visit a Shinto Shrine
We've seen a few Shinto shrines around Japan, and here in Aomori prefecture, we visited the 1,200-year-old Iwakiyama Shrine and enjoyed the view of Mount Iwaki volcano in the background.
You'll know you're at a Shinto shrine based on the Torii Gates at the entrance.
As with any religious building (church, mosque, temple, etc.) there are do's and don'ts when it comes to visiting and praying at one, but there's no need to stress and you should definitely visit one during your trip. Keep in mind that as a tourist/guest, you won't be expected to know all of these rules.
The main thing to keep in mind when entering a Shinto shrine is to bow before entering the torii gates and walk on either the left or right-hand side of the gates, as the center is reserved for the gods.
Before going into the main shrine, make sure to purify yourself with the water out front.
Using the ladle, pour water over your left hand, followed by your right hand, and put some water into your hand to rinse out your mouth (but, don't swallow the water).
Remove your shoes where signs instruct.
Once you're at the shrine, put a coin into the donation box for the deity.
Following that, clap your hands two times, say your prayer, clap two more times, and bow.
That's it.
Shintoism is a belief in the ancestors, nature and sacred powers. This faith originated in Japan in the 8th century and is as old as the culture itself. Shintoism has no scripture, books or propaganda and alongside Buddhism, it's one of the top two beliefs in Japan.
Iwakiyama is one of the most important spiritual sites in Aomori, so it's a great place to experience this culture firsthand.
To visit the Iwakiyama Shrine from Hirosaki, take the Konan bus bound for Karekitai from the Konan bus station, which is in front of the Hirosaki Train Station. It's about a 40-minute bus ride. Alternatively, you can go on a tour, hire a driver, or rent your own vehicle.
There is a hike you can do from the Iwakiyama shrine to the summit of Mt. Iwaki. This hike takes around 4 hours and if we had more time, we would've loved to trek that route. Learn more here.
8. Walking Tour of Aomori
A great way to learn about the city of Aomori is with a licensed, English-speaking guide. On this private tour, you'll visit a few of the main highlights of the city including Wa Rasse Arts and Cultural Center, and the Sannai-Maruyama archaeological site.
But, the great thing about this trip is that it's customizable. You'll see those two sites above and then with help from your local guide, you get to decide what you want to see and do in the city. Learn more and book your spot here.
More Things To Do in Aomori
During our visit, the Hakkoda Ropeway (gondola) was under repair and sadly we weren't able to ride it. But, this is one of the most popular things to do in the area, especially in the fall when you can enjoy an amazing vantage point of the mountains covered in fall colours.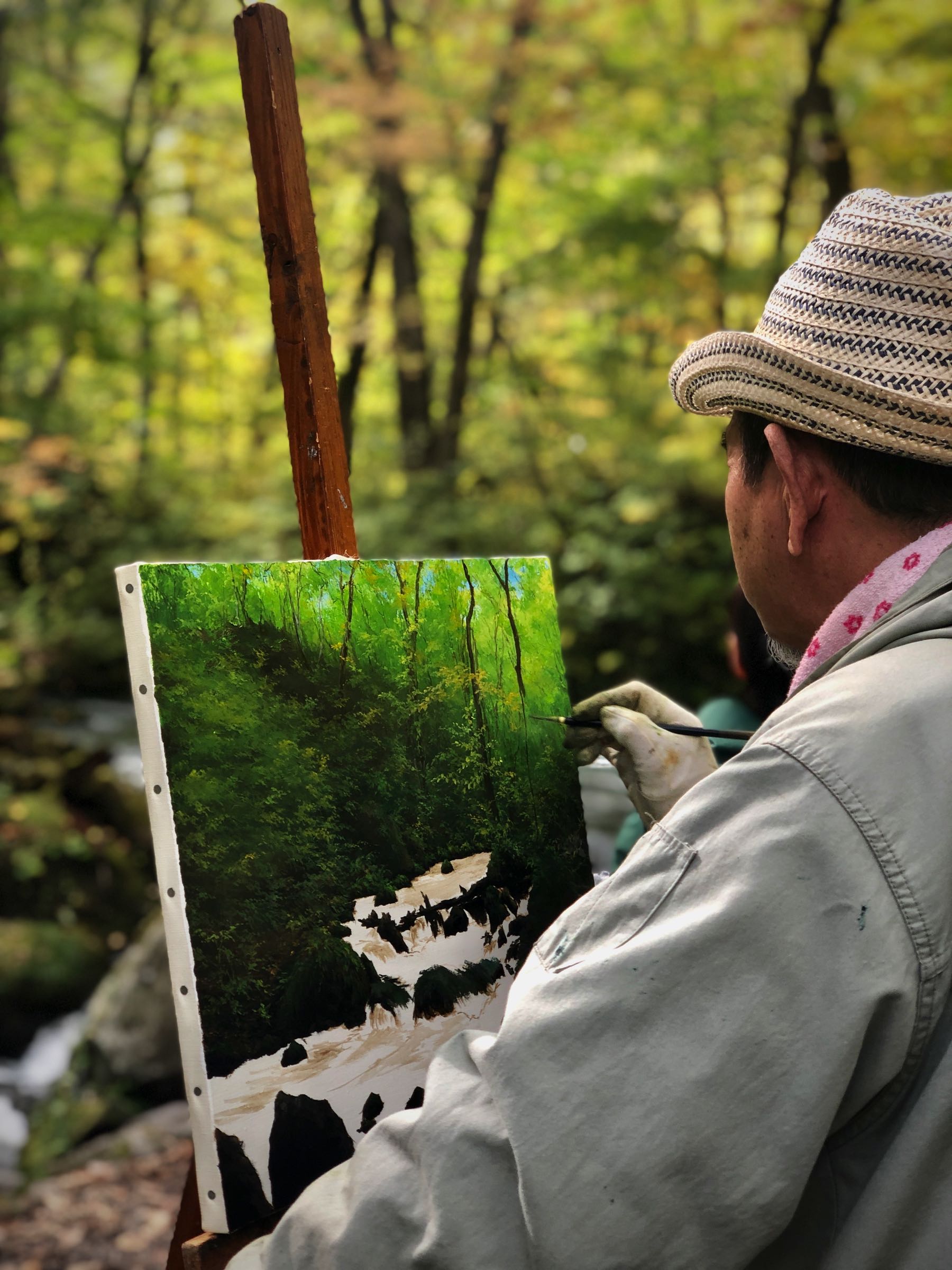 In the Aomori prefecture alone, there are 15 ski resorts. Needless to say, skiing is a popular winter activity here. To learn more about the numerous ski resorts in the area, click here.
The road between the Hakkoda Hotel and Sukayu Onsen is closed during the winter but reopens on April 1st each year. With high snowbanks on either side, walking and driving through this 10-meter-high snowy corridor would be a pretty amazing sight — check out the cherry blossoms one day, and the snow wall the next!
For seafood lovers, don't miss the Furukawa fish market (Aomori Gyosai Center) in Aomori City. Here you can create your own seafood rice bowl, called nokkedon. Fill your bowl with rice and top it with your choice of seafood — crab, squid, fish, scallops and more.
Getting To and From Aomori Prefecture
There are a few ways to get to Aomori. Here are the best modes of transportation.
By Plane
From Tokyo, you can fly with Japan Airlines to Aomori. The flight is about 1 hour and 15 minutes and costs around $150 USD.
By Train
From Tokyo, you can take the Shinkansen bullet train (which is what I recommend). This way, you get to enjoy the scenery along the way.
We travelled from Tokyo Station to Shin Aomori on the Shinkansen Hayabusa train (using our JR Rail Pass). This journey was around 3 hours and 20 minutes long.
Once we arrived at Shin Aomori, we simply disembarked, walked down some stairs and found the local train line. It was about a 5-minute train ride on the JR Express Tsugaru from Shin Aomori station to Aomori.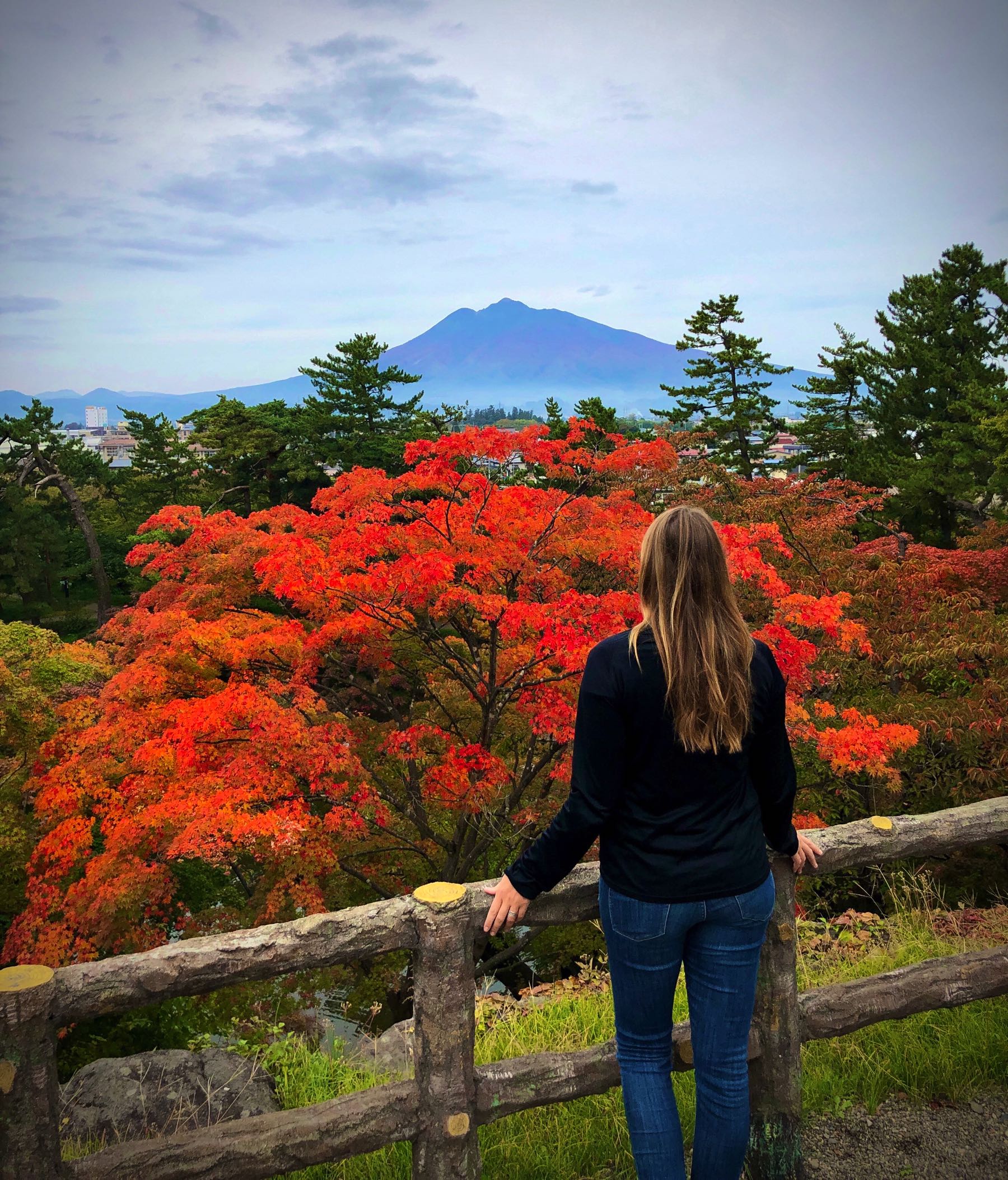 Train stations in Japan can be a bit overwhelming. My biggest suggestion is to give yourself a lot of time on travel days. Arrive at the larger stations with plenty of time so you're not feeling rushed or stressed out.
Never be afraid to ask the attendants which gate you should be at, and how to get there. There are plenty of them at all of the larger stations, they speak enough English and are more than willing to help you out.
By Car
During our trip to Tohoku, we kept saying that having our own rental car would've been the best way to see all of the natural sites of Aomori.
You can do it by public transport, but having your own wheels will allow you to stop at all the amazing viewpoints, and find your own quiet place for a picnic or a hike.
I don't recommend hiring a car for the entire duration of your trip to Japan (as it can be pricey and public transport is so efficient), but maybe just for a day trip to the lakes or mountains in the area.
When to Visit Aomori
One of the great things about travelling to Japan is that it's a destination that can be enjoyed year-round. Aomori is no exception.
Each season in the prefecture offers something different, so plan your trip around the activities you want to do and the type of weather you want.
To witness the stunning cherry blossoms, you'll want to visit at the end of April. Hirosaki Park is one of the top spots in all of the country to see the blossoms, so expect crowds, but some incredible photo opportunities as well.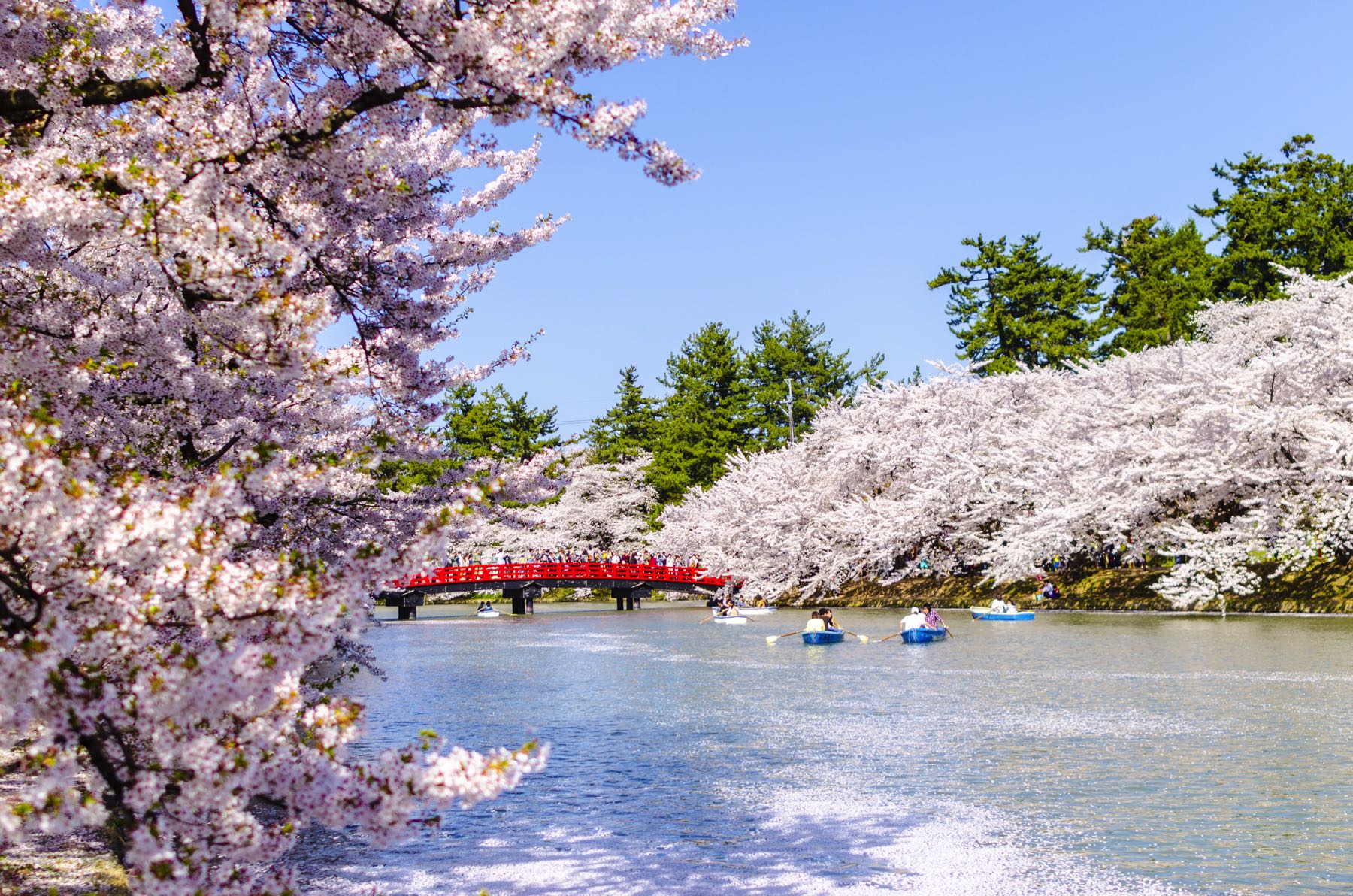 For those who want to hit the slopes, December – March is when you'll want to visit. Keep in mind that Aomori is one of the snowiest cities in the entire world — receiving around 20 feet of snow!
The prefecture transforms into a winter wonderland with people soaking extra long in the steamy onsens and partaking in festivals (time your trip for the Lake Towada Winter Story and the Hachinohe Emburi, both of which are held in February).
For both the cherry blossom season and the ski season, make sure to reserve your accommodation in advance because these are peak months.
If you want to swim in Towada Lake, do some walking along the Tanasashi coast, experience the famous Nebuta Matsuri lantern festival, and enjoy a hot temperature, visit Aomori in the summer months (August for the festival).
For a cooler, comfortable temperature and to witness the fall leaves changing colour, visit Aomori in October/November. The leaves can be viewed from many parts of the prefecture, but the Towada-Hachimantai National Park and the Hakkoda Ropeway are great places to enjoy the view.
Final Thoughts On Visiting Aomori
Prior to planning our trip to Aomori, we hadn't even heard of the region of Tohoku, let alone the Aomori prefecture.
Most people have heard of the popular spots in Japan (Tokyo, Kyoto, Osaka, etc.), but if you want to escape the crowds and enjoy a more offtrack part of Japan, don't miss this Northeast region of the country.
We were here on a quick visit to just get a feel for the prefecture — and even though it was a fast trip, we had a great experience! Due to all the amazing hiking and nature opportunities, we could've spent about 10 days – 2 weeks here and enjoyed a more relaxed travel pace.
When you're planning your next trip to Japan, consider Tohoku. With easy access from the capital, tasty foods and fewer tourists, it's an area of the country you won't want to miss.
We were invited by the Tohoku Tourism Board to explore the region and share our findings with you, our readers. This is an area of Japan we would happily return to and would love to spend more time here. As with all promotional campaigns on Goats On The Road, all thoughts, reviews and opinions remain our own — despite any complimentary services received. 
Like This Article? Pin it!