Paros is a small island packed with idyllic beaches that range from unspoiled stretches of golden or white sand to busy beaches lined with chic bars and restaurants. 
I traveled extensively through the Cycladic islands, and Paros was my favorite island thanks to its pristine beaches and charming towns. With numerous fun things to do in Paros, this is definitely one of the places to visit in Greece that should be firmly planted on your Greece travel itinerary.
I stayed in Parikia, which is one of the best places to stay in Paros for first-time travelers; it's well-connected with the rest of the island, and the best Paros beaches are only a short drive away.  
Whether you want to swim in crystal clear sea, sunbathe on soft sand with a cocktail in hand, try out some watersports, or just dip your toes into the Aegean, there's a Paros beach to suit you. Don't miss this stunning Greek island.
10 Best Beaches in Paros
You can either rent a car in Paros and create your own beach-hopping itinerary or use local buses to explore the island as you work your way to its many beautiful beaches.
The best beaches Paros has to offer are all public beaches – there are very few private beaches on the island. Public beaches in Paros are free to access. Some beaches provide lifeguards, toilets, showers, and restaurants, whilst others simply offer the perfect combination of sun, sand, and sea. 
Some of the most beautiful beaches in Greece can be found on Paros Island. Here are 10 of the best.
1. Piperi Beach
Piperi Beach is the closest beach to Naoussa and Naoussa hotels. The beach is a mix of yellow sand and tiny pebbles and is perfect for swimming and snorkeling. 
I visited Naoussa in September and couldn't believe how beautiful and charming this town was. Add to it the fact that there are so many beaches nearby, and it makes a good place to base yourself.
It is a lively, popular beach susceptible to wind, so if you like waves, this is a good beach to head to. Piperi Beach is also a great choice if you don't wish to pay for sunbeds and umbrella. Here, you can just simply stretch your towel under the shade of the trees at its back and enjoy your afternoon.
Accommodation Near Piperi Beach
This area offers accommodation to suit every budget and is in a convenient location for both the beach and Naoussa. There are good bus links to and from Piperi Beach, so it's a good place to stay if you don't have a rental car. 
Katerina Apartments & Studios: Katerina Apartments are spacious studios with kitchenettes located a few minutes' walk from the beach and Naoussa.
Kefalas Studio: Kefalas Studio is a gorgeous blue and white first-floor self-catering studio with a fully-equipped kitchen and a large terrace with far-reaching elevated views. 
Hotel Bilia: Hotel Bilia is a 3-star hotel in a traditional Cycladic building offering good quality rooms with an outdoor pool in a convenient and central location.
Restaurants Near Piperi Beach
The restaurants along Piperi Harbor and the beachfront are some of the best seafood restaurants on the island. 
Notos: One of the highest-rated restaurants in Paros, family-run Notos has excellent customer service and serves delicious, fresh food at a fair price. 
Mediterraneo: Recommended by locals, Mediterraneo is a harborfront restaurant serves the freshest seafood in a delightful, traditional decor. 
Archipelagos: If you like seafood, don't miss Archipelagos seafood harbor restaurant with a twist; you won't be disappointed by either its quality or prices. 
2. Monastiri Beach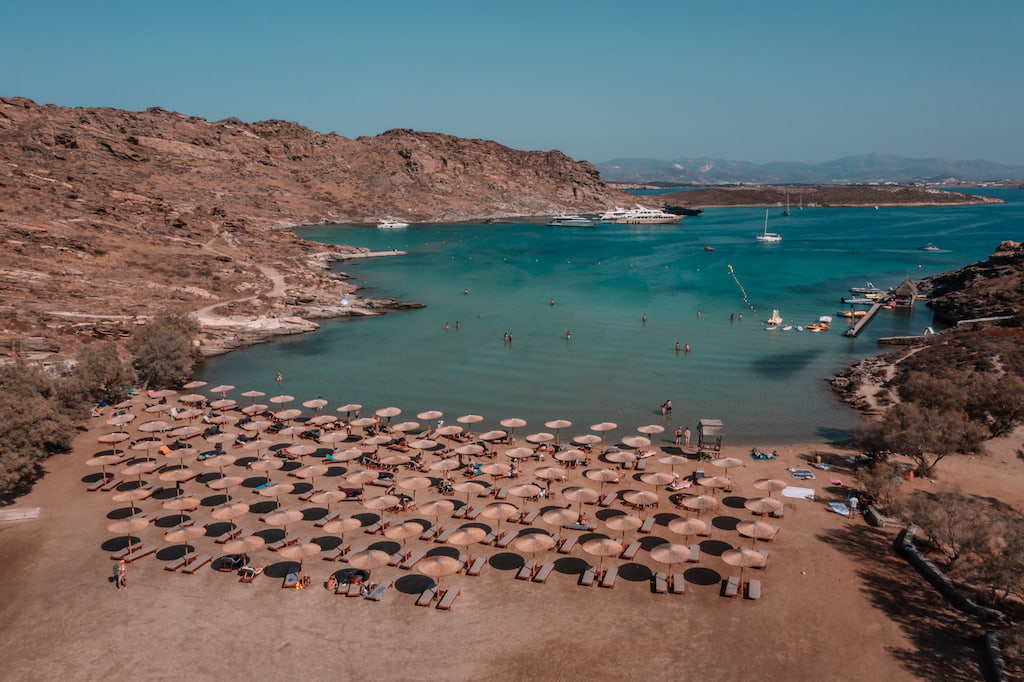 Monastiri is one of the best beaches in Paros and is my personal favorite due to its remote location and picturesque cove-like shape. The red-toned sand and pure blue sea are a perfect blend.
The beach is located seven kilometers from Naoussa, and its gentle incline into the shallow sea makes it ideal for young kids. Monastiri is accessible by car or by boat from Naoussa harbor. 
Sun loungers cost €20 per set, and if you want to ensure you get a space, arrive in the morning. If you get bored, definitely rent out a SUP board or a kayak and go explore the shore. The sea in the bay is very smooth, perfect for practicing your balance.
Accommodation Near Monastiri Beach 
Whether you want to stay in a high-end hotel or a private villa, Monastiri has a great range of quiet accommodation options.
Kymo Luxury Suites Paros: Kymo Luxury Suites Paros is a bed and breakfast that offers air-conditioned, spacious one and two-bedroom suites with sea views, as well as a communal swimming pool.
Kouros Resort Paros: Kouros Resort is a modern 5-star aparthotel built in a traditional Cycladic style with double and family rooms, a communal pool, and a free continental breakfast. 
Katikia Malatesta: The Katikia Malatesta is an idyllic private beachfront villa in a rural 3.5-acre site sleeping up to nine people in four bedrooms.
Restaurants Near Monastiri Beach
There are few dining options in this area, so I recommend bringing your own picnic lunch during the busy peak season months. 
Parko Café: Parko Café is a small beachside restaurant known for its Greek salads and daybeds for hire. 
3. Santa Maria Beach
Santa Maria is five kilometers east of Naoussa and has a free car park for visitors. The large white sand beach offers calm, turquoise waters ideal for families and novice swimmers. 
This vegetation-backed beach is unspoiled, and there's plenty of space for everyone.  This is a great beach if you don't want to pay for a sun lounger rental, as a large part of the beach is unorganized. But, if you do want to relax on a sun lounger while sipping a cocktail, you can spend a day at Santa Maria Beach Bar. Expect to pay €50 for a set of loungers in the high season.
The calm sea is ideal for kayaking and stand-up paddleboarding, and the long stretch of sand is perfect for an afternoon stroll.
Accommodation Near Santa Maria
The following properties offer privacy, peace, and quiet in high-end properties with excellent facilities. If you want to self-cater on Paros, these Santa Maria properties are worth considering.
Seven Santa Maria: Seven Santa Maria is a small, luxury property offering double rooms and a family studio 30 meters from the beach. There's also a luxurious self-catering villa sleeping 10 for larger groups or families.
Katikia Malatesta: Katikia Malatesta is a secluded beachfront villa in a rural area sleeping up to nine people in four bedrooms with a fully equipped kitchen, including a washing machine. 
Blue Amarullis Villas: The Blue Amarullis Villas is a luxury one-story hotel just a kilometer from the beach with double rooms, a large pool, free bikes for guests, and stunning sea views. 
Restaurants Near Santa Maria
Restaurants in this prime location range from busy beach bars to traditional family-run tavernas, so there's something for everyone. 
Nava Lounge Restaurant: The Nava Lounge Restaurant is a large, semi-open restaurant located by the beach. Although it can be a little pricey, its unbeatable location makes up for it.
Santa Maria Beach Bar: Santa Maria Beach Bar is a large busy bar that rents sunbeds and umbrellas on the beach, perfect for cocktails and lunch, but again, due to its location, visiting comes at a price. 
Siparos Seaside Restaurant: The Siparos Seaside Restaurant is a quiet, highly rated beachside restaurant serving a traditional menu. It's best known for its fantastic seafood and baklava – both are delicious!
4. Chrissi Akti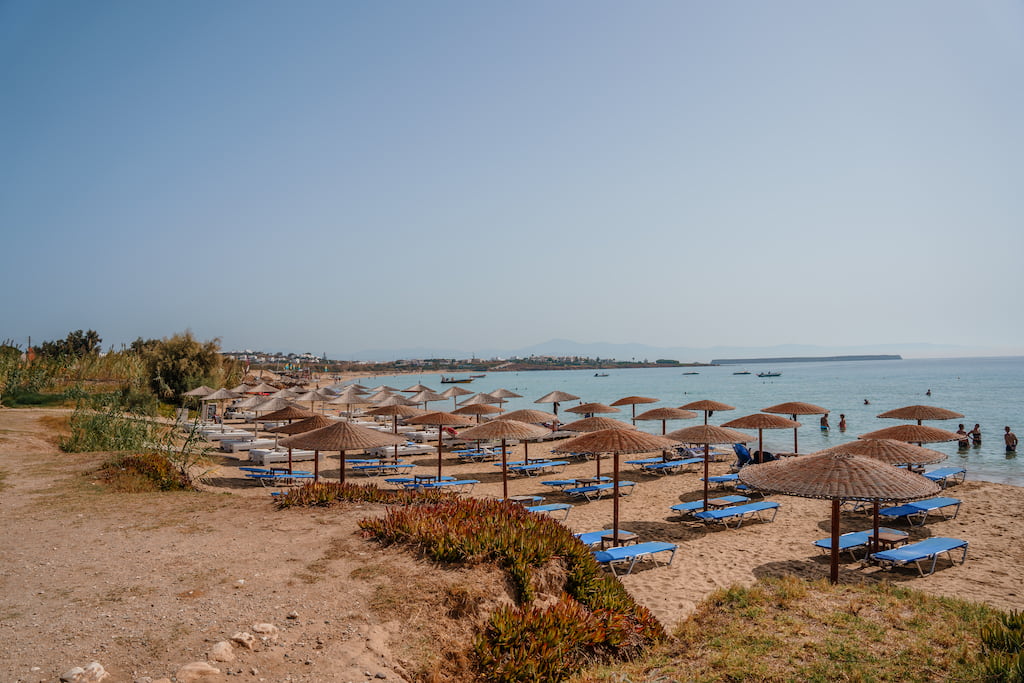 Also known as Golden Beach, Chrissi Akti is one of the biggest beaches in Paros. It's located 20 kilometers from Parikia and is best reached by car. 
It's a Blue Flag family-friendly sandy beach with watersports such as kayaking and standup paddle boarding on offer. What we loved the most about this beach was that it wasn't as crowded as other beaches near Parikia or Naoussa during our stay in July. We also enjoyed service and lunch at the Rebel Bar. Try their shrimp tacos, absolutely mouthwatering!
Its northeastern end – Nea Chrissi Akti, is the best beach in Paros for windsurfing and kitesurfing. Even if you're not planning to learn to windsurf yourself, it can be really fun to watch others, especially during one of the tournaments that often take place here.
Accommodation Near Chrissi Akti 
This part of Paros has a fantastic range of accommodation options and many choices for all kinds of budgets. 
Amaryllis Beach Hotel: Amaryllis Beach Hotel is a small beachfront hotel offering double and family air-conditioned rooms with a fridge. 
Little Troll House 1: The Little Troll House 1 is a budget-friendly and basic traditional self-catering villa sleeping five in two bedrooms, 150 meters from the beach.
Andria's Suites: Andria's Suites is a luxury self-catering house with a large saltwater pool just 300 meters from the beach. 
Restaurants Near Chrissi Akti
Whether you want a lazy cocktail or to indulge in fine dining, you'll find it all in Chrissi Akti.
Rebel Beach Bar: The Rebel Beach Bar is a reasonably priced beach bar with a nice range of cocktails and sunbed and umbrella hire. 
Stella's Taverna: The Stella's Taverna is a family-run traditional taverna serving authentic Greek dishes (I recommend their melt-in-the-mouth calamari!).
Veranda Blue Restaurant: One of the highest-rated restaurants on the island, Veranda Blue has a reputation for excellent food and service with elevated sea views. Perfect for couples or a special occasion.
5. Parikia Beach
Parikia Beach is a 10-minute walk from Paros Port and is popular with both locals and tourists.  
The golden sand beach has calm shallow waters and lots of space to lay your towel down and sunbathe. It's one of the best beaches for watching the famed Paros sunset and is a super convenient beach for anyone staying in Parikia town. If you're looking for romantic things to do, bring snacks and wine and make a picnic on Parikia Beach during the sunset!
Accommodation Near Parikia
The capital of Paros offers a wide range of accommodation options, so if you are traveling on a budget, this is an ideal place to stay. You can choose between beachside hotels or hotels in the town center where you'll find everything you need on your doorstep. 
Alkyon Hotel, Parikia: The Alkyon Hotel is a small bed and breakfast beachside hotel offering comfortable, budget-friendly double and triple rooms. 
Ragousis Apartments: Ragousis Apartments is an affordable, small, blue and white two-story 3-star hotel offering self-catering studios and apartments a five minutes walk from the beach. 
Hotel Cyclades: The Hotel Cyclades is a centrally located hotel minutes from the beach offering contemporary rooms with or without breakfast, including single rooms for solo travelers. 
Restaurants Near Parikia
As you might expect from the largest town on the island, you'll find an excellent choice of restaurants in Parikia. 
Tango Mar: The Tango Mar is a reasonably priced beach bar serving generous portions. Sunbed and umbrella use is free if you spend a minimum of €10.
Cavo D'Oro: The Cavo D'Oro is a local favorite, this family-run beachside pizza restaurant is a short walk from the port. 
Ouzeri: Another local favorite, Ouzeri is a traditional taverna best known for its fresh and tasty seafood, large, well-priced portions, and stunning sea views. 
6. Parikia Beach South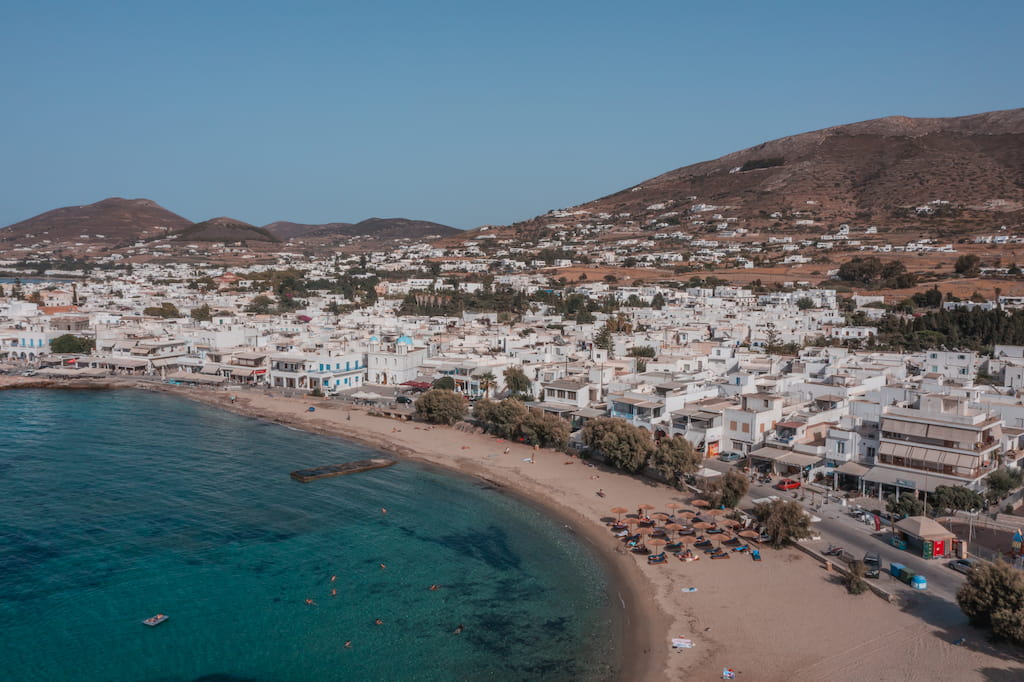 This small beach, located a short walk from the port, is known for being much quieter than the main Parikia Beach. It's a small sandy beach lined with apartments and restaurants and overlooks a picturesque windmill. 
The 100-meter-long beach has fine sand with small pebbles and a gentle slope into shallow clear water. If you choose to stretch out on your own towel, a line of trees is there to provide you with some pleasant (and sometimes much-needed!) shade. We stayed in one of the apartments at the back of this beach and enjoyed coming there for a quick swim. 
Accommodation Near Parikia Beach South
If you're looking for a tranquil stay but wish to be close to good transport links and a wide choice of dining options, south of Parikia is the perfect choice. 
Souvlia Beach: The Souvlia is a small one-bedroom beachfront house is perfect for self-catering couples traveling on a budget.
Paros Bay, Parasporos: The Paros Bay is a large hotel with direct beach access and elegant nautical-themed rooms with balconies and a communal pool. 
Wonderful Sea View: The Wonderful Sea View is a cozy and modern one-bedroom house set amongst grape vines offering a well-equipped kitchen, spacious terrace, and beautiful sea views. 
Restaurants Near Parikia Beach South
Whatever your food preferences, you'll find an excellent range of cuisine in this part of Parikia. 
Bountraki: The Bountraki is a traditional tavern serving Greek food and locally brewed beer. It gets busy here; make sure to book in advance.
Magaya: The Magaya is a beachfront restaurant serving cocktails and healthy portions of food from an international menu. 
Nami – Japanese & Chinese: The Nami – Japanese & Chinese is known for its fairly priced menu and large portions of sushi, Nami also offers a fantastic sea view from its balcony. 
7. Parasporos
With its gorgeous turquoise water, Parasporos is the best beach in Paros for swimming. It's only three kilometers from Paros ferry port, so can be easily reached by car, bus, or on foot. 
The golden sand beach has a few stones, picture-perfect blue water, and is surrounded by hills. If you're looking for a quiet beach with no noisy music coming from the beach clubs, this is the perfect place to enjoy the tranquility.
You can either spread your own towel or rent out a set of sun loungers and an umbrella from the beach restaurant for €20. The Parasporos Beach Club restaurant is also a great and fairly priced spot for lunch.
Accommodation Parasporos
Parasporos offers a range of affordable and spacious accommodations that are perfect for families or groups of friends. 
Blue View Villa #1: The Blue View Villa is a modern apartment with homely touches and a communal pool and terrace, Blue View Villa sleeps up to four in one bedroom plus a sofa bed. 
Ramnos House: Ramnos House is set in a picturesque olive grove, this luxurious, secluded house sleeps up to six in three bedrooms and is an easy 15-minute walk away from the beach.
Fragoulis Village: The Fragoulis Village is a 3-star hotel offers double, triple, and family rooms plus a pool, kids pool, and playground, and is a 20-minute walk from the beach. 
Restaurants Near Parasporos
Parasporos has a good mix of lively party bars and tranquil restaurants that are ideal for a romantic night out. 
Magaya: A Magaya is a laid-back restaurant with an international menu and live music in the evenings
Parasporos Beach Club: A Parasporos Beach Club is a quiet (no thumping music!) family-run restaurant serving fantastic Greek food on an attractive beachfront veranda. 
Zazala: Zazala is a relaxed restaurant in a stunning beachfront setting serving decently priced international food with live DJs at night.
8. Kolimbithres Beach
Kolimbithres is a small but popular white sand beach backed by smooth white granite rocks, creating an almost otherworldly scene. It is definitely one of the unique Paros beaches, and for that reason, it is super popular and can be very crowded during the summer months of July and August. 
However, its unusual landscape makes this beach worth visiting despite the crowds. For the best experience, come in the early morning, and you can either sit somewhere on the rocks or pay for a set of loungers that come at €50 per set during the peak season. 
The beach can be reached by a 10-minute drive by car, public bus, or by water taxi from Naoussa, which makes for a nice day trip.  
Accommodation Near Kolimbithres 
Each of the following recommendations are a short walk from the beach but offer space, comfort, and privacy at surprisingly affordable prices. 
Anna Studios: Anna Studios is a small complex of contemporary air-conditioned studios and double rooms, just a one-kilometer walk from the beach.
Koukounari Paros Cottage: Koukounari Paros Cottage is a 15-minute walk from the beach, this pretty and private two-bedroom cottage sleeps three people and features a well-equipped kitchen and spacious terrace.
Akti – Resort: Akti – Resort is a highly rated mid-size resort with attractive, traditional style stone-walled rooms with quirky touches plus a pool, bar, and on-site taverna. 
Restaurants Near Kolimbithres
If you're looking for traditional Taverna Greek food, you're sure to find it in Kolimbithres.
Anemos Taverna: Anemos Taverna is a small taverna serving Greek dishes with good food, great views, and fast, friendly service. 
"Η Βίγλα" ταβέρνα: The "Η Βίγλα" ταβέρνα is a highly regarded for its scrumptious seafood, this taverna offers amazing sea views, quick service, and a well-priced menu. 
Ταβέρνα Κολυμπήθρες: Ταβέρνα Κολυμπήθρες is a restaurant that you may have to wait a little for your food, but the freshly cooked, generously sized authentic Greek dishes will be worth it!
9. Alyki Beach
If you want a slice of authentic Paros life, you have to visit Alyki (or Aliki), 13 kilometers from Parikia on the south coast of Paros.
Alyki Beach has a narrow stretch of white sand bordered by green hills, family-owned tavernas, and clear turquoise water.  It is one of the best beaches in Paros for families, thanks to its remote location and easy-going atmosphere. 
Alyki does not have fancy beach clubs or a party atmosphere, but it does have a chilled vibe and convenience shops and restaurants nearby. It is also never too busy, even during the high-season summer months.
Accommodation Near Alyki Beach
Alyki offers a good range of affordable hotels and apartments that are excellent value for money and are particularly good for families. 
Fivos Apartments: Fivos Apartments are a traditional Cycladic style apartments sleeping up to five. Ideal for families looking for a value-for-money self-catering stay.
Anixis Studios Aliki Paros: Anixis Studios Aliki is a homely and spacious set of studios located 400 meters from the beach. They are perfect for couples seeking a quality, no-frills self-catering stay.
Aphrodite Boutique Hotel: Aphrodite Boutique Hotel is a comfortable and colorful 3-star hotel with studios sleeping up to six, plus a gym, pool, bar, and a location only 100 meters from the beach. 
Restaurants Near Alyki Beach
If you like seafood, Aliki has several fantastic options to suit your taste. 
Alyki Restaurant: Alyki Restaurant is a family-run, waterfront restaurant with friendly service and the best grilled fish you will eat in Paros. 
To Balcony tou Aki: To Balcony tou Aki is an on-the-water restaurant that serves large portions at affordable prices. They also accommodate walk-in guests, so there's no pressure to book ahead.
Nicoleta: Nicoleta is a cafe and restaurant located opposite the harbor. They serve great coffee and seafood pasta dishes.
10. Lageri Beach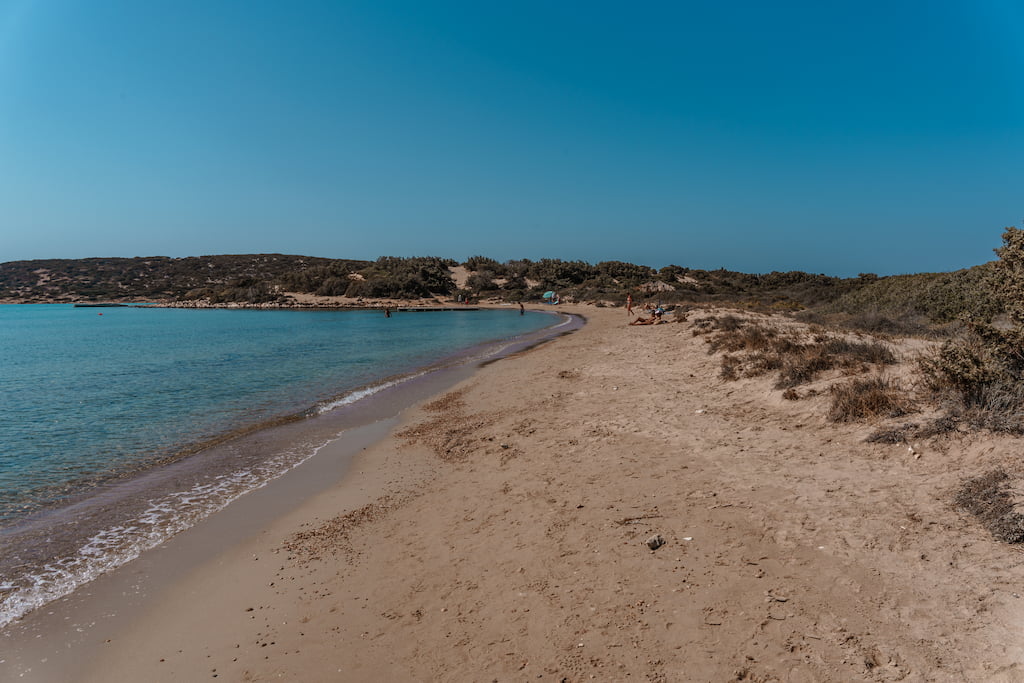 If you're in need of a quiet, secluded beach with calm seas, I recommend you make a stop at Lageri. The golden sand beach is in a cove lapped by blue water and backed by trees (it also has a nudist section at its southern point). It is a great beach if you just want to get away from it all and enjoy nature. 
Access to Lageri is via a rough road, so I would only advise visiting if you have an off-road vehicle or are prepared for a long, hot walk. Take a picnic with you as there aren't any eateries here.
Accommodation Near Lageri Beach
Due to its remote location, there aren't any hotels or apartments on, or particularly close to, Lageri Beach. 
The following recommendations are all within walking distance of Lageri and are close to other Paros beaches too. 
Fragos Apartments: Fragos Apartments are cute self-catering apartments located in an olive grove, a 30-minute walk from Lageri. They can accommodate up to three people.
Stacy's House, Santa Maria: Stacy's house in Santa Maria is a modern two-bedroom house located 40 minutes from the beach. It can accommodate up to five people and features a well-equipped kitchen as well as a pool.
Mika Bungalows: Mika Bungalows are funky, contemporary self-catering studios with terraces located 40 minutes on foot from Lageri.
Restaurants Near Lageri Beach
Although these restaurants aren't in Lageri itself, they're definitely worth traveling to.
Siparos: A beachside restaurant in a perfect sunset location. Siparos prices are a little above average, but the costs are reflected in the quality of its outstanding seafood. 
Nava Lounge: Nava Lounge is a popular beach bar located on Santa Maria Beach that serves a good range of snacks and refreshing cold beers.
Toa's Asian: Off the tourist trail, Tao's Asian inland restaurant is well worth visiting for its fantastic Thai dishes if you're after something other than Greek food. 
Beaches in Paros: FAQs
Here are some answers to commonly asked questions about the best beaches in Paros:
What is the best beach in Paros?
The best beach in Paros is subjective, but for something unique that cannot be found elsewhere, I recommend a visit to Kolimbithres. 
What are the best beaches in Paros for partying?
Busy, lively Punda is the best party beach in Paros.
What is the best beach in Paros for families?
Monastiri is the best beach for families with young children as it has a long, gentle incline into a shallow sea. 
What is the best beach in Paros for couples?
Couples will love Santa Maria Beach as it has lots of space for visitors to spread out and have a bit of privacy.
What is the best off-track beach in Paros?
Lageri is the best and most beautiful off-the-beaten-track beach in Paros; it is challenging to get to, but the journey is worth it. 
What is the best time to visit Paros?
If you're visiting Paros for its beaches, the summer months of June, July, and August are the best time to visit Paros. The weather will be consistently hot and sunny and the sea will be pleasantly warm for swimming. However, if you're visiting primarily for sightseeing, you'll perhaps enjoy the cooler temperatures and fewer crowds that May, September, and October bring to Paros. 
What part of Paros has the best beaches?
All the beaches in Paros have something unique to offer, whether it be views, convenient locations, or calm seas, but if you want the cleanest beaches, the highest concentration of Blue Flag beaches are on the east coast of Paros.
What beach in Paros has the clearest water?
All the beaches in Paros offer clear water, but my favorite is Monastiri by far. 
What beach in Paros has the whitest sand?
The best white sand beach in Paros is probably Santa Maria Beach or, my personal preference, Parasporos Beach. 
What beach in Paros has the bluest water?
Parasporos has some of the bluest water of any Paros beaches (and it's up against some stiff competition!).
Are the beaches in Paros safe for swimming?
The best beaches around Paros are generally safe for swimming but always adhere to lifeguard instructions, safety flags, and notices before entering the sea. 
What's the safest beach in Paros?
If you're traveling with children, I would suggest that Monastiri is the safest beach in Paros; it's sheltered, organized, and has calm shallow water. 
In Conclusion
If you're a beach lover, Paros is the ideal destination for you. You can visit a different beach every day of your vacation, and each one will offer something new and unique. The best beaches in Paros will stay in your memory long after you leave this amazing Greek island. 
Like This Article? Pin it!