Bath is one of the most charming cities in England and is famed for its Roman baths (thus the name). There are lots of wonderful things to do in Bath from visiting the ancient baths themselves to exploring the many interesting museums dedicated to literary figures from Jane Austin to Mary Shelley.
This is one of my favorite cities in England and many years ago I even cycled to Bath from London over three days. The city is located in southwest England not far from the Cotswolds and Stonehenge so makes a great base for exploring this beautiful corner of the country.
Other places to visit in Bath include the UNESCO-listed Royal Crescent of Georgian houses and neoclassical and Baroque architecture in the city center. The impressive gothic Bath Abbey is another of the top tourist attractions as well as the beautiful Royal Victoria Park.
Best Things To Do in Bath
Below, you'll find a comprehensive list of the best things to do in Bath. You'll find a mixture of historical, scenic, and fun activities and sights so there really is something for everyone.
1. Guided City Walking Tour and Roman Baths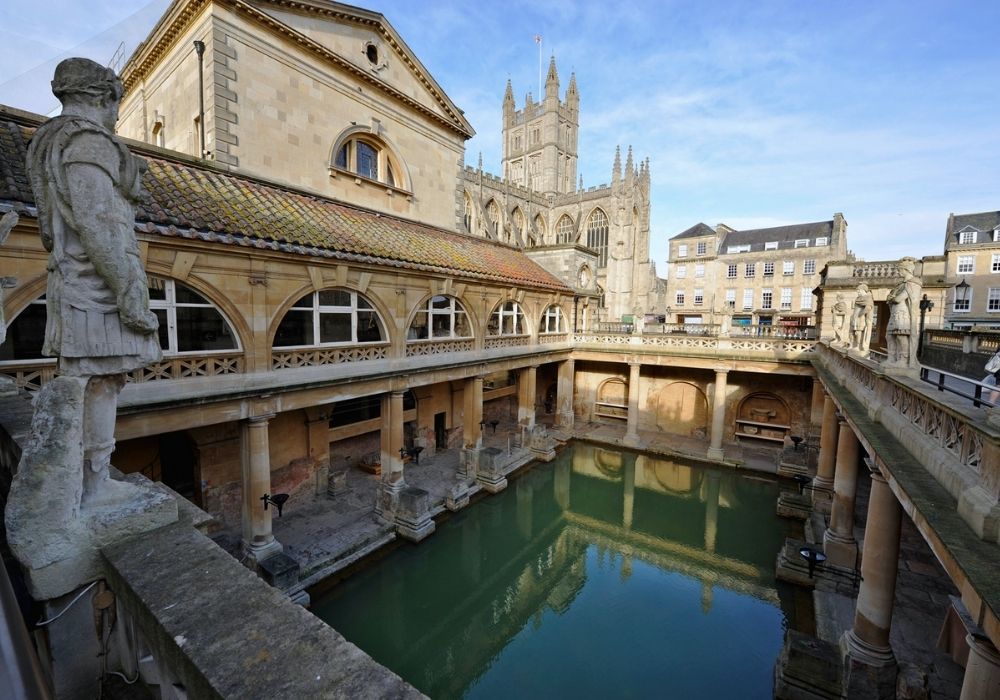 Visiting the Roman baths is one of the top things to do in Bath and this marvel of ancient engineering is a must-see. One of the best ways to experience the city and the famous baths is to take a guided walking tour. You'll learn about Rome's influence on Britain and see the major tourist attractions on offer in Bath.
I love exploring these incredible Roman Baths tour – they haven't changed in over 2,000 years! It's easy to see how life in Rome Britain was so advanced, and it always amazes me that the technology of this age was lost for so long during the dark ages.
Marvel at the impressive architecture around the spring water pools, explore the baths museum, or grab a bite to eat at the pump room restaurant. Open daily from 9 am to 5 pm.
Address: Abbey Churchyard, Bath, BA1 1LZ.
2. Visit Bath Abbey
The Abbey Church of St Peter and St Paul (aka Bath Abbey) was built between 1499 and 1611 as a former Benedictine Monastery. It's one of the best examples of gothic architecture in southwest England and is one of the top things to see in Bath.
See the magnificent stained glass windows and marvel at this massive feat of medieval engineering. There's an onsite gift shop and entrance to the Abbey costs £6.50 per person. The Abbey is open daily from 10 am to 5:30 pm and it's possible to attend services on a Sunday.
Address: Abbey Church of St Peter and St Paul, Bath, BA1 1L.
3. River Avon Cruise with Prosecco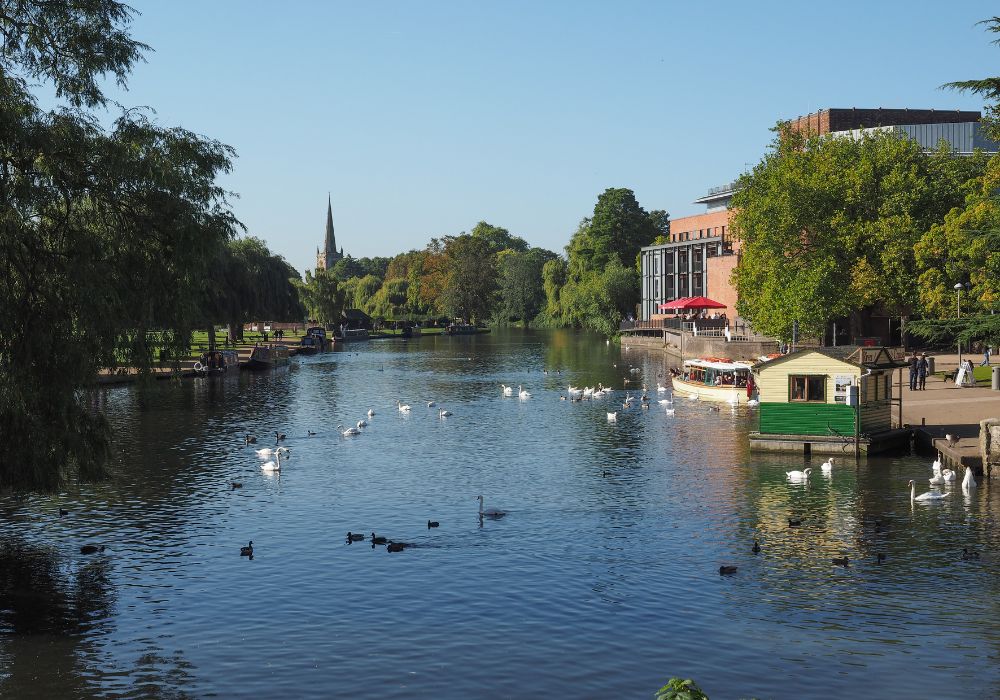 What better way to experience the city than on the beautiful River Avon with a couple of glasses of prosecco? Enjoy a 50-minute cruise taking in the top city sights from Pulteney Bridge to Bath Abbey and more. There's also the option to enjoy a gin-tasting session while cruising the heart of the area.
The cruise takes place on board a 1960s cruiser and includes two glasses of prosecco in the price. The trip can be taken at any time of year as the boat includes a coal fire for colder days and a retractable roof for when the sun comes out (yes, it does actually come out sometimes in England!).
Meeting point: Avon Street Carpark, Bath Quays Waterside, BA1 1UF.
4. Relax at the Thermae Bath Spa
Although you can't, unfortunately, take a dip in the actual Roman baths, it is certainly possible to enjoy the same healing waters that the Romans did 2,000 years ago. The Thermea Bath spa is located in the heart of the city and really is one of the most fun things to do in Bath.
With a rooftop spa and pool offering absolutely breathtaking views of the ancient city, this is one of my favorite things to do to relax after a day's sightseeing or hike along the Avon Canal. There's a wellness center and different spa packages to choose from, including treatments and swim sessions.
Visit the website to book tickets.
Address: The Hetling Pump Room, Hot Bath Street, Bath, BA1 1SJ.
5. Take a Hop On, Hop Off Bus Tour
Although they get a bit of a bad rep as being somewhat tacky, hop-on, hop-off buses are a great way to get to grips with a new city, learn a little of the history, and orientate yourself for further exploration later on, (and it seems I'm not the only one who thinks so).
This city sightseeing tour takes in all the major places to see in Bath from the River Avon and Pulteney Bridge to Bath Abbey, the Royal Crescent, and Abbey Cemetery. There are two routes, one with 16 stops and the other with 21, offering a really great chance to explore properly as tickets are valid for 24 hours. Reserve your spot for the sightseeing bus tour here.
6. Pulteney Bridge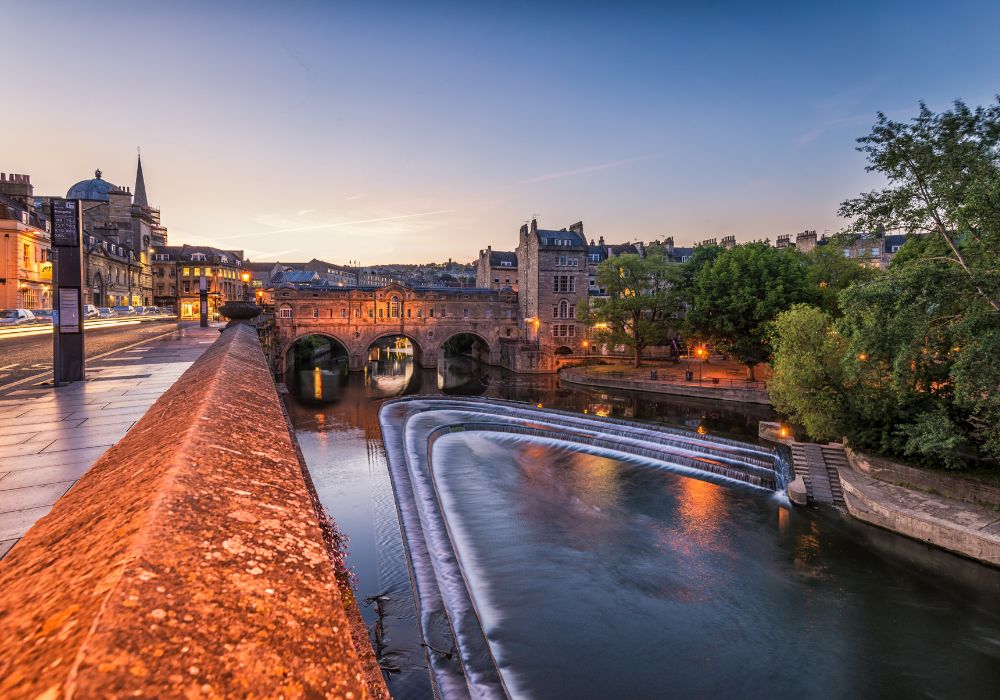 Georgian Pulteney Bridge is one of the most iconic bath attractions. The stone arch bridge was completed in 1774 and crosses the River Avon in the center of town. Like the Ponte Vecchio in Florence, the bridge houses shops and market stalls and is one of the most photographed places in the city.
The Bridge is a Grade I listed building named after Frances Pulteney, the wife of a Scottish MP (Member of Parliament). There are fantastic views of the bridge and weir below from the riverside and this is one of my preferred places in the city for a stroll.
Address: Pulteney Bridge, Bridge Street, Bath, BA2 4AT.
7. Visit the Jane Austen Centre
Fans of Jane Austen should definitely head to the Jane Austen Centre to learn about the famous writer's time in the city and how it inspired her writings. Take a journey through Regency Bath with costumed tour guides and even get dressed up yourself. You'll get to taste food from the era, attempt to write with a quill and ink pen, and get a selfie with an Austen waxwork.
You can enjoy high tea, homemade cakes, or a cream tea in the Regency Tea Room after your visit. Each year the center holds the Jane Austen Festival (8th to 17th September) which is the largest of its kind in the world. Tickets for the center can be booked online. Open daily from 10 am to 4:30 pm.
Address: 40 Gay Street, Bath, BA1 2NT.
8. Stroll Royal Victoria Park
Bath's Victorian park is a short walk from the city center and is the perfect place for a picnic, a walk, or some relaxation on a sunny, summer's day. The park was opened in 1830 by Princess Victoria and covers a whopping 57 acres. There's an aerial walkway, a botanic garden, an 18-hole golf course, tennis courts, and more.
Spending an afternoon at Victoria Park is one of the top free things to do in Bath and is a great place to unwind and watch the world go by. Pick up supplies from one of the delis in town for a picnic in beautiful surroundings. This is certainly one of my favorite places in Bath to take a break from the city.
Address: Marlborough Lane, Bath, BA1 2NQ.
9. Visit Mary Shelley's House of Frankenstein
Continuing the literary theme, Bath is also home to the House of Frankenstein, inspired by its author Mary Shelley, wife of one of my favorite poets, Percy Bysshe Shelley. This immersive and spooky museum stretches over four floors and contains interactive exhibits charting the life of Shelley and her famous monster.
Watch out for the 8-foot (244cm) Frankenstein, try the escape room, and marvel at the exhibits through a series of smells and sounds. If you're looking for fun things to do in Bath, a trip to Shelley's House of Frankenstein is a must.
The museum is open daily from 11 am to 4 pm, and you can book your ticket today.
Address: 37 Gay Street, Bath, BA1 2NT.
10. Take a Bath Ghost Tour
A fun way to sightsee in Bath is to take a guided ghost tour and learn a little something about the dark history of the city. You'll hear tales of murder, ghosts, witches, and poltergeists on this ghoulishly ghastly tour. Visit haunted locations where criminals were hanged and witches tortured, if you dare.
This is definitely one of the best things to do in Bath at night and after your tour, you can check out one of the many great pubs or bars in the city center (I recommend the Raven which is set inside an old Georgian townhouse).
You'll get to see many of the city's top sights including Bath Abbey, Queens Square, the Theatre Royal, and Victoria Park on this two-hour walk around the city. Click here to book your ticket, and if you're looking for more spooky fun, check out these excellent Jack the Ripper tours in London.
11. Herschel Museum of Astrology
Stargazers will love the Heschel Museum of Astrology which is dedicated to the esteemed astronomers of the Herschel family from Bath. It was from this very building that William Herschel discovered Uranus, (queue bad taste joke), through a homemade telescope in 1781.
There are many interesting exhibits to explore from old globes to telescopes, planetaria, diaries, a music room, and the house and gardens themselves, which are perfectly preserved. You can also pick up some interesting walking maps of Bath detailing points of interest related to the Herschels.
The museum is open daily from 10 am to 5 pm (closed between 1 pm and 2 pm on weekends) and entry costs £12 for adults. Children under 18 are free. This is one of my favorite museums in the city and one of the best things to do in Bath for families and people of all ages with inquisitive minds.
Address: 19 New King Street, Bath, BA1 2BL.
12. See the Royal Crescent
The Royal Crescent is an impressive row of 30 terraced houses stretching in a large semi-circle and is one of the best examples of Georgian architecture in the city. Visiting this impressive Grade I listed building is one of the best things to do around Bath and is a great place to get some photographs of the architecture typical of the city.
There's a large green common in front of the crescent that offers brilliant views of the houses and city. Here, you'll find the grand five-star Royal Crescent Hotel and Spa, and if you can afford the £500+ a night rooms, then this is the place for some serious pampering and relaxing.
Address: Royal Crescent, Bath, BA1 2LX.
13. Go Hiking Along the Kennet and Avon Canal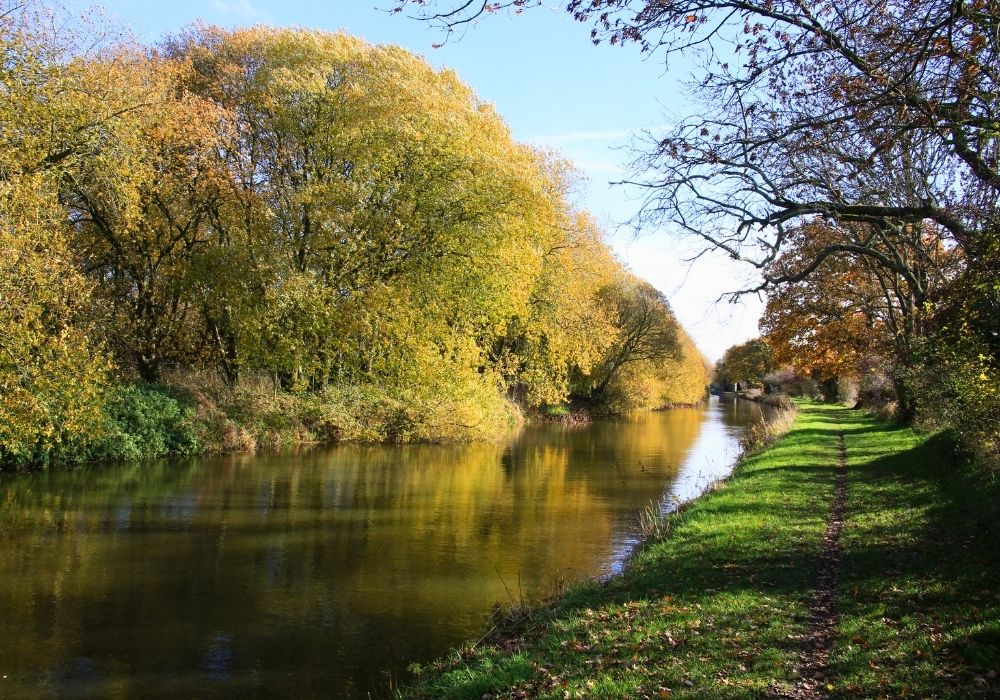 One of the best things to do near Bath is to hike or bike along the old railway line that follows the Kennet and Avon Canal. I cycled here on my way to Bristol from London and it really is one of the most beautiful parts of the country. The Canal is 87 miles (140km) long, has 104 locks, and links London with the Bristol Channel.
The canal was completed in 1810 and was restored in the 1960s, with an upgrade in 1990 when Queen Elizabeth II officially reopened the canal. It's now one of the most popular places in the west country for walkers and those wanting to galavant on the river.
The canal passes through Wiltshire and parts of the Cotswolds and offers stunning views of the surrounding countryside. If you want to get out into nature and experience the best of the British countryside, this is the perfect place to do it. It's also possible to canoe on the canal which is a great activity for families.
14. Visit Nearby Stonehenge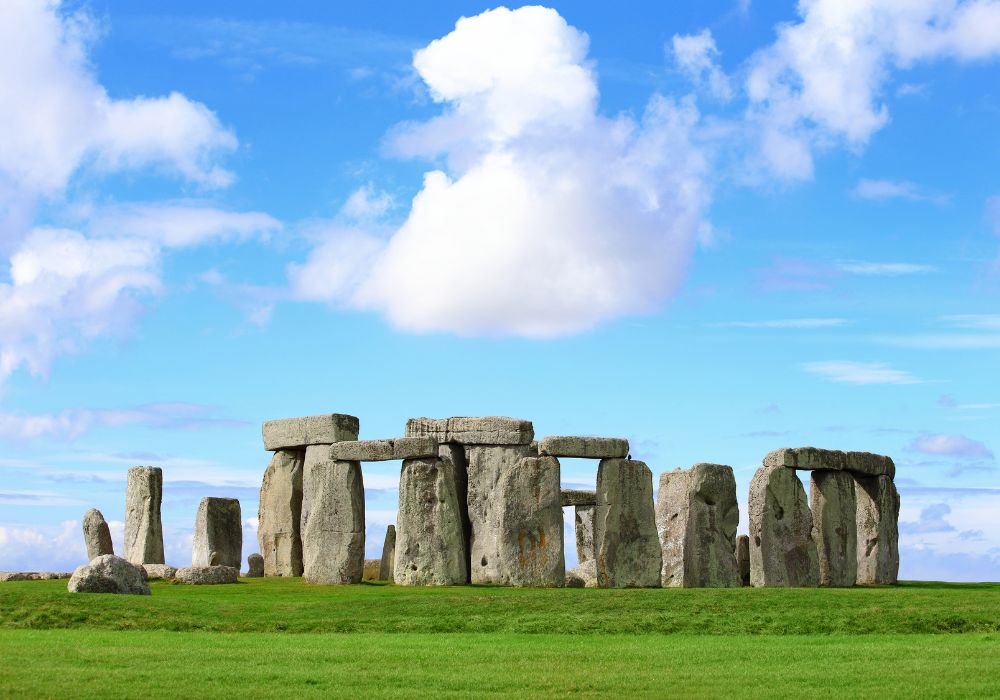 Stonehenge is just 33 miles (54 km) from one of England's most famous landmarks, Stonehenge. Witness the spectacle of these neolithic monoliths that scientists are still unable to explain. Each stone is around 13 feet high, 7 feet wide, and weighs a whopping 25 tons.
I've visited Stonehenge on many occasions on my way to Cornwall, and one of the best times to visit is at the summer solstice when the sun aligns with the stones. It's not that easy to get to Stonehenge by public transport from Bath so driving is best. Alternatively, there are plenty of tours from London that include both Bath and Stonehenge.
Address: Salisbury, SP4 7DE.
15. Take a Day Trip to the Gorgeous Cotswolds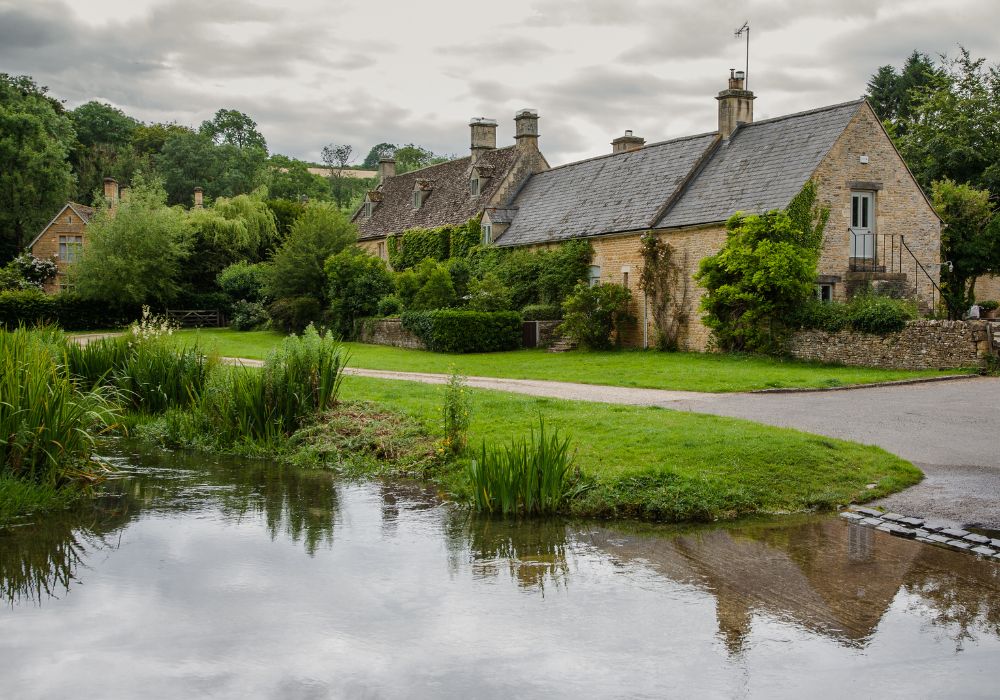 The Cotswolds is one of the best places to visit near Bath to really get a feel for rural England. With gorgeous villages filled with thatched cottages and colorful gardens that give way to rolling countryside, the Cotswolds are home to some of the prettiest villages in England.
I have friends that live in the Cotswold town of Stroud which is perfectly situated to explore the stunning Gloucestershire countryside. The nearby village of Slad is where one of my favorite writers, Laurie Lee is buried and is home to an excellent pub called The Woolpack Inn which is well worth a visit.
This full-day tour of the region from Bath includes some of the top places to visit in the Cotswolds including charming Bourton-on-the-Water, Castle Combe, Lower Slaughter, and more. Learn more and book here.
Quick Travel Itineraries For Bath
If you're still stuck on what to see in Bath, you'll find some itineraries below to help you plan your trip and get the most out of your stay. Whether you plan to visit for the day, or for longer, these itineraries include the top sights and some excellent nearby day trips too.
1 Day in Bath Itinerary
With just one day in Bath make sure to see the Roman baths, Pulteney Bridge, the ancient Abbey, and the impressive Royal Crescent. The best way to make the most of your time is to take the Roman Baths walking tour which includes visits to these top attractions in Bath.
2-3 Days in Bath Itinerary
Follow the above itinerary for your first day and on the second day take in one or two of the city's excellent museums. Literature fans can explore the Jane Austin or Mary Shelley museums or choose to marvel at the Herschel House Museum and learn about our solar system and how one of the latest planets in the solar system was first discovered.
1 Week in Bath Itinerary
With a week in Bath follow the above itineraries for your first two days and include visits to Royal Victoria Park, a walk along the Kennet and Avon Canal, and consider pampering yourself with a spa day or a rooftop swim at the Thermae Bath Spa.
Take a boat trip on the Avon and spend more time exploring the ancient city streets that date back over 2,000 years. With Bath as a base, you can get out and explore the picture-postcard Cotswolds and take a day trip to mighty Stonehenge.
Where to Stay in Bath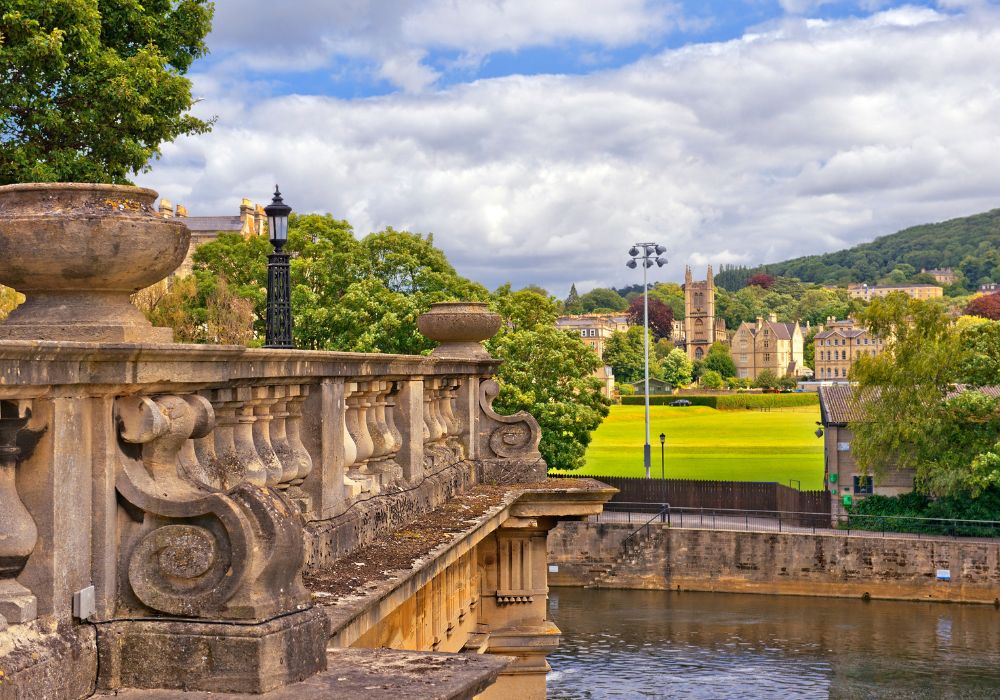 Bath is a relatively small city (it's more the size of a town) and all the major attractions are within walking distance of each other. These are a few of the best neighborhoods in Bath for tourists:
City Center – Best for Couples
The city center is the best place in Bath for first-time visitors as all the major attractions such as the Roman baths, spas, museums, shops, and restaurants are all within easy walking distance.
The Gainsborough Bath Spa and Luxury Hotel is a great place to stay if you're looking to be pampered (and one of the great things to do in Bath for couples).
Bear Flat – Best for First-Time Visitors
Bear Flat is a pleasant suburb close to the center of Bath and not far from Bath Spa station. Nearby Springfield Park offers incredible views of the city and there are lots of bars and restaurants within walking distance.
Devonshire House is a four-star hotel in Bear Flat just a 20-minute walk from the city center. The en-suite rooms come with a TV, DVD player, and tea and coffee-making facilities.
Camden – Best for Families
Just like its namesake in London, the Camden neighborhood of Bath is one of the hippest places in the city. It's located on a large hill and offers stunning views of the Bath skyline and nearby countryside. There are lots of fun activities available nearby from kayaking to mini golf and hiking, and it's less than a mile from town.
Seventeen the Town House is a four-bedroom house in Camden perfect for families. The apartment features four bedrooms and two bathrooms, free WiFi, and even a tennis court.
Best Restaurants in Bath
The city of Bath is an excellent destination for foodies thanks to its excellent restaurants and pubs that use the freshest local produce. Don't miss these great places to eat in Bath:
1. Raphael Restaurant and Wine Bar: This stylish brasserie with wooden floors and soft lighting is one of the top-rated restaurants in Bath and somewhere I've eaten on many occasions. The menu focuses on contemporary British cuisine utilizing influences from around the world. The Teriyaki-glazed cod with sesame-crushed potatoes is definitely a winner, and they serve a mean Sunday roast too.
2. The Scallop Shell: This unpretentious seafood restaurant is the perfect place for a family meal at a reasonable price. From British classics such as fish and chips to Cornish Lemon Sole and Cawsand Bay crab salad to smoked salmon, Porthilly oysters, and Moroccan spiced chickpeas, there's something here to suit all tastes.
3. Henry's Restaurant: Local chef Henry Scott promises "modern dining in humble, rustic settings" and he certainly delivers on this. The menu at Henry's makes use of the wide array of local produce from the west country, and only the freshest ingredients are used. There are five and seven-course tasting menus available from £65 and it's a great place to sample some of the best British cuisine.
4. The Pulteney Arms: This traditional British pub in the heart of Bath is one of my favorite pubs in the city thanks to its rustic charm, excellent selection of ales, and tasty menu. From dressed Cornish crab to burgers, fish and chips, and a range of homemade pies, this is one of the best places for a good meal and a few beers in Bath.
5. Sotto Sotto: Italian is one of my favorite cuisines and Sotto Sotto serves up some of the best Mediterranean dishes outside of Puglia. The restaurant is just a few steps from the Roman baths and offers fine dining in stunning surroundings. Expect high-quality Italian dishes from pasta and risotto to seafood and some seriously tasty desserts (make sure you try the tiramisu!).
Getting To Bath
Bath is easily reachable from Europe and the rest of the UK. Bristol International Airport is under 20 miles (32 km) away from the city and has flights to cities around Europe. There are two direct trains from London Paddington every hour to Bath and the journey time is just 80 minutes. Prices are around £50 ($60) if booked in advance.
For those looking to save money, there are hourly coaches from London Victoria coach station to Bath from as little as £17.50 ($21), with a journey time between three and four hours. If you have your own transport, it's a three-hour drive from London to Bath along the M4.
Bath is a small city so you don't need transport once there unless you plan on exploring further afield. All the main sights in the city can be reached on foot, and taxis and Uber can be used to get to places away from the center.
Things To Do in Bath: FAQs
Here are some answers to commonly asked questions about visiting Bath:
What is Bath known for?
Bath is best known for the Roman baths that date back over 2,000 years. The city is the home of many springs and spa resorts using the same waters the Romand did all those years ago.
When is the best time to visit Bath?
Bath makes for an excellent destination at any time of year, but to be sure to get the best out of your visit, spring through fall is the ideal time as you can experience the beautiful parks and dine outdoors.
Is Bath worth visiting?
Bath is definitely worth visiting thanks to its gorgeous Georgian, baroque, and neoclassical architecture, the scenic River Avon and canal, and some top museums dedicated to literary figures such as Jane Austin and Mary Shelley.
How many days should I spend in Bath?
Four days is a good amount of time to spend in Bath to see all the top sights and get out into the beautiful countryside nearby. If you want to explore the rest of the Cotswolds then a week is better.
Is Bath safe?
Bath is one of the safest cities in the UK and is the safest major town in Somerset. Visitors don't have to worry about violent crime but take the usual precautions when traveling such as keeping valuables safe.
What is the most popular thing to do in Bath?
Visiting the Roman baths or taking a spa day are two of the most popular things to do in Bath. Exploring the nearby parks, countryside rivers, and the canal are also popular excursions from Bath.
What is the best beach in Bath?
Bath is inland and doesn't have any beaches, however, there are lots of waterborne activities like kayaking on the River Avon or canal, or taking a boat trip around the town.
What foods should I try in Bath?
Bath is in the west country which is famous for cream teas, seafood, and fresh farm foods. Cider is one of the most famous local tipples from Bath and Somerset and is something I recommend trying. Honey's Cider is one of the most popular brands and you can find this at pubs across the city.
In Closing
Now you know what to do in Bath, one of the most picturesque cities in England. With so many wonderful things to see in Bath from the Roman baths to Pulteney Bridge, the Abbey, and the Kennet and Avon Canal this really is a great destination and one of my favorite cities in the country.
With some excellent museums, lots of parkland and wide open spaces, and some top attractions within easy reach of the city, Bath should definitely be on the list of every traveler to England. I really can't wait to get back for my next visit.
Like This Article? Pin it!