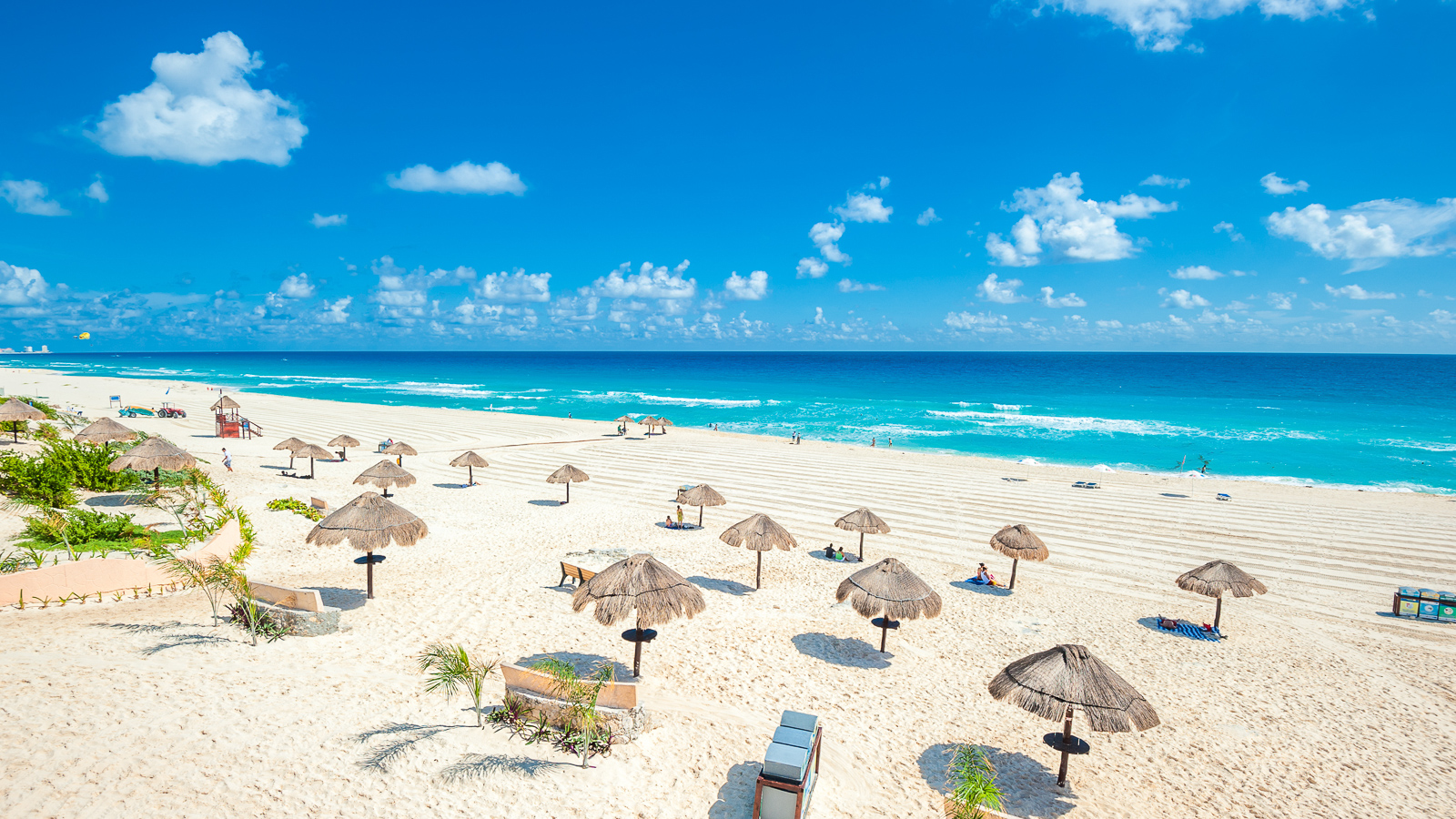 There's no doubt that Cancun Mexico is known for its incredible white sand beaches and beautiful water, but there are more things to do in Cancun than spending a day at the beach. This beautiful destination is one of the best places to visit in Mexico!
Millions of tourists flock to this coastal area each year to soak up the sun, catch some waves and feel the sand between their toes and I'd be lying if I said that wasn't my intention on my first trip to Cancun.
Cancun is an area that is biodiverse and extremely rich in culture and history. With mystical ruins that take you back in time and modern adventurous activities that get your adrenaline pumping, there truly is something for everyone.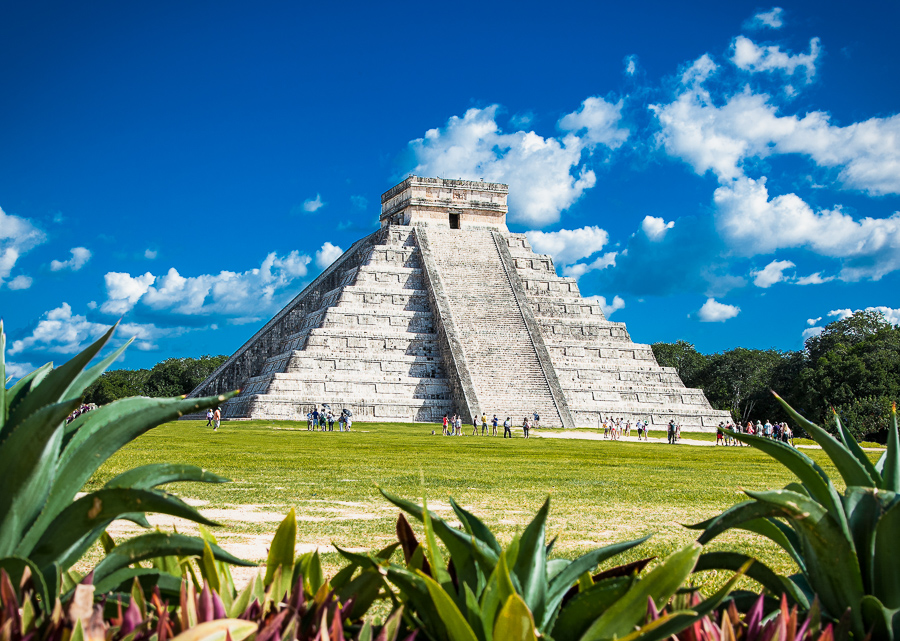 Cancun is a major tourist destination, and since the best time to visit Mexico for Canadians and Americans is the chilly winter months, Cancun's high season runs from December to April. It's an easy place for North Americans to fly to and is relatively cheap depending on what you're doing (a lot of tours can be on the pricey side, however).
It's a good idea to book your accommodation and some of the activities on this list ahead of time to ensure you get a spot. Booking online can save you money too, as companies offer discounted rates when you pre-book.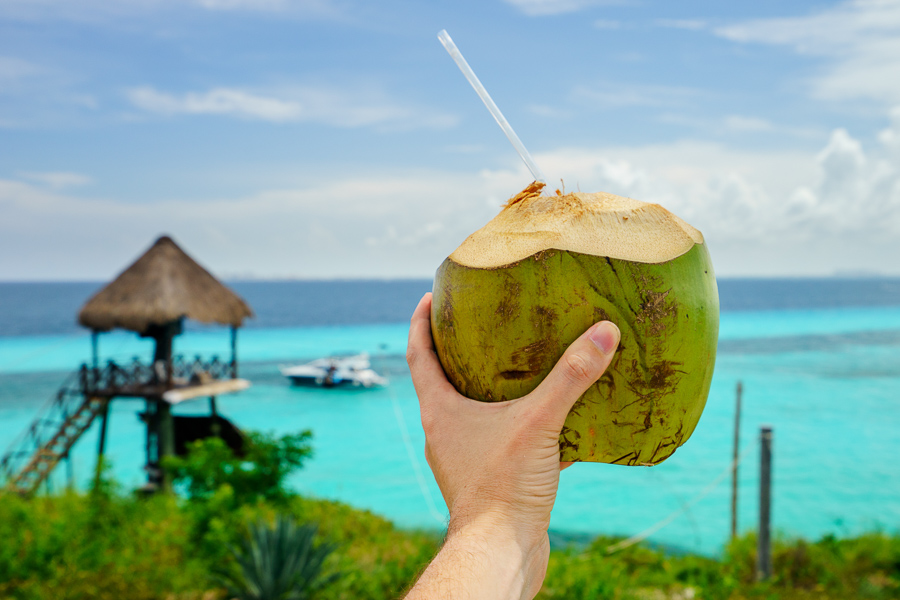 Heading to the beach and just taking a day to relax will be one of the many activities that you'll enjoy. But, Cancun isn't just a winter getaway destination, and these 21 things to do in Cancun prove just that!
Getting To and From The Cancun Airport
You have different options for getting to and from the Cancun airport — you can take a bus, taxi or private transportation booked prior to your arrival.
Many people opt to take private transportation with Cancun Airport Transportation, as this is the fastest, safest, and most comfortable mode of transport.
The vehicle provided is a van, and the ride is private — if you book it, you get the vehicle to yourself. You can also share with a group of people to reduce the cost. The vans include a bilingual driver, air conditioning, and insurance. Another popular option is with Etransfers. Click here to compare costs.
Best Things To Do in Cancun
Now that you know how to get from the Cancun airport to your hotel, here's our list of the best things to do in Cancun.
1. Swim in an Underground River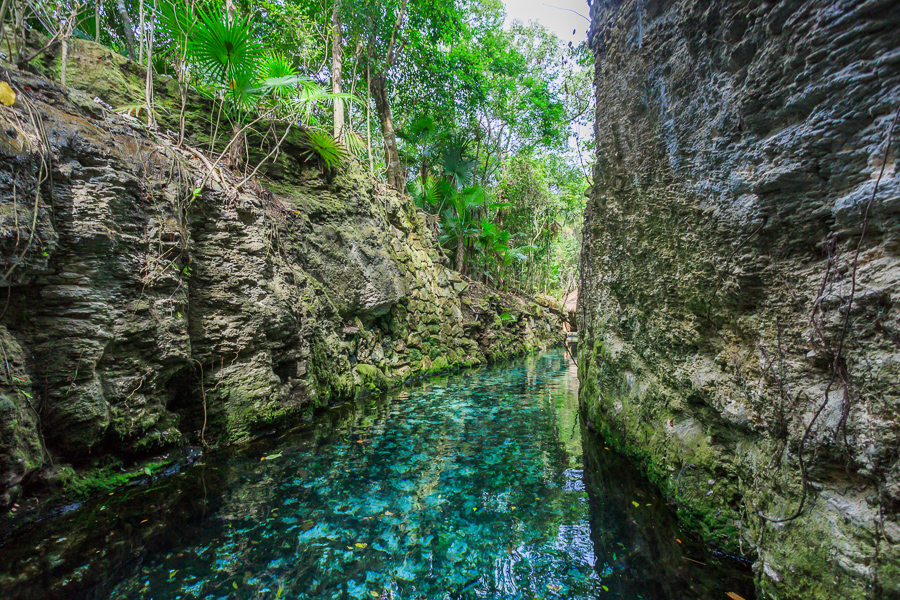 Cancun and the surrounding area are really well-known for their hidden underwater world. In fact, the underground rivers that flow in the Yucatan Peninsula are the longest network of underground rivers and caves in the world.
Goats On The Road Pick: #1 Best Adventure Activity
Adventure Day in Cancun: Kayak, Rappel, Zipline, Snorkel and Cenotes…this adventure is a must! Spend the day in the water while enjoying lots of activities along the way. A fantastic picnic lunch is included (with drinks), as is transportation and more. Book your spot here.
There are a few places near Cancun where you can enjoy this network of crystal clear water, the most popular place being Xcaret (which is home to a plethora of unique activities).
Xcaret has three rivers you can float down and the slow-moving water is perfect for laying back and relaxing. A great break from the beach without being too far from the water. On this trip (which is eco-certified), you'll rappel, kayak, go snorkeling, go ziplining, and float in inner tubes in natural pools.
Plus, you'll learn about the cenotes you visit and how they're being conserved. During the day, snacks and drinks are included, as well as a nice picnic for lunch (including wine or beer).
Click here to learn more about this fun activity in Cancun, which is perfect for couples, groups, families or solo travelers.
Swimming in the underground rivers can be done any time of the year as well, making it a great activity year-round, and one of the top things to do in Cancun.
Swimming in an underground river is one of our bucket-list things to do in Cancun
2. Take a Catamaran Cruise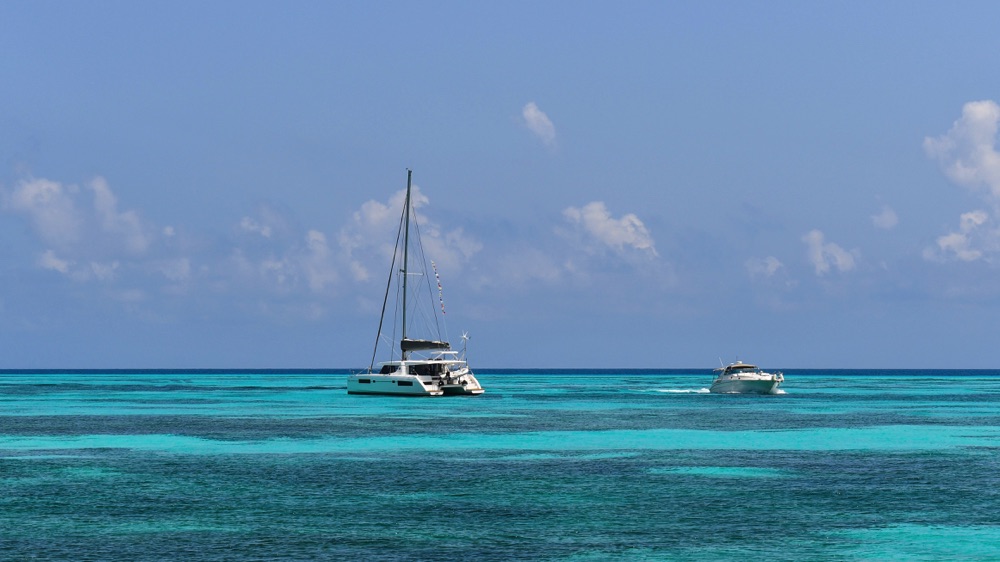 If you're wanting to participate in activities in Cancun that allow you to just sit back and relax without getting sand everywhere, take a catamaran cruise.
Whether you take one during the day to enjoy the sights, go snorkelling, or simply bask in the sun with a cold adult beverage, a catamaran gets you offshore without any stress.
On this catamaran trip, you'll visit the National Reef Park of Puerto Morelos, swim at the beach, and do some snorkelling. All equipment and lunch are included…plus, there's an open bar. Find out more here.
Better yet, hire this small yacht and enjoy a private boat trip around the gorgeous Caribbean sea. Snacks, drinks, and snorkel gear are included. The price of booking this private boat is similar to joining a group catamaran trip! Book your private yacht and enjoy this fun day trip in Cancun.
☞ SEE ALSO: 21 Best Things To Do in Cozumel
3. Go Snorkelling (one of the top things to do in Cancun)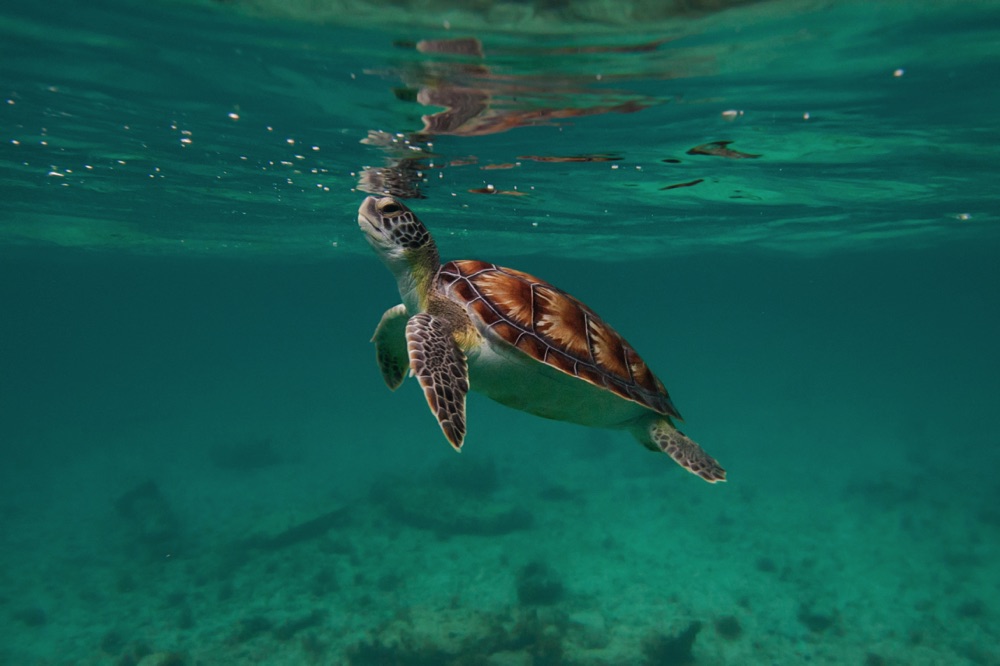 Snorkelling is one of the more popular things to do in Cancun, as it is in many places around the world with beautiful water and reefs.
Goats On The Road Pick: #1 Snorkelling Trip!
Speedboat and Snorkel Trip: Drive your own 2-person speedboat through beautiful canals, snorkel at Punta Nizuc, and finish off with a visit to the underwater museum. This fun, 2-hour trip is very popular, book your spot here.
Cancun is home to one of the largest reefs in the world, the Great Mayan Reef. The reef stretches over 1,000 kilometres from the Yucatan Peninsula to Belize and Honduras.
One of the best sites for tourists to experience this underwater world is just at the end of Cancun's hotel zone in an area known as Punta Nizuc.
Punta Nizuc is a calm and quiet location that has an array of coral, fish and a few underwear sculptures from Cancun's underwater museum, MUSA.
You have to book a tour to Punta Nizuc (it was open to the public but unfortunately isn't anymore), the tours include the boat out to sea and rental equipment for around $50. Click here to reserve your spot.
Meeting Point Address: interior de estacionamiento del restaurante fred´s house, k.m. 14.6, Blvd. Kukulcan, Zona Hotelera, 77500 Cancún, Q.R., Mexico. Click here for directions.
Alternatively, if you pay for admission to Xcaret or Xel-Ha there are snorkelling areas in the parks that are also spectacular. Bring an underwater camera to make sure you can capture the action under the sea!
Xel-Ha Address: Chetumal – Puerto Juarez Federal km 240, Q.R., Mexico. Get directions here.
4. Go Zip Lining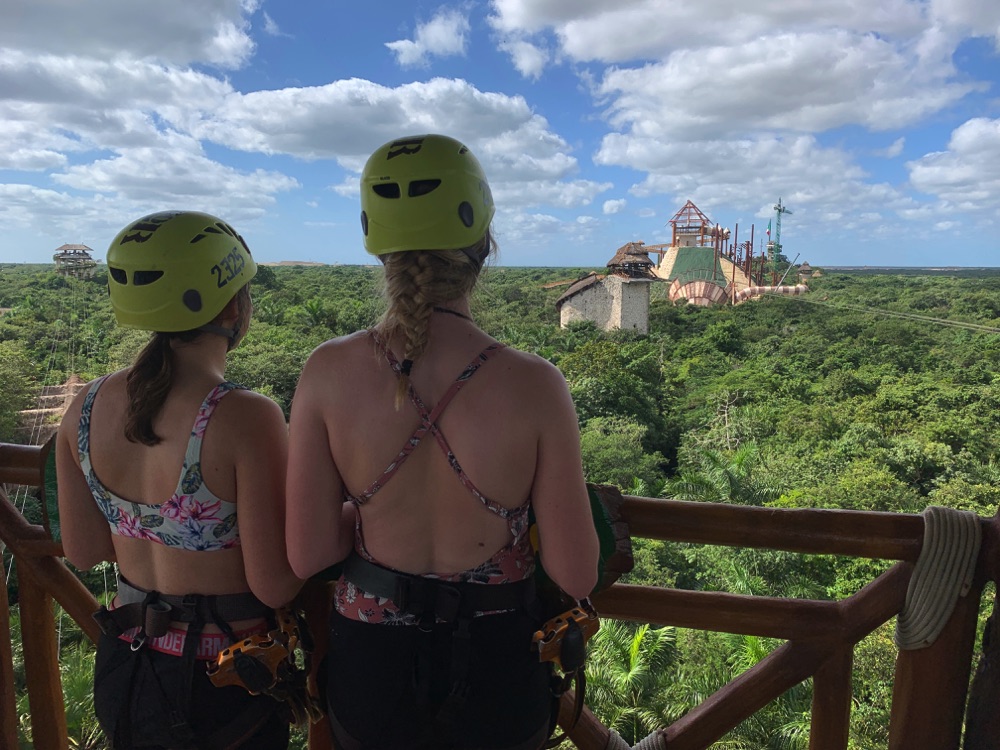 Ziplining was one of my favourite activities in Cancun!
If you're looking for more thrilling things to do in Cancun then you absolutely have to go zip lining. Selvatica is an adventure theme park that offers 4 different zip lines in one package.
On their Extreme Canopy tour, you'll soar above the jungle, splash into cenotes, fly like Superman, and experience the rollercoaster of zip lines on their Tarzania Zipline.
There are a total of 10 different zip line circuits, so you are guaranteed to have a blast.
The Extreme Canopy Tour at Selvatica is around $95 . Click here to learn more and to book this tour which includes transportation, lunch, ziplines, cenotes and more. Ziplining is one of the top things to do in Cancun with kids — but, it's fun for adults as well!
Ziplining is also one of the most popular things to do in Puerto Vallarta, if you're planning a trip to the west coast of Mexico, make sure you check it out!
Address: Selvatica, Ruta de los cenotes Km 18 Carretera, Quintana Roo Puerto Morelos – Leona Vicario, Sin Colonia, 77580 Puerto Morelos, Q.R., Mexico. Get directions here.
5. Visit Chichen Itza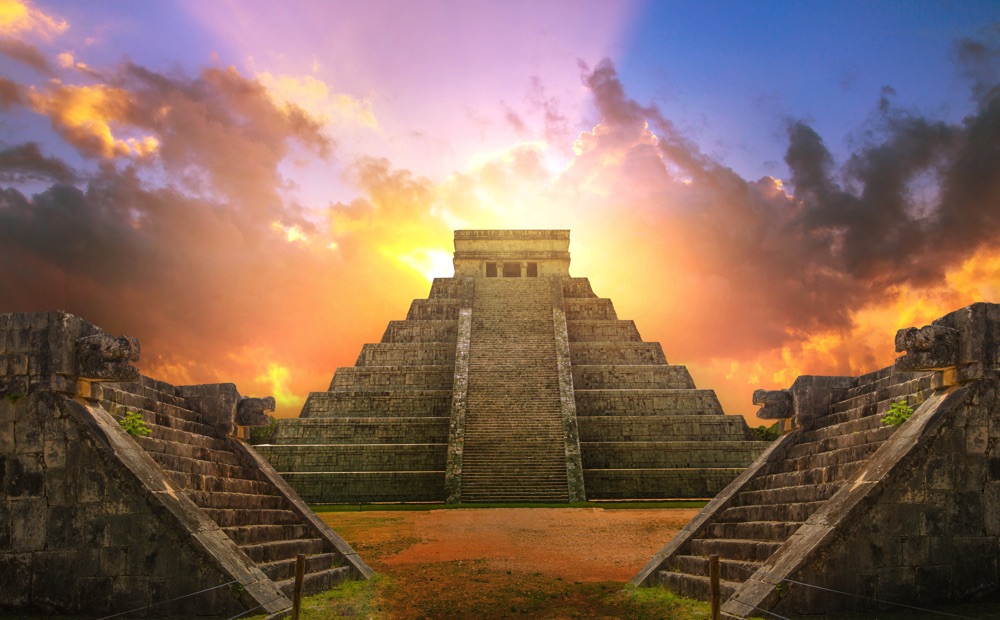 Chichen Itza is arguably one of the largest tourism draws near Cancun and was even named one of the new 7 Wonders of the World.
This ancient Mayan site was one of the largest Mayan cities and was a major economic power in the region. On top of it all, Chichen Itza is thought to be one of the great mythical cities of Mesoamerica.
Chichen Itza is home to many ancient buildings that are still in great condition including the Great Ball Court, The Temple of Warriors, El Caracol (an ancient observatory) and the most popular – El Castillo (The Castle).
El Castillo is also known as the Temple of Kukulkan — a snake deity which in Chichen Itza's case is thought to symbolize divinity in the Yucatan. At the base of the temple are two snake heads which are carved from stone and are a physical representation of Kukulkan.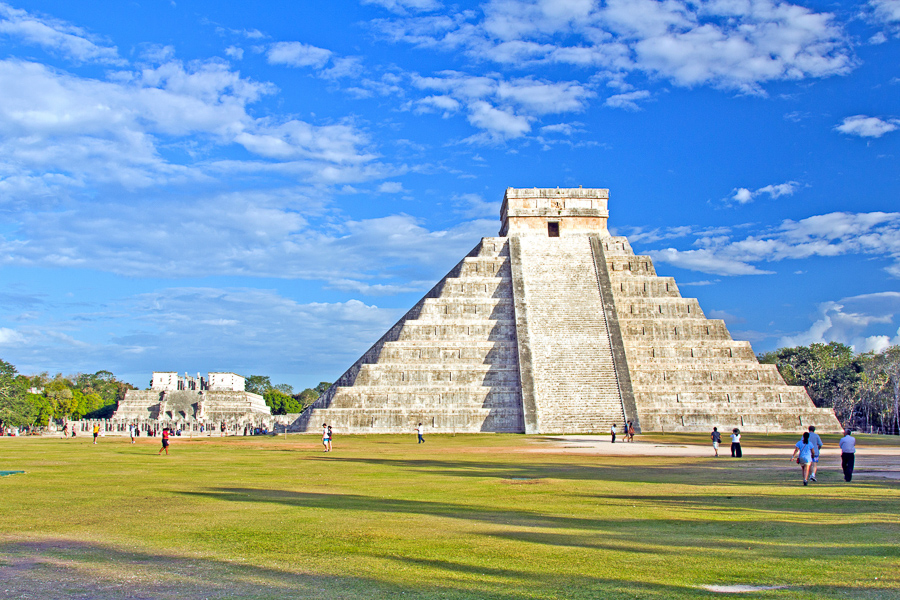 Twice a year on the Spring and Autumn equinoxes the afternoon sun casts an uncanny shadow down the side of the temple, a shadow that replicates the body of a slithering snake.
Hundreds of thousands of people visit Chichen Itza each year during this time to see this rare occurrence. It would be a great time to visit if you aren't afraid of crowds and want a unique experience at Chichen Itza.
The temple also holds one more mystery that everyone who visits the site can experience, a mysterious noise. If you clap your hands at the base of El Castillo you'll hear a very distinct bird-like noise.
After years of research, scientists matched this noise with that of the Quetzal. The Quetzal is an elusive and colourful bird that lives in Central America whose feathers were more valuable to the Mayans than gold.
Do not miss Chichen Itza, it's one of the best day tours from Cancun. To book a highly-rated trip to Chichen Itza, click here.
Address: Get directions to Chichen Itza here.
6. Visit Tulum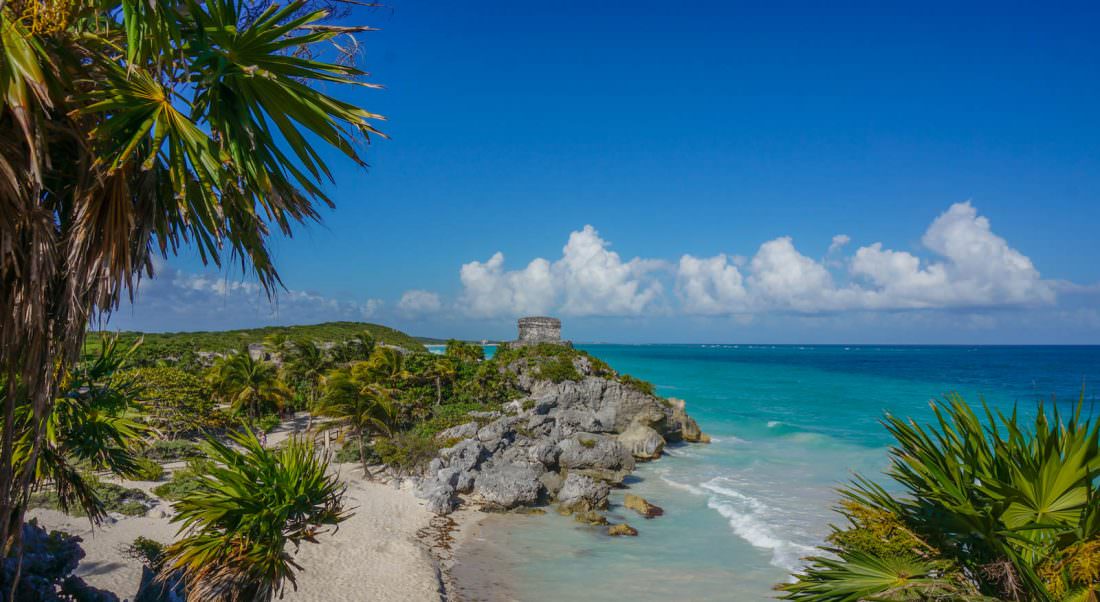 If you haven't quite reached your quota of ancient things to see in Cancun, then you may want to visit Tulum. Tulum was once a walled port city that was protected from invasion and continued operating normally for nearly 70 years after the Spanish Conquest.
Sitting on the cliffside overlooking incredible beaches and perfect blue water, Tulum was one of the largest cities built by the Mayans. A trip to Tulum and its ruins is something you don't want to miss, it's also one of the top things to do in Playa del Carmen.
Make sure to bring your swimsuit and take a dip in the gorgeous sea. Click here to see tours from Cancun to Tulum.
7. Visit Downtown Cancun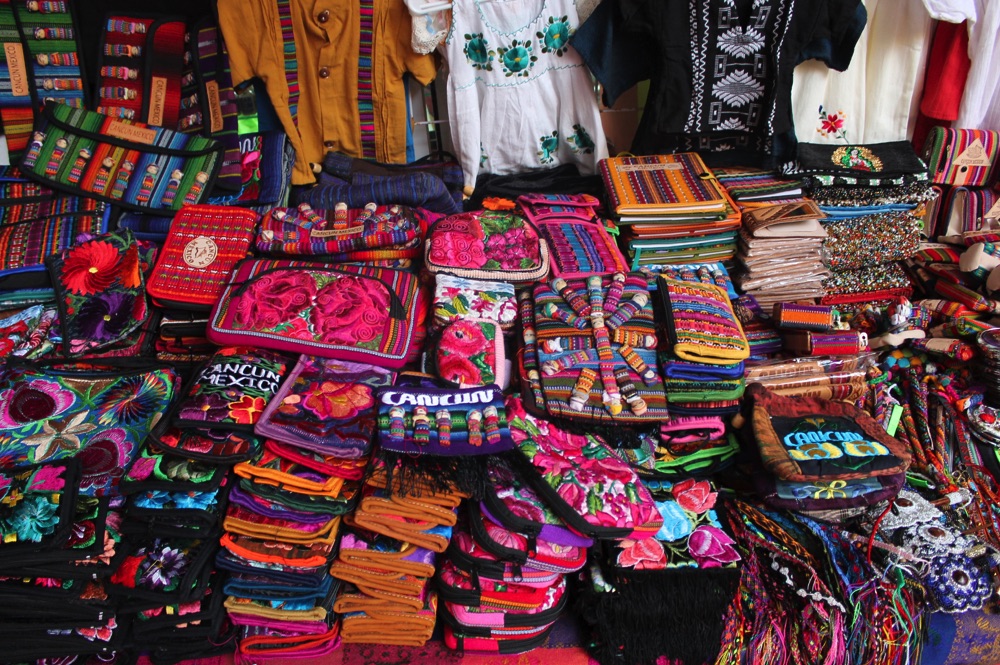 Downtown is one of the many places in Cancun most tourists seem to skip in exchange for beach visits or other activities.
But if you want a more authentic feel of the city away from the Cancun Hotel Zone (which sometimes feels like the Vegas strip) then you'll want to head downtown.
Downtown is home to a plethora of activities and restaurants offering a look into local life, a trip here is one of the better things to do in Cancun for sure.
If you are looking to do a bit of souvenir shopping in Cancun, Mercado 28 (Market 28) is the perfect place. Mercado 28 is a flea-market-style shopping area that has an abundance of handmade items, pottery, t-shirts, and souvenirs.
Expect to bargain with the shop owners, most of them can be aggressive with their pricing but if you are willing to haggle you might just manage to find yourself a great deal.
Address: Mercado 28, Xel-ha Mz 13, 77509 Cancún, Q.R., Mexico. Click here for directions.
8. Go Paddleboarding
If you've never been stand-up paddleboarding (SUP), you should definitely consider it when planning your list of things to do in Cancun. Paddleboarding is an easy activity that anyone can do, even if you don't feel like you have good balance!
Wheether you're a beginner or more advanced, it's a good idea to book a SUP trip with a guide. On this trip, you can choose to paddle at sunrise or sunset, whichever you prefer.
Paddleboarding is a relaxing activity in Cancun that's also a great form of exercise after eating a bunch of tacos! A true win-win. Find out more about paddleboarding trips in Cancun here.
☞ Planning a trip to La Paz Mexico? Check out our post – 21 Things To Do in La Paz
Meeting Point Address: Blvd. Kukulcan km 3.5, Kukulcan Boulevard, Zona Hotelera, 77500 Cancún, Q.R., Mexico. Click here for directions.
9. Spend a Night Out (Things To Do In Cancun For Partiers)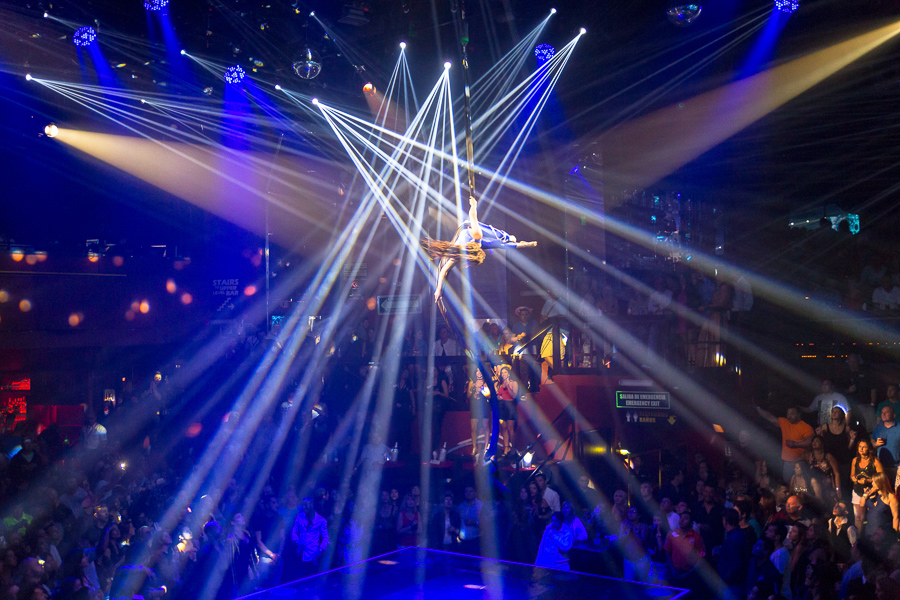 Forum By The Sea is a large area with tons of shops, restaurants (like the Hard Rock Cafe) and some of Cancun's most famous nightclubs.
Coco Bongo is arguably the most popular destination for people looking to experience a show and disco (dancing, not a 70's disco).
The show at Coco Bongo is nothing short of amazing with flying acrobats, musical tributes and a party atmosphere that you won't soon forget.
Tickets for entry can range in price depending on where you want to sit and whether you just want to attend the party.
Click here to learn more about tickets, which includes the amazing shows, entrance fee, snacks, and premium drinks. Partying at Coco Bongo is one of the best things to do in Cancun at night. Book your spot here.
Address: Coco Bongo, Blvd. Kukulcan 30, Punta Cancun, Zona Hotelera, 77500 Cancún, Q.R., Mexico. Click here for directions.
10. Visit The Hotel Zone Shops & Restaurants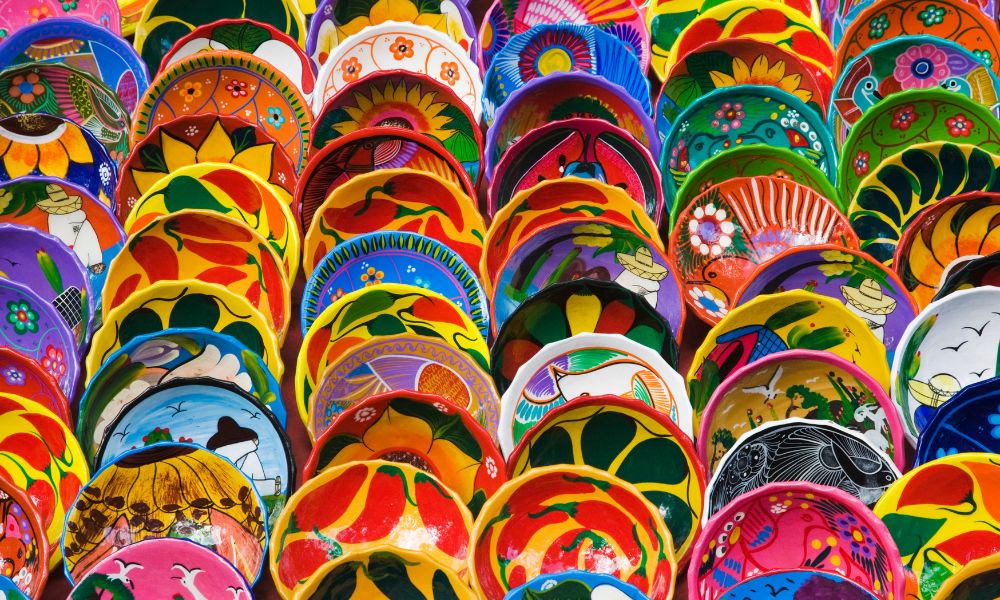 Haven't gotten your shopping fix or want to see more places in Cancun to shop and eat? Forum by the Sea (where Coco Bongo is also located) is where you'll want to go.
The Forum is more of an American-style shopping and dining area which features restaurants like Hooters, The Hard Rock Cafe, Häagen-Dazs and multiple shops that sell swimwear, sunglasses, clothing, jewellery, and souvenirs.
Most of the time, however, you'll find better deals on your souvenirs at Mercado 28. Having said that, shopping is still one of the top things to do in Cancun hotel zone.
Address: Forum by The Sea, Blvd. Kukulcan, Punta Cancun, Zona Hotelera, 77500 Cancún, Q.R., Mexico. Get directions here.
11. Explore the Cenotes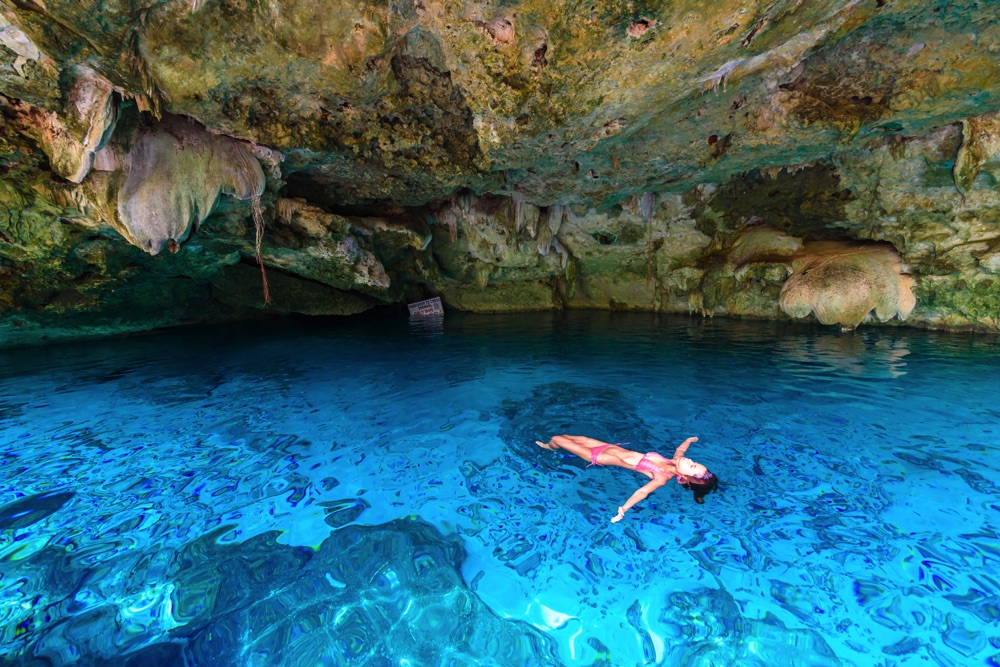 Not only is Cancun famous for its underground rivers but it's also famous for its incredible Cenotes.
Cenotes are underground caverns that are formed after limestone caved in leaving a giant hole in the earth. This hole typically leads to a pool that in most cases has beautiful aqua-coloured water.
Swimming, snorkelling, walking and scuba diving in cenotes are some of the things to do in Cancun that are enjoyed both by tourists and locals.
Ik Kil is one of the most popular cenotes for swimming and is located near Chichen Itza and Valladolid. This tour will take you there on a full day trip. Another popular one is near Valladolid named Cenote Zaci.
12. Experience Xoximilco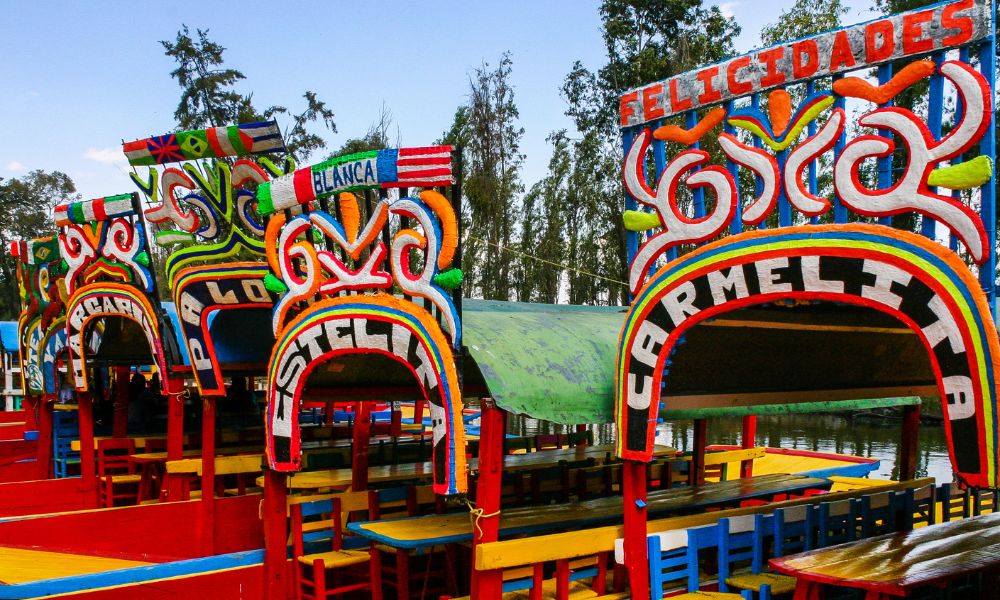 Looking for a Mexican fiesta? Look no further than Xoximilco, one of the most traditional things to do in Cancun. This Mexican party takes place on board a decorative and colourful Mexican gondola.
The gondola takes you through incredible canals that showcase the scenery. The evening continues with delicious Mexican cuisine paired with live music, culture, and traditions.
Book your tickets to this fun event and enjoy a night out! Have a look at this highly-rated, popular tour to learn more and reserve your spot.
☞ If you're planning a trip to other places in Mexico, make sure to check out our travel guide to Manzanillo Colima, 10 awesome things to do in Guanajuato and 15 cool things to do in San Pancho. Mexico is such a diverse destination, backpacking Mexico will be a trip you never forget!
13. Ferry to Isla Mujeres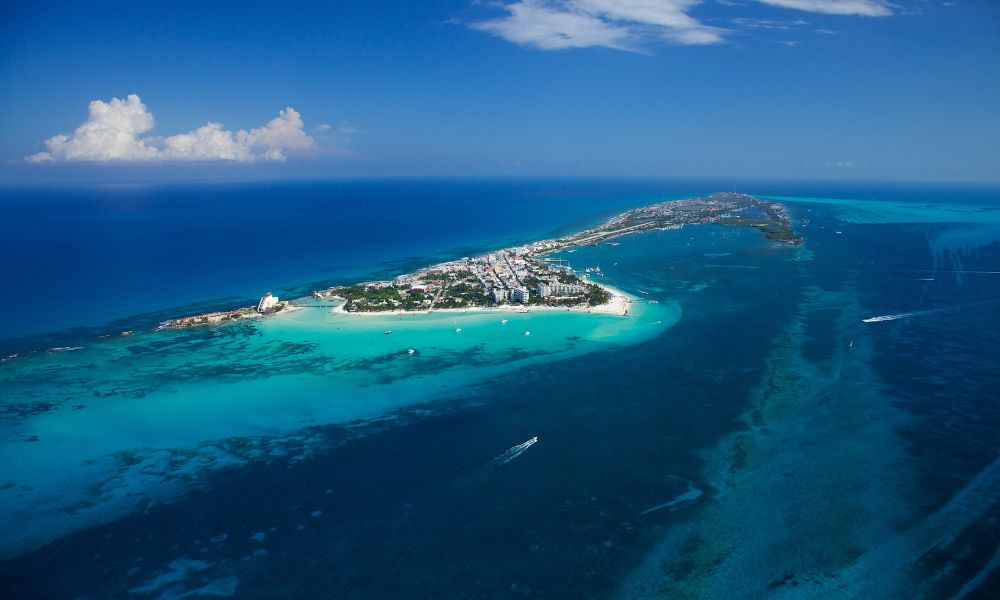 A short ferry ride will take you to Isla Mujeres, a small island in the Caribbean Sea that is only 7km long and around 650 metres wide.
Isla Mujeres is popular for its incredible beaches, fresh seafood, large sea turtle population, and spectacular snorkelling and scuba diving. If you're looking for a good snorkelling adventure on Isla Mujeres head to the Garrafon National Reef Park.
Perhaps you don't want to snorkel but want to get closer to the local turtles visit the island's turtle sanctuary and rehabilitation centre, Tortugranja. You can also take a glass-bottomed boat ride to see the underwater world without getting wet!
Click here to book your return ferry tickets from Cancun to Isla Mujeres with the Ultramar ferry. Another option for going to Isla Mujeres is to join a day trip. On this catamaran tour, you'll enjoy snorkelling, an open bar, and lunch.
Finally, if you'd like to watch the sunset, don't miss this sunset sail from Cancun to Isla Mujeres. This is one of the more romantic things to do in Cancun. Book your spot here.
14. Get a Picture With The Cancun Sign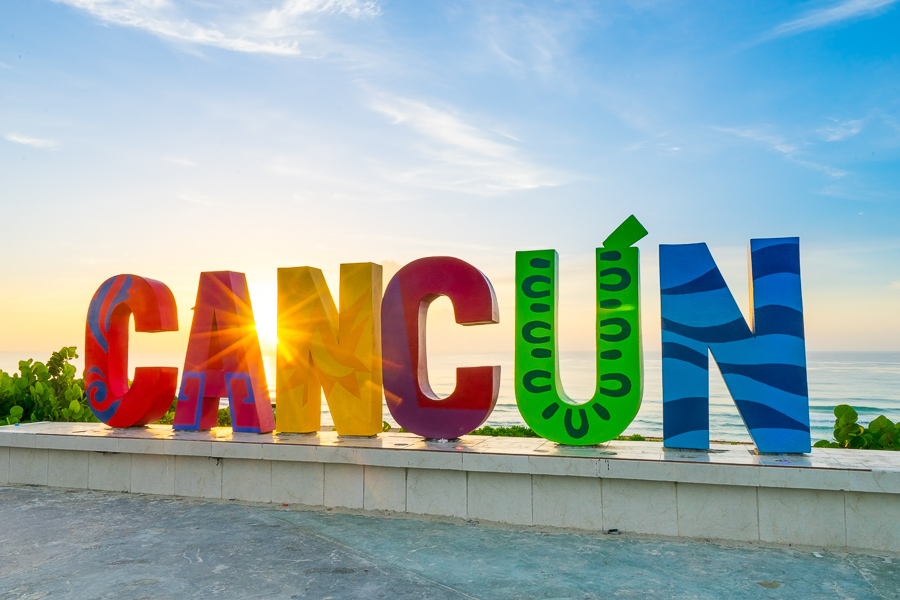 Easily accessible by bus (which are safe, friendly and typically quite quick) the Cancun sign is located on the Playa Delfines beach. This is one of the more touristy activities in Cancun but makes for a great photo to bring back home.
Behind this bright and colourful sign is an incredible white sand beach with bright blue waters, making it not only a great photo opportunity but also a perfect stop on your list of things to do in Cancun that don't take an entire afternoon.
It is also a great place to have a picnic and watch the beautiful Cancun sunset! This is one of the best free things to do in Cancun.
Address: Punta Nizuc – Cancún 335, Zona Hotelera, 77500 Cancún, Q.R., Mexico. Find it here.
15. Visit Valladolid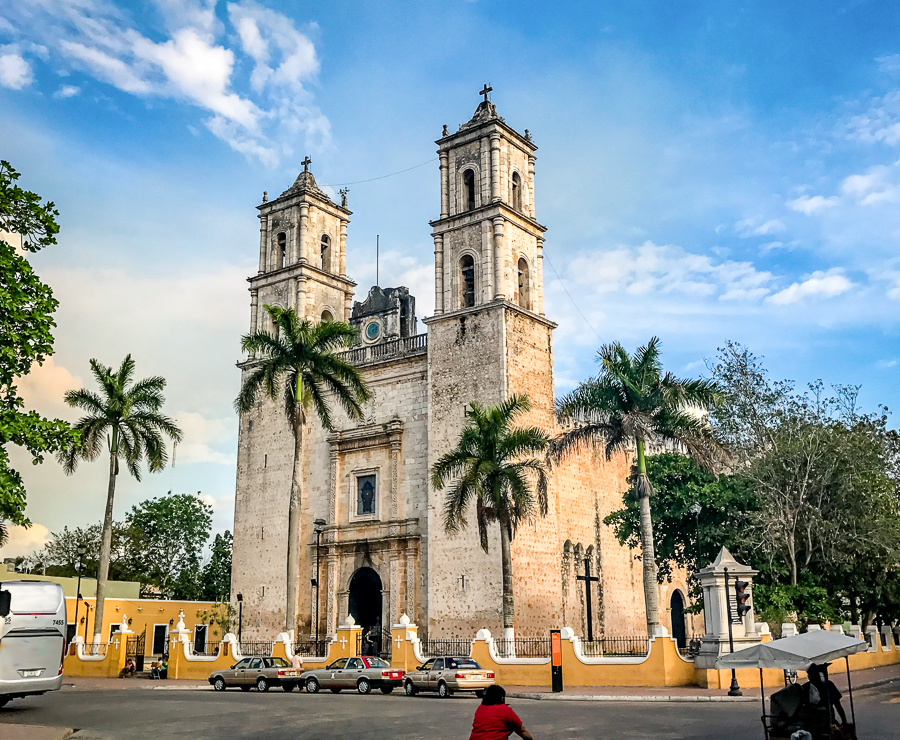 Of all the places in Cancun and its surrounding region, Valladolid is arguably the most magical and quaint, making it the perfect destination for a day trip. We loved our trip to Valladolid and would gladly return.
Located about an hour and a half to two hours from Cancun, Valladolid channels its Spanish roots in looks but also showcases its Yucatan history and culture.
Most of the town's layout consists of large blocks of buildings and houses with lavish, green courtyards in the middle.
These beautiful courtyards make amazing places to grab some lunch and view the Spanish-inspired architecture. The most popular site in the small town is the towering Cathedral of 'San Servacio o Gervasio'. Learn more about trips to Valladolid here.
16. Join a Temazcal Ceremony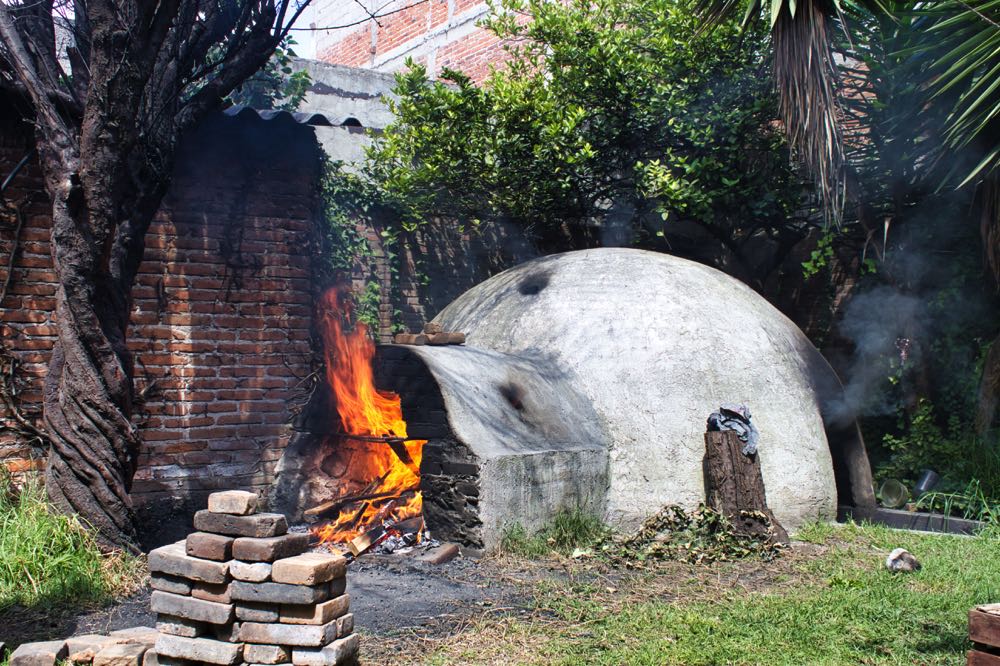 A Temazcal is an ancient Mayan ceremony that is meant to be a source of energy and health. The ceremony takes place in a hut where volcanic rocks are heated and glow in the dark as the hut becomes a sauna.
The aroma of herbs surrounds you as you kick back and soak it all in. You will then be taken through various stages of increasing and decreasing heat while you listen to live music.
It is without a doubt one of the best places in Cancun to truly sit back and relax. Typically the ceremony concludes with a refreshing dip in a cold bath and light fruit snacks and natural beverages.
Prices can vary for these ceremonies but most are around $125 and take around 90 minutes. Click here to learn more about this purification ceremony and to book an experience.
17. Try Some Tequila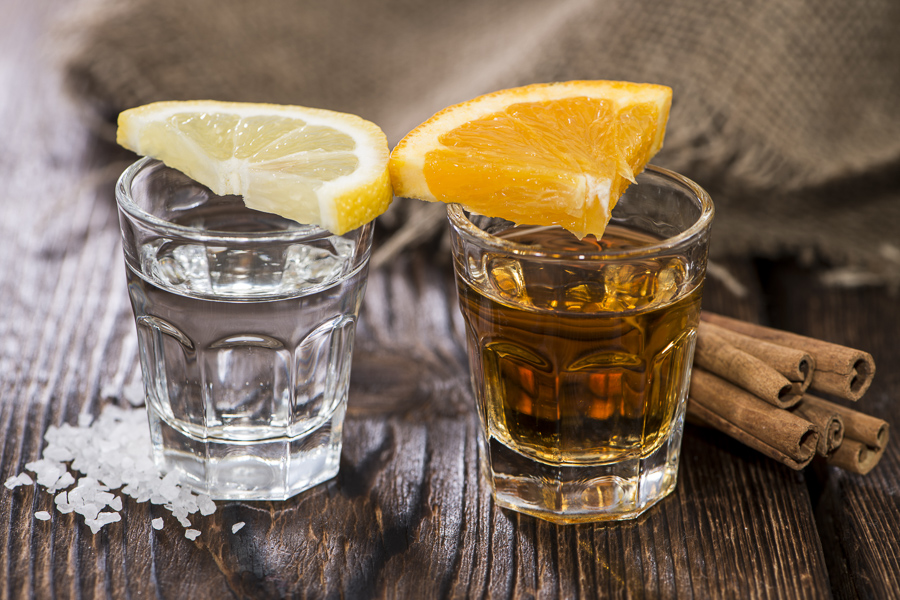 This is probably one of the things to do in Cancun that you've already added to your list. Tequila and tequila tasting is considered an art in Mexico and is something Mexicans take very seriously, so why not enjoy this age-old tradition?
The Restaurante La Destileria has a tequila museum that lets visitors learn about the origins of tequila and gives some insight into the distilling process. And yes, at the end of the tour, there is a tequila tasting.
Hacienda Sisal is another restaurant that offers an array of tequila and even pairs them with items on their menu for a more unique experience.
Doing a tequila tasting is something that can be enjoyed anytime, making it one of the top things to do in Cancun when it rains.
18. Eat at Señor Frogs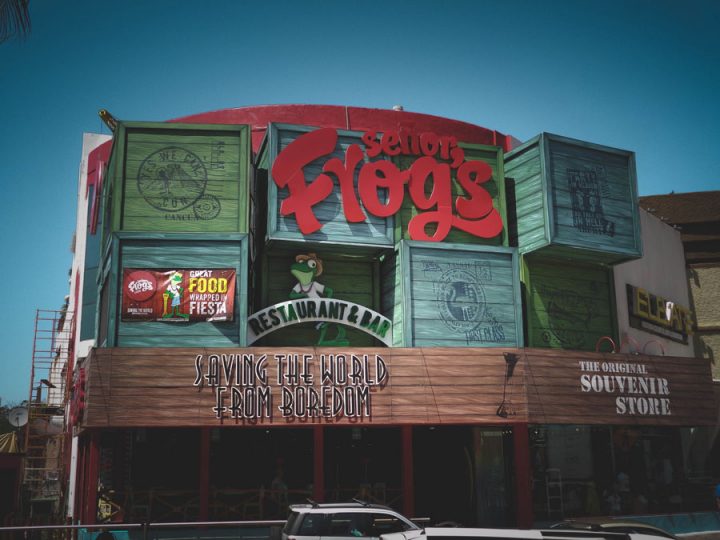 This will arguably be one of the more touristy things to do in Cancun, but it doesn't take an entire afternoon and fills you up with delicious food. Even my parents who took a vacation to this infamous 'fun and party-filled' restaurant had a great time.
The funky decor and an untraditional restaurant vibe, make Señor Frogs a great place to grab a meal and just enjoy yourself. It's a bit of an institution.
If you're really into the party scene or looking for a place to spend a night out, Señor Frogs also hosts events like foam parties, beach parties, and an open bar.
Address: Señor Frogs, Blvd. Kukulcan km. 9.5, Punta Cancun, Zona Hotelera, 77500 Cancún, Q.R., Mexico. Click here for directions.
19. Walk the Cancun Hotel Zone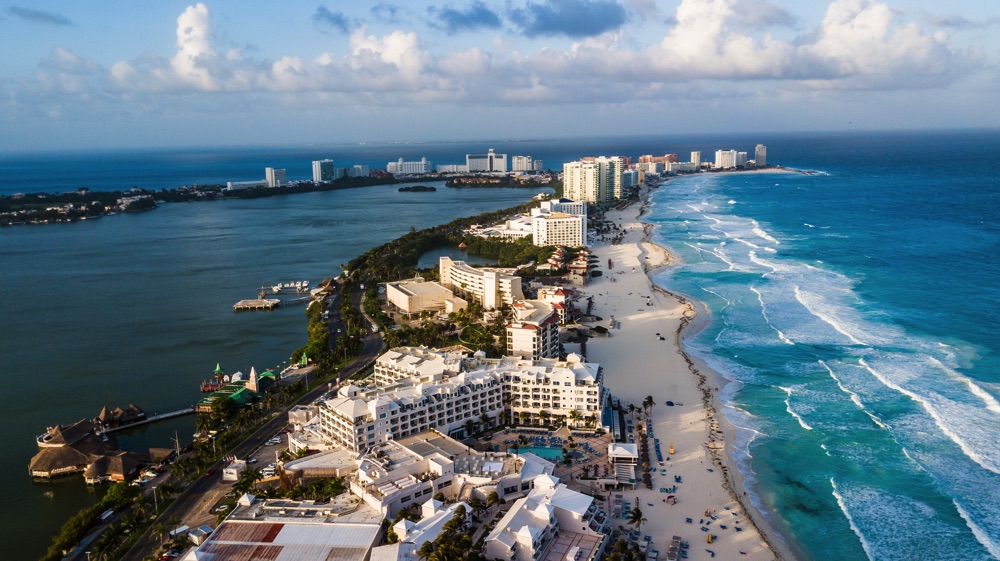 As mentioned before, the Cancun hotel zone is very reminiscent of the Vegas strip except that it's a lot more tropical and much more humid.
Bring some sunscreen because this is one of the things to do in Cancun that will get you a ton of sun exposure and the Mexican heat is not forgiving.
The hotel zone has amazing views of the ocean, lots of shops (even a little shopping village with bridges and pathways), restaurants, a Mayan museum, a water park, an aquarium, and even iguanas soaking up the sun!
20. Visit Sian Ka'an Biosphere Reserve
Sian Ka'an Biosphere Reserve is located just near Tulum and was declared a UNESCO site in 1987 because of its unique biodiversity and Mayan heritage. The entire reserve is about 1.3 million acres and is the largest protected area in the Mexican Caribbean.
Sian Ka'an is home to nearly 115 species of mammals and over a thousand different species of insects.
On top of its extremely unusual and diverse animal population, the reserve has over 1048 species of flora. You can do boat tours that take you through the reserve making it one of the most incredible things to do in Cancun that your friends have probably never even heard of!
The best way to visit on a day trip from Cancun is by tour. On this small group tour, the boat, guide, lunch, and drinks are included. Transporation is included as well, but it costs a bit more for a pick-up from Cancun. Click here to learn more.
21. Go ATVing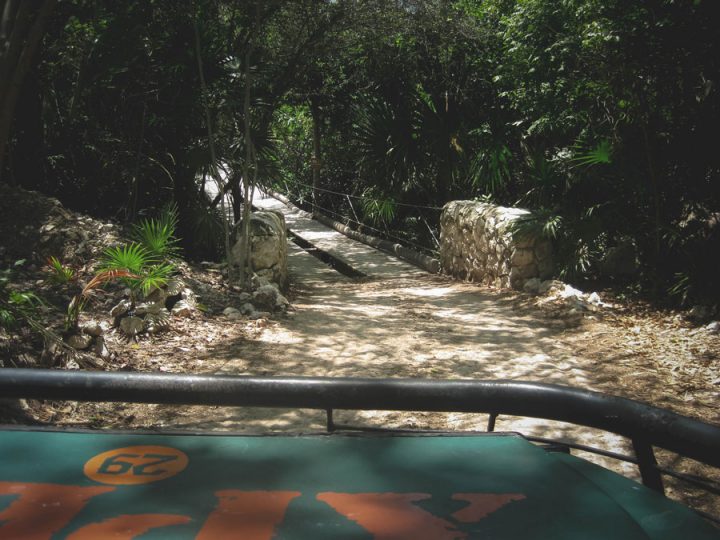 Plenty of different companies offer ATV activities in Cancun, most of which take you through the jungle – getting you closer to nature while nurturing your thrill-seeking ways.
Xplor is a great place to go ATVing and their ATV track is included with their park entry pricing. Click here to learn more about the Xplor day pass.
Better yet, with this trip, you'll go horseback riding, ziplining and ATV'ing in the jungle. Three adventures in one! Click here to learn more.
22. Bonus! Volunteer with Animals
If you're an animal lover and have some extra time to spend, volunteering with abandoned, abused and exploited animals is one of the most rewarding and memorable things to do in Cancun.
Located about 40 minutes from the city, you'll find Tierra de Animales. Here, you can volunteer with dogs, and help out around the sanctuary where needed.
Have a look at their website here for volunteer times, and on their Facebook page for more information.
Now You Know What To Do in Cancun!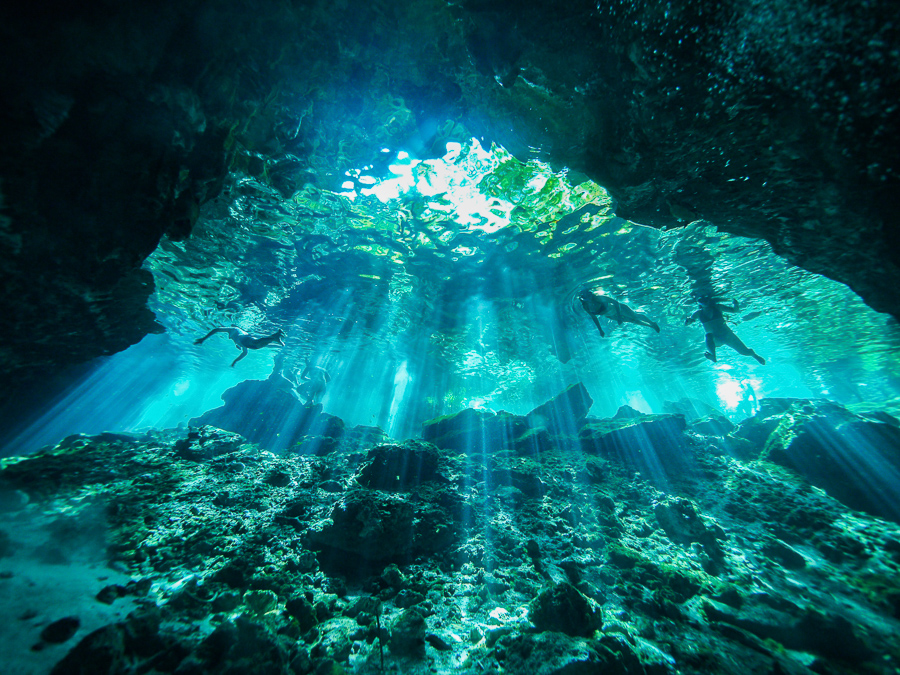 Whether you plan on visiting Cancun alone, with your spouse, your friends, or your family, you will find something unique and fun to do.
I hope this post showcases how diverse Cancun truly is and breaks the typical stereotype that it's just a beach destination.
Just because travellers typically go somewhere for the beaches doesn't mean that's all there is to see and do there. Plan a vacation to Cancun to include some of the things on my list, and you'll have a holiday you won't soon forget!
Like This Article? Pin it!