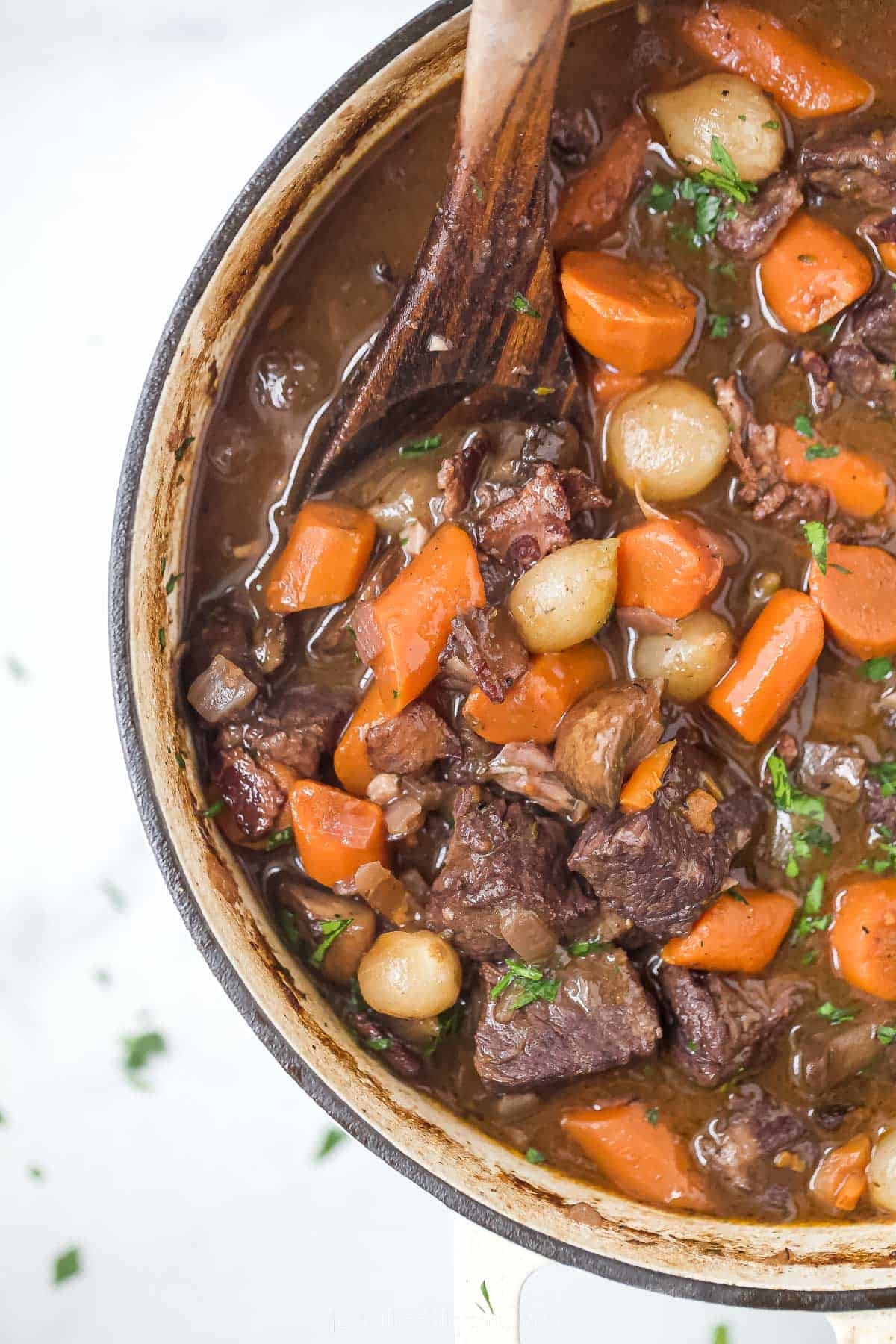 You're going to be bragging about this Beef Bourguignon for a while. This classic french dish boasts of deep flavors from rich tender beef, bacon, carrots, onions, and mushrooms in a rich and wine sauce.
We love to serve it with French Onion Soup and of course a Classic Caesar Salad.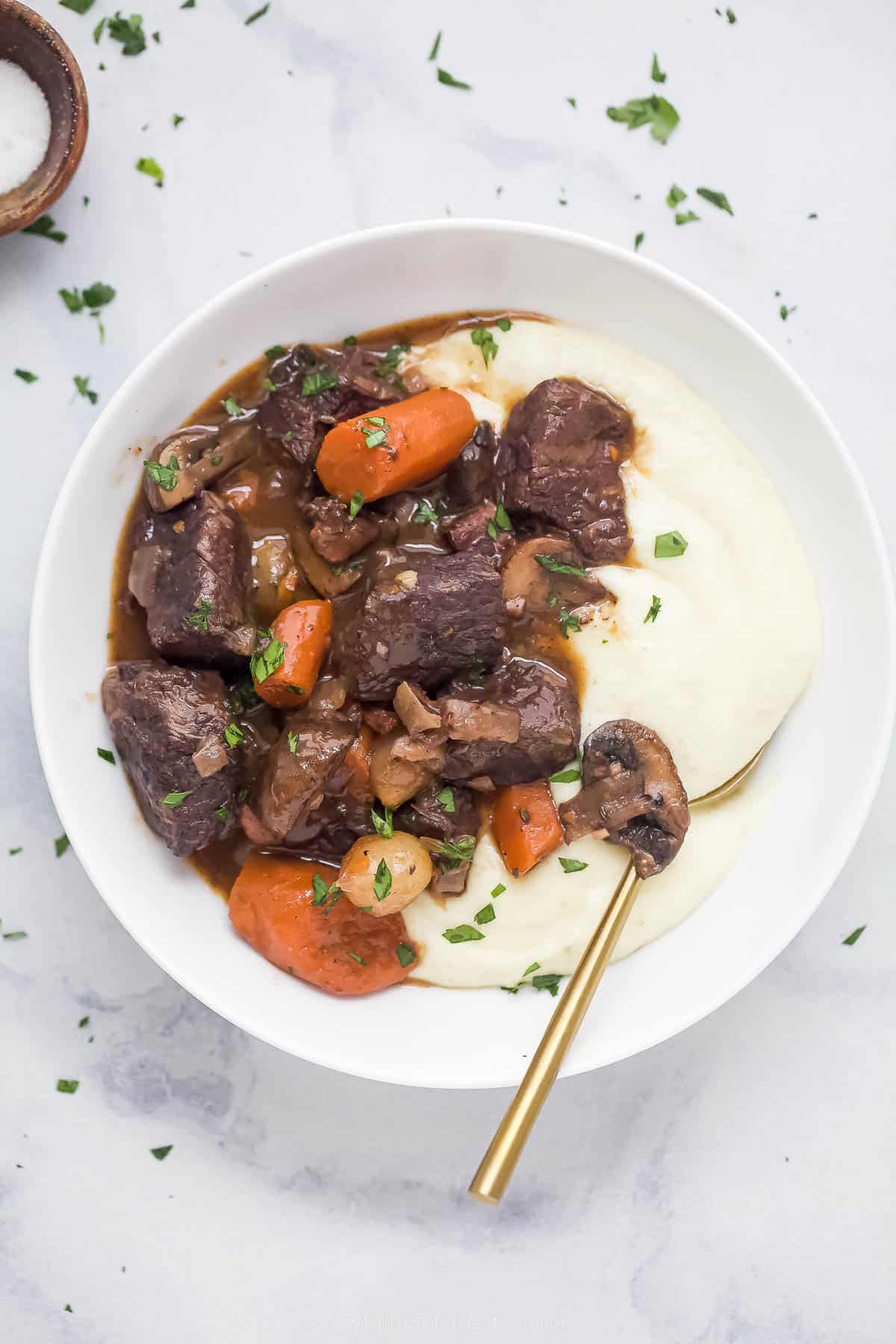 The Most Comforting and Rich Beef Bourguignon
This one is special, you guys! Remember when we talked about my Homemade Ragu Sauce and how it's one of those comforting and therapeutic dishes to make? This Beef Bourguignon is the same for me and it will be for you, too! It's time to channel your inner Julia Child and create a dish that she made so wildly famous!
The steps are relatively simple though this recipe does take some time to make. And sometimes that's ok! We don't always need to be rushing and making quick and easy dinners. I love when I have a few hours to take my time and build incredible flavors in the kitchen. Each step has a reason and makes an impact on the final flavor of the stew.
Every single ingredient plays a special part in this dish, too. It features fork-tender beef and when you add delicious bacon and carrots, mushrooms, and pearl onions, the combination is magic. Serve with my Parsnip Puree and you'll win over the hearts and bellies of your friends and family!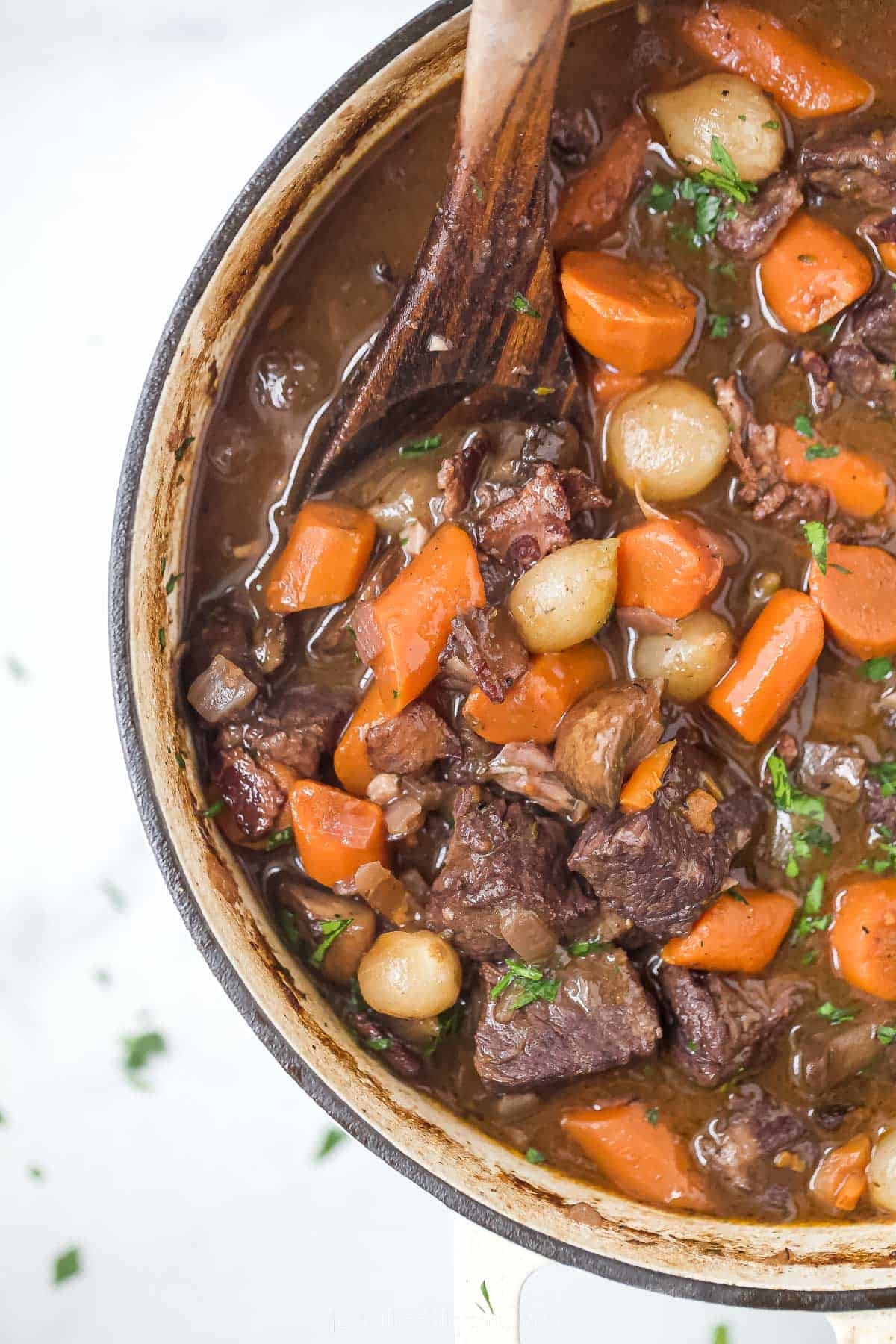 What is the Difference Between Beef Stew and Beef Bourguignon?
The main difference between Beef Stew and Beef Bourguignon is that beef stew usually does not have red wine. Beef Bourguignon is typically made with red wine like Cabernet Sauvignon.
You can consider Beef Bourguignon (or Boeuf Bourguignon) the French version of beef stew. It's also commonly called Beef Burgundy. They have a lot of the same ingredients but that red wine adds a little tanginess to the dish.
If you don't want a beef-centered dish but still crave rich French flavors, try my Coq Au Vin recipe. This recipe is made with chicken but has a lot of the same steps and ingredients.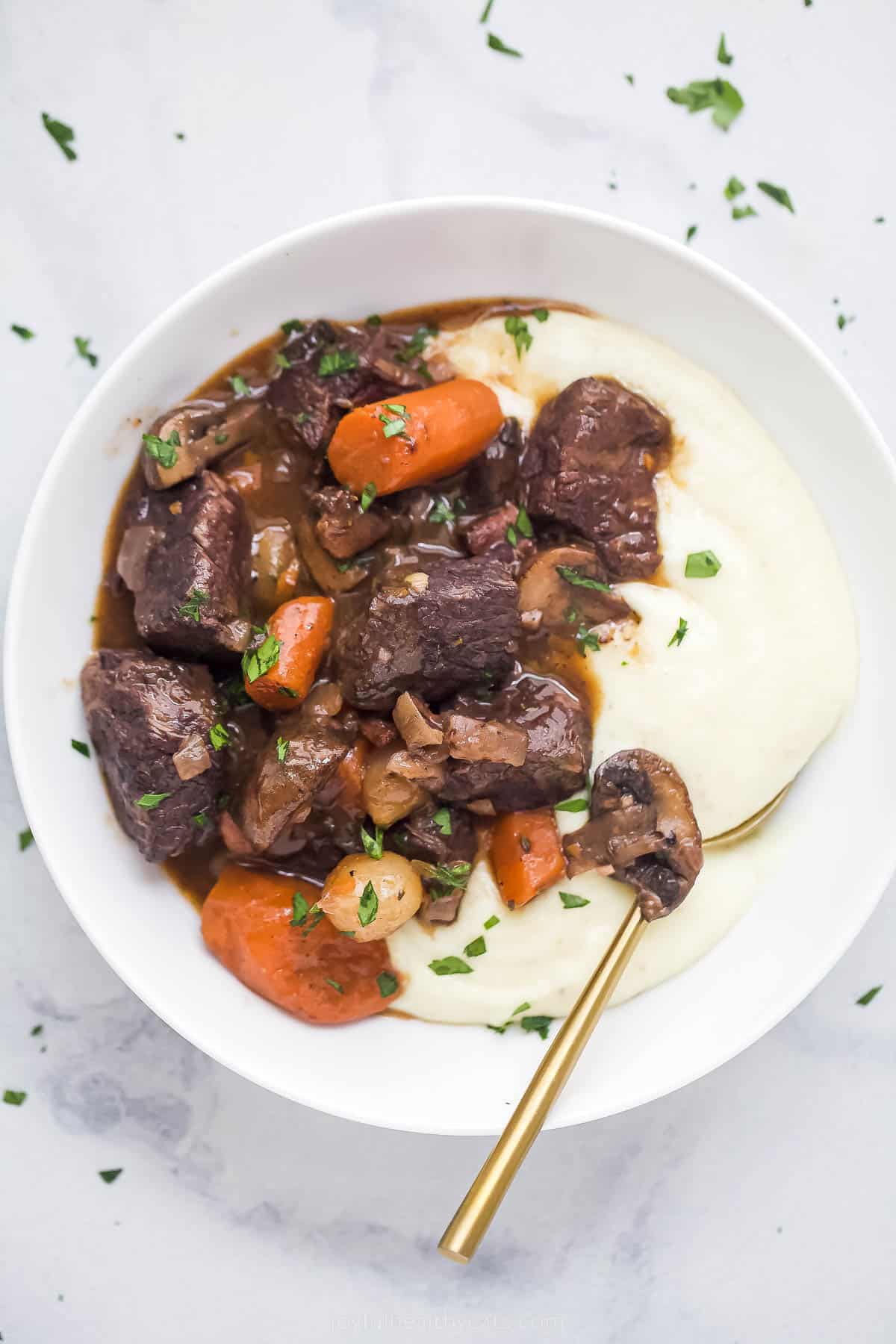 Recipe Ingredients
The list of ingredients for this recipe is below. Remember, that the exact amounts that you need for each ingredient are in the recipe card.
Bacon: What better way to start a dish?! Bacon adds salt and is a great base to start the dish when you render the fat and begin to cook the other ingredients in that fat.
Chuck Roast: You can also use brisket or lean stew meat.
Sweet Onions: Yellow onions or white onions are also ok to use.
Carrots: Carrots add a little sweetness and texture. You can use parsnips, too, if you don't have any carrots or a mixture of the two.
Tomato Paste: The rich tomato paste helps develop the flavor of the savory broth.
Garlic: Fresh garlic is always best.
Red Wine: I like to use Cabernet, but you can use your favorite red that you have on hand.
Beef Broth: I highly recommend using beef broth for this recipe. But you can use vegetable or chicken stock, too, if you're in a pinch – the flavor just won't be as rich (and beefy, obviously!).
Thyme: Fresh thyme makes this dish special. It's a hardy and very flavorful herb that creates an incredible flavor when it slowly simmers with the rest of the ingredients.
Mushrooms: I used baby bella mushrooms for this recipe.
Pearl Onions: Pearl onions are a great way to add more tender bites and a bit of sweetness. It's always a pleasant bite when you get one on your fork.
Flour and Butter: This is what's going to be used to thicken the gravy once everything is cooked.
What Cut of Meat is Best for Beef Bourguignon?
You might be wondering what meat is best to make this slow-cooked beef dish. I like to use pieces of chuck roast or stew meat. These two cuts are very affordable and they cook perfectly in this recipe. You can also use beef brisket for tender and flavorful results, but it's a little bit more expensive.
How to Make Beef Bourguignon
Here's how to make this classic French recipe made popular by the one-and-only Julia Child! So strap on an apron, grab a glass of wine, and let's get cooking.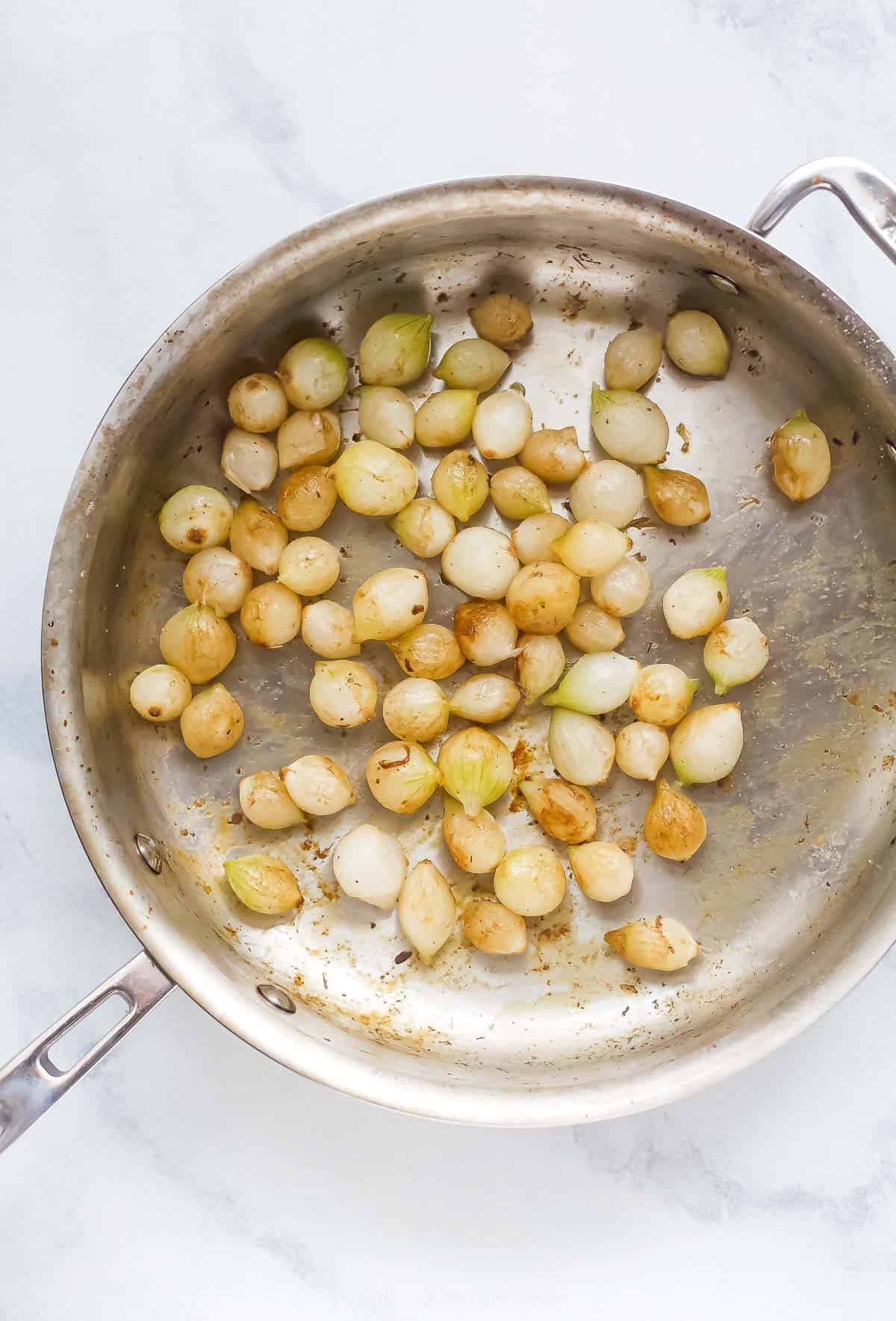 First, cook the mushrooms and the pearl onions. I like to cook them separately because it allows them to get a little crispy on the outside and stay tender and flavorful on the inside. This is how Julia Child did it, so I'm sticking to it!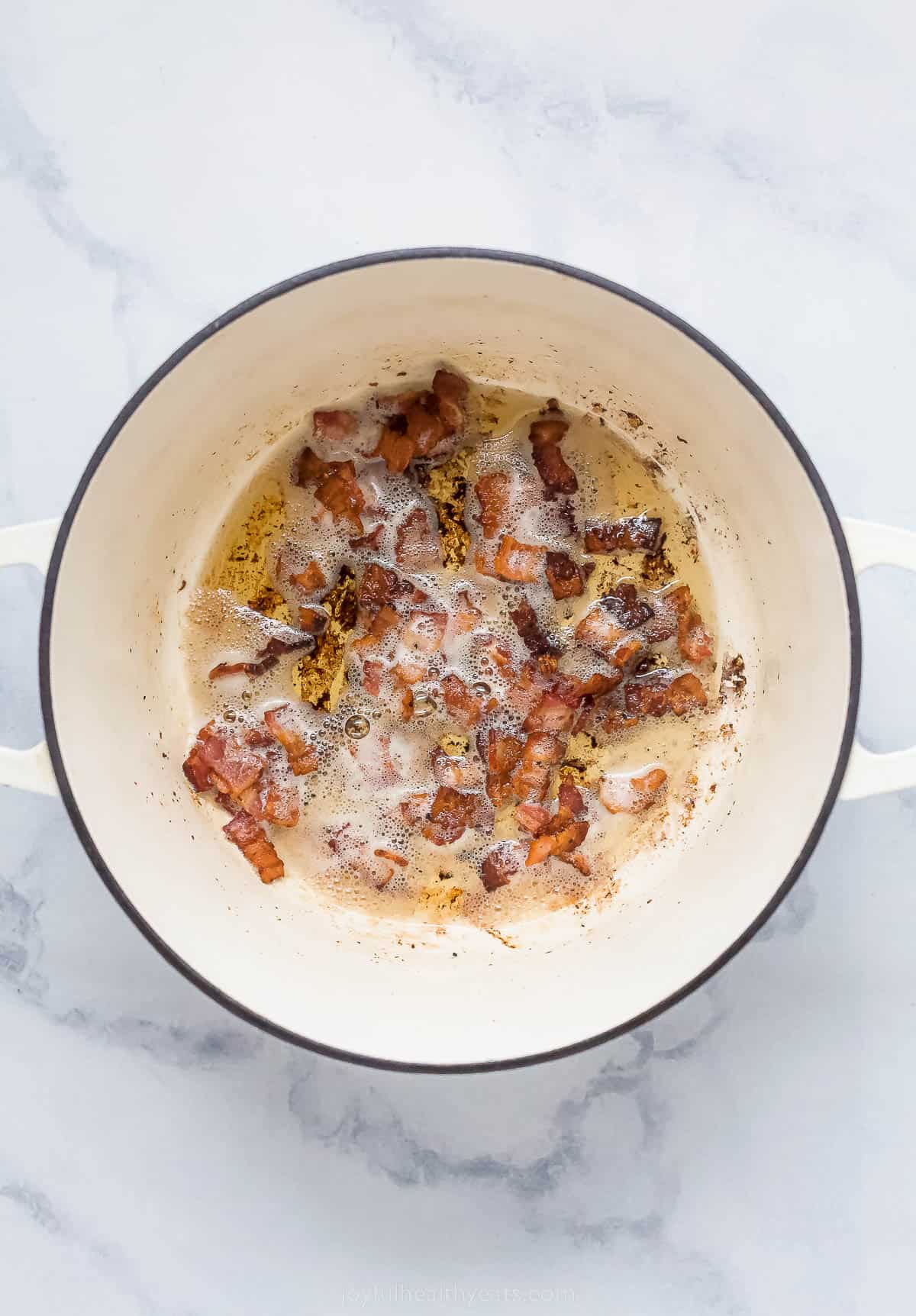 Then cook the bacon and render the fat. You'll use the fat that comes from the bacon to cook the beef. Remove the bacon from the pan once it's cooked.
Make sure that the beef is dry. This is important when seasoning the meat. I like to pat the meat dry with paper towels and then season them immediately after.
Remove the bacon from the pan and then sear the beef in batches. The goal is to get each piece of beef seared and browned. You can add the cooked beef to the plate with the bacon.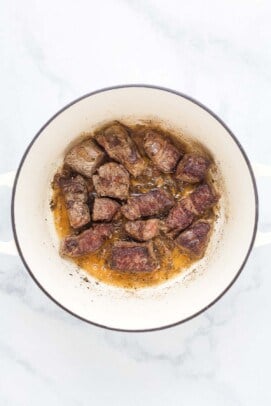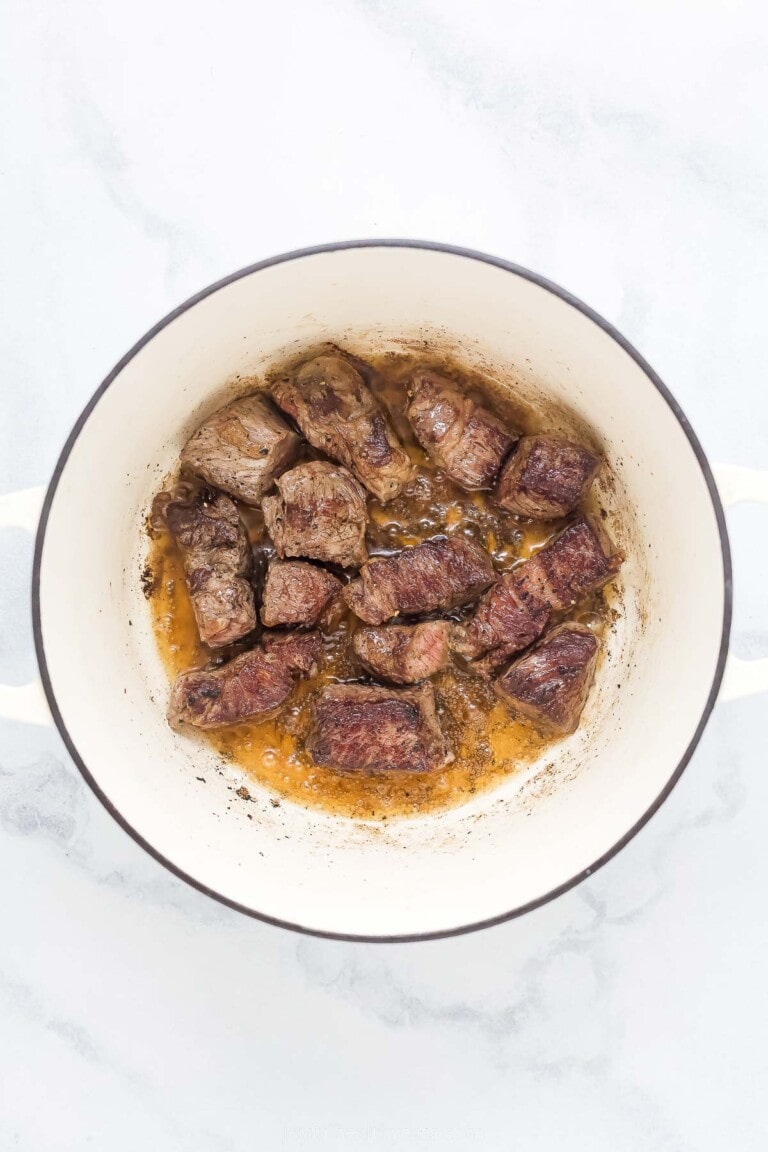 Next, cook the carrots and onions. As you do each ingredient, piece by piece, you're adding incredible levels of flavor to the stew!
Add the tomato paste and garlic. Stir for about one minute until they are fragrant and not letting them burn. You can also add the beef and bacon back to the pot.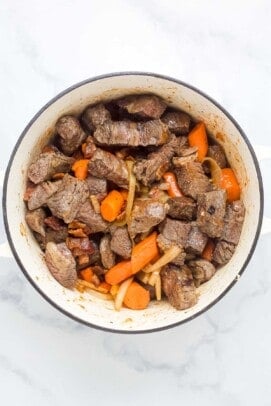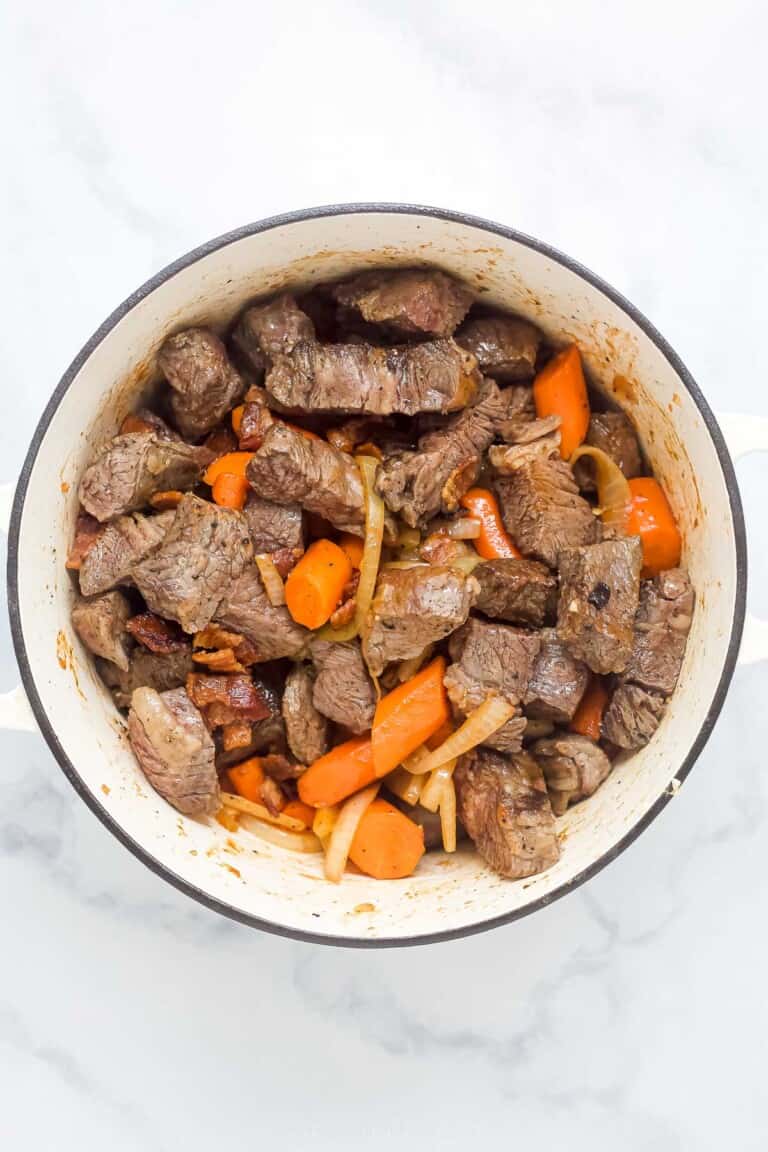 Deglaze. Deglaze the pot as you pour in the wine and you can scrape the pieces of vegetables and beef from the bottom of the pan.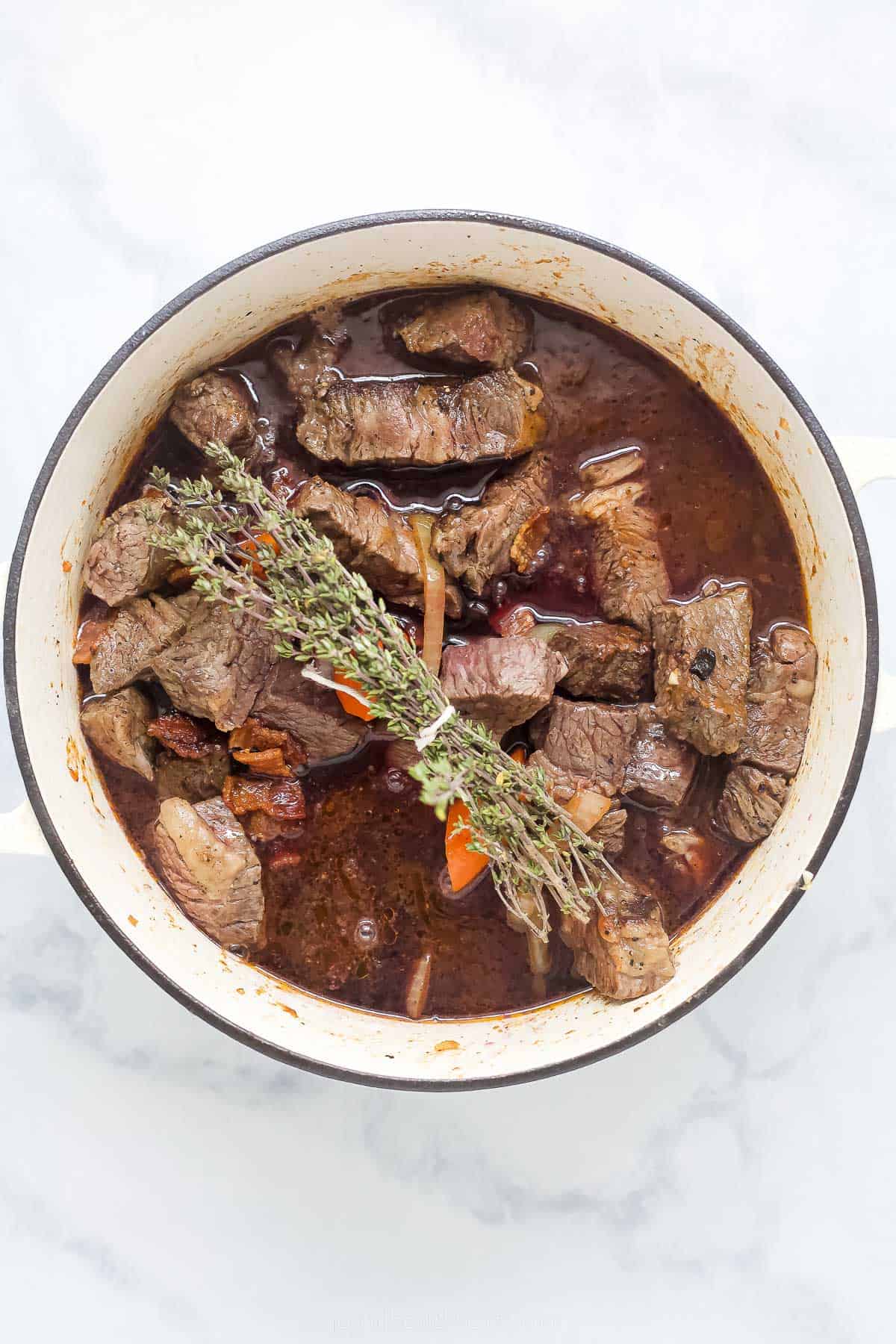 Add the broth and thyme pot as well. It's best to bunch the thyme so that it's easy to remove in the end.
Cook the stew in the oven for about an hour and 15 minutes. While the stew is cooking, combine the flour and butter in a small bowl. This is what you'll use to thicken the gravy once the stew is done.
When the time is up remove the dutch oven from the oven. Place the pot on the stove and add the flour mixture plus the pearl onions and mushrooms. Simmer for about 15 minutes and then your dish is ready to be served! Bon Appetit!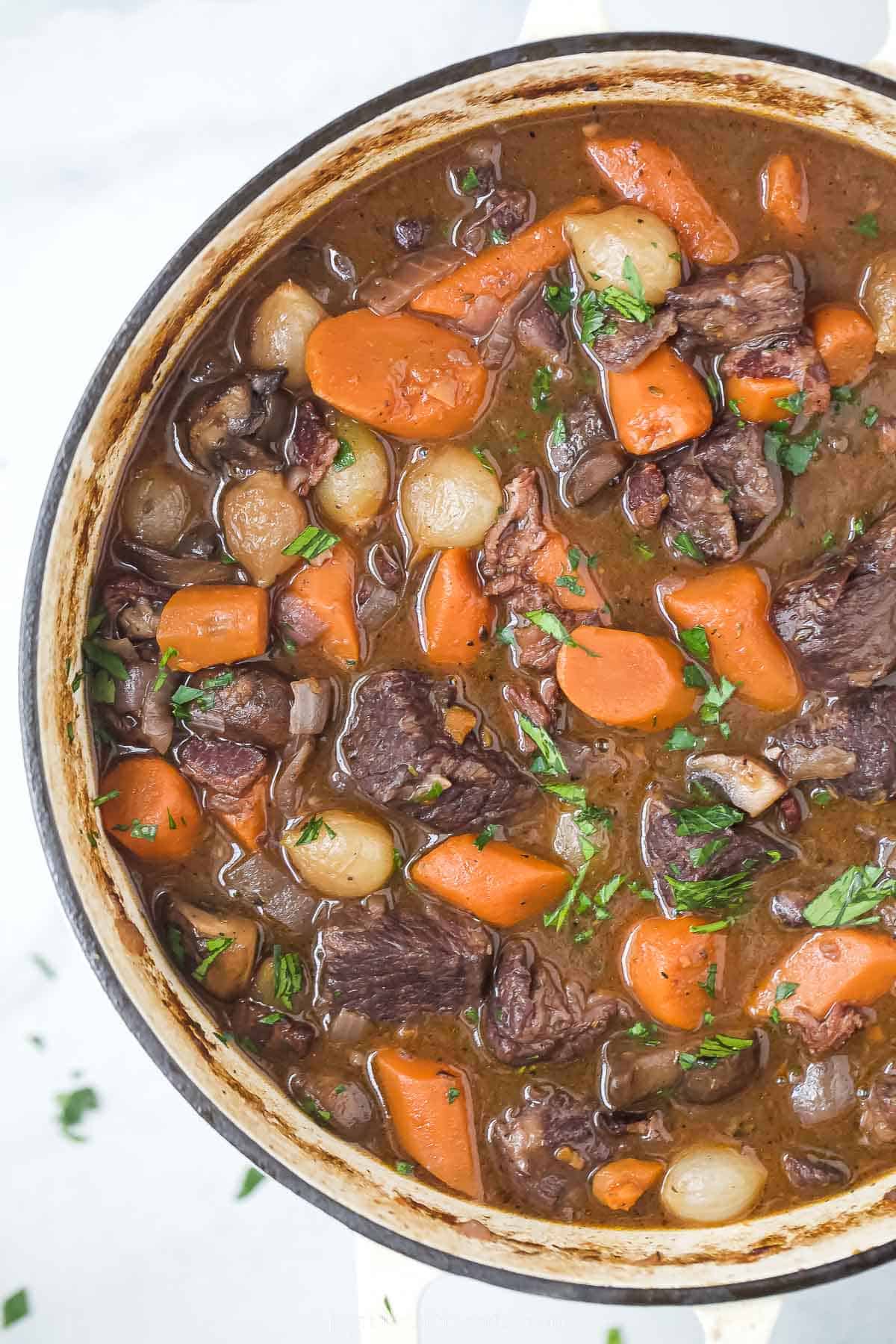 Tips for Success
Follow these helpful tips and your Classic Beef Bourguignon will turn out perfectly every time!
Dry the meat for the perfect sear. You want the meat to be really dry to get a good sear that will lock in the flavor and moisture. Remember, this step is to brown the meat and not completely cook it.
Deglaze the pan properly. The pan is going to sizzle when you pour in the wine and this is the perfect time to "deglaze". Delgazing means using a hot liquid to scrape up any cooked bits of beef or vegetables that have stuck to the bottom of the pan. It helps add a ton of flavor to the dish!
Use high-quality wine. You might think that you'd want to use a cheap bottle of wine for a cooking recipe but I think the opposite. I like to use a bottle that I enjoy drinking (and maybe even enjoy a glass while cooking!).
Short on time? If you don't have the time to go through the steps of this recipe, you can try my Crockpot Beef Bourguignon instead. It requires only 10 minutes of prep and then you set it and forget it!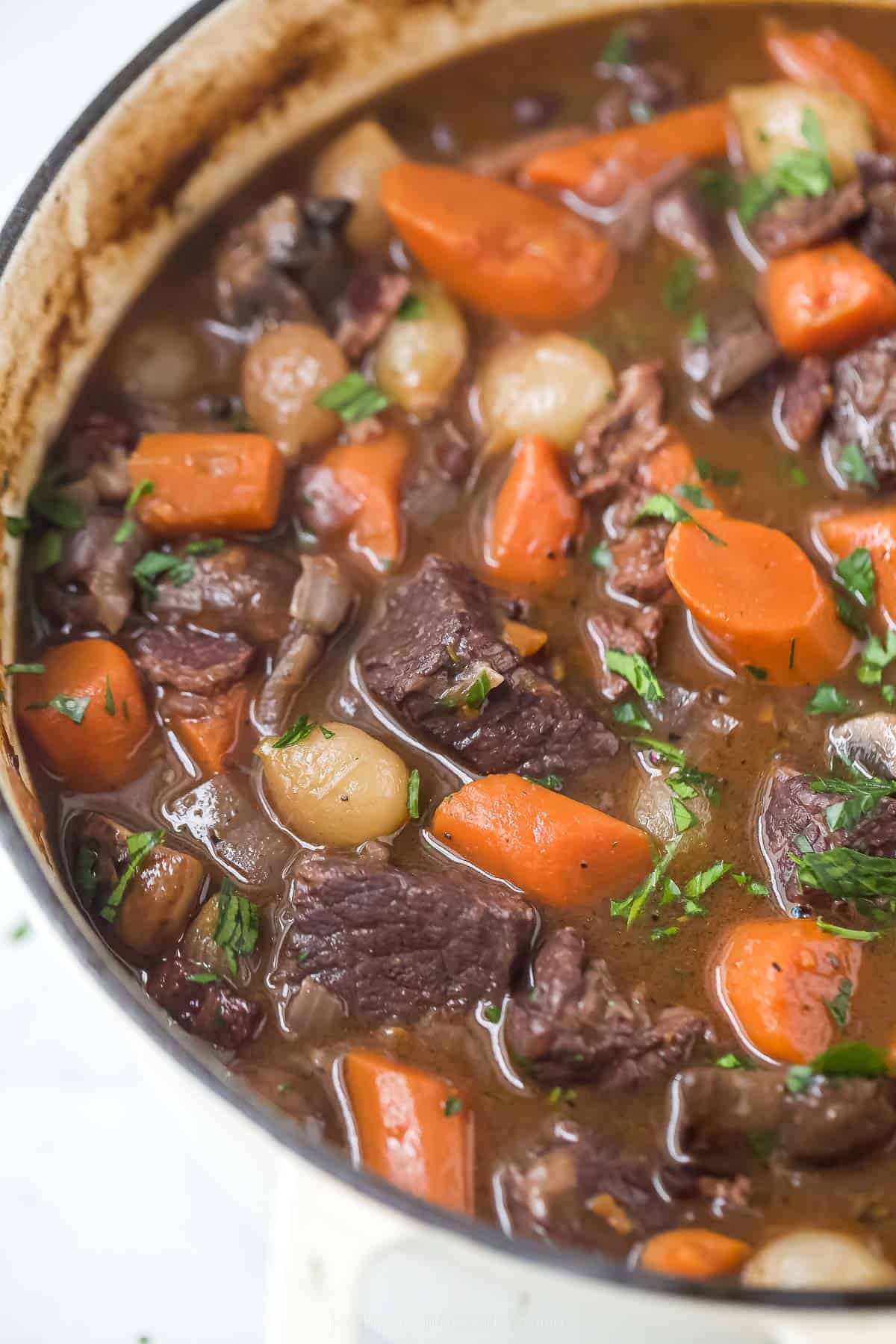 What to Serve with Beef Bourguignon
Some of my favorite pairings for this dish are below (including what wine to drink with it!).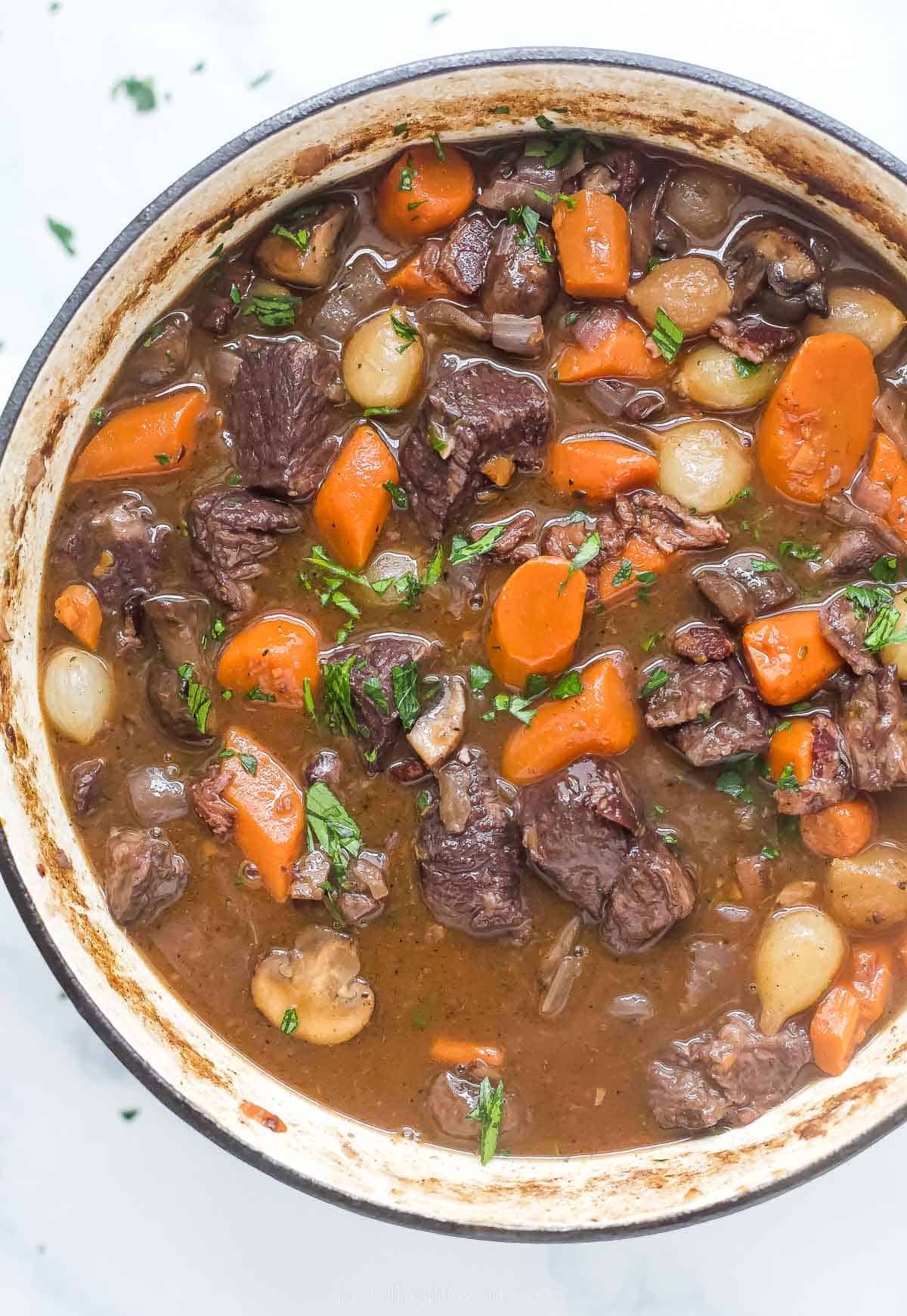 Storing and Reheating Leftovers
Make sure that any leftovers are cooled completely before you store them in an air-tight container in the fridge. Then the leftovers will stay good in the fridge for about 3-5 days.
When you're ready to reheat, simply place the stew in a large pot and turn the heat to low. Slowly heat the stew for about 15 minutes on low heat until it's warmed through.
Can I Freeze This?
Freezing Beef Bourguignon is so easy! It's a great recipe to tuck away into the freezer and pull out when you need a quick and easy dinner.
I suggest that you store the cooked Beef Bourguignon in a freezer-friendly plastic bag. And then you can store it in the freezer for up to 3 months. When you're ready to reheat, let it thaw in the refrigerator before reheating first.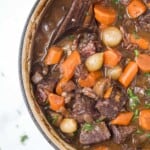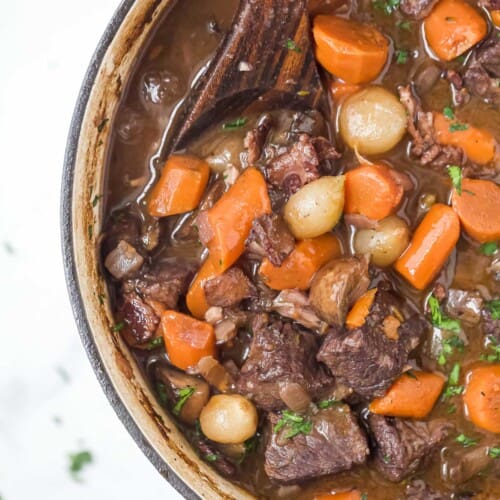 ---
Description
This Classic Beef Bourguignon recipe is rich and savory comfort food at its finest. It's a famous French dish that has tender cuts of beef, carrots, pearl onions, and mushrooms that are cooked red wine gravy. 
Scale
Ingredients
4

strips of thick cut bacon, cut into

1/2

" slices

3

lb. beef chuck roast, cut into 1 – 1.5″ cubes (trim fat)

1

sweet onion, sliced

2

lb. carrots, peeled and cut into

3/4

" diagonal slices

1 tablespoon

tomato paste

4

garlic cloves, minced

1

bottle red wine, cabernet sauvignon

1 cup

beef bone broth

10

–

12

sprigs of fresh thyme, tied in a bundle

2 tablespoons

butter

16 oz

. baby bella mushrooms, quartered

10 oz

. frozen pearl onions

2 tablespoons

flour
Instructions
Preheat oven to 250°F and make sure that middle rack has enough room above it to place a dutch oven in.
Heat a large skillet to medium heat, add 1 tablespoon of butter and mushrooms. Saute for 6-8 minutes, stirring throughout until mushrooms are browned. Season with salt and pepper, stir and cook an additional minute. Remove the mushrooms from the pan and place in a bowl for later use. To that same pan add frozen pearl onions, saute for 5-7 minutes until onions are slightly browned, stirring throughout. Season with salt. Remove from the pan and place in the bowl with the mushrooms.
Place beef chuck roast cubes on a baking sheet and pat dry with a paper towel. Season with salt and pepper. Set aside.
Heat a dutch oven to medium heat. Add bacon to the pan and saute for 4-5 minutes, or until bacon is slightly browned and crispy. Using a slotted spoon, remove the bacon from pan and place it on a large plate.
Working in batches, add seasoned beef to the pan with bacon grease in a single layer. Sear for 3 minutes per side, until slightly browned. (you're not cooking through here, just looking for a sear) Remove beef from the pan and place on a plate with the bacon. Repeat until all the beef is cooked.
Next, add onions and carrots to the dutch oven and cook until onions are slightly browned. Approximately 8-10 minutes, stirring throughout to scrap the brown bits of the bottom of the pan.
Add in the tomato paste and garlic cloves, stir everything together and cook for 1 minute until fragrant.
Add the beef and bacon back to the dutch oven along with the wine, beef broth and thyme bundle. Stir everything together and bring to a simmer.
Once simmering, cover and transfer pot to the oven and cook for 1 hour and 15 minutes or until meat is fork tender.
Remove from the oven and place back on the stove over medium high heat. To a small bowl add 1 tablespoon of butter and flour, mash together until combined and add the mixture to the beef bourguignon along with browned mushrooms and pearl onions. Stir to combine and simmer for 15 minutes.
Remove the herb bundle. Taste and adjust with salt and pepper as needed. Sprinkle with fresh parsley. Serve over parsnip puree or mashed potatoes.
---
Nutrition
Serving Size:

1 1/2 cups

Calories:

480

Sugar:

8 g

Sodium:

271 mg

Fat:

14 g

Saturated Fat:

6 g

Carbohydrates:

19 g

Fiber:

4 g

Protein:

53 g

Cholesterol:

117 mg
Keywords: beef burgundy, Boeuf bourguignon, stew meat recipes
More Cozy Dinner Ideas
DON'T MISS A RECIPE