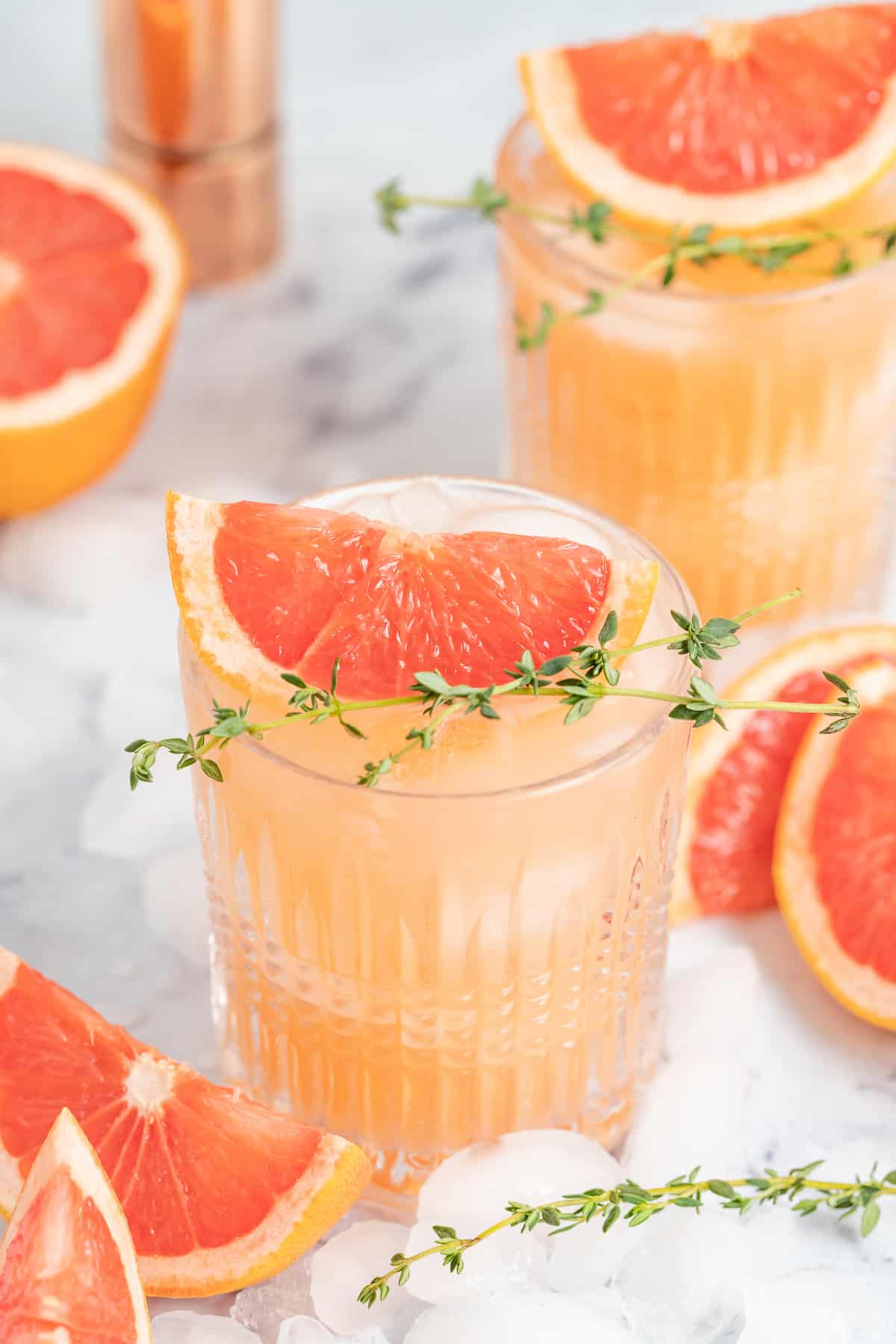 This easy Greyhound Cocktail is a quick and easy grapefruit vodka drink. This tangy refreshing cocktail is made with only 3 ingredients – fresh squeezed grapefruit juice, vodka and sparkling water for the perfect light sip.
For more light refreshing cocktail sips, try out my Hugo Cocktail or White Wine Spritzer.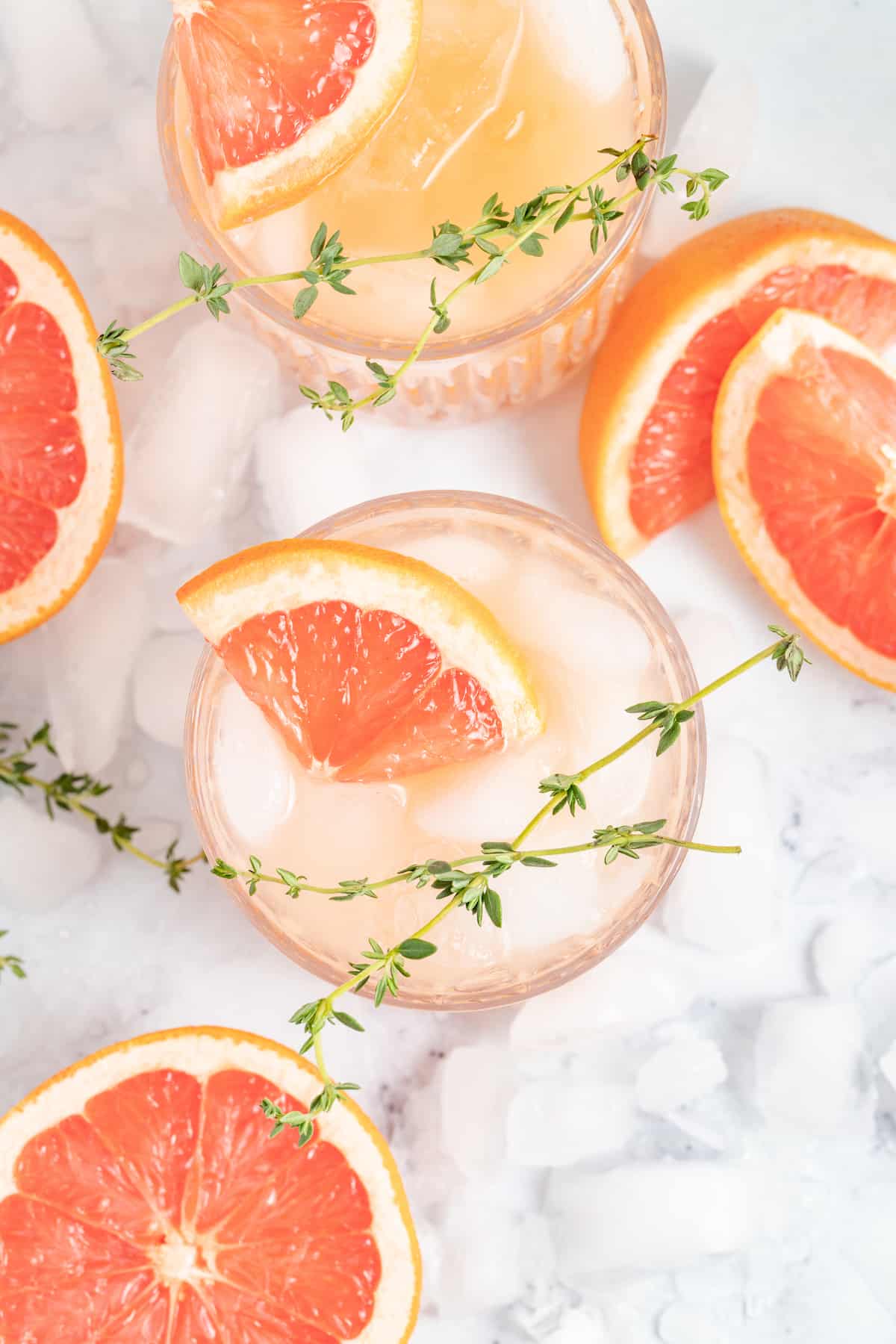 A Tart and Refreshing Grapefruit Cocktail
Who says that a good cocktail needs to be complicated? Or that a good cocktail needs to be made at a bar? This Greyhound Cocktail is as simple as it gets and you can make it at home in a matter of minutes.
I've told you all before about how much I love a good grapefruit cocktail. I've shared with you my tried-and-true Paloma and Epic Salty Dog. And now I'm going to add this deliciously tart and tangy Greyhound Cocktail to that list!
You just need three ingredients and that's it. This grapefruit and vodka cocktail has fresh fruit juice, high-quality vodka, and a splash of bubbly sparkling water. Shake it up, give it a pour, and you're good to go. Plus, you can even make it ahead of time, too! So it's great to serve at a party. Let's get shaking, friends!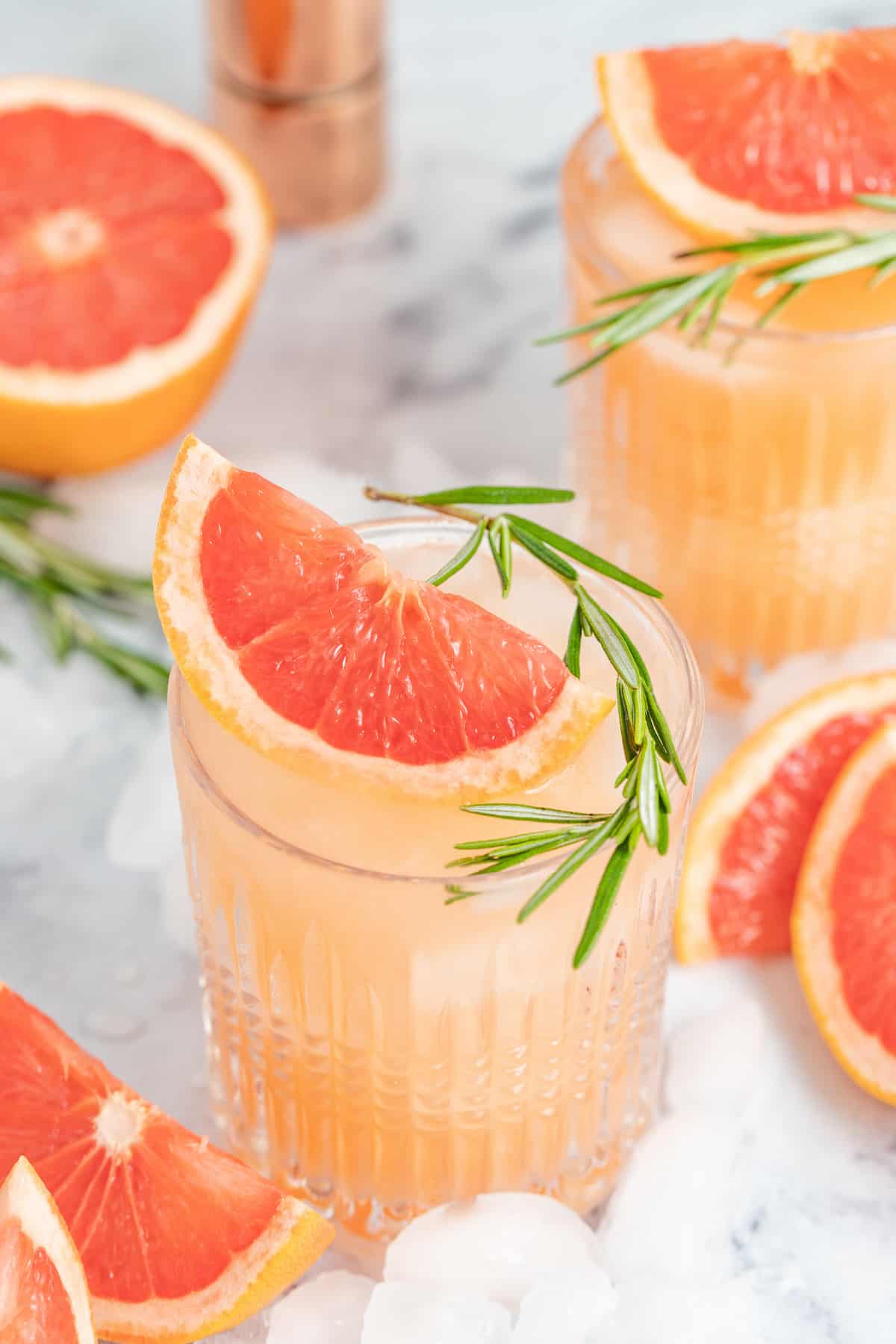 Why is it Called a Greyhound?
I love when a cocktail comes with a story behind the name! The name of this cocktail came from the restaurant that it originated in – Post House restaurants, which were popular stops in Greyhound bus terminals.
While it may have been made with other spirits like gin, the final version ended up being with vodka, and Harper's Magazine formally named it the Greyhound Cocktail in 1945.
What is the Difference Between a Paloma and a Greyhound?
A Paloma is made with tequila instead of vodka. It has a margarita-type flavor profile but is less sweet, but just as refreshing. It's super quick to make and my version has a spicy Tajin seasoning to give it a bit of a twist.
What is the Difference Between a Salty Dog and a Greyhound?
A Salty Dog is another one of my favorite grapefruit cocktails. It's very similar to a Greyhound, but lime juice is added and, of course, a salted rim. It's slightly sweet and tart with a salty finish. You can also make Salty Dog with gin as another variation.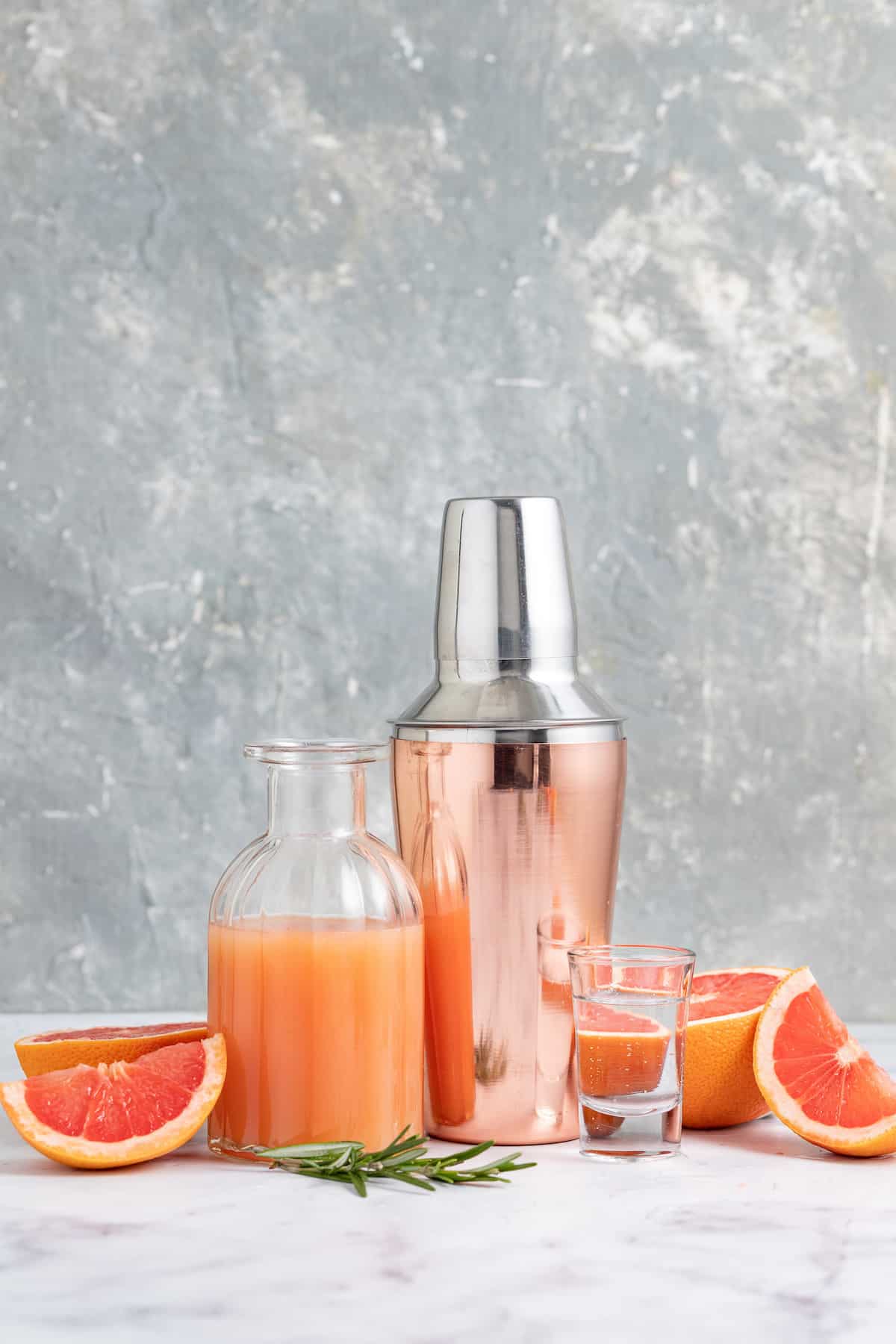 Recipe Ingredients
You just need three things to make this cocktail! This is what I love most about this recipe. I can make it whenever I want because the ingredients are usually always on hand.
Fresh Grapefruit Juice: I highly recommend using freshly squeezed grapefruit juice for this recipe. It's best to strain any seeds and pulp so that it's nice and smooth. If you need to buy bottled juice, find sugar-free and no-pulp grapefruit juice.
Vodka: Sometimes this cocktail is called a "Tito's Greyhound" and with good reason. It's a great vodka choice for this drink. I recommend buying high-quality vodka like Tito's for this recipe and other cocktail recipes with few ingredients.
Sparkling Grapefruit Water: I love adding a little bubbly to my cocktails! You can use plain seltzer, too. You can also omit it if you don't want the drink to have a little fizz.
How to Make a Greyhound Cocktail
The steps for making this drink are below:
First, combine the fresh grapefruit juice and vodka in a cocktail shaker. Add some ice and shake it until the cocktail shaker is frosty and very cold.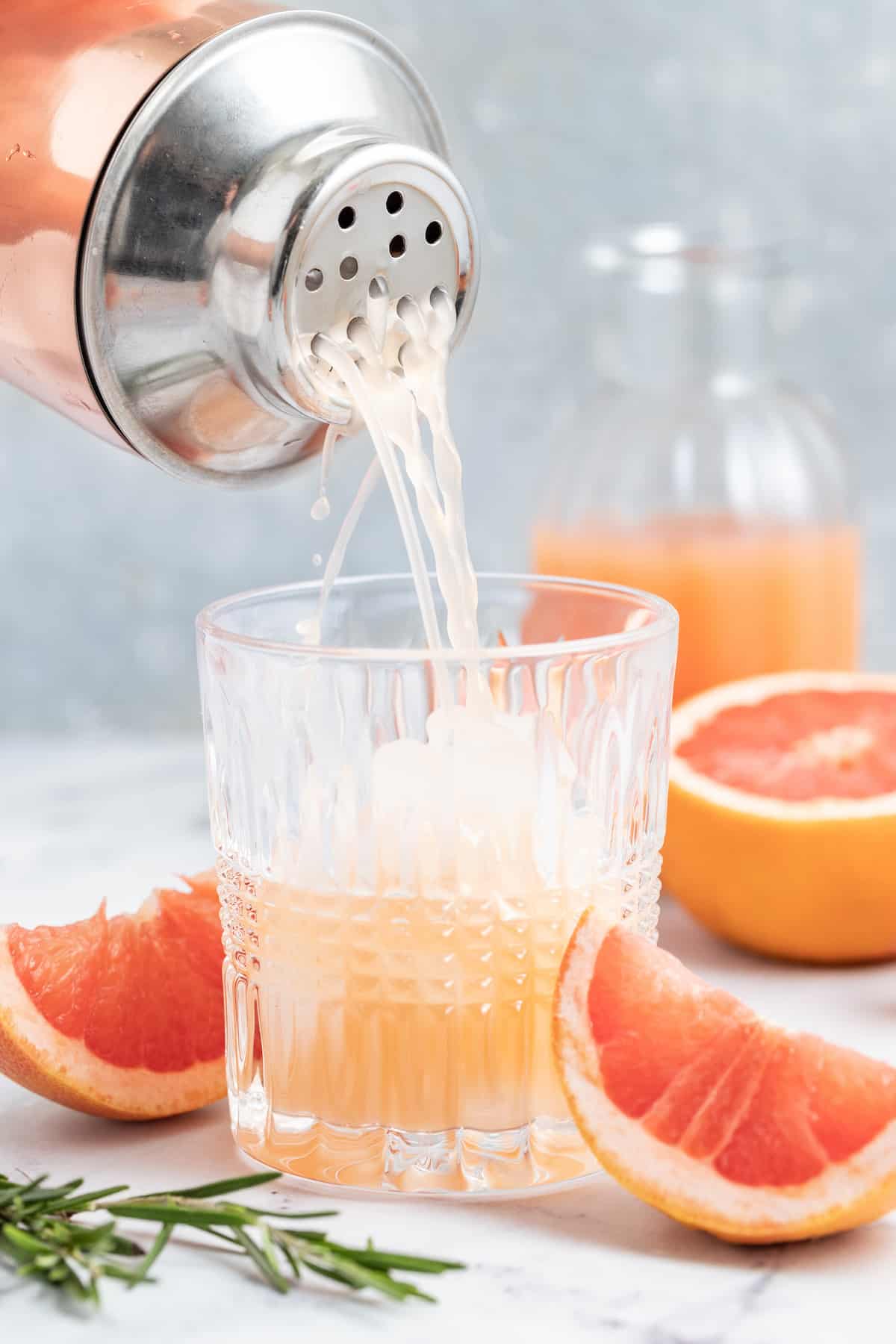 Then strain the cocktail into a glass. I like to serve this drink over ice, but you don't have to!
Add the sparkling water last. And then you can also add a garnish like fresh rosemary or thyme sprig and, of course, a grapefruit wedge.
Cocktail Variations
Here are some of my favorite ways to mix up this cocktail recipe. It's fun to add different ingredients to change up the flavor and look of the drink.
Add a salted rim: And then you have a Salty Dog Cocktail. It's still very citrusy with a little salty kick to balance it out.
If you're not into vodka: Try a Paloma instead. It has a very similar flavor profile but uses tequila, not vodka.
Pour in a splash of cranberry: Omit a little bit of the grapefruit and add a little bit of cranberry with the sparkling water at the end. It has a little sunrise effect in the glass and the colors are so pretty!
Add a little sweetness: You can add a drizzle of simple syrup, agave, maple syrup, or honey to make the cocktail sweeter and cut the bitterness of the grapefruit.
Use flavor-infused vodka: Try your favorite infused vodka in the cocktail like grapefruit, orange, or lime.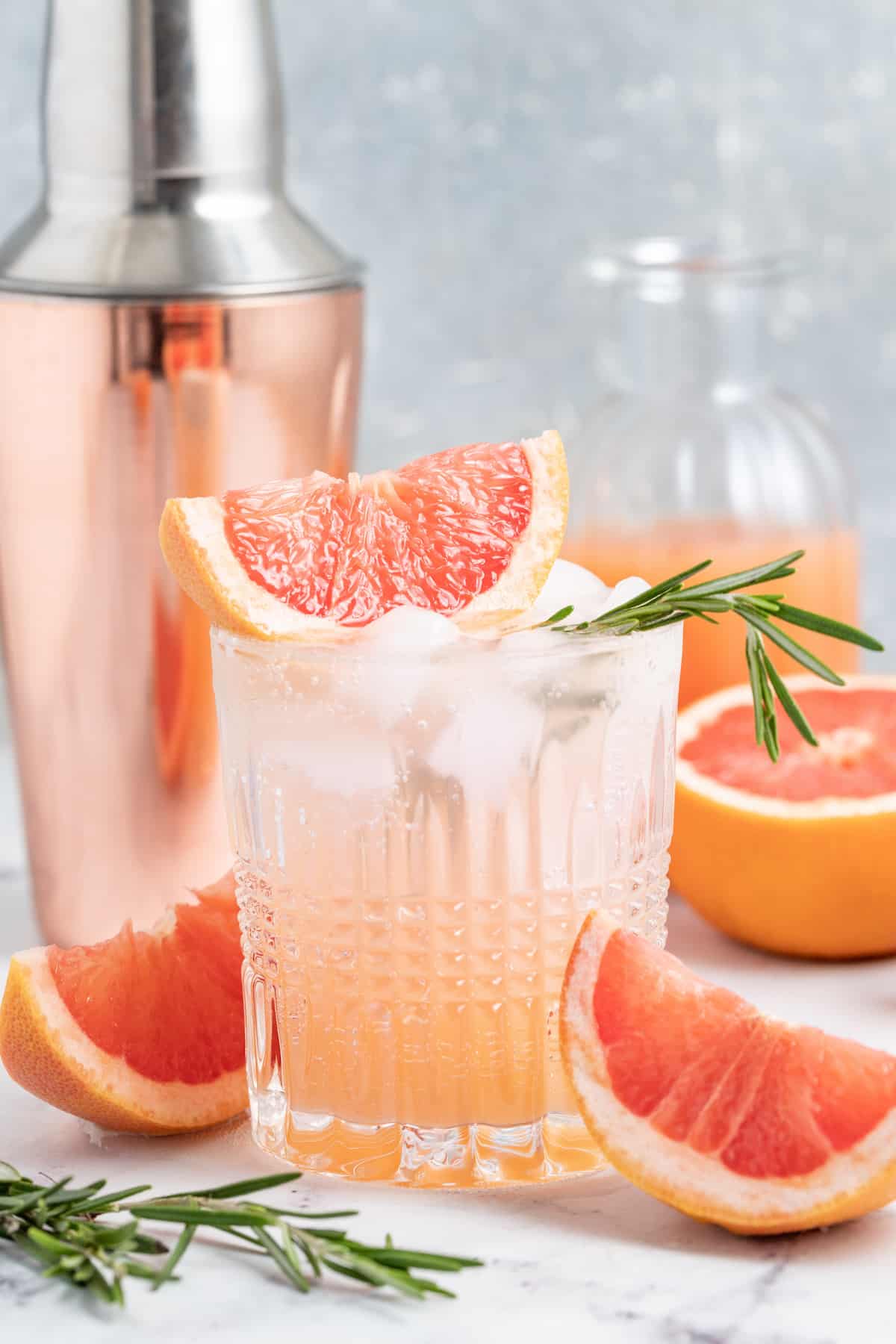 What Goes with a Greyhound Cocktail
Here are some of my favorite foods to serve with this cocktail.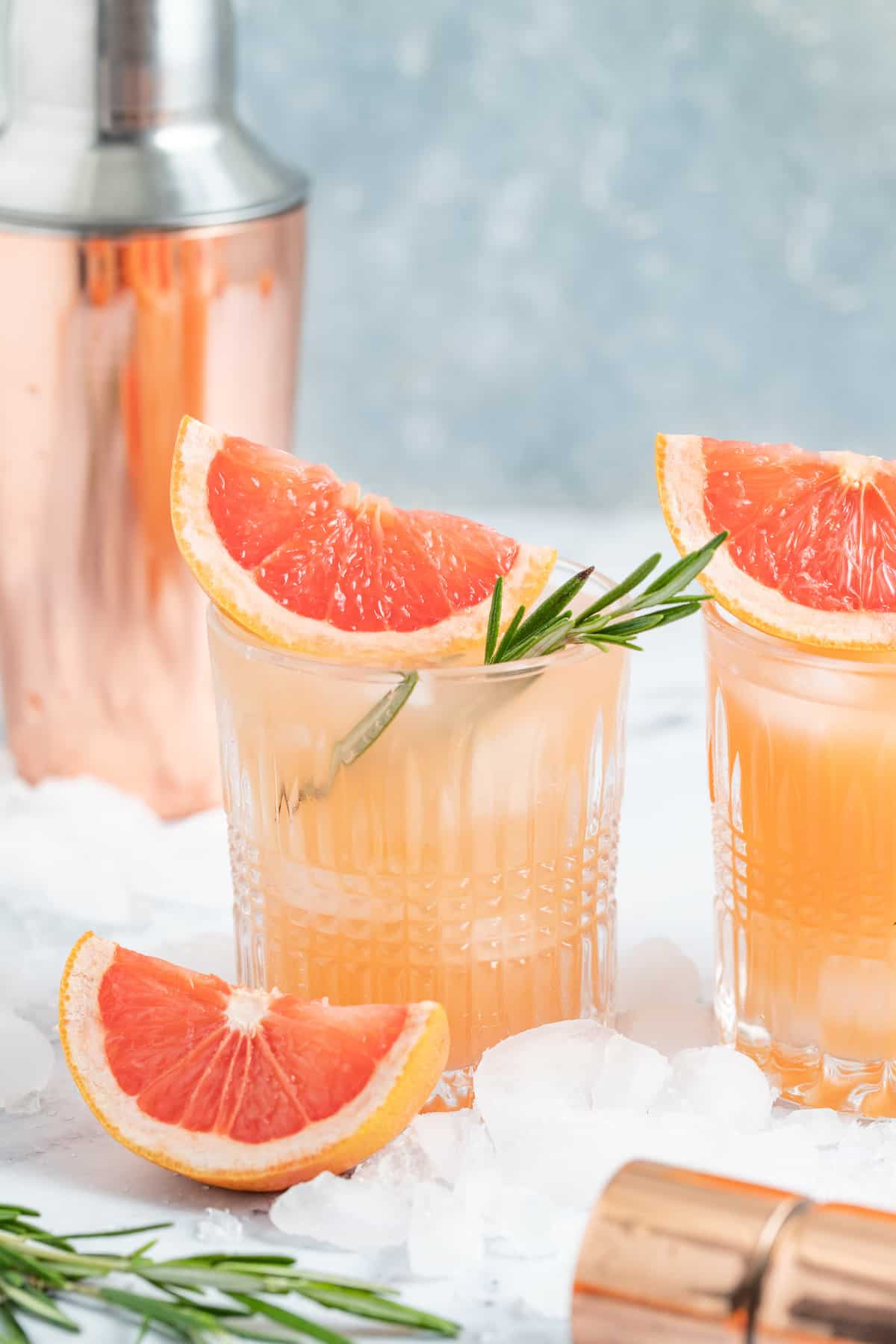 Can I Make This for a Crowd?
A Greyhound is a great cocktail to make when you're having a party and serving friends. I highly recommend squeezing a bunch of grapefruit juice ahead of time and then mixing it with the vodka. You can store a pitcher or container of the mixed drink in the fridge for a few hours before serving.
Then, when you're ready to serve, add a splash of sparkling water to each Greyhound Cocktail. You don't want to add that ahead of time or the drink will lose all the fun dizziness before it even hits the glass.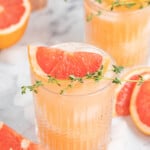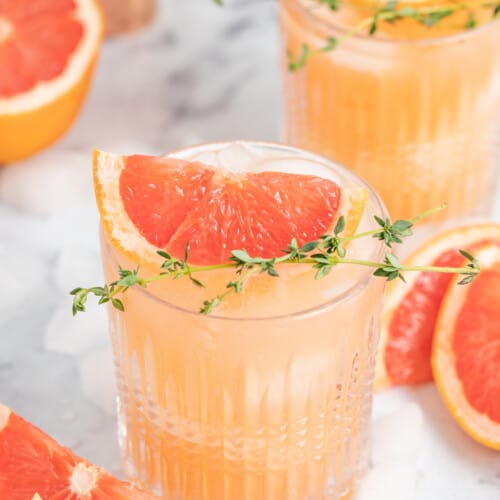 3 Ingredient Greyhound Cocktail
---
Description
This tart and refreshing Greyhound Cocktail has only 3 ingredients! You just need fresh grapefruit juice, vodka, and some grapefruit-flavored sparkling water to make your new favorite tangy mixed drink.
Scale
Ingredients
2 oz

vodka

4 oz

fresh grapefruit juice

1 oz

. grapefruit sparkling water
Instructions
To a cocktail shaker add 3-4 ice cubes, vodka and grapefruit juice. Shake until cocktail shaker is frosted.
Pour over ice and finish with sparkling water. Garnish with grapefruit slice and thyme or rosemary.
---
Nutrition
Serving Size:

1

Calories:

179

Sugar:

13 g

Sodium:

5 mg

Fat:

0 g

Saturated Fat:

0 g

Carbohydrates:

13 g

Fiber:

0 g

Protein:

1 g

Cholesterol:

0 g
Keywords: grapefruit cocktails, grapefruit juice cocktails, greyhound drink
More Easy Cocktail Recipes
DON'T MISS A RECIPE