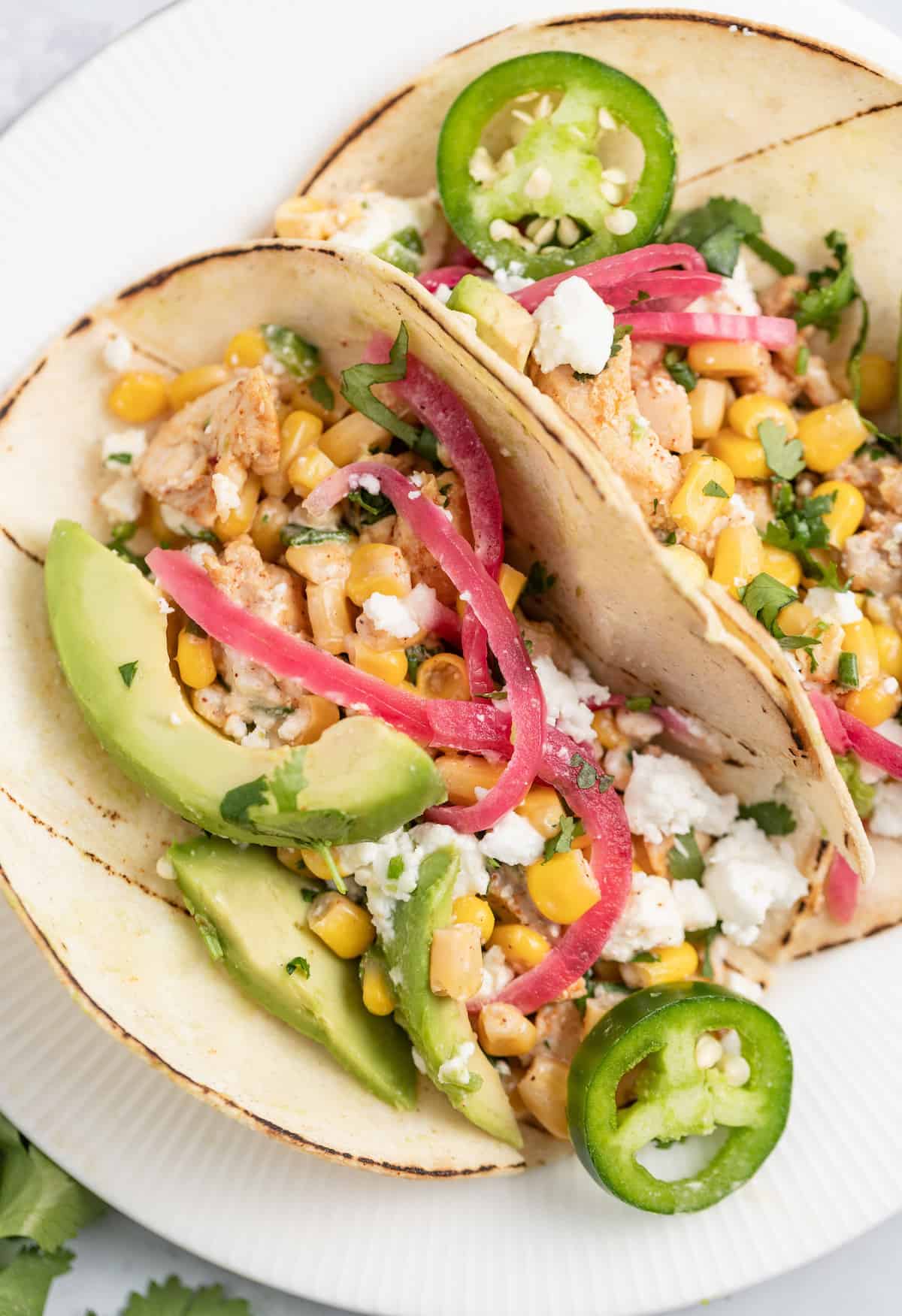 These Chicken Street Tacos taste like they're right off the food truck! Spicy pan seared chicken served on a tortilla topped with Mexican Street Corn Salad, Pickled Onions, and avocado for the perfect quick dinner idea your family will love.
If you love a good taco like me then you have try out my 20 Minute BBQ Chicken Tacos or my Chipotle Chicken Tacos with Pineapple Salsa.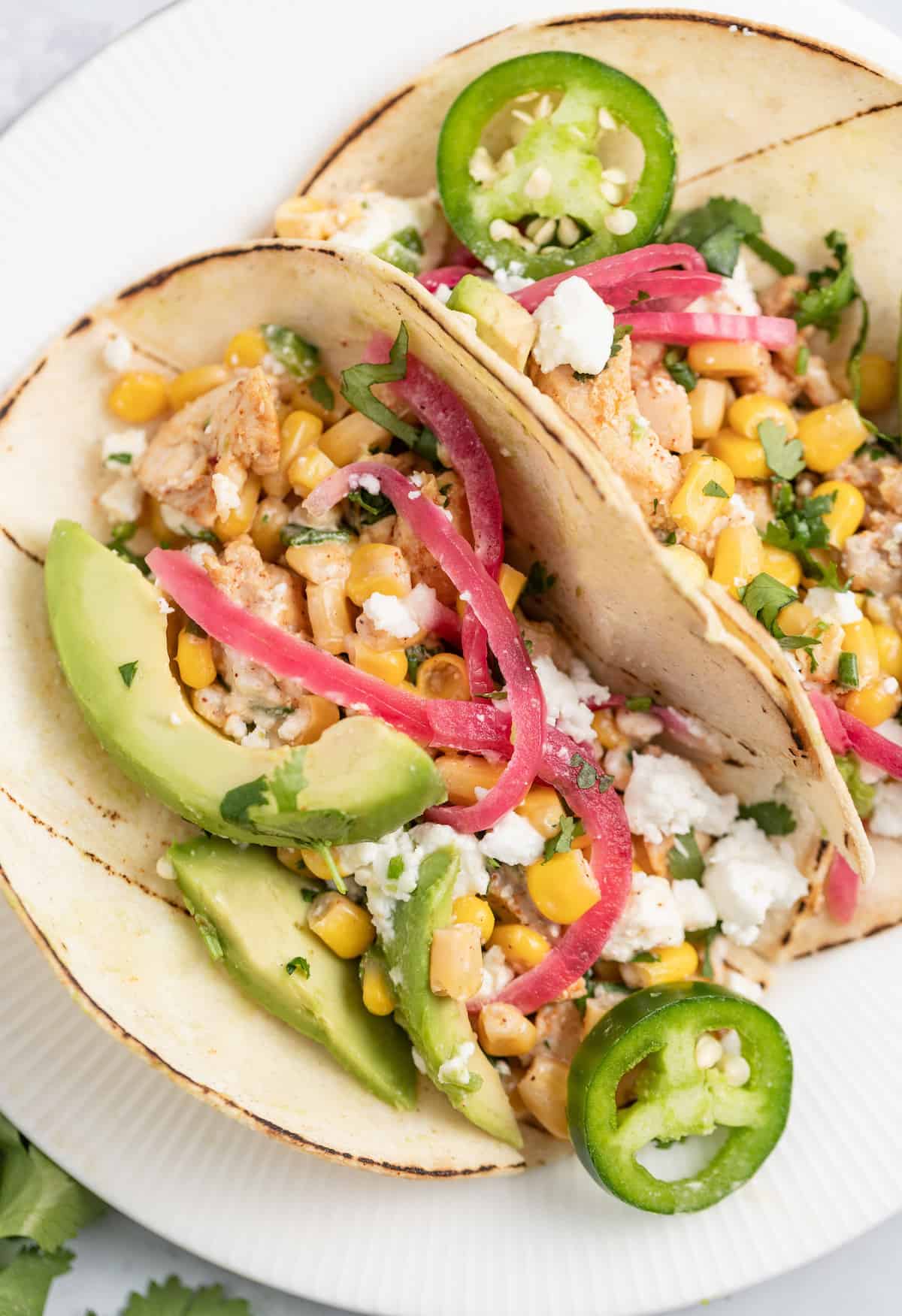 The Best Chicken Tacos with Mexican Street Corn
I love a good taco that fits right into your hands and it's gone in just a few bites…and aren't those bites delicious?! That's how I feel about these Chicken Street Tacos!
Making street tacos at home has become one of my favorite ways to do taco night. Small corn tortillas are filled with rich protein and then topped with contrasting textures and flavors. Not to mention, they are usually just downright beautiful because of all the fresh ingredients used!
For this recipe, I used my amazing Chipotle Spice Blend. It's smokey, spicy, and fits this recipe perfectly! Because along with the spicy chicken, the taco has sweet and tangy Mexican Street Corn and then my Homemade Pickled Onions. This taco recipe has it all – spice, sweetness, tanginess, bitterness…and a ton of colorful ingredients. You're going to want to try it for your next taco night!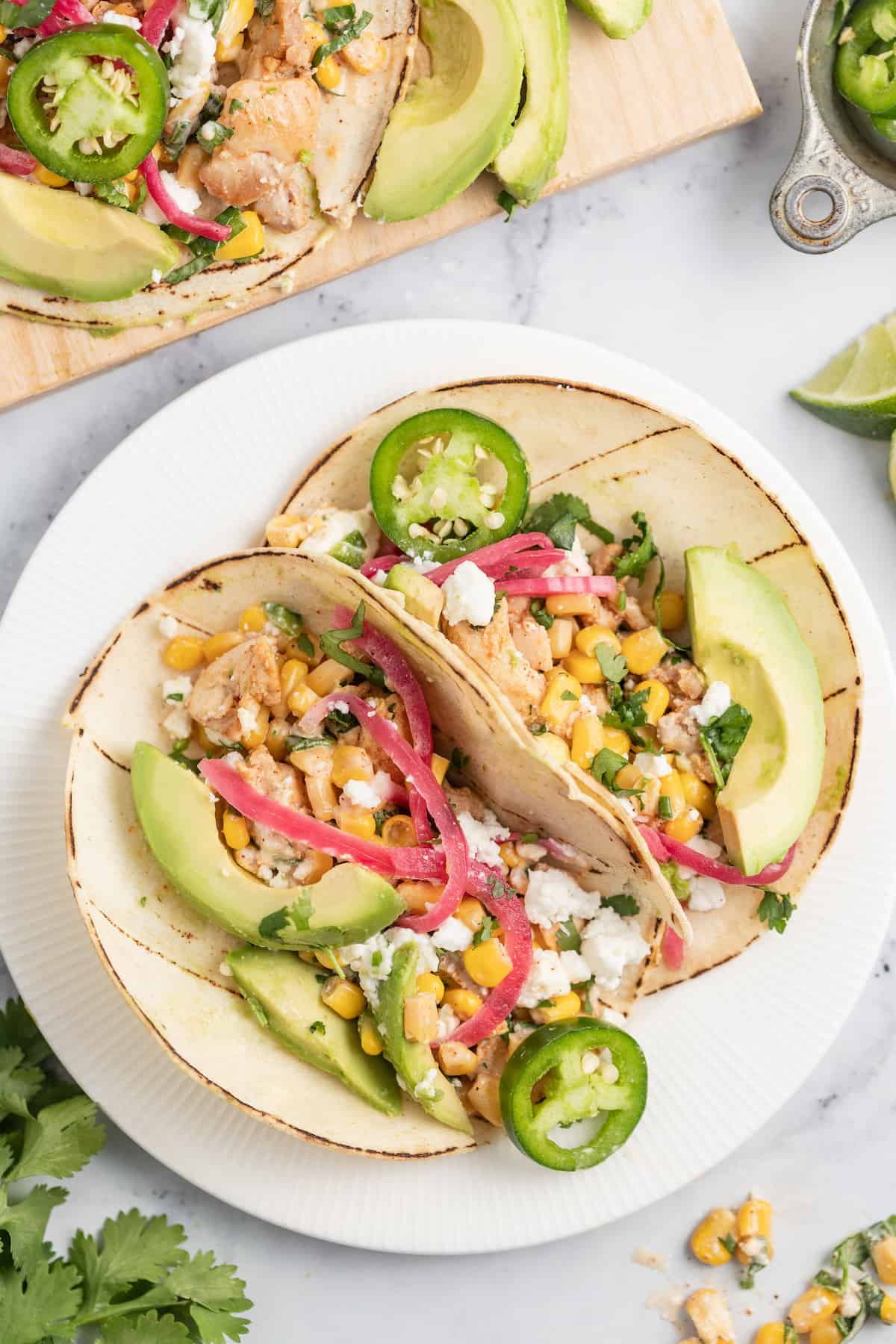 What is a Street Taco vs a Regular Taco?
So what is a street taco, anyways? A street taco is traditionally known as a basic Mexican taco that's usually served on the street. Affordable, straight-to-the-point, and focusing on basic ingredients to keep it simple.
Street tacos generally would just have protein, diced onions, and fresh herbs. But now, likely thanks to the food truck movement, they've flourished into some of the best meals that you can eat out of the palm of your hand!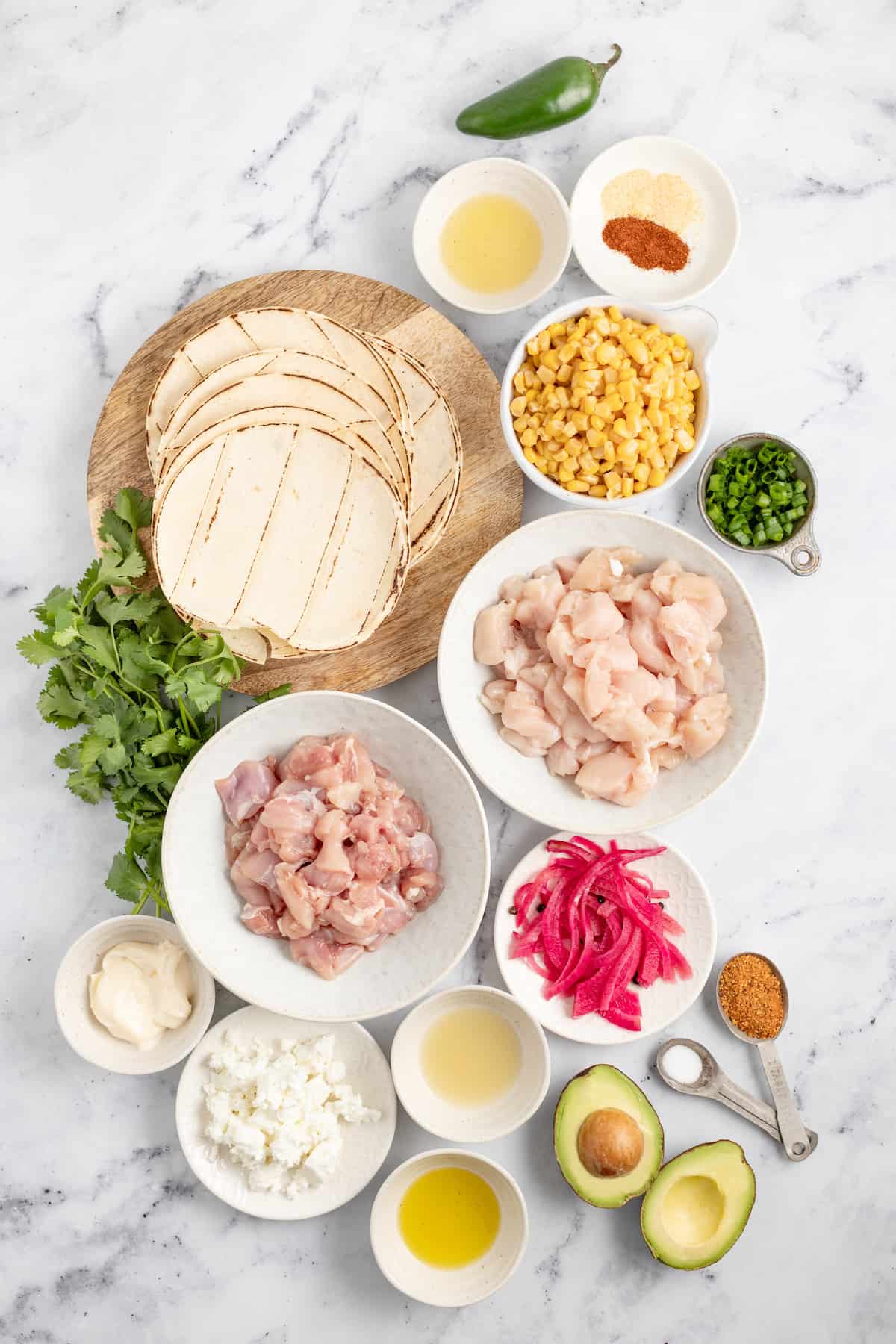 What You'll Need
Here is what you need to make Chicken Street Tacos. Remember that the exact amounts are in the recipe card below.
Street Taco Chicken
Chicken: I used a combo of chicken breasts and thighs for this recipe.
Salt
Cooking Oil: I like to combine olive oil and avocado oil for this recipe. The avocado oil cuts the heaviness of the olive oil.
Lime Juice: Always fresh from the lime!
Cilantro
Mexican Street Corn
Cooked Corn: You can use fresh, frozen, or canned…whatever you have on hand.
Mayonnaise: Whatever you have in the fridge will work just fine.
Green Onions: You could also use chives, but I like the texture of green onions and/or scallions.
Cilantro: I wouldn't substitute this because it's a key ingredient.
Chili Powder: you can add a little more for a little more heat.
Garlic Powder: Granulated garlic is also a good option.
Jalapenos: Omit these if you don't want them too spicy.
Cotija Cheese: This is a must-have for street tacos in my opinion! Perfectly creamy, has the best soft but tender texture, and adds a great salt flavor.
Cilantro
To Build the Tacos
Corn Tortillas: You could also use flour tortillas if that is what you prefer.
Cooking Spray: For warming the tortillas.
Avocado
Pickled Red Onions: Sliced red onions will also work, but I reocmmend making these pickled red onions! They're so easy and delicious.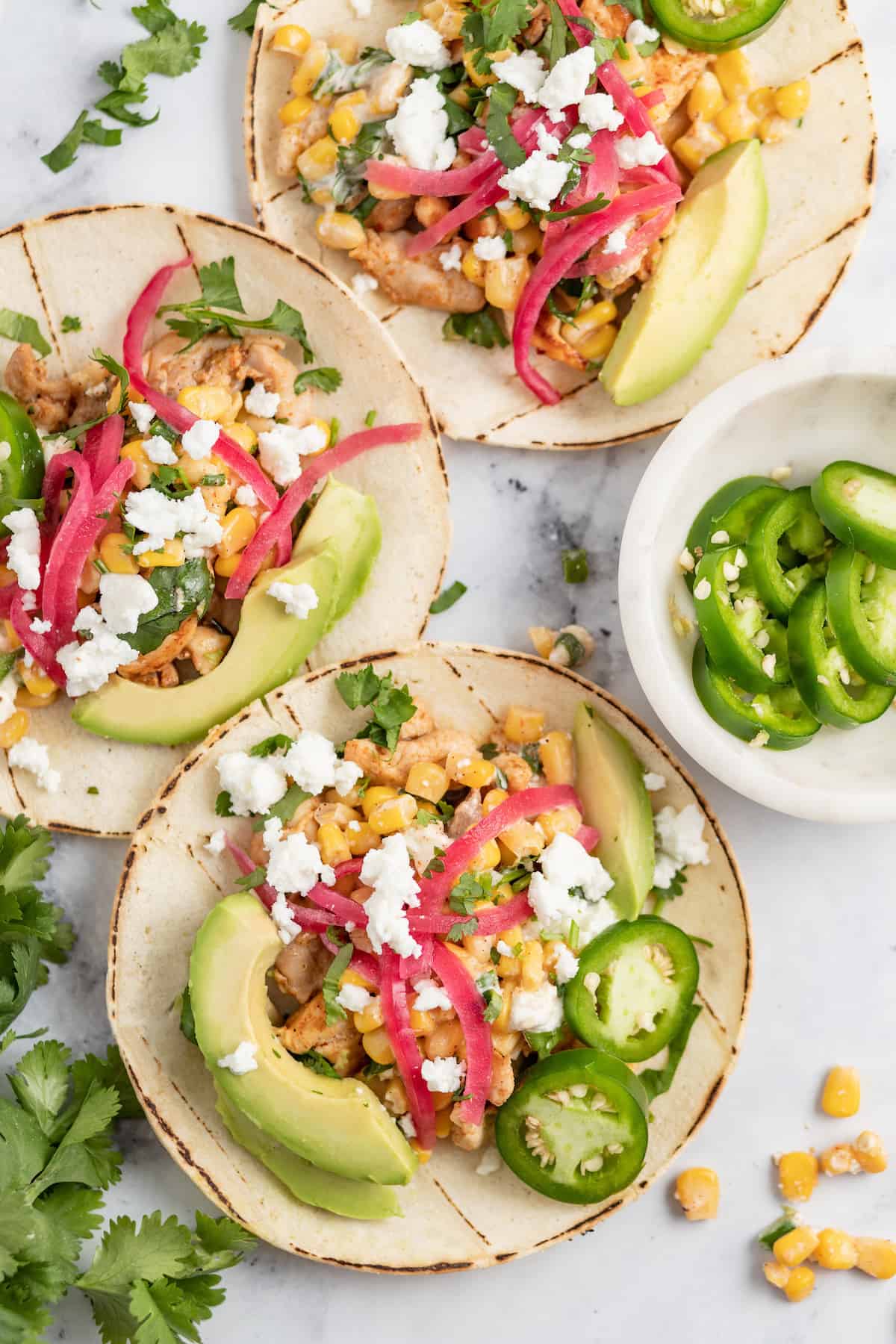 How to Make Chicken Street Tacos
These tacos are pretty straightforward to make! The steps are below.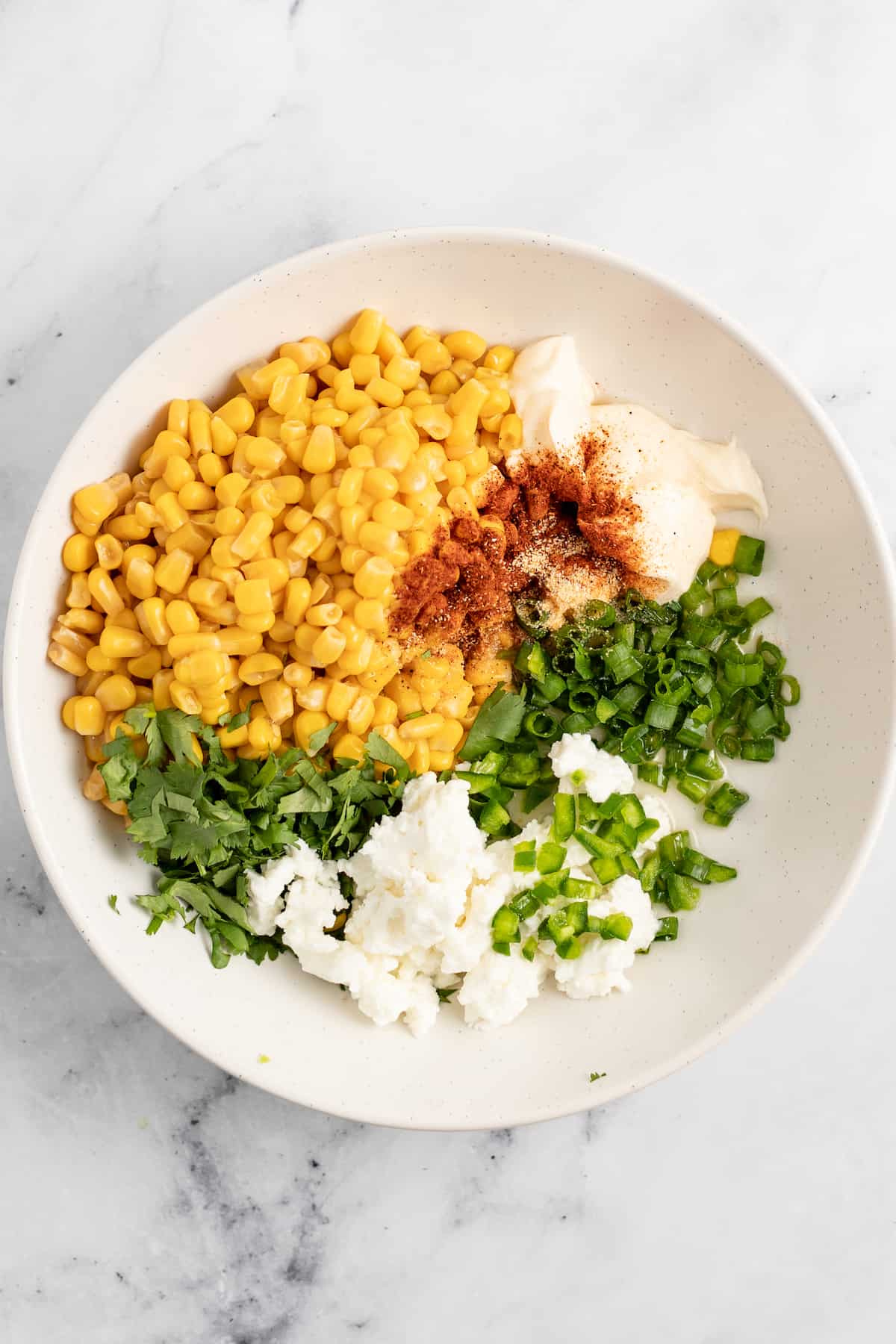 First, make the Mexican Street Corn Salad. I recommend doing this right before making the tacos as the salad doesn't store very well once it's tossed together.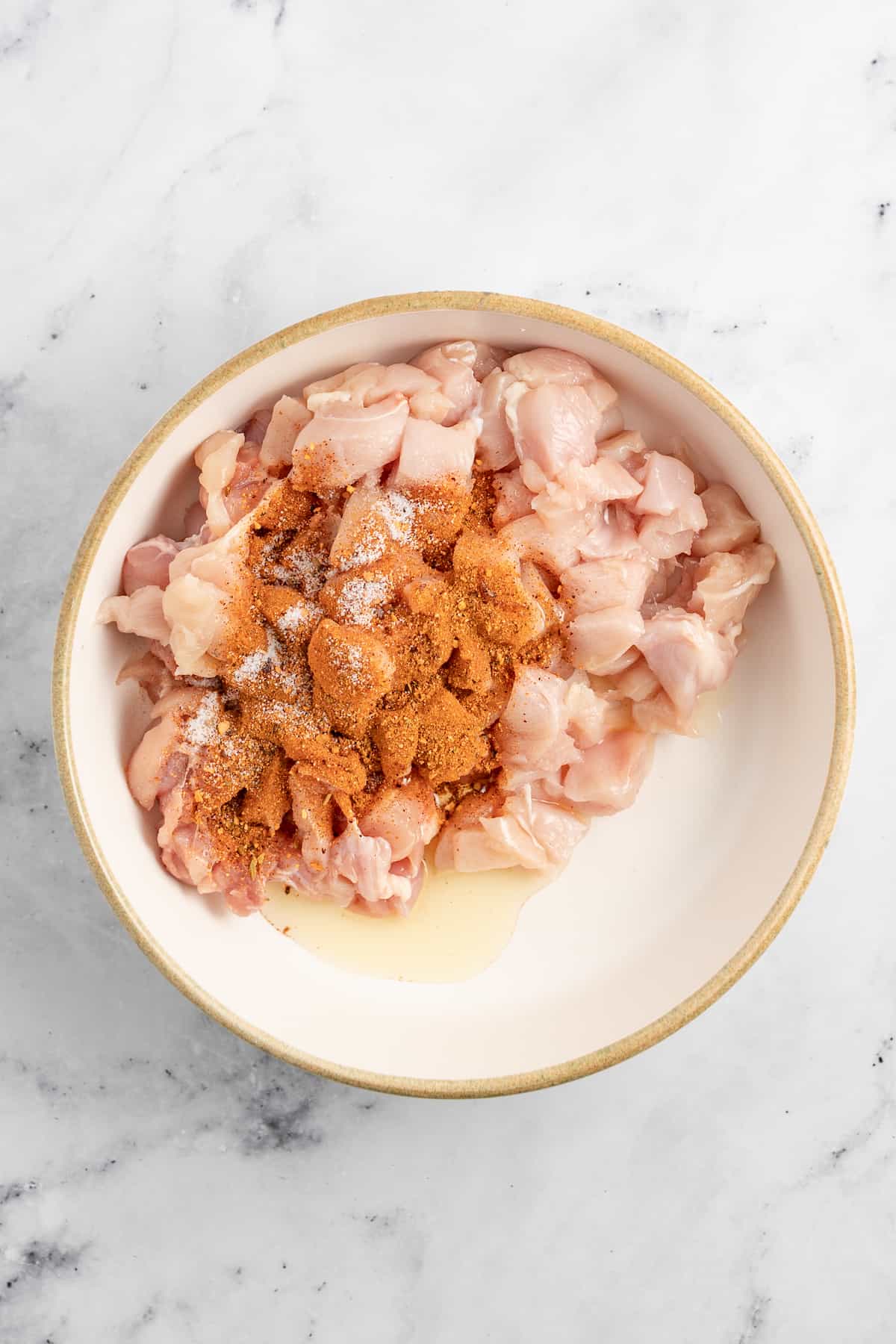 Then, season the chicken in a bowl with avocado oil. Toss the chicken to coat with the seasoning.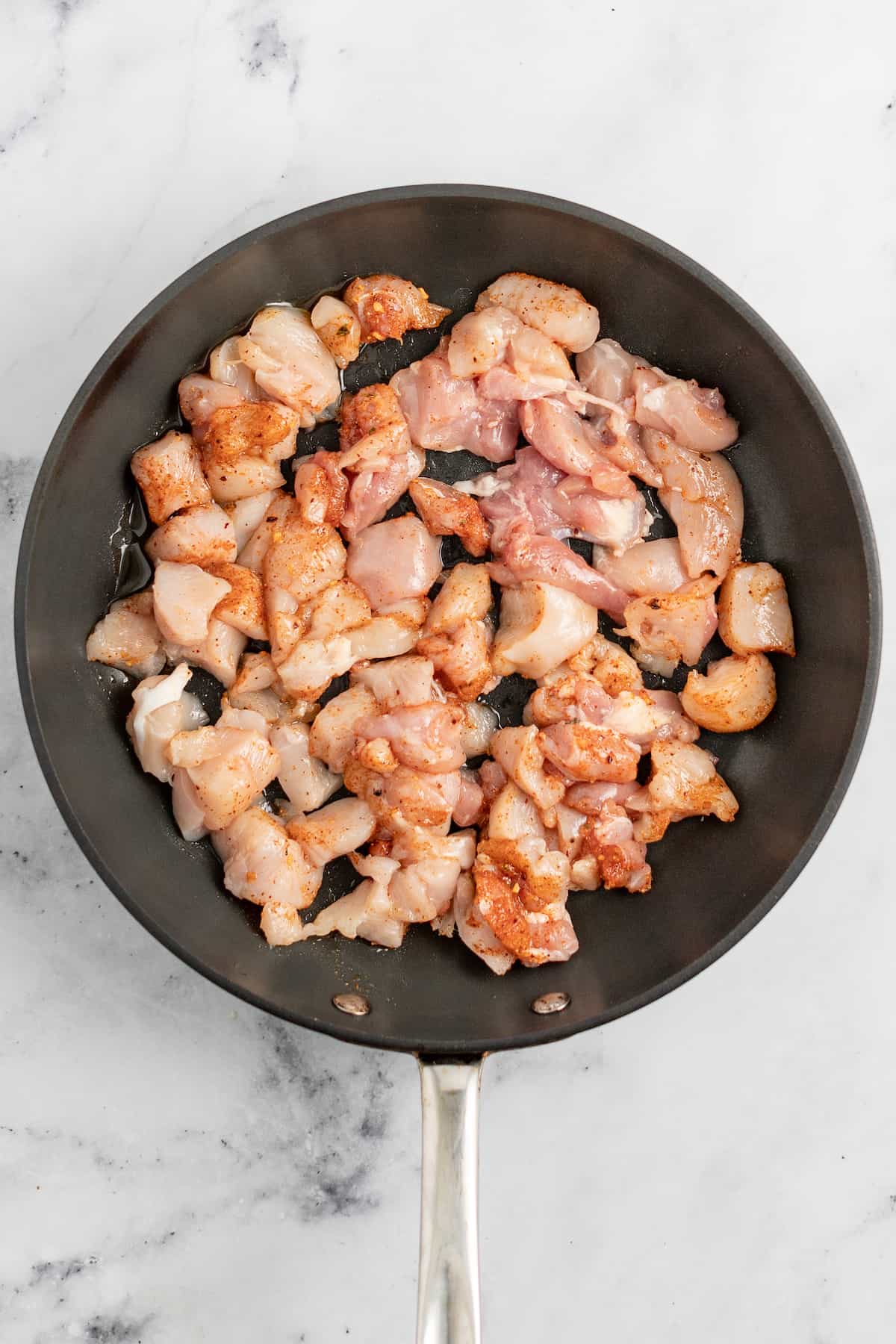 Next, sear the chicken in a pan. Make sure that you stir the chicken so that all sides are cooked evenly.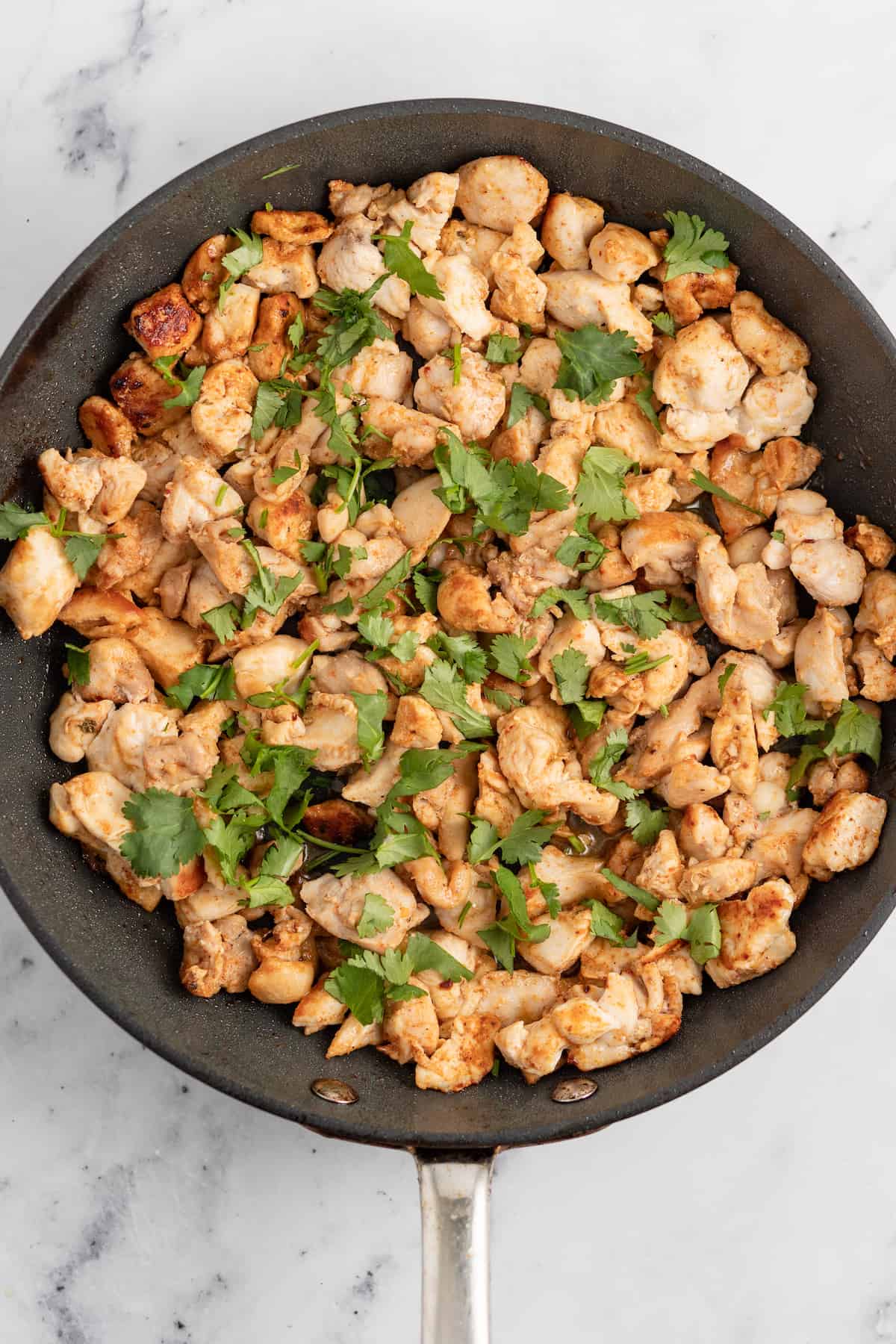 Add the fresh cilantro to the chicken. And don't forget a few squirts of lime juice!
And then warm the tortillas. Do this right in a clean, separate pan. It's highly recommended as the tortillas may break if they aren't heated before you build the tacos.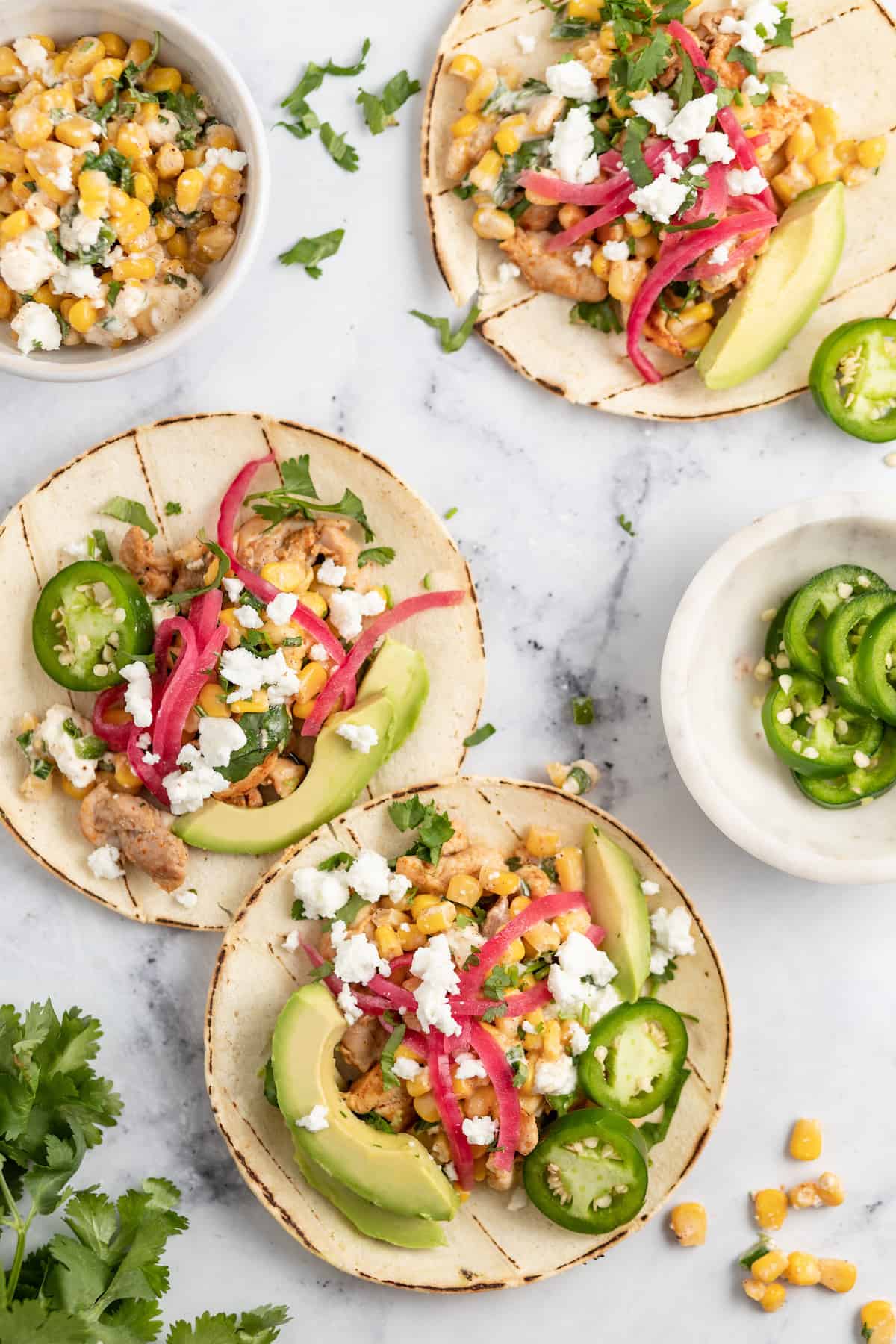 Lastly, build the tacos. Add the chicken, salad, pickled onions, and some slices of avocado to each taco shell. Garnish with more cilantro, jalapeno slices, and cotija cheese if you'd like!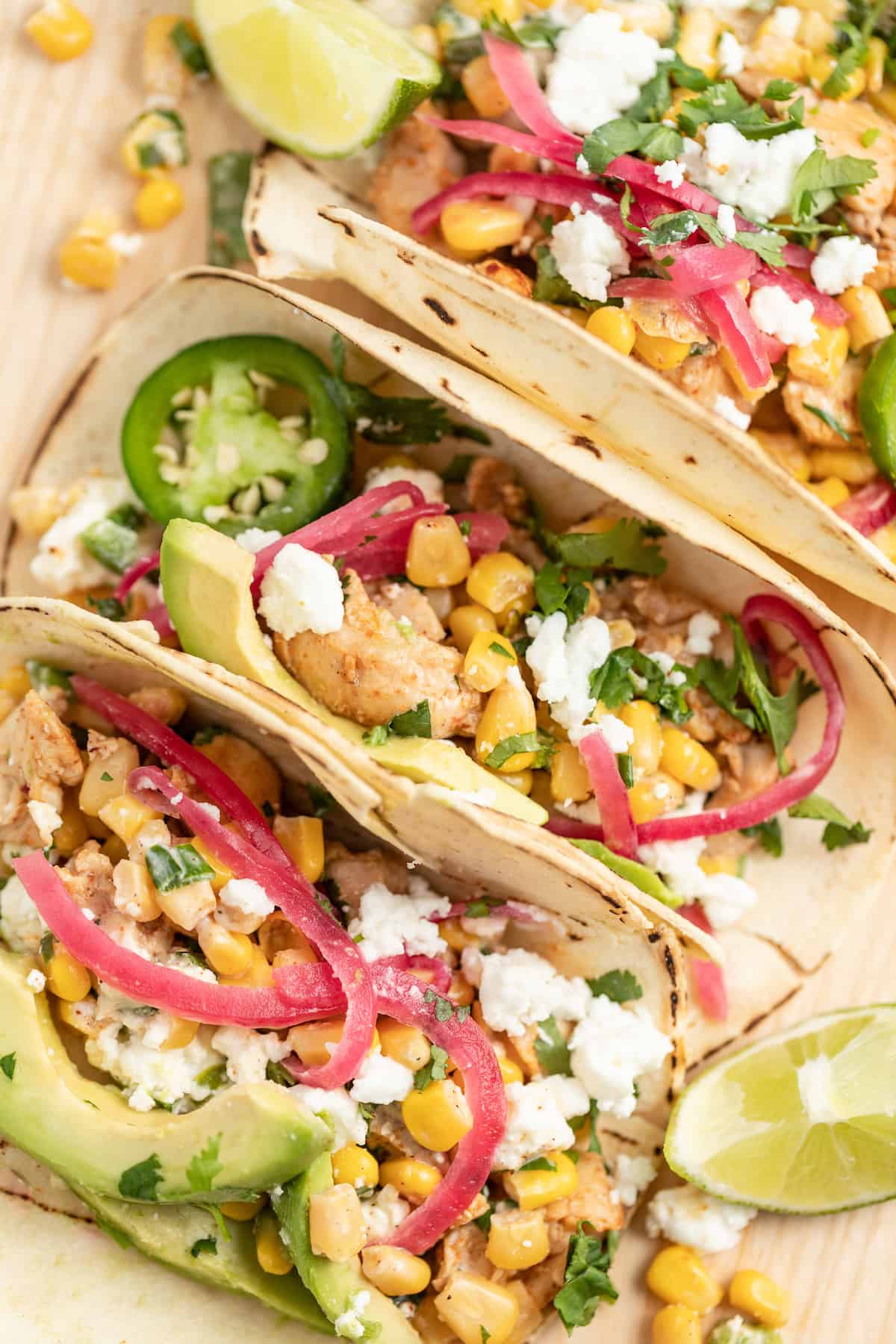 Tips for Success
Follow the tips below to make sure that your Chicken Street Tacos turn out perfectly!
Strain your corn before adding it to the salad. No matter what type of corn you use, you want it to be dry when you add it to the salad.
Use skinless chicken. You can use the combination of thighs or breasts, or just use one, but I highly recommend using skinless so that the tacos aren't greasy.
Keep limes handy – always! Honestly, the best part about a street taco is a good squeeze of fresh lime juice! That little bit amplifies all of the other ingredients. Don't skip out on the limes!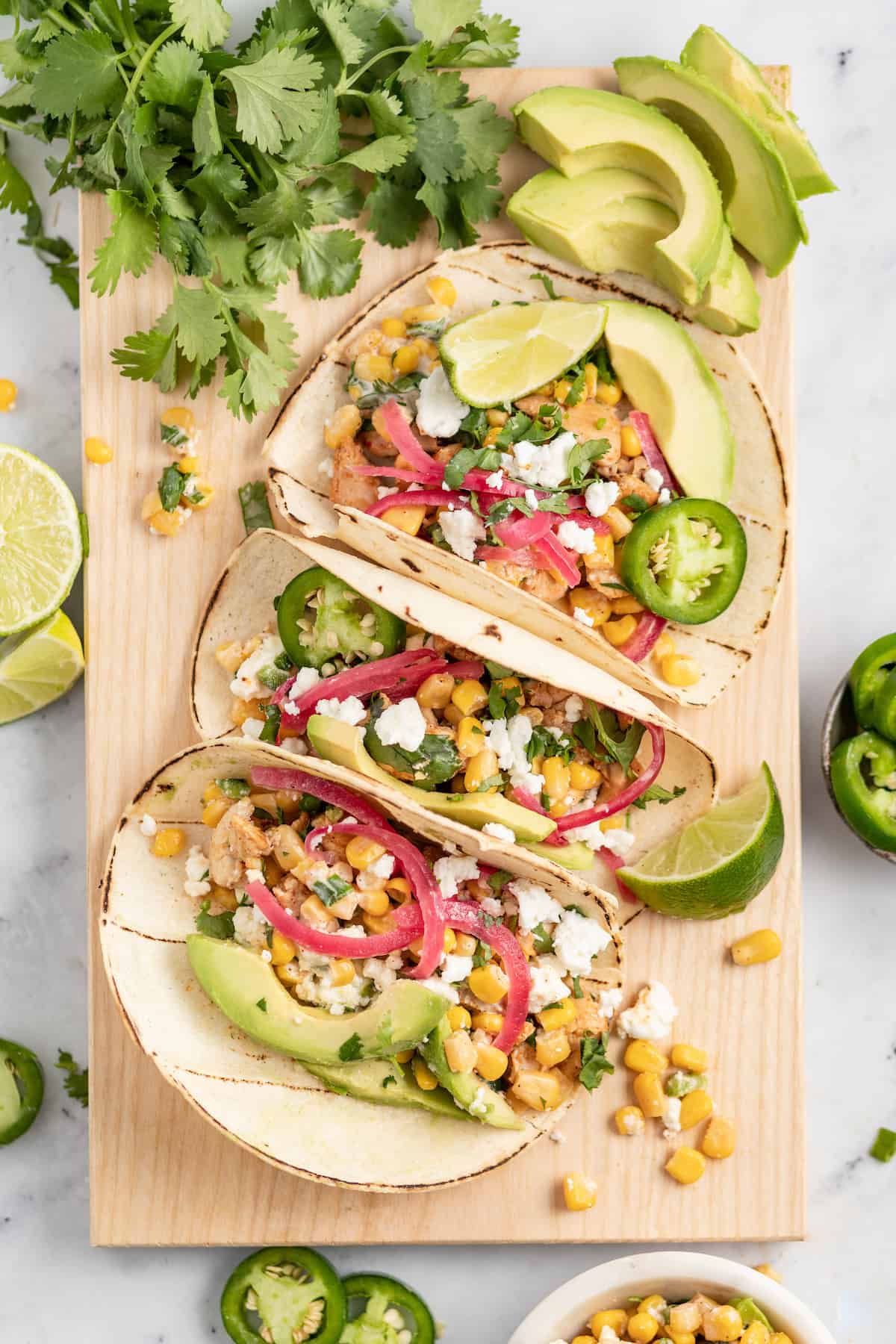 Mexican Street Taco Toppings
Aside from the tasty toppings in this recipe, here are some other suggestions for street corn toppings.
Guacamole: A dollop of your favorite guacamole is always a good choice on any taco! Try my Easy Guacamole or my Bacon Guacamole for an extra layer of yum.
Salsa: So, traditionally street tacos do not have tomatoes, but sometimes you can't deny their fresh flavor and subtle sweetness. My Homemade Pico de Gallo is the perfect recipe to try. Don't want to slice and dice make my blender Restaurant Style Salsa.
Hot Sauce: I always break out the best hot sauce for taco nights!
Diced Onions: You don't always need to get fancy. Simple diced onions are delicious on top of any protein.
Shredded Cabbage: Instead of lettuce, a little bit of shredded cabbage adds bitterness and crunch.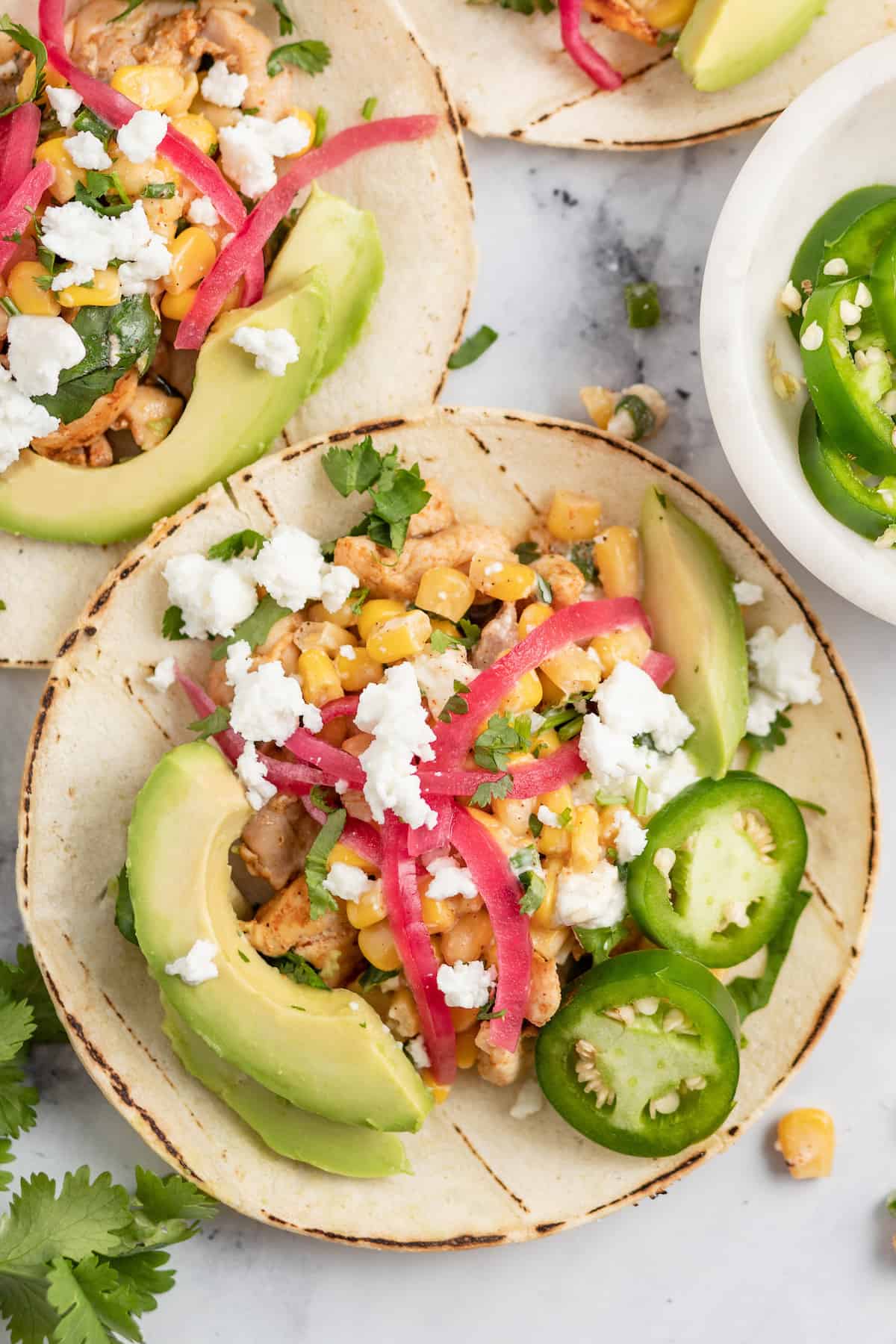 How to Store & Reheat Leftovers
Chicken Street Tacos are best enjoyed right away. Once assembled, they do not make great leftovers! But, you can keep the chicken and the toppings separate to make the tacos on another day.
I don't recommend making the Street Corn Salad too far ahead of time though or keeping it for longer than a day or two.
You can reheat the chicken in a saute pan or the microwave. And then just heat the tortillas per the recipe instructions.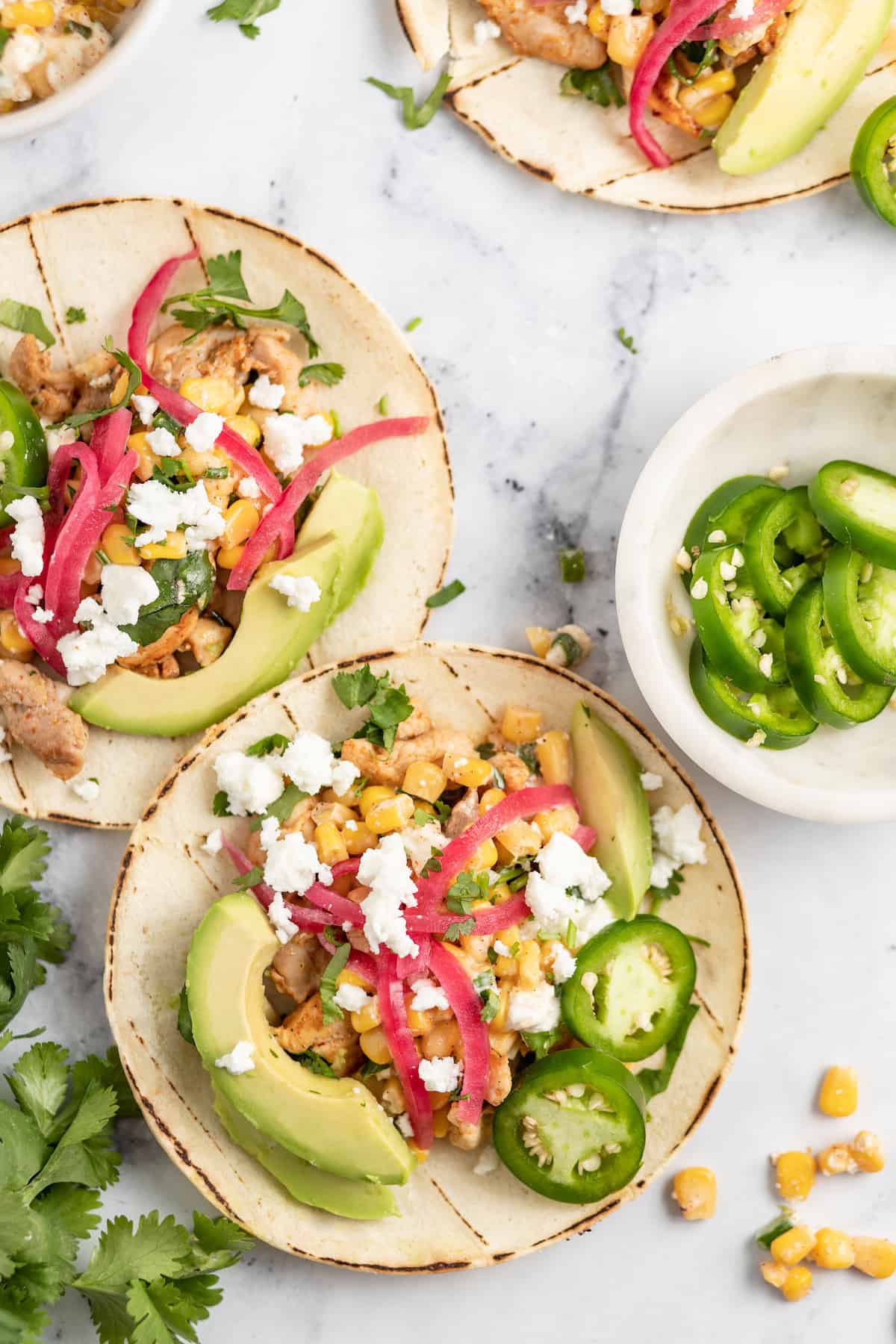 Can I Freeze This Recipe?
Here is what I recommend if you wanted to freeze the components for Chicken Street Tacos.
You can freeze the cooked chicken without a problem! In fact, it would be great to freeze in smaller bags that are preportioned so you have cooked chicken ready to go for taco night.
However, I do not recommend freezing the corn salad or the pickled onions.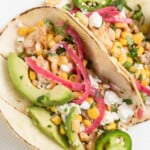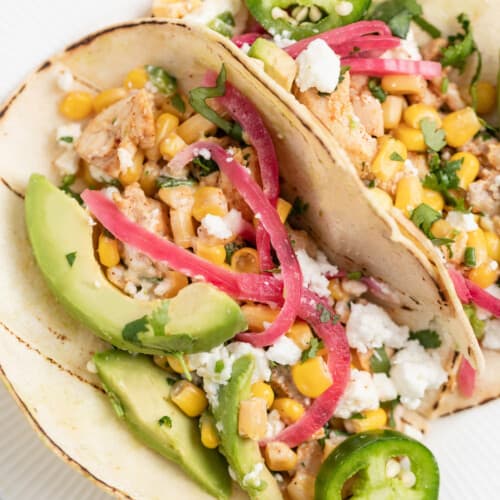 Chicken Street Tacos with Mexican Street Corn
---
Description
These easy Chicken Street Tacos are fresh and loaded with seasoned pan seared chicken, Mexican Street Corn Salad, Pickled Onions, and avocado. 
Scale
Ingredients
Street Taco Chicken:
2

boneless skinless chicken breasts, finely diced

2

boneless skinless chicken thighs, finely diced

1 1/2 tablespoons

of Smoky Chipotle Spice Blend

1/4 teaspoon

of salt

1 tablespoon

olive oil

1 tablespoon

avocado oil

1 tablespoon

of lime juice

2 tablespoons

fresh cilantro, chopped
Mexican Street Corn
2 cups

of cooked corn

2 tablespoons

of mayo

2 tablespoons

of green onion, chopped

2 tablespoons

cilantro, chopped

1/4 teaspoon

chili powder

1/4 teaspoon

garlic powder

1/2

to

1

teaspoon finely diced jalapeno (depending on your heat preference)

1/4 cup

cotija cheese, crumbled

1 tablespoon

fresh lime juice
Street Tacos:
8

–

10

white corn tortillas
cooking spray

1

avocado, sliced
Instructions
Make the Street Corn: To a medium bowl add corn, mayo, green onion, cilantro, chili powder, garlic powder, diced jalapeno, cojita cheese and lime juice – using a spoon mix everything together and set aside.
Season Chicken: To a large bowl add finely diced chicken breast and chicken thighs along with my smoky chipotle spice blend, salt and olive oil. Using a spoon toss everything together until all the chicken is well coated.
Cook Chicken: Heat a large skillet to medium-high heat, add in avocado oil and seasoned chicken. Cook for 2-3 minutes until there is a nice sear on the chicken and toss. Cook an additional 3-4 minutes stirring throughout. Remove from heat. Finish with lime juice and fresh cilantro.
Heat Corn Tortillas: Heat a large skillet to medium-high heat. Spray with cooking spray and add in corn tortillas. Heat for 1 minute per side until they are warm. Repeat process.
Assemble Tacos: To your warm tortillas add chicken, Mexican street corn, sliced avocado and pickled onions. Garnish with more cilantro and cotija cheese.
---
Nutrition
Serving Size:

2 tacos

Calories:

491

Sugar:

3 g

Sodium:

609 mg

Fat:

34 g

Saturated Fat:

4 g

Carbohydrates:

33 g

Fiber:

6 g

Protein:

30 g

Cholesterol:

107 mg
Keywords: best chicken tacos, easy Mexican recipes, Mexican street tacos
More Easy Mexican Recipes
DON'T MISS A RECIPE ->