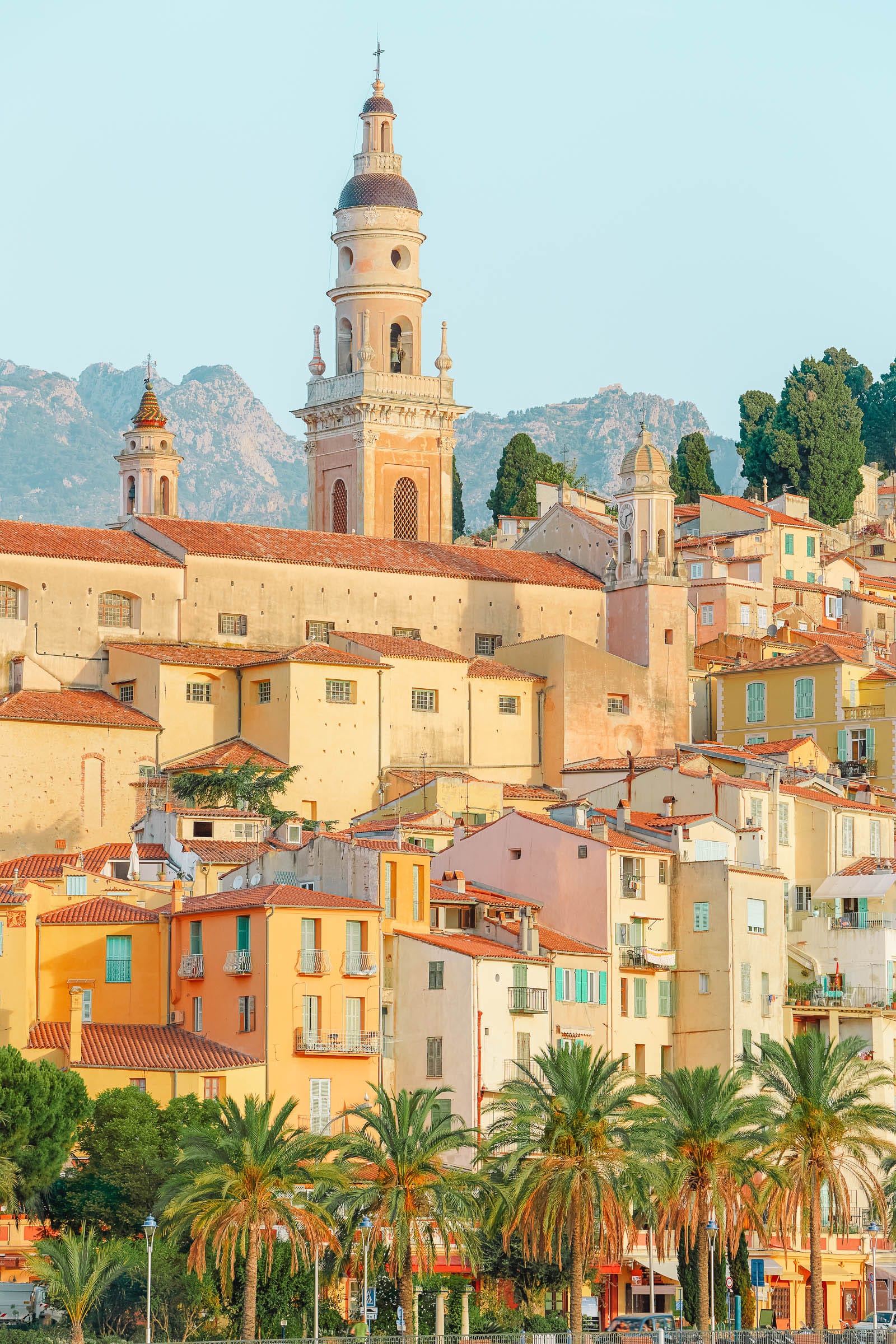 There are so many gorgeous areas in France to visit; with Provence being no exception. Not only is it one of the more iconic places in France to visit, but it also has a heap of the best places in Provence to visit year-round.
Honestly, Provence has a little something for every type of traveller. From gorgeous little communes; like Gordes, centuries of history and the most beautiful vistas and mountain ranges; Provence is totally amazing to visit.
So, to make your trip run smoothly, we've jotted down some of the top places in Provence you should see and explore when in France. This way, you can focus on travelling around Provence, without any of the added pressure of researching on the go! 
Anyway, ramble over! Take a look at some of the best places in Provence to visit when in France. Have the most wonderful time! 
1.) Avignon
The first thing you need to visit in Avignon is the Palais de Papes, a UNESCO Heritage and Europe's largest Gothic palace.
It's honestly stunning and the frescos are beautiful. Plus, Palais de Papes has been the home of nine Popes between 1309 and 1403. It's well worth a gander once you arrive. 
Aside from the Palais de Papes, other gorgeous spots in Avignon are Musée du Petit Palais, where you can see famous works of Giovanni Bellini Sandro Botticelli, among others, and religious landmarks like the Provençal Romanesque Eglise Saint-Didier and the 12th-century Cathédrale Notre-Dame-des-Doms.
Of course, you've got to stroll across the Medieval bridge of Pont d'Avignon and take a gander at Jardin des Doms on a sunny summer day.
Afterwards, head to Grand Café Baretta which we loved! Just be sure to book a table if you're heading here on a weekend; it does fill up fast. 
Oh yeah, and if you fancy a little gander away from the city streets of Avignon, you can check out the medieval village Châteauneuf-du-Pape and Villeneuve-lez-Avignon. The former is one of our favourite wine regions in all of France. 
Heading further away from Avignon? Make sure to check out the town of Orange. Here, you'll find the ancient 1st-century AD Théâtre Antique, which is one of the best places in Provence to visit.
Here, you'll get to watch performances, comedies, and acrobatics during the Roman era. In the present time, the theatre is used for cultural events like Les Chorégies d'Orange.
Other must-see spots in Orange are the Arc de Triomphe, the Hémicycle, and the Musée d'Art et d'Histoire, where you need to check out the Mosaique des Centaures.
Read more: Best places in Avignon to visit
2.) Les Baux de Provence
Les Baux de Provence is like a heading back in time. It totally looks incredible and is easily one of the best places in Provence to visit as you head around the region.
Here, you'll get to experience a glimpse of the Middle Ages by visiting Les Baux-de-Provence by strolling its streets. It's so picturesque, especially with all its stone buildings, flower-filled terraces, quaint galleries, and cobblestone streets.
After arriving, you have to head over to Château des Baux. It's a stunning castle, albeit, in ruins that's well worth taking a gander at. Then, pop over to Eglise Saint-Vincent and the Musée Yves, too. The latter is great if the weather takes a turn and you're looking for some epic places indoors.
Getting peckish? Grab a yummy lunch at Le Bouchon Rouge. Their crepes and pates are so good. 
3.) Cassis
Once considered a hidden gem, Cassis has become much more well-known over the last few decades. Though, that isn't a negative. In fact, it's still one of the best places in Provence to visit that's right on the coast and a stone's throw from the nearby city of Marseille. 
With its white cliffs, Cassis is a totally gorgeous spot to visit in Summer, especially when the weather is hot. We love the little coves and bays around this area, especially; Calanque de Port Pin and Calanque d'En-vau which are not too far away. 
Not only that, Cassis is world-renowned for its winemaking and you'll be able to try a tipple (or two) in loads of the little bars and restaurants that line its shorefront. 
We popped into Le Grand Large and loved it. They serve up heaps of fresh seafood and their scallops are everything. Plus, you can usually find bouillabaisse (a sort of fish stew) that's so tasty. 
4.) Gordes
Okay, for me, Gordes is idyllic and easily one of the best places in Provence to visit. Honestly, it's a place you can't miss. 
Perched in the region around Luberon Natural Regional Park, Gordes and its surroundings have been an inspiration to famous artists for their paintings for centuries (Marc Chagall and Victor Vasarély, to name a few). Trust me, you'll see why when you visit. 
After arriving, be sure to stop off at Château de Gordes and head inside the Les Caves du Palais Saint-Firmin which are well worth seeing. Oh, and for some great views of Gordes, head to Point de vue sur Gordes. It's easy to stop in the car and take in the views from here. 
Nearby, you'll be able to drive to Village des Bories to see some of the UNESCO-protected stone ruins surrounding the area. There's also a gorgeous property to stay at, Les Bories & Spa, that's not too far away at all.
Finally, a great place to stay in the centre of Gordes is Airelles Gordes. The rooms are gorgeous and they easily make one of the best hot chocolate drinks I've ever had! 
Since Gordes is around a 17-kilometre drive from Cavaillon and 40 kilometres away from Avignon, you can have some stopovers like in the Abbaye de Sénanque all along the way.
It's a totally scenic abbey and a spot to stretch your legs where you'll see all that beautiful (seasonally blooming) lavender. Just an FYI, the peak times for lavender blooms are mid-July. 
Read more: Best places to see in Gordes
5.) Uzes
For an authentic gem in Provence, do not forget to explore the village of Uzes. It's totally lovely to visit and is a small commune that's steeped in history. 
You see, Uzes has gone through several periods, being a former Jewish enclave, a dukedom, a settlement of Romans, and a hamlet. Because of this mix, you can see a huge array of cultures and architectural influences, that make Uzes so special.
Once here, check out Pont du Gard and a castle in the town centre where a duke still resides and visit the Uzès Medieval Garden that's totally quaint. 
Oh, and don't forget the Sunday market when you visit. You'll leave with bags of local treats.
6.) Venasque
Not only known for its cherries and grapes that are seasonally grown in this region of Provence, Venasque is also home to the pre-Romanesque Baptistère de Venasque. It's one of France's oldest shrines and one of the best places in Provence to visit if you love history.
Perched in the Venasque, you'll only spend a few hours in Venasque as it's pretty small. This makes it a perfect stopping point as part of a wider Provence road trip. 
Once here, you'll get to see the Roman walls, ancient ramparts, and the Baptistery which are beautiful to see. Plus, you'll see one of the most notable items in Venasque, the Crucifixion painting. You will find it in Notre Dame de Venasque and is well worth seeing whilst in the town.
For a tasty bite to eat in summer, check out Plein Air that's not too far away by car. It's an organic restaurant set on a farm which is so lovely. Plus, you get to eat outside and enjoy this beautiful region in the sunshine. We love it. 
7.) L'Isle-sur-la-Sorgue
A paradise for Antique hunters and market lovers, L'Isle-sur-la-Sorgue is one of the best places in Provence to visit. A little bigger than spots like Gordes, you can easily spend a few days wandering the area and checking out this Provence island town that's totally unique.
Talking about stalls, there are more than 300 stalls you can explore during the Sunday market. Plus, if you happen to have your trip on the first Sunday of August, be sure to check out the gloating market where wines and wares are sold by the locals.
The historic watermills, boats and riverbank cafés give L'Isle-sur-la-Sorgue that charming atmosphere that makes Provence so special.
8.) Saint-Rémy de Provence
Found in Alpilles Mountains' northern foothills, Saint-Rémy de Provence is a peaceful place you have to visit.
Kown by some as the spot where Vincent van Gogh spent a year in The Monastère Saint-Paul de Mausole. Nowadays, you can visit his room and look at the copies of paintings he created whilst in the area.
Plus, if you want to know more about Van Gogh, you can head to the Musée Estrine where Van Gogh was given the Center of Interpretation.
Haven't seen an open market yet?
Then, Saint-Rémy de Provence is the place for you. It's one of the best places in Provence for markets and we love it. Once here, you can enjoy mingling with the locals on Wednesday mornings, when the Grand Marché Provençal, which is a large market, spreads throughout the old town's main squares.
Finally, you can also visit the Collégiale Saint-Martin or the Glanum Excavation Site.
When it comes to food, try the specialities of the region in La Roma (33 Boulevard Marceau), Chocolaterie Joël Durand (3 Boulevard Victor Hugo), Le Petit Duc, and a famous spot among locals, Le Bistro du Paradou. There's a heap of yummy spots and you'll be spoilt for choice. 
9.) Arles
Another place where Van Gogh resided in Provence is Arles. In fact, you can stroll the Van Gogh Circuit and see some of the spots where Van Gogh painted some 300 paintings around Arles. 
To this day, you can visit Langlois Bridge is one of his famous painting spots that still stands proudly. 
Van Gogh aside, Arles is also a UNESCO-protected site and has heaps of historical spots you can't miss. Of course, you have to explore the Roman Arles Amphitheatre which dates back millennia.
Also, check out Alyscamps which leads over to a historic Roman cemetery in Arles. 
10.) Aix-en-Provence
Having Southern France's warmth and Paris' class, Aix-en-Provence is a must-see in the Provence Region. It's got that city feel that's perfect if you're preferring more of a city break in Provence. 
Throughout this area, you'll see heaps of historical spots and iconic places you can't miss. In fact, it's one of the best places in Provence to visit for its culture and history.
Be sure to stroll through the boulevard of Cours Mirabeau where you can then meander through the smaller streets that join it. 
After taking a stroll, be sure to e Musée Granet, the Cathédrale Saint-Sauveur, the Atelier de Cézanne (studio), and marketplaces like Place des Prêcheurs for farmers' products and Place de la Mairie for flowers. It's a totally walkable city and they're all easy to spot along your meander through Aix-en-Provence.
11.) Menton 
Nestled right on the border with Italy, Menton is one of the best places in Provence to visit as you follow the coastline. Now, you can easily spend a few days in Menton, so make sure you plan your time wisely. 
Once here, be sure to check out the totally gorgeous Jardins Biovès which are right in the heart of Menton. The gardens are stunning and totally worth seeing on your walk around the area.
Also, don't forget about Marché des Halles for its historic market that you can't miss. You'll easily grab a few treats whilst you're here. 
Finally, although it's not Provence, you can easily visit the tiny country of Monaco whilst you're here. It's only around 15 minutes away and is the second-smallest country in the whole world. 
12.) Roussillon
Not too far from Gordes, Roussillon is one of the best places in Provence to visit whilst you drive further east from Avignon. 
Although small, Roussillon has heaps of little art galleries and the most lovely vineyard that's just outside the commune itself. 
Now, although you won't spend days in Roussillon, it's well worth visiting for a few hours on your wider Provence itinerary. We loved it. 
Read more: What to do in Gordes and Roussillon
13.) Séguret
Although small, Séguret is well worth a little gander to explore. Once here, be sure to stroll around the area of Le Sentier des Ocres. Filled with yellow and red cliffs, there are marked hikes and walkways where you can explore this beautiful area. 
Best of all, Séguret is at the footings of Dentelles de Montmirail, a glorious mountain range that is perfect for hiking. This makes it easy to partner up a stay in Séguret with a wider exploration of the great outdoors. 
Also, not too far away from Séguret is Les Gorges du Toulourenc. It's a great hiking and kayaking spot that's totally beautiful in summer. 
14.) Dentelles de Montmirail
The mountain ranges in Provence are iconic and can't be missed as you head around the larger region. In fact, I'd say that the Dentelles de Montmirail chain is one of the best places in Provence to visit if you love the great outdoors. 
Formed millions of years ago, during the Jurassic Period, the spiked and jagged towering mountains are so incredible to see. Best of all, there are hundreds of hiking trails that run all around the Dentelles de Montmirail that suit all different types of abilities. 
Just be sure to pack plenty of water and wear some good hiking shoes. Trust me, you'll definitely need both of these as a bare minimum. 
That being said, if you don't fancy hiking, drive to the top of Mont Ventoux. It's the highest mountain in Provence and is often called the Giant of Provence by locals!
The views are breathtaking, but be sure to take warm clothes with you – the height makes it really chilly when you're at the top. 
Read more: Best cities in France to visit
---
---