I've visited over 100 Christmas markets in Europe (yes, really) and I'm here to tell you: Germany has the best. If you're looking for classic, wooden stalls, or off-beat funky traditions, you can find something for everyone at the Weihnachsmarkt in Germany. I'm bringing you the best Christmas Markets in Germany from all my travels!
If you're looking for an unforgettable Christmas experience, look no further than a German Christmas market! Filled with traditions, history, and delicious food, you won't be disappointed. In fact, the best German Christmas markets are some of the oldest in the world and Germans take great pride and detail in their traditions.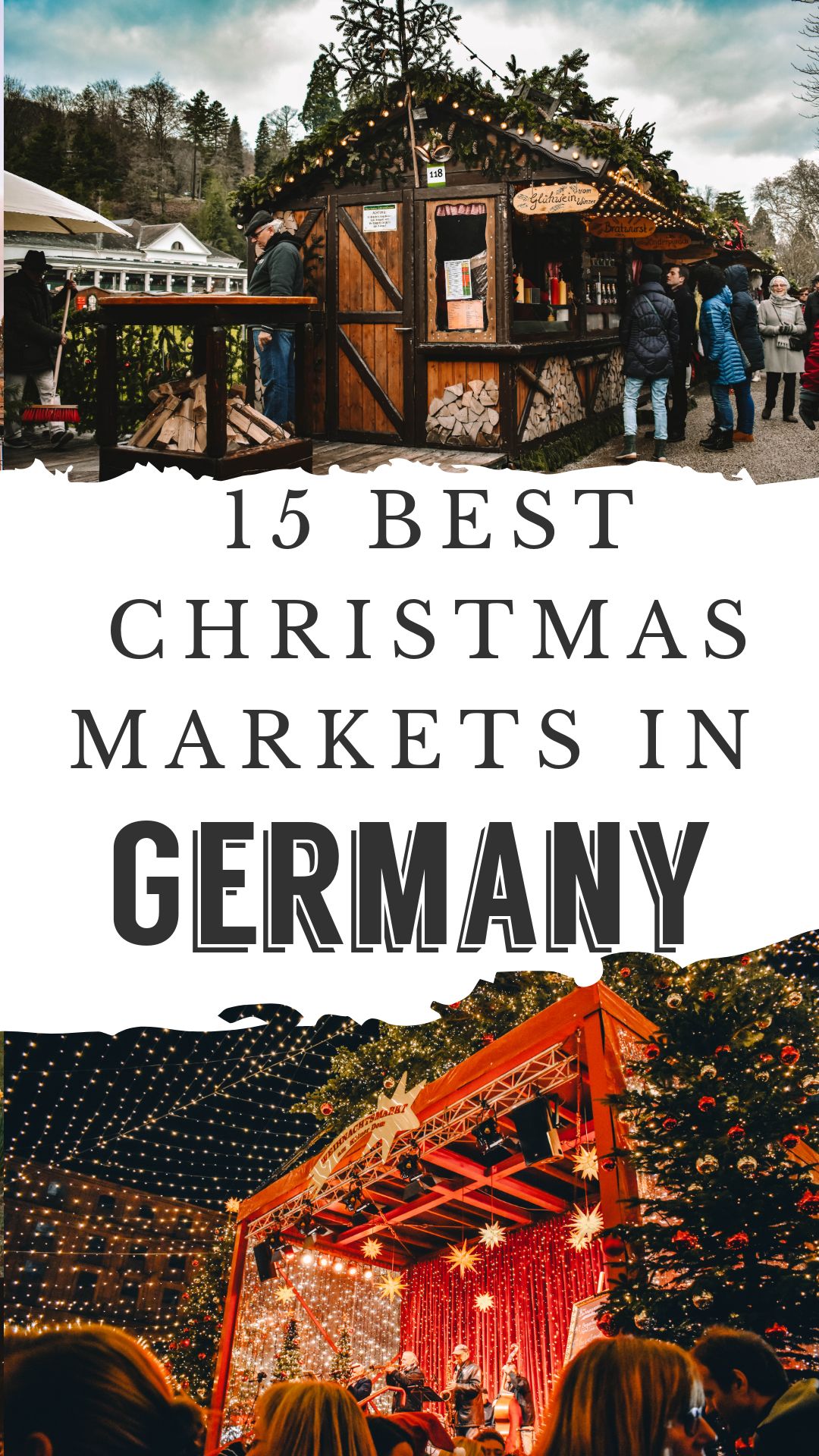 When I first moved abroad I was worried: how could I experience the magic of Christmas, away from home, in Germany? What I found was the most magical, wonderful, and fairy tale-like places on earth. Especially at Christmas time.
Christmas in Europe is special, but the German Christmas Markets are the best on the continent. I've mapped out my favoriteChristmas Markets along with tips, times, and a guide to make the most of your time.
There is nothing like Christmas in Germany, y'all. Hand carved wooden stalls selling the most delicious treats, exquisite ornaments, people singing carols, and shaking gloved hands and saying "Frohe Weihnachten" (that's Merry Christmas in German). The Weihnachtsmarkts of Germany (that means Christmas Market in German) are the best in the world.
Completely updated for 2022! As you might know, many of the markets last year were canceled. I'm happy to say that it appears that ALL of the markets are open this year! I've included dates as well as maps and everything you need to know to plan your trip.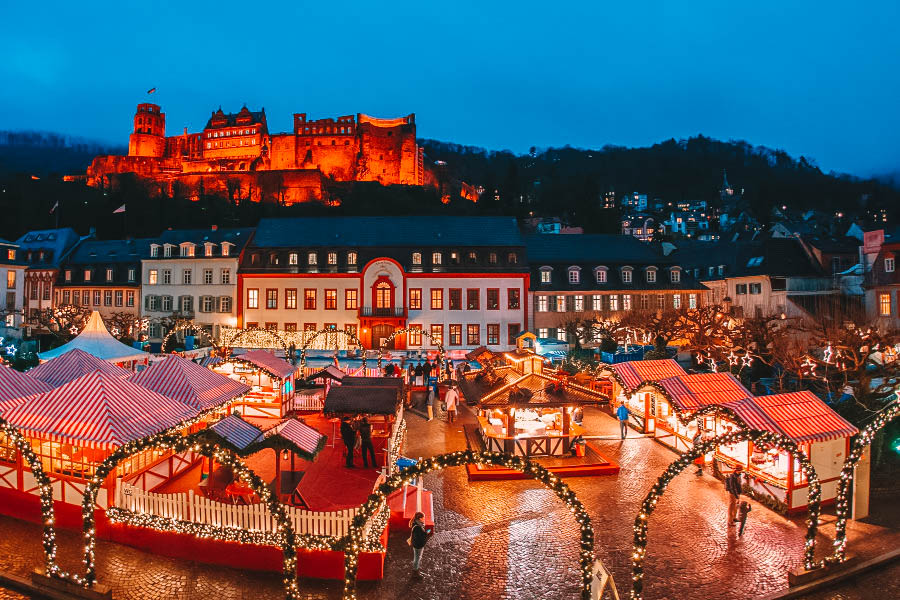 The tradition of Christmas markets dates back to the 1300s, and today's markets still echo the charm of this festive season.
While the big cities might have flashy displays and multiple markets, don't knock the incredible intimate settings of the smaller towns. They often offer cheaper food and drinks and the markets have their own special flair.
I've mapped out the best Christmas markets as well as the best towns to experience the magic of Christmas. Below each town you'll also find dates and times for each Christmas market for 2022.
Looking for my guide to the best Christmas Markets in Europe? Check out this post and itinerary!
1. Cologne
Cologne: best Christmas market in Germany! Cologne is already a beautiful city – gargantuan twin-spired cathedral, next to the mighty Rhine River, and full of Gothic architecture in a picturesque old town. But the Christmas market takes it over the top. Which is why Cologne is at the top of my list for best Christmas markets in Germany.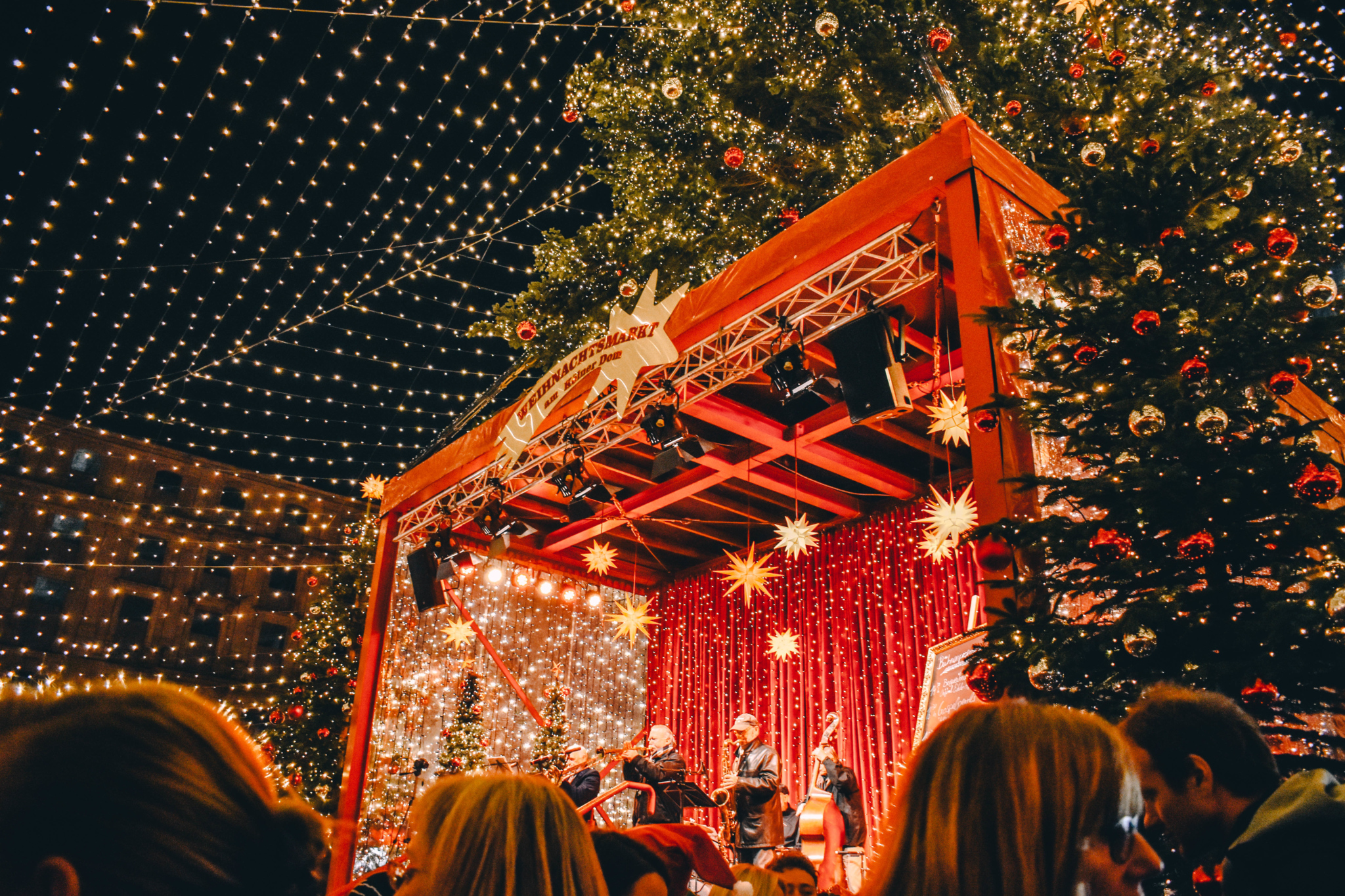 Brimming with charm and cheer, there are multiple markets spread throughout the city of Cologne. There are seven markets throughout the city, each bringing a totally different vibe and atmosphere. The market in front of the cathedral is one of the most popular, and for good reason. Beautiful, traditional wood stalls surround a stage with the backdrop of the cathedral.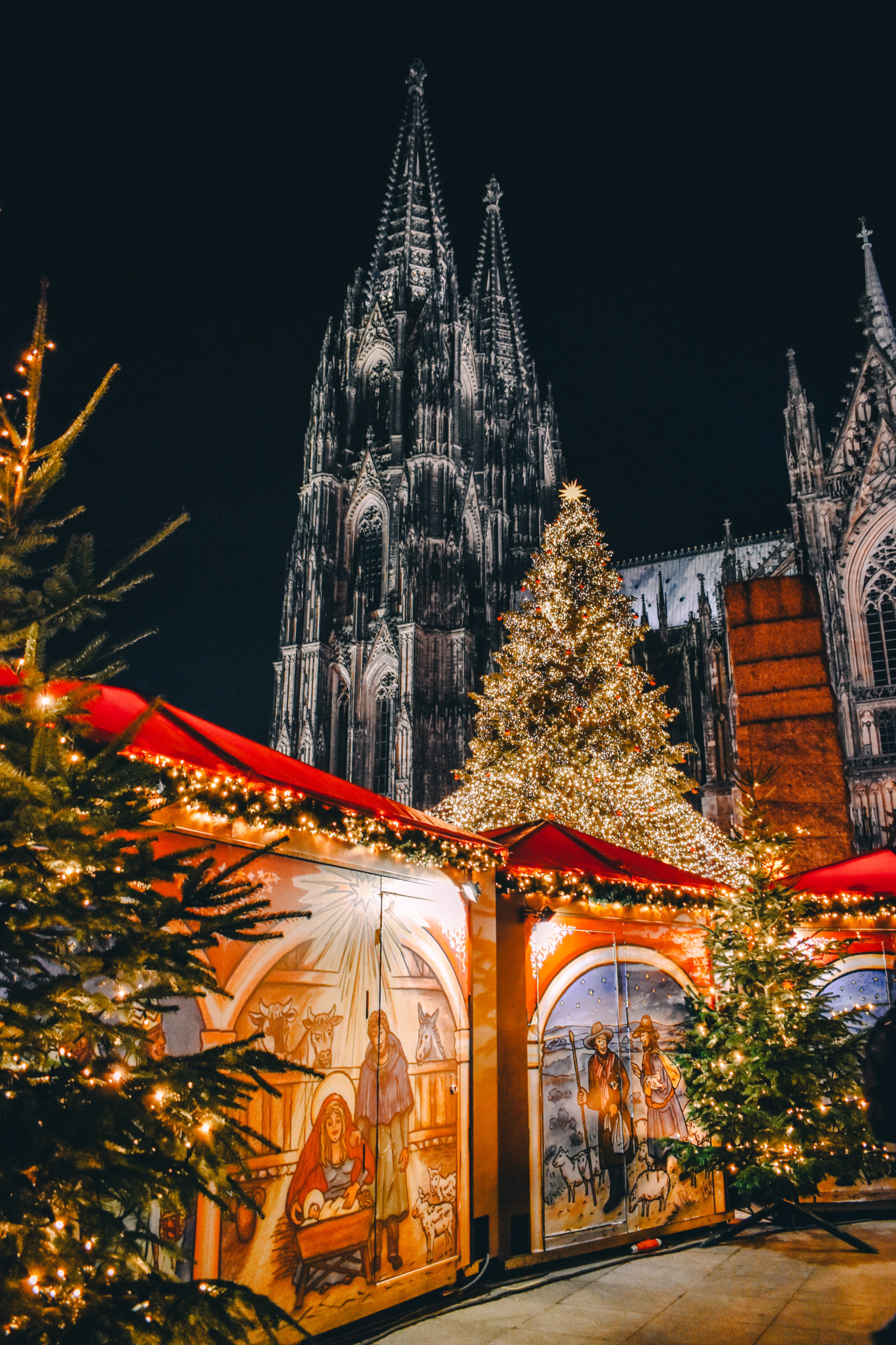 Also, not to be missed is the Old Christmas market, aka the Alter Market near town all. This adorable market looks straight out of a story book with gnomes (Heinzelmännchen) perched on rooftops.
Lastly, you must visit the Angel's Christmas market. This is the oldest market, held in Neumarkt. You'll see women dressed up as angel's handing out treats to children and sparking white lights atop all the stalls. It's breathtaking.
Cologne Christmas Market 2022 dates and times: Nov 21, 2022 – Sun, Dec 23, 2022 from 11 am to 9pm (Saturdays until 10pm)
2. Nuremburg
Nuremburg: best traditional Christmas market in Germany! Nuremburg's Christmas market is one of the oldest and most famous German markets, dating back to 1530. The red and white stalls bring up a nostalgia that echo back to the original Christmas markets that started here hundreds of years ago.
This traditional market offers a beautiful setting in front of the Church of Our Lady with a special kid's choir that performs throughout the season at the "Christkindlesmarkt." The Christkind is a symbol for Nuremburg and dates back to the idea that she brings children their Christmas gift.
Of all the German Christmas markets this is one of my favorites.
Nuremburg Christmas Market 2022 dates and times: Sat, Nov 25, 2022 – Tues, Dec 24, 2022 from 10 am to 9pm daily.
3. Aachen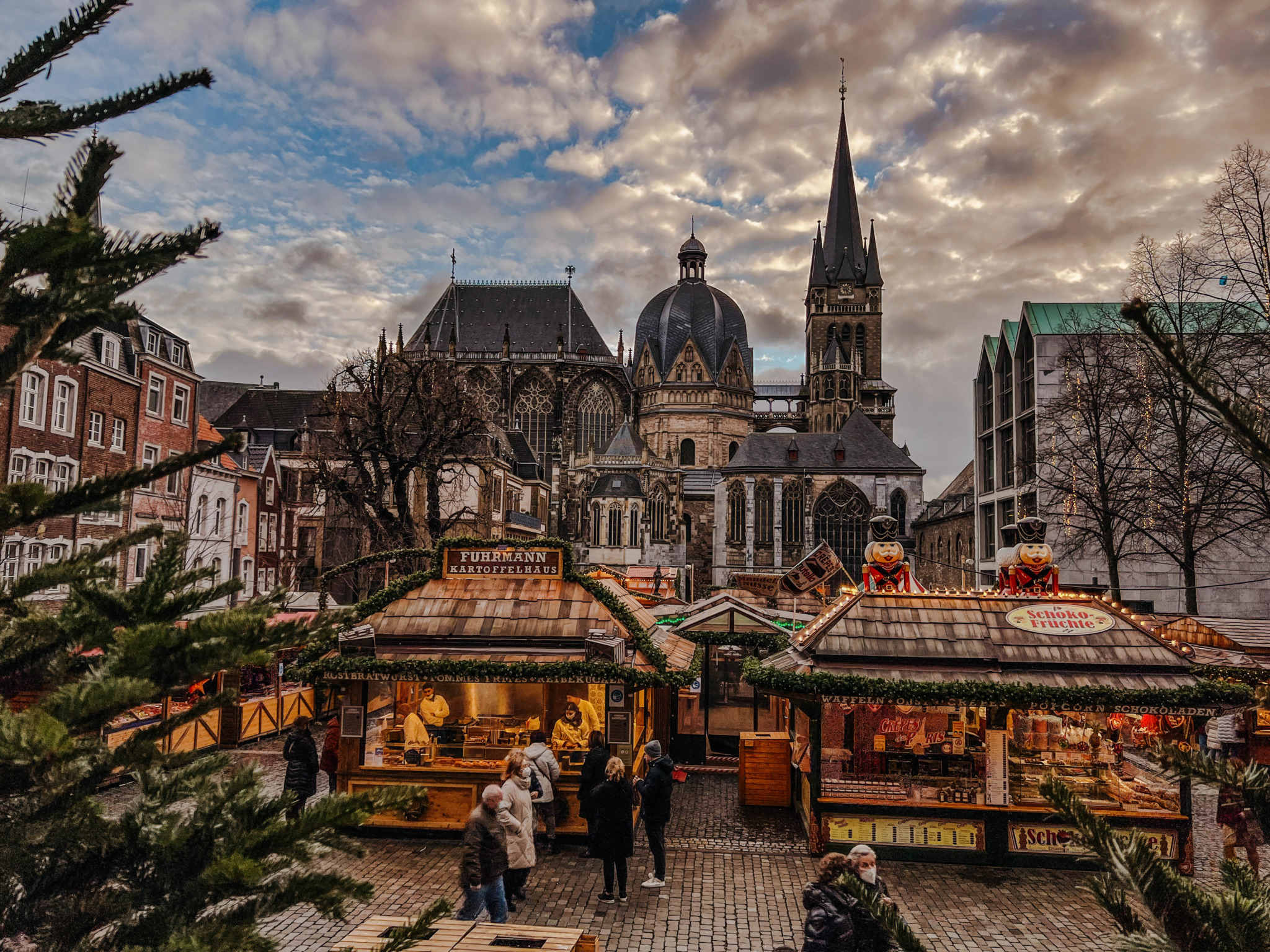 Aachen: best Christmas market spirit! Decked out with twinkling lights and lavish squares, your eyes will be a-glow from the moment you arrive in Aachen. The Aachen Town Hall is transformed to a festive wonderland, the city is brimming with beauty and twinkling lights, and people from all over come to join in on the merriment of the season.
Aachen is known as the historic city of Charlemagne's reign, but in recent years, they've become a major destination for Christmas. With beautiful Roman ruins and a UNESCO world heritage cathedral, you really can't go wrong visiting Aachen. 
What I love about Aachen's market is that it's spread throughout the city but you an get to each spot by walking! The markets are centered around Aachen Cathedral, Charlemagne Centre, and Aachen town hall. Aachener Printen (gingerbread) follow you wherever you go and will direct you towards the market. 
Aachen's Christmas market is one of the best decorated and loveliest Christmas markets in Germany. You just have to see it for yourself!
You can find my Christmas Market Itinerary right here.  
Aachen Christmas Market 2022 dates and times: Nov 18, 2022 – Sun, Dec 23, 2022, 11m – 9pm daily
4. Trier
The Christmas market in Trier is set against the romantic backdrop of the Moselle river and the medieval Main Market. The 95 attractively decorated booths provide a perfect setting for this wonderful event, with Trier Cathedral providing an impressive backdrop.
The program changes daily at the Trier Christmas Market, so there's always something new for visitors to enjoy. Whether it's historical puppet theater or a star tenor performance, there's something for everyone in the family. In addition to delicious food and drink, arts and crafts from around the world are also available. The Trier Christmas Market is one of the most popular markets in Germany attracting thousands of visitors each year.
Trier Christmas Market Dates for 2022: November 18th through December 22nd, 2022.
5. Heidelberg
Heidelberg: best food at a Christas market in Germany! Now if you think I'm biased because I lived in Heidelberg, then you're absolutely right. HOWEVER, there is something so perfect about this Christmas market. Taking place throughout the Hauptstrasse, you'll find markets dotted along the pedestrian street. Traditional in style, this Christmas market is oozing with charm. See my full guide to Heidelberg's Christmas Market here!
There are plenty of shops, food, and Glühwein, and even an ice skating rink with a castle view. But my favorite aspect are the ornate wooden stalls. Each city has its own unique take on decor, and Heidelberg's is my favorite. Hand carved stalls bursting with Santas, lights, and full size reindeer. They are some of the most detailed of all the Christmas markets I've attended.
Heidelberg Christmas Market 2022 dates and times: Mon, Nov 18, 2022 – Sun, Dec 22, 2022 from 11 am to 9pm (Saturdays until 10pm) There's a second market that goes until January 1, 2023!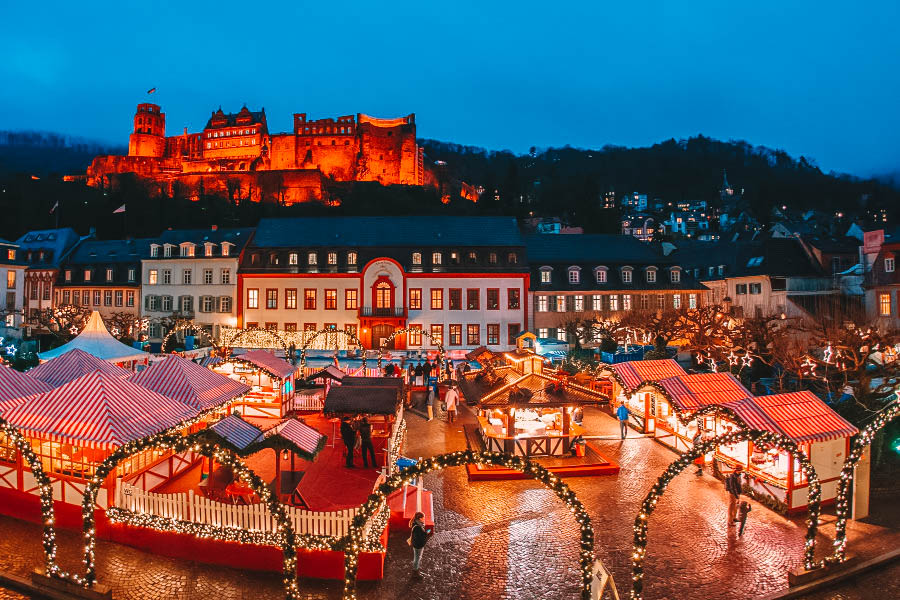 6. Munich
Munich: best themed Christmas markets! Munich is the jewel of Germany with a lovely garden, impressive buildings, and Oktoberfest celebration. The Marienplatz is already an exceptional example of European beauty. But the Christmas market in Munich is a feast for all the senses.
A spectacle of lights, traditional markets, and some out-there markets that take celebrating Christmas to a whole other level. Themed markets in Munich are some of the best Christmas markets in Germany and offer a different take on the traditional celebrations.
There's a Christmas market concert held in the city each day during the season, a Children's market, and the Tollwood Market is an ethnic festival with a look to celebrations of Christmas all over the world. There's also a gay Christmas market at Stephansplaz and a Medieval Christmas Market at Wittelsbacher Platz.
Munich Christmas Market 2022 dates: Nov 21, 2022 – Dec 24th, 2022. Times are Monday through Saturday 10am-9pm. Sunday 10am-8pm.
7. Baden-Baden
Baden-Baden: best place to buy gifts at a Christmas market. This historic city is located just on the outskirts of the enchanting Black Forest (where so many fairytales come from!). Baden Baden has a market taking place on a long stretch just outside their old town.
You'll find over 100 stalls of arts and crafts, delicious food, and merry-go-rounds. Keeping their market simple and traditional you can find roasting fish or fragrant spiced nuts throughout the stalls. This market stays open a bit later in the year which is perfect if you're visiting just after Christmas!
Baden-Baden Christmas Market 2022 dates: Thurs, Nov 24, 2022 – Mon, Jan 6th, 2023. Open 11am to 9pm daily.
8. Frankfurt
I'm not even going to lie to you, I am not a big fan of Frankfurt in general. It just feels like a large city with skyscrapers. It doesn't hold the same charm as other cities seem to in Germany. With the CLEAR exception of Christmas.
I was pleasantly surprised but how well Frankfurt does Christmas. I mean… look at this view!
Plus, if you're coming to Germany from the USA, chances are you're going to fly in to Frankfurt. So, you might as well make the most of it and experience this beautiful Christmas market!
Frankfurt Christmas Market Dates for 2022: Mon, Nov 21, 2022 – Thu, Dec 22, 2022
9. Speyer
Speyer: longest lasting Christmas market in Germany! (As in, the dates go over a month!) The yuletide cheer is always found in the pretty town of Speyer. The glistening stalls lovingly decorated are the perfect scene in front of the huge church. On weekends there's a craft market that takes place in City Hall with gifts and trinkets of all kinds.
This is a great market to attend in case your coming to Germany right after Christmas or New Years as the market stays open later.
Speyer Christmas Market 2022 dates: November 21, 2022 through January 6th 2023.
10. Dresden
Dresden: best Christmas market views. Dresden transforms itself into the capital of Christmas when the end of November rolls around. There are multiple markets throughout the city, but the Striezelmarkt is the most popular. This alpine-like market will make you feel like you've just come off the slopes.
The city also hosts gospel concerts and offers exhibitions and plays centered around Christmas tales. This is the largest Christmas Market in Germany and not to be missed! There are 11 (YES REALLY) markets throughout the city!
Dresden Christmas Market 2022 dates: Nov 23rd, 2022 – Dec 24th, 2022
11. Rothenburg Ob Der Tauber
Rothenburg: best medieval Christmas market. Rothenburg: best small Christmas market in Germany! This tiny town is still surrounded by it's town walls! Add in the Christmas market and it's truly as if you're stepping back to medieval times. The market is very small, but the whole city has a Christmas vibe. You'll find decorations at all the shops and stores. Don't forget to visit Käthe Wolfarht, a store selling everything you could possible want at Christmas!
Rothenburg feels like Christmas all year round with its Christmas museum and medieval setting, it's definitely one of the best German towns for Christmas markets. But there's something special about visiting "Reiterlesmarkt", the Rothernburg Christmas Market is named after a legend that says a horse rider carried the souls of the dead. As Christianity spread through Europe, he transformed from a scary figure into a gentle man who gave gifts to all the people on earth.
Rothenburg Christmas Market 2022 dates: Friday, Nov 25th, 2022 – Friday, Dec 23rd, 2022
12. Hamburg
The main market is in front of beautiful city hall and with the Rathaus as a backdrop it makes for an impressive scene. This is a tyoical, traditional Christmas market. But not to worry, Hamburg offers many unorthodox markets.
If you're looking for a more unique Christmas market experience, look no further than Hamburg's Santa Pauli. This year-round Halloween and Christmas market is located in the St. Pauli neighborhood, which is known for its nightlife and red-light district. This is quite literally a sex themed market!
You can find erotic Gingerbread men, sex toys and all sorts of other adult novelties. It's open year-round, but the Christmas market is definitely the most popular time to visit.
I love Hamburg in general as there are lots of interesting museums and places to visit.
Hamburg Christmas Market 2022 dates: Nov 21, 2022 – Dec 23rd, 2022
13. Essen
Known as the "International Christmas Market" Essen's market offers visitors a twist on the traditional Christmas market flair. It's one of the largest Christmas markets in Germany and well worth the stop.
The Essen Christmas market in the city center is quite spread out, with only a few steps between each square. The Kennedyplatz is the central focus point where you can leisurely stroll under a canopy of twinkling lights while being inspired by all of the different goods available from stalls representing 190 countries worldwide. You'll find handicrafts from Africa, Christmas decorations from Israel and jewelry form the Baltic States—just to name a few things!
Essen Christmas Market 2022 dates: Sunday, Nov 12, 2022 – Mon, Dec 23, 2022
14. Stuttgart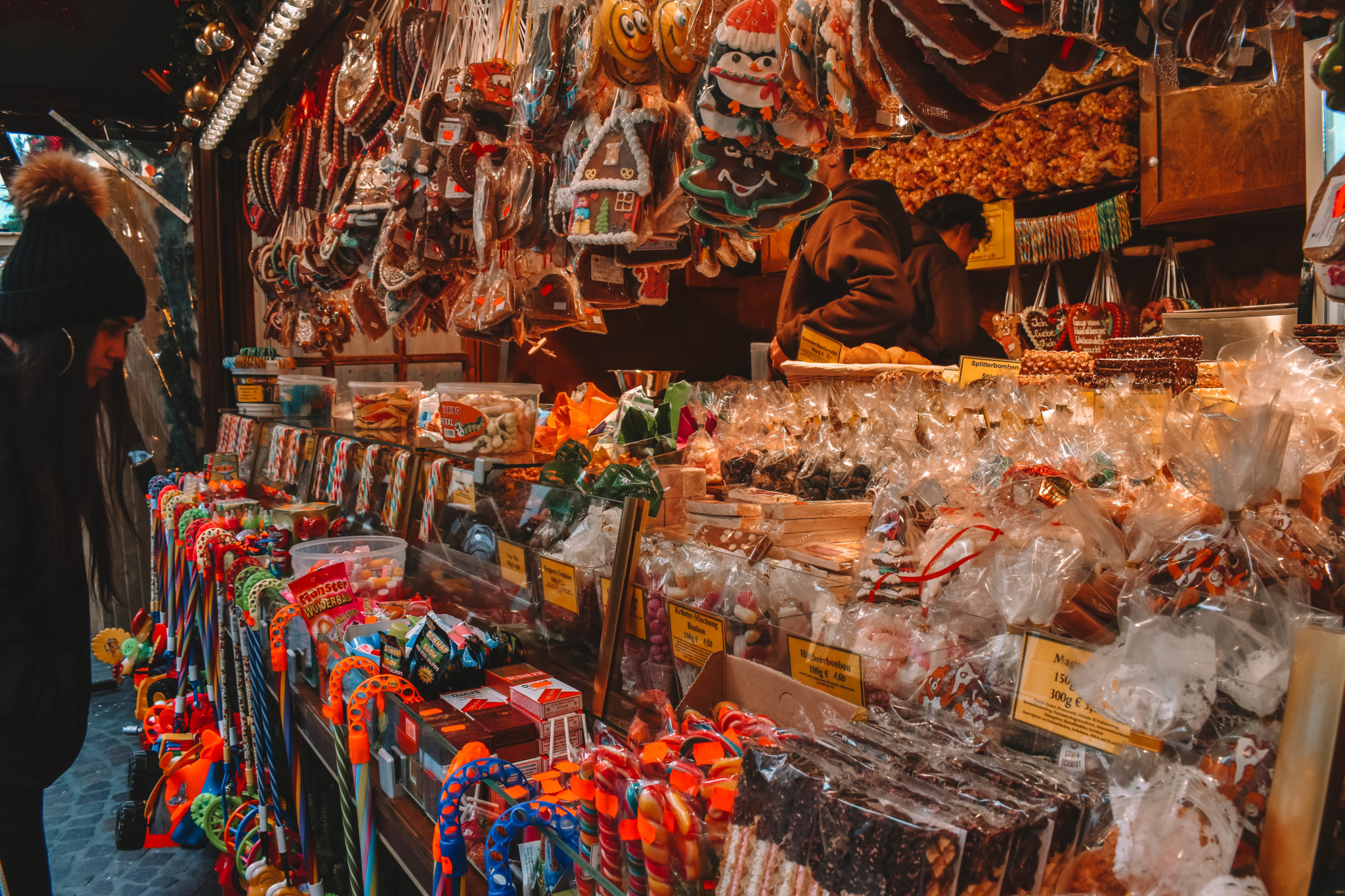 Stuttgart: best Glühwein at a Christmas market! The Stuttgart Weihnachsmarkt is unique festival offering the traditional market vibes along with some unique traditions that make it extremely special. During Advent the Town Hall of Stuttgart is transformed into a huge Advent calendar. Each day a new door is opened revealing a new image and coat of arms showcasing one of Stuttgart's districts. Check out more here.
Stuttgart Christmas Market 2022 dates: Monday, Nov 21, 2022 – Friday, Dec 23, 2022. Times are 10am -9pm Monday through Thursday. 10am -10pm Friday & Saturday and 11am-9pm on Sunday.
15. Berlin
Berlin: best big city Christmas market. Berlin is one of the most visited cities in Germany, and Christmas should be no exception. The baroque palace of Charlottenburg is a beautiful setting for a market complete with traditional stalls and decorated trees. There's an ice skating rink, ornament tents, and even heated areas with dinner served in a cozy nook.
There are over 60 different markets in Berlin so you literally can't miss it!
Berlin Christmas Market 2022 dates: Mon, Nov 21, 2022 – Sunday, Jan 1, 2023.
16. Dusseldorf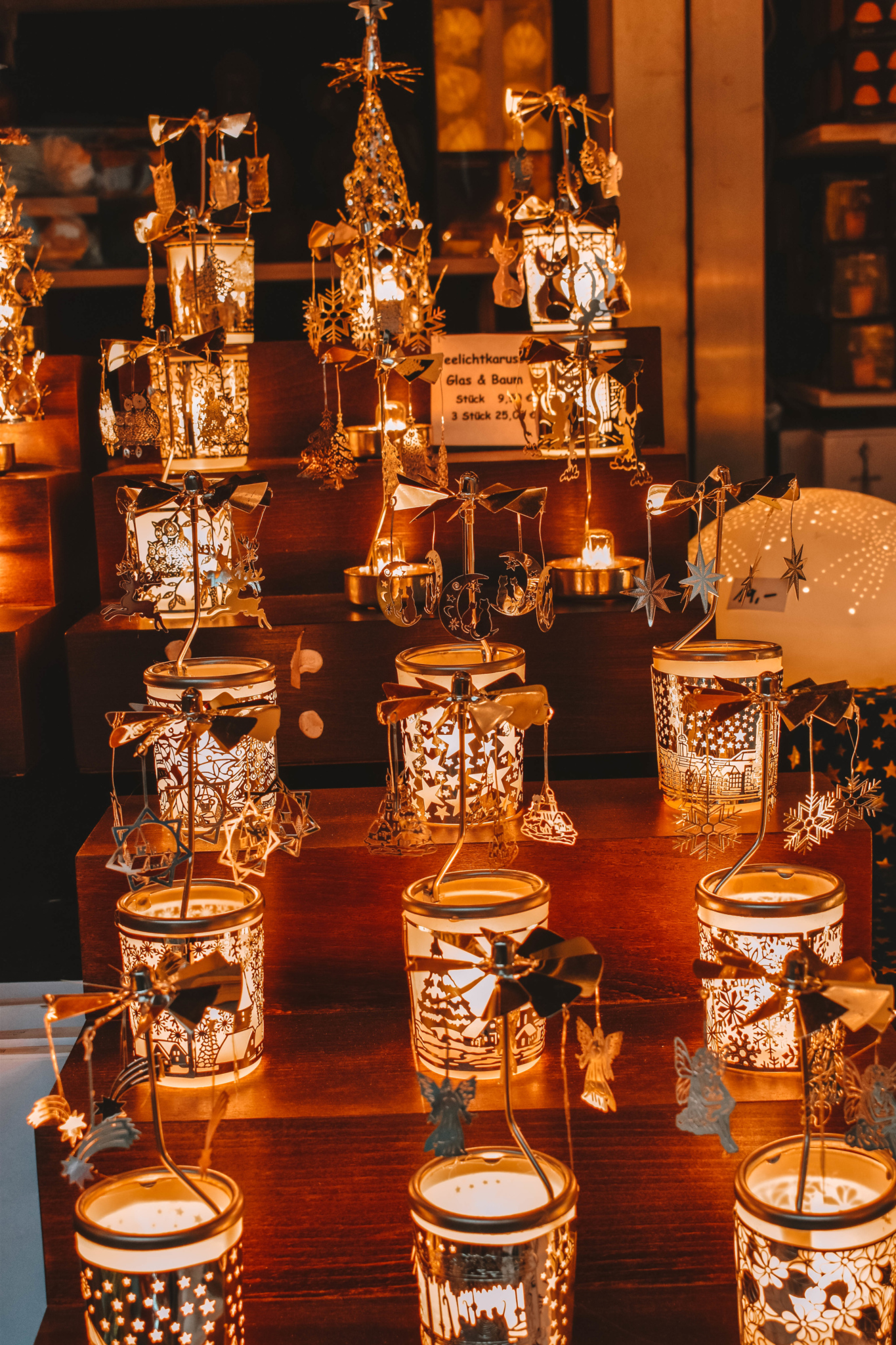 A romantic atmosphere filled with cheer and the sweet smell of gingerbread waft throughout the town of Dusseldorf. You'll find the markets spread throughout the city with Königsallee one of the most popular spots. There's 7 different markets offering many different attractions. There's a magical dome of lights, an ice skating rink, and even a Ferris wheel! Dusseldorf is the perfect place to deck the halls.
Dusseldorf Christmas Market 2022 dates: Nov 17, 2022 – Dec 30th, 2022
17. Mannheim
Located just 15 minutes away from Heidelberg, is the bigger and more industrial city of Mannheim. And what the city might lack in beauty, it makes up at Christmas. The large markets here offer tons of activities, live music, and even a fairy-tale corner. There's a section dedicated to many of the famous children's stories with live action characters to entertain the young and young at heart. The biggest market takes place right by the city's grand water tower and offers an array of treats and activities for all ages.
Mannheim Christmas Market 2022 dates: Nov 21, 2022 – Dec 23rd, 2022
18. Tübingen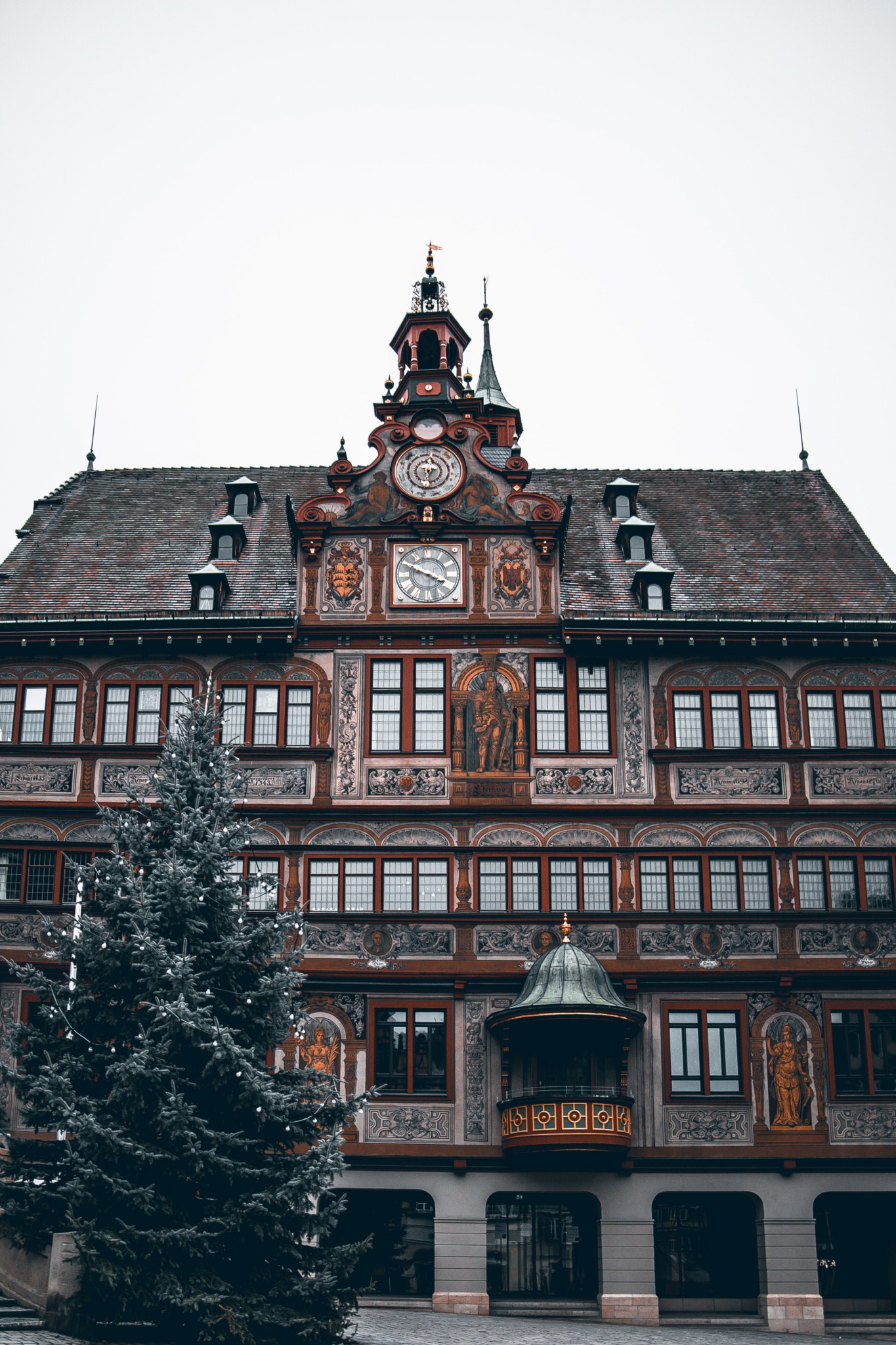 For years, I was told to visit Tübingen's magical Christmas market. This is quintessential German Christmas charm and feels like you've stepped into a snow globe. The market is located on the historic marketplace in front of Tübingen castle. It's one of the oldest and most beautiful markets in Germany with a history dating back over 500 years.
There are around 80 stalls set up, which sell everything from handmade crafts to delicious food and drink. You'll find plenty of gingerbread, Lebkuchen and roasted almonds to keep your energy up while you explore the market. It's only open one weekend so you'll need to catch it while it's there!
Tübingen Christmas Market Dates for 2022: December 9 – 11 2022
19. Worms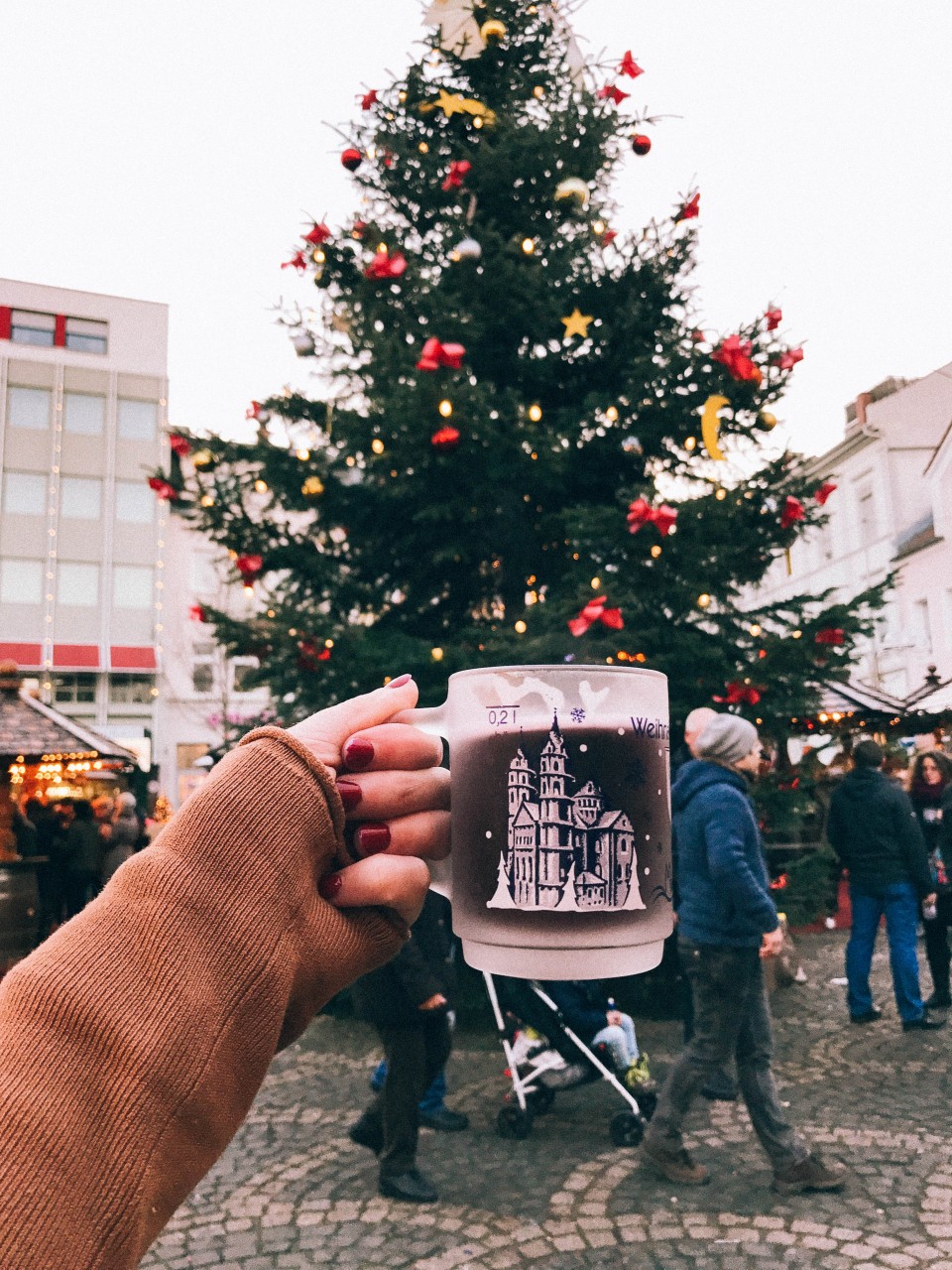 Pronounced "Voms" this city is known for famous Martin Luther appearing before the emperor in 1571, kicking off the Reformation. Among the shiny Christmas decorations and carousels you can see the Luther Monument statues to commemorate the Protestant reformer. This pretty market has some lovely decorated stalls, a life-size manger scene, and plenty of places to drink hot Glühwein.
Worms Christmas Market 2022 dates: November 21, 2022 – Dec 23, 2022
20. Schwetzingen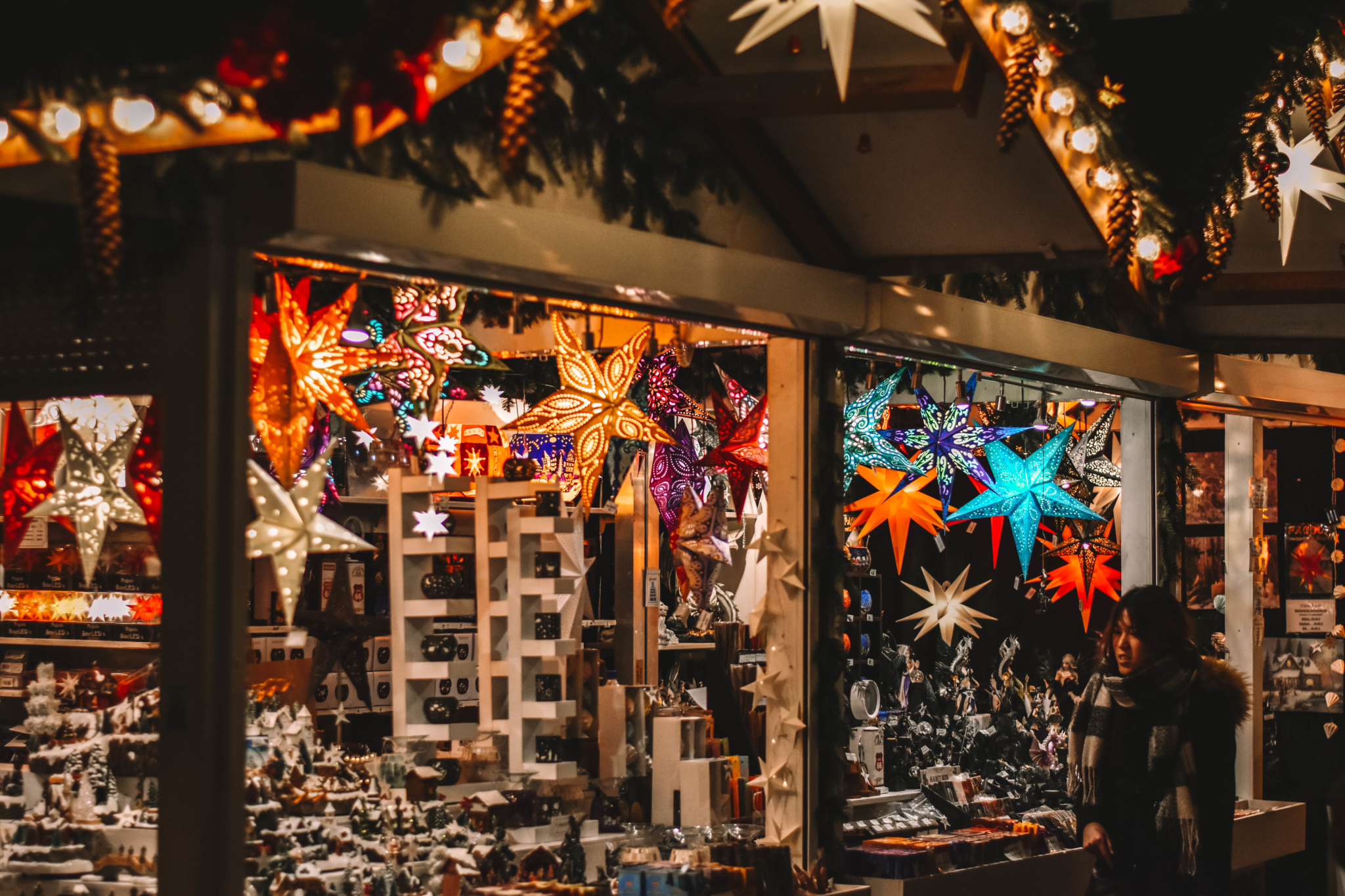 If you want to go to a market on the site of a Baroque pink palace than look no further than Schwetzingen. This market is small, but is well decorated and has plenty of delicious food. Under white tents tinted yellow in the warm light, vendors sell mustard, honey, and even delicacies from places like Italy, France, and Hungary.
Schwetzingen Christmas Market 2022 dates: dates not yet announced but only on weekends
21. Monschau, Germany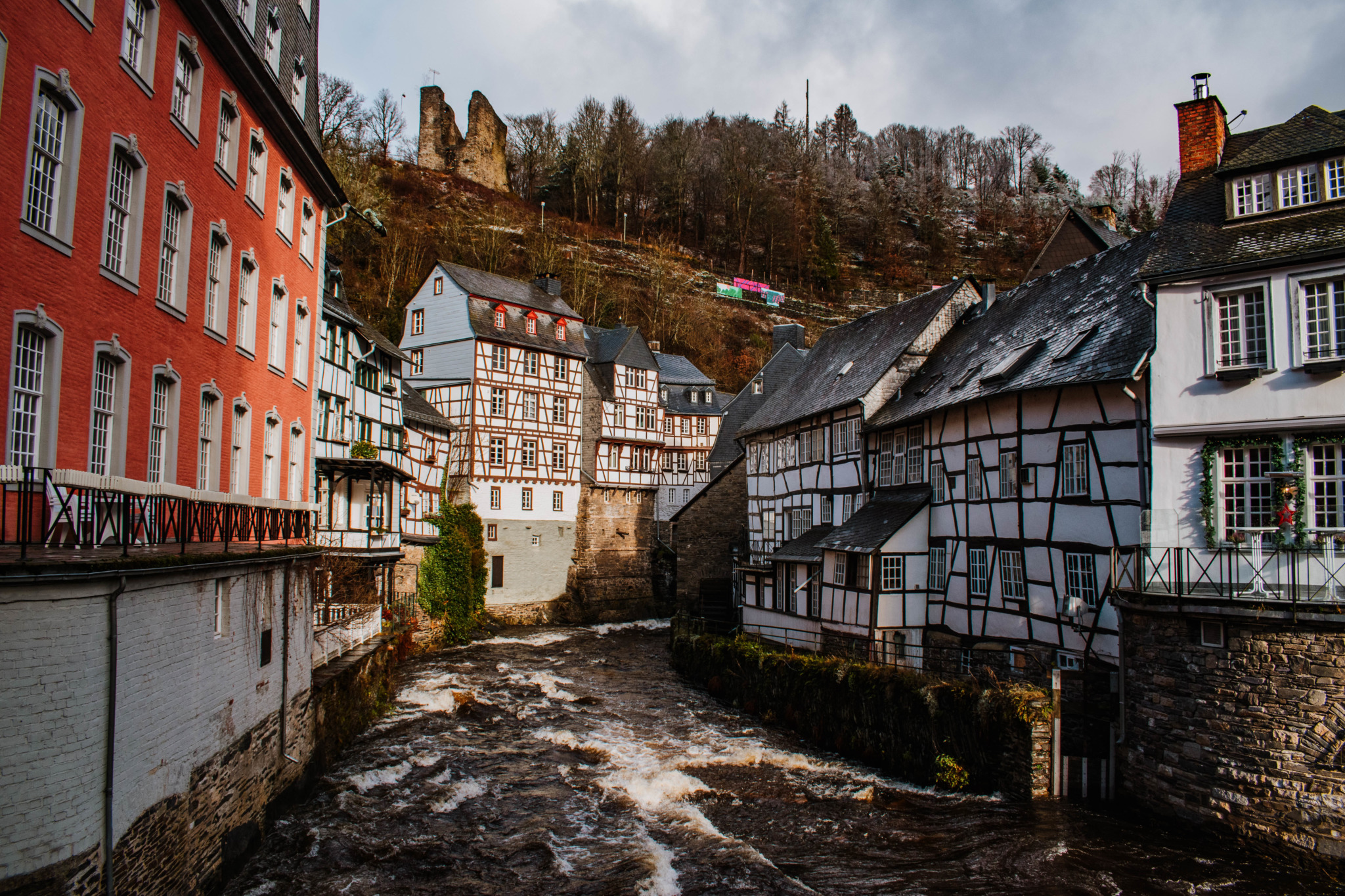 Head to the picturesque town of Monschau, Germany on the border of Belgium. Although this is a tiny village, it's well worth it to check out this picturesque, half-timbered town. A river rushes through town and cuts between gingerbread buildings in the Eifel region of Germany. The market only takes place on the weekends (Friday, Saturday and Sunday) from November 25th through December 18th, 2022. But even if you aren't there for a market, it's a Christmas town all along!
Monschau Christmas Market Dates 2022: Only on Weekends November 25th – December 18th, 2022
Map and Itinerary
Here's a map and itinerary for the Christmas markets in Germany. My suggestion would be to fly in to Frankfurt, check out Frankfurt's market then head north to Cologne and Hamburg and Dusseldorf. Next, head south towards Heidelberg, Worms, Schwetzingen, and Mannheim. Then make your way further south for Baden-Baden, Stuttgart, and Tubingen. Next head east stopping at Rothenburg, Nuremberg, and Munich. Check out my complete Germany and France Christmas Market Road Trip Itinerary
Frequently asked questions about Christmas Markets in Germany
What are the dates for the Christmas markets?
These can range for each city, but are typically held from the end of November until the 24th of December. A few cities offer Christmas Markets after Christmas.
How many Christmas markets are there in Germany?
There are over 100 different Christmas markets throughout Germany. However, it's hard to calculate since many cities offer smaller markets on the weekend. Chances are if you're in Germany during the holiday season, you'll find a market!
What are the best Christmas markets in Europe?
There are so many wonderful markets that I've written two different blog posts! Here are some of my favorite Christmas Markets in Europe after living abroad and traveling to see the magic of Christmas.
Do you have to now German to visit the markets?
Nope! In fact, many of the touristy towns are exceptional at English. It is handy to pick up on a few key words and phrases and I always recommend downloading the language on Google translate.
Pin the post: