"A pumpkin fish with a skeleton cream. Squash gum. Leaf cereal… wash it down with a cookie butter seltzer." Thus goes Jamie Linn Watson's top-tier Instagram post spoofing the Trader Joe's creative team preparing for fall 2022. And though it's clear parody, the setup honestly doesn't seem too far from the truth. To do a quick perusal down the TJ's aisles right now is to take in a staggering culinary mashup of all things autumnal.
Hummus, butter, and ravioli have all been pumpkin-ized. Butternut squash is inescapable. Even dog treats get the maple treatment. At Trader Joe's, nothing is safe from a touch of cinnamon—but we wouldn't have it any other way.
Featured image by Michelle Nash.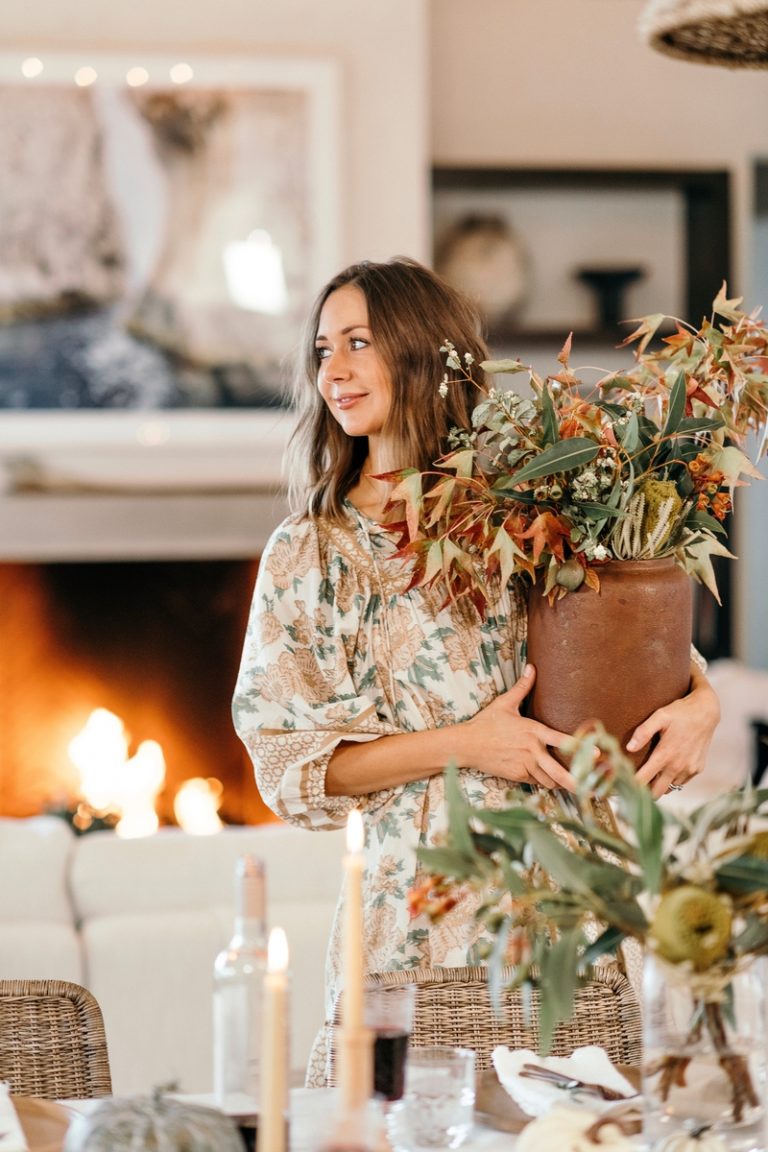 Subscribe
Our Top 10 Recipes
Sign up to receive a FREE E-BOOK of my top 10 most popular recipes of all time!
Thanks for Signing Up!
Oops!
Looks like you're already signed up or your email address is invalid.
Oops!
Looks like you unsubscribed before click here to resubscribe.
That being said, not all of TJ's culinary ambitions hit. Some autumn offerings are seasonal must-buys, while others are just fall Frankenstein monstrosities. To help you navigate the good gourds from the rotten apple cider fruit spreads, I gathered up some of the most popular (and outrageous) Trader Joe's offerings for fall 2022 with the aid of an insightful TJ's employee. Then, I tested them all (even pumpkin hummus—mixed reviews!) and treated some friends to my autumnal smorgasbord to get more well-rounded feedback. I even gave a few five-year-old girls some of the goods to gather hot culinary takes from America's youths.
So, without further adieu, I give you my highly scientific breakdown of Trader Joe's fall 2022 finds, ranked from worst to best. I hope you enjoy it as much as my friend's daughter, who gave one item the apt review: "It tastes like gingerbread and cookies and ice cream and cupcakes." Kids always cut straight through to the truth.  
Trader Joe's 2022 Fall-themed Items, Ranked From Worst To Best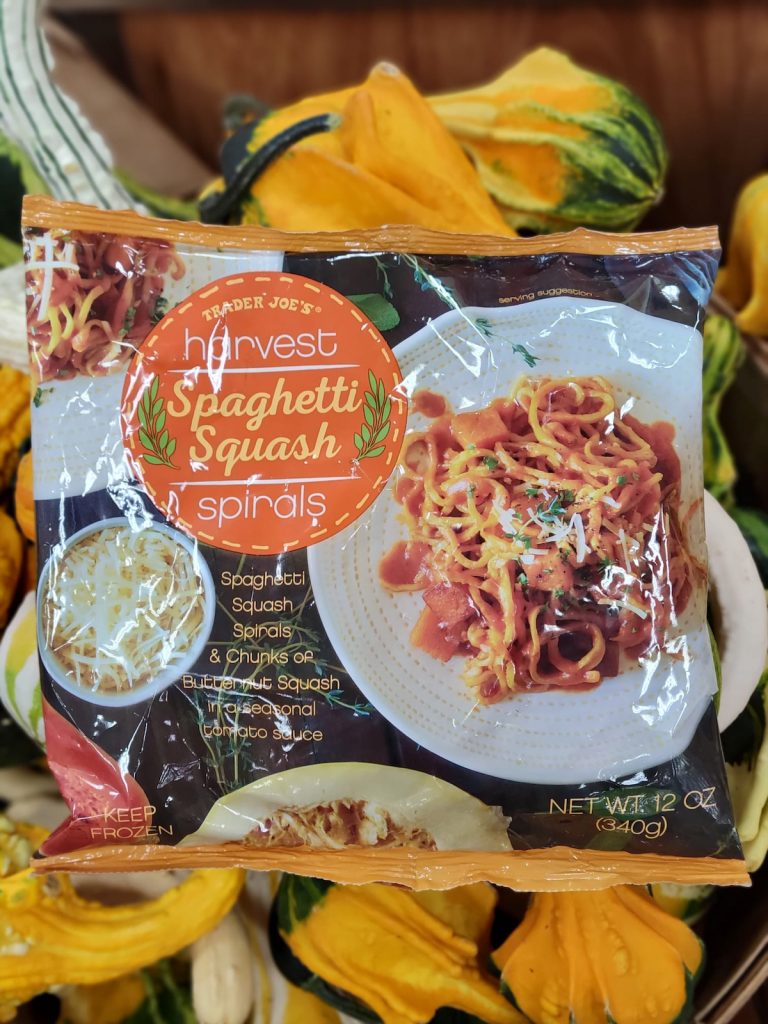 15. Harvest Spaghetti Squash Spirals, $4
One of the healthier options on this list, I very much wanted to like these. But alas, where there should have been warmth and a satisfying texture, there was just a watery taste and limp, unraveled spirals. I think it could be saved with the right protein and a heaping helping of cheese, but I wouldn't feel comfortable serving it on its own.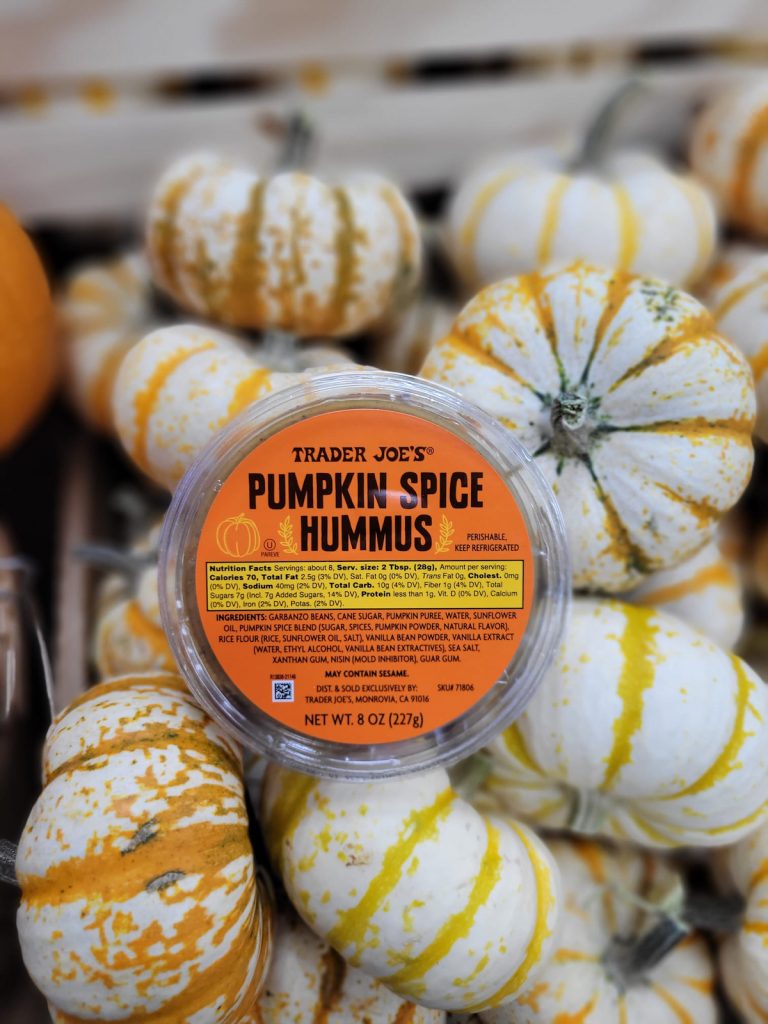 As one friend said, "Leave hummus out of this." It should be noted, the five-year-olds loved this hummus, but I think it's because it tastes more like a dessert dip than the savory spread TJ's is going for.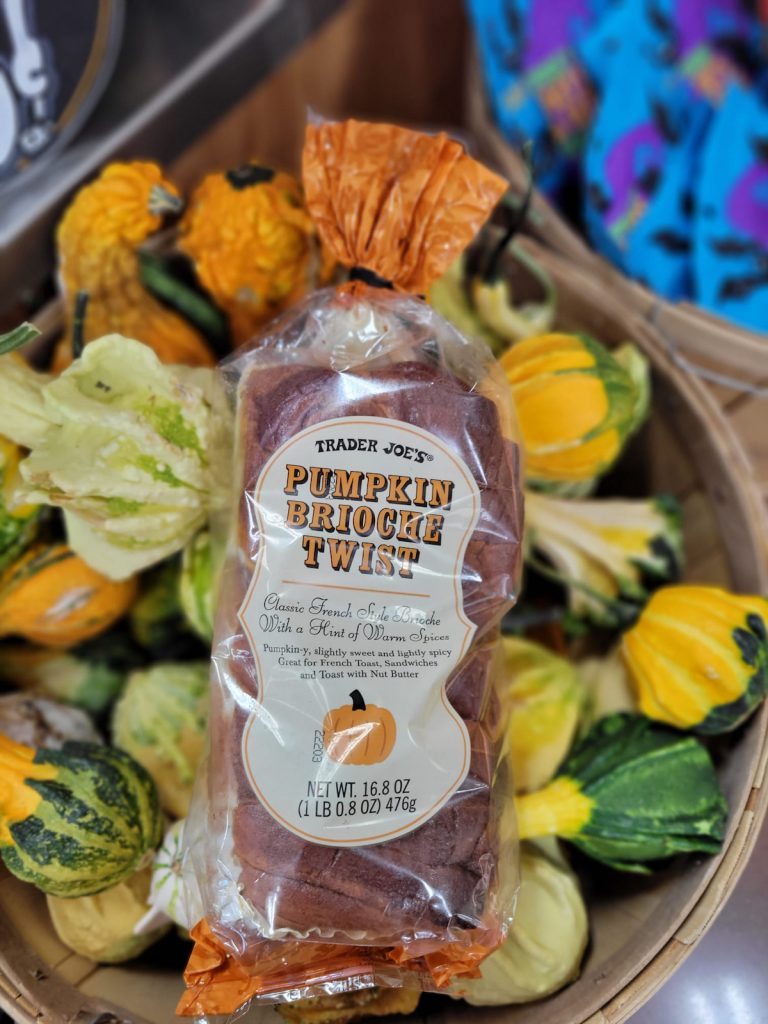 13. Pumpkin Brioche Twist, $3.99
The adults that taste tested with me might be upset at the brioche's placement on this list, but I think the five-year-olds, who absolutely loathed this product, were onto something. "It tastes like plain sugar!" rang a chorus of little girls who love sugar—but not like this. I chalk it up to being too much of a good thing, something young minds can occasionally suss out more clearly than most.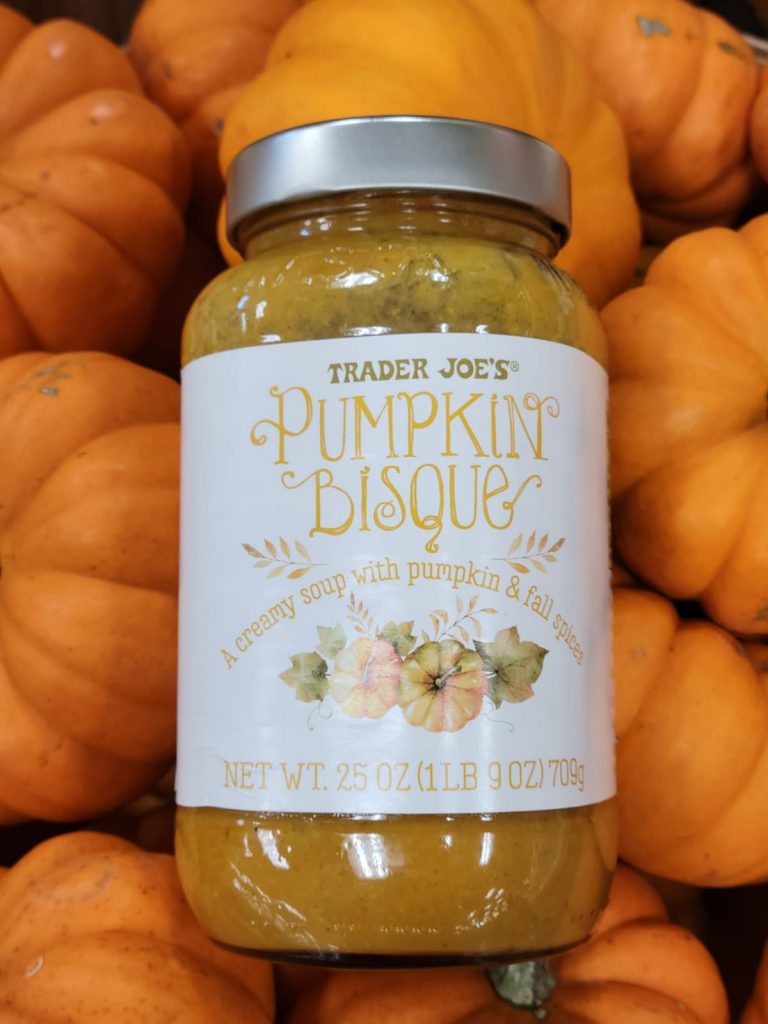 I had high hopes for this one. Pumpkin and soup—that makes sense! But it was honestly just… fine. The texture was rich and it was satisfyingly hearty, but the pumpkin itself was more of an aftertaste. (The tahini part tasted nice though!) All in all, it was a bit of a letdown.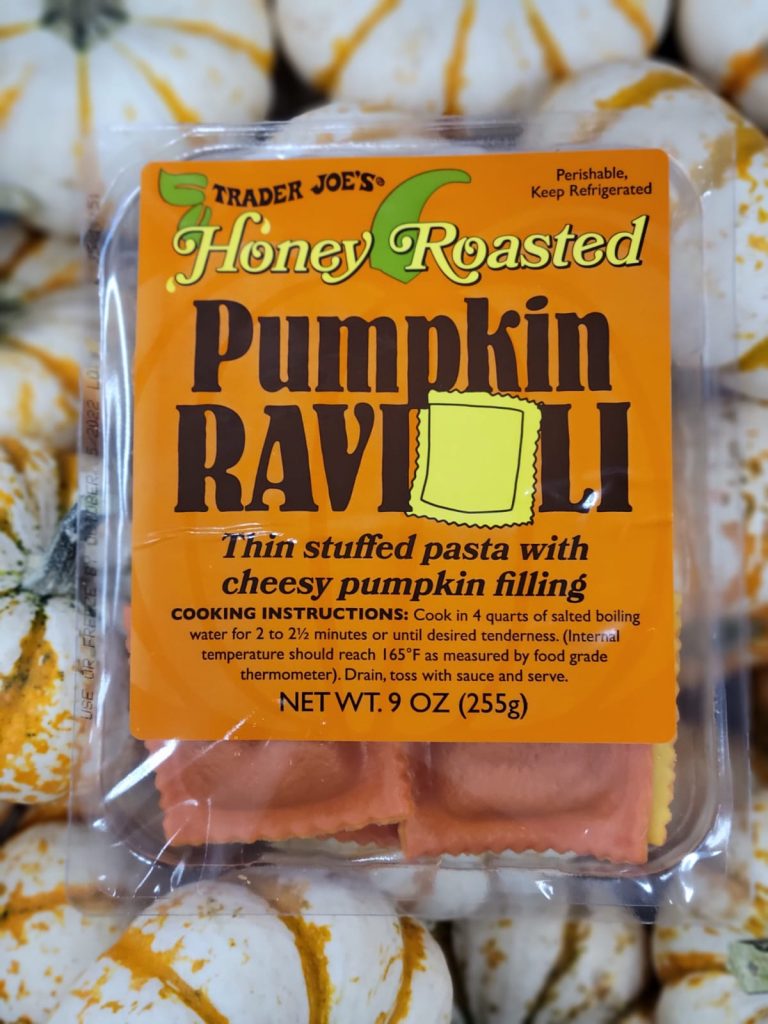 Aesthetically, the sunrise hues of this hearty ravioli are gorgeous. (Gourdgeous?) They were quite nice, but the pumpkin felt like an unnecessary addition. Ultimately, I was left thinking, I wish this pumpkin hadn't gotten in the way of my nice cheesy pasta.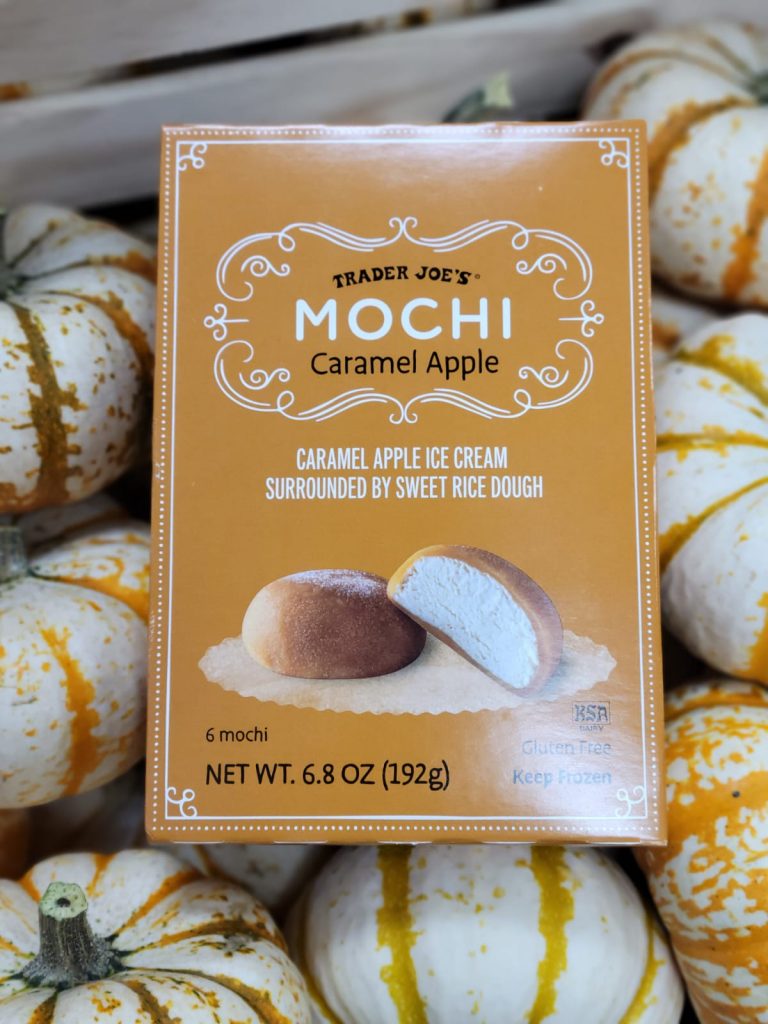 10. Caramel Apple Mochi, $4.79
This brand-new, fall 2022 product tastes exactly like a caramel apple lollipop, which, personally, I felt clashed with the mochi texture. However, not everyone seemed to mind this. I'm docking points for the prominent artificial flavoring of it all, but otherwise, they're pretty solid.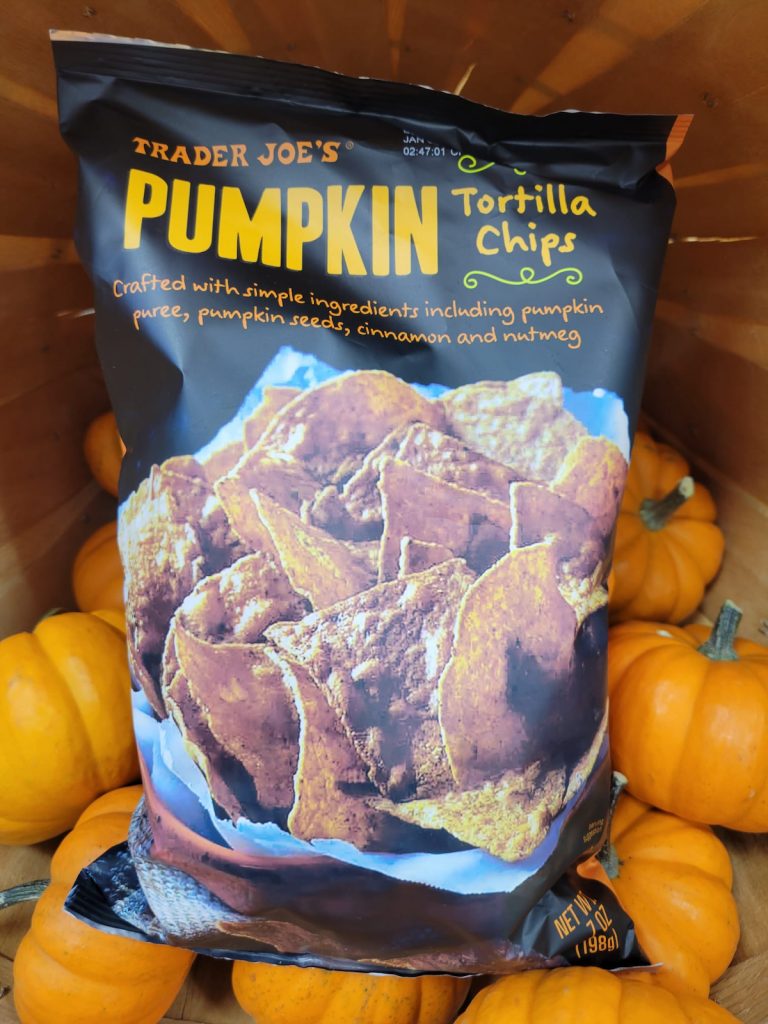 9. Pumpkin Tortilla Chips
Though I initially reached for the Fall Leaf Chips, my grocery store guide urged me to consider the Pumpkin Tortilla Chips instead. I'm grateful he did! The pumpkin seeds and nutmeg created a heartier, more complex taste for chips that would taste as good on their own as they would with salsa. (Though TJ's does have a handy Harvest Salsa just for the occasion.)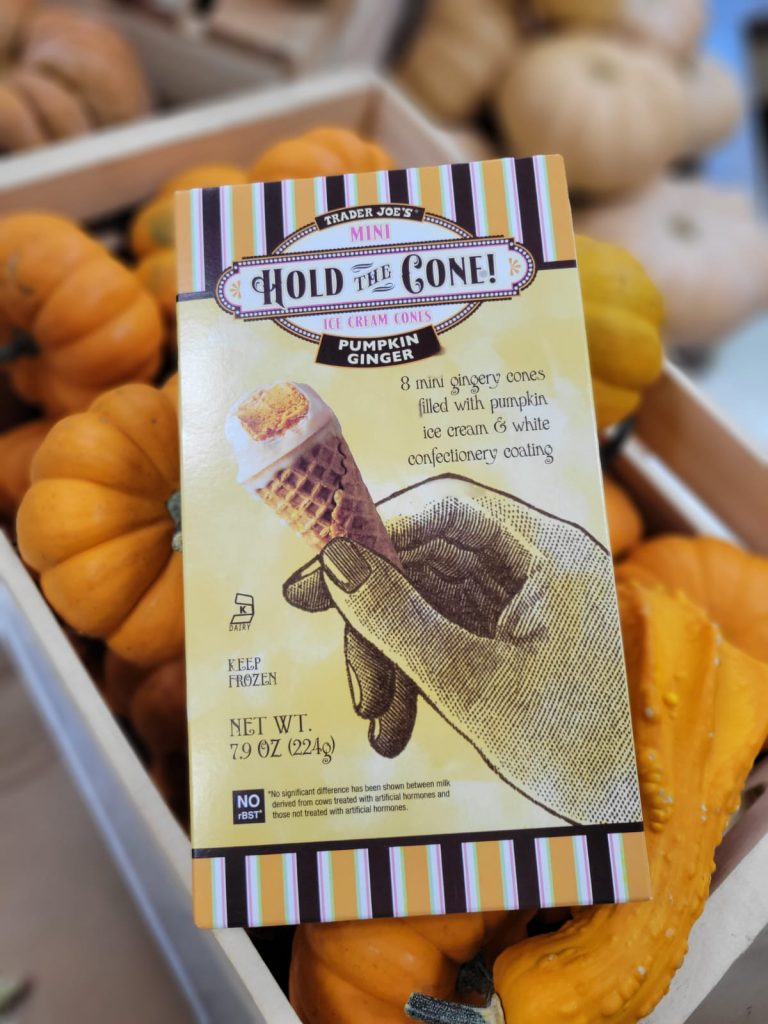 8. Pumpkin Ginger Hold the Cone, $2.99
OK, so I'm new to Trader Joe's "Hold the Cone" concept, and this was a solid introduction. I love the mininess and the solid coating that keeps things from becoming a melty mess. Personally, I think I would enjoy this same vehicle with chocolate ice cream (pretty much anything but pumpkin ginger, which I've discovered through this endeavor that I really do not care for).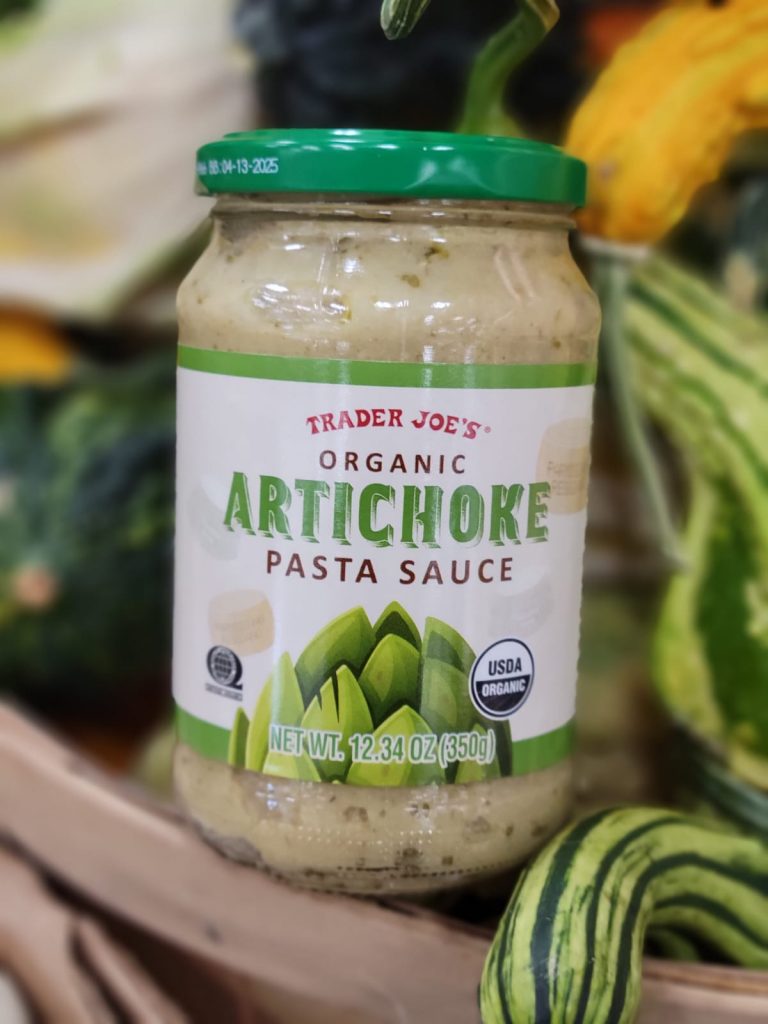 If you haven't gathered just yet, pumpkin doesn't mix quite as well with the savory as it does the sweet. Fortunately, this particular fall item is made with creamy artichoke, which brings satisfying warmth to pasta dishes but is strong enough to stand on its own (just give it a little bake and serve it as a dip).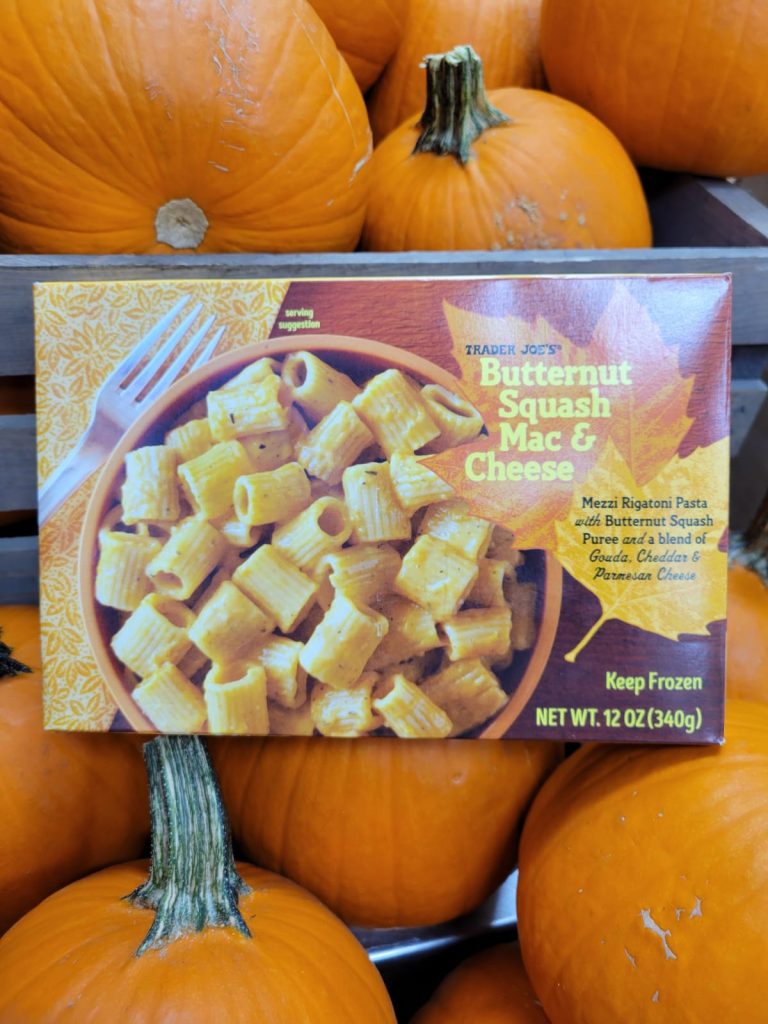 Though I initially gravitated to the Butternut Squash Mac & Cheese Bites, my TJ's guide assured me the pasta (made with rigatoni instead of macaroni) was the better bet. After tasting its glorious, three-cheese sauce, peppered with an inoffensive amount of nutmeg and butternut squash purée, I agree—these saucy little tubes are a seasonal must-buy.
A five-year-old's opinion: a precarious sideways thumb with no explanation.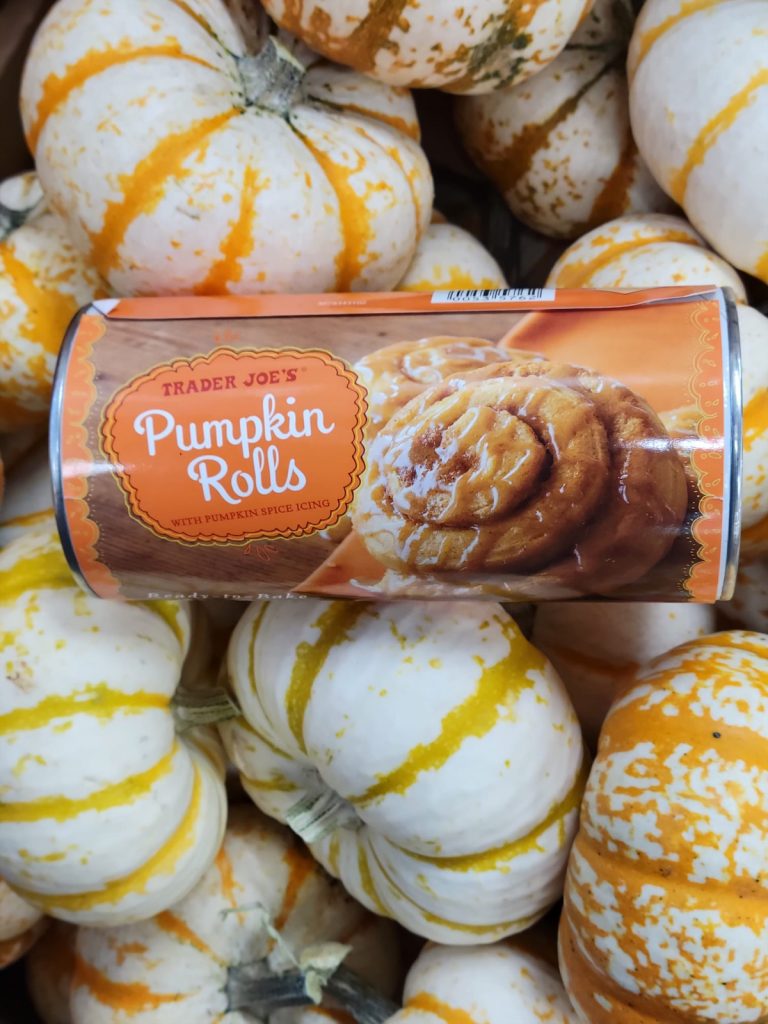 A cinnamon roll's seasonal sibling, the Trader Joe's Pumpkin Rolls were a massive crowd pleaser. If you're still missing the cinnamon of it all, swap the provided pumpkin purée-packed icing for the Cinnamon Bun Spread (below). But no matter what gooey goodness you spread on top, I can practically guarantee joy.
A five-year-old's opinion: It takes like apple cider, and one big cake.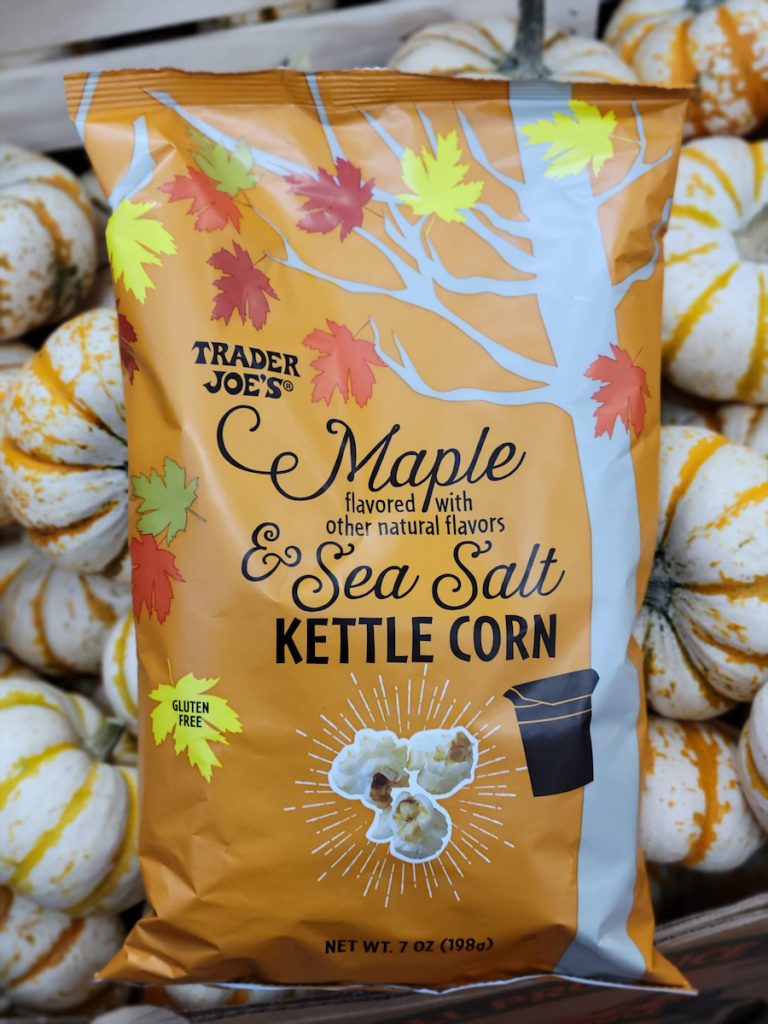 Is there nothing kettle corn can't handle? It's as if the mix of salt and sugar makes its tastiness impenetrable to any wacky flavor thrown at it. Fortunately, maple and sea salt are great flavors to begin with—it's autumnal alchemy made in heaven.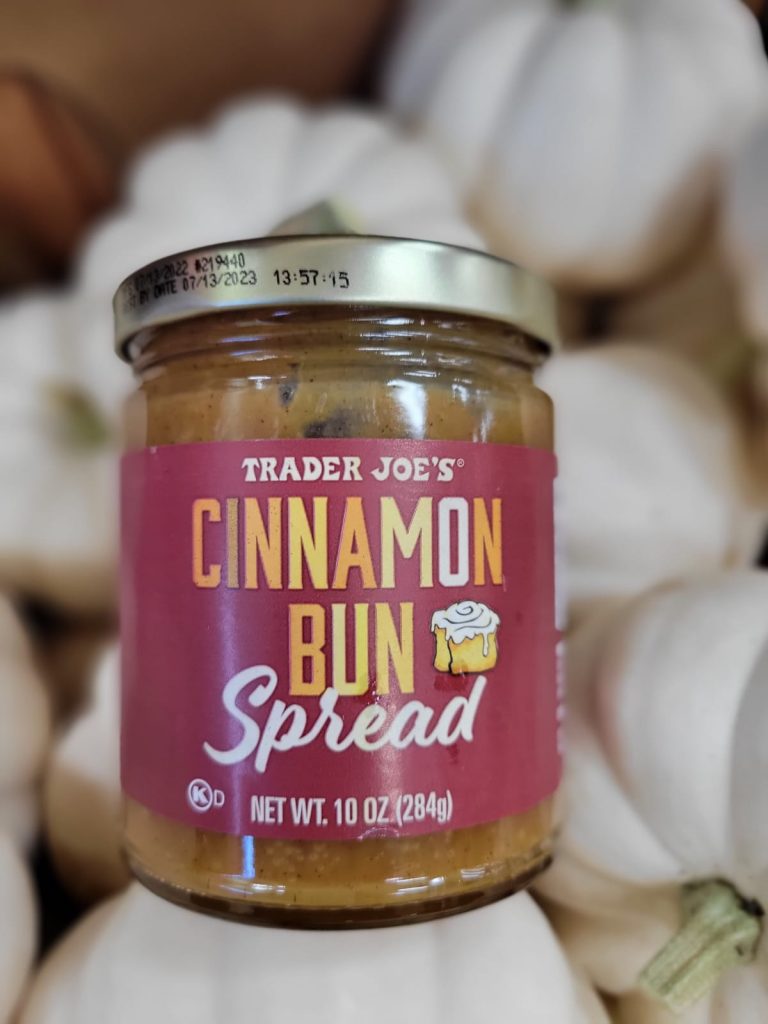 3. Cinnamon Bun Spread, $3.49
You might think this cinnamon spread exists purely to slather onto the aforementioned pumpkin rolls, but you'd be so terribly wrong. This ridiculously sweet spread (which is surprisingly low in added sugars) can be spread across whatever your fall-loving heart desires.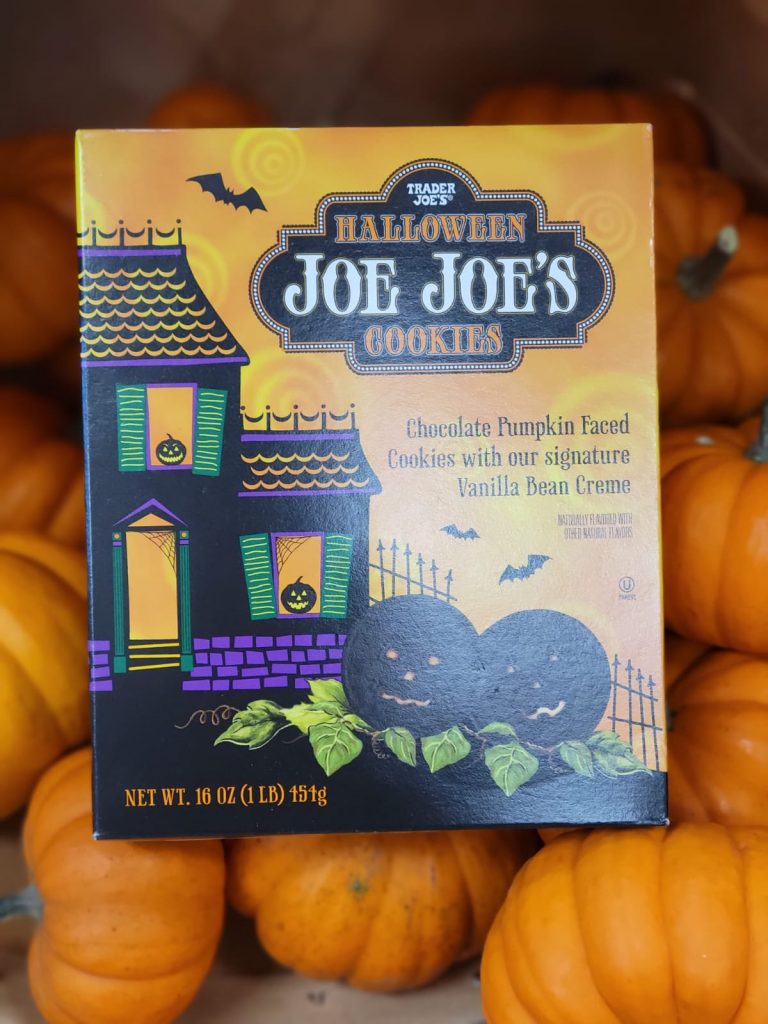 Listen, I genuinely love Trader Joe's. So I'm not going to diminish these little sandwich cookies by calling them a knock-off of a brand that rhymes with shmoreo. You can make that deduction for yourself! Plus, Joe-Joe's have its own illustrious history, one that includes a mascot (a Toucan named Joe-Joe!) and a variety of limited-edition flavors that haven't always worked out (see: Mango Joe-Joes). Given the cute little jack-o-lantern face, the girls loved them, and honestly, the adults too. Grab the Pumpkin Oat Milk and go to town.
A five-year-old's opinion: "It tastes like we're headed to chocolate town."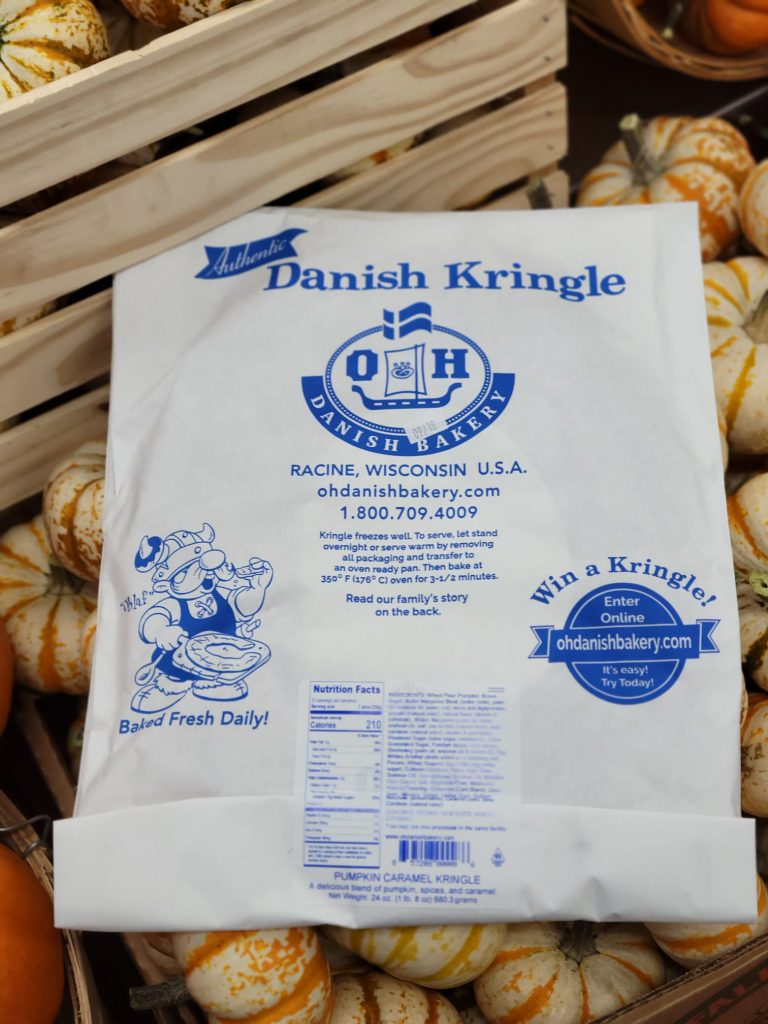 1. The O&H Danish Kringle, $7.99
I was a little skeptical when I saw a Scandinavian specialty packaged in a giant bag from Racine, Wisconsin, but my Trader Joe's guide assured me this was a big fall deal. My instincts are never to be trusted again—this pastry was perfect. The flaky crust, the salted caramel topping, the sweet pumpkin spice filling… this was the clear winner of the entire group.
Which is funny, because it's technically not a Trader Joe's product. The grocery chain sources its popular kringle through O&H Danish Bakery, a family-owned bakery since the 1940s. But only TJ's could bring the joy of a Racine, Wisconsin bakery to shoppers nationwide, and for that, we'll raise a glass of Howling Gourds pumpkin beer (which is just OK).