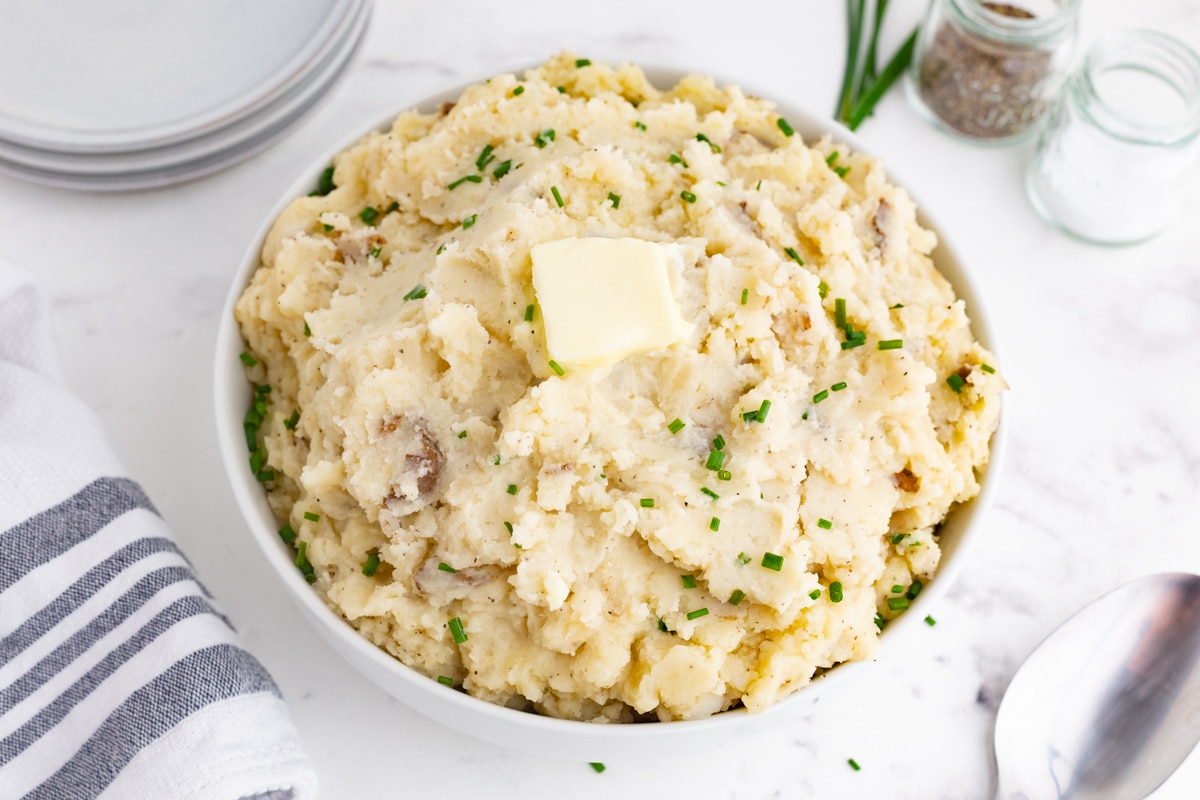 No need to stand at the stove making mashed potatoes at the last minute when hosting a holiday gathering. Let your crockpot do all the work! Crockpot mashed potatoes are easy to prepare and can stay warm and ready to serve whenever you need them.
Why I Love Crockpot Mashed Potatoes
When I'm hosting a gathering at my house, there are lots of parts of the meal to think about. Whenever I can make something easier, and less work in the kitchen, it is the best!
Crockpot Mashed Potatoes let you prepare a staple side dish in advance and forget about it until dinner is served. It really doesn't get any easier. These potatoes are creamy, with just the right amount of texture and flavor. You will love them!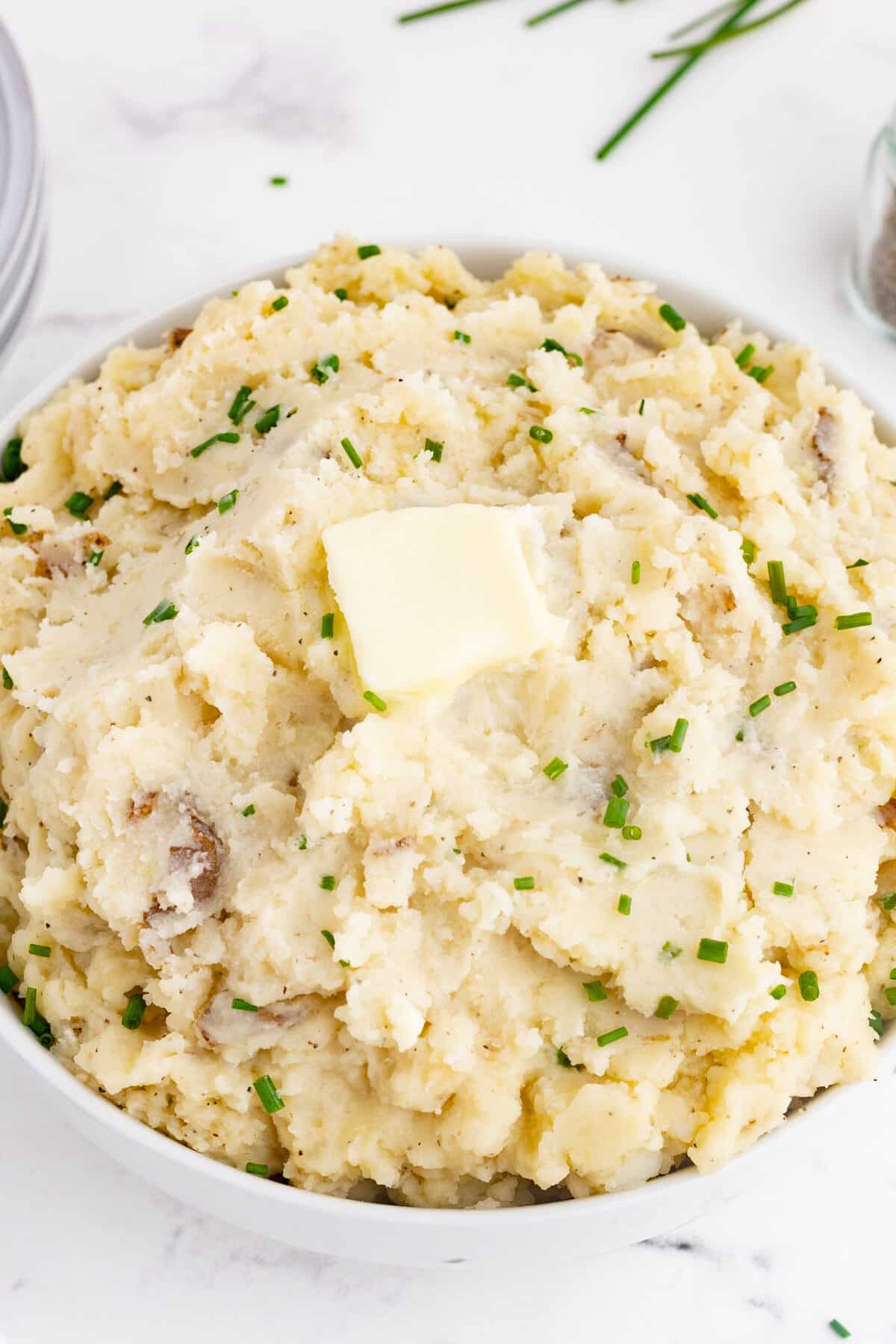 Ingredients for Crockpot Mashed Potatoes
The ingredients for these potatoes are really basic, but there are lots of ways to change things up if you want.
Potatoes – Yukon gold potatoes are considered the best for mashing because their richness and creaminess make classically dense mashed potatoes. If you want lighter and fluffier mashed potatoes, Russets have a high starch content and will give you that pillowy soft texture.
Chicken Broth – you will want to use chicken broth to add a rich flavor and for moisture.
Butter – use unsalted butter and add the salt later to taste.
Greek Yogurt – using a higher fat yogurt will give a more creamy richness to your potatoes. It also adds a bit of tang which tastes delicious. You can use sour cream in place of Greek yogurt, but I like the added protein and calcium that Greek yogurt adds.
Milk – using a higher milk fat percentage will give you the same richness as a higher fat yogurt. This is definitely a preference and you can use whatever type of milk you want. I would avoid any milk that isn't unsweetened.
Salt & Pepper
Variations of Mashed Potatoes
No need to stick with the basics! You can create all sorts of flavor combinations:
red skinned potatoes, sour cream, rosemary
yellow potatoes, yogurt, garlic, dill weed
russet potatoes, cream, thyme, sage
sweet potatoes, milk, sea salt, maple syrup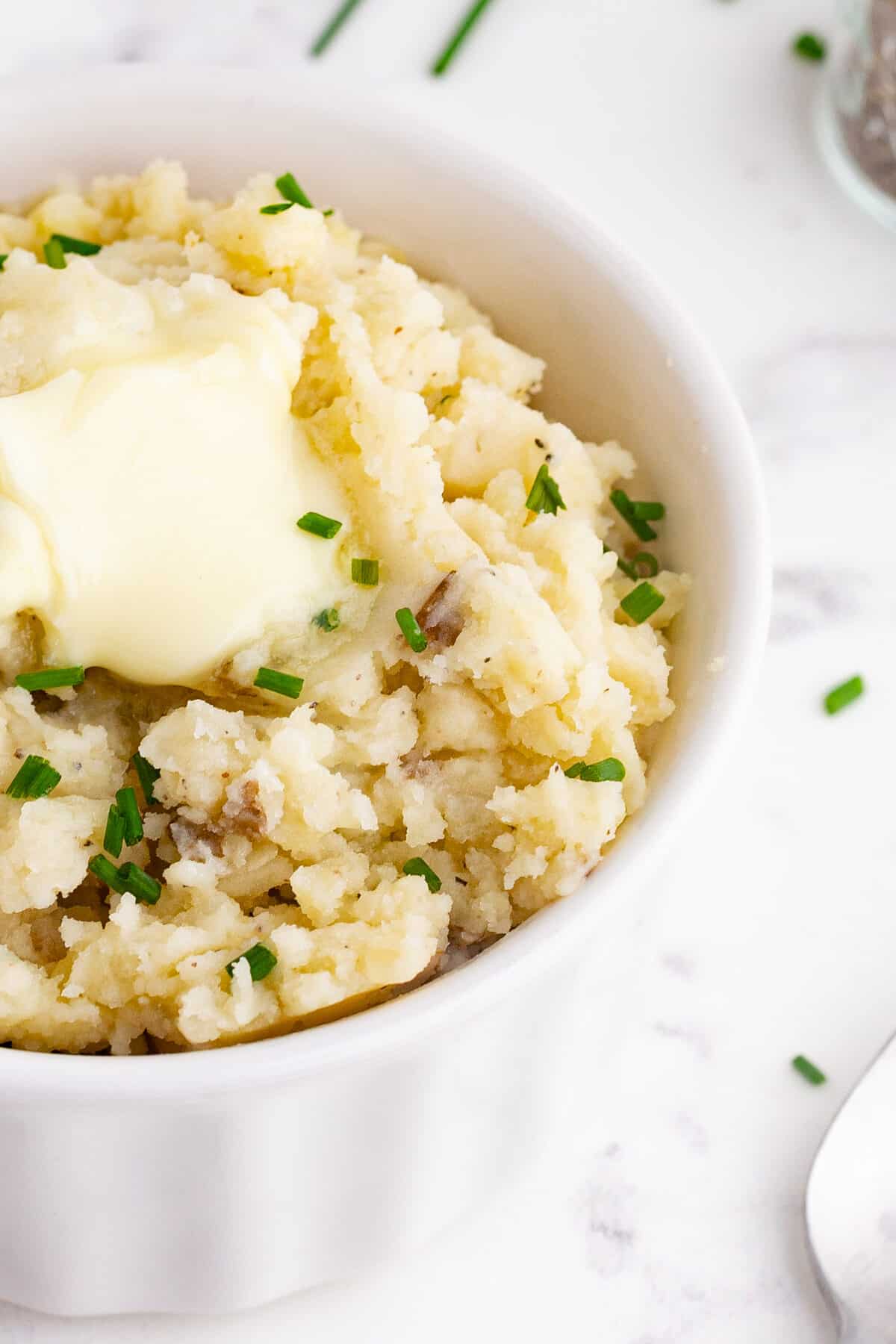 How To Make Crockpot Mashed Potatoes
Scrub the potatoes. You can leave the skins on for a more rustic mashed potato, or peel them for a smoother texture.
Quarter your potatoes and put them in the crockpot. Pour chicken broth over potatoes.
Cover and cook on HIGH for 3 hours or LOW for 6 hours. They are done when they are fork tender and soft.
Add butter, Greek yogurt, salt and pepper. Mash the potatoes. Add milk as needed if your potatoes are too thick. Season with more salt and pepper to your preference.
Helpful Equipment for Making Crockpot Mashed Potatoes
Potato masher – this will give you a more chunky texture if you prefer that with your mashed potatoes.
Immersion blender – use this for a creamy texture.
Crockpot – This is my very favorite crockpot and its perfect for this recipe.
Can I Keep Mashed Potatoes Warm in the Crockpot?
Yes! This is one of the best reasons to make mashed potatoes in the crockpot. Just turn your crockpot on low and keep them warm for up to 3 hours without drying out. It is so great to make them in advance so that you can have time to work on other parts of your meal.
How Many Servings of Mashed Potatoes Does This Make?
This recipe calls for 10 medium russet potatoes or 5 pounds of potatoes. It will make about 10-12 servings and each serving is considered 1 cup of mashed potatoes. If you know your guests really love mashed potatoes, they might each 2 cups each, so consider this when you are trying to determine how many to make.
You can fit about 10 pounds of potatoes in a 6 quart crockpot. So you can double this recipe using just one crockpot.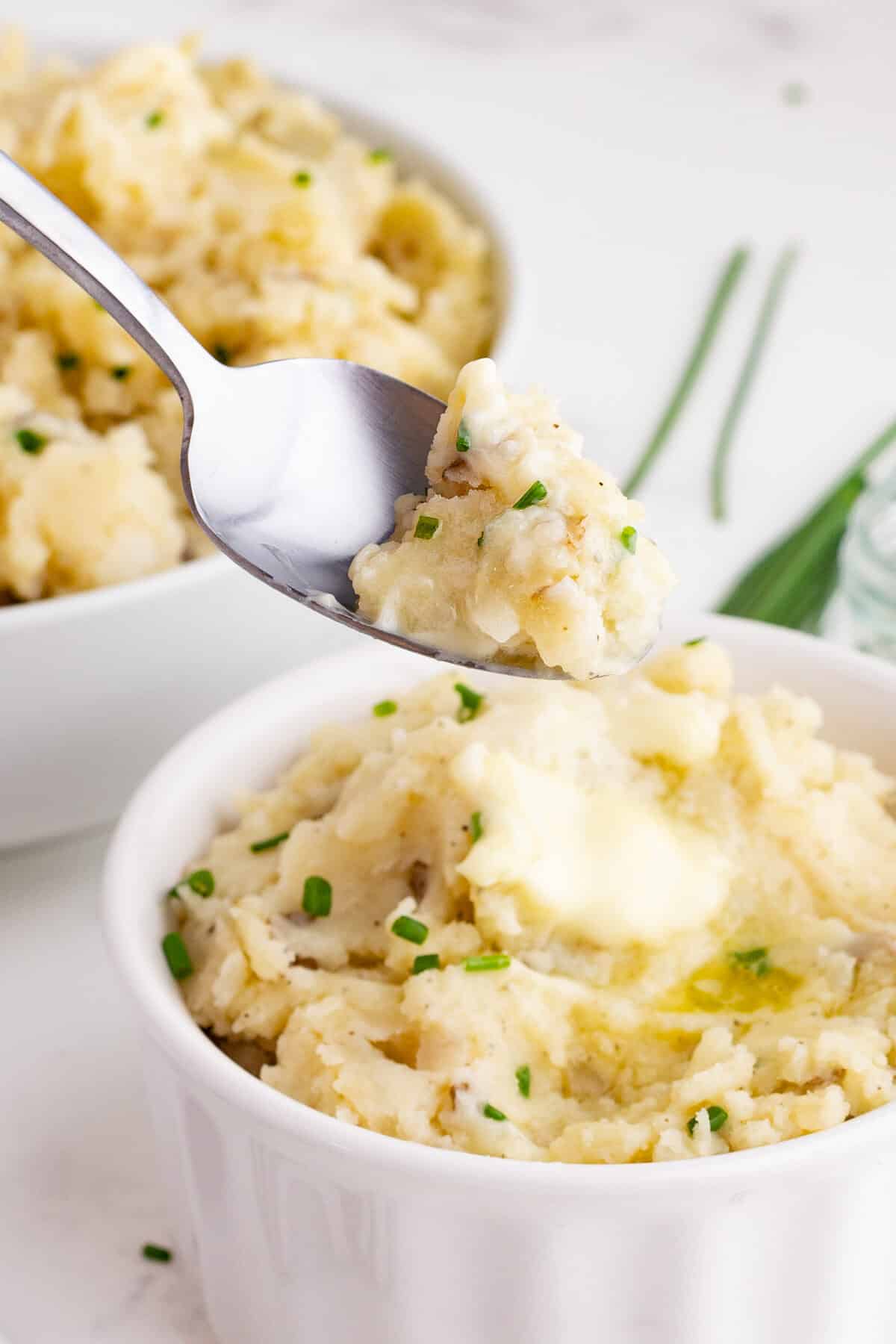 Can You Make These Dairy Free?
Can't have dairy? No problem! Broth works just as well as milk. There is plenty of starch in potatoes to get the creamy texture. Broth adds moisture and flavor. Replace the butter with a little extra virgin olive oil or just skip the added fat.
Instead of Greek yogurt, you can a Vegan yogurt like coconut yogurt or almond milk yogurt. Just make sure it is unsweetened.
Tips for Making the Best Crockpot Mashed Potatoes Ever
Use the right potato
Yukon gold and Russet are considered the best potatoes for making mashed potatoes. Using potatoes that are more waxy like red or white potatoes are more prone to gumminess when mashed.
Cut your potatoes in large pieces
If you cut your potatoes into small pieces, it allows more liquid to get inside the potato and that typically gives your mashed potatoes less flavor.
Don't skimp on salt
Starchy foods need more salt to really bring out the flavor, so don't worry if you add more than normal.
More Favorite Potato Recipes
10

medium

russet potatoes

5 pounds

3/4

cup

chicken broth

low sodium

4

tablespoons

butter, unsalted

1

cup

plain Greek yogurt

2% fat or higher

1/4

cup

milk

use 2% or whole for more richness

2

teaspoons

sea salt

more to taste

1

teaspoon

cracked black pepper
Scrub the potatoes. Peel if they have a thick skin, or leave on if you prefer more rustic style mashed potatoes. Roughly chop into quarters.

Place the potatoes in the bottom of a large (6 quart) crockpot. Pour chicken broth over potatoes.

Cover and cook on HIGH for 3 hours or LOW for 6 hours. Potatoes should be fork tender and soft. When they are done, remove the lid.

Add butter, Greek yogurt, salt and pepper. Mash the potatoes using a potato masher (for a more chunky texture) or a hand blender (for a more smooth texture) Add milk as needed if your potatoes are too thick. Season with more salt and pepper to your preference.

Serve immediately or keep the potatoes in the crockpot on warm for up to 3 hours.
Calories: 224kcal | Carbohydrates: 40g | Protein: 7g | Fat: 5g | Saturated Fat: 3g | Polyunsaturated Fat: 0.3g | Monounsaturated Fat: 1g | Trans Fat: 0.2g | Cholesterol: 14mg | Sodium: 587mg | Potassium: 934mg | Fiber: 3g | Sugar: 2g | Vitamin A: 157IU | Vitamin C: 12mg | Calcium: 61mg | Iron: 2mg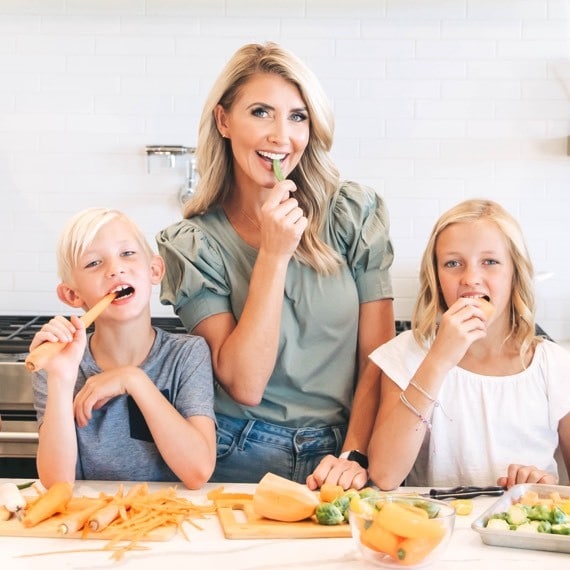 Natalie Monson
I'm a registered dietitian, mom of 4, avid lover of food and strong promoter of healthy habits. Here you will find lots of delicious recipes full of fruits and veggies, tips for getting your kids to eat better and become intuitive eaters and lots of resources for feeding your family.