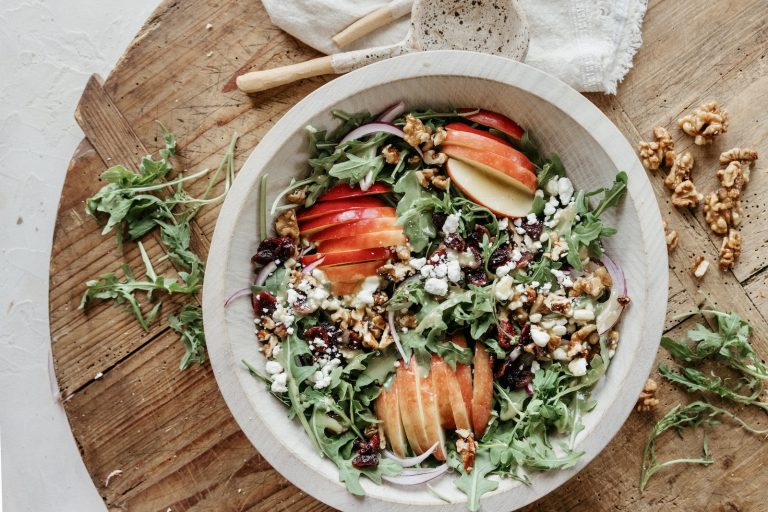 If you've cruised the recipe-verse lately, then you don't need to step outside to know that fall is back. From apple cider bevs to butternut squash soups to pumpkin-spice everything, my feed has been inundated with autumn's best flavors. And spoiler: I'm here for it. Between breaking out my warmer jackets and decking out the front porch, there's so much to celebrate. To honor the abundant autumnal harvest, I made an apple walnut salad that combines all of my favorite fall flavors.
While October has only just gotten underway, I'll confess: I've already felt the urge to begin decking the halls for Christmas. Try as I might, I have a hard time shaking my excitement for the holiday season as soon as the first few leaves start to turn. But this year I'm forcing myself to slow down, be present, and channel that fall mood.
With fresh apple slices, tangy dried cranberries, toasted walnuts, and creamy goat cheese, this salad is fall in a bowl. And this recipe couldn't be simpler! Easy to whip up in 15 minutes, this salad is perfect for fall gatherings, or to make ahead for lunch during the week. Now let's get into it!
Ingredients for Apple Walnut Salad
This is truly a no-fuss salad, with no tricky steps or out-of-left-field ingredients. Here's what you'll need to make the perfect apple walnut salad for fall.
Arugula. I love the bitter taste of arugula against the sweeter flavors in this salad. I haven't tried this salad with lettuce, but dinosaur kale is a great substitute.
Apples. I look forward to apple season every year, and while many debate the best types of apples for fall salads, I prefer to use Honeycrisp apples for their extra juicy flavor.
Red onion. The underrated ingredient in this recipe. It calls for raw red onions, thinly sliced, but I've also caramelized them beforehand to enhance their flavor and sweetness.
Toasted walnuts. I chose walnuts for their depth of flavor and crunchy texture.
Dried cranberries. Dried cranberries are a sweet addition to any salad. Soak them in hot water beforehand to make them extra plump and delicious!
Goat cheese crumbles. There's something about the combination of goat cheese, walnuts, and apples that speaks to my taste buds.
What kind of nuts are best in a fall salad?
Toasted nuts are the option for any fall salad. I included toasted walnuts in this recipe to get that extra dose of healthy fats and of course, some crunch. For a flavor upgrade, you can use candied walnuts instead! To make them yourself, follow Camille's instructions below:
In a saucepan, combine 1 cup walnuts, 1 cup sugar, and 2 cups water. Bring to a boil, then cook over medium heat, stirring occasionally, for 5 minutes.
Use a slotted spoon to transfer the walnuts to a parchment-lined baking sheet, letting a little of the syrup drip onto the sheet with it.
Sprinkle lightly with flaky salt, and bake at 350 degrees for 10-12 minutes, or until the nuts are lightly caramelized. They'll harden and get nice and crunchy as they cool.
While walnuts are my personal favorite, pecans will also work well in this recipe.
Tips for Making This Apple Walnut Salad Recipe
This apple walnut salad comes together in 15 minutes or less. After chopping, shake up the vinaigrette in a mason jar and throw all of the ingredients in a bowl. If you'd like to go the extra mile, here are some tips for success when making this salad:
Slice your apples and red onions on a mandolin to get that thinly-sliced goodness.
If you're prepping this salad ahead of time, wait to add the goat cheese and walnuts until after you've dressed the salad so they don't get soggy.
Toast your walnuts in a big batch ahead of time and keep them on hand in a mason jar in the freezer. They'll last much longer!
What type of salad dressing pairs well with apple walnut salad?
Finally, we've made it to the best part of this salad, the dressing! You'll want to drizzle this maple cider vinaigrette over everything this season. With maple syrup, EVOO, mustard, and apple cider vinegar, it's tangy and savory with just the right amount of sweetness.
Many people opt for honey to sweeten their vinaigrettes, but maple syrup's warming fall flavors are the perfect complement to this salad. Just shake, mix, or whisk the ingredients together. Be sure to save any leftover dressing in an airtight container in the fridge. It's good for up to one week!