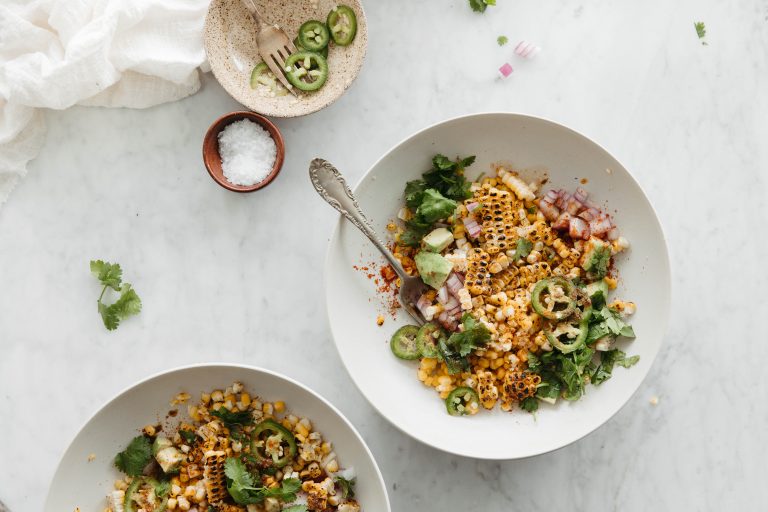 Controversial opinion alert: I'm decidedly not a corn on the cob fan. In the summer growing up, dinner could often be as simple as my mom's masala bhutta, aka masala corn. It's prepared like a street corn, with corn cobs roasted over the open fire of the stove. The kernels are charred before being slathered in butter and topped with chaat masala. Hands down, it's one of my favorite flavor combinations in the world.
But unlike my brother who lives for corn on the cob, I preferred slicing my kernels off. And so, thanks to a recent craving for my mom's no-recipe recipe for masala corn, I set out to recreate those corn cobs in salad form—no cob in sight.
While it might look impressive (re: complex), this is one of the easiest recipes to make. Plus, it all comes together in a pinch thanks to a stellar roster of flavor-packed ingredients. Get ready for a new favorite way to use up your summer corn.
The Secrets to a Good Masala Corn Salad
And by good, of course I mean delicious. Thankfully too, the answer is simple: it starts with really good corn! Because corn is the base of this salad, starting with a solid foundation only makes everything else in this masala corn taste better. Fresh corn cobs from the market have the most flavor and are the easiest to grill over an open flame, but you can also use frozen corn in a pinch.
If you're using frozen corn, thaw the corn either in the microwave or let sit at room temperature for an hour. Drying the corn is the trick to getting it perfectly charred in the pan. Either place the corn onto a paper or kitchen towel and dry the kernels off after thawing, removing extra water from thawing. Then toss into a large pan on high heat with a little oil and let the corn sit for a few moments for beautifully charred pieces.
With corn on the cob that's fresh and in season, I char mine on the open flame of my stovetop and let the flame toast the kernels until they're dark and have that delicious smoky flavor that makes the corn that much more delicious.
How to Remove Corn Kernels (Without Making a Mess!)
For the visual learners, I caught wind of this simple trick a few years ago and it's changed the game in terms of corn kernel clean-up. The trick is to let your knife get as close to the cob as possible without getting tough pieces of the cob in your food. They do make specific corn cob peelers these days, but who needs another tool when you have professional knife skills on your side?
What spices do I use for this masala corn salad?
I use two spice blends and one extra spice to take this masala corn salad to the next level: garam masala, chaat masala, and red chili powder.
You can find garam masala blends at almost any grocery store. The best way to get the most flavor out of it is to activate the spices with a little heat. This is why I add that garam masala to hot butter that gets drizzled over the whole salad—it allows the spices to get fragrant and flavorful. I also use red chili powder to add some heat, but this is optional if the jalapeños are spicy enough for you!
To finish the dish, I sprinkle on my absolute favorite: chaat masala. My mom would always top her roasted vegetables with chaat masala or use it to spice up some sliced fruit—no dinner was more simple or delicious. You'll have to venture out to the Indian grocery store or order online, but I always keep chaat masala on hand for its signature funky and fabulous flavor profile.
Tips for Serving and Storing This Masala Corn Salad
You could always leave out the avocado if you prefer, and using pickled onions instead of red onions makes for a delicious swap. I also think using a queso fresco or feta cheese on the salad would be so tasty, but you can leave it vegan otherwise. Toss the salad with your favorite pasta for a flavorful pasta salad or over greens for something lighter.
Store leftover corn salad (if you have any!) in an airtight container in the fridge for up to three days. I personally think this salad gets better with time as all the spices and flavors blend together, but it's just as delicious eaten warm or at room temperature.