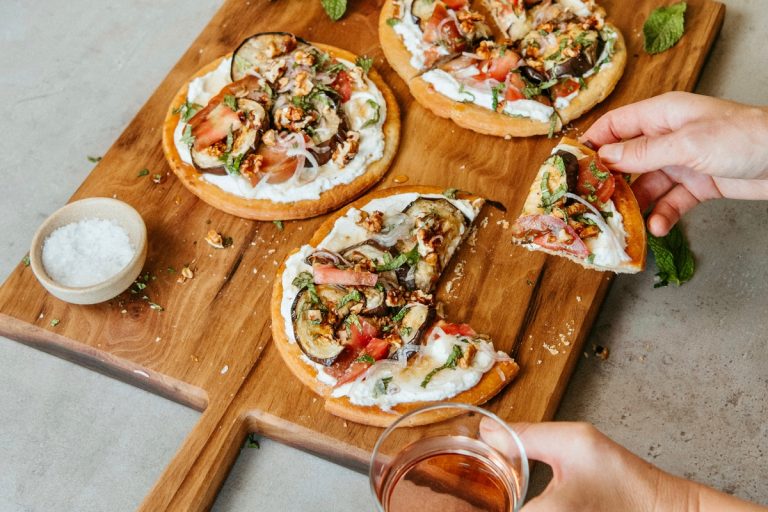 Pizza is a perfect food. It's versatile, family-friendly, and one of those beautiful meals that can be eaten without the complexity of a knife or fork (while you're at it, ditch the plates too—this is your pizza party!). While I reveled in the joy of a slice of cheese 'za as a kid, I'd like to think that my pizza preferences have matured in my new era of adulting. And with one look at my picks for the best pizza recipes, I'd consider that truth confirmed.
Since that first bite of pizza taken during those formative years, (I remember it like it was yesterday), I've grown passionate about my appreciation for a crispy crust/inventive topping combo. Wilting fresh arugula on a pizza bianca or finishing things off with a drizzle of fruity olive oil are examples of the simple, but profound dimensions of flavor that can be built upon any crust. And when I learned that sliced peaches, apples, and even figs can create peak-pizza deliciousness, well, everything in my life changed.
Featured image by Michelle Nash.
Image by Michelle Nash
Subscribe
Our Top 10 Recipes
Sign up to receive a FREE E-BOOK of my top 10 most popular recipes of all time!
Thanks for Signing Up!
Oops!
Looks like you're already signed up or your email address is invalid.
Oops!
Looks like you unsubscribed before click here to resubscribe.
It sounds dramatic, sure, but if you're familiar with the Camille Styles team, you'll know that we take our pizza very seriously. Heated debates have broken out over the best topping combos, the perfect cheese for your pies, and whether cracker-thin or foccacia levels of doughiness make the ideal crust. Of course, we know there's no single right answer, which is why we've developed pizzas for any and all taste buds and texture preferences.
To streamline your end-of-summer/start-of-cozy-season cooking, we rounded up all the best pizza recipes for you to bookmark. We have gluten-free crusts, toppings that showcase the best summer produce, and pizzas that help you transition to fall with ease. However you like your pizza, we can guarantee your new favorite slice is bound to be discovered in the list below. Frozen pizza, eat your heart out.
Our Best Pizza Recipes of All Time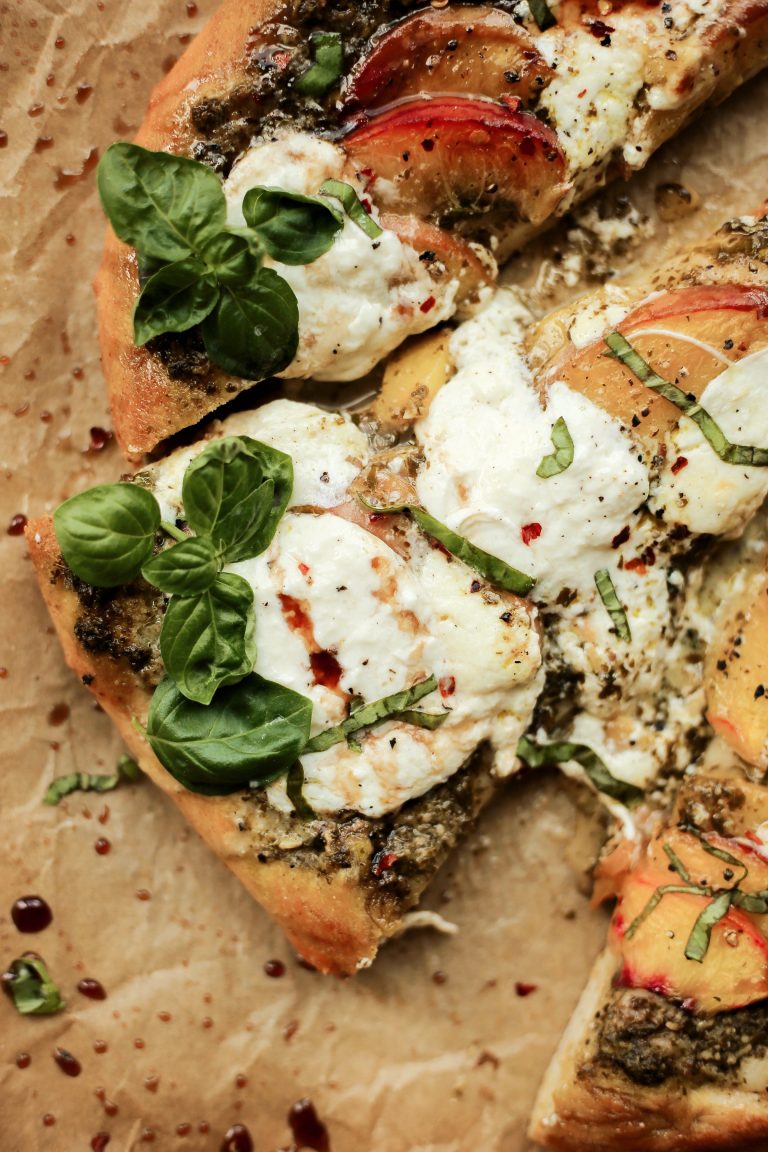 Why We Love It: As the title correctly states, this recipe is summer epitomized. The alliteration of peach and pesto not only sounds good to the phonetic ear, but the combination is pure, fresh-eating magic. While I was initially skeptical of throwing something sweet into a predominately savory mix, this recipe showed me the light. The peaches are the ideal complement to the otherwise salty base. Pizza perfection.
Hero Ingredient: There's a reason the cheese has been trending over the past few years: creamy burrata just hits different.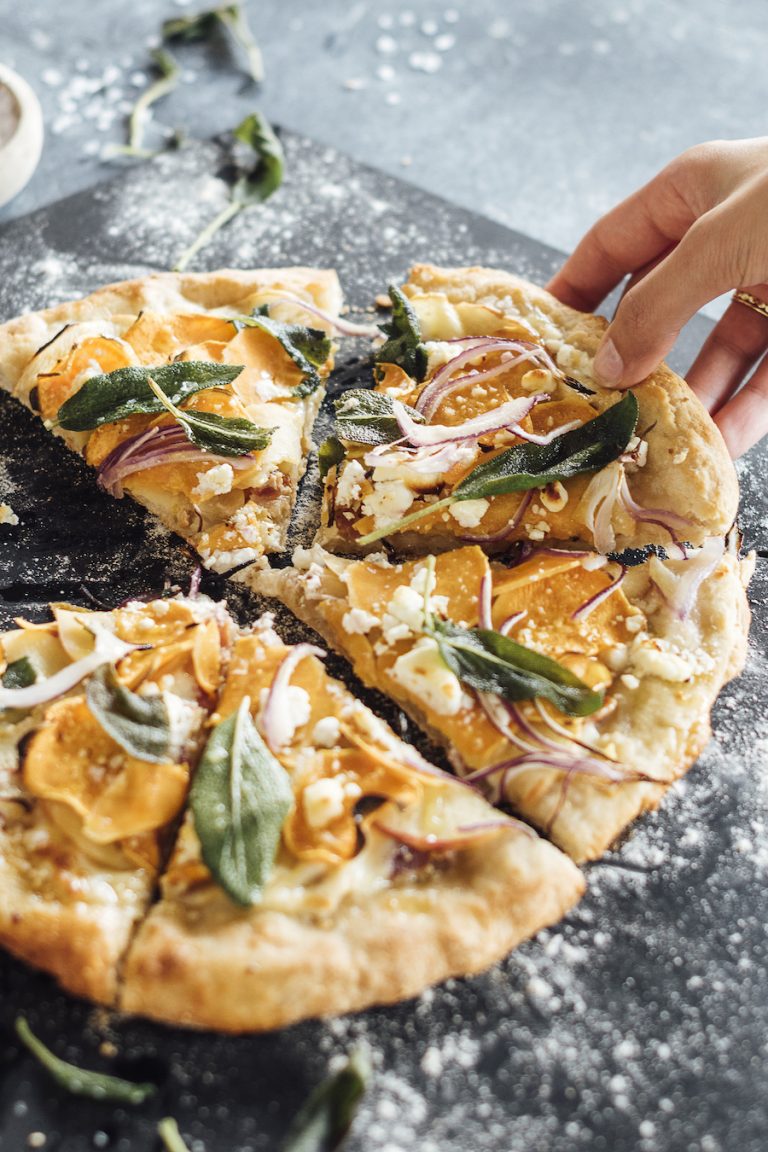 Why We Love It: I'm fully on board with Camille's belief that pizza is a suitable meal for every month of the year. As we're rounding the corner to sweater weather (OK, maybe it's a little further off than I'm allowing myself to think), my mind is on all the comfy and cozy recipes I'm excited to try out. This sweet potato/bacon/apple combo is exactly what I want to be eating on a chilly autumn night. Add to that a roaring fire and a glass of red and your Friday night plans are made.
Hero Ingredient: The crispy fried sage is proof that with a little extra effort, any simple dish can transform into a restaurant-quality meal.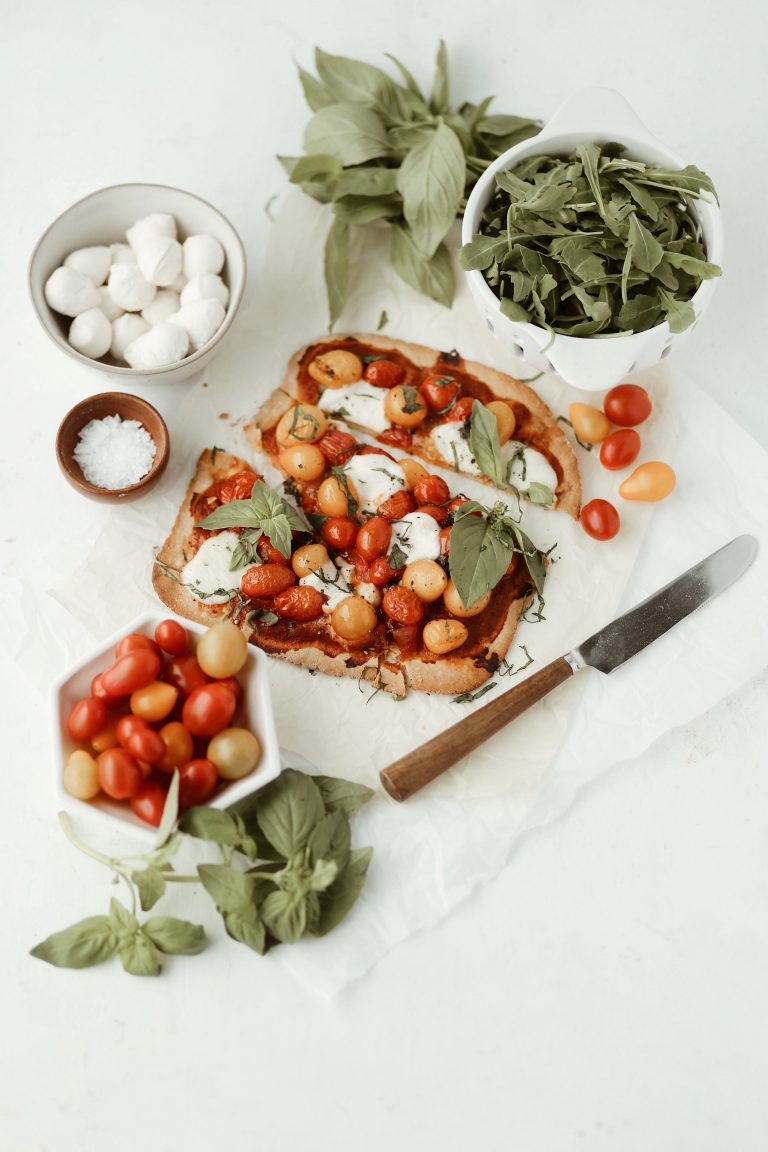 Why We Love It: If you're gluten-free and are tired of biting into crusts that taste a little too much like cardboard, this pizza is for you. While cauliflower crusts work in a pinch, they're never quite like the real thing. Enter: chickpea flour. A staple in South Asian cuisines, this alt flour is high in protein and *bonus* totally gluten-free. Set aside a little time in the kitchen (no more than 30 minutes, most of it hands-off!) and you'll have a crispy, crusty, flatbread-like dough that's just waiting for your imagination to let loose on those toppings.
Hero Ingredient: A half-teaspoon of garlic powder gives a sweet, subtler-than-raw garlic flavor that will brighten up your crust.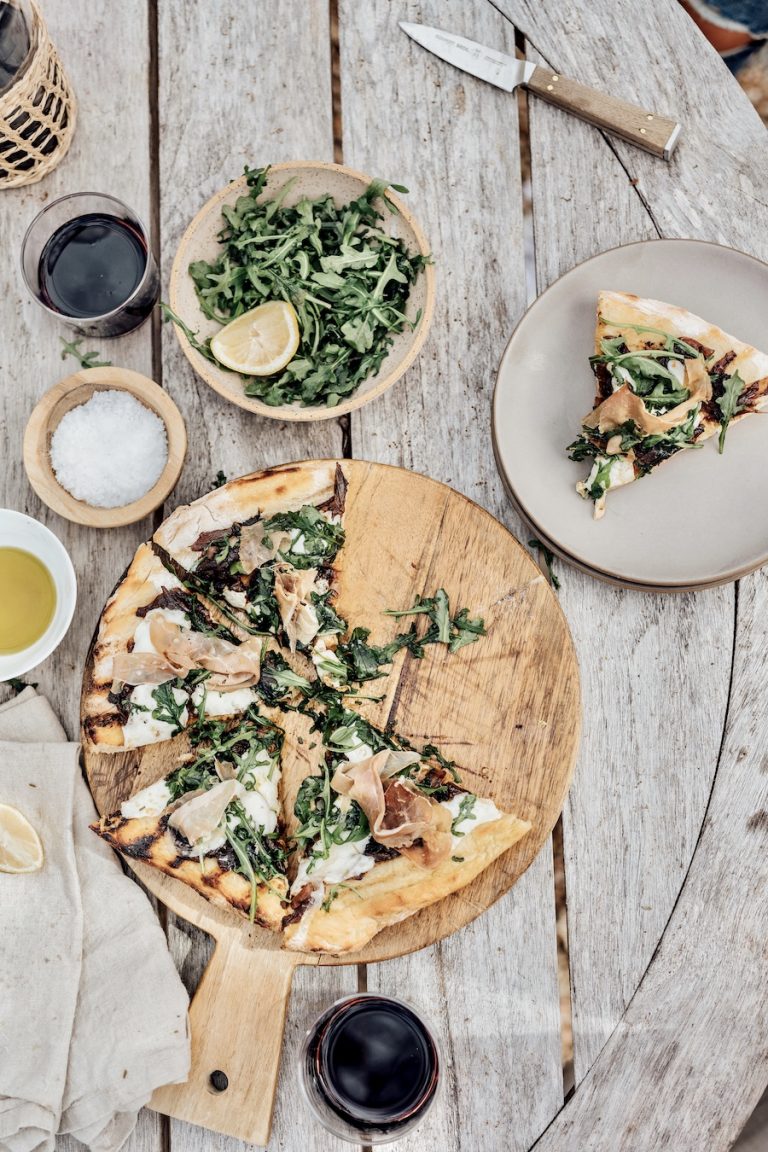 Why We Love It: I can't think of a single reason not to love it! This pizza is everything I want not only in a pie but in really any meal. Grilling the pizza dough creates a nice, smoky char that offsets the creamy mozzarella and sweet onion sauce with a crackly, crusty bite. If you're looking for something to make for your next dinner party (and inevitably wow every guest), this is it.
Hero Ingredient: "Caramelized" might be my favorite word in any glossary of culinary terms. After all, when onions are cooked on low heat until jammy, beautiful, tasty things occur.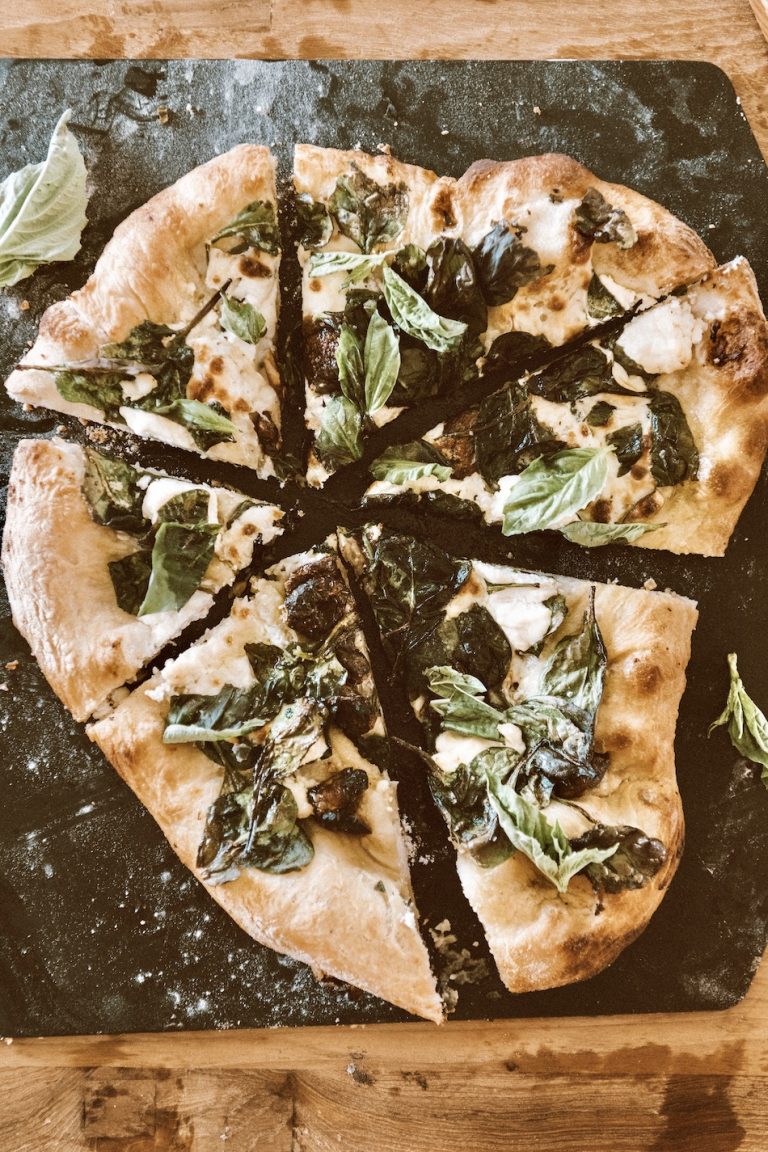 Why We Love It: While I'm certainly partial to mozzarella and burrata (look no further than the above recipes for proof), I'm a strong believer that ricotta is the best pick for optimal pizza. Inspired by one of Camille's favorite cookbooks, Gjelina: Cooking From Venice, California, this pizza puts the beauty of a simple approach on display. With just a few quality ingredients, this spinach-ricotta recipe is far more than the sum of its parts.
Hero Ingredient: Not only does the garlic-infused oil load up your pizza with flavor, but the leftovers make for an easy way to pack any dish with garlicky heat.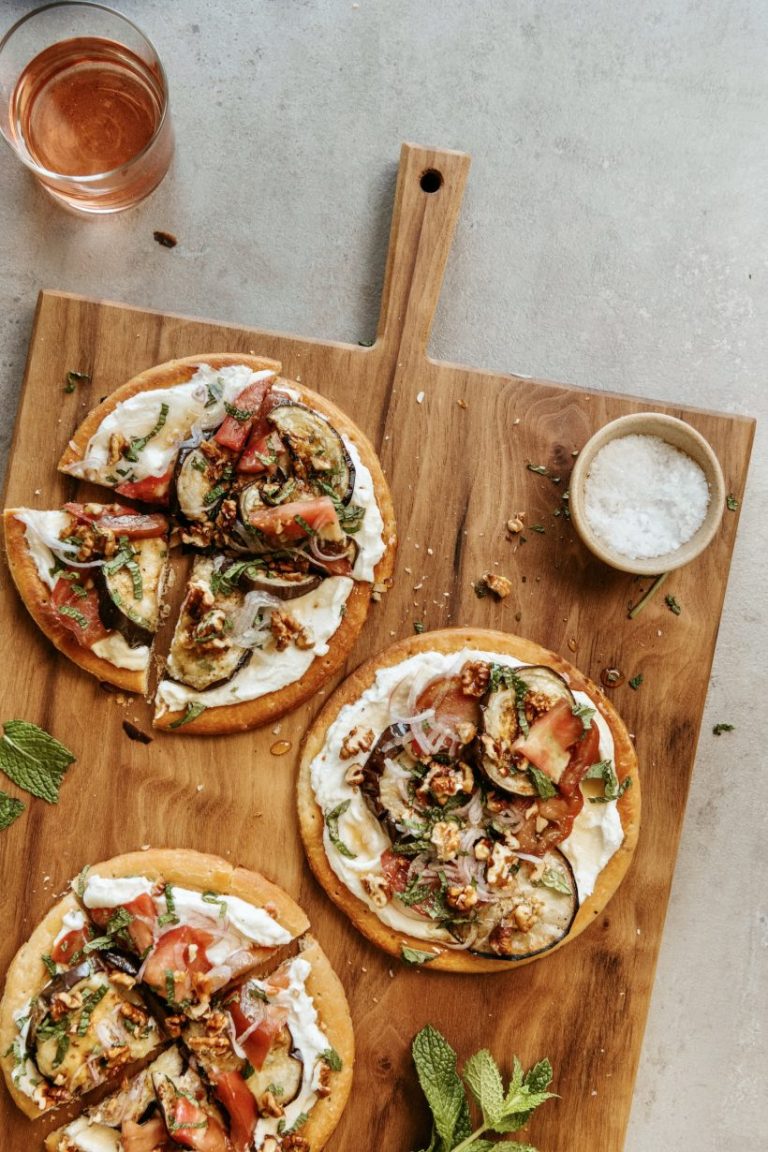 Why We Love It: This flatbread-ish recipe is Camille's latest pizza creation, and it's nothing short of absolute perfection. The recipe doubles up on an incredibly creamy mouthfeel, with both eggplant and ricotta stealing the show. Dream big and opt for naan, pita, or make your own flatbread crust. As Camille writes, the original intention for this pizza was as a toast topping—so there really aren't any rules.
Hero Ingredient: Camille developed this recipe to make the most of a bumper eggplant crop. While not unusual, the abundance of eggplant come late July always throws me for a loop. Thankfully, slicing and popping an eggplant or two under the broiler makes the most of their beautifully charred exterior and soft center.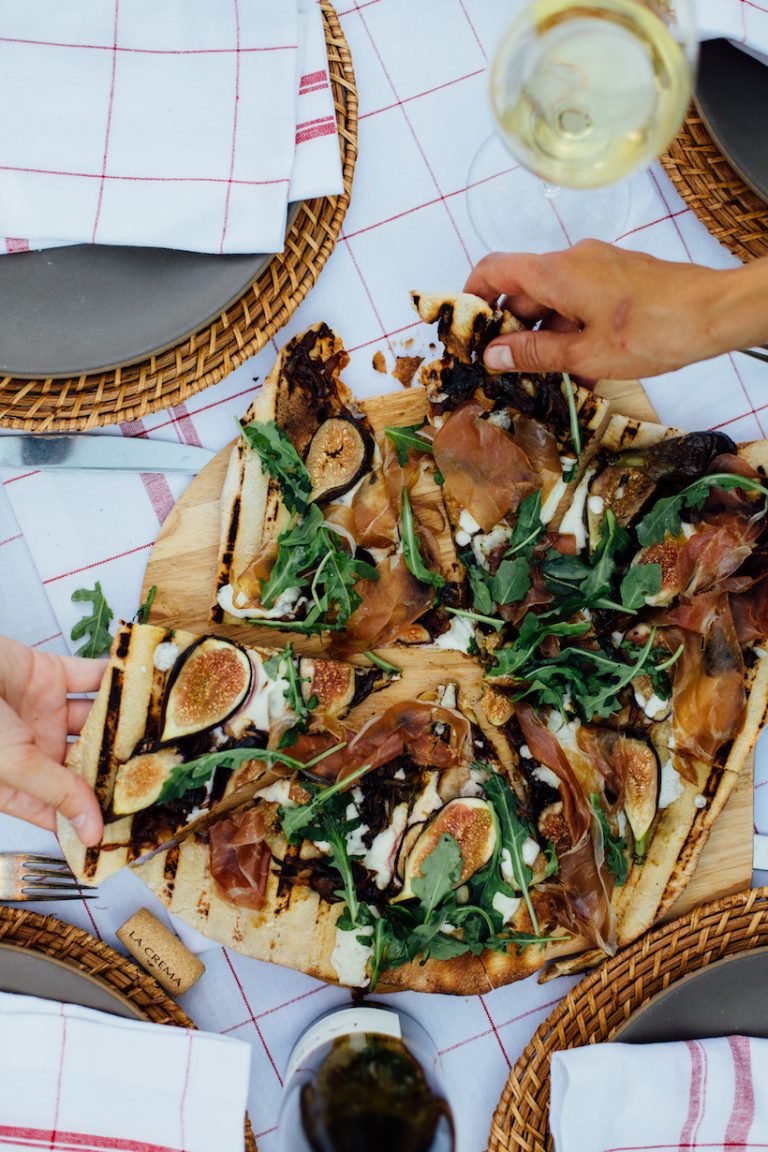 Why We Love It: If you haven't started throwing your pizzas on the grill, make sure to start with this recipe (and prioritize it on your summer bucket list!). Sweet, savory, and with a pop of peppery bite thanks to the wilted arugula scattered over top, this is best enjoyed with a glass of rosé, of course.
Hero Ingredient: Nothing says summer quite like the subtle sweetness of fresh figs. Sliced in half, the fruit opens up to a stunningly kaleidoscopic interior. Growing up in northern New Hampshire, I never had the opportunity to experience anything besides the dried variety. Now, having traveled and lived about, I've thankfully enjoyed many a fresh fig, and I've always treated them like treasure as a result.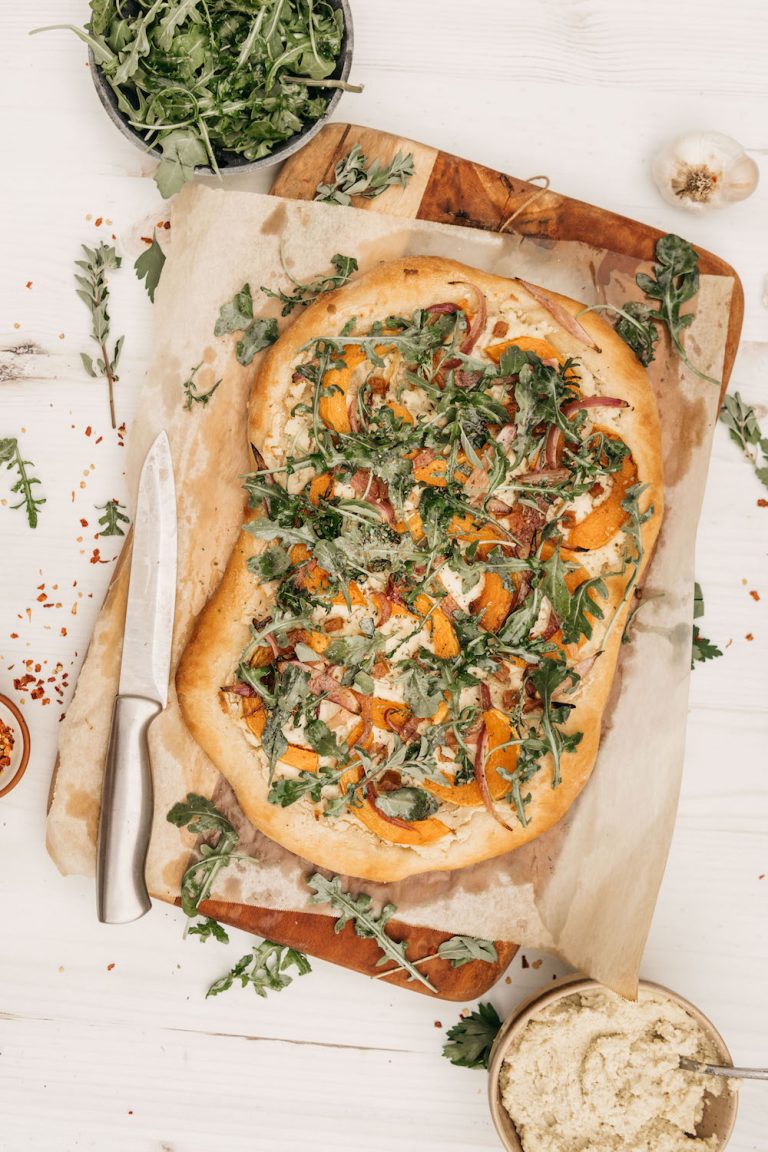 Why We Love It: When butternut squash season comes around, you can bet I'm taking any and every chance I can to enjoy my favorite fall/winter veg. While I have plenty of recipes to help satisfy my craving, this is my go-to. The squash lends your topping a little cold-weather comfort while the almond ricotta provides a nutty, grounding base. Prepare yourself: rich, buttery, and doughy bites await.
Hero Ingredient: Caramelizing the red onion helps the allium develop its signature sweet flavor, plus it'll give your pizza a welcome autumnal hue.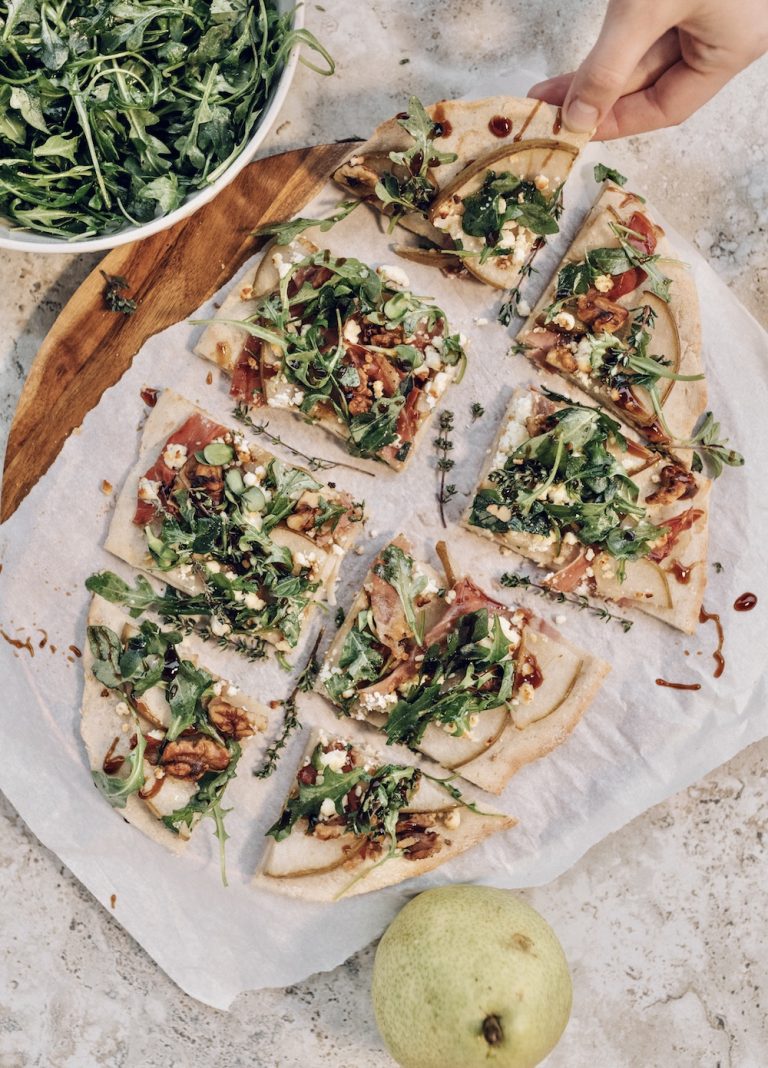 Why We Love It: Now this is true fall food. While all pizzas make great crowd- and party-pleasers, this one is definitely sure to satisfy any and all palates. If you're serving this at a dinner party, set out all the ingredients in advance: pears, toasted walnuts, salty prosciutto, creamy goat cheese, and—my favorite—arugula. Let everyone pick their faves and combine and portion out as they please.
Hero Ingredient: I may have said that the arugula was my favorite, but I'm sold on anything that includes a drizzle of balsamic glaze.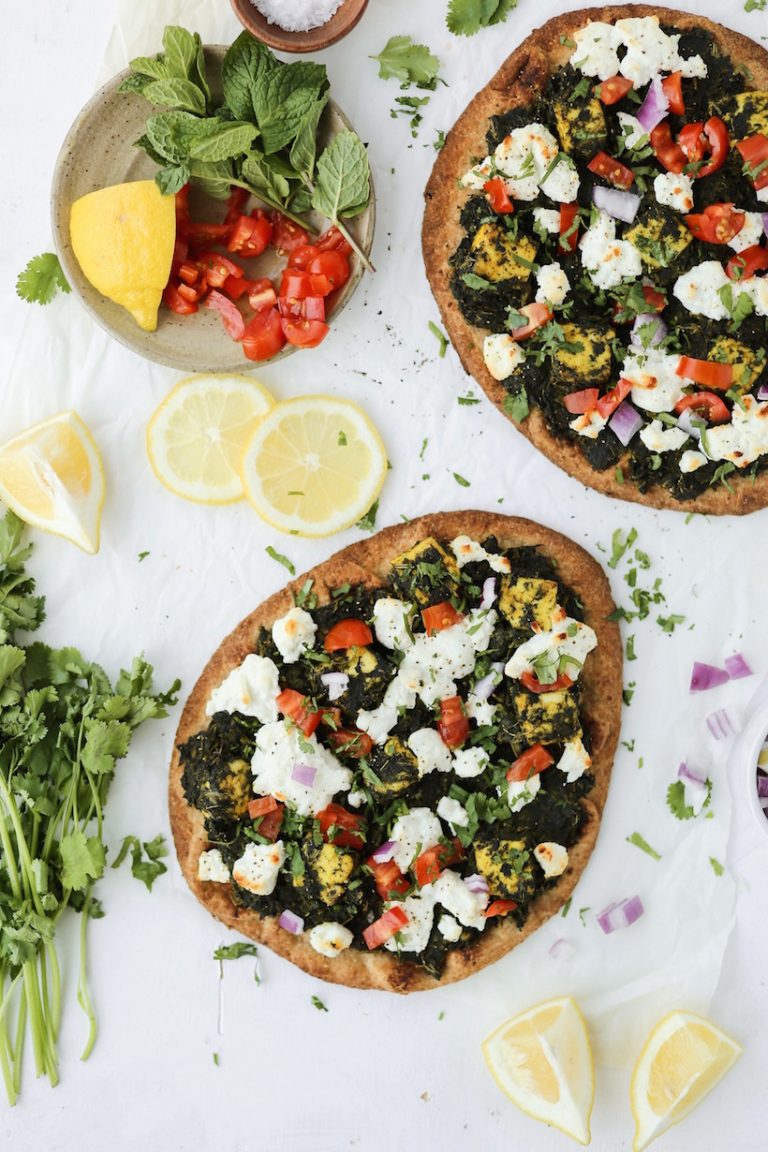 Why We Love It: What's better than having your favorite food for dinner? Two of your favorite foods combined! (The more the merrier, after all.) Here, our Food Editor Suruchi Avasthi, aimed to amplify her love of her mom's paneer (a fresh cheese that holds its shape when cooked) with a pizza that put it front and center. This pizza is a variation on the traditional Palak Paneer in that it tones done the creaminess so that the final result is still deliciously indulgent, but won't weigh you down after a few slices.
Hero Ingredient: Store-bought naan not only makes this pizza a breeze to bake, but as Suruchi shares, there are plenty of high-quality options to choose from. Pro tip: Opt for garlic naan if you're craving a little boost of flavor.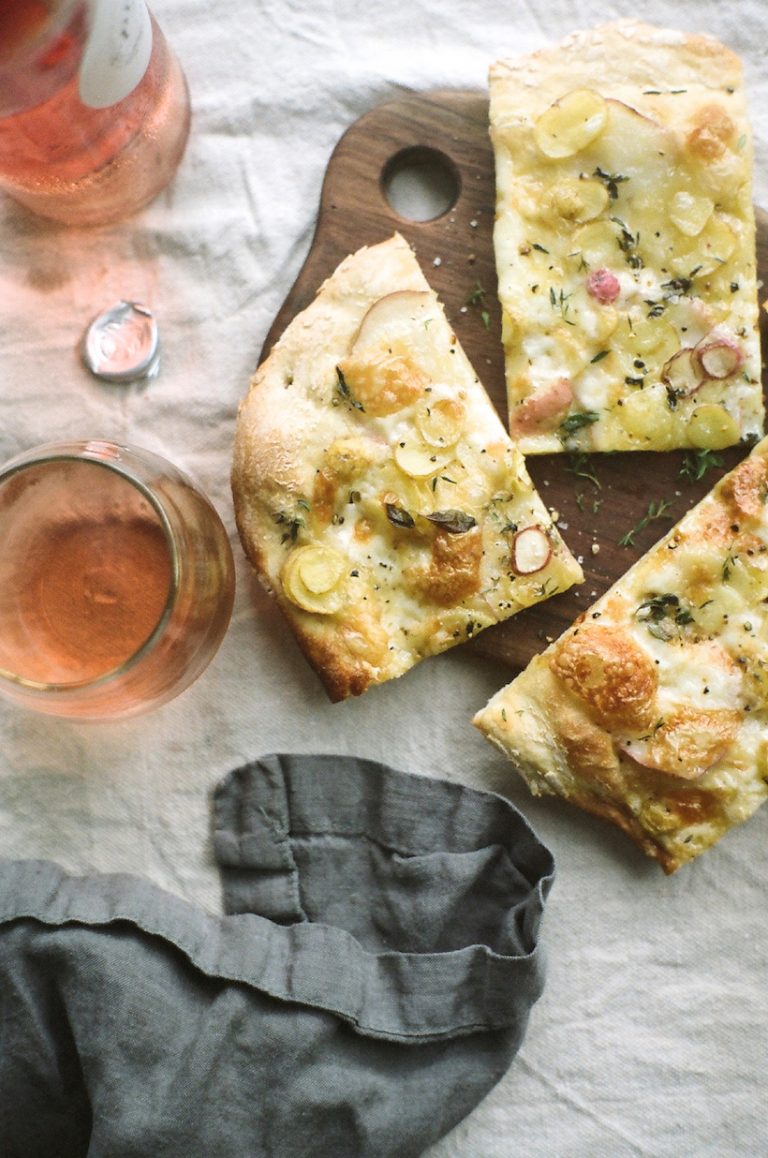 Why We Love It: I had my first potato pizza a couple of years ago and wow—I was blown away by, well, how blown away I was. Potatoes are one of those special ingredients that, while humble, lend so much texture and depth to a dish. The potato harvest hits its peak in late spring/early summer, but IMO—they're an earthy treat any time of the year.
Hero Ingredient: Marjoram is such an underrated herb! The piney, citrusy notes are wonderfully complex and add a surprising sweetness to your pie.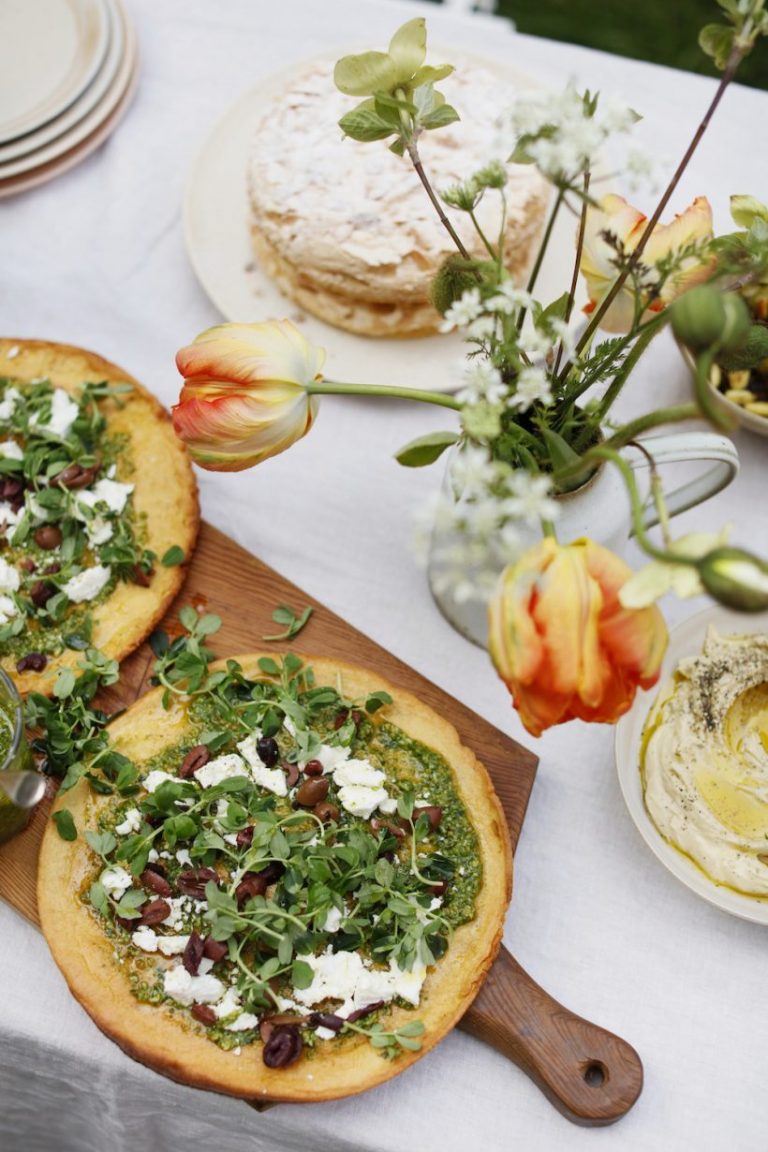 Why We Love It: Aran Goyoaga is the first person we turn to when we're in need of kitchen inspo. Her thoughtful approach to elevating alternative baking has transformed the gluten-free community and how we approach once-unfamiliar flours. This farinata makes the most of chickpea flour's nutty bite, layering both flavor and color into each slice with the hazelnut-arugula pesto.
Hero Ingredient: Admittedly, I had never made pesto with hazelnuts before trying this recipe. While I usually opt for either pine nuts or walnuts, here, the hazelnuts give a distinct, earthy note that's still buttery and slightly sweet.