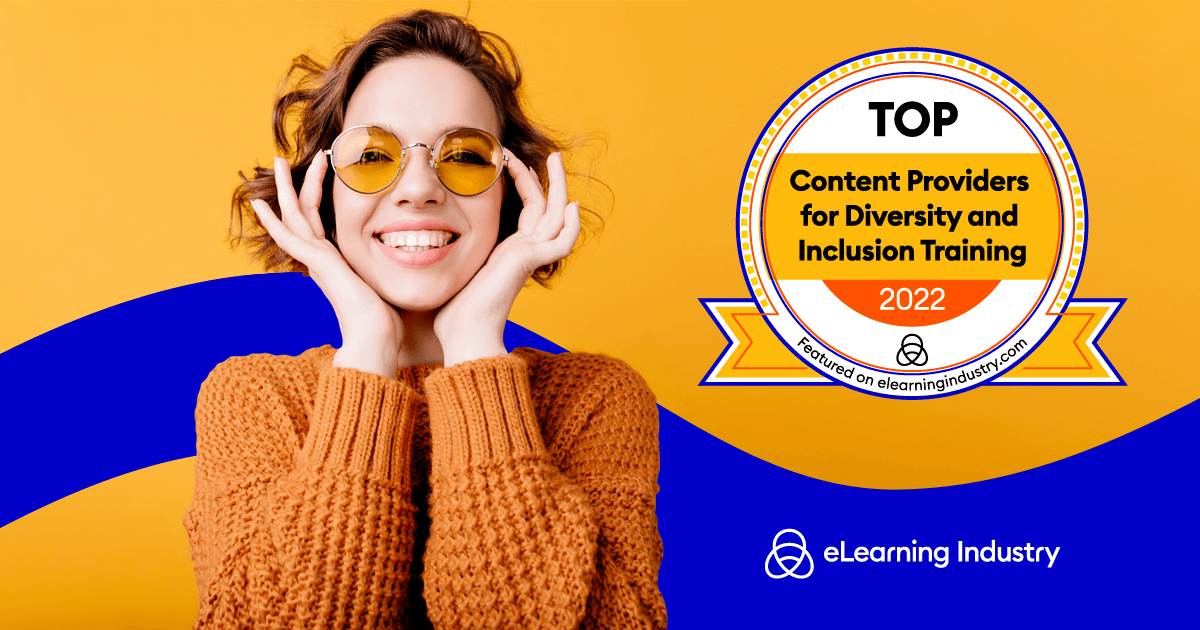 Deliver The Best Diversity And Inclusion Training Programs To Your Teams
First off, what is diversity and inclusion training? Over the past few decades, businesses of all sizes have made significant efforts to become more inclusive and diverse. However, it's still challenging for many of them to overcome their biases. The goal of diversity and inclusion training programs is to limit how some employees see those who are different from them.
Companies can create a safe working environment for all employees by focusing on diversity, equity, and inclusion (DEI). So, this top list is for business owners, managers, and trainers who want to learn more about diversity and inclusion programs. Also, we aim to help you decide which content providers can help you guarantee that your training is engaging and effective.
Organizations that implement DEI initiatives can improve equality in the workplace. For example, by creating strategic diversity and inclusion training programs, you can address biases and prejudices within your company. Experts on this topic can ensure that your diversity training is successful by tailoring it to your company and needs.
If you're looking forward to creating a more welcoming workplace that respects differences and gives a voice to people who are often underrepresented, here's your chance!
Keep reading to see which eLearning content providers offer the best diversity and inclusion training programs.
The Top Content Providers For Your Diversity And Inclusion Training Courses
eLearning Industry's Company Selection Criteria
Globally recognized LMS experts, including C. Pappas and our editorial team, did a thorough review of each vendor's eligibility. More specifically, we've checked each eLearning company's website and relevant published content—including articles, eBooks, and webinars—to reach a final conclusion.
Our committee ranked the best content providers for DEI training programs by focusing on the following eight criteria:
Company's economic growth potential
Company's social responsibility
Customer retention
Customer reviews
Employee turnover
Learning industry innovation
Quality of content development
Expertise in learning solutions
On this top list, we've chosen the top companies when it comes to creating diversity and inclusion training content. If you're looking to outsource your custom training projects, all you have to do is visit our niche content providers directory. You'll get the opportunity to filter solutions by use case!
So, now that you've gone through the list, don't forget to take a look at our DEI training tips. Our research will help you get all the insights you need to partner with a training company that can help you reach your business goals.
Benefits Of Diversity And Inclusion Training Programs
Diversity and inclusion training can indeed positively address biases and prejudice within your organization. But the benefits don't stop there.
As research tells us, businesses can get some real financial gain as well! Based on a study by McKinsey & Co, organizations that have diverse workforces are 35% more likely to show above-average profit margins compared to companies with more homogenous employee bases.
What's more, a well-designed DEI training program can elevate employee morale. In addition, you can boost customer satisfaction and drive bottom-line business success.
Business owners and managers can utilize a diversity and inclusion training program to encourage increased collaboration within their teams. By doing so, they can enhance interpersonal skills and empower underrepresented groups to feel more valued and respected in the workplace.
To sum up, the main benefits are:
Raising organizational awareness
Making space for unique perspectives
Encouraging collaboration and innovation
Developing inclusive thinking and action
Promoting workplace sensitivity
However, for your diversity and inclusion training programs to be successful, you must carry out the whole process responsibly. For one, it's a great way to engage and retain women and people of color in the workplace. But, if you don't do it strategically and with empathy, it might backfire and even reinforce stereotypes.
So, if you're not familiar with the types of diversity training in the workplace and how to best implement them, teaming up with a DEI training expert is your way to triumph.
Thankfully, all the content providers featured in this top list can provide the needed insights and instructions on how to help your diverse teams work effectively together.
Things To Consider For Successful Diversity And Inclusion Training Programs
The best diversity training programs are practical and easy for employers to create, purchase, and deploy. Best of all, they can be cost-effective, impactful, and flexible. You can implement such training during employee onboarding, or even train your teams at different times.
So, here are some types of diversity training that are effective:
Awareness training
Real-world examples and scenarios
Skill-based training
Diversity audits
Mentoring for diversity
Now, let's take a look at some examples of good diversity training programs:
The Essentials Of Equality, Diversity, And Inclusion
That is an introductory training course every company should offer to assist learners in better understanding their roles in promoting equality and combating all types of prejudice. All the above will help bring behavioral change that creates positive interactions among diverse groups of individuals in the workplace.
Unconscious Bias Training
Successful diversity and inclusion training programs can take a non-judgmental approach to help everyone understand how unconscious prejudice works in the workplace. It's all about equity and acceptance.
DEI Crisis Management Training
Diversity trainers are the ones that provide the skills, information, and experience needed to advise, develop, and support colleagues and modern organizations in DEI. The best programs usually explain applicable federal and state laws and company values. Also, they focus on policies regarding diversity in the workplace, including hiring and promotion policies. Also, training can encourage individuals or employees to speak up about DEI issues.
Race, Faith, And Cultural Diversity Training Courses
Managing diversity in the workplace can help your employees feel understood and taken care of. For example, you may want to implement one-on-one or small group development talks. Trainers can also deliver such content to bigger groups. By being proactive, managers and employees can plan ahead of time to fulfill the requirements of BIPOC and BAME.
How To Choose Training Companies For Your DEI Training
Here at eLearning Industry, we're dedicated to helping organizations incorporate diversity and inclusion into their company culture.
The best way to do this is by offering an online platform for your teams that enforces retention and makes learning a habit. Another option could be to use off-the-shelf courses, or you can even opt for custom programs.
But how do you choose a consultant for DEI training?
Profound know-how in implementing diversity and inclusion in the workplace is critical. If you consider working with a potential training consultant, here are some questions you might like to ask them:
a) How many years have you been doing DEI training?
b) Have you spent time providing such training recently?
c) What type of clients do you create training for?
d) Will you share references with us? Are there any awards won?
e) What type of special education or training do you have on D&I?
f) Do your SMEs have any type of legal training or background?
But the reality is that this type of training is a highly specialized area. Hence, your eLearning content provider should have specific skills, training, and experience.
For one, they should know how diversity training works. Also, successful diversity and inclusion programs have clear goals and can utilize different examples of inclusive behaviors in the workplace. In addition, the content provider you choose should have expertise in creating workshops.
So, make sure that the consultants you've selected have experience in the above to make your training engaging and effective.
Next Steps
Diversity and inclusion as concepts are finally making headlines. And rightly so, since many employees express the importance of diversity in the workplace. In fact, 76% of job seekers report that, when evaluating companies and job offers, they find a diverse workforce critical for their selection, according to Glassdoor. Consequently, it's a vital factor if you want to improve your brand image and attract top talent.
Yet, companies and company leadership, even though they understand the true importance of diversity in the workplace, are struggling to take any steps to implement diversity programs. Unfortunately, most managers are just "too busy" to make it happen. Thus, being proactive—not reactive—is key. Taking the time to structure workflows and processes in the organization that enhance and encourage diverse points of view and perspectives will help your business thrive.
With expert tips like these, your employees can learn techniques for building a lasting culture change. Just make sure to reach out and ask all the right questions to find the best fit. And don't forget to visit our directory to read the submitted reviews for each vendor. It'll give you a more direct take on customer experience.
Now that you know what DEI training is, you can start thinking of the perfect diversity and inclusion program ideas for your company. And if you need expert guidance, you can choose one of the best content providers to help you out.
In the hopes of answering all your questions on how to promote diversity and inclusion in the workplace, do let me know if you need any more guidance in the comment section.