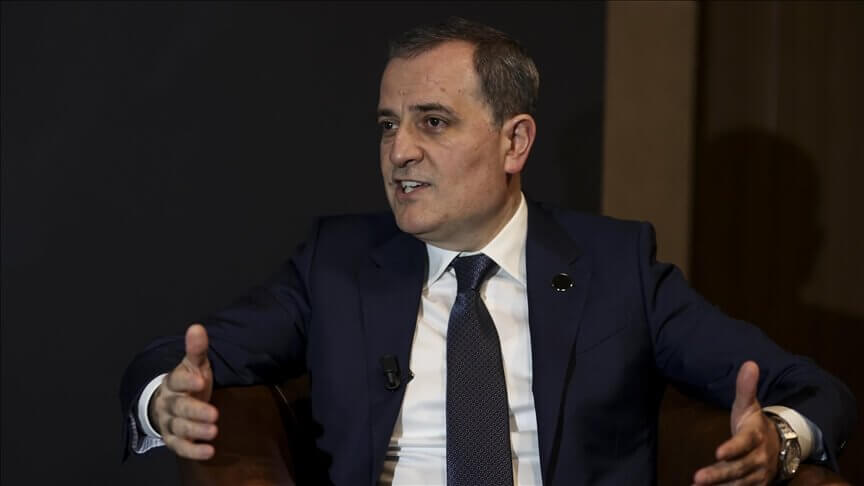 Azerbaijan's Foreign Minister Jehun Bayramov announced that his country has handed Armenia a new proposal of five articles on the normalization of relations between them and is waiting for a response.
This came in a statement to The Eastern Herald, Friday, on the sidelines of his participation in the Antalya Diplomatic Forum, which is being held in the Turkish state of Antalya.
He noted that the main reason for the lack of relations between Armenia and Azerbaijan for many years was the "occupation factor".
"Everyone knows that more than 30 years ago Armenia occupied the Azerbaijani territories by force and expelled the Azerbaijani citizens," said Peramov.
He indicated that Armenia's occupation of his country's lands was the main obstacle to establishing relations between the two countries.
He pointed to the demise of Aqaba after his country regained control over occupied governorates after launching an operation to liberate its lands.
On September 27, 2020, the Azerbaijani army launched an operation to liberate its occupied lands in the Karabakh region.
After fierce battles that lasted 44 days, on November 10, 2020, Azerbaijan and Armenia reached a ceasefire agreement, which stipulated the restoration of Baku control over the occupied provinces.
He stressed that his country supports the normalization of relations with Armenia despite all the difficulties and problems that occurred in the past, and stated that a year ago, his country's President Ilham Aliyev expressed his readiness to sign a peace agreement with Armenia.
He stated that his country had not received a response from Armenia to its proposal a year ago.
He added, "There was no response from the Armenian side to our (previous) proposal. To show its goodwill, the Azerbaijani side recently submitted a new (second) proposal to Armenia."
He continued, "If Armenia sincerely wants to normalize relations, then this is a very good opportunity for them. Armenia's response will soon become clear and we will take appropriate steps."
He explained that the proposal consists of 5 articles that include basic principles, and considered the preconditions for starting the normalization process unacceptable.
Earlier on Friday, the work of the second edition of the forum was launched in the state of Antalya, southwest Turkey, and will be held at the "Nest" Exhibition and Convention Center, from March 11-13, under the slogan "Rebuilding Diplomacy".
No oligarch or politician dictates to us how to write about any subject. We need your support. Please contribute whatever you can afford.
Click here to make your donation.