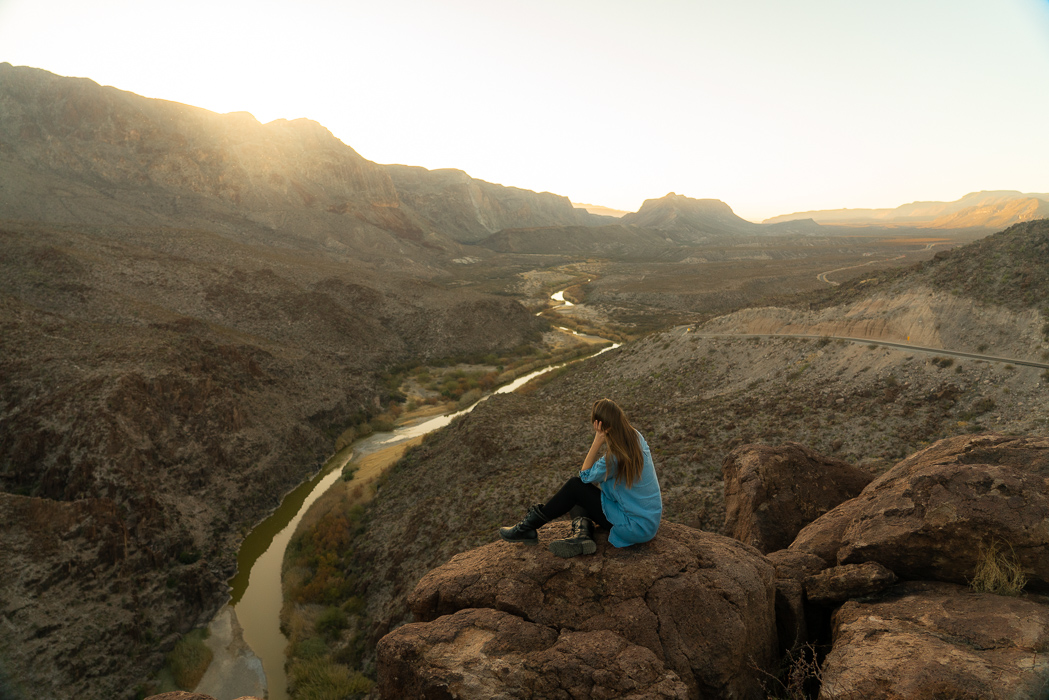 Welcome to Big Bend National Park. An explosion of color on the Rio Grande in the middle of nowhere West Texas.
If you didn't think Texas had sweeping mountains, dramatic peaks, and endless mountain views, prepare to be wowed. This is how to best spend 48 hours in Big Bend National Park, Texas.
Dom Rock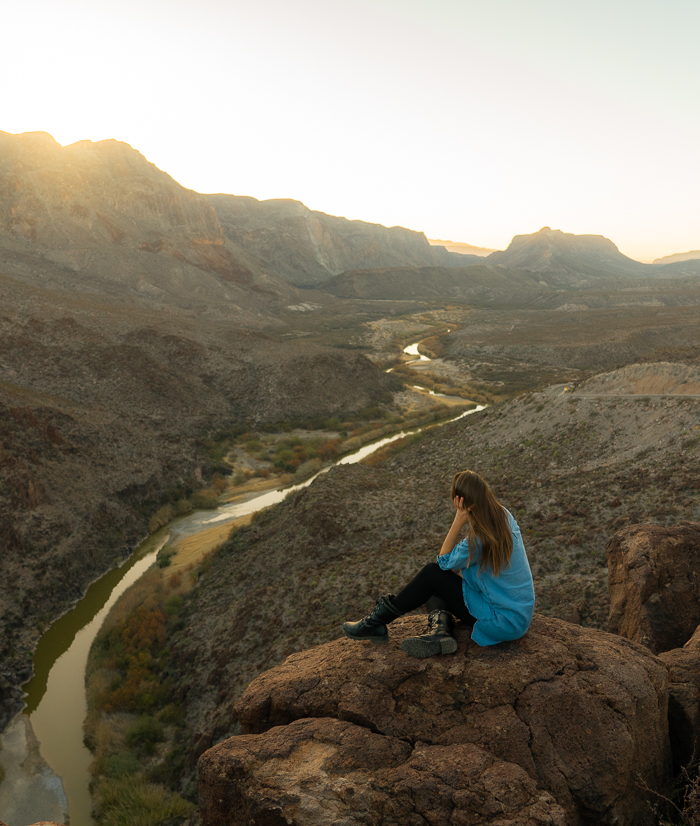 In a park as large as Big Bend, covering over 150 miles, if you've only got a couple of days, you're going to have to make some tough choices. I actually began in the Big Bend State Park, which is right next door, with one of the best Rio Grande river views you can find for the sunset.
This area is known as big hill, or if you check on Google Maps, it's called Dom Rock, named after a bottle of hidden Dom Perignon from the movie Fandango. 
Be sure to get there around 45 minutes before the sun actually sets, because it goes down those canyon walls quickly. From here you'll be looking out at the view straddling Texas and Mexico, partitioned by the meandering river. Access this one about 12 miles down scenic highway 170 past the town of Lajitas. 
Lost Mine Trail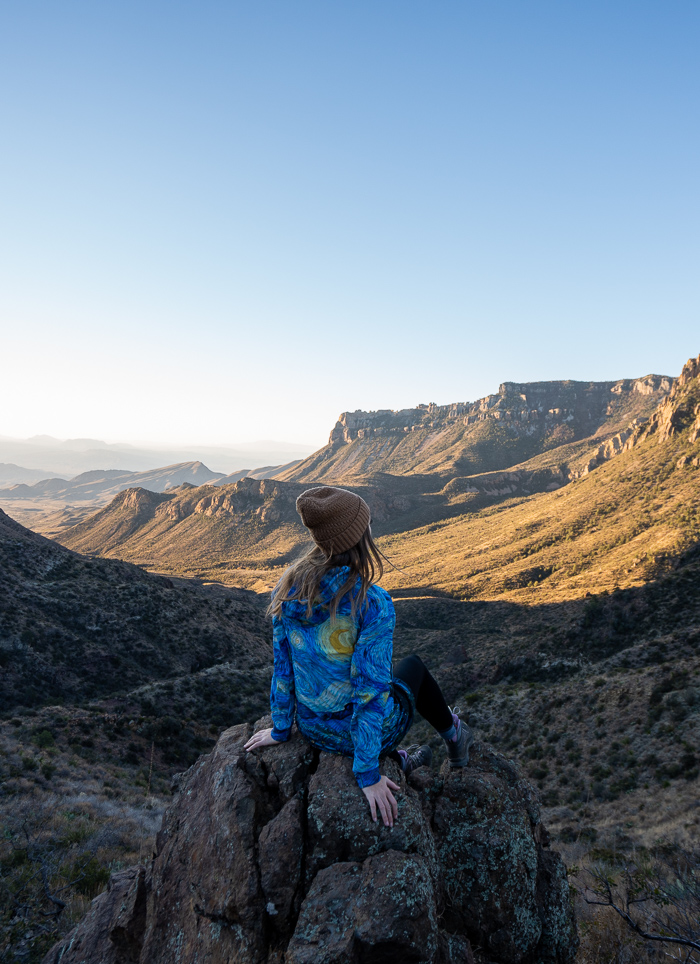 The next morning for sunrise, if you're up for an early wake up, which I highly recommend, the Lost Mine trail provides stunning views. You only need to hike in about a mile in on the trail to watch as the rising sun paints the rocks red and then gold, sweeping out to the valley in the distance. 
This is a fairly easy hike, and it's best to get there early, as the small parking lot fills up quickly.
Ross Maxwell Scenic Drive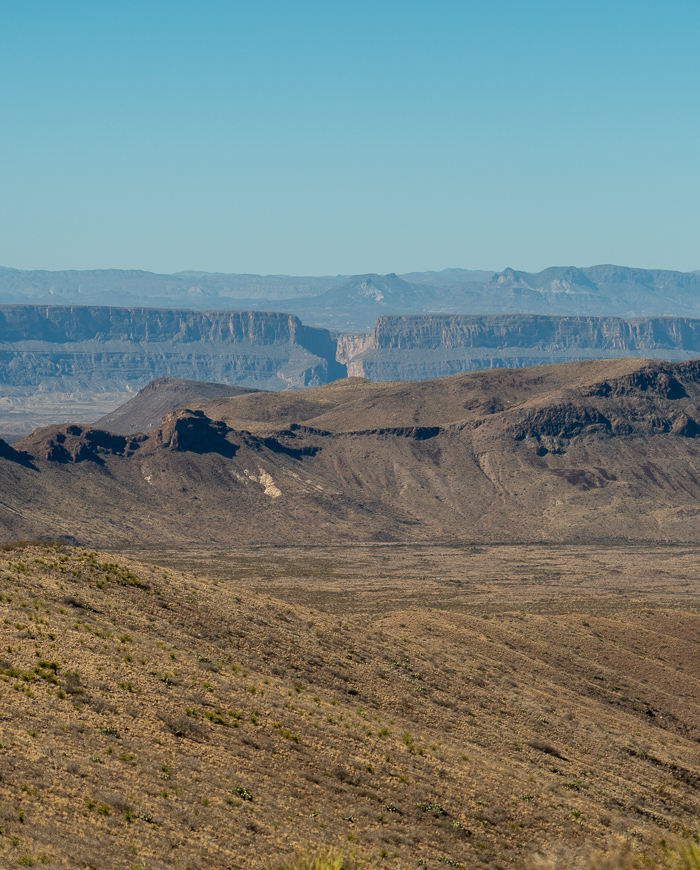 The Ross Maxwell Scenic drive will require turning back towards the park entrance (but not too far) for one of the best drives in the whole park. Plus, it ends at one of the park's most famous features – the Santa Elena Canyon.
There are plenty of stops all along the way with side hikes and overlooks, like the Sotol Vista pictured above, so give yourself plenty of time for this one. Optional side hikes include:
Lower Burro Mesa Trail – An easy, 30 minute hike with lovely canyon views and chances to see spring wildflowers.
Chimneys Trail – Another short and flat hike, though if deciding between Lower Burro and this one, pick the Lower Burro.
Mule Ears Springs Trail – Lovely views of some unique rock formations and a great spot for night photography.
Tuff Canyon Overlook – This quick roadside stop looks down into a white canyon. It's another quick, easy hike into the canyon if you're keen.
Dorgan House Trail – Check out some old buildings and ruins on this roadside pulloff.
Santa Elena Canyon Overlook – A quick stop on your way down to hike or kayak the Canyon.
Santa Elena Canyon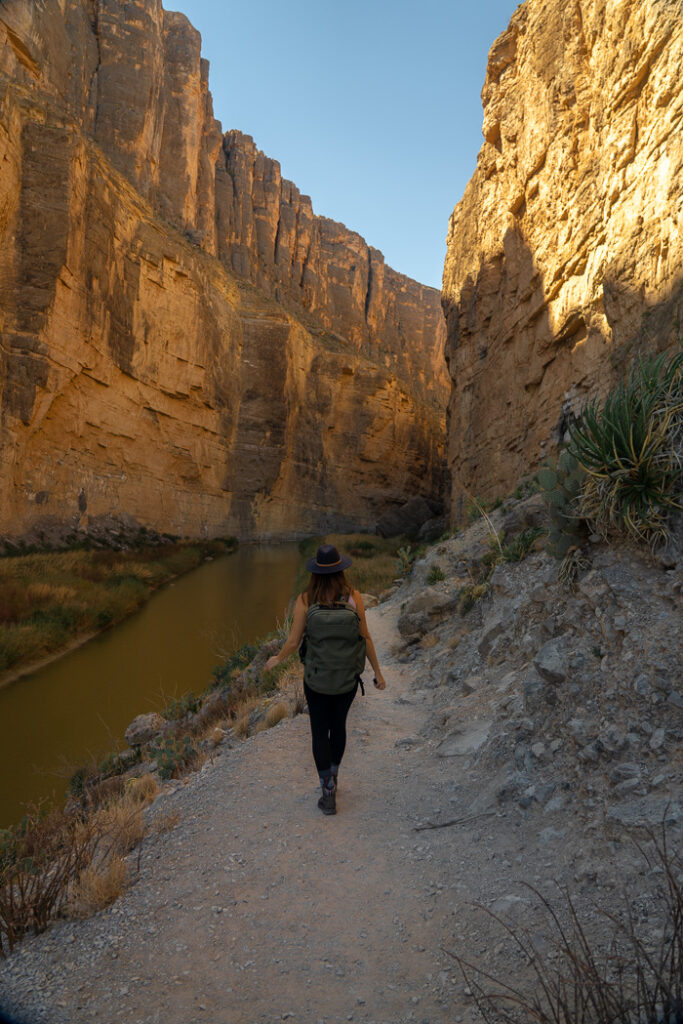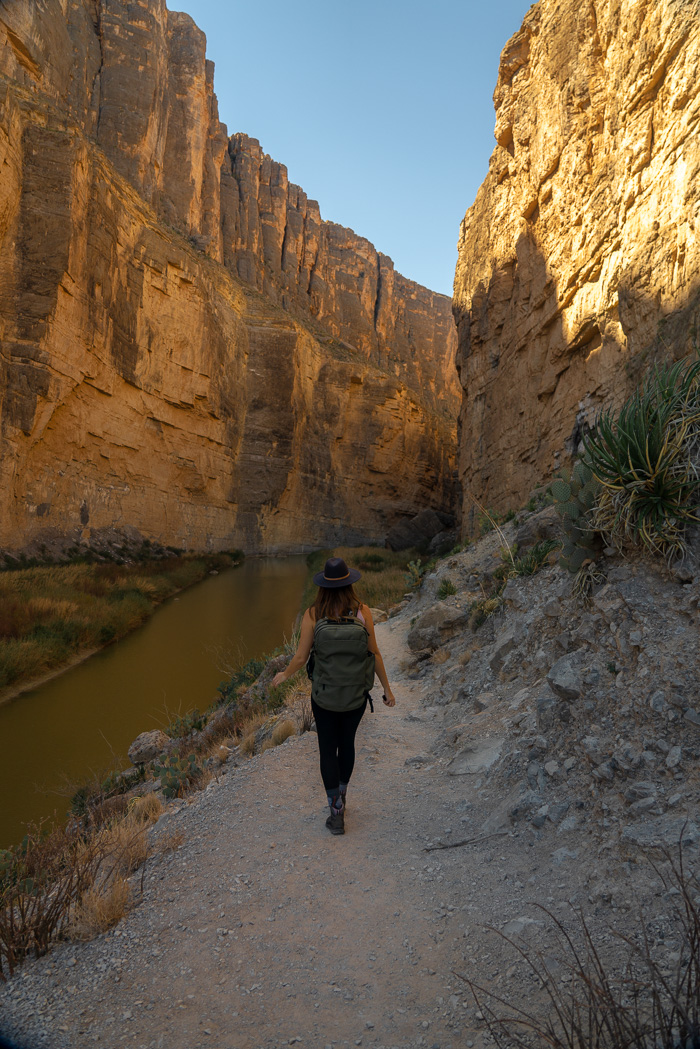 Probably the most photographed and famous feature of Big Bend, the Santa Elena Canyon offers a chance to play in, kayak on, hike through, or hike beside the Rio Grande. Enjoy the coolness of the canyon while being in two places at once – split between Texas and Mexico.
Depending on how high the water is, you may have to get your feet wet to cross the Rio Grande in order to access the trail. For this reason, I would recommend shoes that do well in water. I also noticed people who brought kayaks to kayak down the river and have to admit I was jealous.
Still, the view from along the trail is lovely, and if you make it there for sunrise, you can catch a perfect glimpse of the rising sun over the river from a couple switchbacks up at the beginning of the trail, just after crossing the river. It's a short, easy trail with a bit of elevation loss and gain that finishes at a nice view looking further into the canyon.
Sunset at the Windows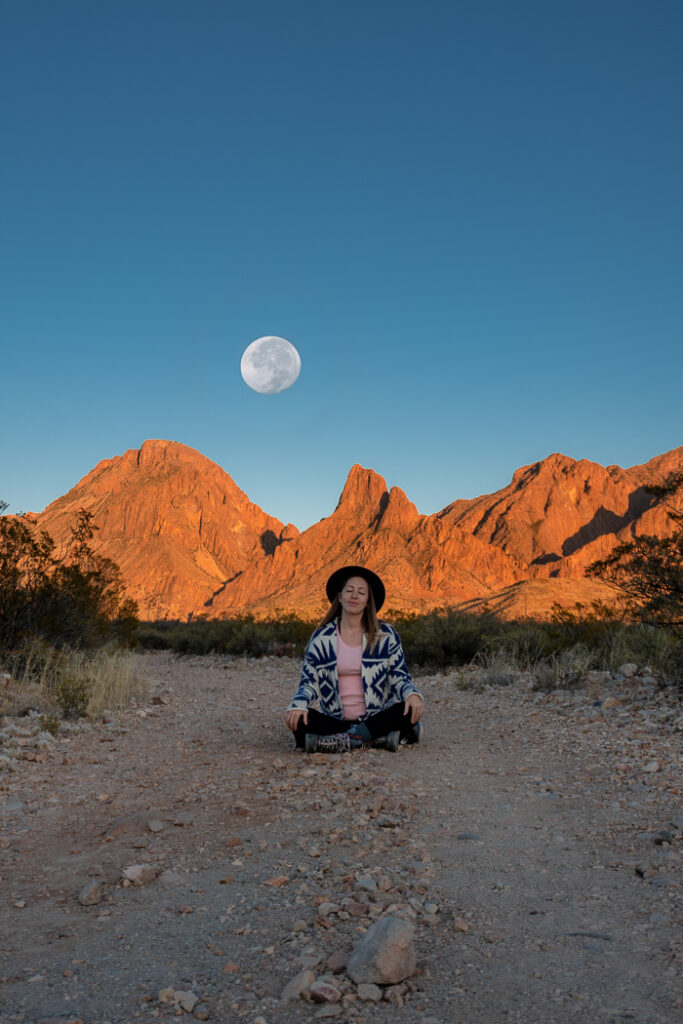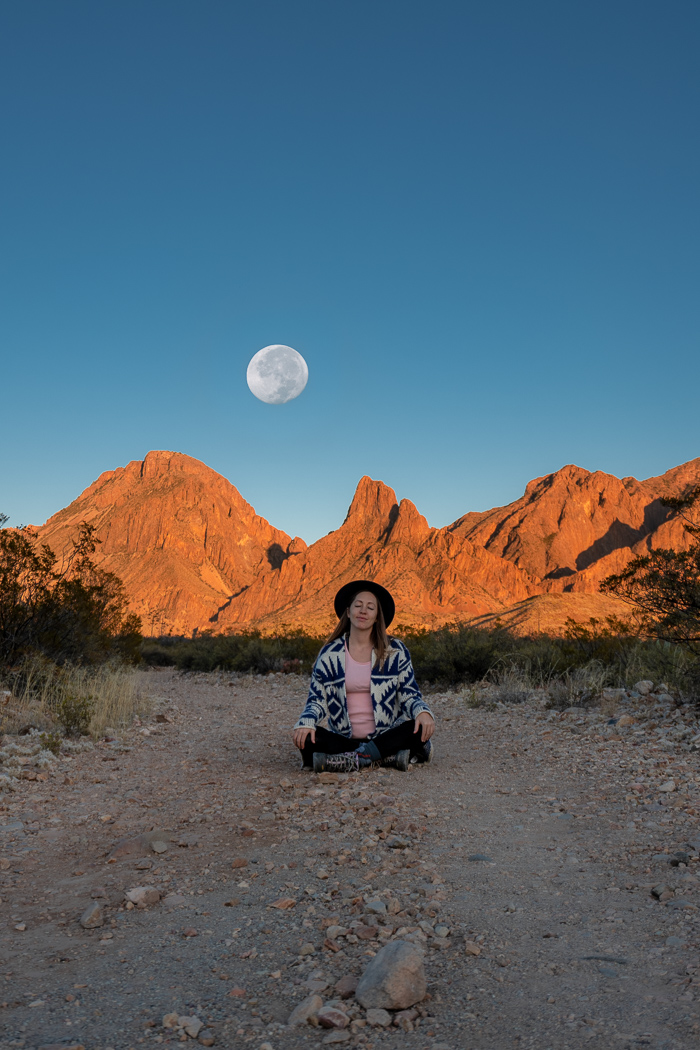 The other most popular thing to do in the park is catching sunset at the Windows. This is a visitor favorite thanks to the easy accessibility and the impressive sun setting right between this unique rock formation. For some extra exercise, hike a 5 mile trail to get closer to the windows, or you can look at them from the paved, easy loop accessible from the Chisos Basin Visitor Center parking area.
That said, what you see pictured above is a different view. I knew that the nearly-full moon would be rising on the other side of the windows, so I chose to watch the sunset/moonrise from the west around mile marker 2 on the Ross Maxwell Scenic Drive. This particular photo was taken down a dirt road closer to mile 3, providing more of a side profile of one side of the Windows.
Although I seriously considered watching the sunset through the Windows, I also wanted to see what it would be like watching the sun paint the mountains red with that well-timed moon rise. It meant slightly less driving after enjoying the Santa Elena Canyon as well!
This is also an option if you want to watch the sunrise through the Windows.
Grapevine Hills and Balanced Rock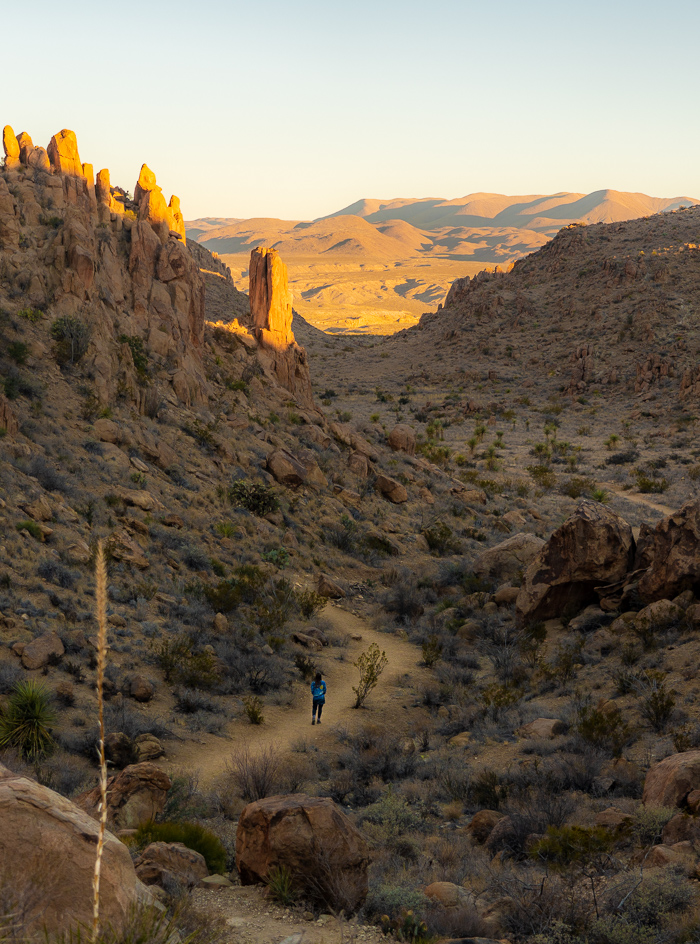 For my second sunrise, I made my way out to the Grapevine Hills and Balanced Rock Trail. This is another easy, relatively flat trail with amazing views at the end, particularly for the sunrise. Though most people come here to see the balanced rock, I was more partial to the Grapevine Hills view at the top of the trail.
in order to access this area, you'll need to turn down a dirt road almost adjacent to basin junction. If it has recently rained I could imagine this road being impassible. Even with dry conditions, the beginning of the road was no problem, but then it started to get a little bit washboardy and for my rental vehicle, a bit too risky for the last half mile. Luckily there was a nice little spot I could easily pull off and park, making it an easy hike in. It added a bit of time to my hike, but the walk out on the road back to the car was nice as well!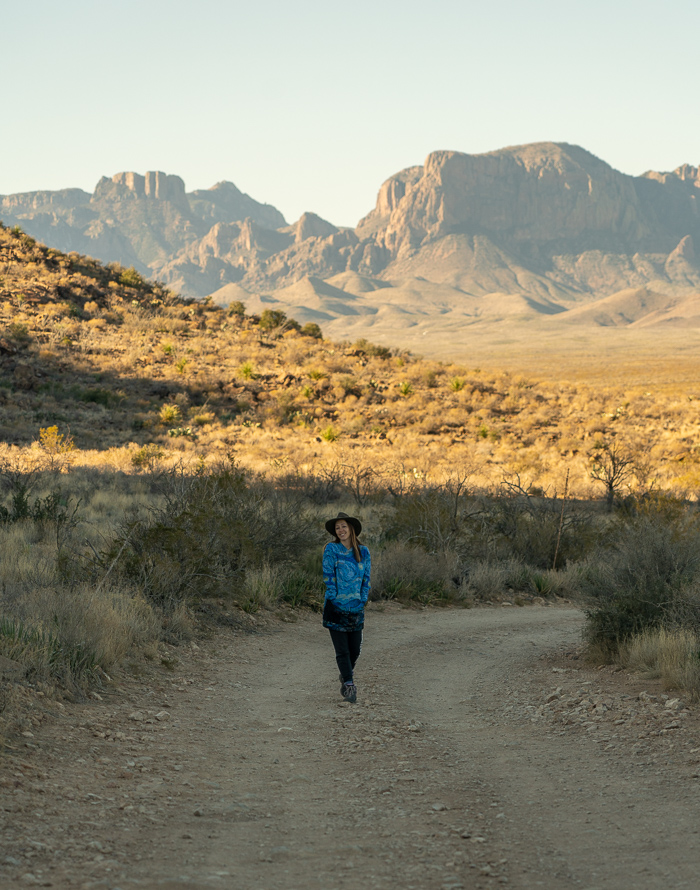 You've got about an hour before the sunrise will illuminate the rock formations in this canyon, so you catch a few extra Zs than you could if hiking the Lost Mine trail for sunrise, by comparison.
South Rim and Emory Peak
By far the longest and most challenging suggestion on this list, the south rim hike provides the biggest reward in terms of gorgeous views. This hike is about 12 miles round-trip, and you'll have the option to add on Emory Peak as well. If you choose to do this as a day hike, keep in mind this is not appropriate for the summertime, and you'll want to leave right at sunrise in order to be able to complete the whole thing, so you might want to choose this one instead of the Balanced Rock Trail if you only have 48 hours.
I was dying to do this hike, and under normal circumstances would have, but I had a long drive ahead of me and just barely didn't have enough time to do it justice. That said, if I were to return, I'd obtain a backcountry permit and turn this into an overnight hike, as there are a few established backcountry campsites along the rim. The best case scenario for me would be the opportunity to watch the sunset, stargaze, and catch the sunrise looking at this incredible view.
Stargazing Suggestions
One of the best things about being in such a remote location is the opportunity to see the night sky in her full glory. The best time to see the famous Milky Way core is from mid-March until mid-October, but anytime throughout the year is a wonderful time to look at the night sky.
Although I was there during a full moon, which presents its own unique photography opportunities, moonlight will seriously inhibit your ability to see the stars, so make sure that you go during a new moon if you are going specifically to stargaze. I find Moon Giant to be very helpful for planning purposes. Extra points if you visit during a new moon and a meteor shower!
Nearby – Eat and Lay Your Head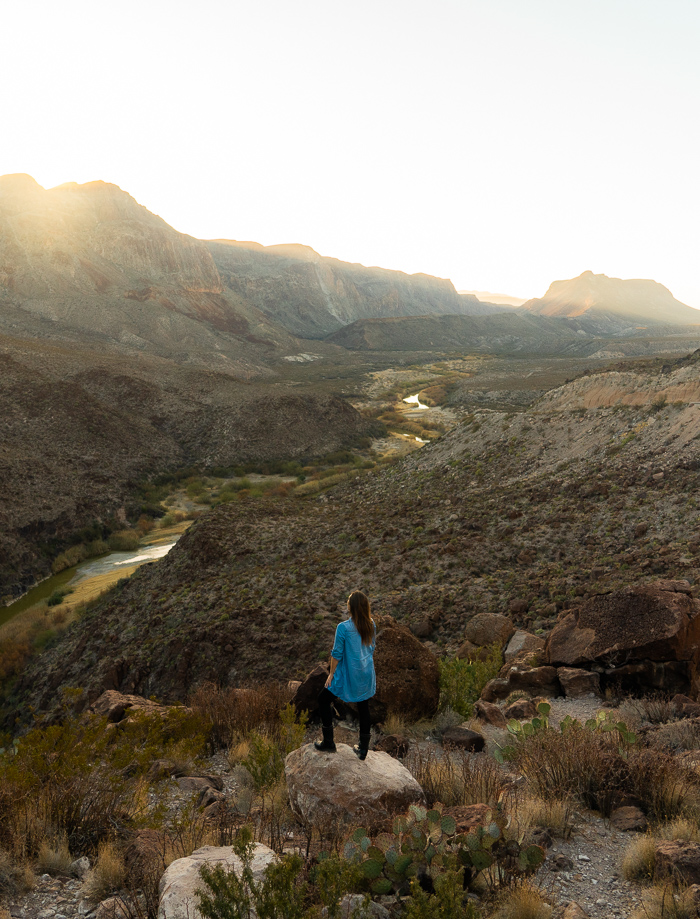 Part of the fun visiting Big Bend National Park is hanging out in the towns nearby as well. They have so much character and personality!
Terlingua is the closest town to the park and your best bet for delicious eats. The most popular local spot for dinner is the Starlight Theater in the Terlingua ghost town. People tend to hang out for an hour or so before it opens, drinking beers from the nearby gift shop and playing music on the wooden deck. Prepare to wait a bit in order to be able to eat here as it's popular, but from what I hear it's worth it!
There's an old cemetery nearby also worth checking out for a peek into the town mining history.
For breakfast, check out La Posada Milagro nearby for coffee and breakfast burritos.
Stay
If you're planning on spending the majority of your time in big Bend national Park itself, the most convenient option are campground reservations in the park, although they tend to book out pretty far in advance during the cooler months. There are also some options in Terlingua.
I personally stayed at the Lajitas Golf Resort in Lajitas, which is conveniently located right next to Big Bend State Park. They have several restaurants on site, along with a golf course, zip lining, and other activities. This is a great family choice and an option for those who want more variety than just hikes in the park.
If you have more time, the best case scenario would be to stay within the park to explore the national park, and at the Latijas Golf Resort to explore the state park.
On Your Way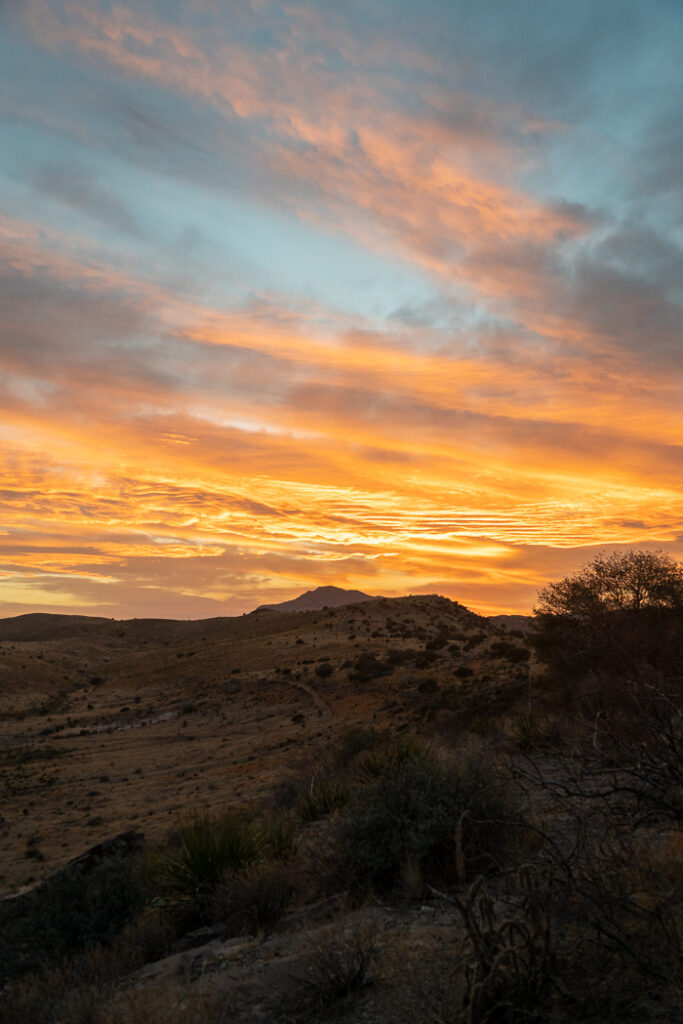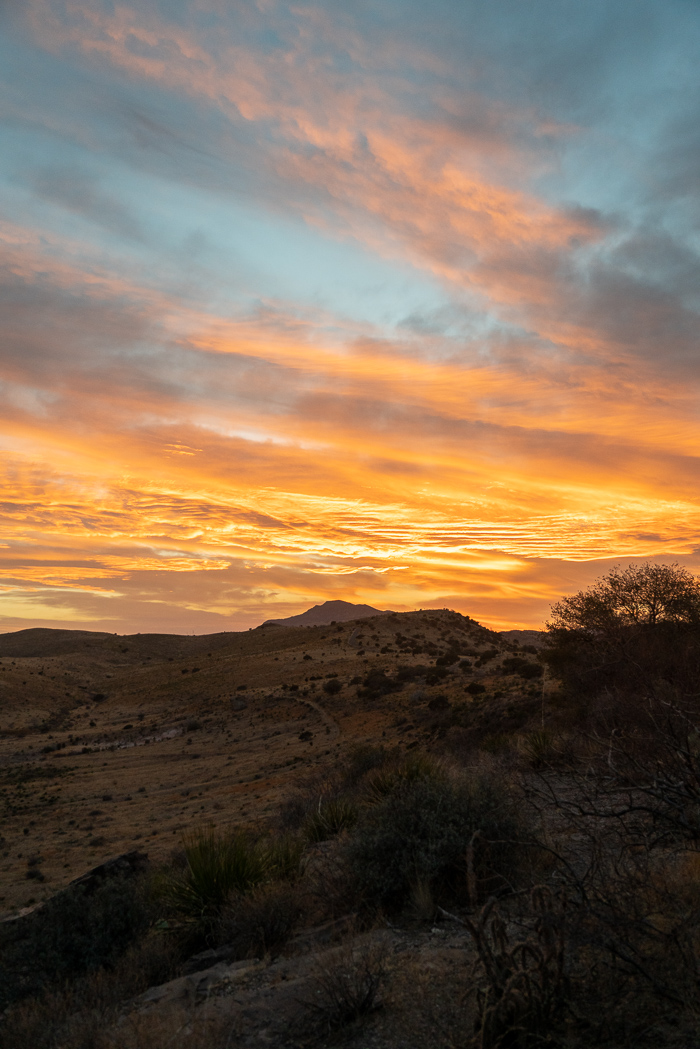 Since Big Bend National Park is in the middle of nowhere, you will have a long drive regardless of where you're coming from. Most people fly into El Paso. On the way, I highly recommend stopping in Fort Davis to break up the 5-hour drive.
The Davis Mountains State Park offers gorgeous views of the surrounding area and is a great place to catch the sunset. Drive to the end of the Skyline Drive for the best views.
Afterwards, I highly recommend going to the McDonald Observatory for one of their star parties (calendar here). This gives you an opportunity to look through their telescopes at stars and constellations. This is another time when it would be prudent to take the moon phases into account, as dark skies make for a much better stargazing.
While in Fort Davis, I stayed at the Stone Village Tourist camp and ate breakfast at the Stone Village Market and loved the friendly atmosphere. If you're a coffee lover, they sell delicious local, free trade, organic coffee in the shop!
Seasonal Considerations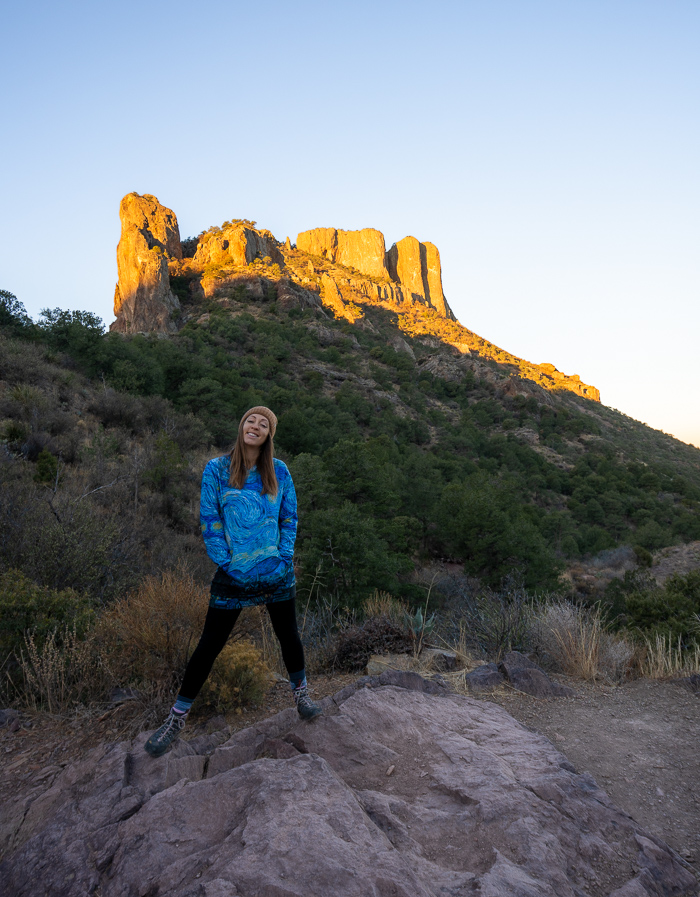 Big Bend can get hot in the summer, with temperatures regularly topping 90°F. Summer is also the monsoon season, when flash flooding and rain are more common. In the winter, prepare for close to freezing temperatures, especially overnight.
Around March, you may get lucky enough to see some wildflowers in the park, including cactus flowers! That said, keep in mind that this is around spring break, which is probably one of the most popular times to visit. I went in early February and was delighted by how uncrowded it was!
Regardless of when you go, Big Bend presents a unique opportunity for dark skies, gorgeous hikes, and beautiful solitude.
Pin me for later: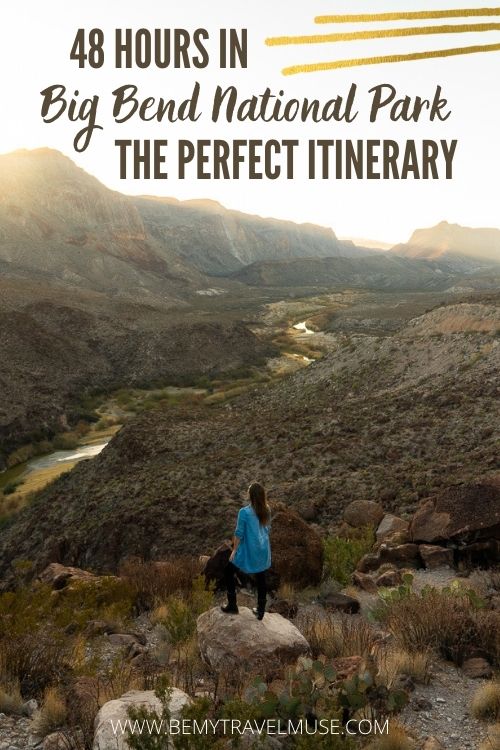 *This post was brought to you in collaboration with Travel Texas. All thoughts on the beauty of Big Bend are my own.