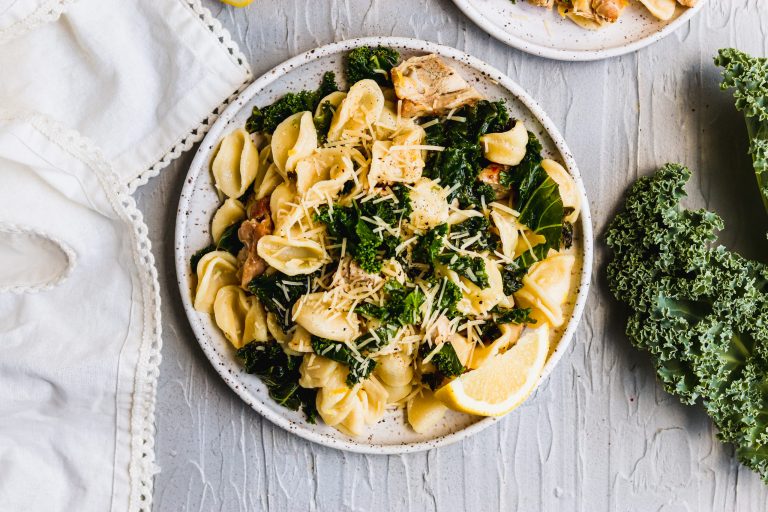 Nothing says comfort food quite like the combo of chicken and pasta. Creamy strands of everyone's favorite carb plus perfectly tender bites of well-seasoned protein—hard to beat, right? Here's the thing though: While I'm not (re: never) one to turn down a pasta-packed plate, there are times when the overload of carbs makes me feel… less than like my optimal self. What's a pasta lover like me to do when she's craving her fave dish but wants to avoid a food hangover at all costs? She takes an internet deep-dive—and discovers the best healthy chicken pasta recipes the world (yes, world!) has to offer.
"Healthy" is an interesting word. As with many things wellness-adjacent, the word's connotations span the spectrum of meaning. Growing up with decades of internalized diet culture behind me, it's been (and will continue to be) an ever-developing journey of replacing harmful definitions with what actually constitutes true health.
But thankfully, as the dialogue shifts to a more inclusive and celebratory perspective on food, I can feel my idea of health change for the better. I'm less strict with how I eat, and as a result, I can enjoy the experience of food in its entirety—the prep, the consumption, and the community that surrounds it.
With all that being said, some of the recipes below stretch the definition of "healthy." Some include cream for creaminess and benefit from a bit of cheese. But you'll find veggies in abundance and a good amount of green in most of these dishes. Because: balance.
Feature image by For the Love of Gourmet.
Chicken & Broccoli Alfredo from Gimme Delicious
Why We Love It: Alfredo's known for packing in all the delicious, but nap-inducing, ingredients. This recipe subs in a mix of stock and lighter milk for the butter and heavy cream (plus a small handful of parmesan—you can't not add it in). The result is a sauce that's creamy, dreamy, and doesn't sacrifice flavor for the sake of a lighter meal.
Hero Ingredient: Two cups of broccoli florets supply the green for both a boost of nutrients and a little welcome color.
Get the recipe for Chicken & Broccoli Alfredo.
Healthy Chicken Stroganoff With Mushrooms from Bowl of Delicious
Why We Love It: Growing up, chicken stroganoff was the retro dish my family would make without fail every time it snowed (and snow in New England, it definitely did). And while the silky sauce warmed my body (and soul!) all the way through, on nights stroganoff was served, after I finished my plate, I'd fall asleep immediately. Seeking something a bit more energizing, this recipe's been a godsend. 20 minutes is all it takes to get its deliciousness on the table.
Hero Ingredient: Subbing in Greek yogurt for the classic sour cream? Not a groundbreaking concept, but definitely genius.
Get the recipe for Healthy Chicken Stroganoff With Mushrooms.
Lemon Chicken Pasta from This Healthy Table
Why We Love It: I'm a bit lemon obsessed. The citrus is my go-to when I'm wanting to brighten up a dish. I love the spring-y flavor it gives this Lemon Ricotta Poundcake and it never fails to bring me joy zested atop my all-time favorite easy weeknight dinner. In this recipe, the lemon, brought together with the leeks, spinach, and parmesan, is drop-dead delicious.
Hero Ingredient: You probably caught on above, but this recipe is what it is thanks to the lemon juice and zest.
Get the recipe for Lemon Chicken Pasta.
Healthy Chicken Piccata from Healthy Seasonal Recipes
Why We Love It: I love the briny, peppery, and slightly acidic trifecta of flavor that capers, white wine, and parsley brings. It's the classic chicken piccata flavor that's defined this recipe as the ultimate Italian comfort dish. With just 30 minutes set aside, you can enjoy a cozy dinner that's packed with lean protein.
Hero Ingredient: If you haven't been one to like capers in the past, this recipe's about to change (and blow!) your mind. Capers are slightly tart, perfectly salty, and fill this dish with a delightful lemony tang.
Get the recipe for Healthy Chicken Piccata.
Easy One Dish Chicken Pasta
Why We Love It: One dish and one pot recipes are my weeknight secret weapons. As someone who doesn't have a dishwasher (and totally hates doing dishes), I try to strategize and make clean-up as easy and painless as possible. While I'm obsessed with this recipe for more than the fact that it saves me time at the sink, (silky angel hair pasta! bursts of sweet cherry tomatoes! peppery and floral sprigs of thyme!), not having to stress about cleaning the kitchen puts any dish at the top of my list.
Hero Ingredient: If we ever dine together, I've been known to go all-in on the garlic when a recipe calls for it. Don't say I didn't warn you.
Get the recipe for Easy One Dish Chicken Pasta.
One Pot Creamy Mediterranean Chicken Pasta from The Modern Proper
Why We Love It: Here's where some people might take my definition of healthy into question. This recipe has cream, and you better believe it includes butter, but with bright, briny bites of lemon and olives scattered throughout, the flavor stays beautifully balanced.
Hero Ingredient: When Kalamata olives meet a creamy fettuccine, beautiful things ensue.
Get the recipe for One Pot Creamy Mediterranean Chicken Pasta.
Easy Chicken Pesto Pasta from The Preppy Kitchen
Why We Love It: The verdant, warmer spring weather is the perfect opportunity to make pesto. I love welcoming the shift in seasons with plenty of fresh herbs that are made all the better with pasta and parmesan. Follow the recipe for homemade pesto or purchase a good jar of your favorite store-bought version—either way, prepare your palate for something crave-worthy.
Hero Ingredient: If you have the time, the homemade pesto is 100% worth the effort. The walnuts give it a hearty bite that beautifully grounds the peppery arugula.
Get the recipe for Easy Chicken Pesto Pasta.
Tomato Spinach Chicken Spaghetti from Julia's Album
Why We Love It: Like many of my favorite foods (soup, smoothies, and grain bowls counted among them), pasta gives you a great foundation for incorporating nutrition-boosting veggies. This recipe makes the most of that fact, packing in a ton of tomatoes, spinach, and basil for fresh-from-the-garden flavor.
Hero Ingredient: Sautéing the chopped, drained sun-dried tomatoes in olive oil weaves a little welcome sweet-savoriness into every bite of this dish.
Get the recipe for Tomato Spinach Chicken Spaghetti.
Lemon Chicken Kale Pasta from For the Love of Gourmet
Why We Love It: Sometimes, recipes only seem to include kale as an afterthought. ("Oh, I haven't eaten a green today? Let's throw in some kale.") But in this dish, the hardy, leafy green is a totally intentional add. It brings color and texture to an otherwise beige (in all the best ways) dish. And if you don't feel like making a salad tonight, no need to worry. All the goodness your body needs is right here.
Hero Ingredient: A teaspoon of onion powder lends a little sharpness for a balanced bite.
Get the recipe for Lemon Chicken Kale Pasta.
Spaghetti Squash Carbonara from The Real Simple Good Life
Why We Love It: I'll be candid: For years and years, I haven't understood the obsession with spaghetti squash. I've always found it stringy and lacking in any flavor itself. A total squash fanatic, I'd much rather indulge in my faves: butternut, delicata, and acorn, please. But it took falling hard for this recipe to show me the light. Not only does the spaghetti squash make this dish low-carb (if that's your speed), but it also provides a nice nutty base for the pasta's other components.
Hero Ingredient: Arrowroot starch is this recipe's all-star ingredient that makes the sauce super, super creamy.
Get the recipe for Spaghetti Squash Carbonara.
Creamy Tuscan Chicken Pasta from Healthy Fitness Meals
Why We Love It: It's true: One bite of this pasta will transport you immediately to Italy. While, sure, I'd much rather have a trip planned itself, soaking up all the flavors of the Tuscan countryside is a consolation prize I'm willing to accept. Cheesy, garlicky, and made all in one pot (ah, convenience), this is the pasta I've been dreaming would come into my life.
Hero Ingredient: Italian seasoning. Because Italian flavors > everything.
Get the recipe for Creamy Tuscan Chicken Pasta.
Spaghetti With Chicken and Grape Tomatoes from Skinny Taste
Why We Love It: My earliest food memory was picking plump grape tomatoes from my mom's garden. Ripened and warmed by the sun, I'd revel in the enjoyment of feeling each tomato's bright, juicy flavor burst in my mouth. Since then, anything that includes my favorite tomato varietal is an instant favorite. They give this dish a nice little sweetness that'll make you crave a second plate.
Hero Ingredient: IMO—oregano and basil are the best herbs to bring out all that's good and beautiful about tomatoes.
Get the recipe for Spaghetti With Chicken and Grape Tomatoes.
Let's keep this list going! Share your favorite chicken pasta recipes below.