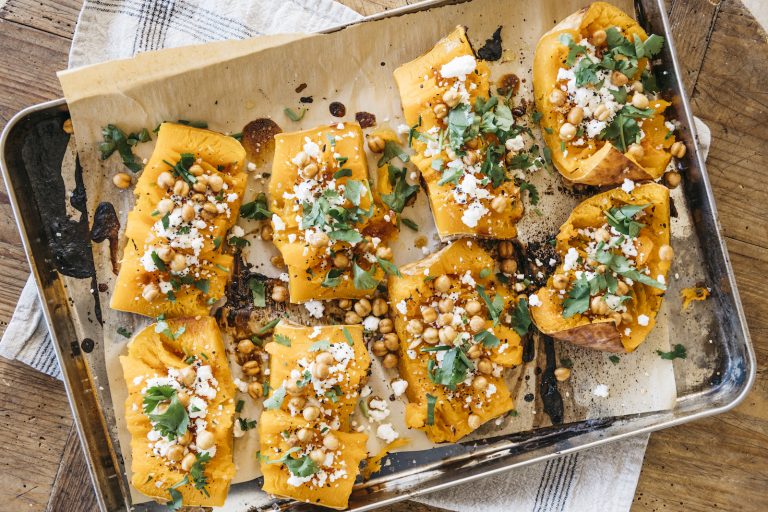 There's something about a whole butternut squash that just feels intimidating. When faced with the daunting task of peeling and breaking down one of these beauties into perfect cubes, it feels like the kind of task I need a massively large cutting board and supremely sharp knife–and sometimes I'm just not feeling it. If this train of thought has ever gone through your head when you're on the produce aisle at the grocery store, have no fear, the easiest whole roasted butternut squash recipe is here. 
What's the best way to cook a butternut squash?
The whole roasting technique is one I've learned to love for so many vegetables–have you tried this whole roasted cauliflower yet? You must. It's a method that's so game-changing, once you try it, you just might never go back.
Roasting the butternut squash whole before slicing and de-seeding it makes the rest of your job that much faster. If you've ever tried to peel and cut a raw butternut squash, you know that it's as good as arm day at the gym. However, when you roast it first, the peel gets perfectly golden, it's much softer to cut, and the seeds easily spoon out.
For this recipe, the whole butternut squash goes in the oven for two hours, untouched. That means no prep, no seasoning, you just shove the whole thing in and wait.
Think of all the things you can get done in two hours. That's a full load of laundry, a shower and a blow dry, or a good chunk of your day's work completed. By the time the whole roasted butternut squash is finished, and you've checked off all of those tasks on your to-do list, the rest of the recipe is finished 20 short minutes later. When I said "easiest," I truly meant it. The intimidating idea of tackling a giant butternut squash is now your new favorite cooking hack.
Once the whole roasted butternut squash comes out of the oven, chop it into sections and easily remove the seeds. I like to mash the squash into the peel now, so that it can really soak in the seasonings. Top with the zest of a lemon, a big pinch of salt, and a generous drizzle of both honey and hot sauce. Then, these sections go back into the oven so that the edges can get all the more caramelized and delicious.  
How do you season a whole roasted butternut squash?
In addition to the sweet-meets-hot seasonings above, I like to finish this dish with delicious toppings that make it a meal. Since this is a vegetarian meal, I'm adding crispy chickpeas for a good source of plant-based protein (and a crunch). In order to get the crispiest chickpeas, rinse and then completely dry your chickpeas before roasting in the oven or air fryer–they won't get crispy if they are still damp. They are also best fresh, considering they start to get soft the longer they sit. Finally, I like to add goat cheese and lemon for some tang, more salt, some everything seasoning (because it's good on everything), and top it all off with some fresh cilantro. 
Feel free to get creative and use whatever toppings float your butternut squash boat, and tag me if you do! Scroll on for the recipe, and check out a few more delicious ways to use butternut squash:
Creamy Vegan Butternut Squash Soup
Butternut Squash Pizza with Arugula and Almond Ricotta