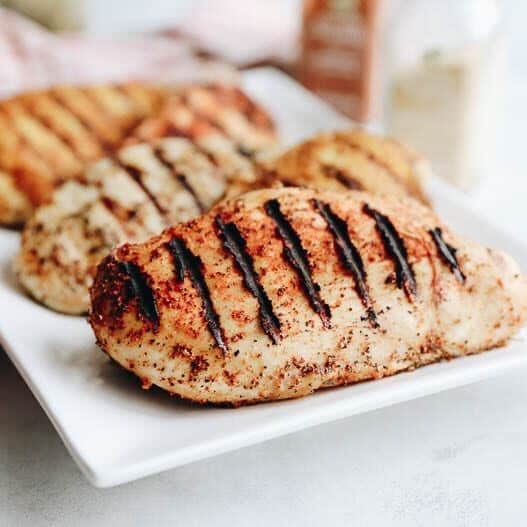 Don't have a BBQ or grill? No problem! This tutorial will show you How To Cook Chicken on the stove, grill marks and all! Perfect for small homes without a backyard grill or in a college dorm-room where you want that BBQ chicken taste grilled on the stove top.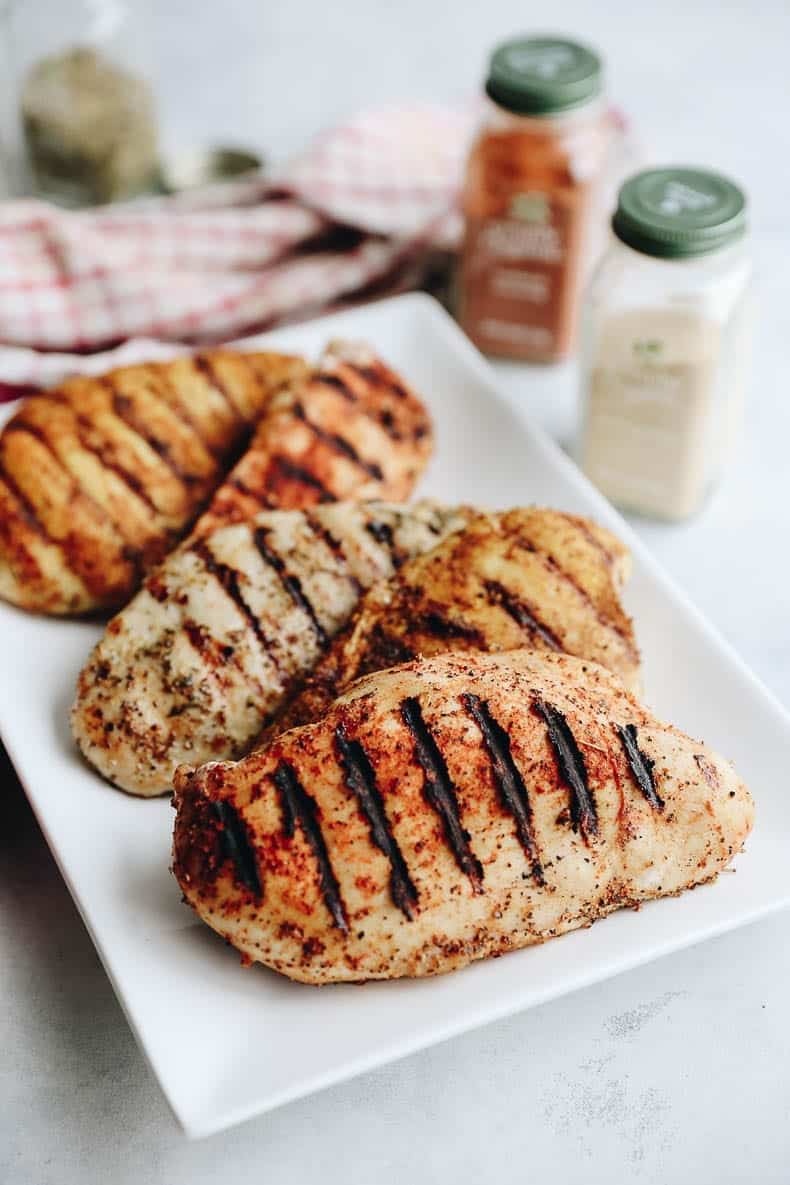 I only have a few how-to recipes and this is one that definitely needs a permanent spot on the site! Whether you don't have a grill, don't want to go out in the freezing cold to grill or are just looking for a simple (and delicious!) chicken recipe, this is for you!
My #1 tip for people who are looking to get creative in the kitchen and make healthy, easy and delicious food is to fully stock your spice cabinet. If you're curious to see which spices I think are essential to have, check out this post on how to stock and organize your spice cabinet. It's truly a life-saver.
So let's not make this any longer than it needs to be and instead jump into my absolute MUSTS when it comes to cooking chicken on the stove.
Watch me make Chicken on the Stove in this step-by-step video!
Tips for How to Cook Chicken on the Stove
1. Use quality chicken – I think this is a given, but it still surprises me how many people reach for the poorest quality meat. Of course, I respect whatever is feasible for you but if you actually want the nutritional benefits from meat and want something that doesn't taste like cardboard, reach for organic and free-range chicken. All poultry is antibiotic and hormone-free so even though a lot of packaging says this, they have to be.
2. Dry chicken very well – Always dry your chicken to the best of your ability. Use paper towel or a dish towel (for a more environmentally-friendly option but throw into the washing machine immediately after use!) to dry it completely. You don't want the breast to be wet at all. Doing this will result in a crispier skin or if you're using skinless chicken, crispier "grill"marks!
3. Use a spice rub – I prefer to spice my chicken with a dry rub mix. Simply Organic makes fantastic spice-blends that you can use or feel free to get experimental and mix a bunch of spices yourself. Also, don't skimp on salt. It's necessary to bring out the flavor. Below I've included which blends I like to use.
4. Bring to room temperature – I leave my chicken breasts out for 1 hour before cooking them. This will help cut down the cooking time and make sure the chicken cooks evenly. I know people are scared to leave poultry out, but trust me on this. Leave on your counter for 45-60 minutes before cooking.
5. Use a cast-iron grill pan – this is an absolute must! It is the only way you can get BBQ-style stove top chicken. This is the one I prefer and while it can be a pain to clean, it is the only thing that comes close to an indoor grill!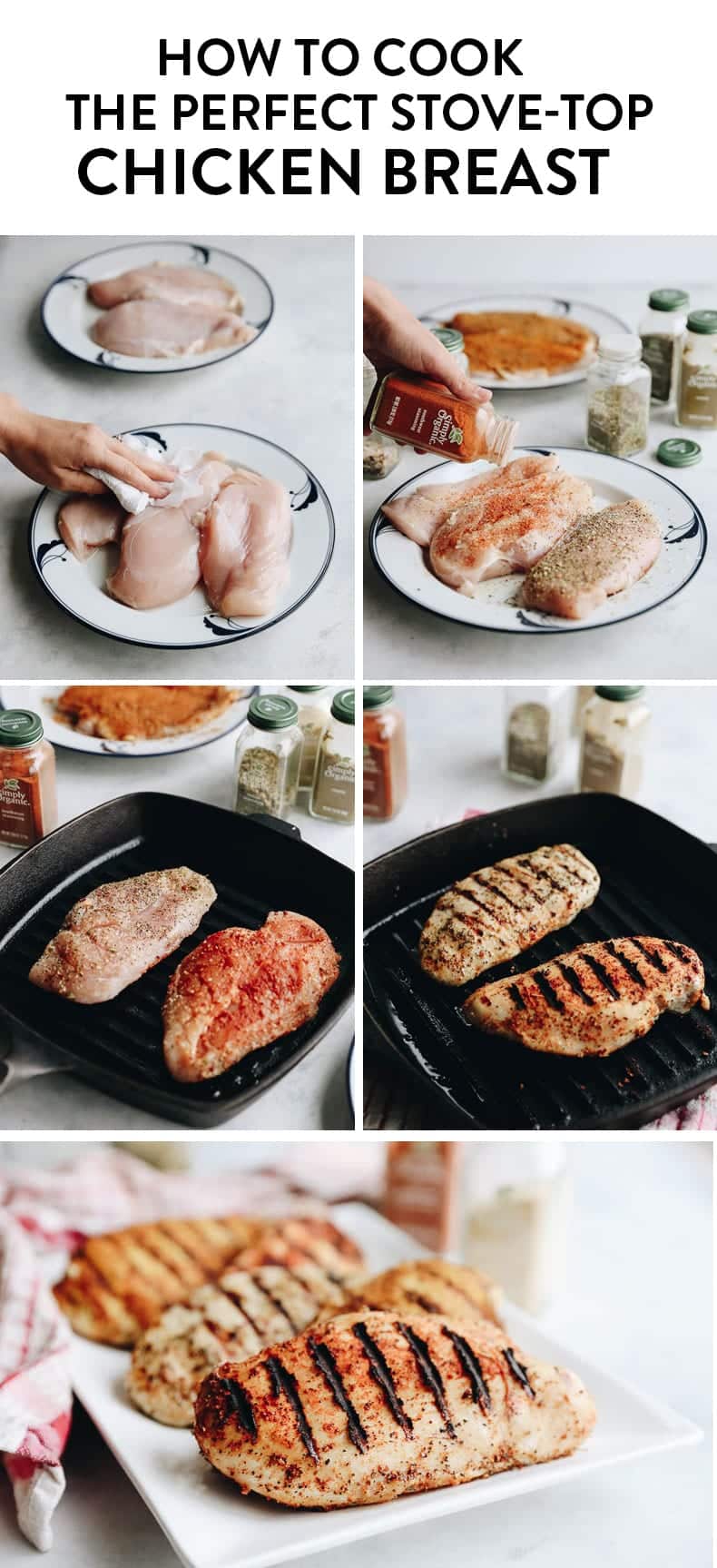 How Long Do You Cook Chicken on the Stove? 
This will depend on how big or thick your chicken breasts are. But generally you will want to cook them for 5-8 minutes per side or once chicken has reached an internal temperature of 165 degrees F. Cut into chicken to ensure it is entirely white inside with no pink. If you can see pink place it back on the stove and check again after 1 minute. You'll want your stove to be on high heat so chicken breasts get a nice sear on each side.
Allow the chicken to sit for 2-5 minutes before cutting into them.
What to Serve with Stove Top Chicken 
Chicken on the stove is all well and good except you need something to pair it with! Here are some THM staple sides to fill out your meal:
The Perfect Stove-Top Chicken Breast
Author: Davida @ The Healthy Maven
Prep Time:

1 hour

Cook Time:

10 minutes

Total Time:

1 hour 10 minutes

Yield: approx

2

–

4

1

x
Category:

Entree

Method:

Grill
2

large boneless, skinless chicken breasts (

8

–

10

oz each)
Southwestern Chicken Breasts:
1 tsp

sea salt

1/2 tsp

garlic powder

2 tsp

southwest seasoning

1/2 tsp

black pepper
Tuscan Chicken Breasts:
1 tsp

sea salt

1/2 tsp

garlic powder

2 tsp

tuscan seasoning

1/2 tsp

black pepper
Curried Chicken Breasts:
1 tsp

sea salt

2 tsp

curry powder

1/2 tsp

coriander powder

1/4 tsp

black pepper
Dry chicken very well. Use paper towel or dishtowel if preferred.
In a small bowl combine seasoning blend for preferred flavor.
Coat chicken with seasoning and use hands to ensure it is rubbed in completely on all sides.
Allow chicken to sit out on counter for 45-60 minutes.
Place cast-iron grill pan on stove top over high heat and coat with olive oil or oil of choice. *turn on hood vent immediately
Once cast-iron grill pan is smoking, place chicken breasts on top of pan and cook for 6 minutes.
Flip and cook for 5 minutes on the other side.
If your chicken breasts are bigger, you may need closer to 8 minutes or smaller closer to 5 minutes per side.
Remove from heat and allow chicken to cool for 5 minutes before serving.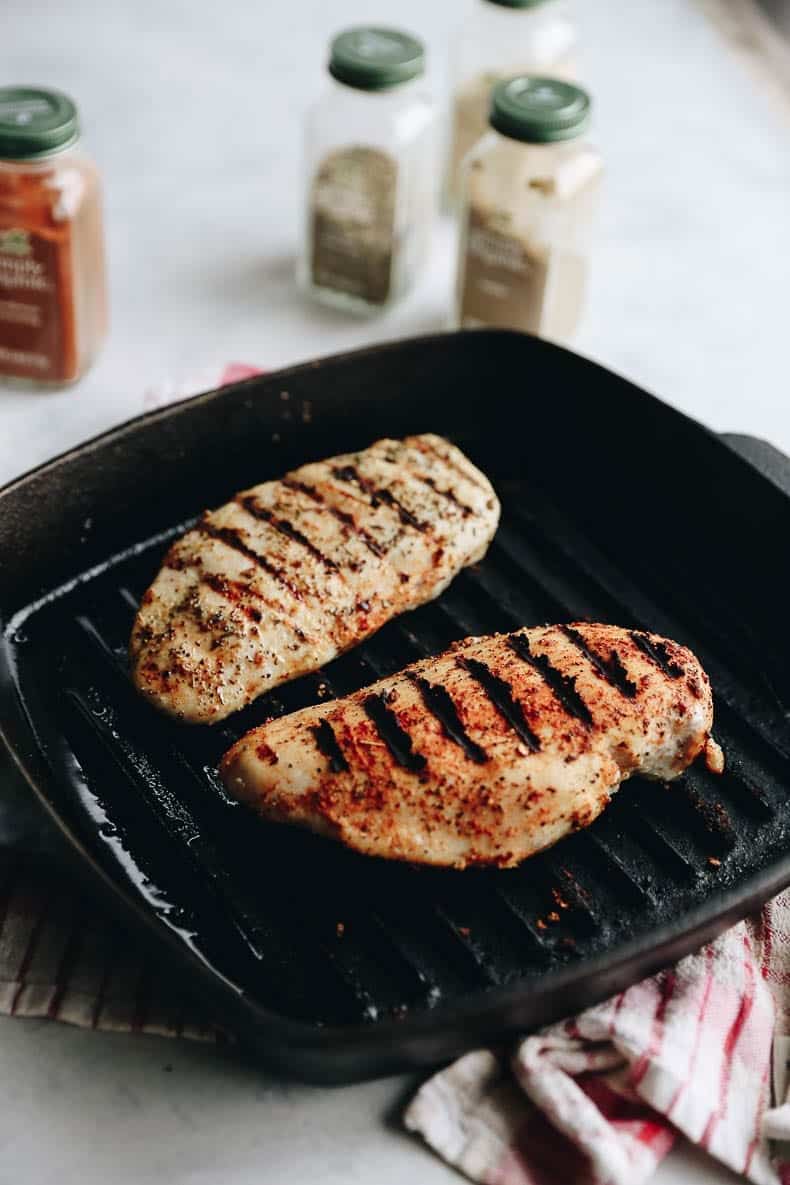 Like This Post? Here are a few others you might enjoy:
JOIN THE THM NEWSLETTER
Join 20,000+ members of the THM Community to get access to exclusive recipes, healthy lifestyle tips and behind-the-scenes news from our team!