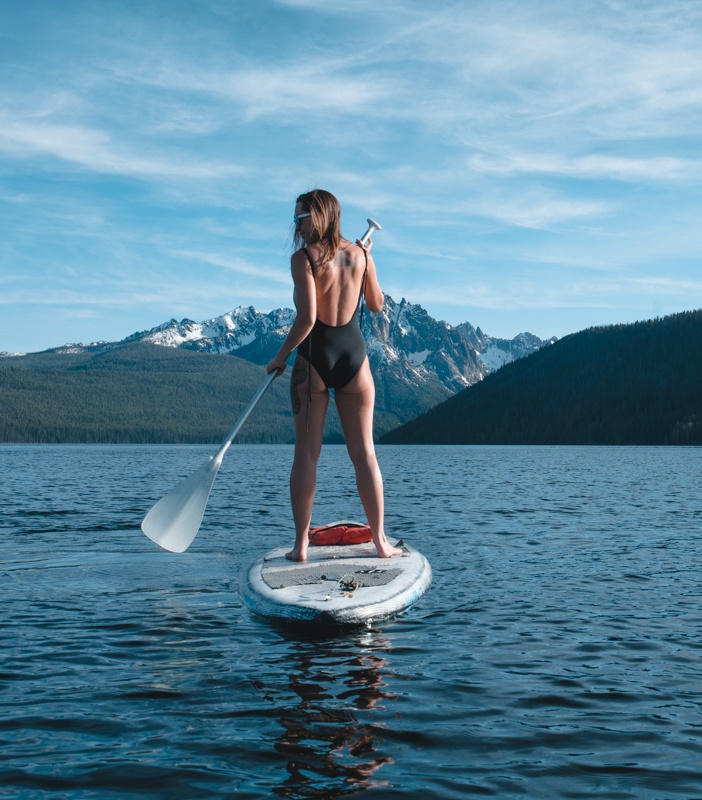 Do you have those bands that you love but don't want to get popular, so that they can be your little secret forever? That's how I feel about Idaho.
Most people skip over Idaho in favor of more popular places like Utah and Washington. After all, why would someone want to visit Idaho?
Well for starters, Idaho has waterfalls higher than Niagara, railroads-turned bike trails, and some of the most picturesque drives in the nation. If you're someone who loves the outdoors, Idaho is a dream.
Here are 25 of the best things to do in Idaho: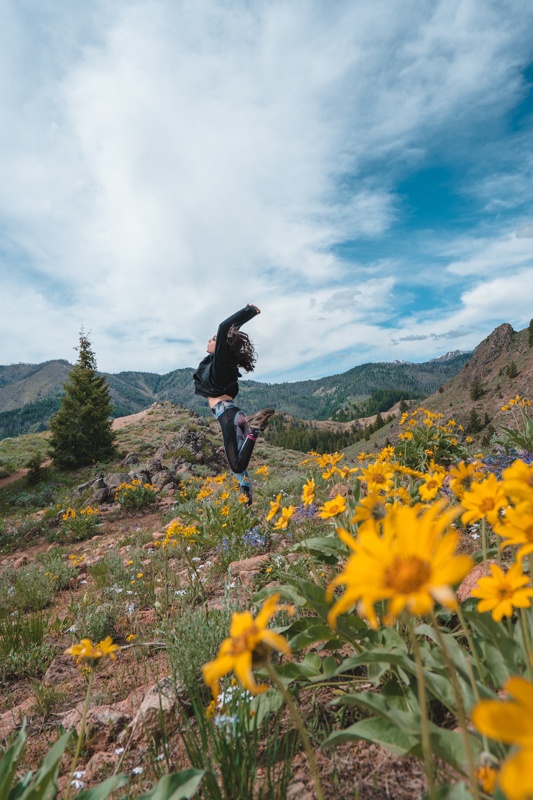 1. Walk around Boise
If you're coming from out of the state, Boise is probably going to be your first destination into Idaho. It's a cool city to explore—there are art murals, delicious and inventive restaurants, and plenty of small businesses along the downtown area. There's a part of Boise called "The Basque Block", where you can learn about the area's deep connection to Europe's Basque country.
One thing I loved about Boise was that it wasn't overwhelmingly urban, even though it's the state capital. You don't have to leave the city to hit the Boise River's manmade whitewater waves or see the sunset from Camel's Back Park.
Book your stay in Boise here, or book an Airbnb!
READ: The Best Idaho Road Trip Itinerary
2. Visit Seven Stars Alpaca Ranch
Get a taste of Idaho ranch life at Seven Stars Alpaca Ranch, where you can see these fluffy cuties in action. Not only do the owners of Seven Stars breed the animals for their fur, but they also have a few that you can hang out with on one of the ranch's guided tours. Learn about the animals and everyday activities at the ranch by making your reservation here.
3. Drink in Idaho's wine country
Idaho's nutrient rich soils are prime for winemaking, with more than 50 vineyards present in Idaho's wine country. There are some spread out in the northern part of Idaho, but most of them are tucked away in the southwest. Travel along paths like the Sunnyslope Wine Trail and throughout the Snake River Valley AVA to sample the local wines.
Even if you're not a wine drinker, and I'm not, vineyards tend to be in really beautiful places.
Find an Airbnb near the Snake River Valley AVA here.
4. Sled down the Bruneau Sand Dunes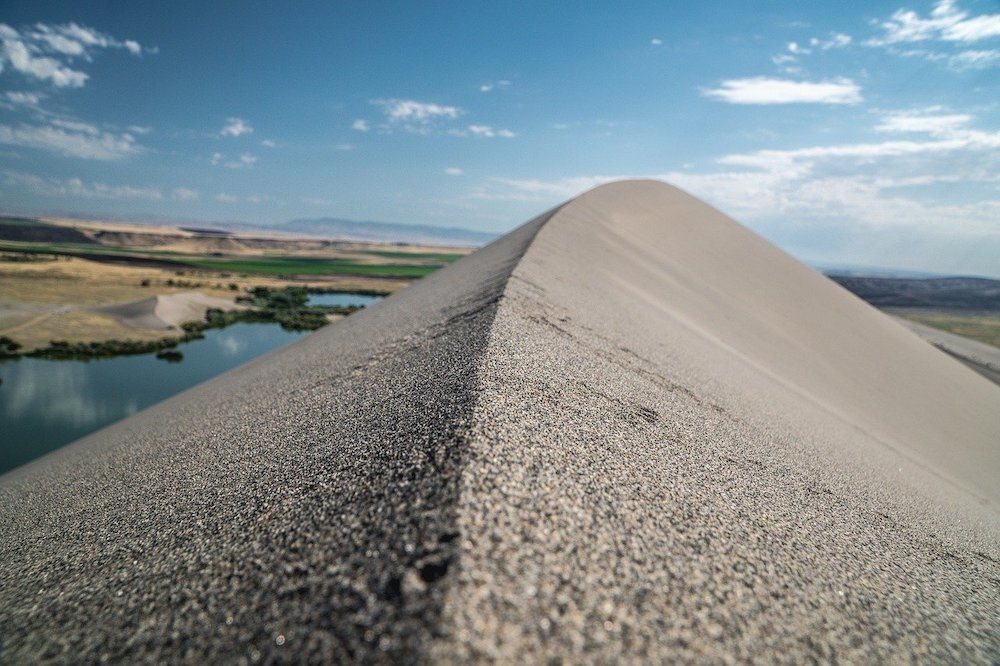 The tallest freestanding sand dune in North America is in—you guessed it—Idaho. The park is nearly 4,800 acres of land, with sand dunes that can reach up to 470 feet high! For the maximized park experience, opt to bike or sled down the sandy peaks. During the weekends, the park also hosts stargazing events at the Bruneau Dunes State Park Observatory.
Book your stay near the Bruneau Dunes State Park here, or find a unique Airbnb here.
5. Visit the Owyhee Canyonlands Wilderness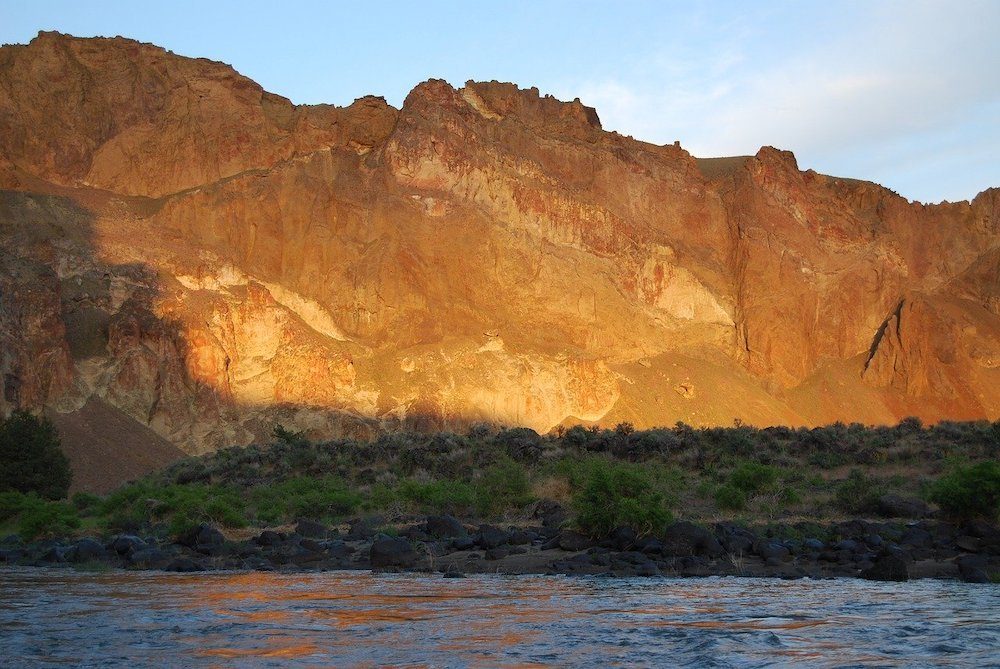 You may think that Wi-Fi and internet connections have seeped into all parts of the country, but come to the Owyhee Canyonlands Wilderness in SW Idaho and think again. The Owyhee Canyonlands Wilderness area sits within the Owyhee Canyonlands region which covers the remote corners of SW Idaho and SE Oregon, as well as the north central tip of Nevada. This area is so remote that it's not even adequately protected by the United States. For the lack of cell service, the views more than make up for it. It's one of the few places that truly feels like the wild west.
During the summer months, you can take a trip to Silver City, a ghost town at the heart of the wilderness. The city used to be a mining hub, but now the deserted buildings are a time capsule for life a century ago. A lot of land beyond the side roads are private property though, so stick to the main path if you want to pass by.
Find an Airbnb near the Canyonlands here.
6. Hike to Idaho's Balanced Rock
In the Salmon Falls Creek Canyon, you can find Idaho's Balanced Rock, where one 40 ton rock balances on just a three-foot long slab.. There are some tables set out nearby if you want to have a picnic after visiting this odd land formation.
Book your stay near Balanced Rock here, or find an Airbnb here.
7. Chase the waterfalls at Shoshone Falls
Because Idaho is a landlocked state, every lake, river, and waterfall is an extraordinary phenomenon in itself. The Shoshone Falls are no exception: they're over 200 feet tall, which is taller than Niagara Falls!
Unfortunately, the Shoshone Falls doesn't offer overnight camping. Instead, you can book your stay in Twin Falls here, or find an Airbnb here.
8. See the Shoshone Ice Caves
While you're in the Shoshone Falls area, consider taking a detour to check out the Shoshone Ice Caves. Here you'll find Idaho's largest ice cave, which some call a giant underground refrigerator. Inside the caves, the temperatures stay between 23 and 33 degrees, regardless of how warm it is outside.
Consider taking a guided tour through the caves to learn about their history, geology, and more! The caves close for the winter, opening for tours beginning May 1st each year. You can book here.
9. Step Back in Time at Idaho's Mammoth Cave & Shoshone Bird Museum Of Natural History
As one of the largest volcanic caves in the world that is publicly accessible, you won't want to miss out on the opportunity to see Idaho's Mammoth Cave. There's a trail that will take you into the depths of the cave, where you can see ancient cave writings and interesting rock formations. After you explore the cave itself, you can check out the Shoshone Bird Museum of Natural History to learn more about the cave and surrounding area.
10. Explore the Craters of the Moon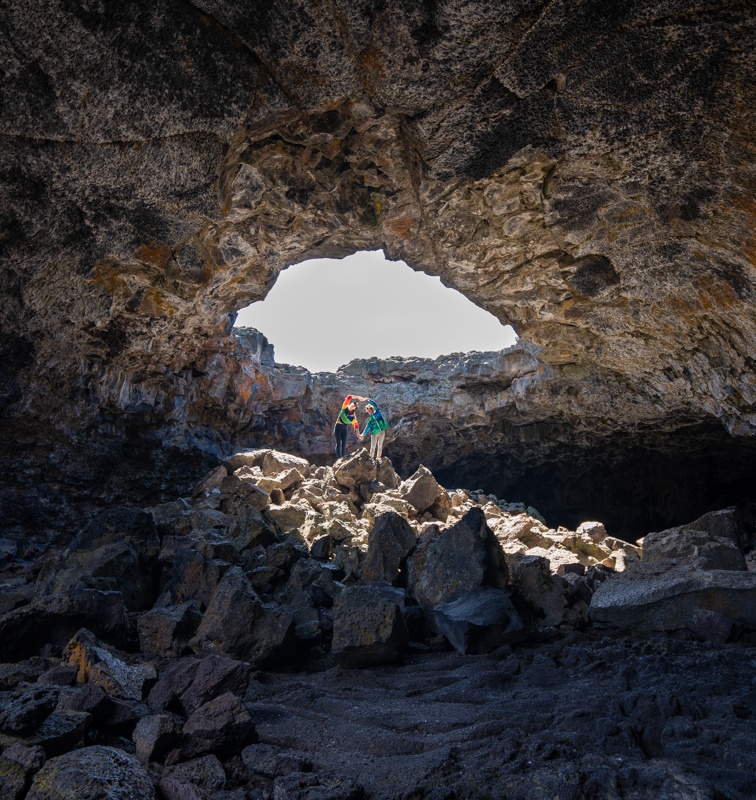 Idaho is bursting with wildlife at every corner, so the barrenness of the Craters of the Moon is somewhat jarring. Lava activity covered this landscape millions of years ago, and left remains of its lava tubes formations for tourists to explore. Walking through the area feels like you've landed on some hidden planet, but in the coolest way possible. I made a video documenting my visit here.
Book your stay near Craters of the Moon here, or find a unique Airbnb here (like this yurt!)
11. Pay a visit to the Idaho Potato Museum
What trip to Idaho is complete without a pilgrimage to the Idaho Potato Museum? Idaho produces nearly a third of US potatoes, so the crop is an important part of Idahoan identity. I'll admit, it's no Disney World. But having a picture in front of the huge baked potato statue is quite the unique souvenir. Plus, if you visit from out of state you get free taters!
Book your stay near the Idaho Potato Museum here, or find an Airbnb here.
12. See the Tetons in Driggs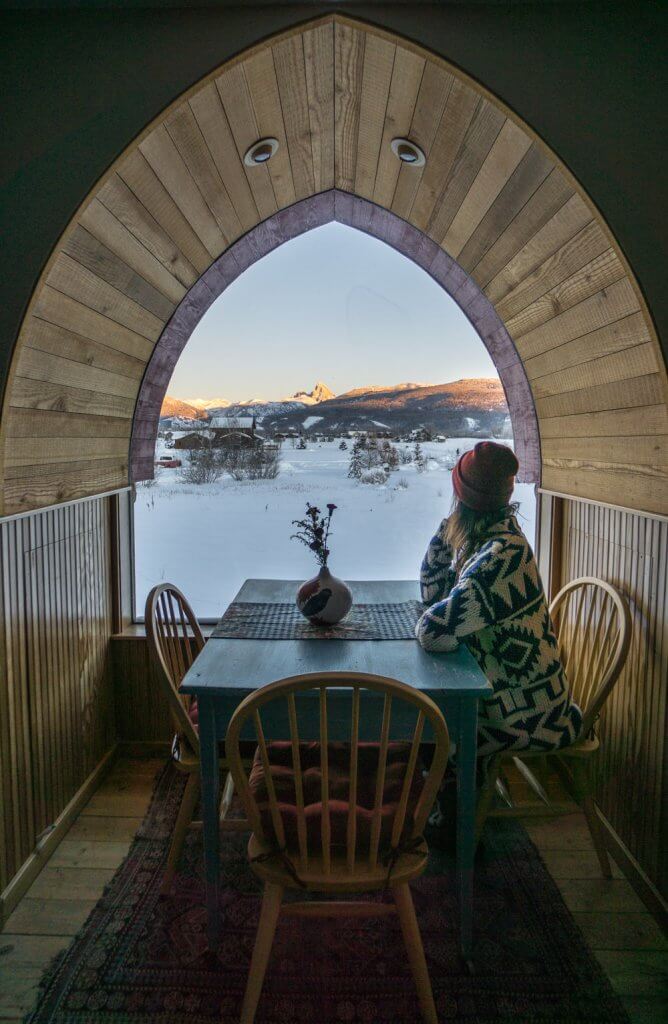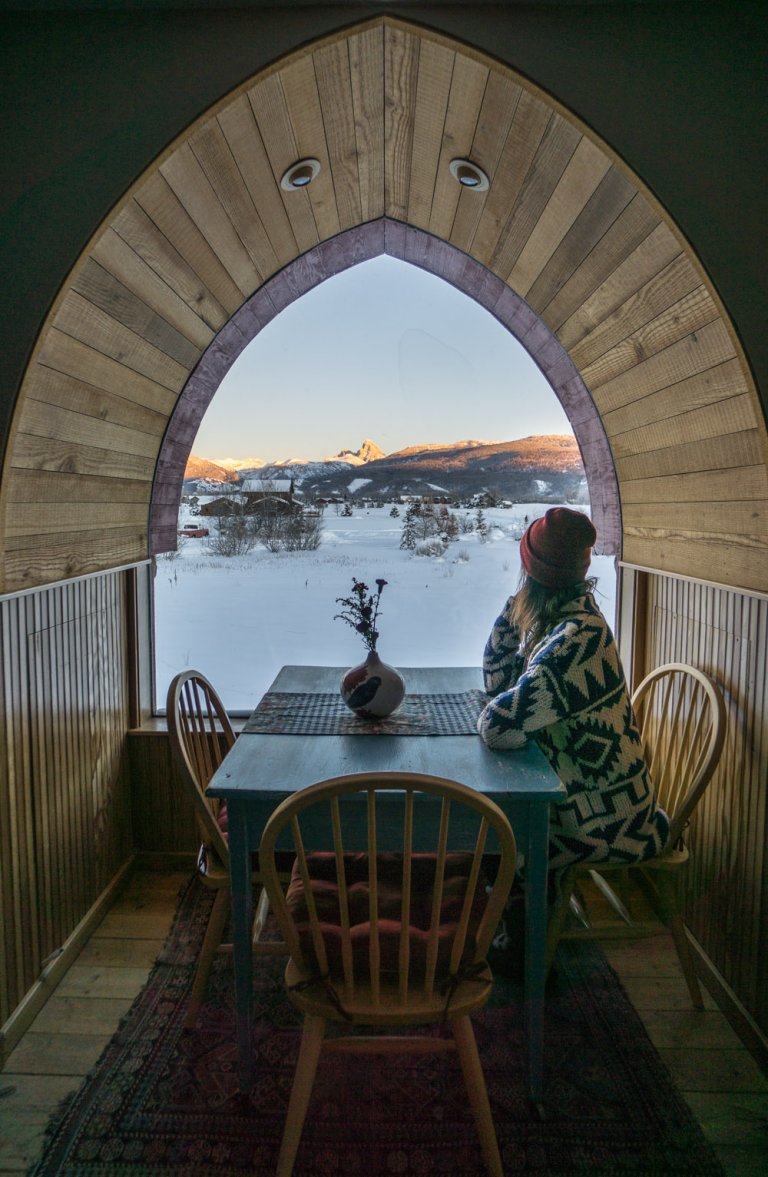 Most people visit nearby Jackson Hole, Wyoming to see the Tetons, but Driggs is the quieter, more peaceful side of the mountain range. When I came during the wintertime, the mix of tranquility and affordability of Driggs set a pretty high standard for mountain experiences. You can view the Tetons along the 70-mile long Teton Scenic Byway, or alternatively from the air at their annual hot air balloon summer event.
Book your stay in Driggs here, or find an Airbnb here (like the barn I stayed in).
READ: 12 Pictures that Prove Idaho is the Most Beautiful Winter State
13. Hike or Ski the Ketchum and Sun Valley areas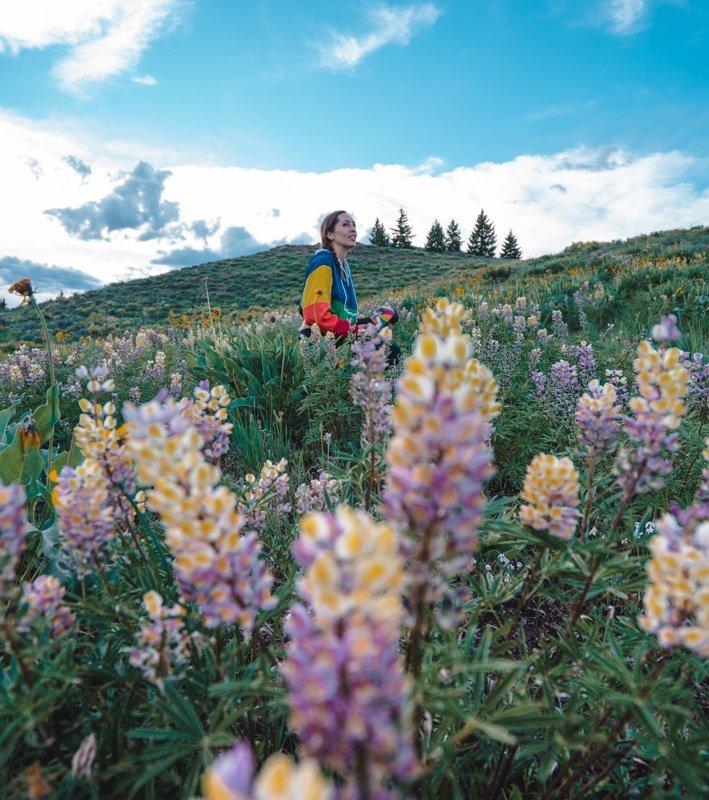 Ketchum and Sun Valley are some of the prettiest places in Idaho. If you're looking for small town fun, come for the annual Trailing of the Sheep or Wagon Days Festival. The wintertime is a great time to visit too. It's hard to beat snowcapped mountain views while soaking in the valley's naturally occurring hot springs.
But don't just take it from me: even Ernest Hemingway loved the area's mountain meadows so much that he's buried here!
Book a stay in Ketchum here, or find a cozy Airbnb here.
14. SUP in Stanley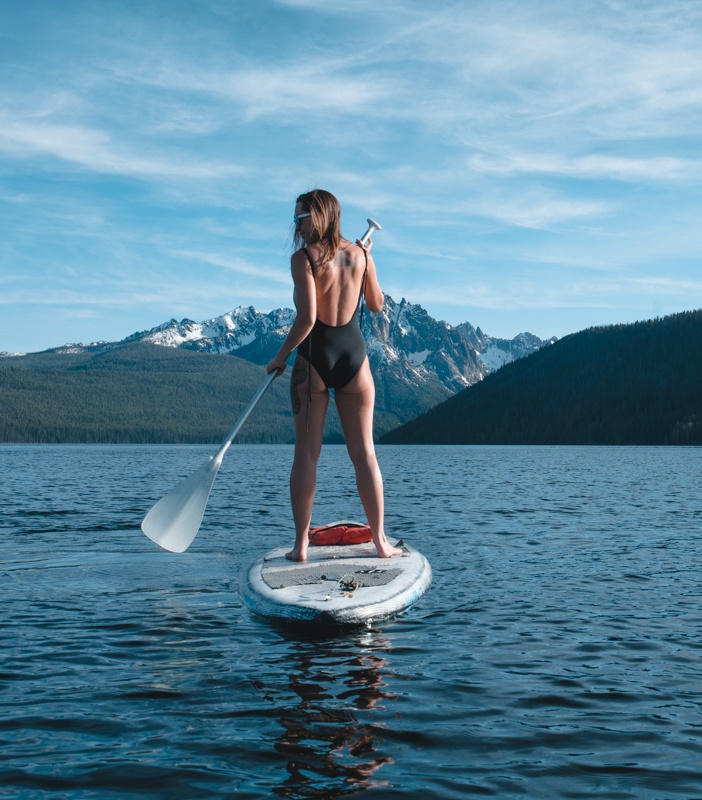 Stanley's Redfish Lake is the perfect SUP (stand up paddle board) destination. Paddling through the calm lake, you feel like you have free rein over Sawtooth's wilderness. Horseback riding is another method of touring the area—after I got over my fear of riding horses, I ended up enjoying the experience! You could honestly spend the whole summer here with the amount of places to explore.
To top it off, the skies here are just as impressive as the land. Stanley is a Dark Sky Reserve, so the area is an excellent viewing point for the Milky Way. Golden hour is equally as impressive here, as the Sawtooth Mountains perfectly frame the setting sun.
I stayed in the Mountain Village resort, but you can find more places here and Airbnbs here.
15. Unwind in Kirkham Hot Springs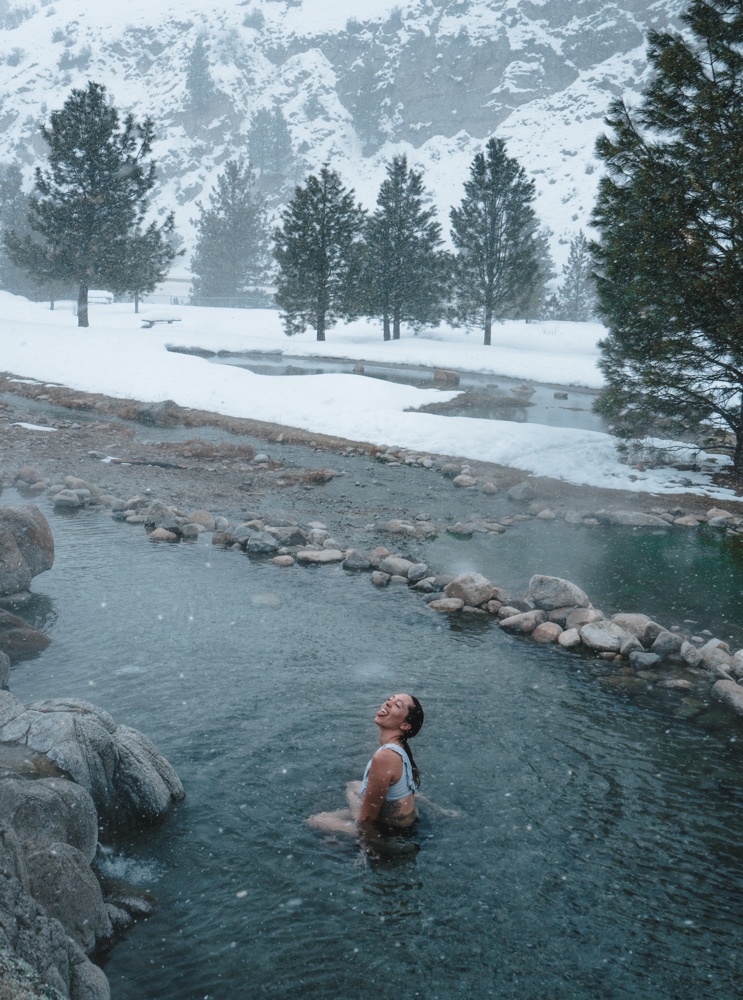 If you've read any of my previous posts about Idaho, you'll know that I'm obsessed with Idaho's hot springs. The state is full of them! Kirkham Hot Springs is probably Idaho's most famous place to soak, but Bonneville Hot Springs are worth a visit too. For more hot springs locations, check out a video I posted detailing my quest for the best hot springs in Idaho.
Book a stay near Kirkham Hot Springs here, or find a secluded Airbnb here.
READ: The Perfect Idaho Hot Springs Itinerary
16. Explore McCall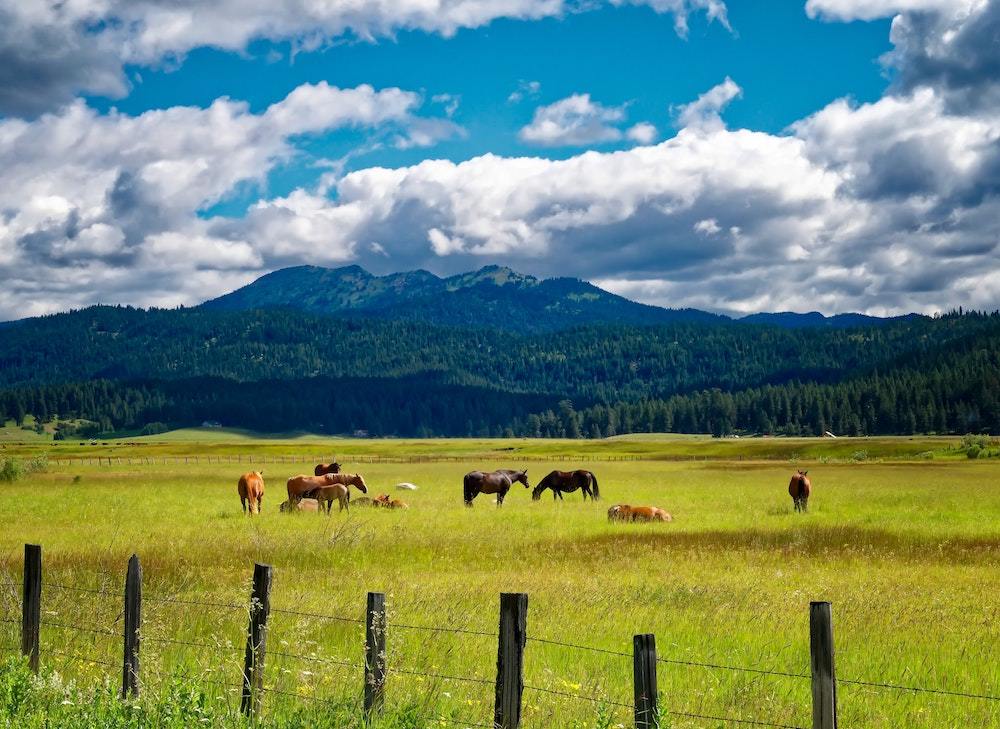 McCall is a small mountain town that attracts water sports enthusiasts from all around because of Payette Lake. During the winter, the nearby Brundage Mountain has over 45 runs for skiing and snowboarding. The McCall Winter Carnival also brings tourists in late January for its snow sculptures and snowshoe golf.
There are some privately owned hot springs here, like Gold Fork and Burgdorf Hot Springs. But get expertise from the locals for more secluded springs in the area.
Book your stay in McCall here, or find an Airbnb here.
17. Go to Hells Canyon National Recreation Area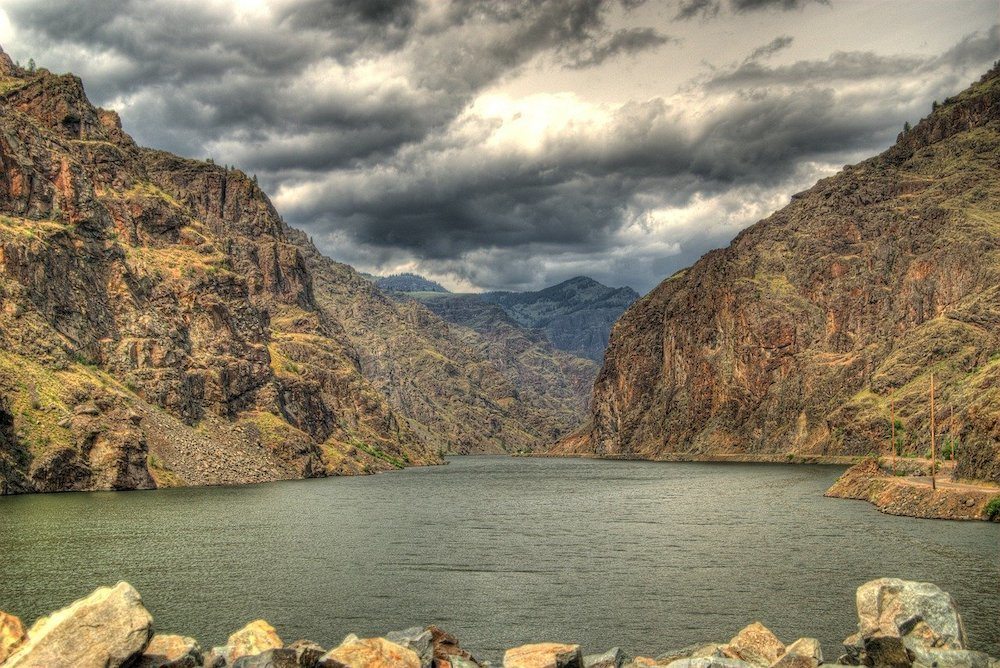 Despite the ominous name, Hells Canyon is a must-see for your Idaho bucket list. Its river gorges are the deepest in North America, while its peaks are nearly six hundred feet higher than the Grand Canyon's. There are multiple entry points into Hells Canyon, with one of the most popular being Lewiston.
Book your stay in Lewiston here, or find an Airbnb here.
18. Take a lakefront walk in Coeur D'Alene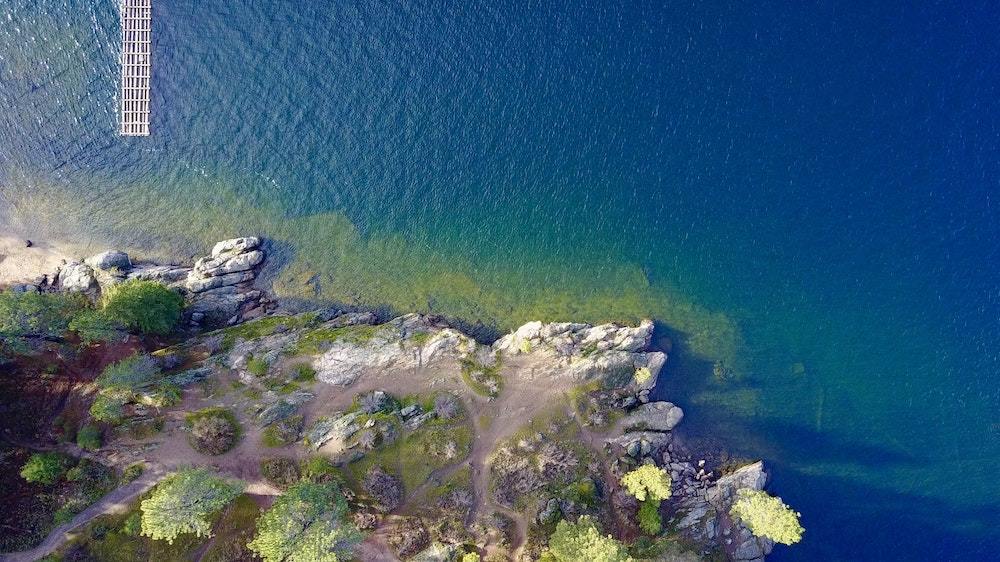 Coeur d'Alene historically served as a center in the timber business, becoming the biggest city in North Idaho. Now, it's more for the tourist crowd. Most of its big draws have to do with Lake Coeur d'Alene in some form, whether that be parasailing, swimming, or fishing. While on land, you can walk along one of Coeur d'Alene's forest trails or take a downtown stroll by the lake.
Book your stay in Coeur D'Alene here, or find an Airbnb here.
19. Explore Idaho's small town quirks in the Silver Valley
Nested in the Coeur d'Alene Mountains, Silver Valley is a region that has some small towns that are worth mentioning:
Kellogg is a well-known wintertime environment because of the nearby Silver Mountain Resort. It operates a 3.1 mile-long gondola up Wardner Peak, which is the longest of its kind on the continent.
About a 15-minute drive from Kellogg is the quaint town of Wallace. When the government attempted to build I-90 through downtown Wallace, the city got every building in downtown registered on the National Register of Historic Places. As a result, the interstate now bypasses just to the north of town. The town even declared itself the Center of the Universe, with a manhole decoration to prove it.
Book your stay in Kellogg here, or find an Airbnb here.
20. Bike down the Hiawatha Trail
Nearing the Montana border, the Route of the Hiawatha is a 15-mile experience just off of I-90. The trail leads you underground through its tunnels (it used to be an abandoned railway system) while its bridges take you among the treetops. During your scenic ride, you can learn about the trail's history through its signs along the route. And the best part is: the trail goes downhill!
Thankfully, the trail offers shuttles back up to the starting point, so you won't need to lug your bike back up.
Book your stay near the Hiawatha Trail here, or find an Airbnb here.
21. Spend time in Sandpoint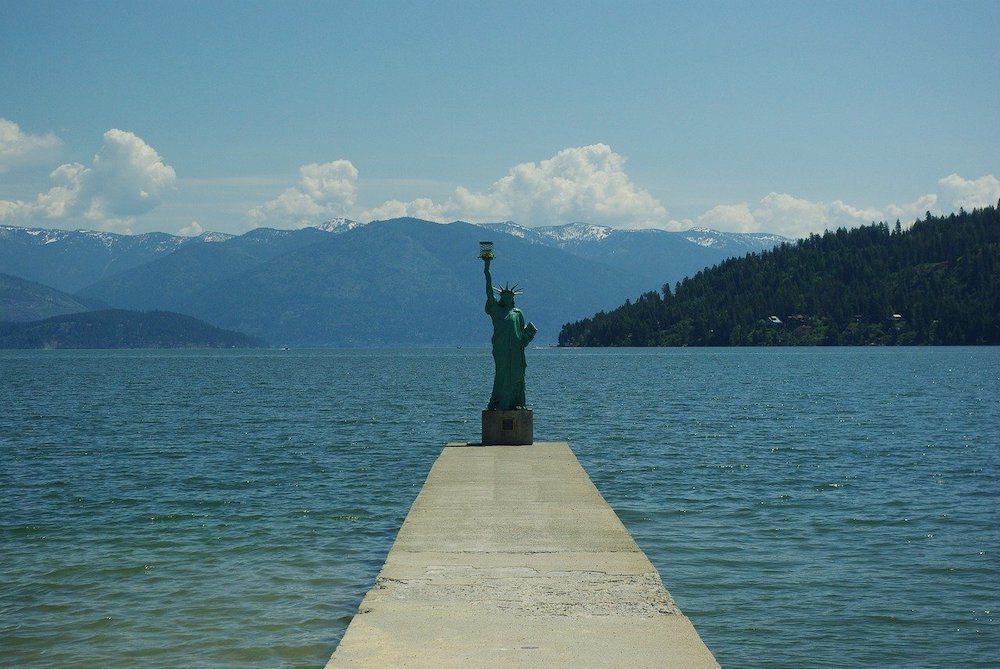 Sandpoint is a city surrounded by natural spaces. Lake Pend Oreille, the largest lake in Idaho, is right on Sandpoint's shores! This glacial lake is one of the deepest lakes in the US, with its glacial water a refreshing cool down during the summertime. If you come during the late summer, you'll have a chance to jam out at its annual music festival. During the winter, Idaho's largest ski resort operates on the nearby Schweitzer Mountain.
Book your stay in Sandpoint here, or find an Airbnb here.
22. Drive by or hike the Selkirk Mountains
Located at the tip of Idaho's panhandle, the Selkirk Mountains stretch from Idaho to Washington and Canada. Long Mountain Lake and Parker Peak are a few of the hiking destinations here; if you choose to trek up the mountains, be sure to bring proper gear as the snow here can last well into the summer.
Less enthusiastic about hiking? Drive through the 280-mile International Selkirk Loop for frequent scenic points as you circle through the mountains. It's the only multi-national road that's also been designated as an All-American Road National Scenic Byway.
Book your stay near Idaho's Selkirk Mountains here, or find an Airbnb here.
23. Road Trip Down the Ponderosa Pine Scenic Byway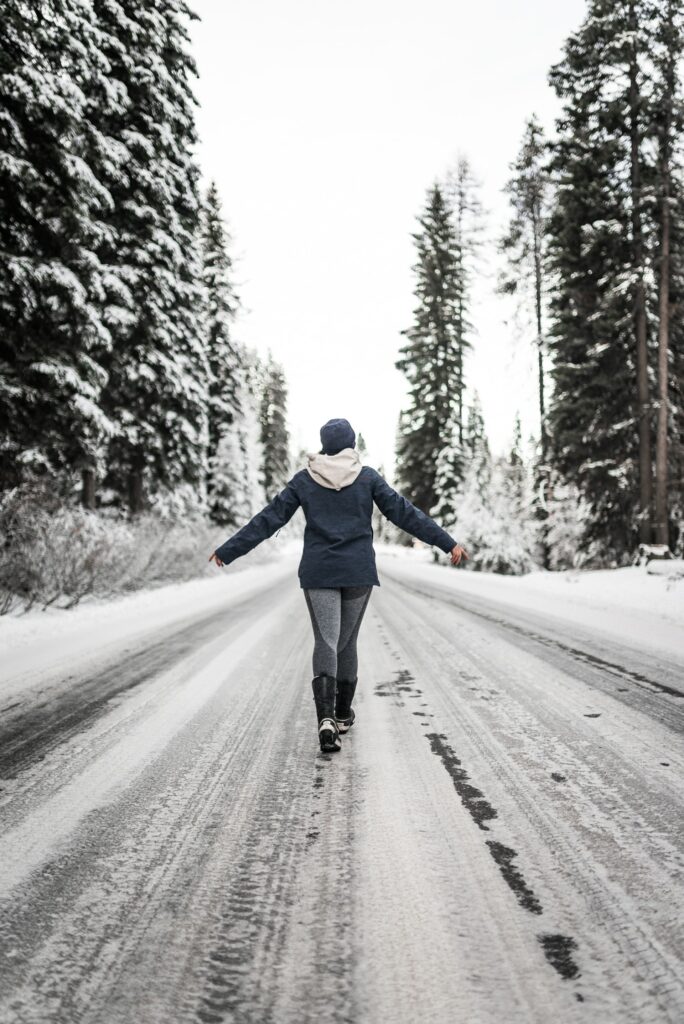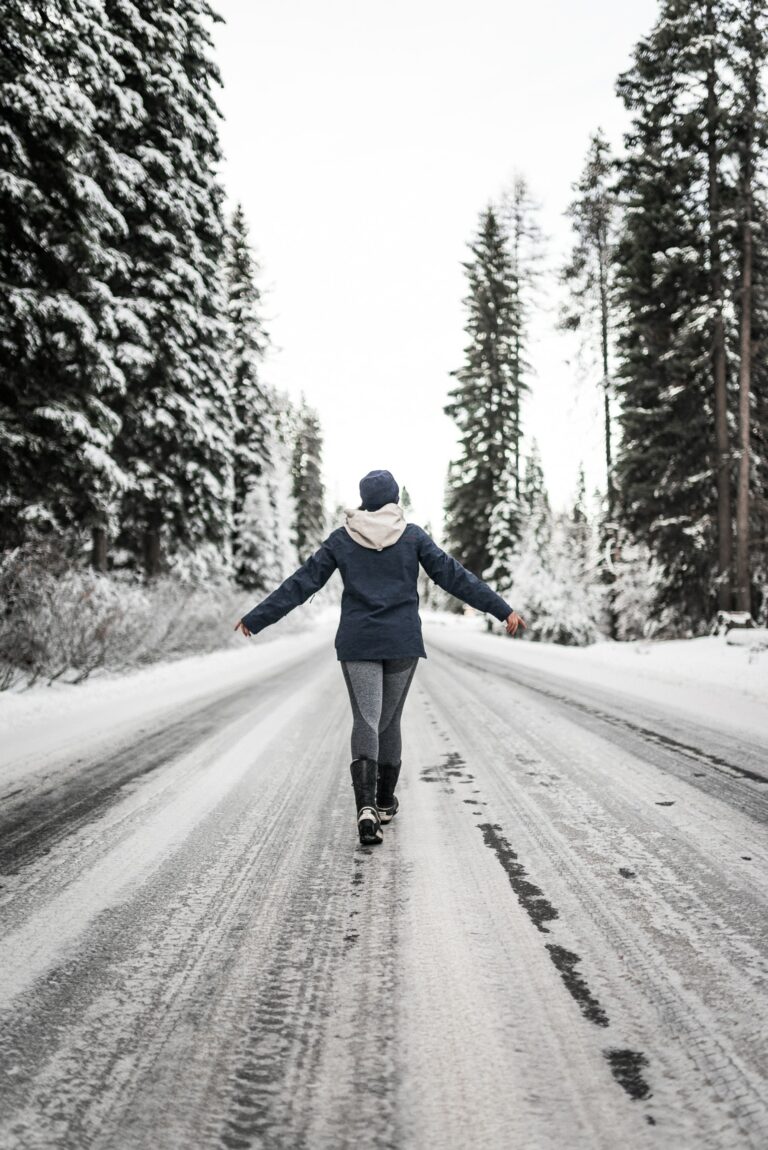 Winding through the Boise National Forest, this scenic byway is one of the best road trips you can find in Idaho. Make a day of it, taking in the views of the Boise River, Lucky Peak Lake, and other attractions along the way. It's also the perfect route if you're looking to hit up the best hot springs in Idaho.
Keep in mind that heavy snows can potentially close the route in the wintertime, so be careful not to venture out if a blizzard is in the forecast. The route is about 3 hours long from start to finish and reaches some remote parts of the Boise National Forest, so make sure to fill up your tank whenever you can and pack lots of snacks for the ride. Summer is a different story, as the warm weather makes more ideal driving conditions and equally as stunning views.
24. Check Out Hagerman Fossil Beds National Monument
Paleontologists consider this part of central Idaho to be a treasure trove of fossils from the Pliocene epoch. Every year, they find over 3,000 new fossils here and you can see them on display at the Hagerman Fossil Beds National Monument. From ancient plants to fossilized saber-toothed cats, you'll be able to get a glimpse into what roamed the earth up to 4 million years ago.
The Visitor's Center at the national monument is currently closed and set to reopen in spring of 2022, but the trails and overlooks are still open. Stay up to date here.
25. Paddle to Blue Heart Springs
This crystalline blue paradise might give you Caribbean vibes because of its bright color, but don't be fooled! It's is indeed in Idaho, tucked in the Hagerman Valley. The small lagoon is only accessible by boat, making it an extra special location. To get there, head to nearby Banbury where you can rent a paddleboard or kayak. Paddle north on Snake River, taking in the sights. You'll even see a couple small waterfalls along the way. Then you'll see the Box Canyon outlet, where there's a small opening with forest all around. That's where you'll access Blue Heart Springs.
The route only takes about 40 minutes each way, so you'll have plenty of time to swim and paddle around this sweet spot.
***
So there you have it! I hope you enjoyed reading about one of America's best kept secrets, and take on the bucket list yourself.
Still apprehensive of Idaho's beauty? Take it from Hemingway, whose words are inscribed on a memorial in Sun Valley:
"Best of all he loved the fall. The leaves yellow on the cottonwoods. Leaves floating on the trout streams and above the hills. The high blue windless skies, now he will be a part of them forever."
Which of these places do you want to add to your bucket list? Let me know!