Deciding how to brand your food truck may be the most critical decision you'll face as a food-on-the-go entrepreneur.
A well-branded truck can draw attention to your business all day, every day, everywhere it goes.
Follow our food truck branding guide, and your truck will race ahead of your competition.
Powerfully simple strategy for business growth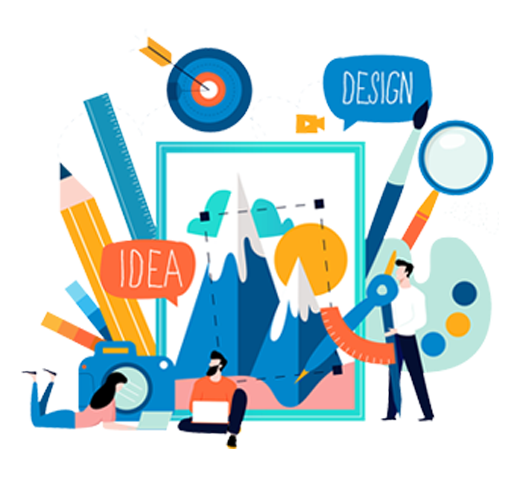 Our brand identity workbook has actionable insights and steps to help you build a strong brand identity.

We just emailed the brand identity workbook to you.
Food Truck Branding: The Definitive Guide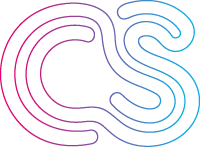 Let's take a look at each of these in detail.
Take your food truck branding seriously
If you want customers to trust your business, you must present a professional brand.
But, restaurants (especially mobile ones) face an even higher bar.
Food trucks need to build trust that their facilities are well-run and sanitary, in addition to producing mouth-watering food.
One of the most effective ways to communicate your business's professionalism is through your brand identity. As we emphasized in our complete guide on how to start a business,
A strong brand identity is the most effective way your new business can gain a competitive edge in an increasingly crowded marketplace.
If you take your branding seriously and create a brand strategy, customers will take your business seriously.
If your food truck is clean, well-designed, and has a strong authentic brand it, will engender trust.
Your branding also serves as the very first introduction to your business – long before the customer ever takes a bite. Strong branding can help ensure that customers will take that bite.
FoodTruckr.com, an online hub for food truck marketing and branding,  reminds us:
But, let's be honest—when we're choosing a meal or evaluating a new business, we judge the books by their covers. Every time a potential customer walks by and sees your truck, you have no more than a few seconds to make some kind of impression that will make him or her pause and see what you have to offer. While a strong design might not overpower a customer's preference for another type of cuisine, it can get people thinking about what's on your menu before they've even seen what anyone else is selling.
Whether you're writing a traditional business plan, a one-page business plan, or starting a food truck business without a formal written business plan, be sure to consider branding.
So what exactly does it mean to take your branding seriously?
Know your brand
Start by taking the time to figure out what your brand is.
Please don't get us wrong – we're not asking you to make up a brand.
Believe it or not, your brand already exists. You just need to take the time to refine it and clearly articulate it.
If you're thinking of starting a food truck business or already have, you probably have a passion for food. We're guessing you want to share your unique menu with the world.
You probably also have some sort of personal value system. You might value hard work, honesty, integrity. Maybe you want to help others and make the world a better place with your food.
Whatever your values are – you already have some.
And finally, you have a personality.
You're rebellious or sweet. Maybe both?
You may be casual, playful, or formal. Your personality is uniquely you, and it already exists.
To find your brand, here's what you should consider:
Examine your menu and cuisine style – what makes it unique? What foods are you excited to create and share?
What values are most important to you that you want to see manifested in your food truck business?
And which of your personality traits do you want to help define your business?
The best brands are authentic brands. They are derived from the actual passions, values, and personality traits of the folks who run the business.
So start looking within.
Name your food truck
The name for your food truck is one of the first experiences someone will have with your food truck business, so it's imperative to give this some thought. Consider these five tips when naming your food truck.
The name should be short, simple, and easy to write. This is critical so people can search for your food truck location or recognize what food you serve when driving by.
Make sure the name encourages the right emotion with your target audience. Is your food meant to be playful or classy?
Food trucks provide lots of options, typically a short walk from each other. Your name should help people understand what type of food you sell to help them decide.
Don't be afraid to build intrigue with your name to encourage people to learn more. An example from Florida is "The Garbage Truck," which is home to the "trash plate." Their visual branding shows fried comfort food irreverently served. The goal is to communicate to customers that they put more effort into the food than the presentation.
Remember to find a name with an available website domain and social media channels. You will want to build an online presence for your food truck that is not mistaken for another business.
Need some inspiration? Try a free business name generator to play with different combinations of words.
Lock it down with a mission statement
Now that you generally know your brand, it's time to make it concrete. All of that research and soul-searching don't get you much if you don't translate what you've learned into a useable form.
Richard Myrick, founder, and editor-in-chief for Mobile Cuisine magazine, suggests writing a mission statement. Here are his guidelines:
Remember that a mission statement isn't meant to be a catchall. Look for the words and feelings that are repeatedly brought up and keep the big picture in mind. The goal is to use this as a reference tool when they're making decisions, so your mission statement should be simple, concise, and easy to understand.
Your mission statement should serve as a reminder and a guide for who your business is and what it's about. Use it as a reference whenever you're making decisions about your brand.
Your customers should be able to read your mission statement and say, "Yeah, that sounds like them!"
WHICH LOGO IS BEST?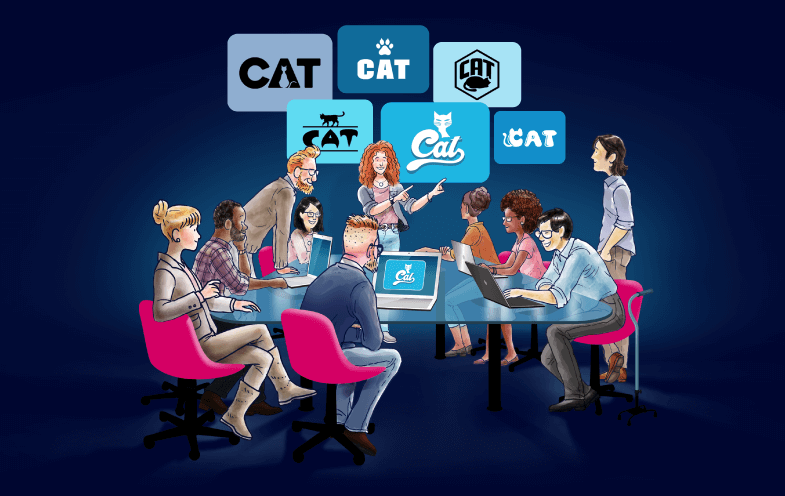 Get professional design help
You wouldn't hire a graphic designer to cook for your customers – because they're not qualified. If your expertise is food, you probably shouldn't do your graphic design.
So, hire a professional to do your design work. Working with a professional designer will serve your business in several ways:
Designers have the skill to communicate your brand to your audience visually.
A professional design will ensure that your brand makes a polished impression on your customers.
Professional designers can create a suite of consistently branded designs for your logo, truck, website, social media, and staff uniforms.
Consider crowdsourcing your branding design if you're on a budget but want top-of-the-line results. Crowdsourced design allows you to choose from dozens of design options for far less than you would spend at a traditional design studio.
Crowdspring helps small businesses with their branding every day. You can start by getting a unique business name for your food truck business. And with custom design projects for logo design, vehicle wraps, web design, social media assets, and clothing design, crowdspring is a one-stop food truck design shop.
Whatever path you choose, working with professional designers will ensure a professional result and help guide you to a clearly communicated visual brand.
And if you're struggling with an existing food truck business, consider whether branding is holding you back. A strategic rebrand may put your business back on a path to success.
Your truck comes first
Your truck is your best form of advertising – it passively interacts with every customer.
Although food trucks are not cheap, your initial costs when buying or leasing a food truck are more affordable than if you become an owner-operator and start a trucking company focusing on traditional long-haul or short-haul deliveries.
And the good news is that once your food truck's design is complete, it advertises on autopilot 24 hours a day, seven days a week. Megan, the author of the Boston Food Truck Blog, writes:
Your food truck design and look is tremendously important. It creates brand buzz, attracts attention from individuals passing by (whether they eat or not), provides 24/7 advertising, and make a tremendous first impression on customers.
A strong, visually appealing, and branded design for your food truck will draw customers in and encourage them to buy.
For this reason, your truck should be the touchpoint for all of your branding design decisions.
When considering logo design, plan a logo that communicates your brand and also will look amazing on a large scale, emblazoned across the side of your truck.
When designing your website, model the website after your truck design.
Here are a few items to consider when discussing your truck design with your design team…
Vinyl wrap vs. painting
You have two options for executing the design for your truck. Vinyl wrap or painting.
Wraps allow for intricate textures, patterns, and detail in your truck design. The checkered tablecloth pattern featured on Cochonou's Le Bar a Saucisson truck (shown above), would be nearly impossible to execute with paint.
Wraps are printed and then laminated to protect the design to wear well for several years without any worry of paint chipping. And the wrap physically covers your truck, providing it with an extra layer of protection from the elements.
Most wraps come with a 3-5 year warranty and cost from $2500 – $5000. In exchange for the professional appearance a wrap provides, a wrap is well worth the expense.
Depending on your truck design, you can also use a combination of paint and partial wraps to help lower costs.
If you're aiming for a simpler look or simply a slightly lower cost, painting can be a great option as well.
But, unless you're a professional painter with experience painting vehicles, you should hire a pro. Fixing a botched paint job will be more expensive in the long run than just having it done right the first time.
Ultimately, it's a good idea to plan for the design that best represents your brand and then choose the best medium to execute that design.
Aim for immediate recognition
Every brand wants its designs to be memorable and easily identified. For food trucks, this is even more important than for most businesses.
After all, your business is regularly on the move. Customers may not have the context of a consistent location to help them recognize you. Your truck design needs to serve as a brand ambassador to bridge that gap.
One unique way to extend this recognition is to consider the plates and utensils accompanying your food. There's an opportunity to get creative there and expand your brand. Here's an example of a smart pizza packaging design that stands out from the crowd.
When planning your truck design, remember that you always want your truck to be instantly recognizable, even from a distance.
A bold color scheme and large graphics will help loyal customers spot you far away or across a crowded street. Empanada Sonata's unique, bold red splatter design makes it easy to spot and identify.
Make choices that represent your brand as authentically and precisely as possible. Generic design choices are not your friend.
You've got to be bold to stand out from the crowd.
Feature your menu
Don't forget to make your menu a focal point of your truck's design! Your food should be the star, so don't let a busy design overshadow the menu.
Bold truck design is there to draw the customers to your truck and build confidence in your product. But, without quality grub, a brand is just a hollow promise.
So, direct your customers' eyes to the thing that matters – your menu.
Consider making your menu a contrasting color to help it stand out. Or surround it with negative space to allow it to shine. Or do both – like the folks at Dia de Los Tacos.
Work with your designer to make sure that they know that you want your audience's eye drawn to that menu to help convert browsers to diners.
Communicate your brand with design elements
In a good design, nothing is arbitrary.
Colors, fonts, and shapes should all be chosen deliberately and with your brand in mind.
We've already discussed some practical considerations for your design – it must be visible from a distance, easily recognized, and showcase your food truck's menu.
But, the design decisions don't end there. Color, graphics, and fonts are your brand's design building blocks.
Here's a primer to get you started…
Color
In How 21 Brands Use Color to Influence Customers, we shared that color plays a significant role in customers' decision making:
In a widely-cited study called "The Impact of Color on Marketing," research found that people make a subconscious judgment about products within the first 90 seconds of seeing it. The majority of these people evaluate these products on color alone: almost 85% of consumers cite color as the main reason they buy a certain product, and 80% of people believe color increases brand recognition.
It's in your business's best interest to adopt bold and unique colors to represent your brand. Strong color choices (like the neon shades on the Oh My Gogi! truck above) catch the eye – and that's precisely what you want.
Also, remember to take into account the psychological impact of colors. Make color choices that elicit the emotions you want your audience to associate with your brand.
Graphics
Whether you opt for an abstract geometric design, a cartoon mascot, or photorealistic images of your cuisine, the graphics you choose should reflect your brand.
Even if your taco truck is the tenth taco truck in town, you can still make your taco truck stand out with a unique brand-informed look.
Are the tacos on your truck black and white line drawings? Or maybe they're anthropomorphic? Consider tacos rendered like the animal paintings at Lascaux or in George Seurat's pointillist style.
Or does your taco truck include a picture of a taco at all?
Be creative! There are a million different visual ways to communicate "taco," "barbecue," "ice cream," or "sushi." Affine's amazing wood-grain hog graphic expresses their love of creative charcuterie recipes.
Think outside the box and make sure to infuse your graphic style with your brand's personality.
Fonts
When choosing fonts, you must ask yourself two questions:
Is this font easily legible from a distance?
Does this font speak to my brand?
There are so many font options available today. Lettering can be endlessly creative.
But, if your customers can't read your business's name or what kind of food you serve, you are sabotaging yourself.
By contrast, Renny's Oki Doki truck handled their lettering very well. The large white, comic-inspired block letters stand out against the colorful background. They're easy to read and a spot-on match for the cartoonish design.
Block letters read exceptionally well from a distance, while elaborate script fonts are much harder to read.
But in between those two extremes, there are so many font options to choose from.
Whatever font you choose, make sure it expresses your brand personality.
Your brand is more than your truck
While food service should be the main focus of your business (after all, if your food isn't good or your service is poor, there's only so much marketing and branding can do), your business does not end with your truck.
You need to communicate with your customers through a robust web presence. And you need a staff to support and feed your customers.
Your branding should be present and consistent throughout your website, social media presence, and staff.
Your website is your 24-hour ambassador
Your mobile food brand needs a home base where customers can always find you.
While your truck may be out navigating the world, your website is always just a few clicks away from any customer.
Your website will best serve your business if branded to match your truck. Richard Myrick of Mobile Cuisine magazine explains:
…the feeling someone gets from looking at your homepage should match the one they get when they walk up to your truck.
You can accomplish this goal with consistent branding. Design your website using the same branding design elements as appear on your truck. This will help customers recognize and trust your website before they've had a chance to read a single word of content.
To learn more about growing your business with consistent branding, check out this article.
Build relationships with social media
Your food truck business should have a social media presence. Honestly, consumers expect a company to be on social media in this day and age.
But, social media can provide particular branding benefits for mobile food businesses.
Your social media accounts provide anchored platforms where customers can always find you.
Social media interactions build brand loyalty, encouraging customers to seek out your truck in person.
Social media provides an easy way to notify customers of daily menu changes, sales, or location changes.
The important things to remember are to brand your social media content authentically and consistently with your overall brand and update it regularly. Customers are attracted to follow social media accounts that are active and offer content of real value.
Not sure where to start with your social media strategy? Give this article from Mobile Cuisine a read.
Don't forget your staff
Your staff should personally embody your food truck's brand. They should know your company values and act accordingly. They should understand your brand's personality and embody it.
And, it's up to you to share your brand values and personality with them so that they can succeed in those goals.
It's also up to you to work with your design team to create a branded uniform of some kind to help your staff look the part as well. Does your brand have a t-shirt vibe? Or is it more of a button-down establishment?
The Homeboy truck team looks right at home in front of their truck.
Incorporate your logo and brand colors to create a visual link between your truck and your staff. And don't forget to have fun and be creative! Uniforms can tie your truck's brand look (and the customer's service experience) together.
Putting it all together
Branding your food truck business is no small task. But, this guide is a great place to start. Here's a quick recap:
Take your branding seriously
Define your brand using your food style, values, and personality.
Create a mission statement to help keep your branding specific and your business on track.
Get professional design help – and consider crowdsourcing your design.
Your truck comes first
Design your truck first and model other branded elements after it.
Choose your medium: paint or vinyl vehicle wrap?
Aim for a design that is easy to recognize from a distance.
Make your menu a focal point of the design.
Communicate your brand with design elements
Choose brand colors that communicate your brand's personality.
Be creative with graphics. Make specific choices that visually reflect your brand.
Choose fonts that are easy to read while also communicating your brand essence.
Your brand is more than your truck
Create a branded website that feels like your food truck.
Use social media to create relationships with customers and share daily menu changes and locations.
Train your staff to embody your brand values and personality. Design and provide branded uniforms.
Phew! You made it this far. If you haven't already seen it, watch the webinar on how to create a memorable food truck brand.
We regularly update this guide to keep it current. We most recently updated this guide on February 3, 2022.