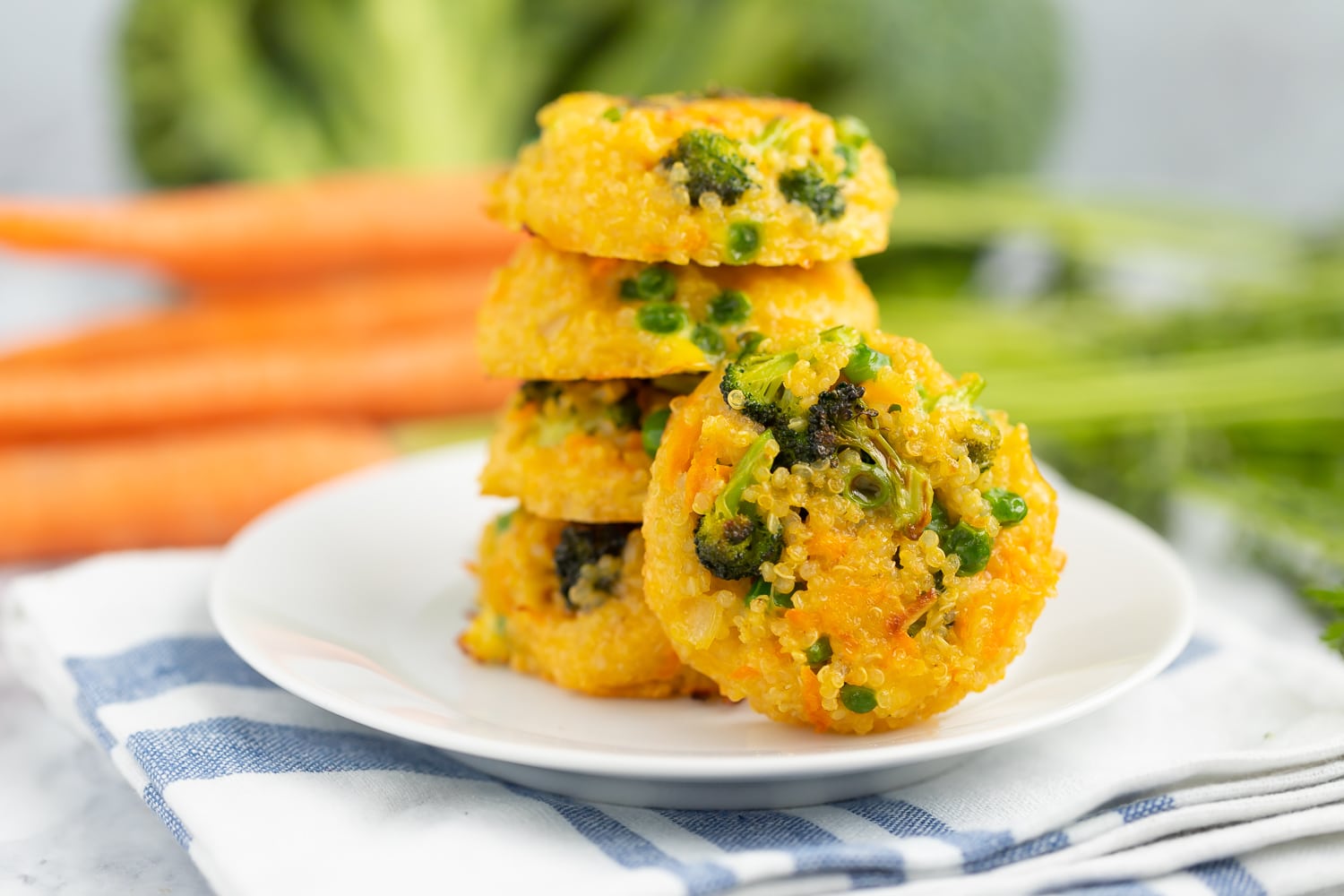 Crispy on the outside quinoa cakes have it all: fresh veggies, whole grains and the melty allure of savory cheddar cheese. The flavor is mild and familiar for kids, but savory and interesting enough for adults.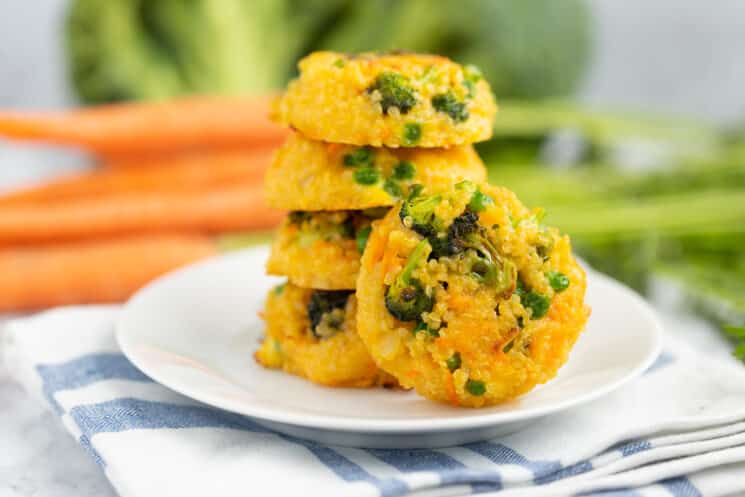 Cheesy Veggie Quinoa Cakes
Here's an irresistible way to eat quinoa, and get your kids to eat it, too: turn the ancient grain into a tasty and portable baked lunch cake! These quinoa cakes are a kid friendly lunch recipe that adults enjoy also! No need to make two different lunches!
I've been cooking this recipe for my son since he was a toddler, and it's one of those feel-good recipes that has it all: fresh vegetables, whole grains, and the melty allure of cheddar cheese. The flavor is mild and familiar for kids, but savory and interesting enough for grownups. (I once served them as hors d'oeuvres at a party. They disappeared!)
These quinoa cakes are more than flavorful and delicious; they're also a hand-held, mess-free dish. This is GREAT for families with toddlers. For us, it means that when my daughter goes careening through the house with her lunch in her hand… I don't have to immediately chase after her with a roll of paper towels.
It's the little things.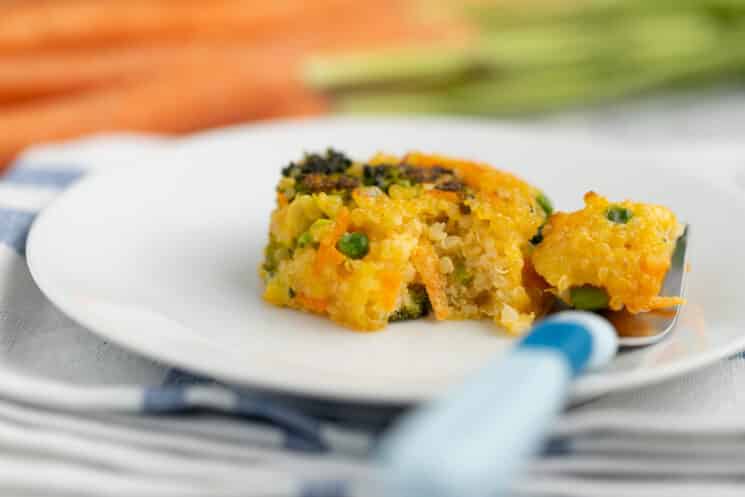 Ingredients You Will Need
This recipe is fantastic for getting your kids involved in the kitchen. Bigger kids can help with the cutting, grating, and sauteing. You will need:
Broccoli Florets – I like to use fresh broccoli. This vibrant green veggie is packed with fiber, potassium and as much vitamin C as an orange! I prefer my broccoli cooked, and surrounded by cheddar cheese makes it even better!
Carrots (not baby) – Carrots a naturally sweet and are loaded with vitamin A and antioxidants which help with healthy skin and eyes.
Frozen Green Peas – Frozen peas are a cost-effective alternative to fresh and have just as much nutrition as they are frozen soon after being picked and retain the nutrition.
Quinoa – this amazing grain has twice the amount of protein as rice keeping you feeling fuller longer. It's also a great source of fiber and B vitamins.
Cheddar Cheese – cheese adds savory deliciousness to this recipe as well as helps to bind everything together.
How to Make Cheesy Veggie Quinoa Cakes
The key to making these extra delicious and appealing to kids is to make sure that the veggies are chopped small and even. Especially the broccoli.I
I like to cut the broccoli down into pretty small pieces so that you don't get a huge chunk of broccoli and nothing else in a bite.
If your kids are leary of onions, dice them fine and saute them first until completely translucent and soft. They will almost melt into the recipe and just provide that subtly sweet but amazing flavor.
Then to the fun part of this recipe! Once everything is mixed together, pack the mixture into a measuring cup, and whack it out onto the cookie sheet. It reminds me of making sand castles… with lunch! Who says you can't play with your food??
When the piping hot, crispy-on-the-outside Quinoa Cakes come out of the oven, we like to serve them with a side of fresh fruit. Choose purple and red-hued fruit and see a complete rainbow on your kiddo's plates!
Commonly Asked Questions
Question: Can these be frozen and reheated later? Yes! They freeze beautifully. Make them as the recipe says, cool and freeze in an airtight container. When you ready to reheat, just pop them in the oven for 15 minutes until they are heated through.
Question: Can I use leftover quinoa in this recipe? Yes – using quinoa that is already cooked is a great way to prep ahead and make this recipe come together fast!
Question: My child has an egg allergy, what can I use instead of eggs? This recipe definitely needs to eggs to bind everything together. You could try using a flax egg as a binder.
Question: Are these good at room temp or cold? Wondering about sending in a lunchbox. This is definitely a personal preference, kind of like pizza. My kids have eaten them hot out of the oven, but also in a lunchbox and enjoyed them both ways. Hot out of the oven with a crispy outside and gooey cheese in the inside is definitely my preference.
Question: Can I use other veggies in this recipe? Feel free to get creative with substitutions and additions in this recipe. I've added chicken, corn, and even finely-chopped green beans. Just be sure to keep your total volume of add-ins close to the original recipe, so you have enough egg and cheese to bind it all together.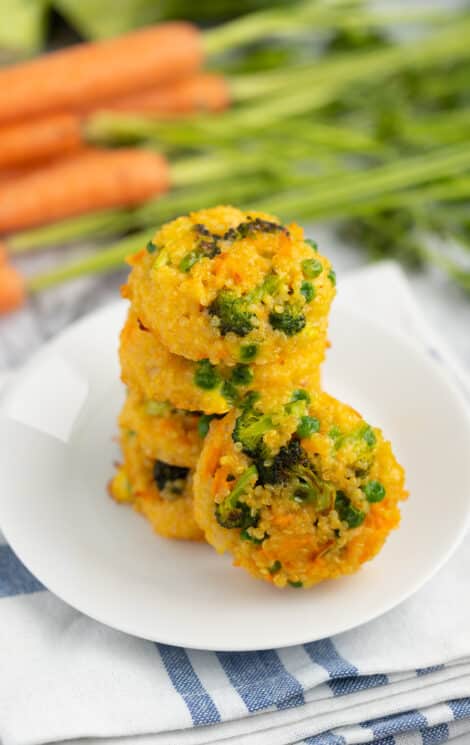 More Favorite Quinoa Recipes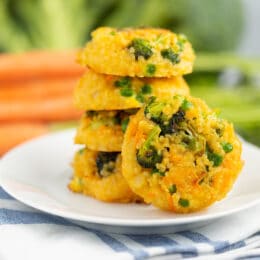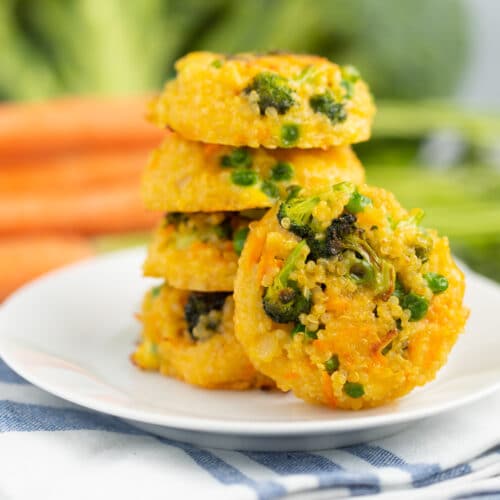 1

tablespoon

olive oil

1/2

cup, chopped

onion

1 1/3

cup

broccoli, florets

chopped small and even

2

medium

carrots

peeled and grated

1/2

cup

green peas, frozen

2

large

eggs

2

cup

cheddar cheese, shredded

2

cup

Quinoa, cooked

1 cup uncooked
Preheat oven to 375 F.

In a medium pan over medium heat, warm olive oil, then add onions and cook until translucent and soft.

To the pan add chopped broccoli, and peeled and grated carrots. Saute until bright and translucent, about 8-10 minutes.

Stir in frozen peas, then add salt and pepper to taste.

In a large bowl, whisk the eggs, then fold in the cheese, cooked quinoa, and veggies. Add more salt to taste.

Pack the mixture into a quarter cup measuring cup, then knock the cakes onto a greased cookie sheet, spaced evenly.

Bake at 375 for 10 minutes, then flip, and bake 5-8 minutes more.

Cool slightly and serve.
Calories: 129kcal | Carbohydrates: 9g | Protein: 7g | Fat: 8g | Saturated Fat: 4g | Polyunsaturated Fat: 1g | Monounsaturated Fat: 3g | Trans Fat: 1g | Cholesterol: 44mg | Sodium: 122mg | Potassium: 147mg | Fiber: 2g | Sugar: 1g | Vitamin A: 1751IU | Vitamin C: 11mg | Calcium: 134mg | Iron: 1mg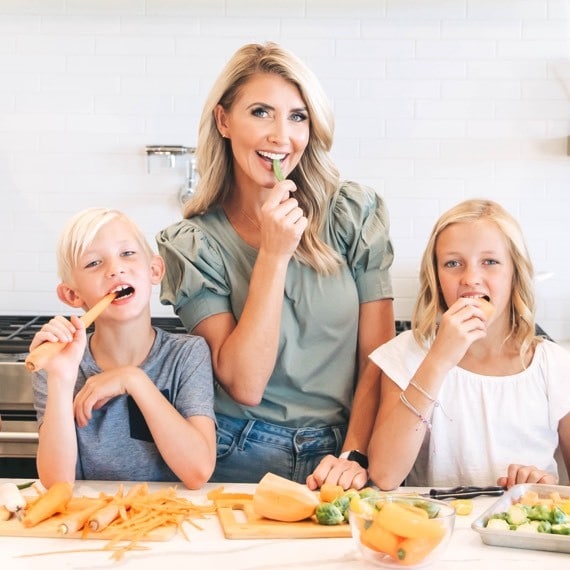 Natalie Monson
I'm a registered dietitian, mom of 4, avid lover of food and strong promoter of healthy habits. Here you will find lots of delicious recipes full of fruits and veggies, tips for getting your kids to eat better and become intuitive eaters and lots of resources for feeding your family.