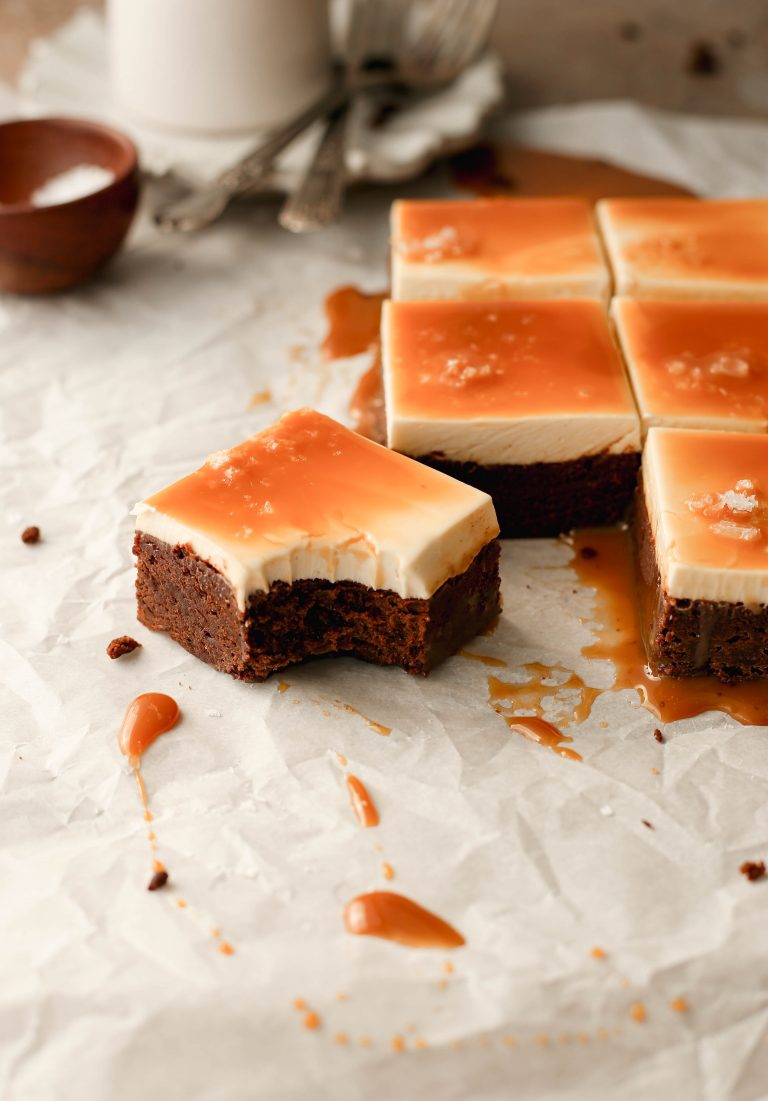 When it comes to desserts, in my world, more is more. And when it comes to Galentine's and Valentine's desserts, the same holds true. I want a whole lot of indulgence and richness in every bite. These brownies? All of that and more. I might have had three while watching all the romantic comedies for Galentine's Day with my gal pals. You might be thinking: Aren't you tired of brownies after baking six different brownie recipes for your last bake-off? Nope. Now that I understand the science of brownies, I was excited to take my learnings and wrap them into my own recipe. Plus, there's no better time than the season of love to indulge in as much chocolate as possible. With all that in mind, I set out to create the ultimate brownie recipe. Let me specify: Salted Caramel Cheesecake Brownies.
When I tested all those brownie recipes last week, I realized (in the middle of my thousandth bite) that adding a slightly tangy ingredient would balance out these brownies' fudgy sweetness beautifully. A rich cheesecake with a salty bite was just the thing. (I know, tough decision.) So here's how this went down.
The Brownie Layer:
After testing so many brownies, I discovered that my ideal chocolatey square is chewy with a little fudginess. I like the bite and chew from the edge pieces. The two recipes from my bake-off that had the brownies rest in the fridge after baking were also the ones with the most chew. And because these are more like brownie bars, I wanted them to hold up their shape when cut. So these brownies are chewy and dense, kind of like fudge. To really bring out the chocolatey flavor, I use both a little espresso powder and malted milk powder. While the malt powder is completely optional, after trying it in Claire Saffitz's recipe, I don't know if I can make brownies without it again.
A quick tip: Don't overbake your brownies! The longer you bake them the more you run the risk of getting dry and cakey brownies. I like to start testing my brownies at about the 25-minute mark. Then I pull them out of the oven just before they're completely done. They will continue to bake in the tray out of the oven, ensuring a nice fudgy consistency.
The Cheesecake Layer:
I love cheesecake. It's sweet and tangy and rich and all that's good in the world. To keep things simple here, I wanted the cheesecake topping to come after baking. I also wanted it to set in the fridge once the brownies were done to avoid an overbaked texture. No-bake cheesecakes are all the rage, but I don't love how so many versions use condensed milk or other additives. In doing research and remembering how I had this recipe set in the fridge, I went with the whipped cream method.
Whipping the cream and folding in the softened cream cheese yields a thick and creamy topping that, when chilled, is the perfect topping to these brownies. Make sure to allow this layer to completely set in the fridge if you want those nice clean lines when cut. If you don't care about that, just grab a fork and go to town.
The Salted Caramel Layer:
I'll admit, making caramel used to scare me. But once I discovered this method for homemade caramel from Broma Bakery, I realized how easy it can be. I follow Sarah's recipe and then add A TON of flakey salt, both in the caramel and then on top. I prefer to pour the caramel over the cheesecake layer for the layered look, but you can also swirl it into the cheesecake if you prefer. You can also store the leftovers in an airtight container in the fridge for any caramel needs.
Other Flavor Varieties:
If you're not into salted caramel there are some other delicious options you could try.
Ultimate Chocolate Cheesecake Brownies Add melted chocolate and/or cocoa powder to the cheesecake filling and stir to combine. Use a chocolate fudge sauce instead of salted caramel for the topping.
Fruit-Filled Cheesecake Brownies Use your favorite raspberry or other red berry jams and swirl into the cheesecake layer. Top with fresh mint and berries for an elevated, but equally delicious dessert.
Peanut Butter Cheesecake Brownies To get really indulgent, add a little peanut butter to the cheesecake filling. Top with peanut butter cups or drizzle with melted peanut butter chocolate shavings.
If you're still looking for a last-minute dessert for your valentine, here are some other options I love:
Another salted caramel option: Easy Salted Caramel Pots de Creme
For the chocolate lovers: Gluten Free Olive Oil Chocolate Cake with Raspberry Preserves
And for your friends who like to keep things low-key, grab some fruit and roast it in the oven or on the grill. Serve with ice cream like this. Enjoy!