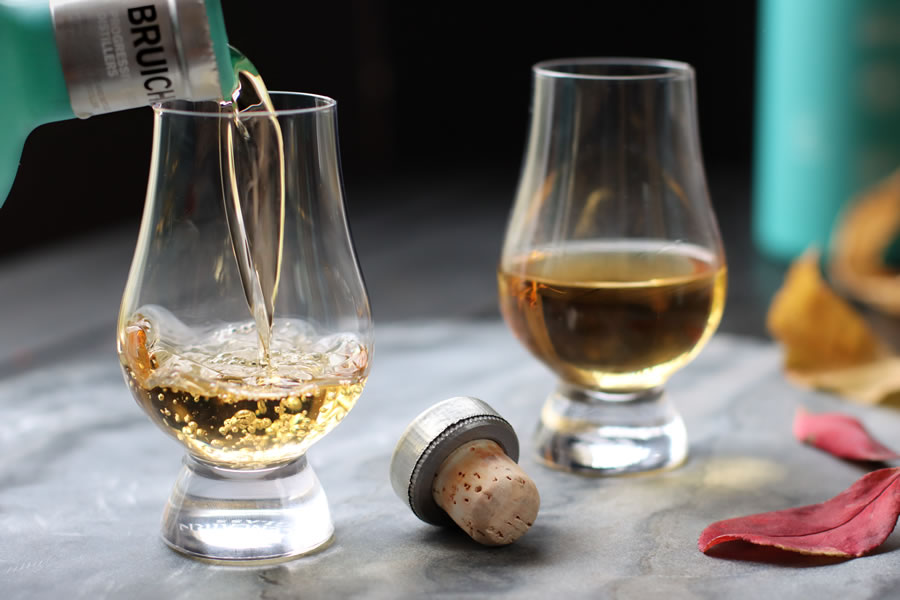 Off the western coast of Scotland, there's a scattering of over 50 remote islands called the Hebridean islands. Only 15 of these islands are inhabited, but the  Southernmost known as the Isle of Islay (pronounced "EYE-luh"), is world-renowned for making Scotch whisky. With a small population of only 1500 and known by many as "whisky Island," Islay, is home to Bruichladdich, a distillery established in 1881 that today distills 4 unique spirits all bottled on site. 
Bruichladdich is a progressive distillery known for its experimentation with recipes and processes. They produce both unpeated (smooth) and peated single malt Scotch whiskeys (one being gin), challenging the status quo of distilling whisky on the island and beyond.
The Classic Laddie – Unpeated Scotch Whisky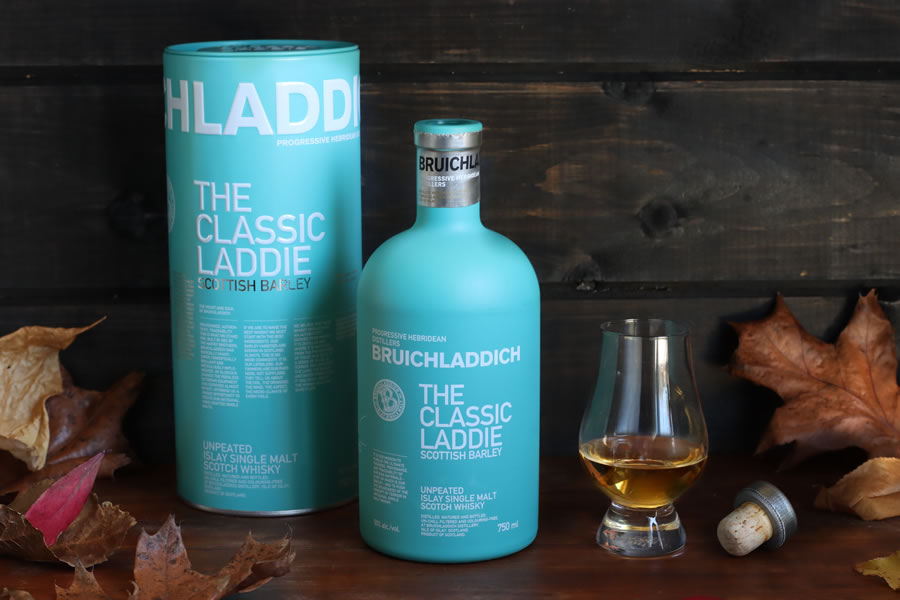 Recently we had a chance to take part in a virtual tasting of Bruichladdich's flagship spirit, The Classic Laddie. This unpeated and classic non-smokey, floral, and complex Scotch whisky matured in a variety of cask types is made with 100% Scottish barley and triple distilled. 
While some people love peated scotch whiskeys with a smokey character, they're definitely not for everyone. That's where a spirit like the Classic Laddie comes in. With a gorgeous deep golden-caramel color derived entirely from sitting in the cask (no caramel color added as other distilleries often do), this smooth and warming Scotch whisky with malty, vanilla, oaky, and caramel-like, apple and berry notes is an incredibly enjoyable sip. Even for someone like me who's a total newbie when it comes to drinking Scotch whisky, I could easily see myself sipping this to warm up on a cold evening.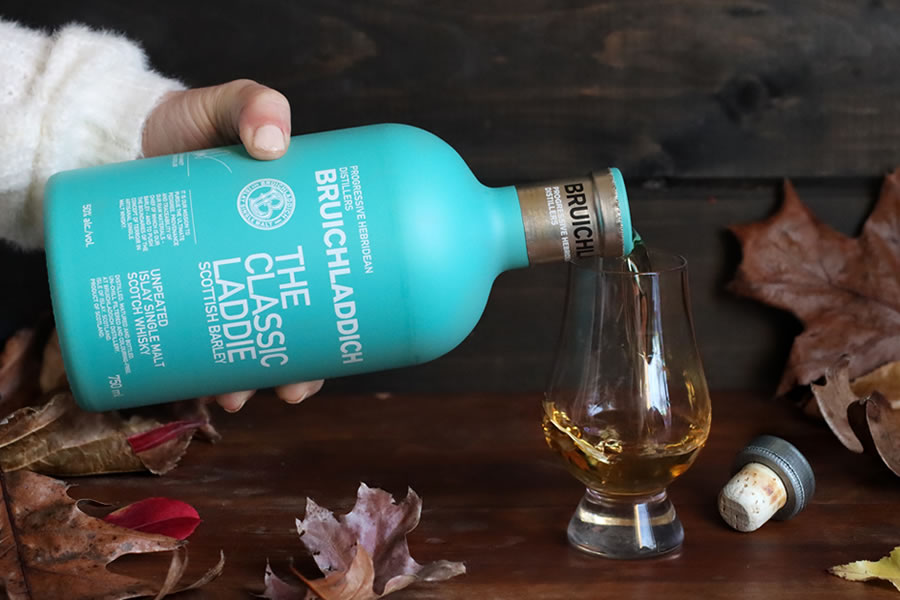 The Classic Laddie's striking Tiffany blue bottle is also worth noting. Not only is it a beautiful color, but it also provides a wealth of information about what you're about to sip. It might seem strange, but only a handful of whisky producers will share the origins of what they distill. Bruichladdich believes you have the right to know what's in your glass and how it came to be. That's why unique codes are printed on the back of every bottle associated with every batch of whisky made. Our code of 20/109 entered here on the Bruichladdich website revealed our bottle was made from a vatting of 74 total casks, 4 vintages, 3 barley types, and 10 cask types. Because it is a natural product and the recipe can vary, each batch and bottle of The Classic Laddie will have slightly different tasting notes and aromas. This is part of the fun of drinking it.
You can learn more about the Bruichladdich Classic Laddie and watch the tasting experience below.
Octomore 11 – Heavily Peated Scotch Whisky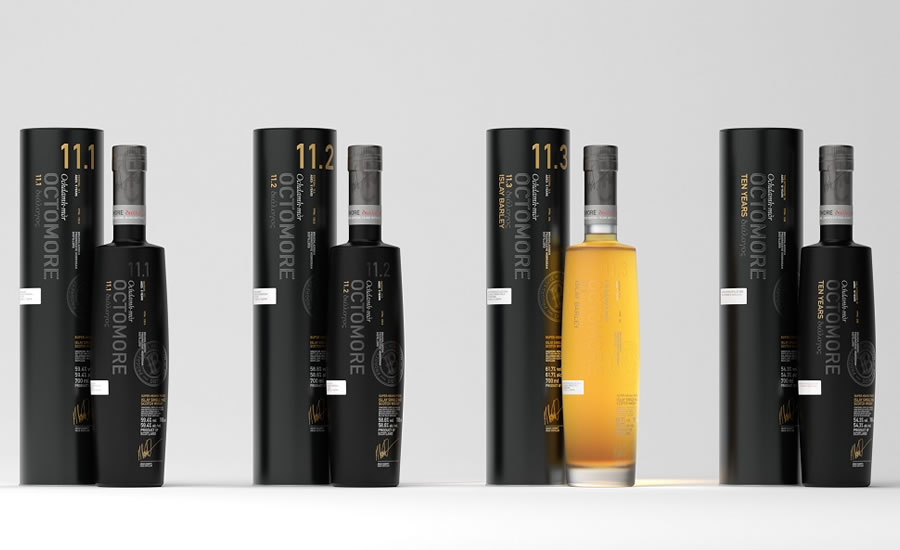 Whether you're a whisky aficionado or you're simply starting to develop a deep appreciation for the stuff like me, be sure to check out a one-of-a-kind whisky themed content journey called 'The Octomore 11 Insider's Guide'.
Octomore 11 is Bruichladdich's latest vintage in the Octomore series, and quite literally the world's most heavily peated Scotch whisky. To complement its release, 'The Octomore 11 Insider's Guide' is an immersive online experience created by 11 leading whisky enthusiasts, experts, and influences also nicknamed "The Octomore 11".  They were given exclusive access to the team and inner workings of the Bruichladdich Distillery to take a deep look into the origins, ingredients, and complex flavors of Octomore, the world's most heavily peated whisky. And if you happen to already have and enjoy Octomore, it will only help to further your appreciation for this remarkable spirit.
Visit the links below to begin exploring Octomore 11. The guide is divided into six chapters, featuring a different team member's blog that will take you on a fascinating tour through the whisky community. 
'The Octomore 11 Insider's Guide'  chapters are linked below:
Octomore 12 – Heavily Peated Scotch Whisky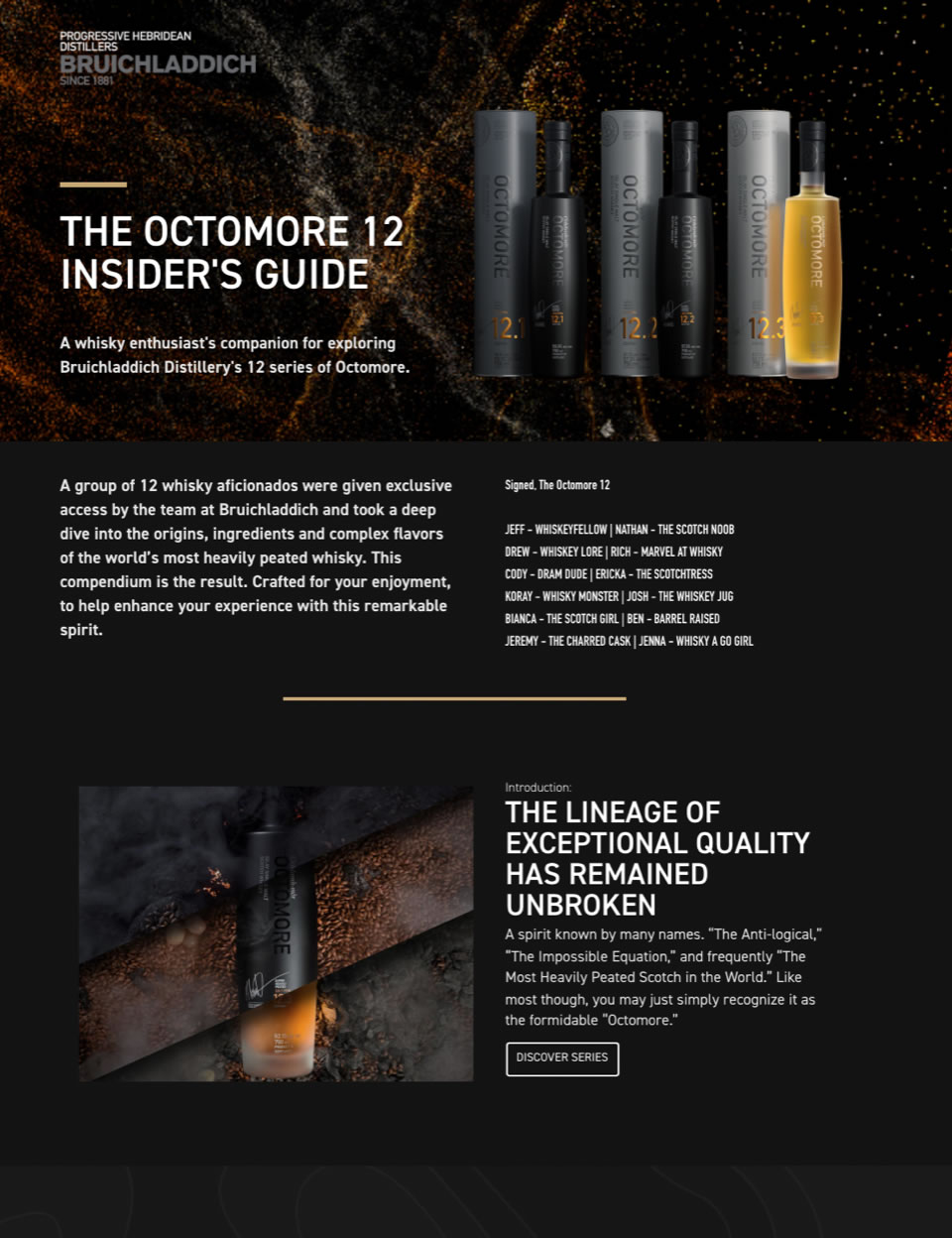 The Octomore 12 "Insider's Guide" is a one of a kind resource to learn about the world's most heavily peated scotch. All of the content on the site was created by a team of 12 whisky influencers who were given exclusive access to take a deep dive into the origins, ingredients, and complex flavors of the Octomore 12 series from Bruichladdich. See the Octomore 12 Insider's Guide now! 
Be sure to visit our other friends who participated in the Classic Laddie tasting. Cheers!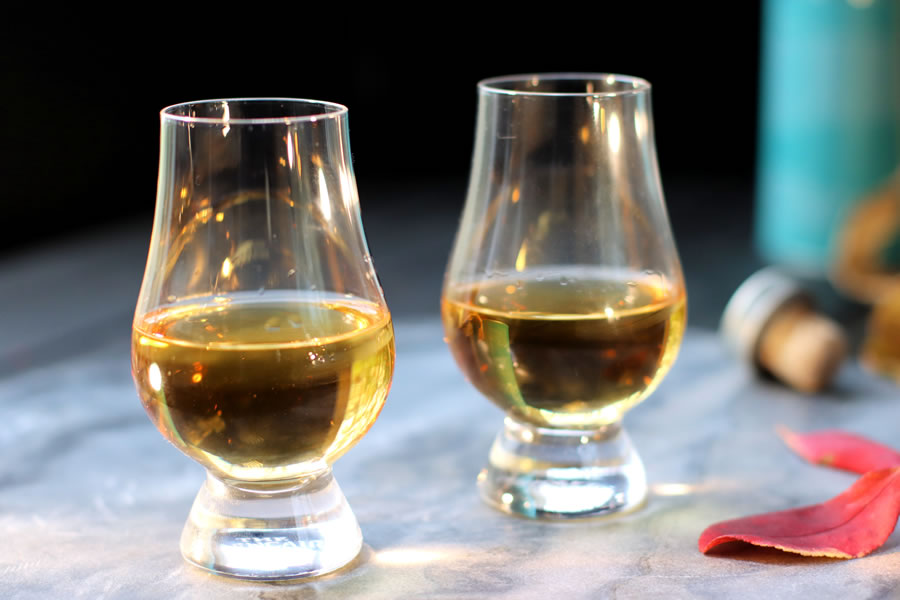 See our Port Charlotte 10 review and get our Scottish Coffee recipe!