Even meat and cheese lovers will fall for these vegan pasta recipes! They include satisfying, delicious riffs on fettuccine Alfredo, lasagna, and more.
When I'm in the mood for comfort food (which, at this time of year, is like…all the time), one of these vegan pasta recipes always hits the spot. Sure, they're made without meat, cheese, or cream, but they still deliver everything you want from a big bowl of pasta. Bold flavors, chewy, al dente noodles, maybe a creamy sauce or tangy marinara. Even Jack, our resident meat and cheese lover, will go back for seconds – even thirds – of these vegan pasta recipes.
So the next time you're craving something comforting and delicious, check out the recipes below! They include many vegan pasta dishes that are quick, easy, and perfect for busy weeknights and a few that take more time, making them ideal for weekend or special occasion cooking. Some are creamy, some are hearty, and others are vibrant and fresh. I hope you find one (or more) you love!
Creamy Vegan Pasta Recipes
Who says you need dairy to make a rich and creamy pasta? In these vegan pasta recipes, plant-based ingredients like cashews, cauliflower, and butternut squash blend into smooth, velvety pasta sauces.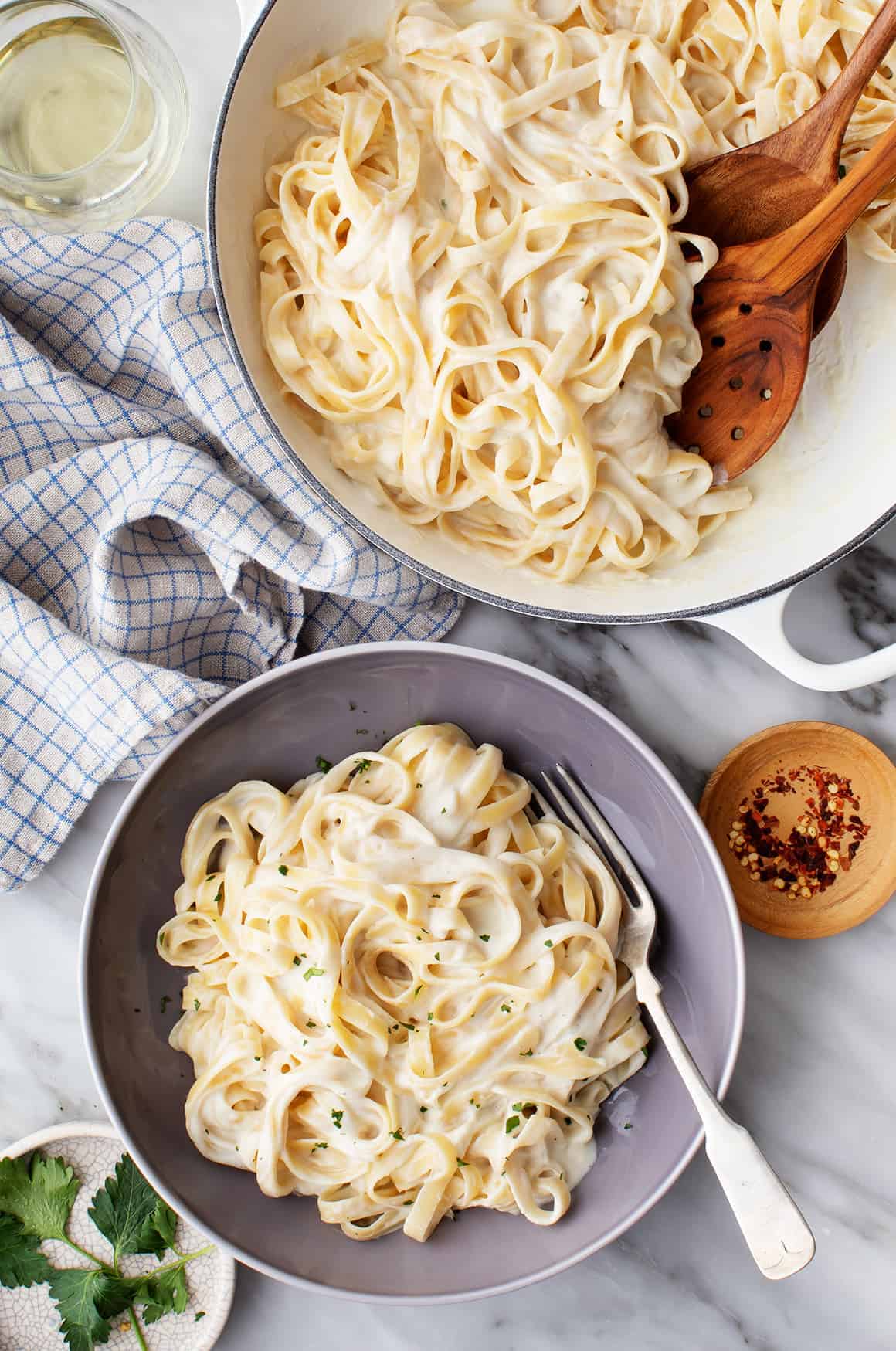 Vegan Fettuccine Alfredo
Cashews, cauliflower, and a splash of pasta water give this vegan Alfredo sauce its to-die-for creamy texture. Make it for a regular weeknight dinner, or pair it with your favorite wine for a classy date night-in.
Creamy Pasta Pomodoro
Serve this pasta with crusty bread for mopping up any stray sauce on your plate. It's so creamy and flavorful – you won't want to miss a single bite!
Tagliatelle with Asparagus and Peas
This recipe perfectly walks the line between comforting and fresh. I toss the pasta with a light cashew cream sauce and spring veggies like asparagus and peas. Then, I garnish the whole dish with a shower of fresh herbs. Heads up: you'll need to use egg-free pasta to keep this recipe vegan.
Creamy Butternut Squash Pasta
This vegan pasta might look like mac and cheese, but it tastes like something else entirely. Roasted squash, roasted garlic, shallots, and fresh sage fill the sauce with delicious sweet and savory flavor.
Creamy Miso Brussels Sprout Fettuccine, page 65 of The Love & Lemons Cookbook
White miso paste is the star ingredient in this comforting vegan fettuccine. It adds umami flavor to the creamy sauce without the help of any dairy or nutritional yeast.
Creamy Sweet Corn Pappardelle, page 167 of Love & Lemons Every Day
I'm a sucker for summer sweet corn, and this luscious pasta is one of my favorite ways to eat it. I blend some corn kernels into the creamy, sweet, and smoky sauce and toss others with the pasta for crunch. Note: Seek out eggless pasta to make this recipe vegan.
All About the Herbs
Herbs like basil, parsley, and mint pack these vegan pasta recipes with fresh flavor.
Easy Pesto Pasta
Whizz up a batch of vegan pesto while the pasta cooks, and dinner will be ready in under 30 minutes.
Spaghetti Aglio e Olio
This pantry-friendly recipe is a staple in our weeknight rotation. Simple ingredients like parsley, garlic, olive oil, and red pepper flakes create its rich flavor. Sprinkle it with my quick vegan Parmesan to take it over the top.
Spring Leek & Lemon Pasta, page 185 of The Love & Lemons Cookbook
To me, this recipe is the essence of spring. Radishes, leeks, and fresh basil fill it with pretty pinks and greens, and a mint and pea pesto adds fresh, nutty flavor. Garnish it with lemon zest for a bright finishing touch.
Baked Vegan Pasta Recipes
Stuffed shells and lasagna without any cheese? Yes, it's possible…and just as delicious.
Kale & Sweet Potato Lasagna Roll-Ups, page 197 of Love & Lemons Every Day
Lasagna just got WAY more fun! I fill these adorable roll-ups with a creamy tofu "ricotta," toasty roasted sweet potatoes, steamed kale, and earthy sage. Smothered in tomato sauce, they're comforting, flavorful, and good for you, too!
Butternut Squash Stuffed Shells
I stuff these cozy stuffed shells with my spinach and tofu "ricotta," caramelized butternut squash, and a lemony cashew cream. Readers rave about this recipe. Try it to see why!
Vegan Riffs on Mac & Cheese
The whole family will go crazy for these "cheesy" vegan pasta recipes!
Vegan Mac and Cheese
If you were to taste this gooey, "cheesy" vegan pasta, you'd never guess that it's totally dairy-free! It's every bit as creamy and crave-worthy as classic mac & cheese, but it's made with plant-based ingredients like sweet potatoes, cashews, and nutritional yeast.
Creamy Vegan Pasta
White beans – not cashews (or, you know, cheese) – create this pasta's creamy sauce, which gives it a nice boost of plant-based protein. Lemon juice, nutritional yeast, and onion powder round out its bright, savory flavor.
"Meaty" Vegan Pasta Recipes
Love your noodles with hearty veggie balls or a satisfying ragù? These vegan pasta recipes are the ones for you.
Plant-Based Spaghetti and Meatballs
I have two vegan meatball options for you! Make them with your favorite plant-based ground meat, or use a mix of brown rice, black beans, and mushrooms instead. Both versions are fantastic in this comforting, homey pasta recipe.
Orecchiette with Broccoli Rabe
Plant-based sausage, sun-dried tomatoes, and caramelized onions add rich, savory flavor to this hearty vegan pasta.
Zucchini Noodle Puttanesca, page 177 of Love & Lemons Every Day
I'm OBSESSED with the veggie balls in this recipe! Made with quinoa, walnuts, fresh herbs, and hummus, they're hearty, savory, and packed with plant-based protein. They turn this light, bright vegan pasta into a substantial meal.
Spaghetti Bolognese
A mix of lentils, mushrooms, and walnuts subs in for the meat in this vegan version of a classic bolognese.
Vegan Pasta Recipes: Creamy Pasta Pomodoro
Serves 4
This creamy pasta pomodoro is one of our favorite vegan pasta recipes!
Creamy Tomato Sauce
1/2

recipe

Marinara Sauce

¼

cup

raw cashews

½

tablespoon

tomato paste

¼

cup

water

¼

cup

pasta water

¼ to ½

teaspoon

sea salt
For the Pasta
10

ounces

rigatoni

Extra-virgin olive oil,

for drizzling

2

medium zucchini

,

sliced into thin half moons

2

tablespoons

fresh thyme leaves

2

(14-ounce)

cans cherry tomatoes

,

drained (or 1 pint fresh cherry tomatoes)

6

cups

spinach or mix of spinach & arugula

¼

cup

chopped parsley or sliced basil

Sea salt and freshly ground black pepper
Make the sauce: Add the marinara to a blender with the cashews, tomato paste, salt, and ¼ cup of water. Blend until smooth. Set aside until ready to use. Before serving, stir in ¼ cup hot pasta cooking water to loosen it up so that it'll nicely coat the pasta.

Cook the pasta in a large pot of salted boiling water according to package directions or until al dente.

While the pasta cooks, heat generous drizzles of olive oil in a nonstick skillet over medium heat. Add the zucchini, thyme, and generous pinches of salt and pepper. Sautee, stirring occasionally, until lightly browned, about 3 minutes. Add the tomatoes, reduce the heat to low, and cook for 2 to 3 more minutes or until heated through (if using fresh cherry tomatoes, cook until the tomatoes are soft). Add the spinach and gently toss until wilted. Season to taste with more salt and pepper.

Scoop the pasta into individual bowls, add scoops of the creamy sauce, and toss to coat. Distribute the vegetables among the bowls and top with parsley and or basil. Season to taste and serve.