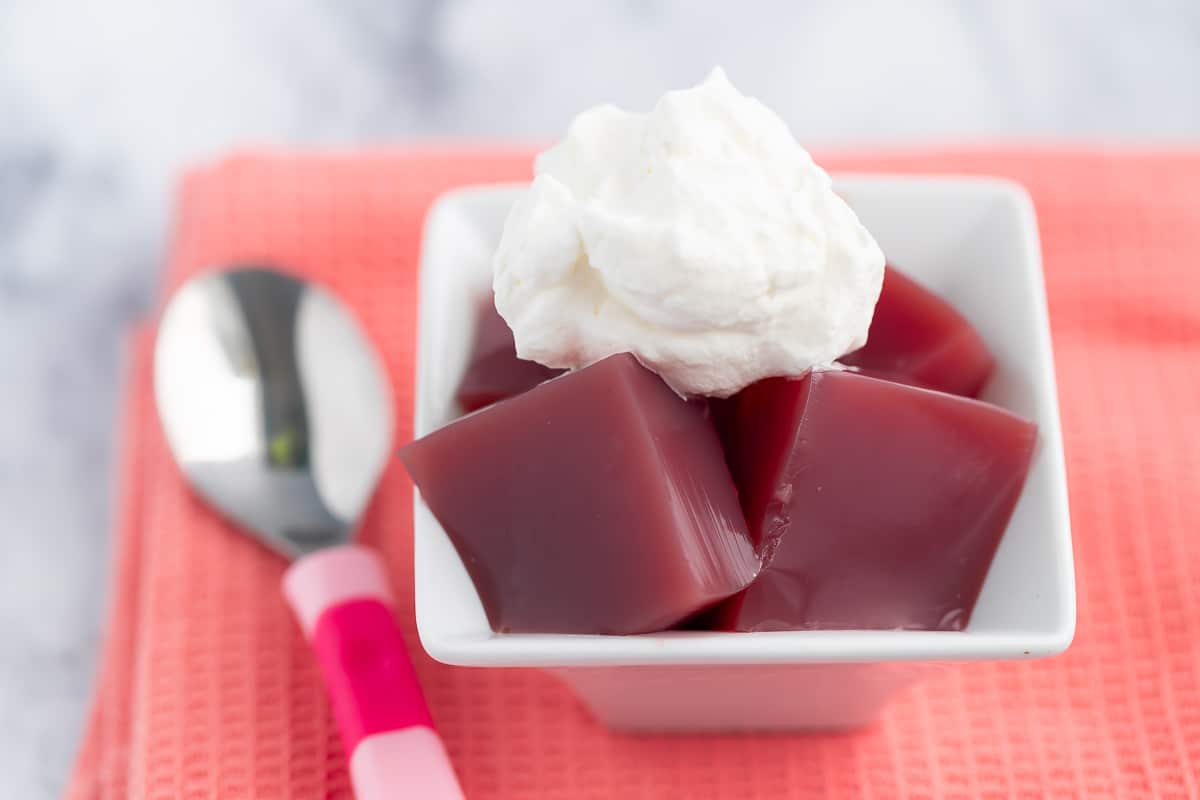 Made with 100% fruit juice, this healthy homemade jello is naturally sweet, is made without food dyes and is a fun and yummy treat to make with your kids.
Healthy Homemade Jello
Jello is such a fun treat, that kids of all ages have loved for generations.  A lot of parents worry about the artificial colors, flavors, and other ingredients that come along with the stuff in the box.  I love making my own treats from scratch which is why I love this Healthy Homemade Jello Recipe. I make mine with fruit juice, and I don't even need to add sugar.  It's cool, jiggly, and totally healthy!
How to Make Healthy Jello At Home
Gelatin is the secret ingredient that transforms simple fruit juice into this jiggly treat.  It takes all of 5 minutes to throw a batch together, and I encourage you to give it a try. 
The first step is to pour half of your fruit juice into a large bowl. Sprinkle the gelatin over the entire surface of the juice and let it sit for about 5 minutes to soften the gelatin.
Heat the remaining 2 cups of juice in a small pot until it comes to a boil.
Pour the hot juice into the bowl with the gelatin and stir to combine. Stir until the gelatin is dissolved.
Pour into a 9×12 baking pan and refrigerate for 2 hours or until firm.
Once firm, cut into cubes and serve with whip cream on top!
Best Tips for Getting Homemade Jello to Turn Out
Gelatin needs to 'bloom' first in cold liquid in order to thicken. It will only dissolve in hot liquid. This is why the recipe tells you to sprinkle on the cold juice first, and then add the hot juice after.
Fruit Juice.  There are so many healthier juices out on the market. There are so many delicious juice flavors to juice from, just make sure they are 100% fruit juice to avoid added sugars. Apple, cranberry, pomegranate, white grape, cherry, grape, orange are all delicious.

Pineapple juice contains an enzyme that may prevent your jello from setting up, so be aware of that if you decide to use it.

Homemade jello can be tricky to get out of the pan. You can spray the bottom of your pan first with non-stick cooking spray, or line your pan with parchment paper to easily pull it out.
Fun Variations for Homemade Jello
Make striped jello by making several different flavors and layer each on top of the other, letting each layer chill firm before adding the next.
Add in mini marshmallows, grapes, or other fresh fruit before chilling.
Cut your jello into shapes using a cookie cutter.
Serve in parfait glasses, layered with whipped cream or whipped topping.
Use a Jello mold for a pretty vintage presentation.
Commonly Asked Questions About Healthy Jello
Question: What type of gelatin can I use? I like the Knox brand gelatin because it is easy to find and works every time. You can also use the Vital Proteins brand gelatin, and Great Lake brand gelatin.
Question: Can I pour the mixture directly into a jello mold? Yes – that definitely works. Just be aware that homemade jello can be a little softer that the boxed kind and so it needs to stay chilled to keep its form.
Question: How much gelatin do I need if I'm using the Knox packets? You need 2 tablespoons of gelatin per 4 cups of juice. Each Knox packet is 2 1/2 teaspoons, and per the box use 1 packet per tablespoon of gelatin needed.
Question: What kind of fruit juice can I use? I have tried apple, pomegranate, white grape, cherry, and cranberry. Other flavors that might be fun to try are mango, orange, peach, blueberry, or even veggie juice. I have had readers say that pineapple juice worked for them, I just haven't tried it!
More of Our Favorite Homemade Treat Recipes
Homemade Banana Pudding – This pudding recipe is so creamy and delicious and comes together fast. Plus it has much less sugar than most other pudding recipes!
Strawberry Chia Fruit Leather – Sweet, chewy, and SO yummy. The chia seeds give it the most amazing texture you won't ever go back to regular fruit leather!
Homemade Orange Creamsicle Ice Cream – Sweet and fresh oranges mixed with the creaminess of our favorite childhood orange creamsicle made into a smooth no-churn ice cream
Healthy Homemade Ice Cream Sandwiches – Creamy 'nice-cream' sandwiched between two chewy coconut oatmeal cookies – these delicious treats and next level.
2

cups

apple juice

2

cups

pomegranate juice

2

tablespoons

gelatin

powdered
Pour 2 cups of the juice into a bowl.  Sprinkle the gelatin over the entire surface of the juice and let sit for 5 minutes to soften.

Heat the remaining 2 cups of juice until it comes to a boil.

Pour the hot juice into the bowl and stir to combine and to dissolve the gelatin.

Pour into a 9x 12 baking pan.  Refrigerate until firm, at least several hours.

Slice into cubes and serve plain, or with whipped cream.
You can definitely use different flavors and combinations of juices.  Get creative and find flavors you love!  Just make sure to use 100% juice to avoid added sugar. 
Calories: 91kcal | Carbohydrates: 20g | Protein: 2g | Fat: 1g | Saturated Fat: 1g | Polyunsaturated Fat: 1g | Monounsaturated Fat: 1g | Sodium: 15mg | Potassium: 261mg | Fiber: 1g | Sugar: 18g | Vitamin A: 1IU | Vitamin C: 1mg | Calcium: 17mg | Iron: 1mg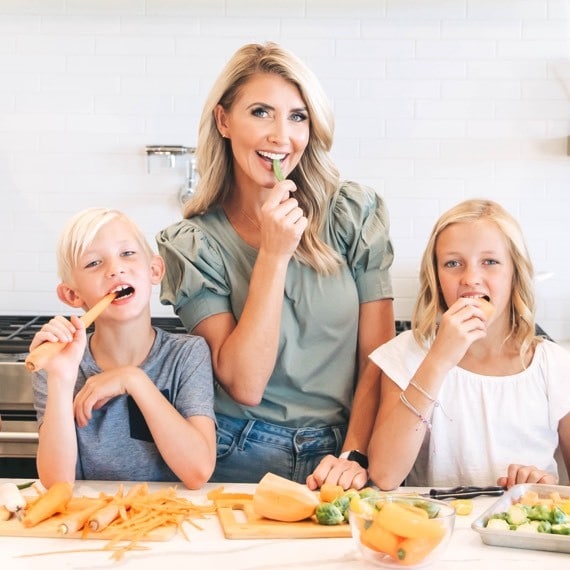 Natalie Monson
I'm a registered dietitian, mom of 4, avid lover of food and strong promoter of healthy habits. Here you will find lots of delicious recipes full of fruits and veggies, tips for getting your kids to eat better and become intuitive eaters and lots of resources for feeding your family.