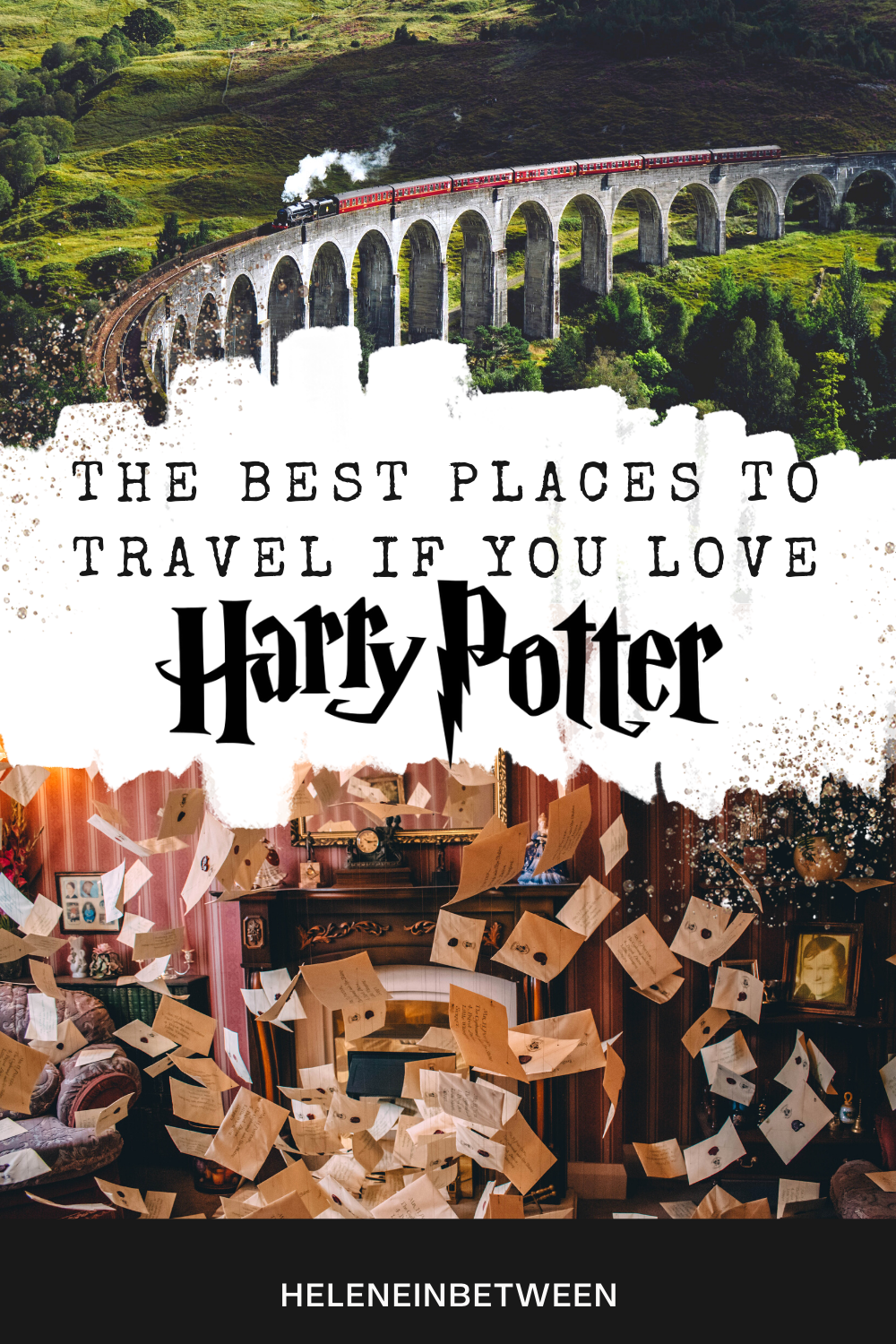 We might not get a letter in the mail to go to Hogwarts, but we certainly can visit places that make us feel like we're in the Wizarding World of Harry Potter! These 22 places must be on your bucket list if you're a fan of Harry Potter! From filming locations in England and Scotland, to unique places that look just like Diagon Alley, you need to travel here to experience the magic.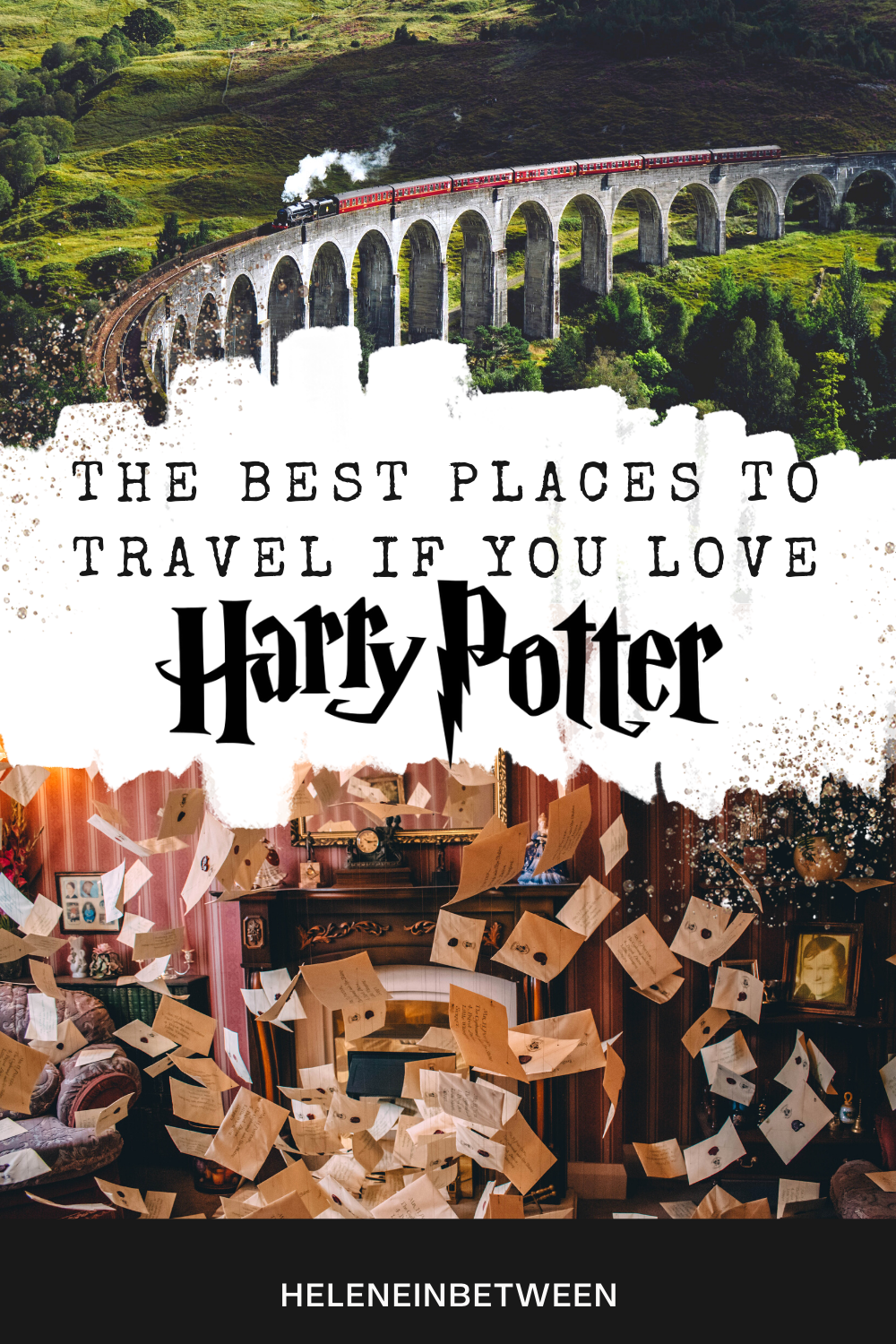 I'm a Potterhead. I'm admittedly late to the game. I didn't start even reading the books until 2016 but as soon as I did I realized that Harry Potter is some of the best story telling out there. And once you are whisked away into the the books and movies, you realize you want to delve into the destinations that inspired and look like the Wizarding World of Harry Potter.
Naturally, as a traveler I want to know the best places to visit if you love Harry Potter! There are so many incredible destinations you can visit if you're obsessed with Harry Potter like me! I've come up with 22 must visit destinations if you love Harry Potter.
I've made a list of the best places to visit if you're a Harry Potter fan, filming locations, and places that inspired J.K. Rowling and the directors. Grab a glass of butter beer and let's hitch up our broomsticks!
If you have to pick just one city to get a taste of Harry Potter, my recommendation is London. London is the best place to engulf yourself in the world of Harry Potter. I'm going to organize this list by country to make it easier to plan your own trip!
1) Platform 9 3/4, King's Cross Station, London, UK
And of course we start where it all began! The famed platform that was the gateway to the train, and then on to Hogwarts. This station is real and is located in London, UK. It's located between platforms 4 and 5. Be warned, there is often a queue that forms for people waiting to take photos here. But there's a gift shop nearby selling plenty of Potter-themed gifts like wands and robes.
This station opened in 1852 as the original King's Cross Station but is now a part of King's Cross St Pancras tube/railway station complex. Plus, it's in London where you'll find plenty of Harry Potter looking scenes.
2) Leadenhall Market, London , UK
Leadenhall Market is another incredible location in London that was used as a shooting location for Harry Potter and the the Goblet of Fire as the entrance for the Leaky Cauldron. It's a beautiful Victorian covered market that's worth a visit even if you're not a Harry Potter fan.
However, it's especially magical to wander around if you know that scene from the movie. Guide to London here!
3) Millennium Bridge, London, UK
The Millennium Bridge is a pedestrian bridge that crosses the River Thames in London. It's a really beautiful bridge and was actually closed down for a while after it opened because it started to wobble, specifically, for "excessive swaying."
However, it reopened in 2002 and has been a popular tourist attraction ever since. The bridge was featured in Harry Potter and the Half-Blood Prince in a scene where the Death Eaters destroy the bridge.
4) Warner Brothers Studio in London , UK
This is a no-brainer. If you're a Harry Potter fan, you have to visit the Warner Brothers Studio in London. It's the place where all 8 of the Harry Potter movies were filmed. You can take a tour of the studio and see all the sets and props used in the movies.
Even as a fan, I was worried this might not be worth it. JUST GO! It's so cool to see the real sets, walk in the Great Hall, try a Butter Beer, and see the detailed costumes, and props!
The studio is just outside of London in Leavesden and is a quick train ride to venture into the Great Hall, Dumbledore's Office, The WEasley Burrow, Hagrid's Hut, Snape's Office, the Forbidden Forest and so much more!
See my full guide to the Harry Potter London Studio Tour here!
5) Piccadilly Circus, London , UK
Piccadilly Circus is a major road junction in the West End of London where 6 streets converge. Its central location makes it one of the most popular tourist destinations in all of London. It's even said that if you stand here for long enough you'll run into someone you know!
It can get pretty crowded but there are several Harry Potter scenes that show up here! You might recognize it from Harry Potter and the Deathly Hallows (Part 1) when Harry, Ron, and Hermione run from some Death Eaters.
6) London Zoo, Regents Park, London , UK
The London Zoo is located in Regent's Park in the center of London. It's home to over 600 species of animals! The zoo was featured on Harry Potter and the Sorcerer's Stone for the Reptile House where a snake speaks to Harry.
7) Georgian House Hotel, London
The Georgian House Hotel is a lovely hotel located in London that will make you feel like you've entered the Gryffindor Common Room! With creative rooms that look just like Hogwarts! The hotel also offers a walking tour of spots in London that were featured in the Harry Potter series.
Outside of London there are plenty of places around England that are filming locations or look just like they'd fit in to Harry Potter!
8) Alnwick Castle, England
This is not only a beautiful castle, but the place where the Hogwarts students get their flying lessons from Madame Hooch in Harry Potter and the Sorcerer's Stone.
9) Oxford University, Oxford, England
As soon as you step inside Oxford University you'll feel like you got your very own Hogwarts letter!
The University of Oxford is one of the most famous universities in the world with an illustrious history. The school was definitely an inspiration for places like the Great Hall (in fact Oxford's Christ Church's Great Hall looks almost identical), the exterior of the school, and the dorms as well. Also, the Bodleian Library is when Harry throws on his invisibility cloak to search for a book, that was filmed in this library!
See my full guide to Southern England here.
10) Gloucester Cathedral, England
I LOVE this area of England. I'd go as far to say it's one of the prettiest areas in the world. The Cotwolds in general are absolutely idyllic, but the Gloucester Cathedral is stunning. The halls are where scenes from Harry Potter and the Chamber of Secrets are filmed. This is where Harry finds the cat, Mrs. Norris, petrified.
11) York, England
This beautiful village in England is well worth a trip. The Shambles looks and feels like Diagon Alley, it's a narrow street where the buildings seem to tumble on to each other! You can also find some great souvenirs here!
12) Freshwater West Beach, Wales
This, to me, is one of the saddest scenes of all the books and movies: burying Dobby. This beach was used to film Dobby's grave and it's also used for backdrop for Shell cottage.
13) Lacock Abbey, England
Another beautiful place in the Cotswolds! The interior of Hogwarts is featured at Lacock Abbey in the courtyard. You'll also recognize Lily and James Potter's house and Slughorn's hide out in Harry Potter and the Half Blood Prince.
Next up is Scotland! This is not only where J.K. Rowling wrote the series, but a place of huge inspiration and filming locations for Harry Potter.
14) The Elephant House, Edinburgh, Scotland
This is the spot that J.K. Rowling wrote Harry Potter!! You can feel the creativity oozing out of this cafe. As you look up at the cobblestone streets and incredible architecture of Edinburgh, you'll see why this was such a great place to write. This cafe is also home to many other writers and artists so you know it's a spot where your mind can wander.
15) Glenfinnan Viaduct/ Jacobite Steam Train, Scotland
The scene as the Hogwarts Express is barrelling down the lush countryside? That's the Jacobite Steam Train crossing the Glenfinnan Viaduct! You can go on a train ride yourself or head to the viewing area to get a shot of the train crossing the viaduct.
16) Glencoe, Scotland
You might recognize this as the scene of Hagrid's Hut and the Bridge to Nowhere as well as many outdoor scenes from Harry Potter and the Prisoner of Azkaban. The lush landscape makes the perfect backdrop for many of the epic scenes in the movie.
17) Loch Shiel, Scotland
The dramatic scenes of looking at Hogwarts from across the lake? That was filmed at the beautiful Loch Sheil! Whether you're a Potterhead or not, this is a beautiful place to enjoy the outdoors and pretend like you're heading to Hogwarts or riding Buckbeak!
18) Balmoral Hotel, Scotland
This stunning hotel is actually where J.K. Rowling completed Harry Potter! This is writing in style and one day I'd like to write a book here. This 5-star hotel is pricey but beautiful.
19) University of Glasgow, Scotland
The beautiful stone archways make you feel like you just walked into Hogwarts. This is actually the fourth oldest university in the English speaking world! It's beautiful architecturally, and looks so similar to a place Harry, Ron, and Hermione might have studied!
See my full guide to Glasgow here.
Of course there are many other places outside of England and Scotland that are inspirational for Harry Potter! Here are a few more:
20) The Wizarding World of Harry Potter in LA or Florida
If you're wanting a fun experience then check out the Wizarding World of Harry Potter at Universal Studios in Orlando, Florida or Los Angeles, California. This is where you can ride the Hogwarts Express, see Hagrid's Hut, and explore Diagon Alley!
21) Cliffs of Mohr, Ireland
These beautiful cliffs were where Dumbledore and Harry apparate to find Voldemort's Horcrux. This is a great background to take some epic shots! My guide to Ireland here!
22) Livraria Lello, Porto, Portugal
This beautiful bookstore just looks and feels like it belongs in Diagon Alley. J.K. Rowling actually used to live in Portugal so it could have been a place for inspiration! Be aware, it can get quite crowded as people huddle around to get a picture of the beautiful staircase.
From England and Scotland where J.K. Rowling wrote the series to Ireland and Portugal which were inspiration; these 22 best places to travel if you love Harry Potter will take your breath away.
More than just being a place of inspiration though, each locale has something special that makes them worth visiting whether they're just tourist attractions or have incredible architecture. No matter what kind of traveler you are – if you want an adventure just like Harry, Ron, or Hermione, or you want to see the filming locations, or you want writing inspiration, I can't think of a better place to visit than the above!
Blog posts you might like: