Author and Page information
by Anup Shah
This page

last updated
To print all information (e.g. expanded side notes, shows alternative links), use the print version:
What is Global Warming and Climate Change?
Global warming and climate change refer to an increase in average global temperatures. Natural events and human activities are believed to be contributing to an increase in average global temperatures. This is caused primarily by increases in greenhouse gases such as Carbon Dioxide (CO2).
A warming planet thus leads to a change in climate which can affect weather in various ways, as discussed further below.
What are the main indicators of Climate Change?
What is the Greenhouse Effect?
The term greenhouse is used in conjunction with the phenomenon known as the greenhouse effect.
Energy from the sun drives the earth's weather and climate, and heats the earth's surface;
In turn, the earth radiates energy back into space;
Some atmospheric gases (water vapor, carbon dioxide, and other gases) trap some of the outgoing energy, retaining heat somewhat like the glass panels of a greenhouse;
These gases are therefore known as greenhouse gases;
The greenhouse effect is the rise in temperature on Earth as certain gases in the atmosphere trap energy.
Six main greenhouse gases are carbon dioxide (CO2), methane (CH4) (which is 20 times as potent a greenhouse gas as carbon dioxide) and nitrous oxide (N2O), plus three fluorinated industrial gases: hydrofluorocarbons (HFCs), perfluorocarbons (PFCs) and sulphur hexafluoride (SF6). Water vapor is also considered a greenhouse gas.
The Greenhouse effect is natural. What do we have to do with it?
Many of these greenhouse gases are actually life-enabling, for without them, heat would escape back into space and the Earth's average temperature would be a lot colder.
However, if the greenhouse effect becomes stronger, then more heat gets trapped than needed, and the Earth might become less habitable for humans, plants and animals.
Carbon dioxide, though not the most potent of greenhouse gases, is the most significant one. Human activity has caused an imbalance in the natural cycle of the greenhouse effect and related processes. NASA's Earth Observatory is worth quoting the effect human activity is having on the natural carbon cycle, for example:
Another way of looking at this is with a simple analogy: consider salt and human health:
A small amount of salt is essential for human life;
Slightly more salt in our diet often makes food tastier;
Too much salt can be harmful to our health.
In a similar way, greenhouse gases are essential for our planet; the planet may be able to deal with slightly increased levels of such gases, but too much will affect the health of the whole planet.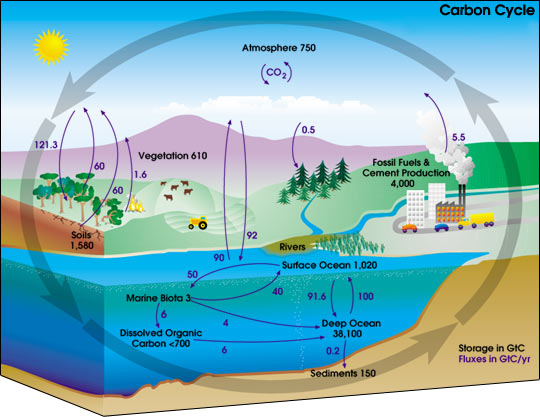 The other difference between the natural carbon cycle and human-induced climate change is that the latter is rapid. This means that ecosystems have less chance of adapting to the changes that will result and so the effects felt will be worse and more dramatic it things continue along the current trajectory.
The climate has always varied in the past. How is this any different?
Doesn't recent record cold weather disprove Global Warming?
Has global warming paused due to recent surface temperature drops?
Most global warming is going into the oceans
What are the impacts of Global Warming?
For decades, greenhouse gases, such as carbon dioxide have been increasing in the atmosphere. But why does that matter? Won't warmer weather be nicer for everyone?
Scientists have found that oceans are able to absorb some of the excess CO2 released by human activity. This has helped keep the planet cooler than it otherwise could have been had these gases remained in the atmosphere.
However, the additional excess CO2 being absorbed is also resulting in the acidification of the oceans: When CO2 reacts with water it produces a weak acid called carbonic acid, changing the sea water chemistry. As the Global Biodiversity Outlook report explains, the water is some 30% more acidic than pre-industrial times, depleting carbonate ions — the building blocks for many marine organisms.
In addition, concentrations of carbonate ions are now lower than at any time during the last 800,000 years. The impacts on ocean biological diversity and ecosystem functioning will likely be severe, though the precise timing and distribution of these impacts are uncertain. (See p. 58 of the report.)
Although millions of years ago CO2 levels were higher, today's change is occurring rapidly, giving many marine organisms too little time to adapt. Some marine creatures are growing thinner shells or skeletons, for example. Some of these creatures play a crucial role in the food chain, and in ecosystem biodiversity.
Some species may benefit from the extra carbon dioxide, and a few years ago scientists and organizations, such as the European Project on OCean Acidification, formed to try to understand and assess the impacts further.
One example of recent findings is a tiny sand grain-sized plankton responsible for the sequestration of 25–50% of the carbon the oceans absorb is affected by increasing ocean acidification. This tiny plankton plays a major role in keeping atmospheric carbon dioxide (CO2) concentrations at much lower levels than they would be otherwise so large effects on them could be quite serious.
Other related problems reported by the Inter Press Service include more oceanic dead zones (areas where there is too little oxygen in the sea to support life) and the decline of important coastal plants and forests, such as mangrove forests that play an important role in carbon absorption. This is on top of the already declining ocean biodiversity that has been happening for a few decades, now.
Greenhouse gases and emissions resulting from human activity
Every few years, leading climate scientists at the UN's Intergovernmental Panel on Climate Change (IPCC) have released major, definitive reports detailing the progress in understanding climate change. From the outset they have recommended that there be emission reductions. This body is comprised of hundreds of climate scientists around the world.
Differences in Greenhouse Gas Emission Around the World
As the World Resources Institute highlights there is a huge contrast between developed/industrialized nations and poorer developing countries in greenhouse emissions, as well as the reasons for those emissions. For example:
In terms of historical emissions, industrialized countries account for roughly 80% of the carbon dioxide buildup in the atmosphere to date. Since 1950, the U.S. has emitted a cumulative total of roughly 50.7 billion tons of carbon, while China (4.6 times more populous) and India (3.5 times more populous) have emitted only 15.7 and 4.2 billion tons respectively (although their numbers will rise).
Annually, more than 60 percent of global industrial carbon dioxide emissions originate in industrialized countries, where only about 20 percent of the world's population resides.
Much of the growth in emissions in developing countries results from the provision of basic human needs for growing populations, while emissions in industrialized countries contribute to growth in a standard of living that is already far above that of the average person worldwide. This is exemplified by the large contrasts in per capita carbons emissions between industrialized and developing countries. Per capita emissions of carbon in the U.S. are over 20 times higher than India, 12 times higher than Brazil and seven times higher than China.
At the 1997 Kyoto Conference, industrialized countries were committed to an overall reduction of emissions of greenhouse gases to 5.2% below 1990 levels for the period 2008—2012. (The Intergovernmental Panel on Climate Change (IPCC) said in its 1990 report that a 60% reduction in emissions was needed…)
The United States is the World's Largest Emitter of Greenhouse Gases Per Capita
Around 2007, China surpassed the US as the world's largest emitter of greenhouse gases in terms of total output. Per person (per capita), however, China's emissions are much smaller.
Until recently, the United States was the world's largest emitter of greenhouse gases. However, it remains the largest emitter when measured in terms of emissions per person.
Due to its much longer period of industrialization, the US has emitted far more into the atmosphere than China (greenhouse gases such as CO2 linger on in the atmosphere for decades).
In addition, the US:
Accounts for roughly four percent of the world's population;
Accounts for approximately 20% of global emissions and some 40% of industrialized country emissions;
The previously 15-member European Union is also large Emitter
The previously 15 member-nations European Union (E.U.), if considered as a whole (for it is more comparable to the U.S.):
Accounts for roughly 3 percent of the world's population;
Accounts for around 10% of global emissions and 24% of industrialized countries' man-made emissions of the six main gases;
Recent years have seen a reduction in emissions from those initial 15-member states. However,
Rich Nations Have Outsourced Their Carbon Emissions
Developing Countries Affected Most
Skepticism on Global Warming or That it can be human-induced
For a very long time, something of contention and debate in the U.S. had been whether or not a lot of climate change has in fact been induced by human activities, while many scientists around the world, Europe especially, have been more convinced that this is the case.
In May 2002, the Bush Administration in the U.S. did admit a link between human activities and climate change. However, at the same time the administration has continued its controversial stance of maintaining that it will not participate in the international treaty to limit global warming, the Kyoto Protocol, due to economic priorities and concerns. (More about the Kyoto Protocol, U.S. and others' actions/inactions is discussed in subsequent pages on this section.)
Throughout the 1990s, especially in the United States, but in other countries as well, those who would try and raise the importance of this issue, and suggest that we are perhaps over-consuming, or unsustainably using our resources etc, were faced with a lot of criticism and ridicule.
Bush Administration Accused of Silencing its own Climate Scientists
Many Sources Of Greenhouse Gases Being Discovered
Pollution from various industries, the burning of fossil fuels, methane from farm animals, forest destruction, rotting/dead vegetation etc have led to an increased number of greenhouse gases in the atmosphere. And, as international trade in its current form continues to expand with little regard for the environment, the transportation alone, of goods is thought to considerably contribute to global warming via emissions from planes, ships and other transportation vehicles. (For more about trade and globalization in its current form and how it affects the environment, as well as other consequences, visit this web site's section on Trade, Economy, & Related Issues.)
Even sulphur emitted from ships are thought to contribute a fair bit to climate change. In fact, sulphur based gas, originating from industry, discovered in 2000 is thought to be the most potent greenhouse gas measured to date. It is called trifluoromethyl sulphur pentafluoride (SF5CF3).
NewScientist.com reports (December 22, 2003) on a study that suggests soot particles may be worse than carbon dioxide in contributing to global warming. The soot particles also originate from industry, and during the industrial revolution, was quite common. While on the positive side there is less soot these days and perhaps easier to control if needed, alone, as one of the scientists of the study commented, It does not change the need to slow down the growth rate of carbon dioxide and eventually stabilize the atmospheric amount.
Warming happening more quickly than predicted
For decades, scientists and environmentalists have warned that the way we are using Earth's resources is not sustainable. Alternative technologies have been called for repeatedly, seemingly upon deaf ears (or, cynically, upon those who don't want to make substantial changes as it challenges their bottom line and takes away from their current profits).
In the past, some companies and industries have pushed back on environmental programs in order to increase profits or to survive in a tough business world.
The subsequent pages on this site look at the political issues around tackling climate change.
Author and Page Information
by Anup Shah
Created:
Last updated: