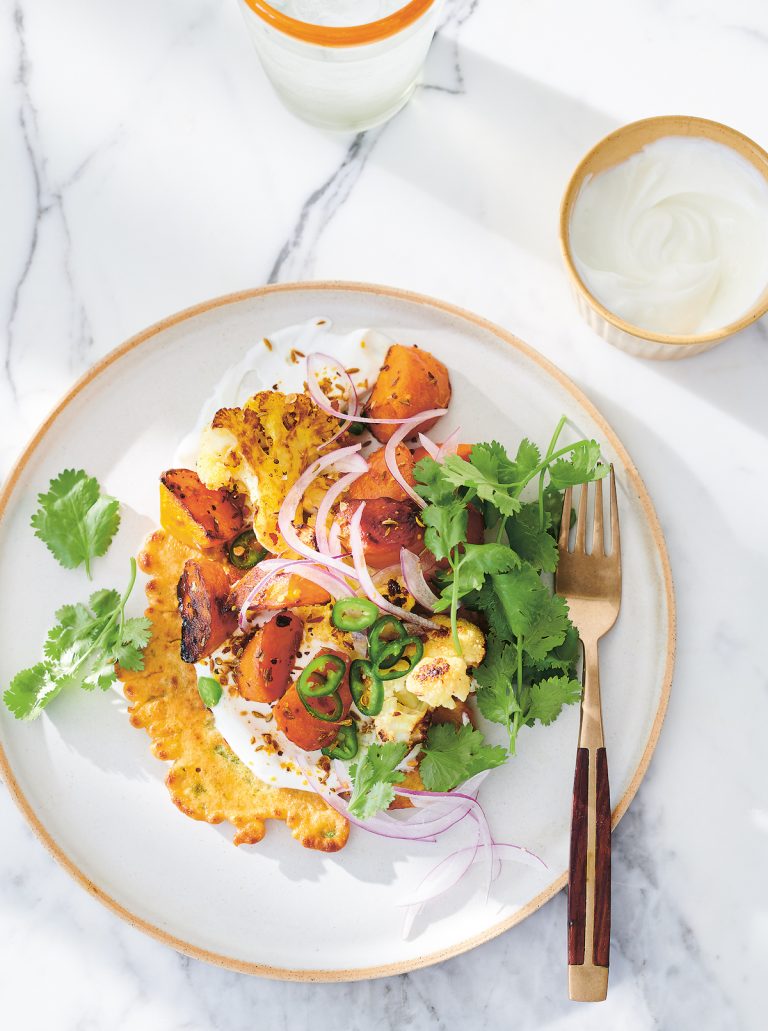 Chickpea flour is fantastic to have in your cupboard at all times. It doesn't need an egg to hold it together in a batter, so it comes in clutch for vegan cooking. A key ingredient in Indian, Pakistani, and Bangladeshi cuisine, chickpea flour works its way into a variety of diverse dishes. The flavor is largely neutral, but it does have a lovely, slightly nutty flavor. And while there's plenty to love about these chickpea pancakes, here's a big selling point: The batter lasts a couple of days in the fridge, so you can have them ready in a pinch.
Sidenote: Why has it taken us until now to fall in love with roast cauliflower? Why did the poor cauliflower have to endure decades of being boiled to mush, with the smell of its torment filling every kitchen? Not sure about you, but I'm more than ready to enjoy its reign as a popular superfood. I love the cruciferous veggie in just about every form. Roasted in tacos, whipped into the fluffiest faux potatoes you've ever tried, or even experimenting with a surprising (and successful!) twist on a classic. If you haven't heard yet, cauliflower really can do it all.
This recipe is all about pairing these fresh veggies with tons of layered flavor. Roasting the cauliflower and carrots with just salt, pepper, and olive oil to start brings out their natural, caramelized sweetness. After 15 minutes in the oven, toss your veggies with the mix of spices (black mustard seeds, cumin seeds, coriander seeds, turmeric, and chili flakes). Roast for five minutes more and your kitchen will be filled with a pungent, warming scent that's the ultimate comfort food cue. Pile up your pancakes, top with your veggies, and cool everything down with a creamy spoonful of Greek yoghurt. Color texture, and tons of flavor awaits.