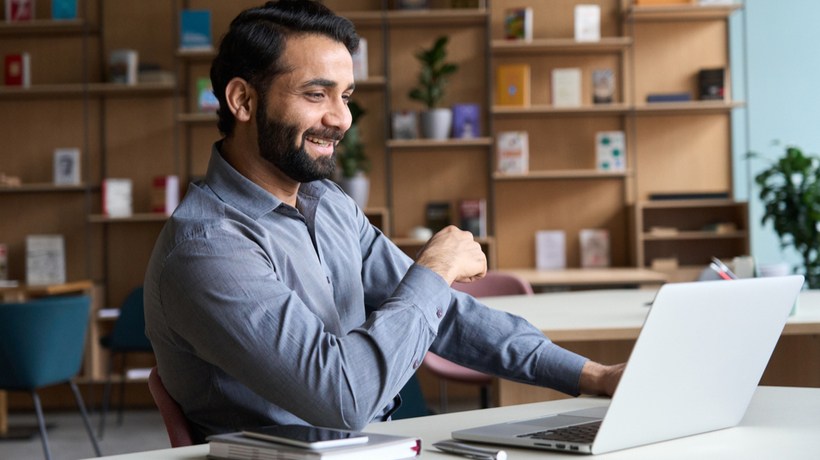 5 Ways To Boost Employee Morale
It's pretty easy to make a video nowadays. Most of us have smartphones that can shoot hi-res productions at multiple FPS. You've probably made your own little video for a friend or relative. Maybe it was to share a moving experience in real time or to cheer them up. Videos may seem passive, but for the average person, they're more engaging than text. #BookVsMovie. In fact, you can utilize these videos to build a positive ambiance at work, lift employees up, and encourage them to reach their full potential. Here are some of the most innovative ways to use online training videos to give your employees a morale boost.
1. Onboard New Hires
The typical first-day experience is to sit at a desk feeling lost and reading a thick manual on office policy. If you're lucky, you may have access to the LMS, or to a pre-packaged onboarding course. In the absence of these, a training video beats a massive PDF. It's more engaging, and if it's well shot, it can even be entertaining. Create a video series for your new hires. Make it broad in scope—everything from the boss's welcome message to a guided office tour by the office clown. Include footage of fun office events (like the Christmas party). The videos should have a healthy mix of practical information and day-to-day tidbits so they feel like part of the team. Instead of the usual walk-around-the-office-and-meet-everyone thing, use a video. The camera person can pass by everyone's workstation and have them do a quick, informal intro. This doubles as a meet-and-greet and a find-out-where-the-smoking-room-is.
2. Produce Demo Videos To Foster Employee Morale
It can be hard asking for help as an adult. It's how you end up spending 15 minutes staring at the office coffee machine. You can't figure it out, and you don't want to look dumb. Fortunately, the internet is a wonderful place (sometimes) and there are how-tos and unboxing videos for everything—even that space-age coffee maker. Follow this same principle with training videos. Run a survey to find out what tasks your team needs. Then create simple step-by-step videos. It could be complex things, like how to parallel-park the warehouse forklift. Or techie tips like how to log overtime, fill timesheets, or book vacation days on the LMS. This boosts morale because nobody has to feel embarrassed asking for help with something simple. Your team will never feel out of their depth because help is only a click away. Organize your videos into an easily searchable JIT archive.
3. Maintain Transparency
Rumors are a terrible thing, especially in the workplace, and gossip can sink corporate ships in minutes. While privacy and confidentiality are essential to good business, there are things your staff needs to know, like why a particular person exited the company, or what's with the new wave of hires. They want to know just how sick the boss really is and whether those news analyses about crashing stocks will really affect their jobs. It's your corporate discretion to know what to share (and your lawyers doubtlessly have firm opinions on this). Foster an air of transparency when things are good. Then your people are more likely to trust you when stuff gets contentious. Develop a habit of shooting a "weekly address" to your staff. Inform them of key events, e.g. your oldest staff member is retiring. And benign ones too, e.g. plans for a new vending machine in the break room. It builds a sense of camaraderie that makes the office more welcoming and can buffer bad situations too.
4. Record Employee-Hosted Events
Invite a select group of employees to host their own live events, then record them for later viewing. They can field questions or just talk about their area of expertise. This is a great way to share knowledge within the organization and facilitate peer-based feedback. The goal is to develop online training videos that help them relate to each other and see a new POV. You can also add images and background music in post-editing to jazz them up a bit. Then launch a video library where employees can turn for daily doses of inspiration, or simply when they need a little uplifting after a challenging customer dampens their spirits.
5. Turn Anecdotes Into Blockbuster Productions
Well, maybe not videos that are worthy of "blockbuster" status. But you can create truly memorable videos that stick with the help of personal anecdotes. Ask employees to contribute their stories and transform them into recorded narrations, complete with images or animations. Other staff members can see that they're not alone; that their peers have gone through similar challenges and triumphed. This not only gives them a morale boost but shows them that they're part of something bigger. An online community of coworkers who can support and encourage one another.
The average song lasts two to six minutes, but it has the power to shift your whole mood. Similarly, a quick video can influence the spirits of everyone that watches it. Whether it's a cat meme or bad lip reading. Harness these weapons to improve the energy in your office space. Offer new workers training videos in lieu of that boring policy document. Make fun, playful, non-patronizing "demos for dummies" on everything from setting your password to getting through those finicky biometric doors. Use weekly office reviews to let your staff know what's going on. Start the habit during ordinary weeks. If they're used to fun, mundane briefings, they'll be more accepting if/when briefings turn doom into the gloom.
Videos also benefit your compliance training program by facilitating real-world application and tapping into the power of mistake-driven learning. This post explores the many ways that you can use interactive videos and scenarios to enhance the immersion.