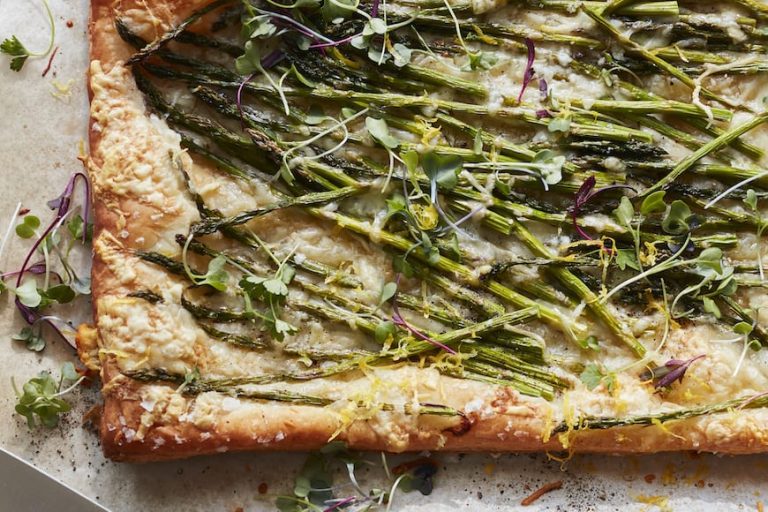 There's been a big push in recent years to eat seasonally, and it's not hard to see why. Summer's strawberries and winter's leafy greens have so much more flavor (and nutrients!) than their out-of-season counterparts. While it's true that you can find asparagus on grocery store shelves year-round, this spring vegetable is technically only in season from late April to June. I'm admittedly late to the game and have only recently begun to appreciate asparagus' amazing versatility. But when it comes down to it, it's hard to find a dish that the addition of asparagus doesn't make better—and these 15 asparagus recipes are all the proof you need.
From grilling skinny spears at the family barbecue to shaving plump asparagus stalks into salads, asparagus leaves you with plenty of room to experiment. When it comes down to it, you really can't go wrong with this naturally delicious veg. Keep scrolling to see how many ways you can take asparagus from ordinary to extraordinary. Of course, if you want to keep things simple and streamlined, asparagus will never let you down. And I'd love to know in the comments—what's your favorite way to cook asparagus?
Feature image by What's Gabby Cooking.
Cilantro Black Rice With Roasted Garlic Scapes and Asparagus by Dolly and Oatmeal
Why We Love It: Black rice paired with crunchy almonds and asparagus spears is a textural match made in heaven. Drizzle with some good olive oil and add lemon juice for a zesty touch.
Hero Ingredient: Roasted and salted almonds bring all the crunchy texture.
Lentil Salad With Spring Greens, Asparagus, and a Soft Egg from The Year in Food
Why We Love It: Use canned lentils to whip up this recipe for a healthy lunch that's packed with protein and flavor.
Hero Ingredient: Medium-boiled eggs bring sustenance to this salad that's perfectly balanced by those spring greens and asparagus. I mean, when is a soft egg ever a bad idea?
Spring Panzanella from Cannelle et Vanille
Why We Love It: This salad is the definition of fresh. Shredded zucchini that almost looks like pasta, blanched asparagus tips, shaved fennel, garlicky croutons, and watercress make a perfect lunch.
Hero Ingredient: Garlicky croutons make everything better, especially when they're paired with crisp asparagus tips and refreshing watercress.
Shaved Asparagus Salad by Nutrition Stripped
Why We Love It: This recipe by dietitian and advocate for mindful eating, McKel Kooienga, MS, RDN, calls asparagus the warrior spear for its ability to ward off disease, fight inflammation, tame and balance blood sugar levels, and protect your body with antioxidants. Now that's a good reason to make this salad for lunch!
Hero Ingredient: Blood orange is this salad's citrusy star. Juicy, fresh, and delicious.
Spring Buckwheat Salad from The Green Kitchen Stories
Why We Love It: If you're not used to cooking with buckwheat, then it's time get familiar. Buckwheat is such a nutritious and filling grain to have for lunch—or any meal! This can be served warm or cold (depending on when you make the buckwheat) and is so delicious with the chargrilled asparagus mixed through.
Hero Ingredient: Strawberries give this salad a little sweetness that pairs beautifully with the asparagus and radishes. Each delicious bite is a reminder that summer is on its way.
Roasted White Asparagus and Caper Berries from My New Roots
Why We Love It: We often eat the green variety, but white asparagus is just as tasty (if not tastier). This recipe makes a great appetizer for any gathering.
Hero Ingredient: If you've never had roasted capers before, prepare to be amazed. These briny delights completely transform when cooked alongside the white asparagus. They lose some of their pungency and get a light crust that goes so well with the asparagus.
Simple Asparagus and Ramp Soup With Rustic Spelt Bread from The First Mess
Why We Love It: We have a thing for soups at Camille Styles' HQ. They're an easy (and delicious!) way to pack a ton of nutrients into one delicious bowl. Plus, of course, most recipes are a breeze to make. If you've never thought of asparagus as a veggie to add to your soup, think again. And be sure to try this deliciously simple take.
Hero Ingredient: Kale chips are a must on top of this soup. They're salty, crisp, and the perfect textural component to break up all that creamy goodness.
Orecchiette With Peas, Asparagus, and Mascarpone by Flourishing Foodie
Why We Love It: Nothing says spring quite like peas and asparagus. Paired with one of our favorite pasts shells, this recipe will take you straight to flavor town.
Hero Ingredient: Mascarpone cheese is the creamy centerpiece that ties this pasta together. Spoon up a plate and take this light pasta to the patio to enjoy with a chilled glass of white. It just screams spring.
Asparagus and Gruyère Tart from What's Gaby Cooking
Why We Love It: We're all about sweet tarts, but this savory version has us rethinking them altogether. Try it and taste the difference for yourself. I guarantee you'll be back for seconds.
Hero Ingredient: Store-bought puff pastry lets this tart come together in no time. It's perfect for a quick appetizer, lunch, or light dinner.
Asparagus Salad from Love & Lemons
Why We Love It: All of spring's bounty, all in one dish. The creamy avocado dressing takes it to the next level.
Hero Ingredient: Pine nuts are the crunchy, buttery hero of this salad. Shake generously!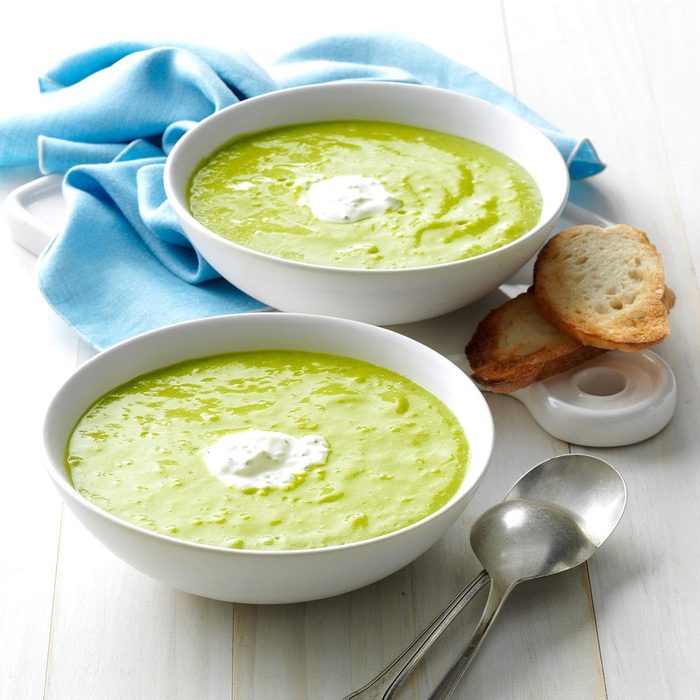 Asparagus Soup with Lemon Crème Fraîche from Taste of Home
Why We Love It: Don't let that bright green color scare you away! This soup is seriously good, and it's further proof that healthy recipes can taste indulgent, too.
Hero Ingredient: Lemon crème fraîche? Yes, please. Dollop it on this soup (hot or cold) for what will soon be your go-to spring recipe.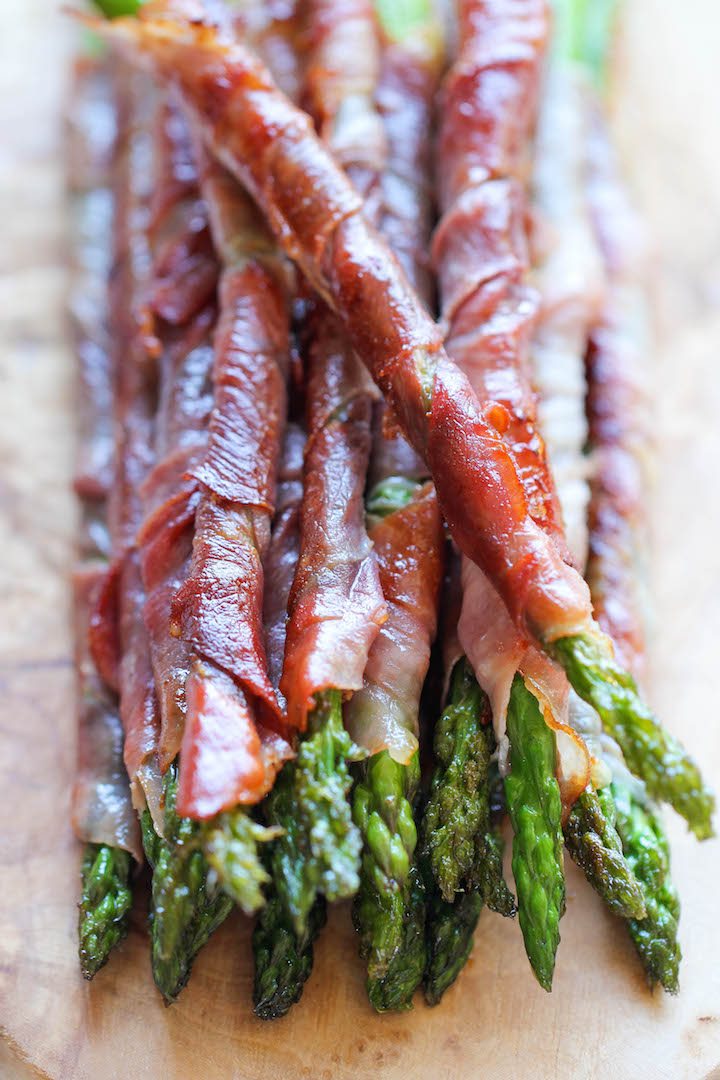 Prosciutto Wrapped Asparagus from Damn Delicious
Why We Love It: Whether you're hosting a dinner party, throwing a backyard barbecue, or doing date night with your S.O., this is the easiest appetizer that any guest will love. All it takes is wrapping asparagus spears in prosciutto and pan-frying them until crisp. Absolutely delicious.
Hero Ingredient: With only three to choose from, I'll keep it simple and say asparagus.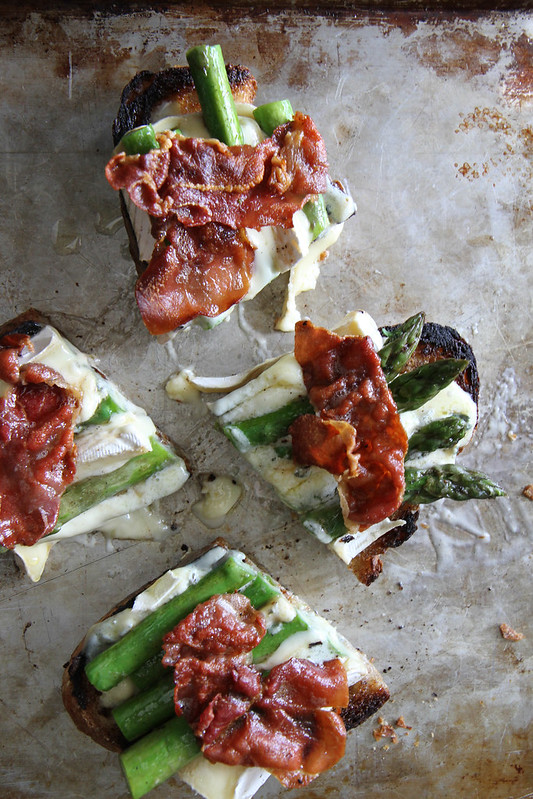 Asparagus, Crispy Prosciutto, and Brie Grilled Cheese from Heather Christo
Why We Love It: These toasts are another easy appetizer or lunch that you can't go wrong with. I mean, just look at that crispy prosciutto! You can also top these with a poached egg for a simple, but elevated, breakfast. You're welcome.
Hero Ingredient: Melty brie is heavenly in and of itself. On top of crispy bread? Even better.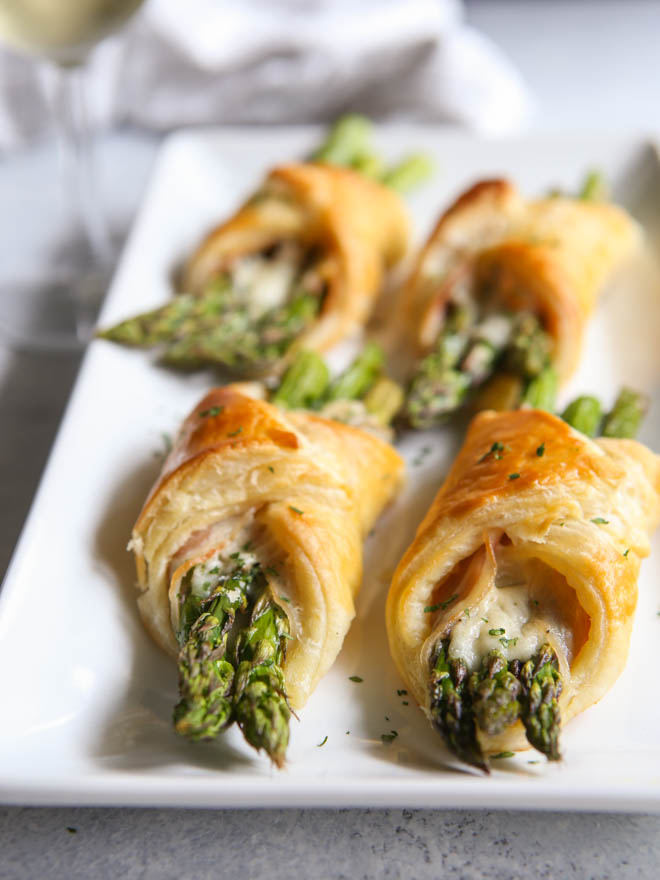 Asparagus, Pancetta, and Puff Pastry Bundles from Completely Delicious
Why We Love It: These cute little bundles are such an easy throw-together recipe for a quick snack or appetizer. Using store-bought pastry, you can have these bunches ready in about 30 minutes.
Hero Ingredient: Pancetta brings all the unbeatable pork-y flavor to the party.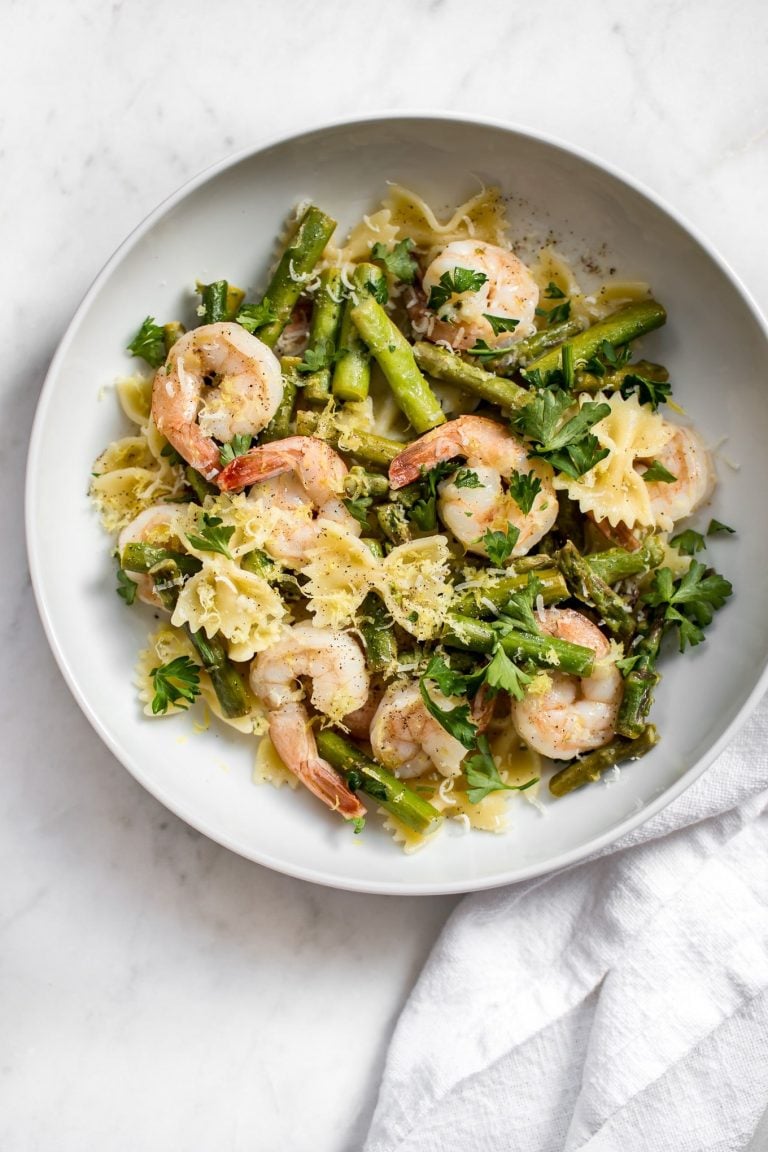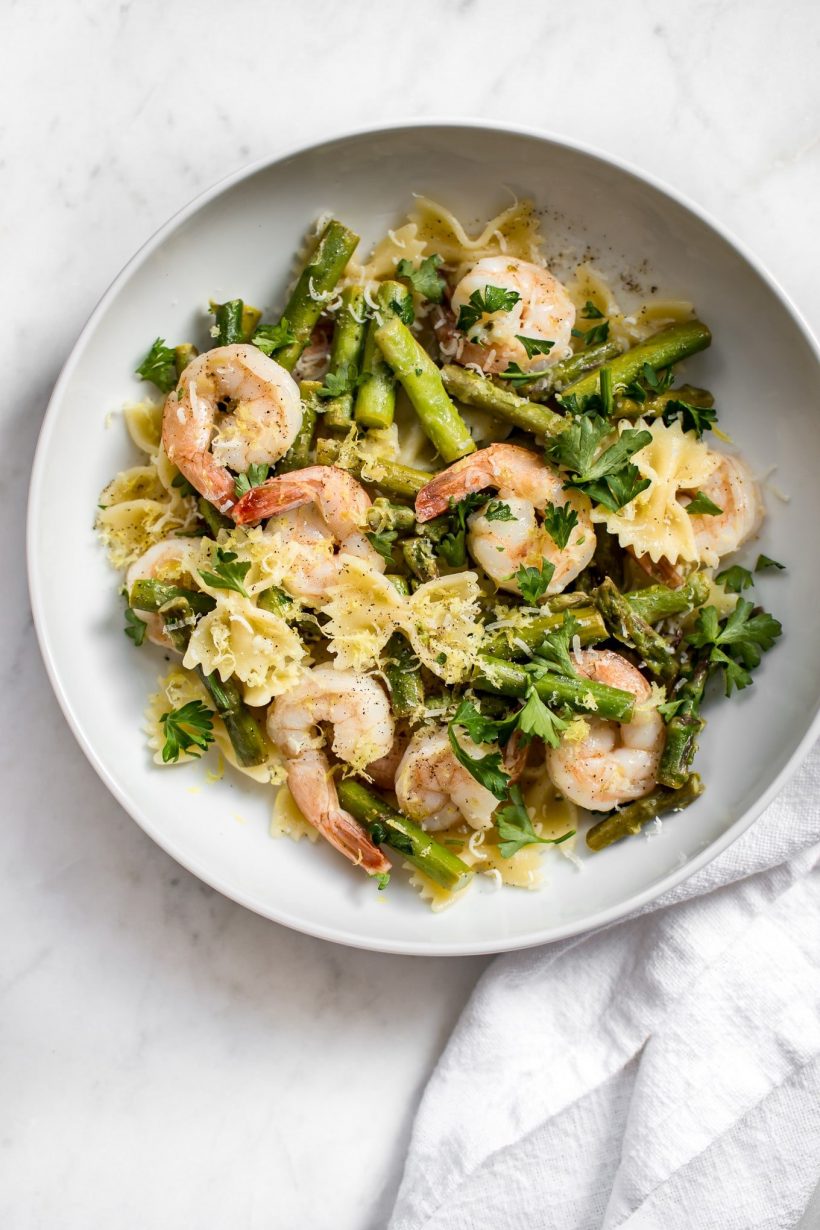 Shrimp and Asparagus Pasta from Salt and Lavender
Why We Love It: This light pasta dish swaps creamy sauce for olive oil and lemon juice, making it perfect for lunch or dinner without feeling heavy.
Hero Ingredient: Lemon juice and zest bring bright, fresh flavor to this tasty pasta. Squeeze and zest away—and be sure to enjoy your new favorite pasta to your heart's content.
Let us know your favorite asparagus recipes in the comments!
This post was originally published on April 17, 2015 and has since been updated.