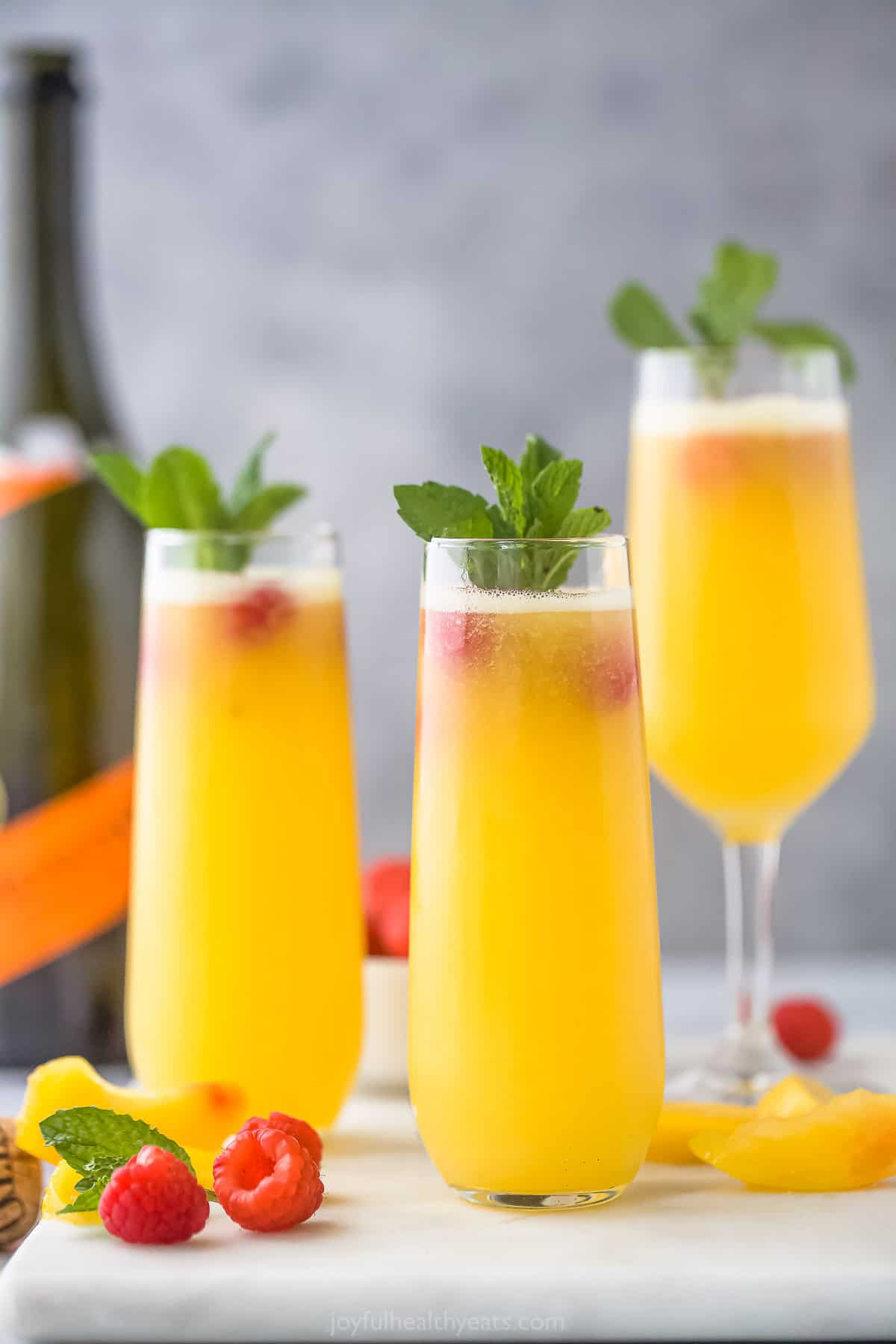 These fruity, frosty and bubbly Peach Bellinis are a tropical vacation for your taste buds. Made in 5 minutes or less, they're perfect for brunch, happy hour, holidays—you name it!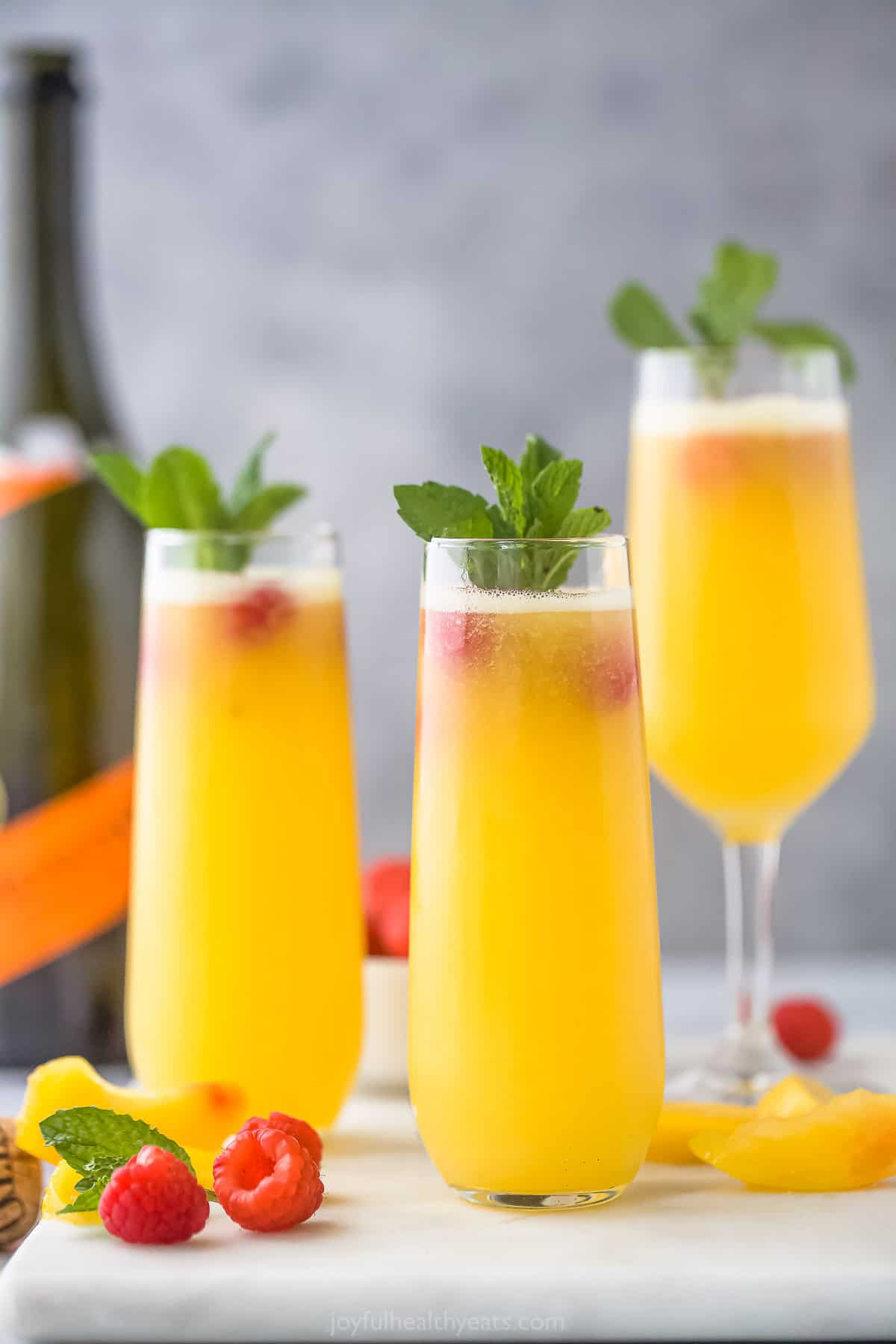 Refreshing 5-Minute Peach Bellini Recipe
Nothing is more satisfying than a fruity frozen cocktail. Whether it's summer, winter, fall or spring, sipping on a frosty mixed drink always feels like a special treat – especially when it comes to these sweet peach bellinis!
Even though they're made in a flash with just 3 ingredients, they have a luxurious look that makes them well-suited for the fanciest of occasions. And they taste like a million bucks! Anyone who loves peaches will be downright obsessed with this bubbly cocktail. As far as boozy drinks go, it's a hard one to beat.
What is a Bellini?
A bellini is a classic Italian cocktail made with peach puree and prosecco. Invented by Venetian bar owner Giuseppe Cipriani in 1948, the bellini is named after a popular Italian artist whose paintings inspired its creation. Bellinis are traditionally made with fresh white peaches, but this recipe uses frozen peach slices instead since they're more widely available.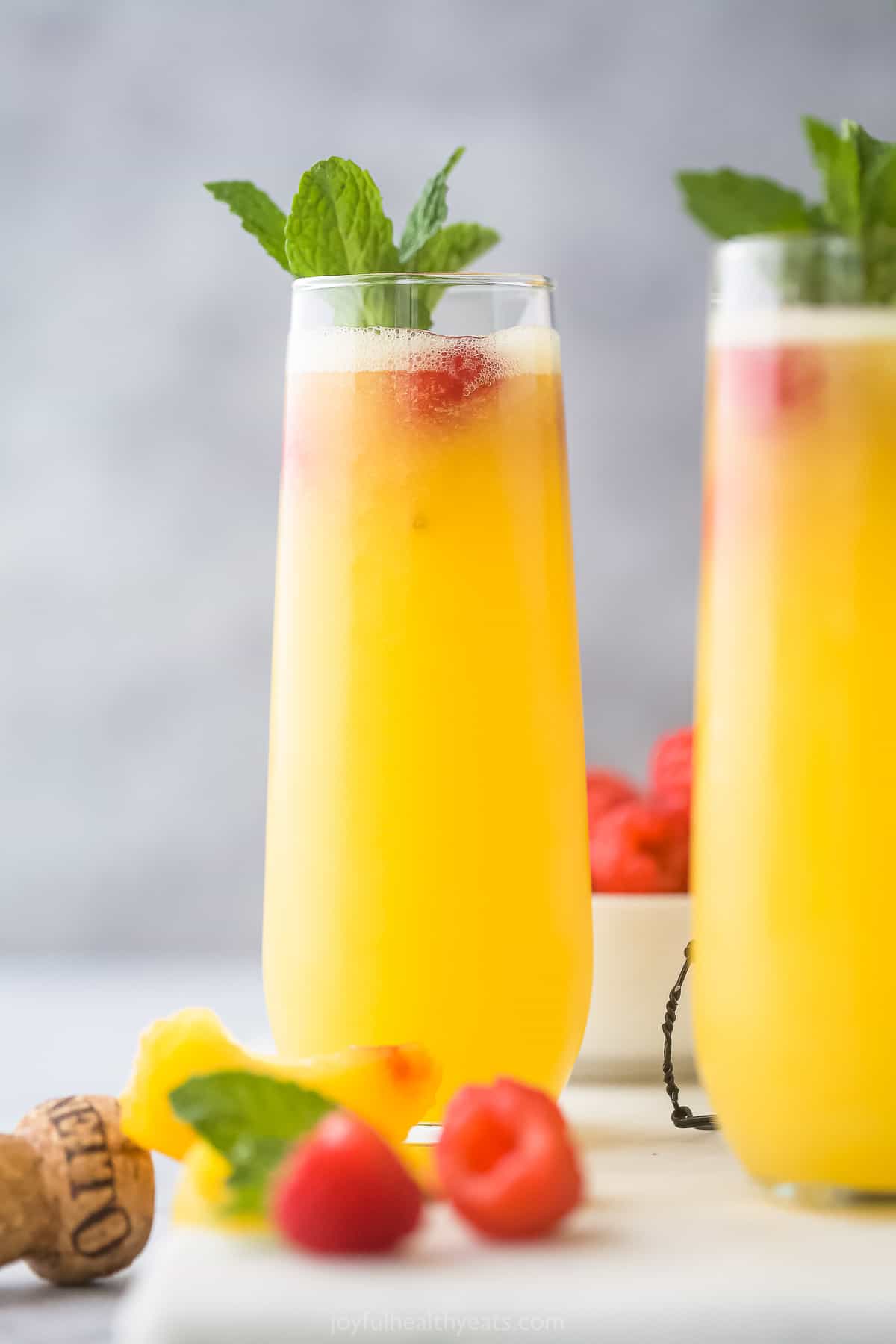 The Ingredients
Let's talk about exactly what you'll need to make this elegant cocktail happen. It's a 3-ingredient masterpiece!
Frozen Peach Slices: If you have access to fresh peaches and want to use those, simply peel, slice and freeze them yourself.
Prosecco: This Italian sparkling white wine is a bellini staple.
Sugar: Feel free to add more or less sugar depending on your preferred level of sweetness.
Optional Garnishes: Garnish your cocktails with fresh raspberries and mint sprigs for a snazzy finishing touch.
Shop This Recipe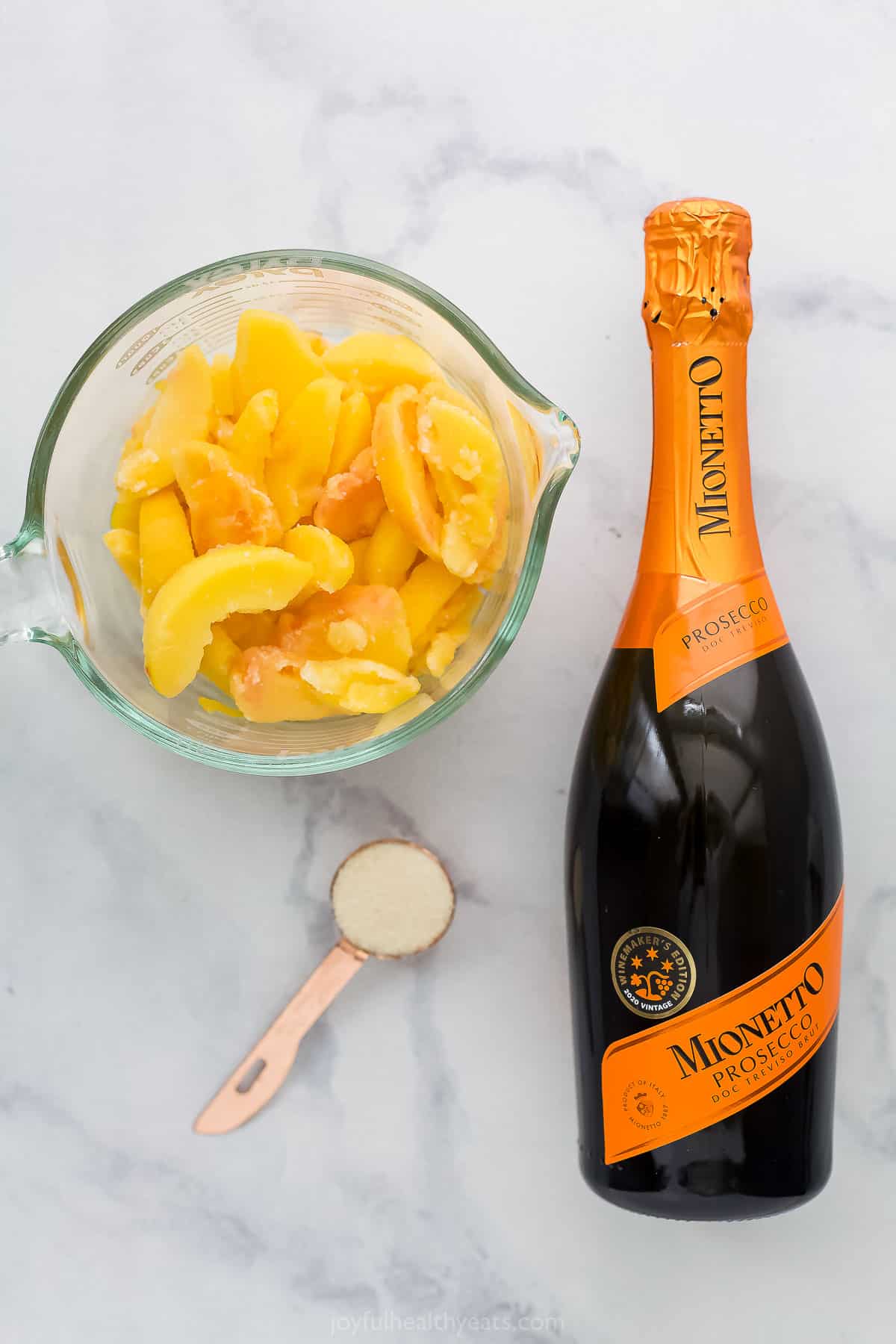 How to Make Peach Bellinis
These bellinis are definitely go-to cocktail material. You can whip them up with ease at a moment's notice.
Add Ingredients to Blender: Add the frozen peaches, prosecco and sugar to your blender or food processor.
Pulse Until Smooth: Blend everything together until the cocktail is smooth and all of the peaches are pureed.
Enjoy! Pour the cocktail into champagne flutes and serve the bellinis immediately.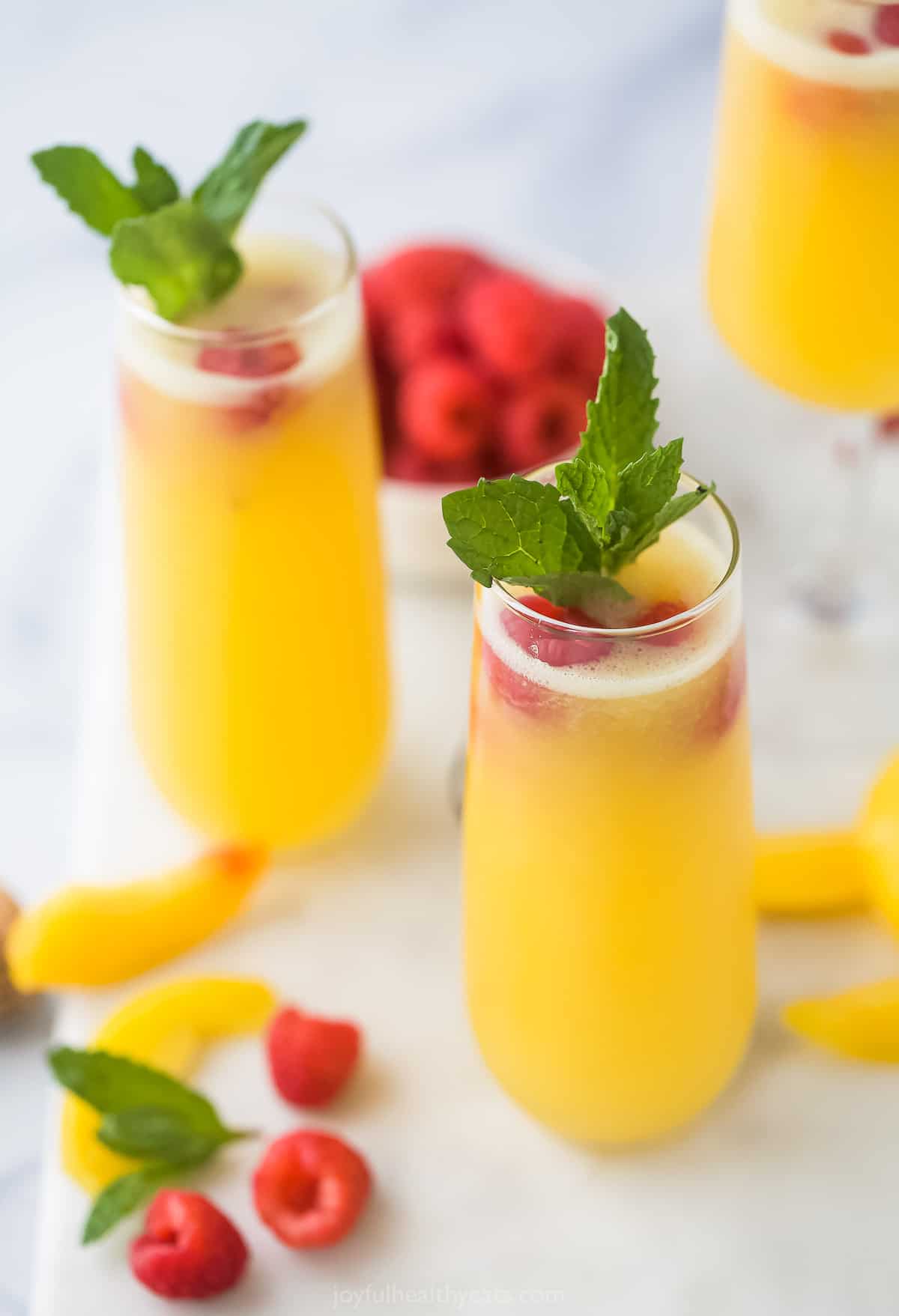 Can I Make a Single Serving Instead?
This recipe uses a full bottle of prosecco and produces 6 cocktails total. I haven't tried making a single serving before, but it's definitely possible. If you'd like to give it a whirl, blend 1/6th of the prosecco in the bottle with half a cup of frozen peach slices and half a teaspoon of sugar.
Tips for the Best Cocktails
Nurture your inner bartender with these helpful tips and tricks. Cheers to the ultimate homemade bellinis!
If You're Using Fresh Peaches, Peel Them: If you leave the peels on your peaches, you'll have to strain your finished bellinis. I recommend removing the peels before slicing and freezing the peaches to avoid the hassle.
Add Sugar to Taste: Depending on the sweetness of your peaches, you may want to use more or less sugar in your bellinis. You can always add more and blend the drink again if needed.
Serve Immediately: As with any bubbly cocktail, bellinis are best served immediately. Hold off on making them until you're ready to drink.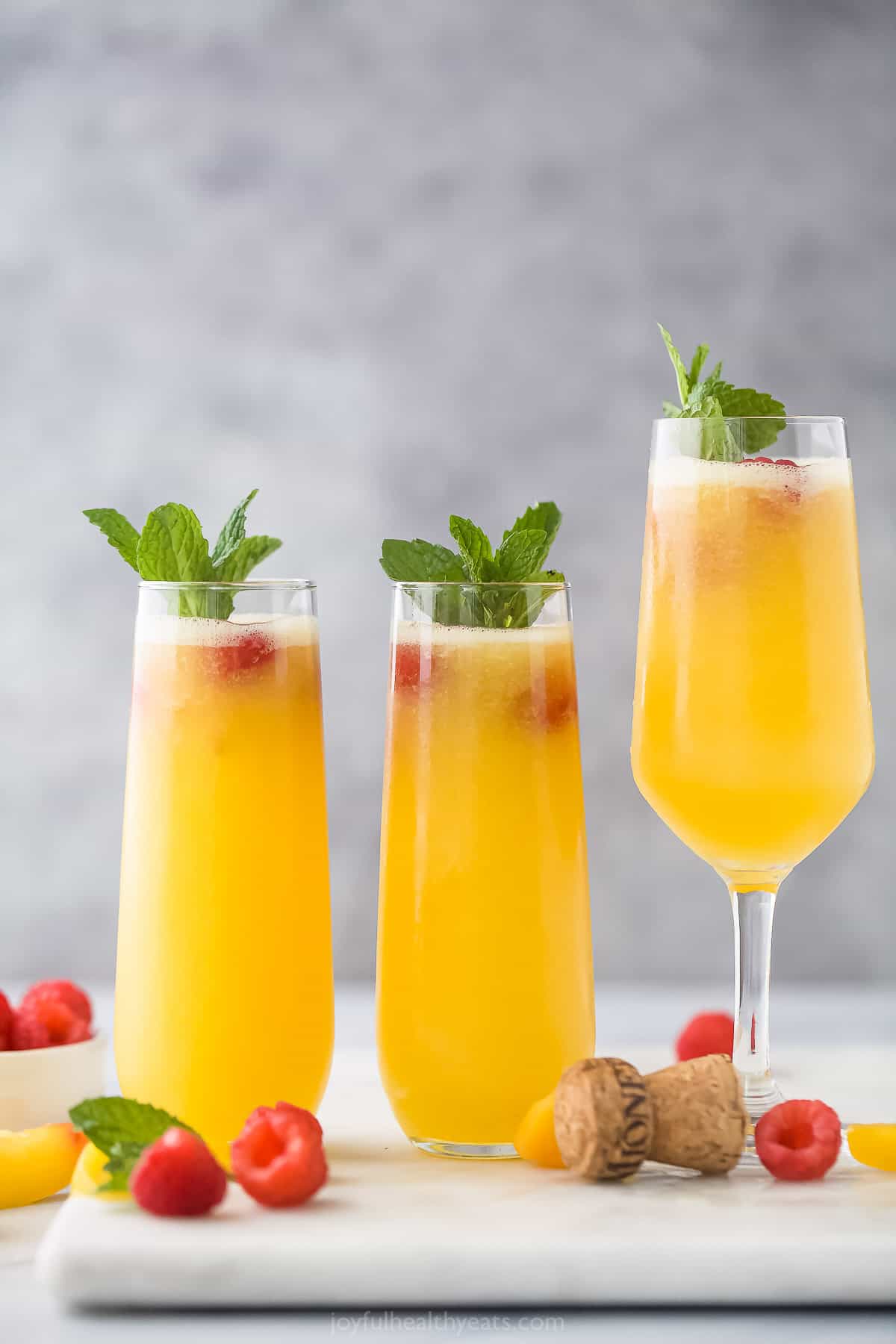 Variation Ideas
In the mood to switch it up? Go ahead and add your own flair to this classic cocktail!
Use Champagne Instead of Prosecco: Champagne is another sparkling wine that will work well in a bellini. In fact, any white wine with bubbles will do.
Add Peach Schnapps: Want to make these mixed drinks even more boozy and peachy? Pour in a splash of peach schnapps or your favorite peach-flavored vodka.
Add Fruit Juice: To give your bellinis that pretty pink hue, toss in a tiny bit of raspberry juice or cherry juice. Voilà!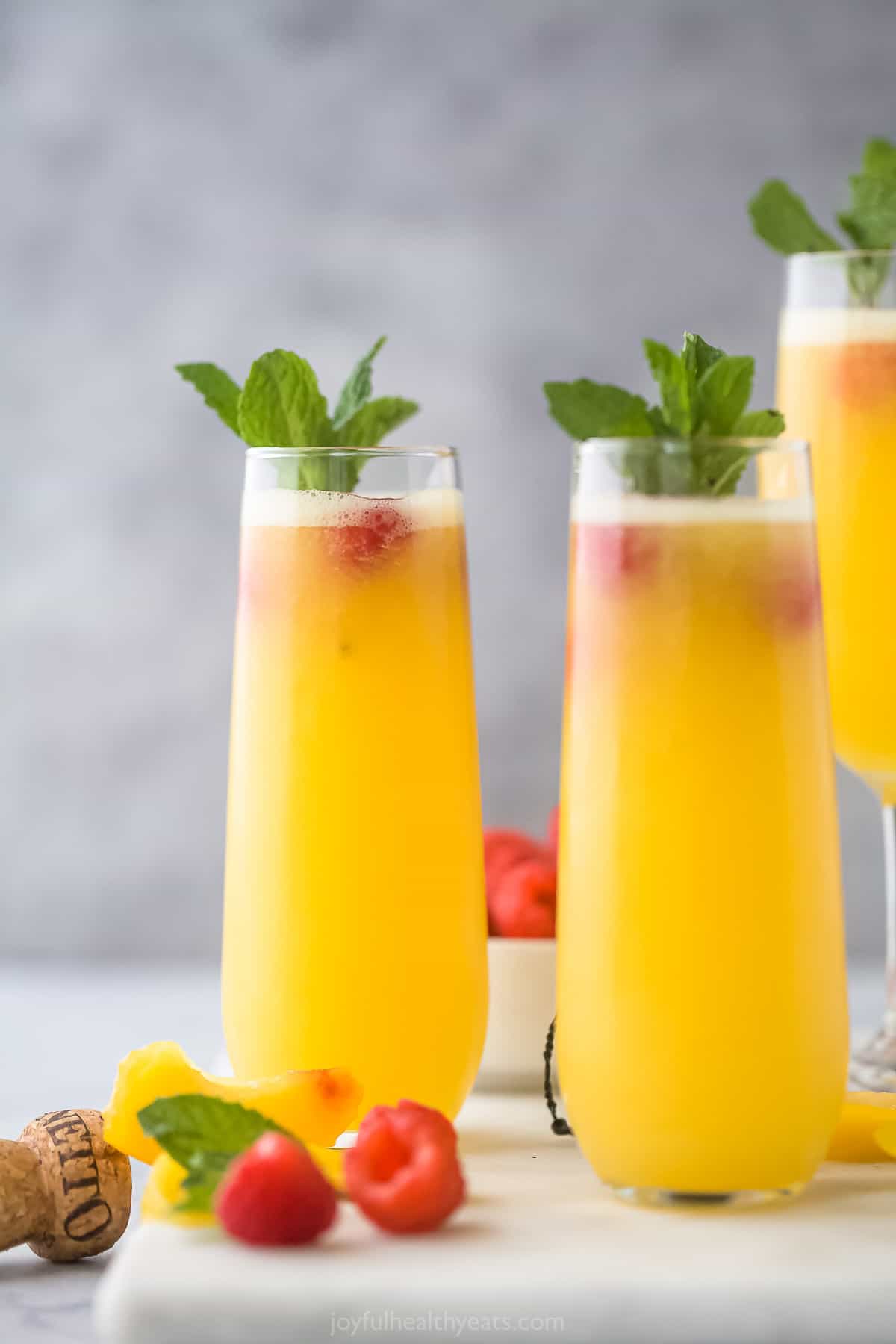 Can I Make Bellinis in Advance?
Since bellinis are both frosty and bubbly, they're not ideal for making ahead of time. It's best to throw them together right before you plan to serve them.
---
Description
These fruity, frosty and bubbly Peach Bellinis are a tropical vacation for your taste buds. Made in 5 minutes or less, they're perfect for brunch, happy hour, holidays—you name it!
Scale
Ingredients
For the Bellinis
3 cups

of frozen peach slices

1

bottle of prosecco

1 tablespoon

of sugar
For the Garnish
fresh raspberries
mint sprigs
Instructions
To a blender, add frozen peaches, prosecco and sugar.
Blend until smooth and all peaches are pureed.
Serve immediately champagne flutes.
Keywords: summer cocktails, peach cocktails, bellini drink
More Fruity Alcoholic Drinks to Try
Thirsty for more? The cocktails below are guaranteed to hit the spot.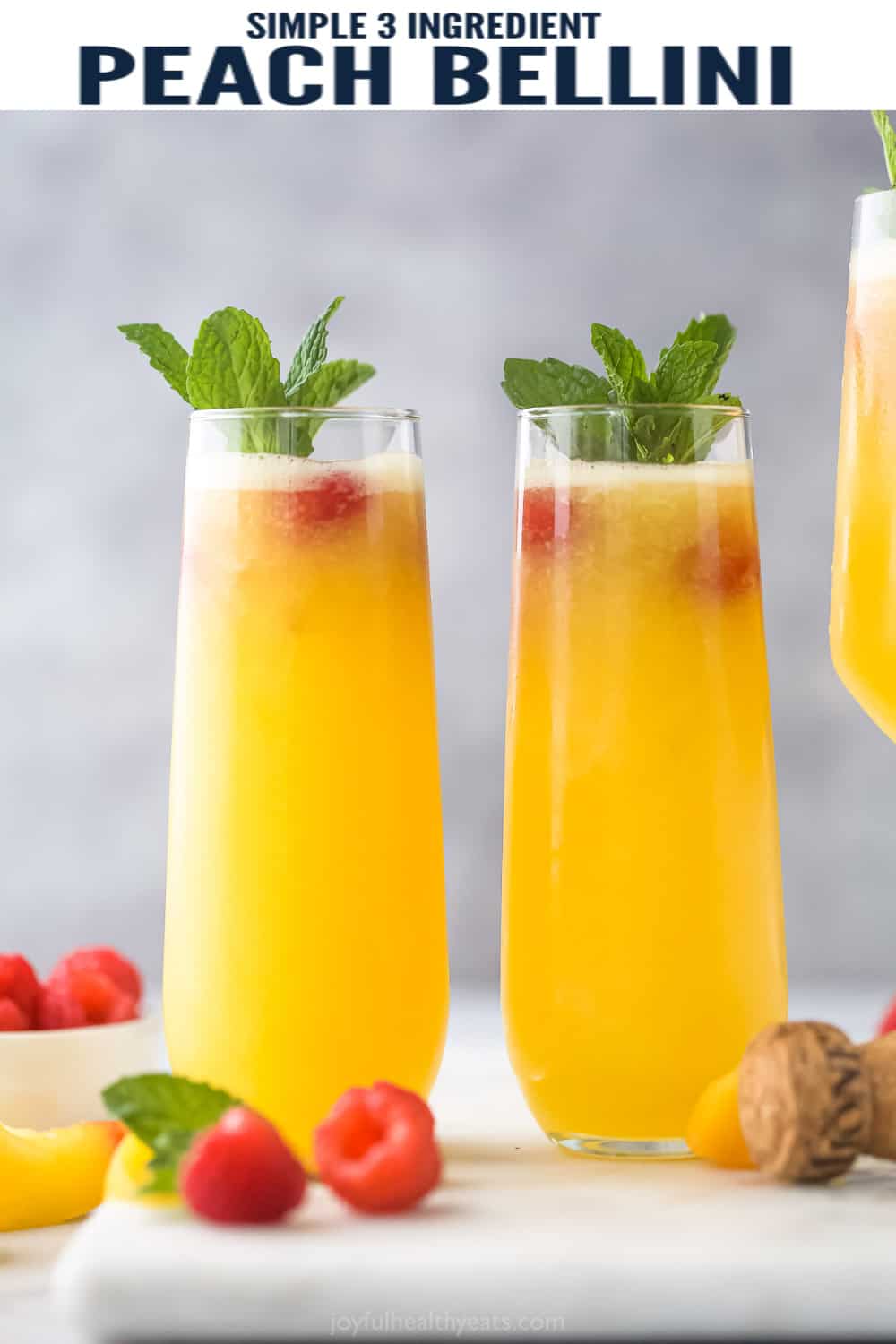 DON'T MISS A RECIPE ->